Maui vs. Kauai: Which Island Should You Visit?
Disclosure: This post may contain affiliate links, meaning if you decide to make a purchase through my links we may earn a commission at no additional cost to you. Read about our affiliate policies here.
You're planning a trip to Hawaii and you're trying to decide where you should go: Maui or Kauai. At first glance, the islands might seem similar. They both offer beaches, hotels, restaurants, and waterfalls. Neither are as busy as Oahu or as expansive as the Big Island.
But Maui and Kauai are very different. Visitors to Maui will find better weather, bigger beaches, and luxury hotels. Visitors to Kauai will be greeted with a laid back vibe, lush scenery, and an abundance of outdoor activities.
Which island is right for your trip? Here we'll break down an overview of each island as well as what each island is best for.
Maui in a nutshell:
Maui is the second most visited island in Hawaii, after Oahu. Nicknamed The Valley Isle, Maui is split into two distinct parts as it was formed by two volcanoes. Maui county also encompasses three additional islands: Lana'i, Molokai, and Kahoolawe.
Maui often tops the lists for the best island to visit and many of Maui's beaches top the best beaches list (including Kapalua Bay winning best beach according to Dr. Beach). The island is larger than Kauai and has more miles of accessible coastline.
What is Maui famous for? Here you'll find:
The Road to Hana: This famous road that connects east Maui to central Maui takes you over 54 bridges and around 600 curves. But it's not how windy the road is that makes it famous, it's what you can see along the way, including waterfalls, black sand beaches, and rocky peninsulas.

Haleakala Volcano: This massive volcano, which makes up 75% of the island, this dormant volcano is a popular place to watch the sunrise (or sunset) and hike through a crater.

Read more about Haleakala Volcano

.

Whale watching: December – April marks whale season in the Hawaiian islands when humpback whales make the long migration from Alaska to mate and birth in the warm waters of Hawaii. The channel off the west coast of Maui is an extremely popular spot for the whales, which makes Maui the best island for whale watching. (read:

our ultimate guide to whale watching

).

Snorkeling: You can snorkel on any of the Hawaiian islands, but there are some special spots that Make Maui famous. Most popular is Molokini Crater, a partially submerged volcanic crater that is now a marine sanctuary and state seabird sanctuary.
Kauai in a nutshell:
Kauai is truly unlike any other islands. When you arrive here, you'll be in awe of the lush green scenery and jagged mountains that seem to rise up straight out of the water. Kauai is the oldest Hawaiian island, which helps to create a diverse landscape and ecosystem.
Kauai is often referred to as the Garden Island, which is an extremely accurate description. The landscape is full of varying flora and fauna in the centuries old tropical rainforests. This is the place where you'll get the most stunning natural beauty.
What's Kauai famous for? Here you'll want to see:
The Napali Coast: This remote coastline is what dreams are made of. Jagged cliffs rising out of the sea make this an extremely beautiful, and extremely difficult place to get to. You can reach this area by a boat tour, helicopter ride, or strenuous hike. Check out our

favorite Napali Coast boat trips

. 

Waimea Canyon: Called the Grand Canyon of the Pacific, this canyon provides ample hiking, stunning views, and deep valley gorges. 
Helicopter rides: Helicopter rides are available on all of the Hawaiian islands, but they are extremely popular on Hawaii. Not only do you get to see things that are hard to view (like the Napali Coast) but the views from the sky are spectacular. Our research on Hawaii helicopter safety and our recommended helicopter tours on Kauai will help with your planning.
Lush scenery: You might expect all of the Hawaiian islands to feel like tropical rainforests, but that is really reserved for Kauai. The rainfall and age of this island combine to make it the greenest of the Hawaiian islands.
Looking for more things to do on Kauai? See our 35 Best Things to Do on Kauai for more ideas.
Maui vs Kauai at a glance
| | |
| --- | --- |
| Which island is best for: | |
| Resorts | Maui |
| Weather | Maui |
| Beaches & Snorkeling | Maui |
| Hiking | Kauai |
| Crowds | Kauai |
| Cost | Kauai |
| Nightlife | Maui |
Maui vs Kauai: Resorts
If you are packing your bags for a beach vacation that has you staying at the best oceanfront resorts, you can find what you're looking for on both islands. But Maui has a larger variety of oceanfront, luxurious resorts that will give you that sweet, vacation experience you're dreaming of.
On Maui you'll find plenty of beach resorts lining the beaches of Ka'anapali and Wailea, the two main resort areas. In Wailea, you'll find mostly luxury five-star resorts, with sprawling lawns and huge pools, just steps from the beach. In Ka'anapali, you'll find slightly less expensive resort options with four-star amenities.
Kauai does have beach resorts but they're not as plentiful as what you'll find on Maui. The largest resorts can be found on the south shore of the island as that's where you'll generally find the best weather year-round. While there are some excellent resorts, like Grand Hyatt and the Koa Kea Resort in Poipu, the selection of beachfront resorts is smaller than what you'll find on Maui.
Winner for best resorts: Maui
Maui vs Kauai: Weather
Few people like rain when they're on a sunny beach vacation, so which of these islands can you visit for the best chance of getting a sunny day?
Anytime you visit Hawaii, you're running the risk of some rain. These are tropical islands after all. But Kauai is called the Garden Isle for a reason: it gets the most rain of all the Hawaiian Islands, giving it that lush, beautiful landscape visitors love to see.
As you can see in the graph below, during the summer months, Kauai gets more rain than Maui, but it's still not a significant amount. However, during the fall and winter months, you'll notice there's a significant uptick in the amount of rain the island receives.
Maui does get it's fair share of rain, but during the winter you'll find most of the rainfall on the east side of the island (the windward side). The majority of the resorts are located on the west side (the leeward side), which gets significantly more sun and less rain. If you're not prepared for some rain on your Hawaii vacation, Maui takes the edge for better weather.
Winner for best weather: Maui
Maui vs Kauai: Beaches and Snorkeling
It's rare to meet someone who doesn't come to Hawaii for the beaches and some ocean time. And while you can find great beaches and snorkeling on both islands, there is a clear winner in this category.
Maui has more accessible beaches and snorkeling. It helps that Maui's two main resort areas (Ka'anapali and Wailea) both sit along large beaches and easy snorkeling spots. On Maui you'll find no shortage of golden sand beaches and easy to access snorkeling spots when the weather is mild.
Kauai has its fair share of beaches and snorkeling, but it is more susceptible to stronger ocean currents and swells. For example, Hanalei Bay is an excellent swimming area during the summer. Come winter, it's smartest to stay out of the water there.
Winner for best beaches and snorkeling: Maui
Related read: The 11 Best snorkeling spots on Maui
Maui vs Kauai: Hiking
If you're heading on vacation to hike, Kauai is the clear winner in this category. Not only is this home to the famous Napali Coast hike, but there are also a number of easy to access hikes that will take you through lush scenery, past waterfalls, and along rivers. Kauai is a hikers paradise.
Maui also offers hiking, but it's not quite as scenic or as easily accessible. Most of the resorts and vacation rentals are located on the leeward (dry) side of the island, so the hikes nearby don't take you through lush landscape. If you're hoping to do a jungle hike or hike to waterfalls, you'll need to make more of an effort to drive further to find these hikes. These hikes are accessible, but it's just more challenging to find them.
Winner for best hiking: Kauai
Maui vs Kauai: Crowds
While there are fewer resorts on Kauai, there's a good reason for that: Kauai gets far fewer visitors each year than Maui. According to Hawaii Tourism Authority data, Maui had just over 3 million visitors in 2019, while Kauai had 1.37 million visitors. Note: we're using 2019 data as it is the most recent "normal" year of tourism.
Maui is a larger island (465,000 acres vs 353,000 acres for Kauai), but it still feels more crowded than Kauai. You won't be able to escape the crowds completely on either island — they are both popular vacation destinations — but Kauai is the less crowded option.
Winner for fewest crowds: Kauai
Maui vs Kauai: Cost
Hawaii is not a budget-friendly destination. But even so, some islands are more expensive than others. In fact, the cheapest Hawaiian island to visit is Oahu.
What island is more expensive: Maui or Kauai? Maui is more expensive than Kauai by a decent margin. So your dollar will stretch further on a vacation to Kauai.
Usually, the largest vacation expense is going to be your accommodations. According to data from the Hawaii Tourism Authority, Maui has the most expensive average hotel room cost. In May 2021, the average hotel room on Maui cost $467 per night, compared to Kauai where the average cost was $272 per night. When looking at data for the entire year of 2019, Maui hotel rooms cost an average $399 per night and Kauai hotel rooms cost an average of $283 per night.
Anecdotally, we also find that it's much easier to find budget-friendly food on Kauai. They have more food trucks and casual restaurants that can help save you money on your vacation.
Winner for best costs: Kauai
Related read: Best food trucks on Maui
Maui vs Kauai: Nightlife
Before we can declare a winner here, it's important to note that nightlife really doesn't exist on either island. If you're looking for late night bars, neither of these islands is going to give you what you want. Instead, you'll need to vacation on Oahu.
But between Maui and Kauai, Maui does have a little more nightlife. True, the restaurants and bars mostly tend to close down by 9pm, but things are a little more lively on Maui in the evenings than they are on Kauai.
Winner for best nightlife: Maui
Is Maui or Kauai best for….
Families
While our family enjoys vacationing on both islands, Maui is our pick for a family vacation because there are more easy-access beaches and water spots for younger swimmers to enjoy compared to Kauai.
Check out 65 things to do on Maui with kids.
Honeymooners
This is a toss-up. If you're looking for upscale resorts and restaurants to enjoy your honeymoon, Maui would be the right choice. Maui even offers the only adults-only hotel in Hawaii, so you can enjoy your stay without kids in the pool. Don't miss our Maui honeymoon guide.
However, if you want a quieter honeymoon to get away from it all, Kauai would be the better choice for you. Check out these Kauai honeymoon resorts.
Adventurers
Want to go on an epic hike, take an ATV ride, swim in a waterfall, or see jaw-dropping sights from a helicopter? While you can do these things on Maui, Kauai is much better suited for adventure-loving travelers.
Nature-lovers
Kauai is the spot for nature lovers. Because it is the oldest island, there are plenty of botanical gardens, waterfalls, and unique birds and wildlife. Compared to Maui there are also more opportunities to embrace solitude and just enjoy nature.
Still not sure what Hawaiian island to pick for your vacation?
We have two things that will help.
First, download these free Hawaiian island cheat sheets. It gives a quick one-page overview of each island, including important information like can't miss spots, best restaurants, and helpful information like major areas and the airport code.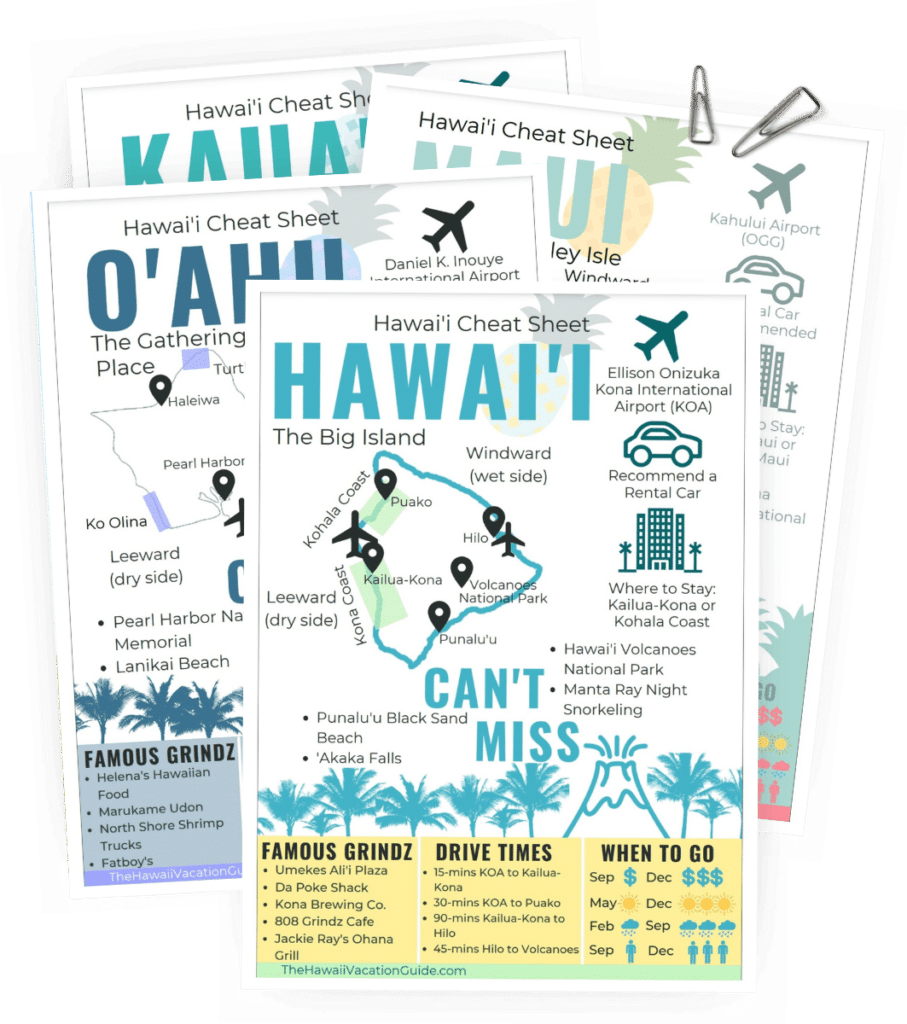 Free Download!
Hawaiian Island Cheat Sheets
Sign up & we'll send you our island cheat sheets so you can get to know the islands like the back of your hand!
We'll share 4 can't-miss activities on each island, a map with the main sights in town, & famous local grindz (eats)!
Second, watch our video to help you decide what Hawaiian island to visit. We talk you through the highlights of each place, so you can make the best decision for you.