Start Here for Your Hawaii Trip Planning
Disclosure: This post may contain affiliate links, meaning if you decide to make a purchase through my links we may earn a commission at no additional cost to you. Read about our affiliate policies here.
Welcome to The Hawaii Vacation Guide, the most comprehensive online guide to planning your vacation. This page will help you get the most out of our site and all of the content we provide. So you can get the most out of your vacation.
We are Erica and Jordan and we run the show here. J/K. Our two kids Henry and Edie do. And our dog Hattie. We love to travel, love Hawaii, and have lived on Oahu for two years and Maui for three. If you want to learn more about us, click here.
If it's your first time here, here are six steps you should take to get your Hawaii vacation planning started right:
1. Download our free cheat sheets
We know planning a trip to the middle of the Pacific is tough. If you have never been to the Hawaiian islands before (or even if you have), we have you covered.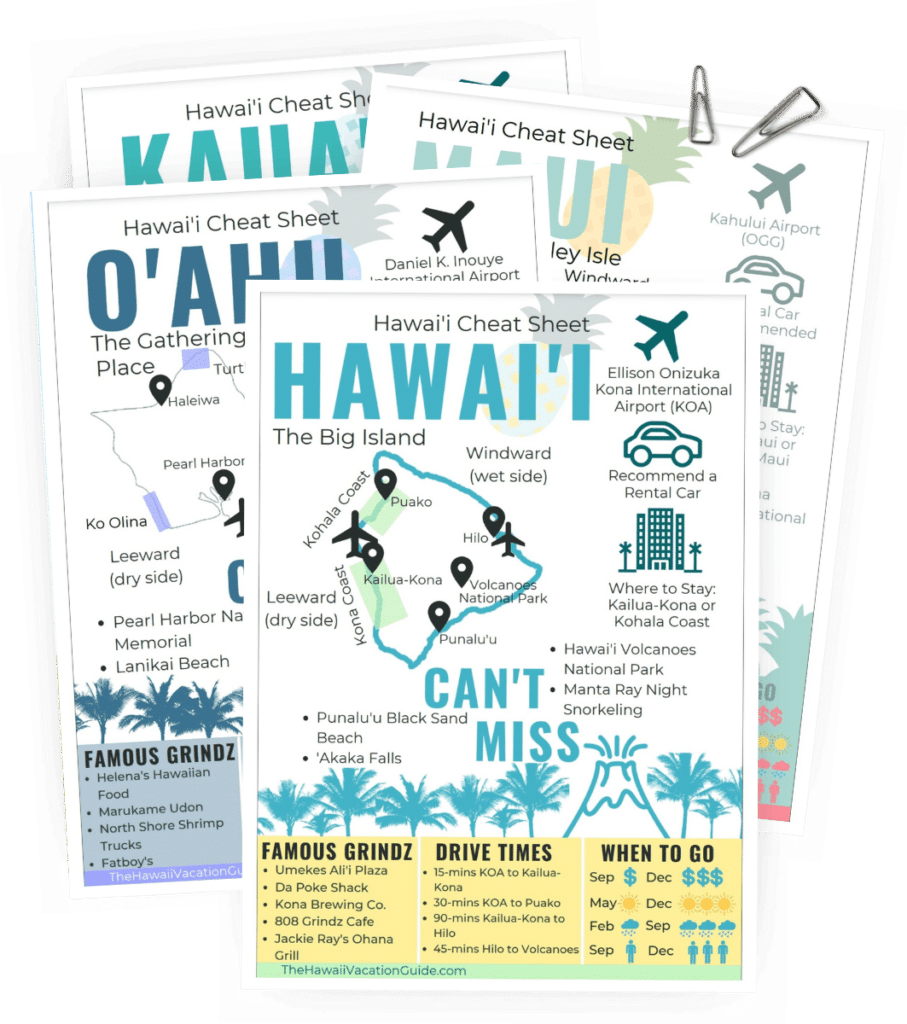 Free Download!
Hawaiian Island Cheat Sheets
Sign up & we'll send you our island cheat sheets so you can get to know the islands like the back of your hand!
We'll share 4 can't-miss activities on each island, a map with the main sights in town, & famous local grindz (eats)!
Plus, you'll get our bi-weekly newsletter that goes out to 21,000+ Hawai'i visitors. It's full of real-time updates, tips, and fun facts to get you ready for your trip. We also share occasional discount codes with some of our favorite tour operators out there. You don't want to miss out.
Got the cheat sheets? Well done. Now moving on…
2. Check out our full guide on planning a trip to Hawaii
There is a lot to know at the beginning of your planning journey. What island should you visit? When should you go? What exactly is the leeward side and the windward side? How far in advance should you book?
Read the Hawaii Trip Planning Guide and get the essential details here.
We cover all the need-to-know basics. Consider this your cliff notes version to get started.
3. Go in-depth with our island guides
Once you know what island you're going to visit, we have you covered with in-depth guides. These are mini guidebooks that go over almost everything you need to know to have a stellar vacation.
From where to stay to what beaches to visit, these island guides cut through the clutter and get you on the planning path fast.
We aren't great with self-promotion, but trust me when I say that these itineraries are good. Really good. Actually, one of our enthusiastic customers can explain why these are so good better than us:
Intrigued? Watch this short video for more details:
If you stick around here long enough, you'll notice that we say (over and over) "book the things that you really want to do early". To any travelers who love spontaneity, don't worry, you don't have to have everything booked in advance. But some of the most popular tours and activities will sell out early, especially during the busy season.
Want to swim with Manta Rays? Take a snorkeling raft? Do a full-island sightseeing tour? We have you covered with our very favorite tours! We've done the hard work of personally testing nearly all of these tours to give you a list that you can feel good about.
6. Get ready for your adventure
Pour yourself a Mai Tai or a POG (Passion Orange Guava Juice) and countdown to departure. This is going to be great!