The Ultimate Kauai Travel Guide
Disclosure: This post may contain affiliate links, meaning if you decide to make a purchase through my links we may earn a commission at no additional cost to you. Read about our affiliate policies here.
For adventure seekers, outdoor enthusiasts, and beach bums, Kauai is the island to explore.
From the Grand Canyon of the Pacific to hiking remote valleys to sunset cruises along the Na Pali Coast, you will not regret a trip to the Garden Isle.
You'll find everything you need to know about planning your trip to Kauai here.
Want to hop around? Use our handy table of contents below to find exactly what you're looking for.
Kauai Facts
Kauai Geography
Kauai, the Garden Isle, is Hawaii's fourth-largest island. Like all of the Hawaiian islands, there are two sides: a leeward side and a windward side. The leeward side of the island is drier and the windward side is wetter.
The island is divided into four main regions: the East Side (including Lihue), the West Side, the North Shore, and the South Shore.
East Side
Also known as the Coconut Coast, the east side is home to groves of coconut trees (hence the name), and is the most populated area of the island. Sights here include the town of Kapa'a, the Wailua River, and ʻŌpaekaʻa Falls. If you're looking for slightly cheaper accommodations, you'll find some better value hotel deals on the east side.
West Side
The west side feels like you're miles away from everyone else on Kauai. Gone are the big resorts and traffic. Instead, you have dry landscape, very small towns like Hanapepe and Waimea, and some must-see sights. The most popular attractions here are Waimea Canyon and Kokee State Park.
North Shore
Escape to the beauty of the north shore. This is truly an experience. The jagged cliffs, lush landscape, and beautiful beaches are dramatically beautiful. Summer here is ideal and the charming town of Hanalei is bustling. Winter brings significantly more rain and large waves.
South Shore
Picture perfect beaches and the best resorts are located on the sunny south shore. You'll find famous Poipu Beach here as well as historic Koloa Town. And don't forget Spouting Horn and the Maha'ulepu Heritage Trail.
What's the Best Time of Year to Visit Kauai?
While you may be visiting from a place that has four seasons each year, in Hawaii there are just two: summer (kau) and winter (hooilo). Summer runs from May to October and winter lasts from November to April.
As with all the Hawaiian islands, the lowest prices, best weather, and smallest crowds are during the shoulder seasons of September to mid-November and March to May. But one thing to note is that Kauai has warm weather year-round but it does get significantly more rain than the other islands.
If you are planning to visit outside of the summer months, staying on the North Shore will mean a lot more rain and rough ocean conditions. If you decide to visit Kauai outside of the summer months, you might want to plan your stay on the South Shore for your best chance of sunny skies and calmer ocean conditions.
We dive into this more and help you pick the best time to visit Kauai.
Our favorite month to visit Kauai is September. It checks all the boxes for the cheapest time to go, great weather, and it's less crowded.
If you can't get away during the school season, then late May and June are good times to go during the busy season.
And if you're curious about ocean temperatures and conditions, we have good news. The ocean temperature is always between 75 to 80 degrees, year-round. That means you can swim comfortably in January and in June.
But aside from temperature, consider waves. During the summer months, you can usually find calm water in many places around the island. The exception is if there is a storm (or remnants of a storm) passing by or if the island is getting a south swell.
In the winter, north swells can bring choppy water and large waves to the north and east sides of the island, while Poipu and the south shore stay a bit calmer.
This site from the Hawaii Department of Health gives a great overview of when you typically see swells in what areas of the island.
Getting to Kauai
There is one main airport on the island, Lihue Airport (LIH), which welcomes overseas and inter-island flights. Located on the south-east side of the island, it's approximately 50 minutes from Princeville on the North Shore, 25 minutes from Poipu on the South Shore, and 10 minutes from the Royal Coconut Coast resort area on the east side.
Planning on island hopping while here? Read our full guide on inter-island travel.
Renting a Car and Getting Around the Kauai
Should you rent a car in Kauai? Most likely, yes. While Kauai does have a bus system and has uber and taxis, renting a car makes traveling around on your vacation easier.
Our favorite tip for anyone visiting Hawaii is to book with Discount Hawaii Car Rental. When we travel inter-island or we have friends in town, we use them 95% of the time. They offer the most competitive rates, they work with national agencies, you don't have to pre-book, and you can cancel at any time. We also have some great local companies listed on our rental car recommendations page.
For the most part, the roads on Kauai are well paved and easy to navigate with any type of car — no 4-wheel drive required! Though if you want to rent a jeep…it really is fun.
Think of Kauai as a compass when considering where to stay:
The most popular resort areas are Poipu and Princeville. They have the best beaches and activities nearby.
For the best year-round weather, look to Poipu and the South Shore as these beaches stay relatively calm during the winter months while the North Shore gets the big surf.
There is so much more to consider so take a deep dive before you book your accommodations:
Lihue Airport (LIH) is located in the capital city of Li'hue. In a centralized location, it is easy to hop in a rental car and head south to Poipu (25-minute drive) or north to Princeville and Hanalei Bay (45-minute drive).
Where to Stay on Kauai
If you're searching for the perfect hotel or vacation rental, we have you covered. Our Where to Stay database is where we post reviews of our favorite resorts on the island. You can search by price or type and we're adding to it every week!
Should you stay in a hotel or vacation rental on Kauai?
Go for a hotel if you're looking for the traditional resort experience with big pools, nearby beaches, and restaurants within walking distance. Opt for a vacation rental if you want access to a kitchen, are looking for space, or are looking to save money.
We routinely stay in both. We'll book a vacation rental for the majority of our stay so we have access to a kitchen and a little more space for the kids. Then we'll treat ourselves to a great resort for a few days to enjoy the pool and other amenities. This has been a winning combo for us recently.
If you're still not sure what you want to do, we break down the difference between choosing a hotel and a vacation rental in Hawaii.
What part of Kauai should you stay on?
Most visitors to Kauai plan to stay in one of three areas: Princeville (on the North Shore), Poipu (on the South Shore), or the Royal Coconut Coast (on the East side). Where you decide to stay will depend on the time of year, the vibe you're going for, and your budget.
We help you make sense of this big decision with our full where to Stay on Kauai guide.
If you're coming with kids, check out of list of the best family friendly resorts on Kauai. And if you're coming to Kauai for your honeymoon, don't miss our favorite honeymoon resorts.
How Many Days Should You Spend on Kauai?
How much time do you have? Kauai isn't a large island but there is a lot to do and see so deciding how long to stay can be a challenge.
According to Hawaii Tourism Authority data, visitors spend an average of 8 days on the island. Ideally, spending at least a week on Kauai will give you time to balance relaxation with adventure. If you're island-hopping while in Hawaii, you might feel comfortable visiting Kauai for a few less days but make sure you prioritize your time to see all that you want to (we help you do that in the sections below!).
Read more about why we think a week on Kauai is a good idea. And don't miss our Kauai packing list as you're getting ready to go.
The Best Beaches and Snorkeling Spots on Kauai
When you are heading to Kauai, you're in for a treat. The island has plenty of beautiful beaches to choose from, including our favorites: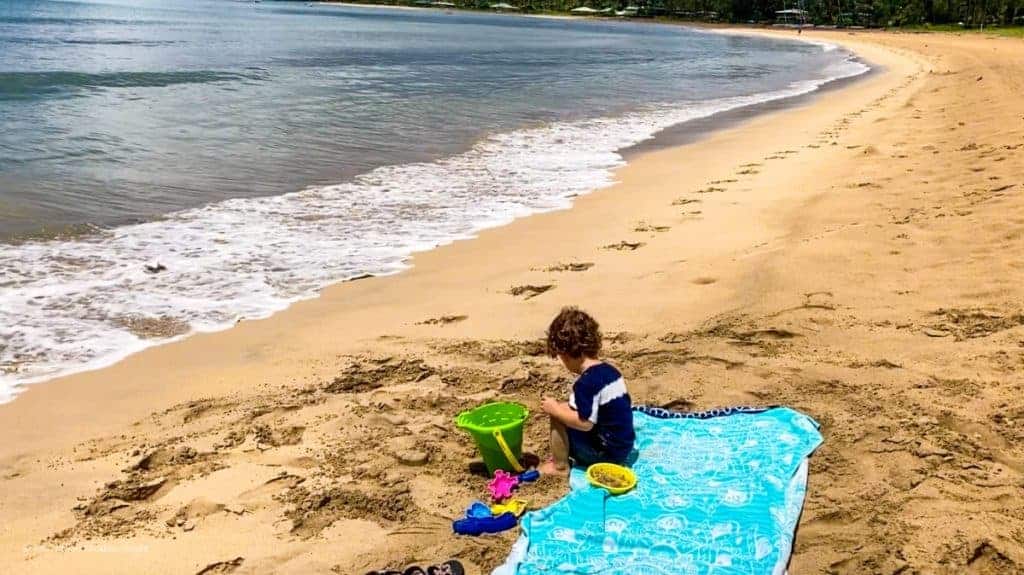 Ke'e Beach: Yes, heading to this beach requires a lot of advanced planning (in the form of a reservation), but it's worth it. This is our favorite beach on Kauai for summer swimming thanks to the crystal clear water and the stunning cliffs as a backdrop.
Poipu Beach: This south shore beach has been named one of the best in America, and we don't disagree. Golden sand crescents make this a beautiful spot for beachgoers and snorkelers. Plus, with plenty of parking, heading here is enjoyable.
Makua (Tunnels) Beach: This beach is stunning, especially in the summer. It's also a very popular snorkeling spot. But parking here is very limited. Your best bet is to arrive early and park at Ha'ena Beach and make the walk to Tunnels. Ha'ena Beach has a larger parking lot, lifeguards, and showers.
We have a few resources to help you pick the best beach on Kauai.
And if snorkeling is high on your to-do list, check out our five favorite snorkeling spots on Kauai.
Remember that while the beaches in Hawaii are beautiful, they are not without risk. Currents, dangerous shore break, and changing ocean conditions make swimming in any ocean dangerous. Practice beach safety by swimming on beaches with lifeguards, obeying lifeguard flags, and when in doubt, don't go out. This website has more excellent information to help keep you safe.
Things to do on Kauai
There's no shortage of fun to be had on Kauai. Explore our 35 Best Things to Do on Kauai for ideas to plan your trip. But, to help you get started making your list, these are some highlights that you won't want to miss:
See the Napali Coast: This stunning coastline is inaccessible by car. Want to catch a view of it? You can only get there by foot, by air, or by boat. We love boat rides along the Napali Coast.
Waimea Canyon: The Grand Canyon of the Pacific makes for a fantastic day trip. Take a view, enjoy the views, and don't forget to keep driving up the road to Koke'e State Park. On a clear day you can get a stunning Napali Coast view.
Ha'ena State Park: Whether you're coming for hiking or the beach, this state park offers it all. While you do need reservations to get in, it's worth the effort and is high on our list of can't miss experiences.
Don't forget to eat well while you're there! You can check out our five favorite spots for shave ice as well as our favorite Kauai food trucks.
Want help seeing how to fit all of the best sights into your vacation? Our Kauai itinerary was created just for that. The step-by-step itinerary takes you to all the best beaches, snorkeling spots, restaurants, and sights. With the download, you'll get five carefully planned excursion days to help you see the can't-miss stops no matter how limited your time is.
The Best Tours & Activities on Kauai
While we embrace DIY travel, there's something to be said for a great tour when you're in Hawaii. Not only are you supporting a local business, but you're getting time with a guide who truly knows the island. Whether they're teaching you the history of the islands during a canoe tour or they're educating you on marine life during a snorkeling trip, a good tour experience can stick with you for years.
We've done the hard work for you by finding the best of the best tours on the island. Here's a sampling of our favorites to get started, but don't forget to check out our full list.
Popular Kauai Videos
Get to know Kauai and see some of our best recommendations with our popular Kauai videos.
Or, explore our full library of videos on Hawaii.
Full Library of Kauai Articles
Want to binge-read everything we've written on visiting Kauai? Pour yourself a Mai Tai and browse all Kauai articles here.
The Kauai Itinerary
If you're planning a trip to Kauai, we've got you covered. Our island itineraries help you navigate the planning process and make your trip smooth once you're on-island.
Thousands of customers have loved them, whether they were planning for a trip that was a year away or a trip that was a day away.
Thousands of customers have loved them, whether they were planning for a trip that was a year away or a trip that was a day away.
We hope you have an amazing trip!
~Jordan & Erica