The 12 Best Things to Do in Hanalei: Kauai's Rugged North Shore
Disclosure: This post may contain affiliate links, meaning if you decide to make a purchase through my links we may earn a commission at no additional cost to you. Read about our affiliate policies here.
Hanalei is a pristine slice of natural beauty that truly embodies the essence of Kauai. From the sandy beaches to the verdant valleys and mountains, the north shore offers an array of activities for every type of traveler. Whether you're interested in a day of outdoor adventure or a taste of local Hawaiian culture, there's no denying that Hanalei is a great launching point for seeing the best of what Kauai has to offer.
As you start planning your Kauai trip, consider adding the following activities to your to-do list.
Lighten the load of vacation planning with these great resources:
Get everything you need to know about Kauai in our Kauai Travel Guide
Don't forget a thing with our packing list
Book a rental car with peace of mind, knowing you don't have to pre-pay and there are no cancellation charges
Find a great hotel or vacation rental in our where to stay database
Get out on the water with the best NaPali Coast Boat Tours!
Hanalei, Kauai FAQs:
Where is Hanalei?
Hanalei is located on the northern shore of the island of Kauai. It's approximately 10 minutes by car from Princeville, 35 minutes from Kapa'a, and 50 minutes from Lihue Airport.
What is Hanalei known for?
First and foremost, Hanalei is known for its captivating natural beauty. There are green mountains, golden sand beaches, and picturesque ocean views everywhere you look. When you're in Hanalei, it's easy to see why Kauai is called the Garden Isle!
Hanalei is also considered to be the gateway to the rugged Napali coast. The long stretch of coastline is an unspoiled wilderness of cliffs, waterfalls, and lush vegetation.
The town of Hanalei itself is rather small, but it's full of charm and character. Plus, it's within walking distance of the beautiful Hanalei Bay, where you can spend the day swimming, snorkeling, or kayaking.
What's the best time to visit Hanalei?
The best time to go to Hanalei is in the summer. The weather is warm (daytime temperatures are between 82°F to 87°F), and there is little rainfall. Yes, this is Kauai, so it can rain at any time, but showers are infrequent and come and go quickly.
Summer is ideal because it has the best conditions for visiting the beaches on the north coast. During this time, the ocean is calm and suitable for swimming or snorkeling.
Winter, on the other hand, is not a good time if you're hoping to hit the beach. The large waves and strong currents are way too dangerous for water activities. And if conditions are too hazardous, the beaches will often be closed to visitors.
If you do plan to visit during summer, just keep in mind that this is peak tourist season. Prices will be more expensive, and beaches will be more crowded, but it's worth it to take advantage of the optimal beach conditions.
Related read:
Is There a Best Time to Visit Kauai? (Yes…here's when)
Is it better to stay in Hanalei or Poipu?
This is a hard question, as both places have their own unique advantages. If you're visiting in summer, both Hanalei and Poipu are good options, with warm weather, sun-soaked beaches, and tons of fun outdoor activities. Poipu may be more lively and central to more things, but it also has more of a resort feel, which may or may not be something you're seeking.
However, we would choose Poipu if we were visiting Kauai in the winter. The northern coast is wet and rainy at this time and the surf at the beaches are too dangerous for swimming.
Here are a few great places to stay:
Puamana, Princeville: ease of access to the North Shore
Koloa Landing Resort Review: the best resort on Kauai
Grand Hyatt Kauai: steps from Shipwreck Beach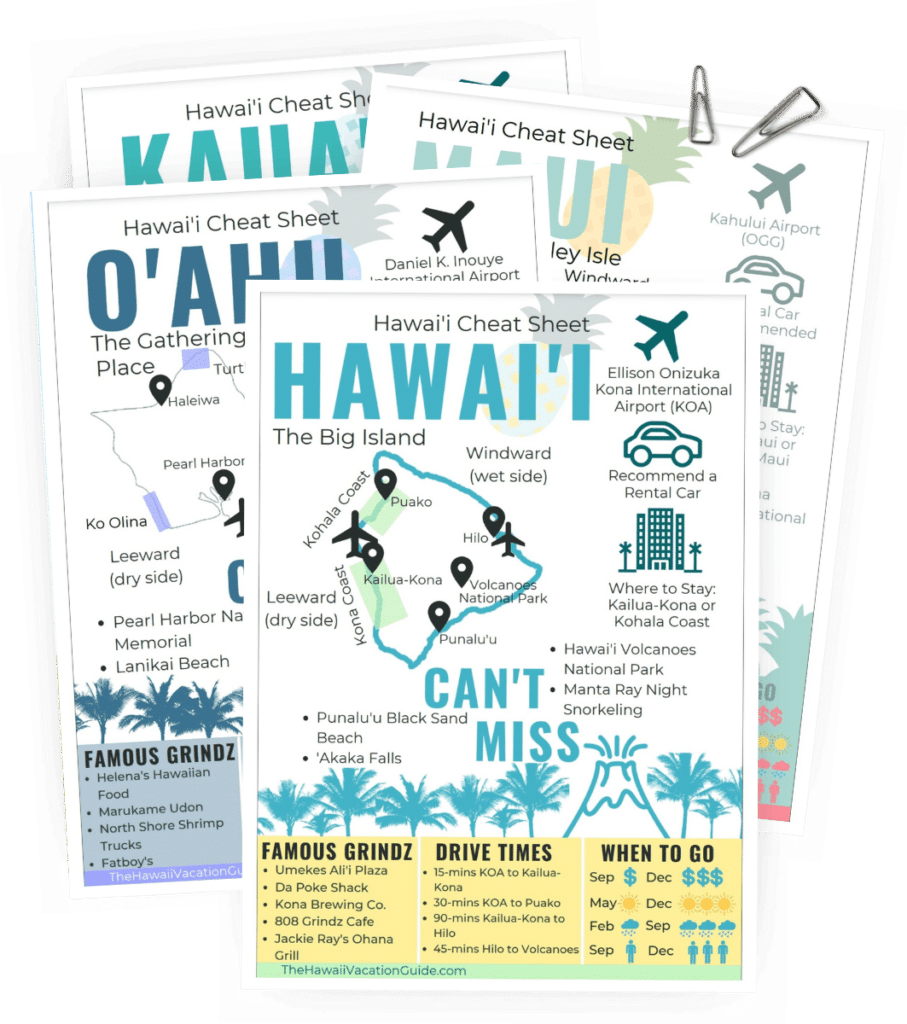 Free Download!
Hawaiian Island Cheat Sheets
Sign up & we'll send you our island cheat sheets so you can get to know the islands like the back of your hand!
We'll share 4 can't-miss activities on each island, a map with the main sights in town, & famous local grindz (eats)!
The 12 Best Things to Do in Hanalei
1. Explore the Napali Coast
Covering almost the entire northwest coast of Kauai, the Napali Coast is arguably one of the island's most breathtaking sights. Between the rugged cliffs, cascading waterfalls, and jaw-dropping coastal views, this area is a paradise for hikers and nature lovers.
However, this stunning landscape cannot be reached by car, so you'll need to hike in to really get a feel for the land.
If hiking isn't for you, then it's also possible to see the coast by boat. There are several tour operators that will take you up the coast so you can have a front-row seat to the spectacular coastline. One of our favorites is the power raft with Kauai Z Tours, which is a thrilling adventure for those craving a bit more excitement in the water. If you're looking for a calmer ride, this Napali Coast catamaran sail and snorkel is another great option.
Another option is to take a helicopter ride over Napali. While this may not be the most budget-friendly option, it is a thrilling and memorable way to see some of the coastline's most secluded sights. While you're in the air, you'll be treated to bird's eye views over the Waimea Canyon, Wai'ale'ale Crater, Hanalei Valley, and so much more!
2. Relax on Ke'e Beach
This beach is the true definition of a tranquil paradise. Backed by the lush green cliffs of Kauai, Ke'e Beach is an idyllic spot for swimming, snorkeling, or sunbathing. The waters here are incredibly calm (there's a protective reef that prevents the waves from getting too big), so it's a great choice for families or those traveling with younger kids.
While Ke'e Beach is nice in the summer, the waves are usually too rough for swimming during the winter. This applies to almost all beaches on the north shore, so take precautions if you're visiting during this time.
Because this is one of the more popular beaches outside of Hanalei, you'll need to make a reservation for entry and parking for Ha'ena State Park online. With this reservation, you'll also be able to hike part of the Kalalau Trail, which is considered to be the gateway to the Napali Coast.
From the beach, it's only a 2-mile hike to one of the most picturesque viewpoints over the coast. You can also continue to do the waterfall hike, although this trek is a bit longer (8 miles roundtrip).
Read more about Ke'e Beach and snorkeling there.
3. Admire the Limahuli Garden & Preserve
Located in one of the most biodiverse valleys (the Limahuli Valley) in all of Hawaii, the Limahuli Garden & Preserve is an oasis worth visiting during your trip to Hanalei. The preserve is home to lush forests, exotic plants, and terraced taro gardens that date back over 1,500 years.
During your visit, you can explore the gardens at your own pace. The ¾-mile long looped trail takes you around the park, while informative signs provide insight into the different plants and flowers.
But if you crave a more in-depth experience, we recommend booking the guided tour. Not only will you get to learn more about the plants, but you'll also hear stories about Hawaiian history and culture. This is an excellent opportunity if you want to make the most of your trip to the preserve.
Limahuli Garden & Preserve also hosts a variety of fun events throughout the year, from movie nights to chocolate tastings. You can check out their calendar online to see if there's anything special happening during your visit.
4. Go Swimming at Ha'ena Beach
Ha'ena Beach is another one of our favorite hangout spots near Hanalei. It has an easy-to-reach location right off of Kuhio Highway and some of the most pristine views of the ocean we've ever seen!
The golden sands are backed by Mount Makana, which makes for a spectacular backdrop for a day of beachgoing. Bring your towel, sunscreen, and picnic (there's also a small snack shack on-site in case you forget), and enjoy the panoramic views from every angle. You can also come from sunset if you seek a truly magical and memorable experience!
We also like this beach because there's usually a lifeguard on duty. This is reassuring if you're here with family! But as with other beaches on the north shore, do not be tempted to go into the ocean during the winter, as the rough surf is very dangerous during this time.
Despite its name, the beach is not part of the Ha'ena State Park, so no advance reservation or booking is required (like there is for Ke'e Beach). However, the parking lot for the beach is very small and is usually packed before noon.
5. See the Maniniholo Dry Cave
If you're spending the day at Ha'ena Beach, it's worth hopping across the street to see this geological wonder. The Maniniholo Dry Cave is located at the bottom of a steep cliff and has a deep cavern that extends 150 feet back.
Visitors can walk through the cave and explore the unique formations (just make sure to bring a flashlight if you feel claustrophobic).
However, the most mysterious part about the dry cave is the legend that surrounds it. It is said that the cave was discovered by Menehune, mythological dwarfs that are believed to inhabit the valleys of Hawaii. As the Menehune were being chased by Polynesian settlers, they ran into the cave (which, at the time, was a tunnel that connected to Waimea Canyon) to escape. Once they passed through, they collapsed the tunnel, creating a dry cave and forever trapping the Polynesians inside.
6. Spend a Day on Hanalei Bay
Located right in the middle of Hanalei, this wide stretch of golden shoreline is the largest of its kind on the north shore. This crescent beach stretches for nearly 2 miles and boasts dramatic views of the sparkling blue waters and green mountainous landscape.
While there's plenty of room to lie out, we prefer setting up our towels on the eastern side of the bay. The closer you get to the Hanalei Pier and Black Pot Beach, the more memorizing the views are from the shores!
Hanalei Bay is a picture-perfect swimming beach, although you'll also find boaters, stand-up paddle boarders, and kayakers here as well. Because the beach is at the mouth of the Hanalei River, it's a popular starting point for those who want to paddle in calmer waters.
As with most beaches on the north, Hanalei Bay can have high and dangerous swells in the winter. If the waters are too rough, the beach will most likely be closed. But even if they aren't, use your best judgment before heading into the water.
7. Shop and Dine in Hanalei Town
We think that Hanalei Town is one of the most charming places in all of Kauai! Famous for its historic buildings and laid-back ambiance, it's the perfect place to grab lunch or a refreshing treat (who can say no to Hawaiian shave ice?) after hitting the beach, as it's just one block back from Hanalei Bay.
Hanalei Town also has quite a few food trucks, which is reflective of the island's diverse culinary scene. One of our favorite spots in town is Hanalei Poke, although you also can't go wrong with Holey Grail Donuts and Fresh Bite Kauai.
In addition to the variety of eateries, you'll also find art galleries, outfitter shops, and water sports equipment rentals. This is also the home of the Waiʻoli Mission House, a historic 1837 home that was used by early Christian monasteries.
8. Drive Across the Hanalei Bridge
For a bit of history, head to Hanalei Bridge, one of Kauai's most recognizable architectural landmarks. This one-lane bridge is 113 feet in length and carries passengers over the mighty Hanalei River.
The original bridge was built in 1912, although it was destroyed during a tsunami in 1957. It was repaired two years later, although it underwent a major restoration in 2003.
Driving over the Hanalei Bridge is like taking a step back in time. From the shaking of the timber to the views over the flowing river, it's easy to see why the bridge is listed on the National Register of Historic Places.
If you do plan to cross the bridge, keep in mind there is a certain procedure for navigating the single-car width. Oncoming cars get the right of way and usually cross together. Typically 5 to 7 cars should pass before allowing the other side to proceed.
9. Soak in the Views from Hanalei Lookout
While there are many awe-inspiring views on the northern coast, Hanalei Lookout is easily one of the most picturesque and most photographed on Kauai. Situated up the highway from Hanalei Town (as if you were heading towards Princeville), this vista showcases the natural beauty of the Hanalei National Wildlife Refuge and Kawaikini mountain range.
If you look closely, you can also see the taro fields down on the valley floor. The location near the Hanalei River (which you can also see from the lookout) creates the perfect moist conditions for growing this valuable crop.
For the best views, pull over and park across the street near the Foodland grocery store.
10. Have a Family Day at Anini Beach
As one of the best swimming beaches for kids, Anini Beach offers safe and family-friendly beach time for little ones. Because of the reef (which is the longest and widest in the Hawaiian Islands), the water is well-protected in the summer with very few waves. This makes it an ideal spot for kids to swim, splash, and play!
If you bring snorkeling equipment, you'll also find a variety of marine life in the shallow waters. From colorful fish to vibrant coral formations, there's an entire world of underwater beauty to discover at Anini.
Head all the way to the right-hand side of the beach, and you'll come across a grassy picnic area. With public restrooms, showers, and picnic table pavilions, the beach has all the facilities you need for a family day out.
And if you decide you want to stay longer, you can even spend the night at the on-site campground (Anini Beach Park Campground). It's only $3 for a camping permit, which is a fair price considering you can pitch a tent just feet from the water.
11. Sightsee at the Kilauea Point Lighthouse
On the northernmost point of the Kilauea Point National Wildlife Refuge is the historic Kilauea Point Lighthouse. Built in 1913, the lighthouse stands an impressive 52 feet tall and has a powerful Fresnel lens with a powerful beam that can reach 22 miles at sea.
The view from atop the 180-foot cliffs is spectacular. The panorama over the Pacific Ocean and rocky shoreline is beautiful during the day, although it's even more stunning at dawn or sunset.
However, the view is only one of the reasons to visit the lighthouse. As it's located inside a wildlife refuge, you'll have the opportunity to see a myriad of native and migratory sea birds. Keep your eyes peeled for the Laysan albatross, the Hawaiian goose, great frigates, and even red-footed boobies.
From November to March, there's also a high chance of seeing humpback whales from atop the cliffs. On top of that, spinner dolphins, monk seals, and green sea turtles are also known to swim along these shores.
12. Indulge in a Delicious Farm-to-Table Dinner
Kauai is a great destination for foodies, and this farm-to-table dinner is one of the most delicious ways to experience island cuisine. The dinner is hosted by Common Ground, a farm that specializes in exotic foods like coffee, pineapple, tree tomato, kava, bananas, hearts of palm, and more. They refer to their farm as a regenerative forest, where they grow and harvest foods without the need for imported pesticides and fertilizers.
After a tour of the grounds, you'll sit down with your small group (14 people max) to enjoy a family-style dinner made with 100% locally sourced ingredients. While the menu changes seasonally, it often features fruit and veggies picked right from the farm itself!
Dinners are held only on Thursday and Friday and last for 2 hours. However, you can join an hour early for a ½ mile walk to the historic stone dam on the Wai Koa Loop Trail. It's a great way to see a bit of nature and history before enjoying your gourmet farm-to-table experience!
Related reads:
35 Best Things to Do on Kauai (we will surprise you!)
7 Best Resorts on Kauai for Families: our kids approve! (2023)
What to Do in Hawaii When it Rains: Maui, Oahu, Kauai, & Big Island Activities
The 7 Best Beaches on Kauai in the Winter
The Best Kauai Itinerary
Let us finish your Hawaii vacation planning for you. Grab the Kauai itinerary and one for any of the other islands if you want to visit multiple. Trip planning doesn't get any easier than this.
My husband and I purchased your itineraries for our recent trip to Kauai and Oahu. We found them super helpful, and your recommendations were spot-on. We had a wonderful time, and we didn't regret a minute of how we spent our time there thanks to your guidance. I really appreciate the effort you put into these and if we ever manage to get back to Hawaii (we loved eating/drinking our way through Honolulu and I hear Maui is absolutely beautiful….), I wouldn't hesitate to purchase additional itineraries.

Claudine
Get The Kauai Itinerary
The step-by-step itinerary takes you to all the best beaches, snorkeling spots, restaurants, and sights. You'll get six carefully planned excursion days to help you see the can't miss stops no matter how limited your time is.
Get all the details on our itinerary and download it for a memorable and easily planned trip to Kauai.