Dream Destination? Why Maui Is a Great Place to Vacation
Disclosure: This post may contain affiliate links, meaning if you decide to make a purchase through my links we may earn a commission at no additional cost to you. Read about our affiliate policies here.
Hand to my heart, Maui is a good place to vacation. After traveling to over 50 countries and having a strong affinity for tropical islands, Maui is the island that calls me back for more.
What makes Maui a good vacation spot is its ability to rejuvenate celebrities to families. You can stay in a 5-star resort on a secluded bay or an Airbnb on a volcano. One can enjoy the technicolor sunsets, swimming with turtles, and the endless summer weather. Maui can be expensive with the plane ticket, lodging, and food costs.
Maui makes for an ideal tropical vacation with abundant things to do once you arrive.
A vacation to the Hawaiian Islands is a big decision. Flying to Maui was considered a trip of a lifetime when I was growing up in Northern Michigan. Make sure Maui is a good vacation spot for you by weighing the pros and cons below.
Also, check out the things that you can only do on Maui. You'll see why Maui is a good island to visit.
Decide if Maui is a Good Vacation Spot for You
I come back to Maui for the warm weather, hiking, and snorkeling. Call me crazy but I enjoy snorkeling with sea turtles.
You may not want to get in the ocean with sea turtles. That is cool. But I'm sure you can find another reason to go.
Maui is the second-most visited island in Hawaii but is the celebrity sibling. Maui stays fresh with its chefs testing the waters on new culinary creations to new adventure activities being added to the things to do in Maui list.
I'm not going to say Maui has something for everyone. We are all unique but we all deserve a good vacation.
Put yourself in your own shoes and follow the pros and cons of a vacation to Maui below. If this doesn't help you decide if Maui is a good place to visit, then check out the activities that are unique to Maui.
If you still can't decide, then go to Oahu and Maui. Or Kauai and Maui. But don't miss the Hawaiian islands for a vacation.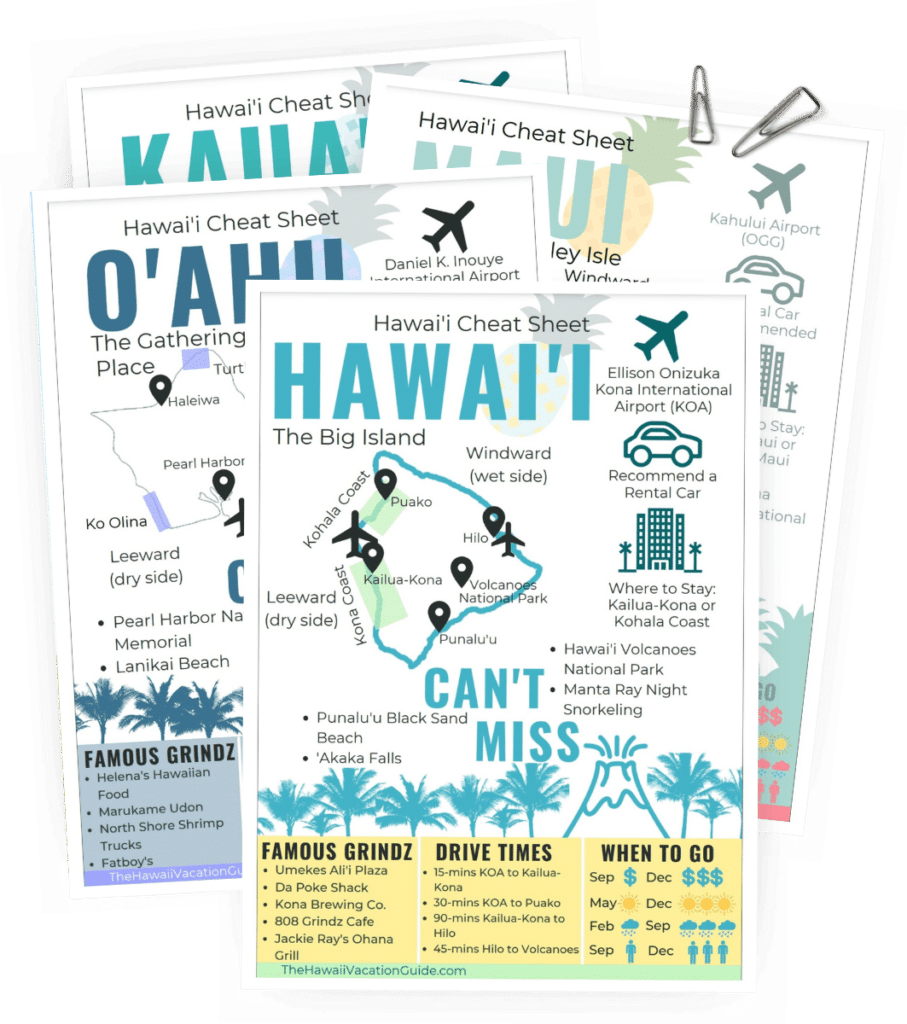 Free Download!
Hawaiian Island Cheat Sheets
Sign up & we'll send you our island cheat sheets so you can get to know the islands like the back of your hand!
We'll share 4 can't-miss activities on each island, a map with the main sights in town, & famous local grindz (eats)!
What Makes Maui a Good Vacation Spot: The Pros
✓ Temperature varies between 65 to 87 degrees Fahrenheit
✓ Maui ocean temperature varies between 75 to 80 degrees Fahrenheit
✓ Maui is a safe place to visit for solo travelers and families
✓ 30 miles of beaches surround Maui. Put your toes between white, red, and black sand. The choice is yours.
✓ The aloha spirit is real and everywhere. The locals enjoy showing tourists around and they make it a happy place to visit.
✓ There are plenty of ocean sports to try or watch. Stand-up paddleboarding, surfing, kitesurfing, and windsurfing are available for any skill level.
✓ Surfing, in case you didn't see the last bullet, the warm ocean and steady waves make Maui ideal for learning how to surf
✓ See a luau to celebrate Hawaiian culture with a show and fine dining or a buffet.
✓ The only creature that will bite you on Maui is a centipede. It will cause a burning sensation but you will survive.
✓ Maui is an epicenter of regional cuisine with world-renowned chefs pushing the envelope on innovative trends
✓ Maui food trucks are plentiful, affordable, delicious, and a great way to eat local grindz (food). We have McDonald's, Starbucks, and Burger King too.
✓ See tropical fish and reefs with snorkeling from your hotel's beach or go on a cruise to Molokini Crater or the neighboring island of Lanai
✓ There are plenty of options and prices for lodging. Stay in a 5-star resort in Wailua or Kapalua, a hostel in Wailuku, or an Airbnb in Kihei or Lahaina.
✓ The 10,023 foot high Haleakala volcano is worth a visit for the stunning sunrise, stargazing, or to hike the lunar landscape of the summit
✓ The lush West Maui Mountains (Maui's 2nd volcano that hasn't erupted in 320,000 years) provide a stunning backdrop when you are on the beach on the westside of Maui
✓ Visit Hawaiian cowboys in Upcountry Maui's historic Makawao town
✓ The Road to Hana is a full day drive of waterfalls, beaches, and stunning vistas. Use an audio tour guide app to get the full experience.
✓ The densest population of humpback whales comes to Maui from December to April. Schedule a whale cruise from Lahaina.
✓ History is ripe in Maui for such a small island. Learn the ancient way of Hawaiian life, whalers and missionaries landing on the island, and the victories and defeats of King Kamamaha as he united the Hawaiian islands
✓ The minimal threat of cabin fever on Maui due to its size, towering volcanoes, and activities to keep you busy
✓ Easy access to Maui with a plethora of non-stop flights from the mainland and international departures.
What Doesn't Make Maui a Good Vacation Spot: The Cons
❌ A rental car is recommended to economically see all the sites on Maui
❌ Food is expensive. Our monthly grocery budget doubled when we moved to Maui. A gallon of milk fetches $6, for example.
❌ Rental cars are expensive. The average rate is $60 per day and this ballons to $185 per day during the holidays.
❌ The off-season for Maui is only a few months. With such a short off-season, it is hard to find deals on hotels and activities. I recommend visiting during the shoulder period of April and May and September to November.
❌ Maui gets hot during the summer on the west side. July, August, and September temperatures can get in the high 90s before noon.
❌ Ants, mice, and cockroaches will come out of the woodwork if you leave food out in your condo. Welcome to the tropics.
❌ The worst crimes against tourists are car and condo break-ins. When at the beach, leave your valuables in front of you, not behind you so someone does grab and run
❌ Don't take rocks from Maui as you will fall victim to Pele's curse.
❌ Maui is home to multiple climate zones, from rainforest to desert so stay in the location right for you. Almost all the resorts are in the dry climate zones on the westside and southside of Maui. The wet areas are on the Road to Hana and up the mountain.
❌ Falling coconuts are dangerous. Don't nap or stand beneath them.
❌ Slow down, you aren't on the mainland. People drive slower in Maui so don't plan on rushing anywhere. Hawaii is the only place I've seen minimum speed limit signs.
❌ Shark attacks have happened in Maui. Since 1995, there have been 120 shark attacks and 5 have been fatal in all of Hawaii. With 9 million visitors a year, the odds are in your favor. Read our Swim Without Fear: Safest Places to Snorkel on Maui for tips to stay safe.
❌ Don't turn your back on the ocean. As with any ocean, a wave can knock you off your feet. Some beaches are more dangerous than others, like Makena Beach (Big Beach) has a nasty undercurrent.
❌ Getting to an island in the middle of the Pacific takes a flight or a cruise ship. Flights have come down in price with more airlines flying here (yeah Southwest!) but flights do get expensive and make the cost of the trip add up.
Related articles:
Get The Maui Itinerary
The step-by-step itinerary takes you to all the best beaches, snorkeling spots, restaurants, and sights. You'll get six carefully planned excursion days to help you see the can't miss stops no matter how limited your time is.
Get all the details on our itinerary and download it for a memorable and easily planned trip to Maui.
How Big is Maui
Before we discuss things to do on Maui and to get a feel for the island, let's get our bearings.
Maui is the second-largest Hawaiian island after the Island of Hawaii (aka, the Big Island).
Maui is 727 square miles and has a maximum length of 39.77 miles. The population during the 2010 census was 144,444.
Square miles isn't much use on an island with limited roads. Let me break this down into tangibles. How long does it take to get around Maui?
Kahului Airport as our starting point because it is in the central part of the island and a known landmark even for first-time visitors. You can get to the following destinations by rental car per Google Maps.
Wailea on the southside of Maui with all the nice resorts: 27 minutes (16 miles)

Kihei on the southcentral side of Maui with nice beaches and lower-cost options: 20 minutes (11 miles)

Lahaina on the westside, a historical town with shopping: 40 minutes (24 miles)

Kaanapali on the west side with nice resorts and beaches: 45 minutes (29 miles)

Hana on the far east side of the island with the famous winding, scenic road: 2 hours (50 miles)

Haleakala National Park at the summit of Haleakala volcano: 50 minutes (27 miles)

Kula farm country on the westside of Haleakala: 20 minutes (13 miles)
Most people stay on the westside near Kaanapali or the southside in Wailea. These two destinations have the best weather and the best beaches.
From these two places, you can essentially go to all the major sights, beaches, and restaurants across the island in 20 to 50 minutes.
The island does not feel small. Your vacation can be whatever you want it to be on the island. You can stay within the comforts of your resort for 5 days and not get bored with luaus, snorkeling, restaurants, mai tais, and shopping to keep you busy.
Or you can fill your vacation in Maui with adventures like hiking to remote waterfalls, seeing the sunrise from the summit of Haleakala, or take a high-speed boat to the island of Lanai for snorkeling.
The island will feel big with so much to see and do.
The Rainy Season in Maui
Maui is a good place to visit because the weather, in my opinion, is perfect. After growing up in Northern Michigan, I enjoy the hot weather for all 4 seasons.
Maui does have seasons but they are subtle. For example, the beachside town of Lahaina in February, the coldest month in Hawaii, has a low of 64o and a high of 82oF. That is my kind of winter.
Maui has two seasons as it is in the Tropic of Cancer. The rainy season on Maui is November to March. The dry season is April to October.
Rainy is relative to where you are on Maui as Maui has many microclimates. Most of the resorts and best places to stay are on the leeward side of the island, known as the westside and southside of Maui.
During the wet season, the leeward coasts get 2 to 3 inches a rain a month. It usually rains during the night and rarely rains all day. You get hot, tropical rains that are more refreshing than a vacation ruiner.
In fact, I recommend to my friends to visit Maui during the winter months, especially the shoulder periods as it is cooler. I'd rather take a short rain burst than a sweltering hot August day to bike down Haleakala.
What Part of Maui is the Best Place to Stay
If you are coming all this way to the middle of the Pacific, you will want to stay in the best place on Maui. Maui is a good vacation spot because there are so many good places to stay.
Most of the resorts and condo communities are on the leeward sides of the island. These are the areas between Kihei and Wailea, known as South Maui, and between Lahaina and Napili in West Maui.
These two areas are the best for the dry, hot, reliable weather and the white sand beaches with turquoise waters.
From these two areas, you can get to the main attractions and water sport areas. Haleakala National Park and Upcountry are about the same distance from both.
How Safe is Maui?
Maui is an ideal vacation spot for families and solo travelers. My wife and I feel very comfortable out in towns on Maui at night with our 20-month-old son. The towns are quiet and peaceful, not dangerous.
For a guy afraid of spiders, I love Maui for the lack of venomous insects. While the Cane Spider can be the size of a human hand, it doesn't bite. There are no snakes on the island to the chagrin of the invasive frogs.
The most feared insect is the centipede. Maui has 3 centipedes on the island. Only the Scolopendra bites and causes a burning sensation.
If you are in a hotel, it will be very rare to find one. Airbnbs and condos may experience these pests in damp areas like kitchens and bathrooms. If you find one, sweep it outside or cut it in half. Stomping on it rarely kills them due to their tough armor.
The largest wild animal on the island is the feral pig. You may come across one when out hiking but they usually run away once they catch your smell.
Locals on Maui are friendly and helpful. As it goes with anywhere on Earth, if you treat them with respect, they will bend over backward to help you out. The aloha spirit is strong on Maui.
Most crimes on tourists are car break-ins or theft at the beach. To avoid becoming a victim don't leave things in your car.
I also recommend keeping your valuables in front of you at the beach. A common habit is to put your beach bag behind you. This makes for an easy grab by a passer-by.
By following these tips, you will have a safe experience on Maui. Maui is a unique cultural experience that is very different from the mainland but when it comes to safety and driving practices and laws, Maui feels like the mainland.
Things to Do When Visiting Maui
If you are still trying to decide if Maui is a good place to vacation, then here is my final try.
These are the activities that you can only do on Maui. Don't go to another island or a theme park to try to recreate these activities. It will only make you feel empty inside.
Witness the sunrise from the crater of Haleakala volcano

Snorkel in Molokini Crater

Swim in the seven waterfall connected Pools of 'Ohe'o

Go to the

Old Lahaina Luau

for an authentic Hawaiian hula and feast

Navigate the 21 switchbacks as you cruise down Haleakala volcano on a bike

Witness humpback whales leap out of the water during the annual migration and mating season between Maui, Lanai, and Molokai

Drive the Road to Hana but on island time. Download an audio tour podcast or app so you don't miss any of the most jaw-dropping sites. Like hiking through a bamboo forest that ends at the 400-foot Waimoku falls – the Pipiwai Trail.

Dine on local grindz by sampling the award-winning Maui food trucks
Maui has so much more to offer than this shortlist. But I feel these activities are truly unique to Maui. You can surf on Oahu and hike on Kauai too.
Maui has the food, the beaches, and the volcanic mountains that make this Hawaiian island my favorite.
Check our favorite activities and tours plus tips on getting rental car and lodging deals. Click here to get our Maui Recommendations hit list.
Maui won't disappoint you, that is why it is a good place to vacation. 
Get The Maui Itinerary
The step-by-step itinerary takes you to all the best beaches, snorkeling spots, restaurants, and sights. You'll get six carefully planned excursion days to help you see the can't miss stops no matter how limited your time is.
Get all the details on our itinerary and download it for a memorable and easily planned trip to Maui.