9 Best Big Island Resorts for Families (your kids will love these hotels!)
Disclosure: This post may contain affiliate links, meaning if you decide to make a purchase through my links we may earn a commission at no additional cost to you. Read about our affiliate policies here.
If you're heading to the Big Island for a family vacation, you've made a great choice. As the largest and most diverse island in Hawaii, it truly has something for everyone, kids included. Whether hanging out on the beach or exploring the lava fields and swimming with Manta Rays, you can be as adventurous or not adventurous as you'd like!
One of the most difficult choices you'll have when planning your Big Island vacation is deciding where to stay. There are so many great resorts on the island, but which one is ideal when you're traveling with kids in tow? Not only should you look for a place with a great pool and lots of activities for the little ones, but you won't want to be too far away from the main sights you want to see.
We've rounded up our list of the best Big Island hotels and resorts to make your decision easier.
We have some quick links to help make your trip planning easier:
1. Our Big Island Wayfinder Itinerary will ensure you don't miss anything
2. Save big with this rental car booking site
3. Don't forget anything with our packing resources
4. Some of our favorite tours and activities for families include: Manta Ray night snorkeling, catamaran snorkeling tour, and a stargazing activity (from the beach!)
Is the Big Island Good for Families?
After traveling there many (many) times with kids, we say yes! The Big Island is an excellent option for families. It has the perfect mix of outdoor adventure, breathtaking beaches, and sights you really can't see anywhere else, so your family definitely won't get bored. Visiting the Volcanoes National Park, stargazing, horseback riding through the valleys, exploring the local farms – you name it, the Big Island probably has it.
What Part of the Big Island is Best for Kids?
The Big Island is huge, which can make choosing where to stay a bit challenging. The area on the Kona side is better suited for kids as it gets more sun (which means more days at the beach!). The Kohala Coast and Waikoloa are also suitable for families, and you'll find many large hotels or resorts here as well.
Hilo can be fun too, primarily because of the proximity to waterfalls, rainforests, and gardens. But if it's your first time with kids, we would recommend staying on the leeward (Kona) coast for the beaches and resorts.
You can see our full article for the best areas to stay on the Big Island.
What are the Best Things to Do on the Big Island?
As we mentioned, the Big Island has something to keep kids of all ages entertained. Some popular activities include hiking (Volcanoes National Park is a must), outrigger canoeing, and manta ray night snorkeling (check out our manta ray guide for more information!). There are also quite a few farm tours where you can learn about coffee growing and honey making! Just take a peek at our full list of family-friendly activities in Kona. To kayak or swim in Kulaniapia Falls, see their exclusive waterfall swim day pass option here.
And if you want to just chill and have a beach day, the Big Island is good for that too. There are so many kid-friendly beaches with calm waters and shallow coves where you can go snorkeling, swimming, or sunbathing. Check out our list of the best beaches on the Big Island!
The Best Big Island Resorts for Families
Now that you know the Big Island is great for a family vacation, it's time to decide where to base yourself for your trip. Here are 9 of the best family-friend hotels and resorts on the island (in no particular order).
Waikoloa Beach Marriott
Whether it's your first or 100th time to the Big Island – you can never go wrong with the Waikoloa Beach Marriott. With an oceanfront location on the shores of Anaeho'omalu Bay, you and your family won't need to leave the resort to enjoy a week in paradise. There are two on-site restaurants, three swimming pools, and many fun activities to keep everyone occupied.
Most of the action happens outdoors by the pools. There's the main infinity pool, an activities pool with a water slide, and a shallow children's pool with a sandy bottom. Throughout the day, the resort passes out little "pool pleasers" like ice cream or cheesecake bites (which kids and adults will both enjoy). You can also take part in beach yoga, pool fitness classes, or cultural activities – all of which are included in your resort fee.
Rooms at the Marriott come in various sizes, starting with a basic 410-foot guest room and going up to the 1- or 2-bedroom Na Hale Suites with pull-out sofas. Oceanfront rooms are worth every penny since they have panoramic views over sparkling blue waters.
There are two restaurants on the property, including a 2022 OpenTable Diners Choice Award winner, Hawaii Calls. Twice a week, the resort also hosts a sunset luau, where you'll be treated to gourmet Hawaiian cuisine, live music, and of course, hula dancing!
Waikoloa Beach Marriott Features
Activities: Cultural activities, pool fitness classes, golf course, salt scrub making, luggage tag making
Kid's Club: No
Restaurants: Hawaii Calls (with kid's menu), Aka'ula Lanai coffee house, Sunset Luau
Pools: 3 pools – main infinity pool, activity pool with slide, kid's pool with a sandy bottom
Nearby: Queen's Marketplace, Waikoloa Beach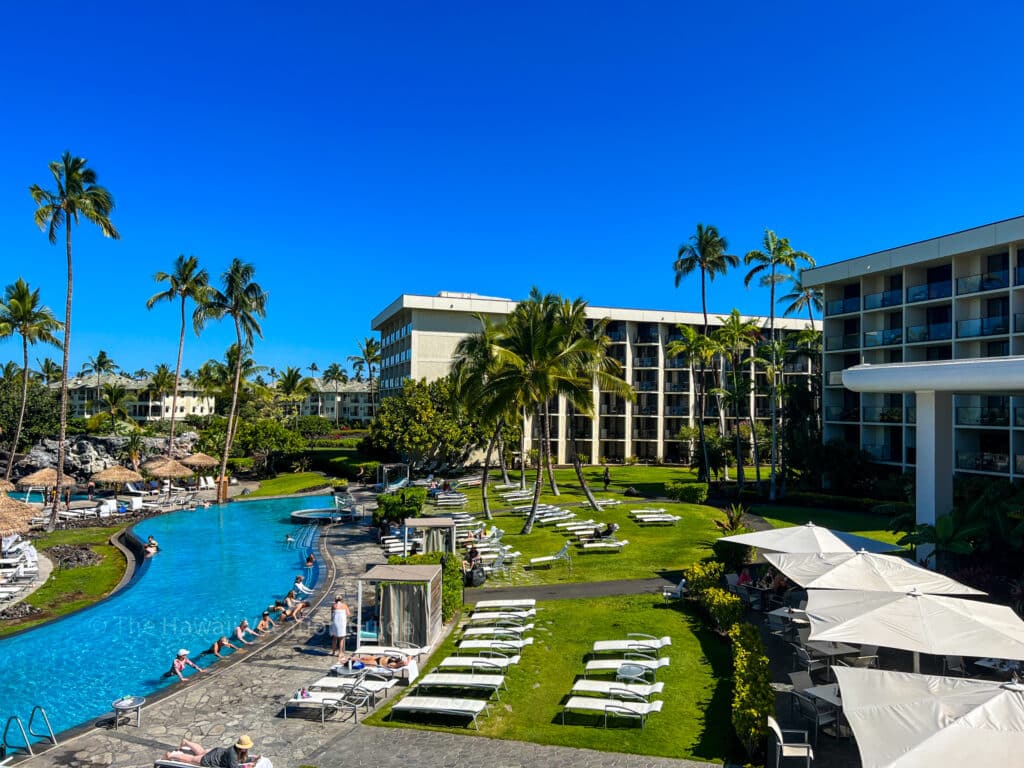 Hilton Waikoloa Village
The Hilton Waikoloa Village is the largest resort on the Big Island. It covers a whopping 62 acres of the Kohala Coast and features over 1,000 rooms, 3 pools, 9 restaurants and bars, and even its very own private saltwater lagoon. This property is so large that they even have their own tram/monorail system to take you from one side to the other. If you like big resorts, this is the place for you.
Let's start by talking about the amenities of which the Hilton Waikoloa Village has many. Daily cultural classes include ukulele lessons, lei making, and bracelet making. There are also fitness classes almost every hour, from paddle board yoga and tai chi to spinning and core training. The resort lagoon is also a great place to go swimming, snorkeling, or kayaking (where you can see turtles and other tropical marine life). Dolphins are also in the lagoon, although you'll have to fork over a bit of money if you want to see or spend time with them.
Besides the lagoon, the pool area is also expansive, with plenty of fun options for adults and kids. The Kona Pool features a water slide and rope bridge, the Kohala Pool has a river canal and small water slides, and the Ocean Tower Pool is a secluded area just for adults.
With over 1,000 rooms spread across two large towers, you're guaranteed to find a space to fit your needs. The Makai Tower has more upscale rooms with exclusive amenities (dedicated concierge, access to Kohala Spa, and fast-track luggage service). The rooms in the Palace Tower are smaller and further away from the main resort areas, although you can always upgrade to a suite (5 to 7 people) if you need more space.
Hilton Waikoloa Village Features
Activities: Daily cultural classes, daily fitness classes, saltwater lagoon with rentable kayaks, trikes, snorkel gear, and a dolphin sunrise experience
Kid's Club: Yes – ages 5 and up
Restaurants: 9 different restaurants and bars and an on-site luau (3x a week)
Pools: 3 pools – Kona Pool, Kohala Pool, Ocean Tower Adults Only Pool
Nearby: Queen's Marketplace, Waikoloa Beach
We feature many of these Big Island resorts for families in our Big Island Luxury Resort video. To see more of these resorts, watch the video below!
Outrigger Kona Resort & Spa
If you and your family prefer to be near Kona, then the Outrigger Kona Resort & Spa is an excellent (and affordable) option for a hotel. It's perched above the rocky lava cliffs, giving you a bird's-eye-view over the ocean. And you aren't very far from the beach either, as the sandy shores of Keauhou Bay Beach Park are just 8 minutes away on foot.
Kids will love the multi-level pool, which has a 200-foot waterslide and a soft sandy bottom children's area. And there are tons of fun cultural activities for them too, like ukulele lessons, lei making, and hula classes (as well as live music and yoga for the adults).
However, the coolest activity you can do here is Manta Ray viewing, as the Kona coast is one of the only places in Hawaii where you can see these gentle creatures up close. The resort offers its own tours and viewings, although we strongly recommend this snorkel adventure in Manta Ray Village.
The rooms are a bit small and outdated. Although the basic room can still sleep a family of three, if you are traveling with more people in your party, you'll need to book a deluxe suite (which also has views over the manta ray area!).
Outrigger Kona Resort & Spa Features
Activities: Cultural activities, Manta Ray talk, outdoor games (tennis, basketball, bocce ball), yoga and fitness classes, and paddle board rentals
Kid's Club: No
Restaurants: The Holua Poolside Bar & Lounge and the Wailele Café
Pools: Yes, with a 200-foot waterslide!
Nearby: Kona Point, Keauhou Bay Beach Park
Mauna Lani
Rated the #1 resort on the Big Island by Travel + Leisure, the Mauna Lani is a stunning 5-star hotel perched right on the sandy ocean shores. But unlike other luxury properties (which can be too uptight or stuffy), this resort is super laid back and family-friendly, making it a great escape for guests of all ages. Our stay at the Mauna Lani was nothing short of amazing.
To start, your little ones will get personalized welcome gifts and special turndown amenities. They can also join the Holoholo Kids Crew, a complimentary program for ages 5-12 where they'll play games, make art, take culinary classes, and more. If they'd rather stay by mom and dad, then they can enjoy a day at the Keiki Pool, which is adjacent to the main resort pool and an adults-only pool.
The rooms, in addition to the entire resort, were recently renovated a couple of years back, so they're very chic and modern. And 90% of them have ocean views, so you can enjoy the ocean breeze even if you aren't by the pool. They also have 1-, 2-, or 3-bedroom suites (although only the jaw-dropping 4,625-sq ft Francis H. I'i Brown Suite has a kitchen).
For food, you'll be spoiled for choice when it comes to choosing a restaurant. Enjoy oceanfront dining at the CanoeHouse, grab a deli sandwich at the MarketPlace, or indulge in Hawaiian cuisine at HaLani. The resort also provides kid's menus and can whip up specialty items for any picky eaters.
Mauna Lani Features
Activities: Cultural activities, guided history tours, 2 golf courses, and a surf shack with e-bike, outrigger, and paddle boarding rentals
Kid's Club: Complimentary kids club (Holoholo Kids Crew) and babysitting services
Restaurants: 5 restaurants with kid's menus
Pools: 3 pools – the Resort Pool, the Keiki Pool, and the Adult Pool
Nearby: Kalahuipua'a Historic Park, 49 Black Sand Beach
Four Seasons Resort Hualalai
The Four Seasons is known around the world as being the epitome of luxury – and the Hualalai on the Kohala Coast is no exception. The property is gorgeous, the customer service team is excellent, and the amenities and on-site facilities are really top-notch.
But the Four Seasons isn't just for adults. They welcome kids and families with open arms too. For starters, they'll receive a special welcome amenity in the room, as well as child-size bathrobes and access to the Children's video library. Kids aged 5 to 12 can also join the complimentary kid's program, although the resort also has a special summer camp (Camp Manitou) for those aged 9 to 17.
The resort has eight (yes, eight!) outdoor pools, including a lap pool, a rocky ocean pool, and a kid's pool (with water features and kid-size chairs). However, the coolest "pool" is actually a 1.8-million-gallon pond filled with thousands of tropical fish, which is a great, protected spot for snorkeling.
Basic guest rooms are spacious (635 sq ft) and, with pull-out sofas, can easily fit a small family. If you want more room, you can upgrade to a suite or villa – some of which can accommodate 8 to 10 guests.
Four Seasons Resort Hualalai Features
Activities: Cultural activities and marine life experiences
Kid's Club: Yes, complimentary for kids 5 to 12
Restaurants: 6 restaurants (kids under 4 eat for free!)
Pools: 8 pools, including a tropical lagoon for snorkeling or fish feeding
Nearby: Turtle's Cove, Kikaua Point Park
Mauna Kea Beach Hotel
The beautiful Mauna Kea Beach Hotel has a prime oceanfront location on one of the prettiest beaches in Hawaii – Kauna'oa Beach. This half-mile-long shoreline has a protective cove for snorkeling and watching manta rays. It's one of the biggest reasons to book this hotel (especially because the pool is small and somewhat lackluster).
But if you want to keep your kids entertained, you can enroll them in the kid's club. It's not free, but it'll give your little ones a chance to play and mingle with other playmates while you treat yourself to a pool or spa day. Other complimentary activities offered by the hotel include cultural classes and intro sports for canoeing, snorkeling, or stand-up paddleboarding. And there is also a golf course and tennis club if you feel like being more active.
When booking your room, you can choose to stay in the main tower or the newer beachfront wing. Although the beachfront rooms are a bit further from the main lobby, they all have a private, furnished lanai and open ocean views. On the other hand, the tower rooms can either face the beach or the nearby golf course.
There are two main restaurants at the hotel, as well as another eatery on the golf course. For something extra special, book a spot at the evening luau, which takes place on the lawns every Tuesday and Friday.
Mauna Kea Beach Hotel Features
Activities: Cultural activities, intro to sports classes, golf, tennis
Kid's Club: Yes, for a fee
Restaurants: Manta Restaurant, Hau Tree, and Number 3 Restaurant (on the golf course). On-site luau dinner is also available
Pools: One pool (no slides or activities for kids)
Nearby: Kauna'oa Beach, Hapuna Beach State Recreation Area
Fairmont Orchid
The Fairmont Orchid is a true oasis for those craving a bit of rest and relaxation. It's a luxurious resort through and through, from the tropical grounds (with koi ponds and waterfalls) to the mouthwatering cuisine. Not to mention it's also located on Pau'oa Bay, a beautiful cove with warm waters and colorful marine life.
Although the Fairmont caters to couples and adults, it also has tons of activities for kids. When they're not at the beach, children can play in the 10,000 sq ft pool, which has pool service, toys, and floaties. Or they can take part in one of the many on-site activities, like coconut frond weaving, lei making, and turtle talks. Don't forget to book your complimentary canoe ride or snorkeling class!
The rooms are clean, modern, and fairly spacious, with views of the ocean, gardens, or neighboring golf course. The smallest room is still relatively big (522 sq ft) and can accommodate 4 people. However, their suites will give you and your family more room to spread out as they have separated bedrooms and an additional half bath.
Fairmont Orchid Features
Activities: Cultural activities, yoga and fitness classes, snorkel and surfing lessons, underwater ballet show, canoe rides, golf, tennis
Kid's Club: No
Restaurants: 7 restaurants, with a kid's dining program at Brown's Beach House, Binchotan: Bar & Grill, and Hale Kai Restaurant
Pools: One pool
Nearby: Mauna Lani Shops
Westin Hapuna Beach
After undergoing a $50 million renovation in 2018, the Westin Hapuna Beach is now considered one of the best resorts on the islands. All of their rooms are ocean-facing (a rarity for Hawaiian hotels), although with so many fun things to do on-site, we doubt you'll be spending that much time in there at all!
The resort rests on Hapuna Beach, one of the best beaches in the area for swimming and snorkeling. The waters are filled with different types of tropical fish, and if you're lucky, you might be able to spot sea turtles too. You can also spend your days at one of the two pools – the adult-only infinity pool or the family pool – or at the resort's golf course and driving range.
Family-friendly activities include lei making, hula lessons, and Hawaiian chanting. For something more adventurous, rent a paddle board or kayak from the beach hut to explore the open waters of the ocean.
There are three on-site restaurants as well as a coffee bar with to-go snacks and lunch options. The upscale Meridia is geared more towards adults, while Ikena Landing and Naupaka Beach Grill are more likely to have options that your fussy eaters will enjoy.
Westin Hapuna Beach Features
Activities: Cultural activities, golf course and driving range, yoga and fitness classes, boating and water sport rentals
Kid's Club: Yes, the Westin Kids Program
Restaurants: 3 restaurants and one cafe/to-go spot
Pools: 2 pools – one adult-only infinity pool and one family pool
Nearby: Hapuna Beach State Recreation Area
Waikoloa Beach Villas
Although we love staying in resorts and hotels, having a vacation rental makes longer-term stays much more enjoyable, especially with kids! That's why we wanted to include the Waikoloa Beach Villas on this list. You'll get to enjoy the benefits of being in the main resort area in Waikoloa while also having the comforts of home.
When you stay at the Waikoloa Beach Villas, you can book a 2- or 3-bedroom home, which provides more than enough space for large groups or families. All rentals have their own living room, dining area, kitchen, and garage. There are also two pools on the property as well as hot tubs, a shared BBQ area, and a fitness center. As with most vacation rental properties, the units are individually owned, which means they vary in terms of decor, amenities, and cleanliness.
While there aren't any restaurants on-site, you can easily walk to several restaurants at the Queen's Marketplace in just a few minutes. The King's Shops are also 5-10 minutes away, but since you have a full kitchen, you can pick up some groceries and whip up meals or have an outdoor BBQ instead.
Another downside is the lack of organized activities. Unlike many of the other resorts in the area, the Waikoloa Beach Villas doesn't offer cultural classes, tours, or sports rentals. Instead, you'll need to plan your own adventure during your stay. And if you want to go to the beach, keep in mind the nearest sandy area is 'Anaeho'omalu Bay, which is 15 minutes on foot.
Waikoloa Beach Villas Features
Activities: No organized activities
Kid's Club: No
Restaurants: No
Pools: 2 pools
Nearby: Queen's Marketplace, Kings Shop, 'Anaeho'omalu Bay
Plan the Rest of Your Trip, Easily
Now that you know where you're staying, get the rest of your trip planning done. Our download and go itinerary takes you on excursion days around the island, showing you the best sights and taking you to the best restaurants. Don't waste your time planning — we've done the hard work for you.
Buy the guides!! I read and reread the guides Oahu & Maui! It made our first trip so much better! We knew where to stay, eat and the tours we wanted to do even gave us ideas where to park! It was the perfect vacation! Thank you for making our first trip a blast!! We will be back!

Annette (YouTube comment)
Get The Big Island Itinerary
The step-by-step itinerary takes you to all the best beaches, snorkeling spots, restaurants, and sights. You'll get six carefully planned excursion days to help you see the can't miss stops no matter how limited your time is.
Get all the details on our itinerary and download it for a memorable and easily planned trip to Hawai'i (Big Island).