What to Pack for Your Hawaii Vacation (2022)
Disclosure: This post may contain affiliate links, meaning if you decide to make a purchase through my links we may earn a commission at no additional cost to you. Read about our affiliate policies here.
We get no satisfaction from watching people overpack for a trip to Hawaii. But, with so much to see and do on the Hawaiian Islands, we understand why you might pack too much. As a local resident of Maui, who loves to island-hop, here is what to pack for your trip to Hawaii in 2022
Your essential packing list for Hawaii includes the following:
Shorts and T-shirts
One Gorgeous Island Style Outfit
Comfortable Footwear: sandals and hiking or walking shoes
Swimsuit (of course)
Sun-Protective Clothing
Mineral-Based Sunscreen
UV-Protective Sunglasses
Backpack
Water Bottle
Beach Bag
Natural Bug Repellent (Kauai)
Warm Clothes (Maui and Big Island)
We aren't loading this article full of things you need to buy. We focus on what you plan to do so you can pack the right stuff for your Hawaii vacation. Especially if you're bringing the family, you want to keep your packing list to the essentials.
Read on for the right packing list for your Hawaii itinerary, based on what island you plan to visit!
Packing for the Hawaiian Islands Weather
The major Hawaiian Islands sit between 19.5 degrees to 22 degrees north latitude, putting it just in the Tropic of Cancer in the northern hemisphere. Don't let people convince you that you might get cold. Unless 61 degrees Fahrenheit during the depths of a Big Island winter will make you shiver, you don't need jeans or sweatshirts for a beach vacation.
61 degrees may seem cold, but that is the average low temperature in January, meaning the coldest at dawn. Looking at the temperature charts below for the four major Hawaiian Islands, you will find average daily temperatures in the 70s and 80s, even during winter.
We find the best temperature and the least rain to be in September, the best time to visit Hawaii (in our opinion).
The resort areas in Hawaii are located on the leeward (dry) side of the islands. You will find the warmest temperatures and the fewest rainy days. That is why these resort areas are so popular.
Now, if you plan to climb to the top of a volcano for sunrise or hike into a high-altitude rainforest on Kauai, then see below for what to pack.
Related articles:
Unless the temperatures above are cold for you, plan to dress in light, breathable clothes. The best island wear is clothes that are light in color and weight. Light, cotton clothes are popular.
Most locals wear t-shirts, tank tops, and shorts when in town. The Hawaiian Islands have a laid-back, casual vibe. You won't find people dressed in their Sunday best or wearing resort wear.
Hawaii residents wear Aloha Shirts for work in offices and resorts. An Aloha Shirt is business formal or if going out for a nice dinner.
To get more familiar with each Hawaiian Island, check out our free travel guides below:
Complete Packing List for Hawaii
Here is our full list of recommended items to pack for your Hawaii vacation. Whether you need to know what to pack for a 7-day trip to Hawaii or a 3-day trip, we have you covered with this complete Hawaii packing list.
Shorts and T-Shirts
Warm Clothes (Maui and Big Island Volcano Tours)
Reusable Shopping Bags
Chopsticks or Metal Utensils
Beach Bag or Backpack
Mineral-Based Sunscreen
Sunglasses
Sun-Protective Clothing
One Gorgeous Island Style Outfit
Handbag (fanny pack is best)
Comfortable Footwear
Swimsuit Cover-Up
Flotation Strap for Underwater Camera or Phone Case
Waterproof Phone Pouch or Waterproof Waist Pouch
Underwater Camera
Eco-Friendly Bug Repellent (Kauai)
Hiking Shoes
Rain Jacket (hiking)
Water Bottle
Adjustable Hiking Poles (hiking)
Pants and Long-Sleeve Shirt (hiking)
Light Jacket
Sun Hat
Sunglasses
Backpack
Reef-Safe Sunscreen
Camera
Don't worry about forgetting something at home. Hawaii is full of convenience stores, Costco, Target, grocery stores, and shops for you to purchase a toiletry you forgot, extra reef-safe sunscreen, or aloe in the event you get burned at the beach!
See below for more details on what to bring for the type of trip you are planning. A beach bum vacation versus a jungle hiking adventure requires a far different packing list. But we have you covered for both.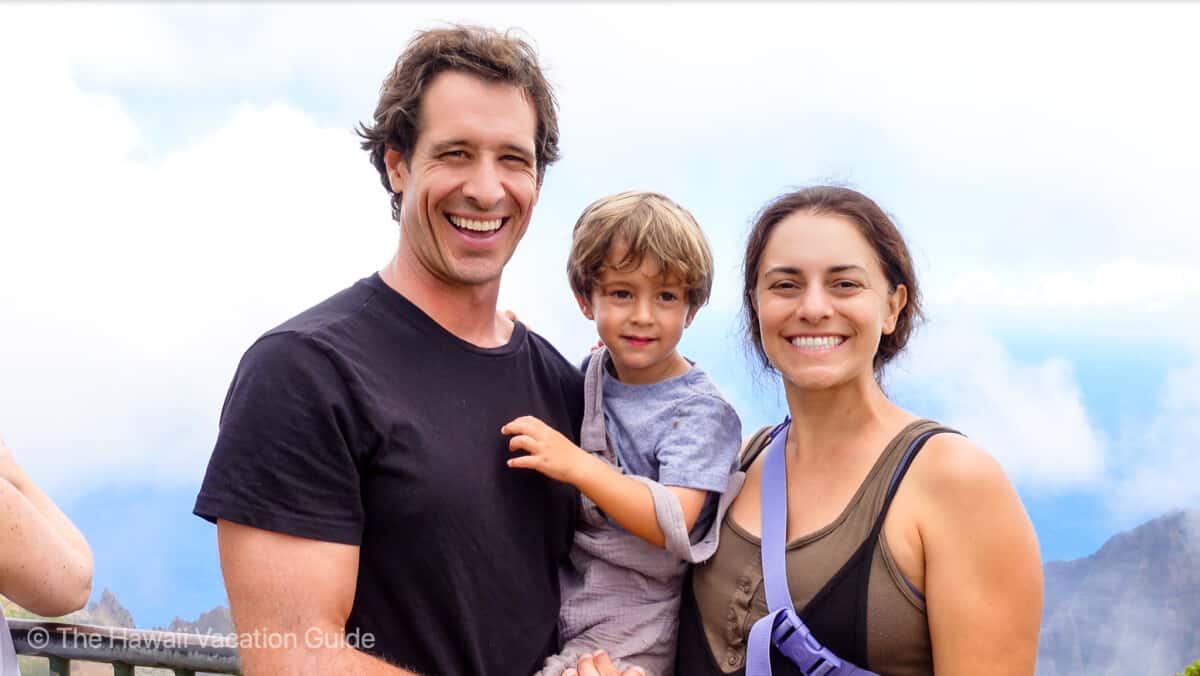 Clothes to Pack for Hawaii
Island wear brings images of Tommy Bahama for resort wear or Quicksilver for more of that surfer look. These are all good examples of island wear you will find in the resorts.
But, wear what you are comfortable wearing. There are no fashion rules in Hawaii.
The main idea for packing for Hawaii is to pack clothes for a warm climate. Dinner at night does not mean it will be cold.
Shorts and T-Shirts – Due to the warm climate, you will wear these daily. I wear a tank top 90% of the time in Hawaii. It is hot and sunny, so soak up those rays while staying comfortable.
Comfortable Footwear – this may mean wearing sandals, called slippers in Hawaii, or bringing a comfortable pair of sneakers
Handbag – bring something you won't be worried about getting sand inside or being out in the sun. If you have kids, consider a fanny pack so you can chase the kids around the beach while wearing your valuables.
One Gorgeous Island Style Outfit – be this a favorite sundress or resort wear for guys, bring at least one outfit for a nice dinner with your partner. Besides fine dining or a luau, you won't find other opportunities to get fancy in Hawaii.
Scale appropriately. Pack more t-shirts and shorts if you plan to spend 7-days on the islands versus 3-days. You will find yourself going through more daily wear like t-shirts and shorts compared to evening wear which will stay fresh in the cooler and breezier evening weather.
The trade winds pick up in the late afternoon, helping to cool off the lounge area just in time for happy hour.
Unique Items to Pack for Each Hawaiian Island
Each Hawaiian Island is not created equally. You will find different climates and can't miss activities on each island. Here are some unique packing items for each island. See if you will do the activities that will warrant packing a rain jacket or a sweatshirt and winter hat.
Clothes to Pack for Maui
A popular activity to do in Maui is to visit Haleakala National Park. The dormant volcano has a summit of 10,023 feet. Read more about Maui's volcanoes here.
During the winter, the summit of Haleakala can receive a light dusting of snow.
Even during the day in the summer months, the summit area with all the views and hiking trails can be in the 50s. When the clouds come in, the temperature can drop even more. If you plan to do a Haleakala sunrise tour or sunset viewing, then you need to pack winter clothes.
Winter Jacket or Thick Sweatshirt
Sweatpants (jeans are not recommended)
Winter Hat
Clothes Toed Shoes
Winter Gloves
If you can't fit that into your suitcase (it can be a lot for a family), you can attempt to layer your Aloha Shirts.
Clothes to Pack for Oahu
As an older island, Oahu doesn't have high-elevation volcanoes like the Big Island and Maui. There are some incredible hikes to the top of the ridges (see here for our favorite Oahu hikes) where you may get wet and shivery.
So if you plan to do some skilled, long hikes on Oahu, then we recommend packing a light rain jacket for Oahu.
But if you plan to stick to Oahu's easy hikes, then don't worry about bringing warm clothes to Oahu.
Clothes to Pack for the Big Island
The Big Island's packing list is similar to visiting Maui. The Big Island has polar regions at the top of Mauna Kea (13,803-ft elevation) and Mauna Loa (13,679-ft elevation). Mauna Loa frequently gets snow-capped during the winter. Pack your skis!
If you plan to go stargazing on the top of Mauna Kea or visit Hawaii's Volcanoes National Park, pack warm clothes. During the day and evening, you will want to have a sweatshirt on at the least.
Here is what to pack for visit to the Big Island if touring the volcanoes:
Winter Jacket or Thick Sweatshirt
Sweatpants (jeans are not recommended)
Winter Hat
Clothes Toed Shoes
Winter Gloves
Even during our visit to Volcanoes National Park in May, the temperature was 53 degrees in the evening as we watched Kileaua glow during the recent eruption. For people living in Maui, that is freezing.
Clothes to Pack for Kauai
Kauai is the most ancient of the major Hawaiian Islands, so you won't find massive volcanoes. You will most likely find yourself exploring the island near the coast. A lot of people visit Kauai for hiking as it is a jungle paradise.
If you plan to hike a lot on Kauai, then plan to get wet. Here are the extra clothes to pack for Kauai:
Light Rain Jacket
Pants and Long-Sleeve Shirt for Hiking (bugs!)
Natural Bug Repellent
Kauai has a lot of bugs, like mosquitoes, that may make you go crazy during even a short hike to a waterfall, like the kayak and hike to Secret Falls or Mountain Tubing Adventure.
Please consider the environment when packing bug repellent as what you put on will end up in the freshwater rivers and streams of Kauai
Here are some recommended natural bug spray brands:
In my opinion, the only reason to bring pants to Kauai is if you plan to do a lot of hiking; pants and long-sleeved shirts are the best for fending off bug bites. Reducing the amount of bug spray is always the best option.
See our full list of What to Pack for Kauai.
Unconventional Packing Items for Hawaii
Here are some packing items you may not have considered for Hawaii.
Reusable Shopping Bags – Counties in Hawaii are transitioning away from single-use plastic bags. Grocery stores provide paper bags or you have to buy a reusable shopping bag.
Chopsticks or Metal Utensils – Hawaii is going through a transition away from plastic utensils. Wood utensils or chopsticks are becoming common for take-out and food trucks. Bring your own favorite utensils if this is important to you.
Beach Packing List for Hawaii
The Hawaiian Islands have so many amazing beaches to visit. The nice part of Hawaii is the best beaches are state or county parks so you will find lifeguards on duty, toilet facilities, showers, and a decent amount of parking.
You can fly from home without these items as they are all readily available for purchase in Hawaii. But if you own them already, don't want to stress about buying them upon landing, or they will be cheaper to buy at home, like sunscreen or a beach bag, then throw them in the suitcase.
Mineral-Based Sunscreen – Hawai'i banned certain types of sunscreen in 2021 as they damage the reefs. While most of the country now sells reef-friendly sunscreen, we recommend mineral-based sunscreen (zinc oxide and titanium dioxide) as they are the least likely to cause the reefs to stop growing. Non-reef-safe sunscreen can't be sold in Hawaii.
Sun-Protective Clothing – Rashguard or sun shirt and a sun hat will be your best friends at the beach. We recommend wearing sun-protective clothing so you can minimize the amount of sunscreen you need to wear.
Sunglasses – UV-protective is best for safety. Polarized is best for viewing the ocean and makes the island's vibrant scenery really pop!
Beach Bag or Backpack – a must-have item for the beach. Plus, a beach bag serves as a bag for grocery shopping.
Swimsuit Cover-Up
Underwater Camera – Perfect for snorkeling, an affordable underwater camera is a must, or use a waterproof phone case that enables pictures.
Flotation Strap for Underwater Camera or Phone Case – you will thank me for this one.
Waterproof Phone Pouch or Waterproof Waist Pouch – if you need to keep valuables off the beach, then consider bringing this for peace of mind when swimming.
While you can purchase these items readily in Hawaii, you may not be able to find a convenience store close to your favorite beach.
There is an ABC Store every five feet in Waikiki, but on Kauai, you will be hard-pressed to find a shop close to the best beaches. So, plan ahead by packing these items before you leave the resort or your vacation rental.
How to Keep Valuables Safe on the Beach in Hawaii
This is a popular question. Sorry to say, there is no easy answer. First, beach theft is not as common as one hears in the news in Hawaii. Theft can happen so be prepared but don't fear getting robbed on a Hawaii beach.
Snorkeling safety includes bringing a buddy out with you. If you are a couple (enjoying this Kauai honeymoon itinerary), leaving things on the beach is highly probable when you go swimming or snorkeling.
I know you will not bring valuables to the beach, but it is hard to leave home without your phone, wallet, and car keys.
Leave valuables in the trunk of your car. Out of sight is best! In the best-case scenario, you only have your car key with you at the beach. Try to hide it in a food container or other nondescript location Leaving it in your backpack makes it an easy target for a grab and go.
While Apple Pay and other touchless payment methods are becoming more common in Hawaii, we find it hard to have a day out exploring Hawaii without your physical credit cards and cash. So let's discuss some ideas for keeping your few valuables safe.
Beach lockers are extremely rare in Hawaii. I can't think of one beach that offers them.
6 Tips to Keep Your Valuables Safe at a Hawaii Beach
Waterproof Phone Pouch or Waterproof Waist Pouch – remember a floaty to attach to the pouch in case you drop it!
Lockbox for Your Car – surfers like to keep a combination hide-a-key lockbox attached to their car. A perfect place to hide and protect your car key. We recommend a Key Lockbox with Combination Lock and Shacklor a Magnetic Hide-A-Key, No Lock.
Waterproof Dry Bag – hopefully, you don't have a lot of stuff, but if you do, grab a dry bag for the kayak or to tow behind you when snorkeling.
Pick a Spot Near the Lifeguard Tower – the lifeguard won't watch your stuff for you but their presence may deter thieves. It is a small island, the lifeguard will know the characters that cause mischief.
Take a Newspaper or Book, Leave the E-Reader at Home
Keep Your Backpack in Front of You – fast-acting thieves can grab your bag as you gaze out on the water
Packing List for Hiking in Hawaii
Hawaii has some amazing hiking trails. While our favorite Hawaiian Island for hiking is Oahu, hiking on each island is a must. Consider packing the following items if you plan to go hiking in Hawaii.
Bug Repellent is Optional
While Kauai has a lot of bugs out on the trails, we haven't noticed a lot of bugs when we hike on the other islands. I hiked all over Oahu for two years without needing bug repellent.
But, if the bugs love you then consider bringing a natural bug spray and wearing long-sleeved shirts and pants.
Please consider the environment when packing bug repellent as what you put on will end up in Hawaii's freshwater rivers and streams.
Countless studies show the damaging effects of chemicals such as DEET, pyrethroids, permethrin, and cyfluthrin. All of these can be found in most commercial bug sprays.
You can keep the bugs away with natural insect repellant without ruining your skin or the environment. These bug repellants use ingredients you can pronounce, like baking soda, mineral oil, rosemary, citronella, or peppermint.
See the Kauai section above for our recommended natural bug sprays.
The Right Hiking Shoes for Hawaii
Our favorite hiking shoes are Teva sandals or the equivalent design. We like these because they are light and small to pack compared to hiking boots, are perfect for crossing streams and muddy paths, and have good traction.
Shop 30% Off Teva Sandals, Shoes and Boots
You don't need the Teva brand, but a similar type of water and hiking shoe will be a welcome addition to your suitcase.
Here is a complete packing list for hiking in Hawaii:
Eco-Friendly Bug Repellent
Hiking Shoes
Pants and Long-Sleeve Shirt – fend off the bugs in an eco-friendly manny
Rain Jacket – getting wet and muddy is highly likely. Embrace the warm rain or pack a light rain jacket.
Adjustable Hiking Poles – muddy slopes are common so hiking sticks may be a good idea for you. Erica always brings them as she has a bad knee.
Water Bottle – a no-brainer but bears repeating. Bring plenty of water to stay hydrated in the hot and humid climate!
Iodine Tablets or a Purification Water Filter -if you plan to go on an extended hike, the water in the streams is not safe to drink so bring iodine tablets to purify the drinking water.
Packing for Boat Tours in Hawaii
Our favorite Hawaii activities usually include getting out on the ocean. On Kauai, you can't miss a Napali Coast snorkeling tour or Napali Coast sunset and dinner cruise. On Oahu, a Waikiki sunset sail that leaves from the beach is a must. On Maui, you better get out on the water for whale watching season!
To pack for a morning whale watching tour or a sunset dinner, this is where we recommend packing warm clothes, and remember to bring your sun-protective clothes!
Hawaii Boat Tour Packing List
Light Jacket
Sun Hat
Sunglasses
Towel (for snorkeling and rafting tours)
Backpack (dry bag isn't required)
Reef-Safe Sunscreen
Water Bottle
Camera!
Pack light for a boat tour as space on the tour boats is limited, but most tours do provide dry storage. Minimize bringing valuables as most of the time, your backpack will be in the common area in the galley while you are on the deck checking out the views. We have never had an issue or heard of theft, but you still want peace of mind!
On the Big Island, manta ray night snorkeling is a must! While they will give you a wet suit, bring a towel and sweatshirt for when you get out of the water.
What Not to Pack for Hawaii
Let me share some common items visitors like to pack for Hawaii. Review the list to determine if you'd prefer to pack these items for your Hawaii vacation.
For example, many people like to have an umbrella in hand for a quick downpour. We don't mind getting wet in warm rain or running for shelter to wait for the rain cloud to pass. But if you don't want to get wet, then bring a travel umbrella and keep it in your backpack so you are always ready.
We are caught in a downpour every time we visit Kauai as we like to stay or frequently visit the North Shore of Kauai, the windward or wet side of the island. We don't mind the rain, nor have we ever wished we had an umbrella. With two kids in tow, an umbrella is low on our list of things to bring for the day.
A list of what not to pack for a trip to Hawaii:
Water Shoes – mesh with rubber soles, slip-on shoes are made for walking over rocky beaches. These are nice to have but not recommended. Most of Hawaii's popular beaches are sandy. You won't find yourself walking over rocks for long, if even necessary, to enter a good snorkel spot. Plus, mesh water shoes may tempt you to walk on the reef, which is not good for the world.
Jeans – Some people say to bring them just in case. I can't think of a single case to wear jeans on Kauai for your vacation. Bring light cotton or khaki pants if you like to wear pants in the evening. Jeans are not comfortable clothing in Hawaii.
Dress Clothes – Hawaii has plenty of fine-dining establishments. You can find a list of our favorite restaurants in our itineraries. If you plan on going out to dinner, one nice outfit is recommended. Packing numerous dress clothes isn't recommended. In Hawaii, you won't find people wearing diner jackets, suits, or formal dresses.
High Heels – comfortable shoes are a must. High heels are not recommended island attire.
Beach Towels – hear me out on this one. Beach towels, even fast-drying, sand-resistant, quick-dry beach towels like Live Sandy, are condensed, so they pack well, but they still take up a lot of suitcase space. You don't need to pack beach towels because hotels and resorts provide beach towels to guests. The vast majority provide beach towels if you're staying in a vacation rental. If they don't, you can pick up souvenir beach towels!
Snorkel Equipment – If you have a favorite mask, snorkel, and/or fin or plan to snorkel every day, then we recommend you make room for your snorkel gear. But for most, save room in your suitcase by renting equipment. Local rental shops are well priced, have quality equipment, and are located near the best snorkel spots.
Heavy Jacket or Sweatshirt – We recommend a light jacket or long sleeve t-shirt over packing a thick jacket or sweatshirt. Hawaii's climate is not conducive to wearing a heavy jacket.
Umbrella – if you don't like getting wet, then pack a travel umbrella. We find the warm rains to be refreshing, and the sun will dry you quickly, so an umbrella isn't recommended.
Craving more wisdom on traveling to Hawaii? Sign up to get our cheat sheets, and you'll also get our twice-monthly newsletter where we share the best Hawaii travel advice!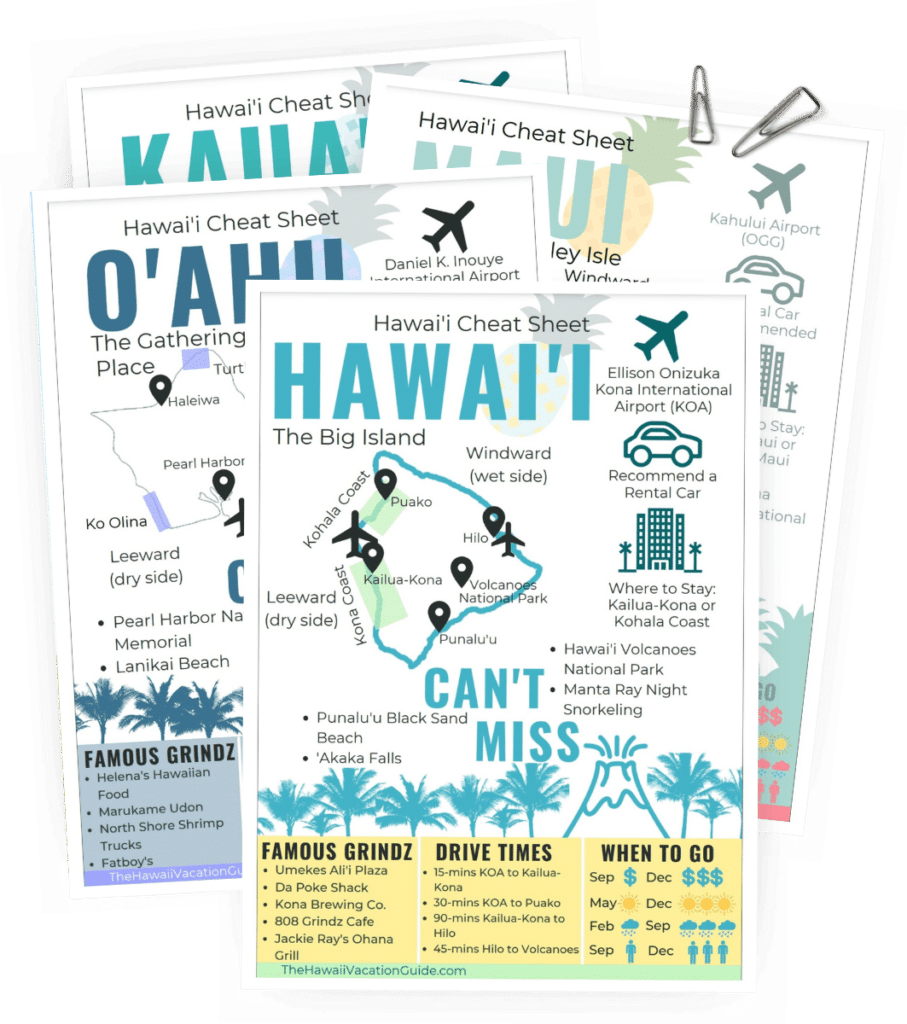 Free Download!
Hawaiian Island Cheat Sheets
Sign up & we'll send you our island cheat sheets so you can get to know the islands like the back of your hand!
We'll share 4 can't-miss activities on each island, a map with the main sights in town, & famous local grindz (eats)!
Leaving these items at home gives you space in your suitcase for souvenirs like an Aloha Shirt, ukulele, or macadamia nut chocolates.
The Last Thing to Pack for Your Hawaii Vacation
Packing these items for your Hawaii vacation will save you time and money once you land. But don't forget the last thing to pack for your vacation. Finish your Hawaii vacation packing by downloading our Hawaiian Island Wayfinder Itineraries.
Packing is just the beginning; let us plan the rest of your trip. Our itineraries are better than guidebooks.
We've done the hard work for you. Living in Hawaii, we've spent thousands of hours (and thousands of dollars) exploring and curating the best experiences.
Learn more here – Our Best Hawaiian Island Itineraries.
Have a wonderful trip to Hawaii!