Our Top Picks: The Best Lahaina Hotels and Vacation Rentals
Disclosure: This post may contain affiliate links, meaning if you decide to make a purchase through my links we may earn a commission at no additional cost to you. Read about our affiliate policies here.
[If you're looking for a great place to stay on the west side of Maui, we have you covered. Here are our picks for hotels and vacation rentals in downtown Lahaina as well as the surrounding areas: Ka'anapali, Kahana, Napili, and Kapalua.
Not sure you want to stay near Lahaina? We can help you decide what part of Maui is best for you with our Ka'anapali vs. Wailea article. We cover all the pros and cons to help you make the best decision.
Or, check out our full guide on where to stay on Maui
Downtown Lahaina Hotels
Ditch the rental car and stay in the heart of downtown Lahaina, where you'll have restaurants, shopping, and the ocean at your fingertips. There is plenty to do right in Lahaina to keep you busy.
The Plantation Inn
Located in the heart of Lahaina, The Plantation Inn offers a B&B experience with options that range from standard rooms to suites equipped with a kitchen. They have 18 rooms, a pool, a jacuzzi, and lush gardens. Just a quick walk off Front Street, the hotel is tucked into a quiet location so you can experience all that downtown Lahaina offers and still have a quiet retreat to return to.
Learn more and book a room at the Plantation Inn.
The Pioneer Inn
Enjoying a prime spot across the street from the Lahaina Banyan Tree and the harbor, the Pioneer Inn was built in 1901. A Best Western Hotel, the Pioneer Inn has been updated to meet the standards of a modern hotel, while still preserving the charm. The hotel has 34 rooms, a pool, and Papa'aina, a delicious on-site restaurant. They also offer happy hour, so you. can relax at your hotel bar after a fun day of exploring the island.
Book a room at the Pioneer Inn.
Downtown Lahaina Vacation Rentals
Aina Nalu
A centrally located condo complex down a quiet street in Lahaina, Aina Nalu offers guests the ability to book a fully equipped vacation rental while still being in the center of town. Aina Nalu has one and two-bedroom rentals that can either be booked through individual owners on VRBO or through the Outrigger hotel chain. The property has 190 units but it's spread out through multiple 2-story buildings so it never feels too crowded. There are two pools and located walking distance to plenty of restaurants, coffee shops, a food truck park, and Front Street. One of our favorite coffee shops on Maui is located just steps from Aina Nalu.
Take note when booking: some units are located closer to the highway and can get some highway noise. Take a look at the property map and the individual unit reviews on VRBO to make sure you're getting a unit that matches your needs.
Book a vacation rental at Aina Nalu on VRBO.
Lahaina Shores Beach Resort
Beachfront vacation rentals in a hotel-like setting is what you'll find at the Lahaina Shores. Located at the southern end of Front Street, these rentals are a stone throw from everything Lahaina has to offer (including the beach!) while still being quiet. Here you'll find a studio and one bedroom rental units with some units looking out over the ocean and others facing Front Street for a mountain view. The property itself has a small outdoor area with a pool and hot tub and direct access to the beach. And you'll be next to one of our favorite restaurants in Lahaina for sunset viewing, Pacific'o.
Book a vacation rental at Lahaina Shores on VRBO.
Puamana
This vacation rental community is located in Lahaina but on the outskirts of downtown. It's a mile walk to the Banyan Tree so while it is technically walkable, it's not as conveniently located as the other downtown options.
But while it isn't as convenient as the other options here, it comes with some perks. The vacation community is set on a sprawling 30 acres and has three swimming pools and a tennis court. The units vary in size from one bedroom to four bedrooms with some luxurious oceanfront options. And they are all townhome style, so you won't need to worry about a neighbor above or below you.
Book a vacation rental at Puamana on VRBO.
Looking for a specific vacation rental? We have you covered with:
Get The Maui Itinerary
The step-by-step itinerary takes you to all the best beaches, snorkeling spots, restaurants, and sights. You'll get six carefully planned excursion days to help you see the can't miss stops no matter how limited your time is.
Get all the details on our itinerary and download it for a memorable and easily planned trip to Maui.
Hotels Near Lahaina
Want to stay near Lahaina but don't feel the need to be in downtown Lahaina? These hotels and vacation rentals should make your shortlist. 
Ka'anapali Beach Hotel
This newly renovated hotel is a gem in Ka'anapali. A throwback to a previous era of travel, you won't find a huge resort pool with a slide or a spa here. But you will find a well appointed hotel in one of the best spots in Ka'anapali with spacious grounds and friendly staff. Prices are always reasonable, which can be hard to find for a beachfront hotel in Ka'anapali. Located on a wide stretch of beach in between Black Rock and Whaler's Village, this is a true find.
Book online with the Ka'anapali Beach Hotel.
Sheraton Maui Resort & Spa
Located directly in front of Black Rock, one of the best snorkeling spots on Maui, there's a lot to love about the Sheraton Maui's location. Here you'll find easy access to the best part of Ka'anapali Beach, where the beach is wide and the crowds are fewer. It's also a little quieter at this end, which means your vacation feels just that much more tranquil. And though it's at the end, it's just a quick walk to Whalers Village where you can find shopping and plenty of dining options. The hotel has a nice pool but the rooms are a little dated, especially considering the price tag of this hotel. But you're paying for the location and this one is a good one.
Book online with the Sheraton Maui Resort & Spa.
Westin Maui Resort & Spa Ka'anapali
Another recently renovated hotel in Ka'anapali, the Westin offers a fun experience in the heart of Ka'anapali Beach. It has fantastic pools, nicely appointed rooms, and plenty of options for kids and adults alike. The onsite dining is solid for a hotel and it's also located right next to Whalers Village so you have very easy access to everything you could need, including plenty of live music options.
Book a room at the Westin Maui Resort & Spa in Ka'anapali.
Hyatt Regency Maui Resort & Spa
This hotel takes the cake for having the best pool in Ka'anapali. Kids will love this pool, which features two waterfalls, a 150 foot water slide, and a sandy keiki (or kids) pool. The downside of such a fantastic pool is that it can be crowded, but you probably won't have to wait long for your turn down the water slide.
The Hyatt Regency is located at the southern end of Ka'anapali Beach, where the beach gets a little narrower and a little more crowded. But it comes with all the amenities you could want in a beachfront hotel plus stargazing activities and a nightly luau. Plus kids love experiencing the penguin feeding.
This hotel also makes our list of best family friendly resorts on Maui.
Ritz Carlton Kapalua
Heading to the northernmost side of West Maui, you have the Ritz Carlton Kapalua. The Ritz's location makes it a quiet and exclusive escape from the otherwise bustling west Maui. But it does mean that you're further away from downtown Lahaina (25 minutes driving). That said, here you'll find a peaceful retreat with a beautiful property, scenic pools, and great service. The nearest beach is D.T. Fleming Beach, a great spot for bodyboarding. If you stay here, don't forget to grab a milkshake at the Burger Shack — it's a fun spot!
Book a room at the Ritz Carlton Kapalua.
Montage Kapalua
Definitely the most luxurious hotel on the west side of Maui (and perhaps the entire island), the Montage is located a stone's throw away from one of the best beaches on Maui, Kapalua Bay. The Montage offers sprawling grounds, multiple pools, luxurious dining, and accommodations that range from one bedroom to four bedroom villas. And this five-star resort brings five-star service with an excellent spa and attentive staff. It really doesn't get much better than the Montage.
Book a room at the Montage Kapalua Bay.
Napili Kai Beach Resort
There's so much to love about Napili — the quaint feel, the low profile buildings, and the gorgeous bay. And this resort adds to that list. The grounds of this hotel are well-kept and the proximity to the beach is incredible. The rooms are spacious but some are more up to date than others. The on-site restaurant, The Sea House, offers a great happy hour (plus other meals) and the hotel doesn't charge a resort or parking fee, truly unusual in Hawaii. You can even book a private beach front dinner at Napili Kai.
Staying at the Napili Kai Beach resort provides the laid back vacation experience you have been looking for. And you're right on one of the best snorkeling spots on Maui.
Book a room at the Napili Kai Beach Resort.
Napili Shores
At the opposite end of Napili Bay is the Napili Shores Hotel. This hotel offers rooms with kitchens, making your stay in Napili easy. The low profile hotel offers sprawling lawns, a laid back vibe, and reasonable prices. While the rooms are dated, they're also charming and provide a comfortable stay. The pools are small but the beach is near, so plan to spend your days enjoying one of the best beaches on Maui.
And staying here means you can be first in line at their famous on-site restaurant, The Gazebo.
Book a stay at the Napili Shores.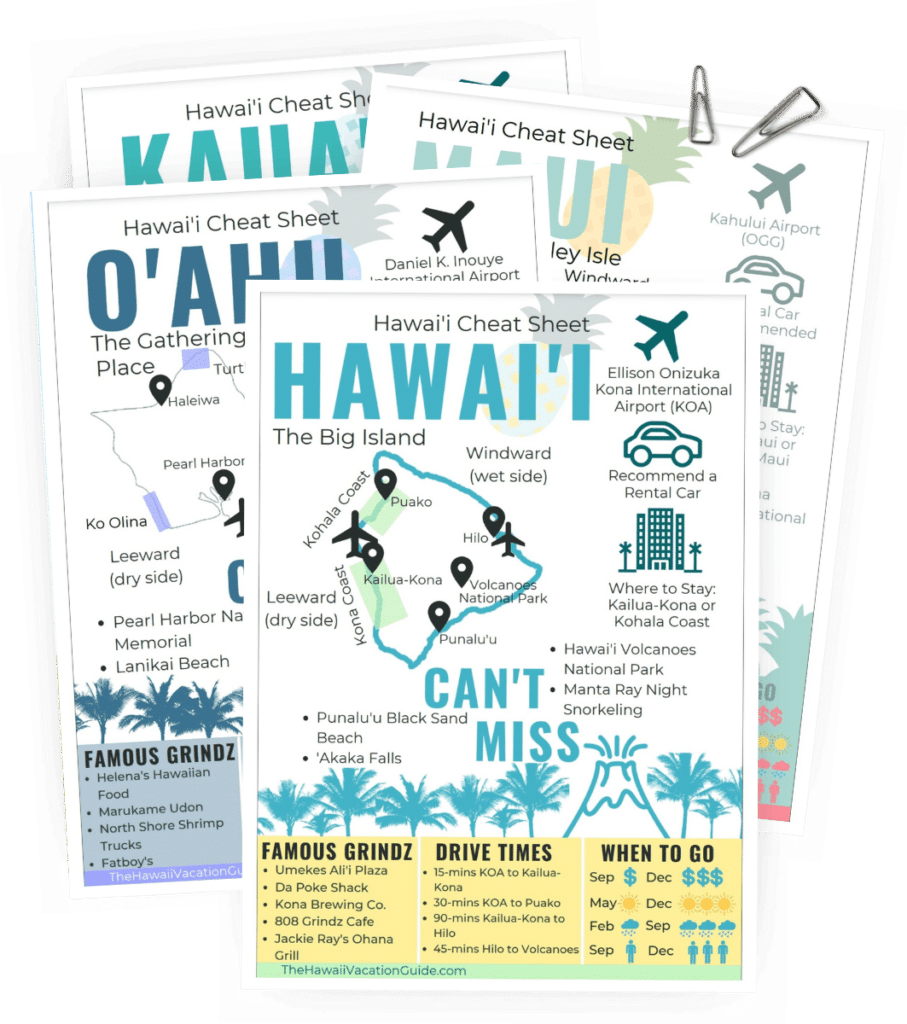 Free Download!
Hawaiian Island Cheat Sheets
Sign up & we'll send you our island cheat sheets so you can get to know the islands like the back of your hand!
We'll share 4 can't-miss activities on each island, a map with the main sights in town, & famous local grindz (eats)!
Vacation Rentals Near Lahaina
Not sure if a vacation rental is right for your Maui vacation? We share the pros and cons plus what you need to know when deciding between a hotel and vacation rental in Hawaii.
Honua Kai
If you're looking for resort amenities combined with the features of a vacation rental, this is your spot. Honua Kai is a resort in north Ka'anapali that really packs a punch. The pools are fantastic, the service is usually top notch and the units are spacious and are mostly well maintained. You have great restaurants nearby, including Duke's Beach House and you have really easy beach access.
As it is a vacation rental property with each unit being individually owned, it's always best to read the VRBO reviews in detail to know exactly what you're getting.
Book a room at the Honua Kai resort on VRBO.
Ka'anapali Alii
Nestled between the hotels on Ka'anapali beach is the condo rentals of Ka'anapali Ali'i. Located directly across from the Ka'anapali Golf Course, this building offers the space of a vacation rental with many amenities you'll find at a hotel: friendly staff, a (small) pool, and proximity to everything you need, including the beach. While the pool is small compared to some of the nearby resorts, you're right on the beach, so the location can't be beat.
These are individually owned condos but many of them have been maintained meticulously and offer everything you could need for a perfect vacation. Grab an ocean view rental on one of the higher floors and enjoy spectacular sunsets from your lanai.
Book your stay at the Ka'anapali Ali'i.
Mahana at Ka'anapali
Next to Honua Kai in North Ka'anapali is the Mahana, a condo rental resort with plenty of amenities. Enjoy the beach, the ocean views, tennis courts, a pool, grills, and shuffleboard. The units range from studio to two bedroom. And I can't forget to mention the truly spectacular views from the condos.
While you can book through Aston, you can also book individual units directly through VRBO, which allows you to select the exact unit that you want and read reviews of the specific unit.
Book your stay with the Mahana at Ka'anapali on VRBO.
Honokeana Cove
Dreaming of seeing Hawaiian Green Sea Turtles (Honu) on your vacation? This is the spot. These condos are located on Honokeana Bay, not a great place for lounging (there's no sand) but a perfect place to see turtles. This small vacation rental complex features everything you need for a laid-back stay: a pool, great views, good snorkeling, and low-profile condos. And you're just a quick drive or walk to Napili Beach if you're looking for some time on the sand. At Honokeana Cove you're leaving behind the high rises in Ka'anapali for a bit more of a relaxed stay. Condos here are privately owned and range from one-bedroom to three-bedroom loft-style stays. 
Book your stay at Honokeana Cove.
Kapalua Bay Villas
If you're looking for condos rather than a big resort like the Ritz Carlton in Kapalua, look no further. The Bay Villas offer a relaxed stay in the quiet atmosphere Kapalua is well known for. While you're not down on the beach, being up on the hill gives you spectacular ocean views. And you'll find an easy walking trail down to the beach. Within the greater Kapalua resort you'll find 3 beaches, 11 restaurants, golf, tennis courts, pools, and hiking trails. It's a beautiful spot to spend a relaxing vacation.
Book your stay at Kapalua Bay Villas.
Need more on where to stay?
Accommodations are likely the most expensive part of your Hawaii vacation and something you want to get right. If you need more help making this big decision, grab our free where to stay download. This will give you an overview of each area on Maui plus our top picks for accommodations to help you book with confidence.
Have a great stay on Maui!