Where to Stay on Maui: Hotels and Vacation Rentals for a Range of Budgets (2023)
Disclosure: This post may contain affiliate links, meaning if you decide to make a purchase through my links we may earn a commission at no additional cost to you. Read about our affiliate policies here.
Once you've decided on what Hawaiian island to visit, the next question is where should you stay? If you're coming to Maui, there's an overwhelming number of options. How do you know where to stay on Maui?
There are five distinct areas on Maui:
West Maui: Kaanapali, Lahaina, Napili, and Kapalua

South Maui: Wailea and Kihei

East Maui: Hana

Central Maui: Wailuku, Kahului, and Paia
Upcountry: Makawao and Kula
The first two areas, West Maui and South Maui, are by far the most popular for visitor accommodations. In addition to the accommodations below, our Maui Guide gives you a great overview of each region and what you can do there.
We'll give you information on all four of these areas including our favorite hotel and vacation rental picks. Ready to plan your trip to Maui? This article makes it easy for you to decide where to stay.
If you're looking for full reviews for places to stay on Maui, check out our Where to Stay database. After staying in dozens of hotels and vacation rentals (and visiting many more), we're giving full reviews to help you find your perfect spot.
Where to Stay on Maui: Geography and Weather
Maui is the second-largest island in Hawaii and is uniquely shaped. It was formed by two volcanoes, Haleakala and the West Maui Mountains.
Like all of the Hawaiian islands, there are two sides: a leeward side and a windward side. The leeward side of the island is drier and the windward side is wetter.
There are five distinct areas on the island: West Maui, South Maui, Central Maui, Upcountry Maui, and East Maui (Hana).
A majority of visitors choose to stay on West Maui or South Maui. That's because as these are both on the leeward side of the island, the weather is better. You're in for sunnier skies and less rain. This is also where a majority of the hotels and vacation rentals are. Plus, you'll find most of our favorite beaches on either West or South Maui.
West Maui
On West Maui, you'll find long stretches of beaches, warm weather, numerous snorkeling spots, plenty of resorts and vacation rentals, and jaw-dropping sunsets.
Popular spots on West Maui include the historic whaling village of Lahaina, the Ka'anapali resort area, snorkeling spots like Kapalua Bay, and boats that will take you on an easy day trip to Lana'i.
Read our full guide on visiting Lahaina and the west side of Maui: where to swim, eat, stay, and more.
South Maui
Another popular spot with visitors, South Maui dials up the luxury. Here you'll find the most luxurious hotels on the island, stunning beaches, and views of Molokini Crater and Kahoolawe.
Popular spots here include the resort community of Wailea, the small town of Kihei, the expansive Makena Beach, and plenty of tour boats leaving for snorkeling at Molokini Crater.
Central Maui
You'll fly into central Maui when you land at Kahului Airport (OGG), the main commercial airport on the island. But that's not all you'll find here. Once you leave the main airport area, you'll find plenty of small restaurants and shops, dramatic mountain views, and great hiking.
Visit the sacred 'Iao Valley or hike the Waihe'e Ridge Trail. Or head up to the north coast to stroll through the town of Paia and eat at the most famous restaurant in Hawaii: Mama's Fish House.
Upcountry Maui
Bring your sweater and head up the slope of Haleakala to Upcountry Maui. You'll climb in elevation as you get beautiful views of the ocean below you.
You can visit the small cowboy town of Makawao, visit one of the many farms on the island to sample fresh tropical produce, or continue heading up the mountain to the top and visit Haleakala National Park.
In Upcountry, the drive is often just as beautiful as the destination. Most of our favorite Maui farm tours are in Upcountry. And don't forget to check out our favorite things to do in upcountry Maui.
East Maui
Visit East Maui by taking the famous Road to Hana (decide here if the Road to Hana is worth it for you!). This drive takes you around 620 curves, over 59 bridges, and delivers views of a stunning coastline, lush landscape, and stunning waterfalls.
This windward part of the island is remote and rugged and an adventure. See our Maui Itinerary on how to plan your stops to Hana or check out our favorite Road to Hana Guided Tour.
Where to Stay on West Maui
West Maui was developed in the '60s as the prime tourist destination on Maui. And when you visit, it's easy to see why. The West Maui Mountains offer a beautiful view from the white-sand beaches. The water is crystal blue and there are plenty of easy places to swim for people of every ability.
West Maui is on the leeward side of the island, meaning you'll get less rain, but things will also look a little drier. There are four main areas to stay on West Maui:
Ka'anapali: A master-planned resort community, Ka'anapali first opened in the 1960s. Hotels, condos, and resorts are built along the white sand beach with shopping and restaurants in the center in Whalers Village.
Lahaina: An old historic whaling village, Lahaina is now a bustling center with lively stores and restaurants lining Front Street. It's also a launching pad for many of the ocean excursions like snorkeling and whale watching. There are few hotels, no large resorts, and a handful of vacation rentals.

Napili: Picturesque Napili Bay offers a laid-back vibe, with low-rise condo buildings and small beachside resorts. Napili itself is a small community centered around a beautiful bay, great for snorkeling and swimming.

Kapalua: A luxury resort area in Northwest Maui, there's the main resort (the Ritz Carlton) and vacation rentals that line the bluffs and the world-class golf courses. Kapalua gets a little more rain and wind, but it's also more lush and green.
West Maui Highlights
There is a laundry list of reasons that we love West Maui:
Price: While west Maui isn't cheap by any means, you'll find that accommodations are slightly less expensive than what you'll find on South Maui. According to data from the Hawaii Tourism Authority, the average daily rate for a hotel room in West Maui was $541 per night in August 2022, compared with $1,022 in South Maui. So you'll pay almost twice as much to stay in South Maui, compared with West Maui.
Ka'anapali Beach and Black Rock: If you're looking for a huge beach that stretches as far as you can see, Ka'anapali beach is the spot for you. White sand beach and turquoise waters make this beach so popular. Plus at the north end of the beach, you'll find Black Rock, a spot for excellent snorkeling and cliff jumping.
Historic Lahaina: The most nightlife you'll find on Maui is centered in Lahaina. While things do close up early, there are a number of restaurants and bars that are lively in the evening. Take a stroll down historic front street, eat ice cream under the banyan tree, and stop in a museum or art gallery. Lahaina offers a break from the beach and a little bit of history. Check out everything there is to do in Lahaina.

Easy snorkeling spots: Four out of our five favorite snorkeling spots on Maui are on the west side of Maui. Why? They offer easy access, plenty of fish, and we almost always have a turtle sighting!

Easy surfing: Want to hit the waves for an easy surf lesson? Lahaina offers plenty of surf lesson options and beaches where you can catch an easy wave.
Access to boat trips: Plenty of boat trips leave from Lahaina so if you want to catch a snorkel ride, a sunset cruise, or take a day trip to Lanai, you have all the trips you need right from the center of town.

Great weather: The west side of Maui is located on the leeward side of the island, which gets a lot of sunshine and a little rain. If you're looking for a sunny beach vacation, the leeward side is the best option.
West Maui Considerations
Because West Maui was the first part of the island developed for tourists, you may find that things feel a bit more crowded. You'll also find great hotels and resorts on this part of the island, but if you're looking for five-star luxury resorts, there are more to choose from on South Maui.
In the winter, the northwest portion of Maui (Napili and Kapalua) can experience more rain and larger waves. While it is a great place to stay during the summer, be prepared for a few more rainclouds in the winter.
Our favorite hotels on West Maui
There are so many great hotels on the west side, but we wanted to share our favorite three, ranging from budget to luxury.
Montage Kapalua:

Located in Kapalua, the Montage is the best luxury hotel on the west side. It offers a secluded location, world class golf courses, easy walking trails, and is minutes from beautiful Kapalua Bay. You also have some of the best restaurants on Maui within a short drive. The luxurious hotel has 56 one to four-bedroom villas spread over 24 acres.

Book a stay at the Montage Kapalua Bay here

.

Westin Kaanapali: Located right near Whalers Village in Kaanapali, the Westin offers easy access to a lot of amenities on the west side. Aside from being on one of the best beaches (and within a quick walk to Black Rock), it also has the best pool in Kaanapali, and is a quick walk to the restaurants and shops in Whalers village.

Read our full review and book a stay here.

Kaanapali Beach Hotel:

This is probably our favorite budget hotel on the whole island. When you step onto the grounds, it feels like you've been transported back in time. Everyone is friendly and the grounds are simple but beautiful. Located right on Kaanapali Beach, the resort offers everything you need in a great location and for a great price. Bonus! They underwent a beautiful new renovation to their rooms in 2020. Click here to book the

Kaanapali Beach Hotel

.
Our favorite vacation rentals on West Maui
Are vacation rentals more your style? Here are some of our favorite vacation rental complexes on West Maui:
Napili Gardens: We can't hide that we love Napili and we fell more in love with it during our weekend stay at a condo in Napili Gardens (watch the video here!). Napili Gardens is a small community directly across the street from Napili Bay. It offers three-bedroom condos and townhomes. There's no pool, but you hardly miss it with Napili Bay so close.

Book vacation rentals at Napili Gardens here

.

Puamana:

This condo community feels like a hidden gem. Located at the south end of Front Street in Lahaina, this condo community is from the 60s and has plenty of space and sprawling green lawns. The historic ocean-front clubhouse adds to the charm, as does the ocean-front pool.

Honua Kai Resort & Spa: Looking for a vacation rental that feels like a resort? Look no further than Honua Kai Resort & Spa, located in north Ka'anapali. Great pools, big units, and a wonderful beach are a draw here. Read our full review of Honua Kai before you search for a place.
Aina Nalu: Ditch the rental car and walk to all that downtown Lahaina offers. Aina Nalu offers studio to two bedroom vacation rentals is historic Lahaina so you're just steps away from restaurants and shops.
Where to Stay on South Maui
When people mention staying in South Maui, they're likely staying in one of two places: Wailea or Kihei. South Maui is the second most popular location for vacationers to stay and it's easy to see why. The beaches in South Maui are just as spectacular as you'll find on West Maui — the Kamehameha beaches (Kam I, II, and III) in Kihei offer long stretches of beach with calm water. And the luxury resorts in Wailea are perfect for people looking for an upscale vacation.
Also located on the leeward side, South Maui offers even less rain than you'll find on West Maui. But you may have to contend with the Makena Cloud — a low cloud that rolls into the area some afternoons (though to be honest, we've never had an issue with it).
The two main areas to stay on South Maui are:
Wailea: Wailea was developed in the 70s and is home to the best luxury resorts on the island. Staying in Wailea is definitely an upscale experience, though it's also a little quieter with a little less to do.

Kihei: In Kihei, you'll find more condos and no large resorts. While Wailea is luxury, Kihei can offer a price break that many travelers welcome. Kihei is often livelier than Wailea, and offers a hub of activities similar to Lahaina, though without the quaint historic downtown.
South Maui Highlights
Weather: Like West Maui, South Maui is located on the leeward side of the island, making it dry and sunny. While both areas have little rain and a lot of sun, you'll find that South Maui is even dryer than the West.

Range of dining options: From upscale restaurants to a great food truck park in Kihei, South Maui has a range of food options that offers something everyone will love.

Easy swimming and snorkeling: The waves are often calm on South Maui (especially in the morning) and you'll find a number of excellent snorkeling spots up and down the coast. Swimmers of all ability can find a spot they feel comfortable with here.

Luxury: Wailea features the most luxury hotels plus the only adults-only hotel on the island. If you want luxury options, this is the place to go.
South Maui Considerations
Fewer shopping and dining options: Compared to West Maui, you'll find less shopping and dining options available.

Price: Unless you're staying in a budget-friendly rental in Kihei, prepare to spend a little more for your stay. The

average hotel room price in

South Maui was $1,022 per night, compared with $541 per night (data is from the August 2022 Hawaii Tourism Authority report).

Ocean activities: Many of the boat rides and ocean activities that you may want to do will require a 20-minute drive to Maalaea Harbor. Not a deal-breaker, but it will add extra time to your trip.

But if you want to skip the drive, we have two options for you! This snorkeling trip to Molokini Crater leaves from a beach in Wailea and this one leaves from a harbor in Kihei.
Our favorite hotels on South Maui
The Grand Wailea: Probably the most well-known hotel in South Maui, the Grand Wailea occupies a prime position on Wailea Beach. While the hotel itself is nice, the draw is really the pool…or should I say water park? Our kids love it, and truthfully, we do too. See our video review and book!
Wailea Beach Resort: Just a hop, skip, and a jump away from The Grand Wailea, the Wailea Beach Resort is a solid hotel and one where you can use Marriott Points! They have an incredible waterslide and somehow this large hotel doesn't really feel so big. I can't wait to stay there again. We have a full video review and our honest thoughts on the Wailea Beach Resort.
Residence Inn by Marriott:

A solid mid-price hotel, the Residence Inn offers suites (with kitchens!), and an area shuttle so you can get around easily. The rooms are spacious and they even have grills on the property so you can pick up food — like freshly caught fish.

Book the Residence Inn by Marriott here

.

Maui Coast Hotel:

Located in Kihei, this hotel is across the street from the beach and is walking distance to restaurants and shopping. The rooms are large and the hotel offers free bike rentals to explore the area. Plus, free parking and laundry is always a plus in Hawaii!

Book the Maui Coast Hotel here

.
Our favorite vacation rentals on South Maui
It's hard to pick our favorite vacation rentals on South Maui, but as a rule, remember that vacation rentals in Kihei are going to be significantly cheaper than rentals in Wailea.
Want more help planning your adventure? Our Maui itinerary is here to help.
"We purchased your adventure guide for our 9-day trip to Maui. We loved it. From the full day adventures to the quick hits, everything was awesome. We went to Maui for a wedding, and out of all the guests, we absolutely saw and did the most out of everybody. We will certainly be recommending your guides to friends and family. Thank you for helping us make the most out of our trip to Maui!"

Ryan C.
Get The Maui Itinerary
The step-by-step itinerary takes you to all the best beaches, snorkeling spots, restaurants, and sights. You'll get six carefully planned excursion days to help you see the can't miss stops no matter how limited your time is.
Get all the details on our itinerary and download it for a memorable and easily planned trip to Maui.
Where to Stay on East Maui
When people talk about staying in East Maui, they're really talking about staying in one area: Hana. While many visitors take the Road to Hana and don't spend the night, Hana is the right place to stay for a few visitors.
If you're looking for a remote experience and you want the feeling of staying off the beaten path in a lush environment, Hana is your spot. It's quiet (very quiet), has few accommodation options, and offers plenty of opportunities to explore the outdoors. You can hike to waterfalls, swim on black sand beaches, and have a vacation truly away from it all.
But be prepared for rain. East Maui is on the windward side of the island. It's green and lush but rains often.
While there aren't many places to stay, there are a few options that stand out:
Hana Maui Resort by Hyatt

: Formerly the Travaasa Hana, this is the only luxury resort you'll find on this side of the island. Stay in a private bungalow and enjoy this beautiful resort that offers beachfront accommodation.

Book a stay at the Hana Maui Resort here

.

Hana Kai:

A community of vacation rentals that range from studios to two-bedroom units, all with fully equipped kitchens. The community is on the beach and centrally located in Hana.

Book a rental at the Hana Kai here

.

Waiʻānapanapa State Park Cabins:

Looking for an adventure, budget accommodations, and cabins near a black sand beach? Look no further. While there are no-frill cabins and you will need to bring your own linens and towels, they come with a kitchen and have plenty of space for 6 people to sleep.

Book a stay at the Waiʻānapanapa cabins here

.
Looking to stay just one night in Hana? Read more about picking the right Hana accommodations.
Where to Stay on North Maui and Upcountry
We really believe a trip to Maui isn't complete without a trip to Upcountry. Away from the more tourist-popular zones, you'll get a completely different vibe when you explore these areas.
Upcountry you'll find the scenery changes. You start driving up the mountain towards Haleakala and the scenery begins to get green and lush. In Upcountry you can visit the Kula Farmers market for fresh fish and tropical produce, stroll through historic Makawao, or visit Surfing Goat Dairy, The Kula Lavender Farm, or stop in for a tasting at Maui Wine. Check out our favorite things to do in Upcountry Maui.
You'll find upcountry to be a little more residential and you won't find large resorts. Your options here include smaller, boutique hotels and vacation rentals.
Kula Lodge: Just down the road from Haleakala is the Kula Lodge. Here's you're far from the ocean but you'll enjoy a peaceful stay at 32,000 feet at one of the vacation lodges. Relax in front of the fire and tax in spectacular views from their restaurant. The Kula Lodge is a rustic upcountry gem. Book a vacation lodge at the Kula Lodge here.
Where to stay in Central Maui
You'll head through central Maui a lot during your stay. Here you'll find the main airport, Kahului Airport (OGG), hiking in 'Iao Valley, the harbor in Ma'alaea, and the charming surfing town of Paia.
While this isn't a super popular place to stay, it is convenient. Just like it sounds, central Maui is centrally located between so many of Maui's popular sites. You're a quick drive up the mountain to Haleakala, a short drive from both the beaches in south Maui and West Maui, and you have some nice restaurants you can enjoy in downtown Wailuku.
Some options for accommodations include:
Paia Inn: A hip spot that earns a place in the (also hip) town of Paia. The Paia Inn is a small boutique hotel with rooms and suites along the ocean. Walk to everything that you need to in town or enjoy a retreat at the hotel. But warning: this hotel will raise your expectations when it comes to design and aesthetics. It's hard to find other hotels that compare. Book a stay at the Paia Inn here.
Courtyard by Marriott Kahului Airport: sometimes you just need a night or two by the airport. You might have a late flight in before heading to Hana or an early flight out and you prefer to stay close. Either way, the Courtyard Marriott is the closest option to the airport and there are even some good food trucks nearby.
Where to Stay on Maui FAQs
What side of Maui is the best to stay on?
For almost all visitors, the leeward side of the island is the best place to stay. This is the sunnier, dryer side. You'll also find the best swimmable beaches on this side of the island. Both west Maui and south Maui are located on the leeward side of the island.
How many days is enough for Maui?
While you can enjoy Maui in as little as five days, we recommend spending at least a week here to fully enjoy all that the island has to offer. There is so much to see and do and spending at least a week will let you go out and enjoy a few excursion days while still having some down time to spend at the beach.
The average visitor to Maui spends 8.1 days here!
What side of Maui has the best beaches?
If you're looking for the best swimmable beaches, the leeward side of Maui has the best beaches. Specifically, we think the beaches on West Maui are the best as there are a number of semi-protected bays, like Kapalua and Napili Bay as well as long stretches of beach like Ka'anapali Beach.
South Maui also has some great beaches that offer favorable swimming conditions, like Wailea Beach and the Kamaole Beaches. Make sure the check swimming conditions with lifeguards and Hawaii Beach Safety.
You can see a list of all of our favorite beaches on Maui.
What is the best month to go to Maui?
The best time to visit Maui is during a shoulder period: April, May, September, or October. Not only will these months still provide good weather, you'll also enjoy lower costs, and fewer crowds.
Want to learn more about when to come? This article breaks down when you should visit Maui (and why).
Still not sure where to stay on Maui?
To be honest, you probably can't make a bad decision. But we have two videos to help you make the decision.
Hotel or Vacation Rental in Hawaii?
We answer that question in this video:
Kaanapali or Wailea?
We give you the pros and cons of both Kaanapali and Wailea in this article and in this video: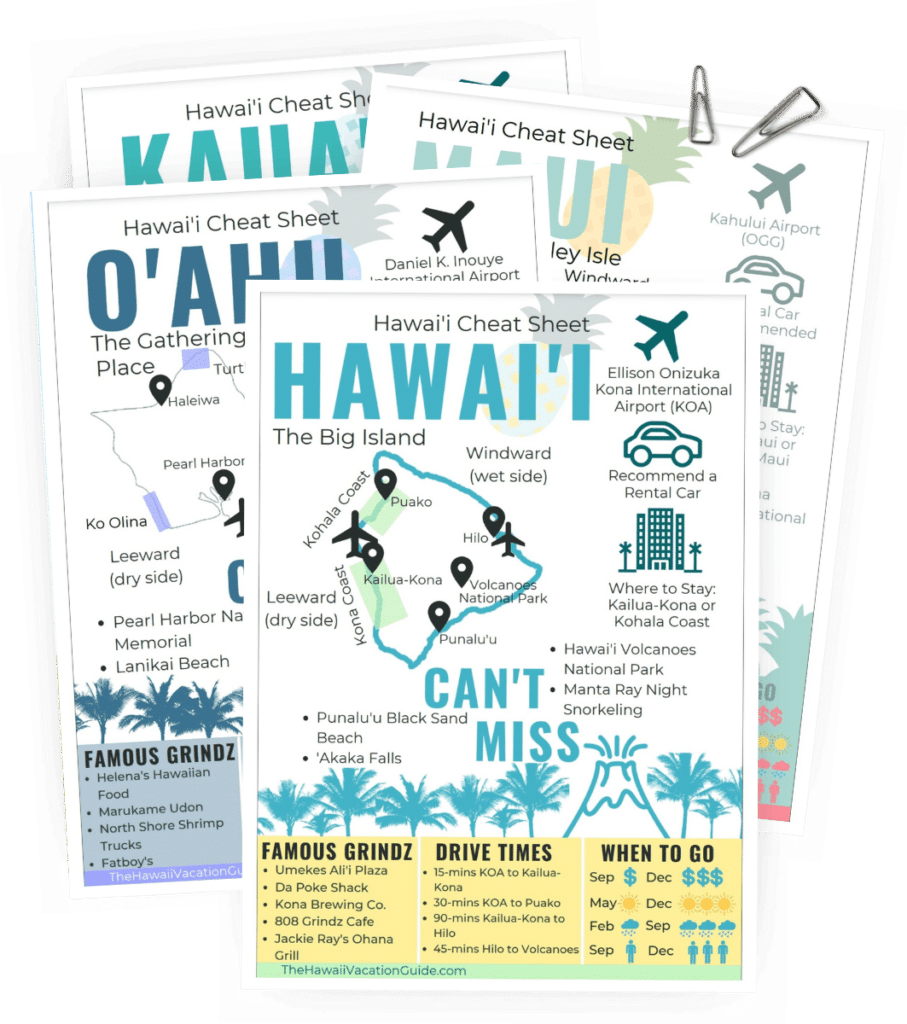 Free Download!
Hawaiian Island Cheat Sheets
Sign up & we'll send you our island cheat sheets so you can get to know the islands like the back of your hand!
We'll share 4 can't-miss activities on each island, a map with the main sights in town, & famous local grindz (eats)!