How Many Days Should You Spend in Maui? The Ideal Plan
Disclosure: This post may contain affiliate links, meaning if you decide to make a purchase through my links we may earn a commission at no additional cost to you. Read about our affiliate policies here.
You're planning a trip to Maui and the first thing you need to know before you can book any flights is how long you should stay.
After making over 50 trips to Maui, and helping friends and family book their dream vacations, we've dealt with this question many times. How many days should you spend in Maui?
The average visitor to Maui spends 8.1 days on the island. How long you should stay depends on what you want to do, but you should plan to spend a minimum of five days on Maui.
Here's how to estimate exactly how long you need for your perfect vacation.
How many days do people spend on Maui?
In 2017, the average length of stay for a visitor to Maui was 8.1 days. This is the longest average stay of any of the Hawaiian islands. And with good reason — there's more than enough to do here!
63% of people who come to Maui stay on this island and don't visit any others during their trip to Hawaii.
The average length of stay of visitors to each island:
Maui: 8.10 days

Oahu: 6.74 days

Kauai: 7.52 days

Hawai'i: 7.34 days

Lanai: 3.4 days

Molokai: 4.76 days
How Many Days Do You Need in Maui?
If you have limited days to enjoy Maui, the first thing you'll want to do is decide what you want the pace of your vacation to feel like.
Do you want to go-go-go each day and do every activity on the island? Do you need some days to sit on the beach and do nothing? Or are you purely coming to relax with your feet in the sand and sip a tropical drink.
Once you know the pace you're going for, you can start building your list of activities to decide how many days you'll want to stay.
As a warning, there is a lot to do on Maui. Trying to fit it all into a week-long vacation simply isn't possible.
Top Things to Do and See on Maui
If you want to plan out your own itinerary days based on the top things to do and see on Maui, here is a list of things that are sure to top your list:
Snorkeling on your own from the beach

Snorkeling in Molokini, Lanai, or Honolua Bay

Driving the Road to Hana

Learn to surf or windsurf

Sample local cuisine at the best food trucks on Maui

Visit the Ali'i Kula Lavender Farm

Sample pineapple wine at Tedeschi Maui Winery

Drive the north shore and stop at the

Nakalele Blowhole

Spend an evening at a luau

Take a day trip to Lanai
As you can see there's more than enough to keep you busy on Maui. You can estimate how many days you want to spend on Maui by picking out some of your must-do activities and planning out some daily itineraries.
Sample Day Itineraries for Maui:
Because Maui is not a small island — and you don't want to spend every single day in the car — it's best to group your sightseeing into specific days.
For example, if you want to visit Haleakala, you might consider visiting some of the other sights in upcountry. Here are some sample days for exploring the island:
Day of snorkeling: From Lahaina harbor, take a half-day snorkel cruise to Molokini, Honolua Bay, or a full day snorkel trip to Lanai, all excellent snorkel spots. After the cruise take a short walking tour of Lahaina downtown and treat yourself to some Dole Whip or Shave ice.
The Road to Hana: If you're planning to drive the famous road to Hana, plan to spend the entire day doing so. You'll want to take the entire day to visit waterfalls, the black and red sand beach, the Pipiwai trail, and stop at the roadside fruit stands.
Haleakala and Upcountry: Spend the day visiting Maui's volcano, Haleakala. Book tickets in advance and get up early to enjoy the sunrise from the top of the volcano. Because it's quite a drive from most areas on Maui, you'll also want to spend time visiting the sights in upcountry, like the Ali'i Kula Lavender farm or Tedeschi winery in Kula.
A day of hiking: If you want to spend a day hiking, there are plenty of options on Maui. For a challenging hike try the Waihe'e Ridge Trail. It's strenuous, but the views from the top make it worth the climb. After you've worked up an appetite, stop at the Geste Shrimp truck.
North shore and a luau: Take another drive around the island, this time heading north. The road is narrow and winding, but paved. Bring your snorkel gear and hop out at Honolua Bay for a quick snorkel. Stop again at Boulder Beach and at the Nakalele Blowhole. After you return back to West Maui, enjoy an evening at the Old Lahaina Luau or Feast at Lele.
Day trip to Lanai: A 45-minute ferry from Lahaina will land you on the island of Lanai. Once there you could throw on your snorkel gear for a day in the sea. Or you could tour the more remote parts of the island on a 4×4.
Beach days: Don't forget to add in some mellow, do nothing but relax beach days while you're here on the island. The water is warm and crystal clear, and there's nothing better than enjoying Maui with your toes in the sand.
Listed above are six full days of activities — and there's plenty more to do on the island. If you wanted to do all six of these days, plus throw in a few beach days to relax and unwind, you're looking at a nine-day trip to Maui, plus two travel days.
Related articles: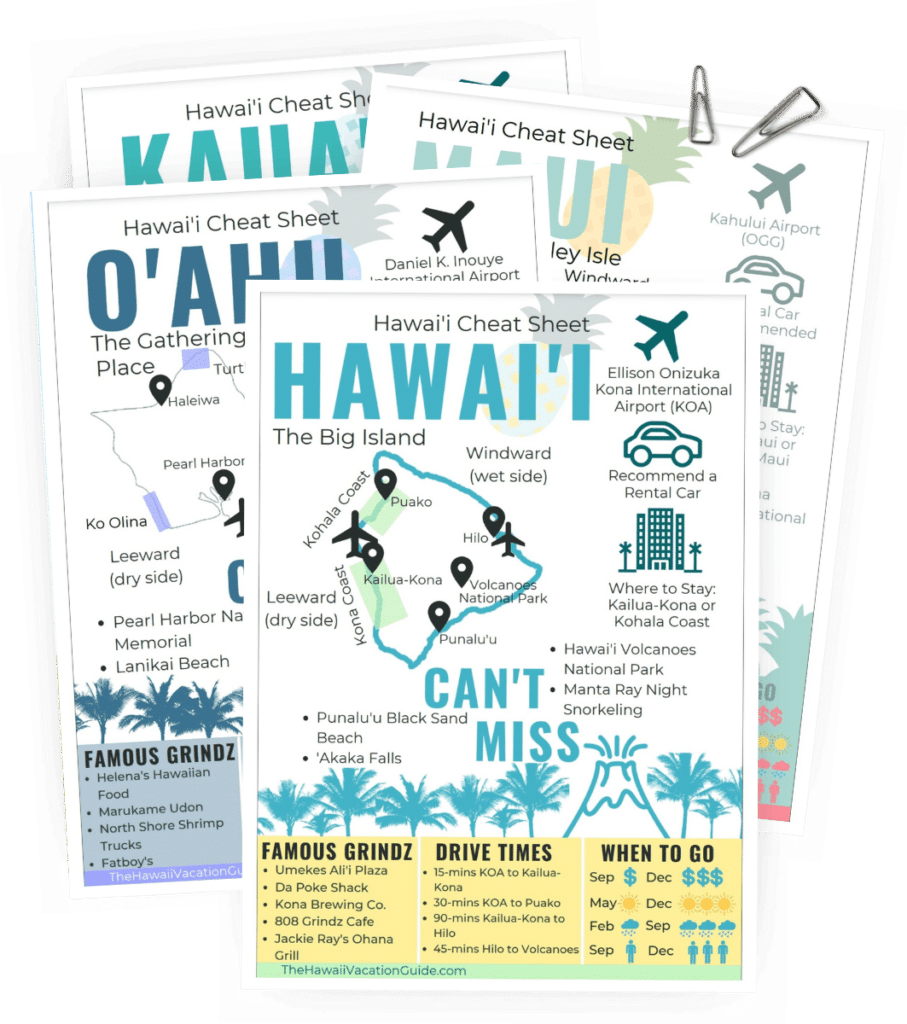 Free Download!
Hawaiian Island Cheat Sheets
Sign up & we'll send you our island cheat sheets so you can get to know the islands like the back of your hand!
We'll share 4 can't-miss activities on each island, a map with the main sights in town, & famous local grindz (eats)!
Is Four Days Enough in Maui? (or 5 or 6…)
I'm often asked if four days is enough time to spend in Maui. Usually, this question is from people who have planned a 10 day trip to Hawaii and are trying to decide how many days to allocate between Maui and Kauai or Maui and Oahu.
Are four days enough? It depends on what you're doing. If you're considering four full days (not including travel days), and you have a limited list of what you want to see on this island, you can make do with four.
But you'll want to be strategic with how you split them.
The secret to splitting your vacation between multiple islands is to focus on what each island does best. For example, if visiting a volcano is high on your list, prioritize that for your days on Maui, rather than your days on Oahu.
How many days split between Maui and Oahu?
If you're planning to visit both Maui and Oahu during your visit, you'll want to prioritize the best of each island.
While I love hiking on Maui, there are more options for hiking on Oahu and more opportunities to hike to a waterfall there. So prioritize your hiking days for Oahu and skip them on Maui.
There are no black sand beaches on Oahu, so if you'd like to see black (and red) sand beaches, prioritize spending a day driving the Road to Hana on Maui.
If you want more of a nightlife, Oahu will give you that and Maui won't.
The snorkeling and beaches on both islands are excellent.
So how do you split your days? Spend at least four on each island so you don't feel rushed. But if you have more days than that, allocate them to whatever island has more of the activities you want to do.
Related article: How Much Does a Trip to Hawaii Cost?
How many days split between Maui and Kauai?
If you're planning to visit both Maui and Kauai and want to know how to split your time between the two, you'll go through the same exercise as you would with Maui and Oahu.
Kauai hikes are generally better than Maui, so if hiking is high on your list, give yourself some hiking days on Kauai rather than Maui.
Beaches are generally better and larger on Maui, so if you're wanting to spend your days in the sand, allocate more days to be spent on Maui.
Again, you'll want to spend at least four days on each island so you don't feel rushed. If you have more than that, there's a good chance you'll want to spend them on Maui. There's more to do and it's not as quiet as Kauai.
Final thought for planning your trip to Maui
If you are lucky enough to visit Maui, go for as many days as you can.
Flying to islands in the middle of the Pacific is not easy or cheap, especially from many spots on the mainland. Give yourself enough time to truly enjoy your time here, recover from jetlag, sample the food, and take in the beautiful scenery.
Heading to Maui, or another Hawaiian Island, you need to check out our itineraries. They will finish the planning for you!