How Much Does a Trip To Hawaii Cost for a Family of Four (2023 prices)
Disclosure: This post may contain affiliate links, meaning if you decide to make a purchase through my links we may earn a commission at no additional cost to you. Read about our affiliate policies here.
Visitors to Hawaii returned faster than many travel experts expected in 2022. The high demand and inflation resulted in the cost of a Hawaii vacation increasing. For 2023, we received quotes on how much a trip to Hawaii costs for a family of four.
In 2019 we estimated that a comparable mid-range trip to Hawaii would cost $10,100 for a family of four. In 2021 the same trip cost $8,914. The price increased 37 percent in 2022 to $12,239 as demand for Hawaii vacations surged once travel restrictions ended.
How does the cost of a Hawaii vacation measure up in 2023? A 10-day trip to Hawaii in June 2023 for a family of four is quoted to cost $13,493.
With international travel fully open in 2023, especially for Japan, experts are predicting another busy year for travel to Hawaii. High demand results in higher hotel prices, rental cars, and plane tickets. Inflation hasn't helped either.
Here is what a trip to Hawaii costs in 2023 for a family of four:
Airfare

Hotel

Rental Car

Food

Activities

Total

$

3,403

$4,

686

$1,456

$

2,100

$

1,848
$13,493
Cost breakdown for a trip to Hawaii for a family of four to Oahu, 10-days in June 2023.
Read on for details on the quotes and ways to save on your Hawaii vacation.
We know you're here for some travel hacks, and we have your back:
– If you're looking for the cost for two, we've covered that here.
– We've figured out how to get some of the best airfare prices available.
– We're here to help you decide whether a hotel or vacation rental is right for you.
– Don't overspend on a rental car in Hawaii again.
– Oh, and did we mention our coupon codes?
How Much Does a Trip to Hawaii Cost For a Family of Four in 2023?
To get to our estimate of $13,493, we used the following assumptions:
A 10-night trip to Oahu

Flights leaving from

Los Angeles (25% of domestic flights to Hawaii leave from LAX)

A family of four includes two adults and two children

Trip booking for mid-June 202

3

Staying in a

value hotel in Waikiki (central location and best prices)
As stated above, the average trip to Hawaii cost for a family of four came to $13,493. That's $3,373 per person.
For our cost estimates, we averaged hotel prices on Expedia for a non-ocean view room, car rental prices from Hawaii Discount Car Rental, airplane tickets using our booking method, and a few of our favorite Oahu tours and activities.
Oahu is the most visited Hawaiian Island, the Cheapest Hawaiian Island to Visit, and Waikiki is the best place to stay on Oahu in price and location (in our opinion). Hence, we used Oahu for our cost estimate.
For a 10-day trip, you may want to consider a 10-Day Oahu and Maui Itinerary. See our Hawaii island-hopping guide for info.
Of course, there are ways to do this trip cheaper (think: glamping on Maui) and there are ways to make this trip much more expensive. But this is a pretty reasonable cost estimate for a mid-priced vacation that you'll love.
The summer of 2022 saw a near return to 2019 visitor counts by the summer, pre-pandemic levels. We expect 2023 to be another busy year.
See our recommendations below on how to save money on your 2023 Hawaii Vacation. Then sign up for our Hawaii Travel Newsletter to stay up to date on visiting Hawaii this year.
Here's how costs break down for our 10-day trip to Oahu in June.
Cost of Airfare to Hawaii
You can find some great deals on airfare right now to Hawaii. The low-cost carriers to Hawaii are Southwest Airlines, Alaska Airlines, and Hawaiian Airlines. See our article How to Get a Cheap Ticket to Hawaii. Personally, we like Hawaiian Airlines as they make it feel like your Hawaii vacation has started when you board.
Most Hawaii low-cost carrier flights depart from the West Coast. As visitors (about 14 percent) are coming from the East Coast also, I averaged in higher priced Delta and United Airlines tickets from LAX to be more realistic.
Roundtrip flights from Los Angeles to Honolulu (HNL) for mid-June (as of October 2022):
Alaska Airlines $722
Hawaiian Airlines $627
Southwest (reservations open 6 months prior to departure)
United Airlines $996
Delta Airlines $941
The average cost of airfare to Hawaii: $3,403 for four people
Hotel on Oahu
The biggest chunk of your budget is going to be spent on lodging. The majority of people who come to Hawaii stay in a hotel over a vacation rental. In June 2022, data from the Hawaii Tourism Authority showed that 67 percent of visitors stayed in a hotel vs a vacation in Hawaii.
So for this, we used nightly rates for staying in some of our favorite value hotels in Waikiki for 10 nights. The quotes are for a non-ocean view, standard room. Click the hotel links to learn more about the hotels.
Just like with most places, hotel prices can range. You have budget accommodations and luxury resorts. For your interest, luxury Oahu resorts are quoted below.
For luxury resorts on Oahu, the nightly rates for June were the following:
These prices include taxes and a resort fee. Taxes and resort fees can be 20% to 30% of the total cost of your stay. Because there is such a wide range of prices, we averaged the value-hotel total costs.
Total hotel costs for four people: $4,686
Related articles:
Your lodging will be your biggest expense when you visit Hawaii. 2022 experienced a surge in hotel rates, especially during the summer, as visitor demand increased to the islands. Our 2023 quoted hotel rates are slightly higher than 2022 summer hotel prices, per the chart below.
If you're looking for a luxury resort or a value hotel, we have some ideas for you. Check out the videos below of Waikiki resorts and hotels from your favorite YouTubers.
Rental Car
You can technically skip the car rental and save on this cost, but there is so much to do and see on Oahu, we recommend sticking with a rental car. Yes, it can be frustrating to pay for nightly parking charges, but if you plan to see a lot and drive to different spots on the island, a rental car is well worth it.
To help save money, we book our rental cars through Discount Hawaii Car Rental. We always get the best prices and you reserve a car with the major car rental companies. There's also no need to pre-pay your reservation.
On an average trip, we usually save $60-$75 per week booking with Discount Hawaii Car Rental. But on a trip to the big island over New Year's Eve, we saved over $300!
For this estimate, we used Discount Hawaii Car Rental and received a price for a 10-day rental in a standard-size car to be $1,006.
Let's factor in a tank of gas for $100 and parking fees at a Waikiki hotel. The parking fees, even without valet, are stiff at $35 a night. The total for parking and fuel is $450
Total rental car costs: $1,456
Hawaii car rental guides:
Food
Just when you think that you've paid for all of the expensive things on your trip, think again. Eating out in Hawaii is expensive.
Even hitting the food trucks (Maui food trucks and Kauai food trucks are the best!) can add up to a considerable amount (though they're delicious and worth it).
But because we're estimating the total cost of a 10-day trip, we have to include food. The average dinner can run $50 – $100 per person, depending on the type of restaurant and the number of beverages ordered.
At Duke's in Waikiki, for example, a fish entree is $34 – $39. Add in a drink, tax, and tip, and you've spent $70 without trying. Add on an appetizer or dessert and the bill climbs.
Across the street at Paia Fish Market, you can get a less expensive meal, but an entree will still cost $15 – $20.
All that to say we estimate an adult will spend $75 per day on food and a child eating off the kid's menu (keiki menu) will spend $30 per day. Costs are obviously less if you're staying at a vacation rental and not eating out.
We think it's safe to say you'll spend around $210 per day on food for four people, with a comfortable budget.
Total food costs: $2,100
Activities
The last and possibly most exciting money you'll spend on the trip will be on your activities. There are plenty of free and cheap things to do in Hawaii, so this category is a little challenging to estimate. Hiking is free, snorkeling is inexpensive (Oahu has good snorkeling), and even visiting the Pearl Harbor National Memorial is free.
Our Oahu Itinerary highlights the free or low-cost things to do, it isn't full of paid activities!
So you can either go all out and spend a ton on activities, spend next to nothing, or somewhere in between.
If this is your first trip to Hawaii, you may want to do a few special things. We recommend the following activities for 2 adults and 2 kids. These were selected from our favorite Oahu vetted and tested Oahu tours and activities.
The cost for these three activities is $1,848 (gratuity not included). Consider adding a tip for the guided tours of $10 to $20 per person.
Total activities cost: $1,848
The Polynesian Cultural Center is a lot of fun and educational for kids and adults. See our Ali'i Luau vs Gateway Buffet article for ways to save and see what package is best. Booking with our direct Polynesian Cultural Center link here includes a discount on packages.
Explore all our favorite Oahu luaus here!
More things to do in Hawaii:
How to Cut Costs on Your Trip to Hawaii Without Sacrificing Fun
Now that you know how much a trip to Hawaii costs for a family of four, are there ways that you can save? Here are tried and tested ways to save on a trip to Hawaii.
Don't forget to check our Hawaii Vacation Guide Coupon Codes to find deals on snorkel tours to shave ice (most discounts are on Maui).
Also, our Planning a Trip to Hawaii: 15 Essential Details for more information can be a huge help for your Hawaii family planning!
Stay in a Vacation Rental
I love a good resort experience and most visitors stay in a resort when they come to Hawaii. But if a family really wants to save money, a vacation rental can offer significant savings. The best savings are on Waikiki vacation rentals, you may find more expensive options on Maui and Kauai, for example.
It would be a safe estimate to say that staying in a vacation rental during this trip can easily save you $1,200 – $2,000.
There are pros and cons to staying in a vacation rental and we've laid them all out in this video Where to Stay in Hawaii: Hotels vs Vacation Rentals.
Costco Hawaii Vacation Packages
A Costco Hawaii vacation package can be a good way to save money on your Hawaii vacation if you book flights, hotel, and a car rental with them.
Our community member James T. found booking his Hawaii vacation with Costco saved him about 30% compared to Expedia and Orbitz.
There are drawbacks, like a strict cancellation policy, so see our article below for details.
Related article: Costco Hawaii Vacation Review: 9 Things to Know Before You Buy
Travel Hacking to Hawaii
My partner Erica and I have made traveling our passion and one of our biggest expenses in life. No regrets! We travel throughout the Hawaiian Islands, of course, but we have also been around the world a few times. With all this traveling, we were always nervous about taking advantage of points and rewards offered through credit cards.
A great way to save on your trip to Hawaii, if you have good credit and know how to use credit cards responsibly, is to use credit card and hotel points and rewards for free travel to Hawaii. Our goal this year is to save $2,000 a year on travel around Hawaii and trips to visit family on the mainland. To do this, we have signed up with Zac at Travel Freely. Zac is an expert on using points and rewards for free travel. We have partnered with him to share his resources with our community.
For example, Travel Freely members have saved $7,400+ and $9,500+ on their trips to Hawaii. See the articles below for details as it is totally doable.
This isn't overnight savings, but as most people plan more than 6-months in advance for a trip to Hawaii, travel hacking is a good way to save on a trip to Hawaii. I recommend becoming a Travel Freely member (FREE) for free video tutorials and info to learn of the best cards and programs to get to Hawaii. Sign up to be a Travel Freely member here.
We now have the Travel Freely app that we use to track our credit cards and maximize the rewards. Also free to download and use.
Travel During Hawaii's Shoulder Seasons
The majority of visitors to Hawaii come either in the summer or the winter. It makes sense: if you have kids in school your options to travel are limited. But those are also the most expensive times to travel to Hawaii. 
Costs dip considerably if you visit in September and October or April and May. Not only that, but the weather is generally better during these months and you'll escape the most crowded months. See our Best Time to Visit Hawaii for details.
If you can, planning a trip to Hawaii during the shoulder months could save you a lot of money.
Luxury Vacation to Hawaii for Less
There are a lot more ways to save on a trip to Hawaii. If staying in a value hotel in Waikiki doesn't sound like your type of family vacation, see our How to Have a Luxury Hawaii Vacation for Less: 12 Ways to Save.
If you're planning a trip to Hawaii for the first time, download our FREE Hawaiian Island Cheat Sheets. These downloadable or printable one-page cheat sheets will get you familiar with the islands. Especially if you are trying to figure out which island to visit! We have a quiz on that!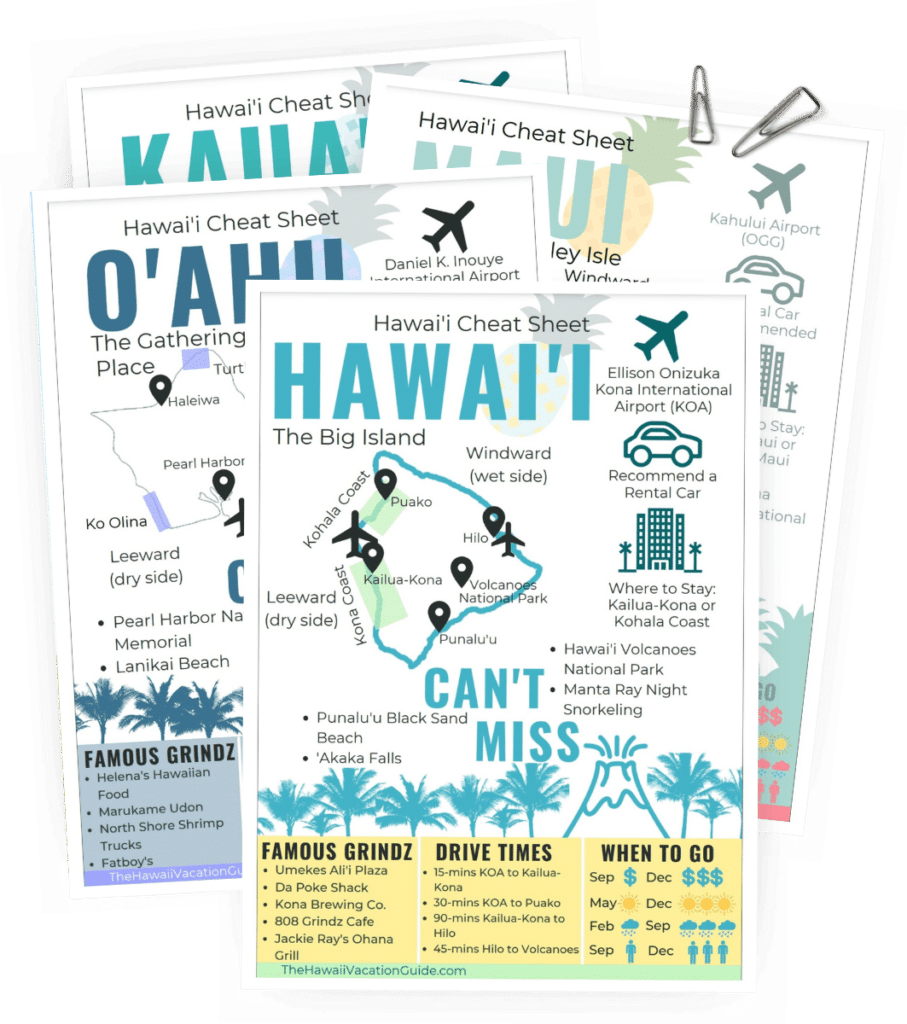 Free Download!
Hawaiian Island Cheat Sheets
Sign up & we'll send you our island cheat sheets so you can get to know the islands like the back of your hand!
We'll share 4 can't-miss activities on each island, a map with the main sights in town, & famous local grindz (eats)!