How Much Does a Trip To Hawaii Cost for a Family of Four (2022 prices)
Disclosure: This post may contain affiliate links, meaning if you decide to make a purchase through my links we may earn a commission at no additional cost to you. Read about our affiliate policies here.
COVID has left people dreaming and planning vacations to Hawaii for the 2022 summer. Last summer, the Great Rental Car Shortage and a return of visitors close to 2019 levels caused rental car and hotel prices to spike. You might be wondering what a trip to the Hawaiian Islands will cost you in 2022.
In 2019 we estimated that a comparable mid-range trip to Hawaii would cost $10,100 for a family of four. In 2021 the same trip cost $8,914.
How does that measure up now? If you book right now, a 10-day trip to Hawaii in June 2022 for a family of four will cost $12,239. That's a huge increase over 2019 and 2021. Hotels and rental car companies are forecasting a busy 2022 summer season.
The breakdown for expenses is the following:
| | | | | | |
| --- | --- | --- | --- | --- | --- |
| Airfare | Hotel | Rental Car | Food | Activities | Total |
| $2,192 | $4,490 | $1,622 | $2,100 | $1,835 | $12,239 |
Read on for details on the quotes and ways to save on your Hawaii vacation.
Planning Ahead: Will a Trip to Hawaii Be More Expensive in 2022?
As we are all hopeful the pandemic will change to an endemic in 2022, Hawaii's tourism industry is still in a state of flux.
As of now, the Hawaii Safe Travels program has a mandatory 5-day quarantine for visitors to Hawaii unless you show a negative COVID-19 test taken within 72 hours if you are not vaccinated or show your vaccine card if you are vaccinated. A negative COVID-19 test is not required if you're vaccinated.
We expect Hawaii travel restrictions to change in 2022, so read our Hawaii Travel Restrictions for an update.
The summer of 2021 saw a near increase in visitors to Hawaii compared to 2019 levels. A trip to Oahu was still the Cheapest Hawaiian Island to Visit but the quoted prices we received for June 2022 show a large increase in costs for your family.
Hotels and rental car companies are optimistic that 2022 will be another busy year, especially since international travel to Hawaii is now available. The standard, non-ocean view rooms were already sold out at Disney's Aulani Resort and Spa per our dates in June.
We expect travel restrictions to ease as the year progresses. Even without a reduction in restrictions, we still expect to see visitors returning to Hawaii this year and cost increases for flights, lodging, and rental cars.
See our recommendations below on how to save money on your 2022 Hawaii Vacation. Then sign up for our Hawaii Travel Newsletter to stay up to date on visiting Hawaii this year.
How Much Does a Trip to Hawaii Cost For a Family of Four in 2022?
To get to our estimate of $12,239, we used the following assumptions:
A 10-night trip to Oahu

Flights leaving from San Francisco

A family of four, including two adults and two children

Trip booking for mid-June 2022

Staying in a hotel
As stated above, the average trip cost that we came up with is $12,239. That's $3,060 per person.
Of course, there are ways to do this cheaper (think: glamping) and there are ways to make this trip much more expensive. But this is a pretty reasonable estimate for a mid-priced vacation that you'll love.
For comparison, a Hawaii Vacation Guide Newsletter subscriber stayed in Waikiki over January 2022 for five nights. They stayed at the Waikiki Beachcomber (watch our video on the Beachcomber), did three paid tours, flew Southwest, and had a rental car. The total for their trip was $5,965.
Here's how costs break down for our 10-day trip to Oahu in June.
Cost of Airfare to Hawaii
You can find some great deals on airfare right now to Hawaii. The low-cost carriers to Hawaii are Southwest Airlines, Alaska Airlines, and Hawaiian Airlines. See our article How to Get a Cheap Ticket to Hawaii.
As many may not be departing from San Francisco so they can't conveniently use a low-cost carrier, I averaged the low-cost carriers with the standard airlines of United Airlines and Delta Airlines.
A roundtrip flight on United Airlines from San Francisco to Oahu in June 2022 is $563.
Because travel is still uncertain (even in 2022), you'll want to be sure that whatever flights you do book come with a flexible cancellation policy. Most offer no change fees. At $533 per person on average, with taxes and fees, the total is the following.
Total cost of airfare: $2,192 for four people
Hotel on Oahu
The biggest chunk of your budget is going to be spent on your lodging. The majority of people who come to Hawaii stay in a hotel over a vacation rental. In June 2021, data from the Hawaii Tourism Authority showed that 54% of Hawaii visitors stayed in a hotel.
So for this, we used estimates for staying in a hotel.
Just like with most places, hotel prices can range. You have budget accommodations and luxe resorts. For the estimate, we pulled prices from some of the most popular family-friendly resorts on the island.
Related read: The 7 Best Family-Friendly Hotels on Oahu
We priced out a 10-night stay at these hotels in June 2022:
Hilton Hawaiian Village $5,891

Royal Hawaiian Hotel: $9,331

Turtle Bay: $10,286

Sheraton Princess Kaiulani: $4,619

Queen Kapiolani Hotel: $2,772

Disney Aulani: $9,248
These prices include taxes and a resort fee. Taxes and resort fees can be 20% to 50% of the total cost of your stay. Because there is such a wide range of prices, we stuck with a middle estimate and went with the Hilton Hawaiian Village.
Total hotel costs for four people: $4,490
Note: June 2021 hotel nightly rates were about 30% lower than our 2022 quoted rates. Hawaii tourism is in a state of flux due to the pandemic, you may find better deals as the summer approaches. Our twice-monthly Hawaii Newsletter keeps you informed of the changing visitor travel restrictions, crowds, and costs. Our over 12,000 subscribers love it!
If you're looking for a luxury resort or a value hotel, we have some ideas for you. Check out the videos below of Waikiki resorts and hotels from your favorite YouTubers.
Rental Car
You can technically skip the car rental and save on this cost, but there is so much to do and see on Oahu, we recommend sticking with it. Yes, it can be frustrating to pay for rental and parking charges, but if you plan to see a lot and drive to different spots on the island, a rental car is well worth it.
Related read: 7-Day Oahu Itinerary Without a Rental Car
To help save money, we book our rental cars through Discount Hawaii Car Rental. We always get the best prices and you reserve a car with the major car rental companies. There's also no need to pre-pay your reservation. 
On an average trip, we usually save $60-$75 per week booking with Discount Hawaii Car Rental. But on a trip to the big island over New Year's Eve, we saved over $300!
For this estimate, we used Discount Hawaii Car Rental and received a price for a 10-day rental in a standard size car to be $1,172.
Let's factor in a tank of gas for $100 and parking fees at a Waikiki resort. The parking fees, even without valet, are stiff at $35 a night. The total for parking and fuel is $450
Total rental car costs: $1,622
Food
Just when you think that you've paid for all of the expensive things on your trip, think again. Eating out in Hawaii is expensive. Even hitting the food trucks can add up to a considerable about (though they're delicious and worth it).
But because we're estimating the total cost of a 10-day trip, we have to include food in there. The average dinner can run $50 – $100 per person, depending on the type of restaurant and the number of beverages ordered.
At Duke's in Waikiki, for example, a fish entree is $34 – $39. Add in a drink, tax, and tip, and you've spent $70 without trying. Add on an appetizer or dessert and the bill climbs.
Across the street at Paia Fish Market, you can get a less expensive meal, but an entree will still cost $15 – $20.
All that to say we estimate an adult will spend $75 per day on food and a child-eating off the kid's menu will spend $30 per day. Costs are obviously less if you're staying at a vacation rental and not eating out. But for the resort cost, we think it's safe to say you'll spend around $210 per day on food for four people, with a comfortable budget.
Total food costs: $2,100
Activities
The last, and possibly most exciting money that you'll spend on the entire trip will be on your activities. There are plenty of free and cheap things to do in Hawaii, so this category is a little challenging to estimate. Hiking is free, snorkeling is inexpensive, and even visiting the Pearl Harbor memorial is free. Our Oahu Itinerary highlights the free or low-cost things to do, it isn't full of paid activities!
So you can either go all out and spend a ton on activities, spend next to nothing, or somewhere in between.
If this is your first trip to Hawaii, you may want to do a few special things. We recommend the following activities for 2 adults and 2 kids:
The cost for these three activities is $1,835.
Total activities cost: $1,835
Related articles:
How to Cut Costs on Your Trip to Hawaii Without Sacrificing Fun
Now that you have the total cost estimate, are there ways that you can save? Here are 4 tried and tested ways to save on a trip to Hawaii.
Stay in a Vacation Rental
I love a good resort experience and most visitors stay in a resort when they come to Hawaii. But if a family really wants to save money, a vacation rental can offer significant savings. The best savings are on Waikiki vacation rentals, you may find more expensive options on Maui and Kauai, for example.
For a reference point, a nice one-bedroom vacation rental in Waikiki is $3,090 for the same time period. So staying in a vacation rental will save you nearly $1,400 compared to the Hilton Hawaiian Village. That also doesn't include any food savings, which can be significant.
It would be a safe estimate to say that staying in a vacation rental during this trip can easily save you $1,200 – $2,000.
There are pros and cons to staying in a vacation rental and we've laid them all out in this video Where to Stay in Hawaii: Hotels vs Vacation Rentals.
Costco Hawaii Vacation Packages
A Costco Hawaii vacation package can be a good way to save money on your Hawaii vacation if you book flights, hotel, and a car rental with them.
Our community member James T. found booking his Hawaii vacation with Costco saved him about 30% compared to Expedia and Orbitz.
There are drawbacks, like a strict cancellation policy, so see our article below for details.
Related article: Costco Hawaii Vacation Review: 9 Things to Know Before You Buy
Travel Hacking to Hawaii
My partner Erica and I have made traveling our passion and one of our biggest expenses in life. No regrets! We travel throughout the Hawaiian Islands, of course, but we have also been around the world a few times. With all this traveling, we were always nervous about taking advantage of points and rewards offered through credit cards.
A great way to save on your trip to Hawaii, if you have good credit and know how to use credit cards responsibly, is to use credit card and hotel points and rewards for free travel to Hawaii. Our goal this year is to save $2,000 a year on travel around Hawaii and trips to visit family on the mainland. To do this, we have signed up with Zac at Travel Freely. Zac is an expert on using points and rewards for free travel. We have partnered with him to share his resources with our community.
For example, Travel Freely members have saved $7,400+ and $9,500+ on their trips to Hawaii. See the articles below for details as it is totally doable.
This isn't overnight savings, but as most people plan more than 6-months in advance for a trip to Hawaii, travel hacking is a good way to save on a trip to Hawaii. I recommend becoming a Travel Freely member (FREE) for free video tutorials and info to learn of the best cards and programs to get to Hawaii. Sign up to be a Travel Freely member here.
We now have the Travel Freely app that we use to track our credit cards and maximize the rewards. Also free to download and use.
Travel During Shoulder Seasons
The majority of visitors to Hawaii come either in the summer or the winter. It makes sense: if you have kids in school your options to travel are limited. But those are also the most expensive times to travel to Hawaii.
Costs dip considerably if you visit in September and October or April and May. Not only that, but the weather is generally better during these months and you'll escape the most crowded months. If you can, planning a trip to Hawaii during the shoulder months could save you a lot of money.
If you're planning a trip to Hawaii for the first time, download our FREE Hawaiian Island Cheat Sheets. These downloadable or printable one page cheat sheets will get you familiar with the islands. Especially if you are trying to figure out which island to visit! We have a quiz on that!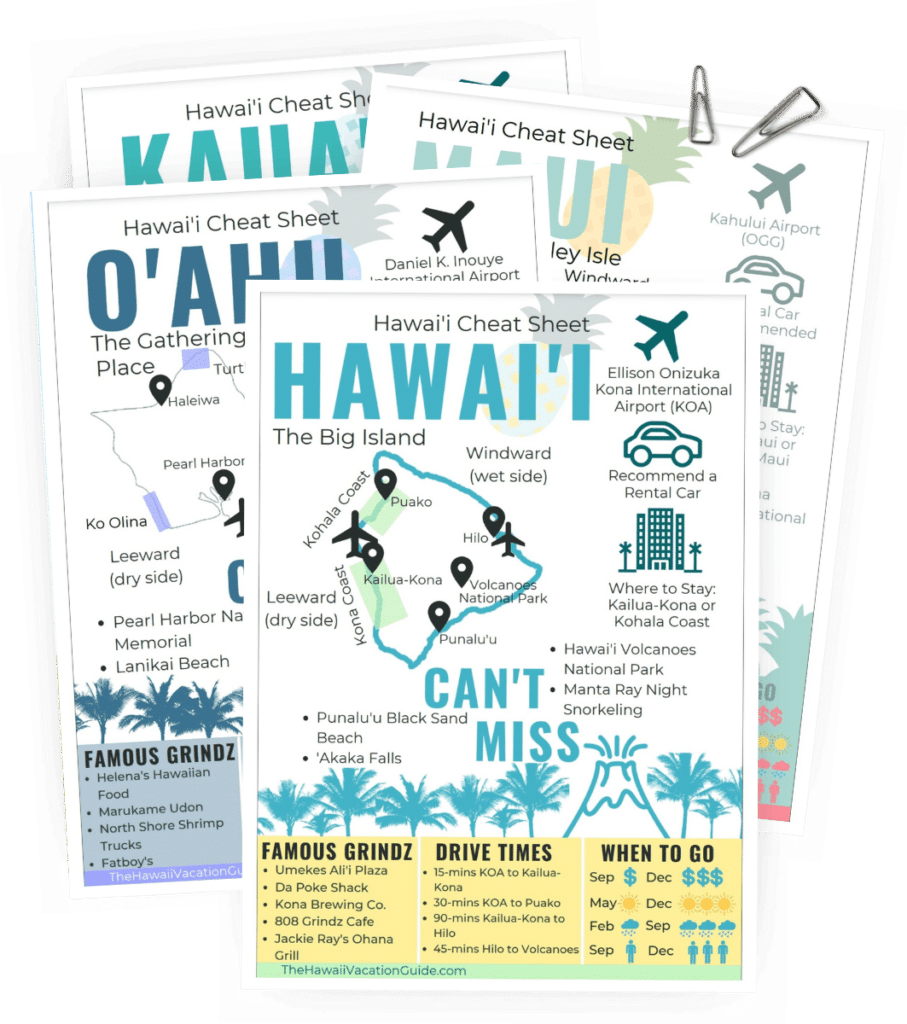 Free Download!
Hawaiian Island Cheat Sheets
Sign up & we'll send you our island cheat sheets so you can get to know the islands like the back of your hand!
We'll share 4 can't-miss activities on each island, a map with the main sights in town, & famous local grindz (eats)!