Hawaii Lei Greetings: What to Know Before You Book
Disclosure: This post may contain affiliate links, meaning if you decide to make a purchase through my links we may earn a commission at no additional cost to you. Read about our affiliate policies here.
My wife, Erica, was disappointed when she would visit Hawaii as a young girl. She expected a lei greeting on arrival. It never happened. She deserved the best lei greeting at Honolulu Airport.
For your trip to Hawaii, make it special with a lei greeting. We share the best lei greetings in Honolulu and on all the Hawaiian Islands. Plus, we share the history of the Hawaii lei, the traditional lei greeting, where to buy your Hawaii lei, and if you can leave Hawaii with your lei.
If you're planning a trip to Hawaii during the best time to visit, over Christmas, or over the summer then here is a little background on the history of Hawaii lei greetings and these garlands.
A History of Hawaii Lei
While the lei tradition was brought over by Polynesian settlers, the Hawaii lei greeting has become a symbol of Hawaii and aloha across the world.
In Olelo Hawaii (the Hawaiian language) there is no plural so "lei" is correct but "leis" is acceptable speech.
Lei can be made from shells, flowers, leaves, nuts, feathers, bone, and teeth of animals. Don't worry, you won't be given a bone and teeth lei at check-in. The most symbolic lei is made from Maile vine as it was used by chiefs to establish peace.
While the ancient Hawaiian social system of kapu had a lot of rules, lei-wearing was not heavily regulated. Anyone could wear any type of lei they wish. Men can wear flowered lei and women can wear kukui nut lei. In modern times, that is still true.
There is some Hawaii lei greeting etiquette to follow. Here are some informal rules and Hawaii lei greeting protocol.
Hawaii Lei Greeting Traditions
There are two unspoken rules about Hawaii lei greetings. The first is to always accept a lei. The second is to never remove a lei in the presence of someone who gifted you the lei. A lei is a welcomed celebration of one person's affection for another, hence these informal rules.
The act of giving a lei is a ceremony in itself when done the traditional way. Traditionalists give a lei by bowing slightly and raising it above the heart, allowing the recipient to take it. Raising the hands above another's head, or touching the face or head, is considered disrespectful.
Another custom requires exchanging Ha, the breath of life. This exchange of breath is done when two people press together the bridge of their noses while inhaling at the same time. Ha is more than a show at the Polynesian Cultural Center.
Related article: Polynesian Cultural Center Ali'i Luau vs Gateway Buffet
This exchange can occur at a Hawaii lei greeting as it welcomes the other person into their space by sharing the breath of life, which was sacred to the Hawaiian culture. Ancient Hawaiians recognized that their breath was the key to good health and believed it possessed mana (spiritual power).
Due to western culture and now the pandemic, you won't find the exchange of breath at an airport lei greeting or at check-in at your hotel.
Many resorts, especially the Kaanapali Beach Hotel on Maui, will share the lei ceremony as part of their cultural activities program. I recommend attending if your resort offers it!
Anyone can wear a lei, at any time, and a ceremony or special event is not required. Buy one for yourself and enjoy!
Local residents of Hawaii wear lei for birthdays, graduations, weddings, funerals, etc. May Day is Lei Day in Hawaii. Many schools, like our son Henry's, have a pageant on Lei Day.
The Best Hawaii Lei Greetings
Traveling solo, with a group, or want to surprise someone on their trip to Hawaii by purchasing them a lei greeting on arrival? These Hawaii lei greeting companies will send a dedicated greeter to meet you in the baggage claim area.
Here are the best lei greeters in Honolulu and on each of the major Hawaiian Islands.
You'll experience true Hawaiian hospitality the moment you arrive. Your greeter will meet you with a warm Aloha and embrace you with a fresh Hawaiian lei. Then, rest easy and let your greeter answer any questions you may have.
Click the links below to book. The greetings are offered seven days a week, from 8 AM to 11 PM.
Choose from a large selection of lei and each person can select the lei they like! They offer classic orchid, kukui nut, ti leaf, candy, and deluxe combinations. Pictures of the lei arrangements are shown via the links.
The Best Lei Greeting at Honolulu Airport
We like this lei greeting at Honolulu Airport for their warm aloha greeters and willingness to answer your questions upon arrival. They will meet you at baggage claim with a sign and a memorable Hawaii lei greeting. That is why they are the best lei greeting at Honolulu airport.
Click to schedule a lei greeting at Daniel K. Inouye International Airport (HNL) on Oahu.
Maui's Kahului Airport Lei Greetings
Click the links below to schedule a lei greeting at Kahului Airport (OGG) on Maui.
Island of Hawaii Airport Lei Greetings
Click the links below to schedule a lei greeting at Ellison Onizuka Kona International Airport (KOA) on the Big Island, near Kona.
Kauai Airport Lei Greetings
Begin your stay on The Garden Isle with a lei greeting at Lihue Airport. A local will greet your party with a lei and then answer any questions you may have on places to go.
Where to Buy Lei in Hawaii
If a Hawaii lei greeting isn't for your thing, you can purchase lei all over Hawaii. The best-priced lei can be found at Costco, Walmart, and Target. They have coolers full of lei to choose from near the entrance. But, while these are well-priced, we recommend visiting a local florist or lei specialty shop.
If you stay at a luxury hotel in Hawaii, you can expect a lei greeting at check-in. See the articles below to get a free lei (kind of free).
A Hawaii luau will also include a lei greeting upon arrival. Sometimes this is a premium paid service but most luaus will provide a Hawaii lei greeting for all guests. The 14 Best Hawaii Luaus include a lei greeting!
On Oahu, a popular and well-respected place to purchase lei is at the Honolulu Airport. There is a row of lei shops located outside baggage claim along the loop road near the International Parking Garage. Click here for Google Map Directions.
Here, you will find family-owned lei makers like Harriet's Lei Stand, Dorothy's Lei Stand, and Rachel's Lei Stand.
Another popular place to purchase lei is in Honolulu's Chinatown. Local florists make exquisite lei necklaces from many types of flowers.
On the neighbor islands of Maui, Kauai, and the Big Island look to local florists to find orchid lei and specialty lei.
Can You Leave Hawaii with a Lei?
All passengers are required to go through an agricultural inspection before leaving Hawaii in order to prevent the spread of fruit flies and hazardous plant insects and diseases to the mainland of the United States.
Flowered lei and non-flowered lei can leave Hawaii after inspection by the Department of Agriculture. Pineapples, lei, and coffee are listed as common items that are allowed to leave Hawaii for the USA mainland.
Watch the video below for more information on the agricultural inspection process upon leaving Hawaii.
Hawaii Lei Making Classes
Lei-making is one of our favorite things to do in Hawaii. The experience is an intimate way to learn the technique and a little of the Hawaiian culture from the teacher.
The best place to start is with your resort. Your nightly resort fee may include free lei-making workshops. Check the resort's event calendar for lei-making classes.
Erica and the kids made lei po'o at the Wailea Beach Resort on Maui. They enjoyed talking story with the instructor. Plus, we got some great family pictures with their lei po'o!
Another place to find lei-making in Hawaii is at shopping centers. Many shopping centers and malls have Hawaiian cultural events like hula shows and lei-making classes. Check their event calendars below.
Oahu Shopping Center Lei Classes:
Maui Shopping Center Lei Classes:
Kauai Shopping Centers Lei Classes:
Big Island Shopping Centers Lei Classes:
On Maui, a unique experience is to visit Haku Maui in Makawao Town, Upcountry. Haku Maui has lei workshops. Try your hand at being a floral artist to exquisite lei from tropical florals and other materials.
How to Dispose of Your Lei
Traditionally, a lei should never be thrown away casually, or tossed into the trash. Hawaiian custom is to return the lei to the place the flowers, nuts, or lei material was gathered.
If that is not possible, the lei should be returned to the earth by hanging in a tree, burying, or burning. You will find leis draped over trees, statues, and other symbolic areas around Hawaii.
Most modern lei are held together with dental floss so we do not recommend tossing your lie into the ocean or onto the land. Remove the string before you dispose of your lei into mother nature.
A lei represents love, and to throw one away represents throwing away the love of the giver.
Learn more about visiting Hawaii by downloading our free Hawaii cheat sheets. Learn how to get around each island, the best places to eat, our favorite beaches, and more all on one page!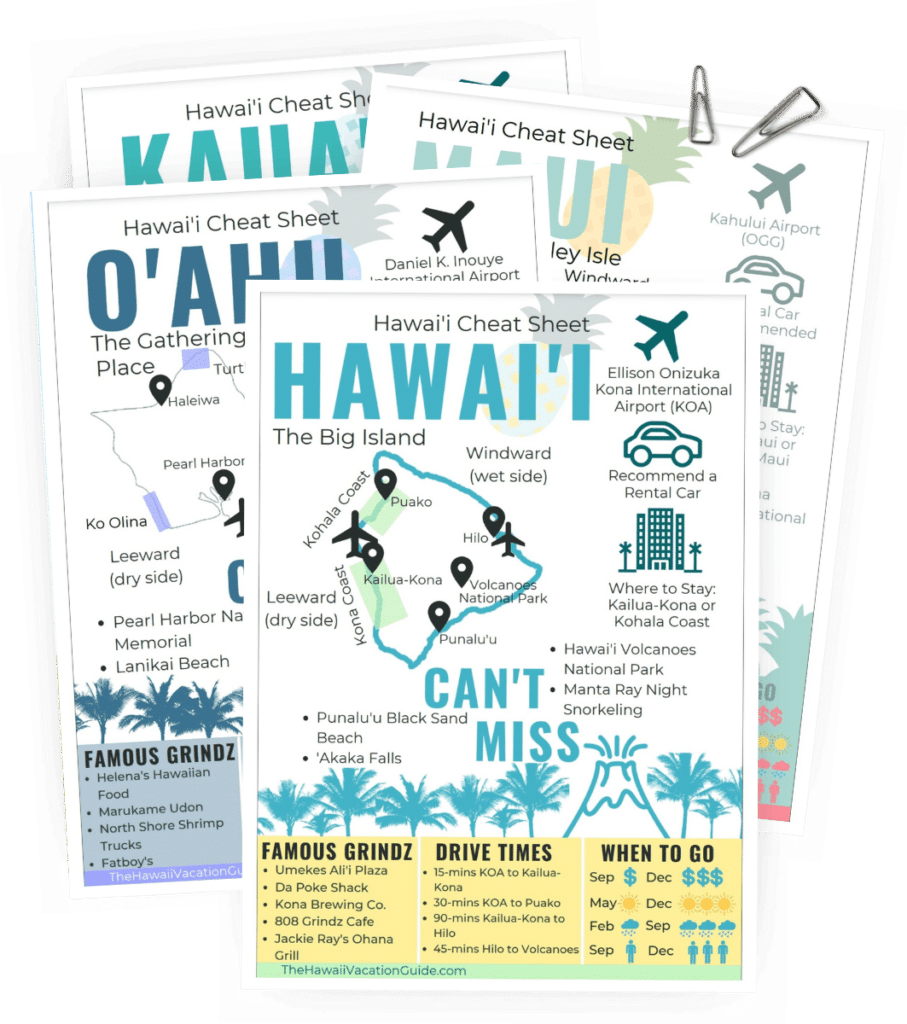 Free Download!
Hawaiian Island Cheat Sheets
Sign up & we'll send you our island cheat sheets so you can get to know the islands like the back of your hand!
We'll share 4 can't-miss activities on each island, a map with the main sights in town, & famous local grindz (eats)!