The 6 Best Luxury Hotels on the Big Island
Disclosure: This post may contain affiliate links, meaning if you decide to make a purchase through my links we may earn a commission at no additional cost to you. Read about our affiliate policies here.
On the Big Island you can find a range of accommodations — from camping near an active volcano to luxurious resorts, and everything in between. If you are looking for pampering and relaxation on your vacation, you won't be disappointed. You'll notice that almost all of these hotels are located on the Kohala Coast, an area that has unbeatable weather.
Here are the six best luxury hotels on the Big Island, as well as the special features we love at each one.
Planning a Quick Trip?
We have you covered. Check out some quick links to all of our best Big Island information:
Our full Big Island Travel Guide
The best Big Island itinerary
A curated list of our favorite tours & activities
Your guide to night swimming with Manta Rays
Best All-Around Luxury Hotel: Four Seasons Hualalai
Located conveniently north of the Kona International Airport on the slopes of the Hualalai volcano is the Four Seasons. When you first arrive, this property feels understated and quiet, with low rise buildings spread out among lush vegetation. Unlike other properties on the island, the entrance isn't sprawling or grand, but it makes you feel instantly comfortable.
Here you'll find standard rooms, suites, and villas that were all recently renovated to Four Seasons high standards. There's no shortage of pools at this resort. You can choose from five different pools, including a keiki pool and a lap pool.
Families traveling with young children can enjoy the complimentary kid's for all seasons club, open from 8 am to 5 pm for children ages 5-12. And there are plenty of cultural activities to engage in, like lei making and ukulele lessons.
What we love about the Four Seasons Hualalai
The resort has a 1.8 million gallon lava rock aquarium with over 4,000 tropical fish. You can snorkel on your own or take lessons from a marine biologist. It's an amazing highlight that makes this hotel our favorite luxury resort on the island.
Best Luxury Hotel for an Upbeat Vibe: Mauna Lani Auberge Resort
If you're looking for an upbeat vacation vibe, this place delivers. The Mauna Lani was purchased by investors and became a member of the Auberge Resorts Collection hotels. In 2018 it underwent a $200 million renovation, and the place is stunning. The beautiful entrance and grounds are immaculate and it was stylishly designed to almost feel like an all-inclusive destination.
There are so many options for activities, it will be difficult to want to leave to explore the island. (Though you should! Our Big Island itinerary will make this easy for you.) You can grab gear from the surf shack, play a lawn game on the great lawn, take a canoe ride, join a cultural workshop like net throwing, or take a hula lesson.
What we love about the Mauna Lani Resort
The entire resort feels like one large, open-air, stylishly designed living room. Grab a chair and a cocktail, chase your kids around the great lawn, or run over to jump in the pool. It's difficult to describe, but the vibe here is luxury and style, while being effortlessly casual. This is also our favorite family friendly resort on the island.
Best Secluded Luxury Hotel: Mauna Kea Beach Hotel
Located far up north, approximately 30 minutes from the Kona Airport is the Mauna Kea Resort, a Marriott Autograph Collection property. The hotel is charmingly retro in design. Opened in 1965, it was the most expensive hotel ever built and was named one of the three greatest hotels in the world by Esquire Magazine.
It lives up to its legacy as a spectacular hotel for your trip to the Big Island. It is beautiful and elegant, with a number of on-site features that you won't find at other hotels. It is located on one of the best beaches on the island, which many of the other resorts don't have as a feature. It has a small, very good on-site luau performance twice a week. And there is a Manta Ray viewing station at the hotel.
What we love about the Mauna Kea Beach Hotel
If you want to swim with Manta Rays, this is an excellent spot. Manta Ray Advocates run night tours from the beach at the hotel. With their knowledgeable guides, they'll lead you from the beach into the ocean at night to enjoy a swim with the giant manta rays.
Be sure to read our full guide on swimming and diving with Manta Rays. It is one of the best experiences we've had in Hawaii.
Best Value-Priced Luxury Hotel: Fairmont Orchid
Located next to the Mauna Lani hotel is the Fairmont Orchid. Immediately upon greeting, this hotel is open and welcoming. The staff make the place exceptional. There is plenty of room to run around and enjoy and the large pool has plenty of room for everyone. While the beach here is small, it is mostly protected so you don't get many waves.
This hotel isn't as luxe as the first three on the list, but it's also usually priced quite a bit lower than those. So it's one step down in luxury and in price, but it's still a wonderful place that we've enjoyed staying.
What we love about the Fairmont Orchid
Hotel restaurants are usually hit or miss, but Brown's Beach House delivers a luxurious meal in a perfect, beachfront setting. It has fantastic food and a great atmosphere. Whether you're staying here or not, booking at Brown's for a special meal is a great idea.
Best Luxury Hotel Beach: Westin Hapuna Beach
Though this property isn't as luxurious as the others on this list, it is excellent. It's built up, rather than out, so the grounds aren't as sprawling as some of the other Kohala coast hotels. But that does mean you have multiple levels of beautiful views.
Located on Hapuna Beach, a unique beach for the Big Island, the Westin Hapuna Beach offers great amenities. You'll find a surprisingly quiet adult pool, just one level away from a less quiet pool for all ages. The rooms are modern, there are great lounge chairs on the beach, and a rental shack where you can get anything you need to enjoy your day on the beach.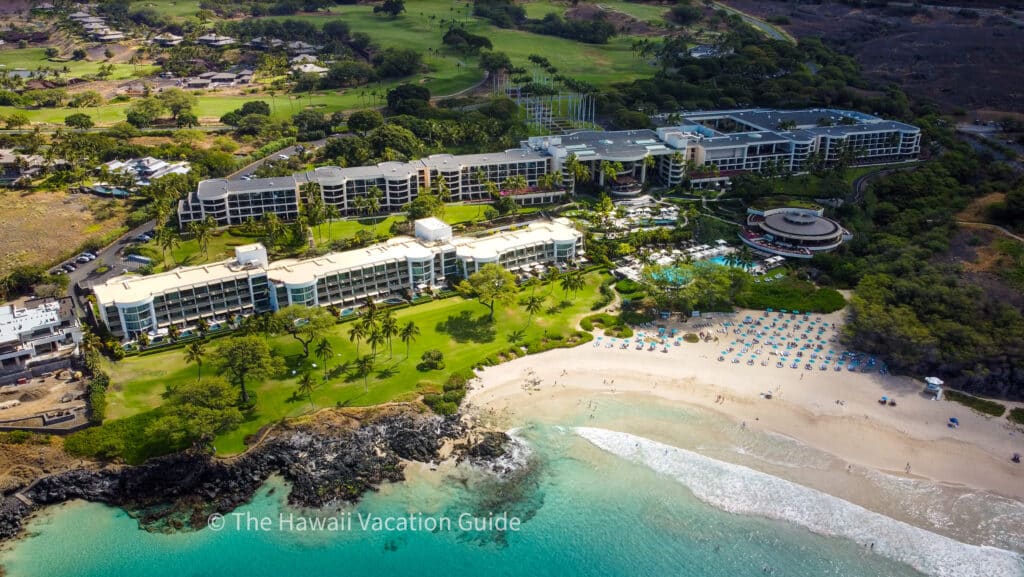 What we love about the Westin Hapuna Beach
The location on Hapuna Beach, one of the best beaches on the island is truly impressive. Here you have easy, front row access to the sprawling beach — no waiting for beach parking! We always spend a day at Hapuna Beach when visiting the Big Island. Lucky Hapuna Beach guests get to spend their entire stay there.
Best Independent Luxury Hotel: Holualoa Inn
Step away from the luxurious large resorts and enjoy an escape to a luxury B&B. The Holualoa Inn is located away from the ocean, in the middle of a coffee farm, adding to its serene feeling. Also adding to its serene setting is the size: there are four rooms and two suites, so you won't be walking around with hundreds of other people competing for pool chairs.
Wake up to a beautiful view, enjoy the delicious breakfast that is included with your stay, and wander around the 30 acre grounds. This is a place you can really recharge.
What we love about the Holualoa Inn
Staying in coffee country is a wonderful experience and very different from the rest of the island. Up there the temps are cooler and things move a little slower. It's a serene experience.
Big Island Luxury Vacation FAQs
Which part of the Big Island has the best beaches?
The leeward side of the Big Island is where you'll find all of the best beaches. We especially like the beaches on the Kohala Coast during the summer as they are unbelievably beautiful. Let us help you visit the best beaches on the island:
What Big Island resorts have beach access?
From this list, the Four Seasons Hualalai, Mauna Lani, Fairmont Orchid, Mauna Kea Beach Hotel, and the Westin Hapuna Beach all have direct access to the beach. But something that you need to know about Hawaii is that all beaches are public. So even if there is a luxury resort fronting the sand, you are allowed to access that beach. All of these resorts also have free, but limited, public beach parking.
Are there any all-inclusive resorts on the Big Island?
If you're looking for a luxury all-inclusive resort on the Big Island, you're unfortunately out of luck. Luxury hotels aren't a popular in Hawaii as there is so much to do and see outside of the resort. That's where our itineraries can help! From helping you decide what to see and where to eat, we make seeing the best sights on the Big Island easy.
Experience More During Your Stay
Do you want to see the best of the island without having to stress about planning? We've got your covered with our award winning itineraries. Ok no one has given them an award (yet) but they've received incredibly awesome reviews.
"We leave on our trip to Kauai and Hawaii on this Saturday. We reserved our timeshares about a year ago. We purchased our plane tickets about two months ago. We started to "flesh-out" our itinerary about a month ago. I only came across your website and itineraries for each island about two weeks ago. I bought your itineraries about a week ago. Honestly, I wish I had found you long ago. Also, I wish that it was more clear on your website how incredibly helpful it is to have you do all the research! Your research and itineraries are priceless and a bargain at your price point. I don't know why I hesitated to buy them."

Gilda
Our Big Island itinerary comes with an overview video, so you can get the lay of the island before your visit. Then, you get five great excursion days that take you to the best parts of the island, on a carefully planned route (no backtracking needed). And you get our "quick hits" section so you are always eating at the best restaurants, visiting the best beaches, and snorkeling at the best spots.
Get The Big Island Itinerary
The step-by-step itinerary takes you to all the best beaches, snorkeling spots, restaurants, and sights. You'll get six carefully planned excursion days to help you see the can't miss stops no matter how limited your time is.
Get all the details on our itinerary and download it for a memorable and easily planned trip to Hawai'i (Big Island).