The 7 Best Maui Honeymoon Hotels, Suites, and Villas
Disclosure: This post may contain affiliate links, meaning if you decide to make a purchase through my links we may earn a commission at no additional cost to you. Read about our affiliate policies here.
Once you've made the decision about where to go on your honeymoon, your next big decision is where to stay. If you're heading to Maui for your honeymoon, you'll have no shortage of stunning hotels.
But these seven resorts stand out as being the best romantic hotels you'll find:
🍍 Hotel Wailea
🍍 Four Seasons Maui
🍍 Hana-Maui Resort by Hyatt (formerly the Travaasa Hana)
🍍 Montage Kapalua
🍍 Fairmont Kea Lani
🍍 Paia Inn
🍍 Ritz Carlton Kapalua
We give you the important details on each one so you can decide what resort is best for your honeymoon on Maui.
Hotel Wailea
Hawaii is an incredibly family-friendly destination, and Maui is no exception. That can be great during some of your trips, but during a honeymoon, you might just want a little quiet solitude to enjoy with your new partner.
If so, head to Hotel Wailea. The only adults-only resort is a five-star luxury property that is the only hotel in Hawaii that is part of the Relais & Châteaux association. This beautiful and relaxed hotel features only suites and personalized activities for every type of honeymooner.
Perched 300 feet above the sea in a lush, tropical landscape, Hotel Wailea is removed from the main resort area of Wailea, making it even quieter. Because it's not right on the beach (though it does have ocean views) you will have to take a five-minute car ride with one of the resort valets to hit the beach.
But it's still luxury once you get there — complimentary water, towels, lounge chairs, and umbrellas will be waiting for you at Wailea Beach.
Best for: honeymooners who want to stay at a tranquil adults-only hotel.
Four Seasons Resort Maui at Wailea
If great service is high on your list, the Four Seasons Maui will deliver. Just like all Four Seasons hotels, the service here is exceptional. Set in the heart of Wailea, the hotel features honeymoon activities like couples massages, a private picnic, and a romantic dinner for two on the beach.
Spend your days lounging at their three salt-water pools (one of them is adults only) in a cabana. Or partake in one of the on-site activities. If you don't want to eat at one of their three restaurants, they offer a free shuttle service to the Shops at Wailea. 
They offer a wide range of room options, from standard rooms to three-bedroom residential suites. But even their smallest room is sizeable, at 600 square feet.
Best for: honeymooners who prioritize the best service.
Hana-Maui Resort by Hyatt
If you're looking to get away from the more touristy and crowded spots, head to Hana and stay at Hana-Maui Resort by Hyatt. At the hotel and in Hana, you'll feel like you're a world away from everything.
You can book your stay at Hana-Maui Resort to be either all-inclusive or ala carte. The all-inclusive rate allows you three meals per day plus a $175 credit per person per night stay that you can use at the spa or for other private classes. They offer four paths to choose activities during your stay:
🍍 Adventure
🍍 Culture
🍍 Wellness
🍍 Fitness
And possibly my favorite part? You can stay in a private, ocean-front bungalow.
Best for: honeymooners who want to get away from it all.
Related article: Mama's Fish House: Is Lunch or Dinner the Best Time to Go?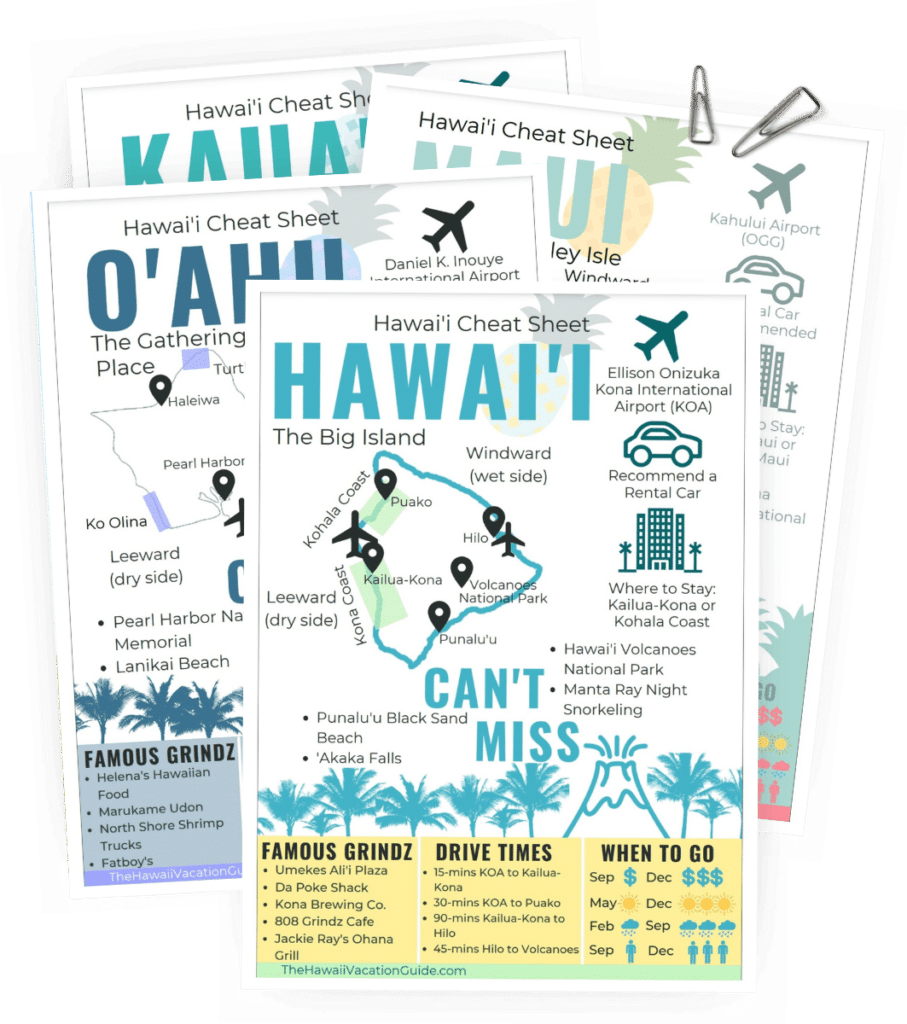 Free Download!
Hawaiian Island Cheat Sheets
Sign up & we'll send you our island cheat sheets so you can get to know the islands like the back of your hand!
We'll share 4 can't-miss activities on each island, a map with the main sights in town, & famous local grindz (eats)!
Montage Kapalua
Set just north of Lahaina on Namalu Bay, the Montage Kapalua is a stunning luxury resort with residential-style accommodations. You can choose from one, two, three, and four-bedroom residences, all of which are outfitted with a luxury kitchen.
The pool is sprawling, with comfy daybeds and lounge chairs that don't get too crowded. If you need some time away from the pool, they have ziplines, two neighboring golf courses, a pop-up bar at the Cliff House, tennis courts, a spa, and amazing restaurants like Cane and Canoe.
Once you're there, expect fantastic service, especially with poolside drinks and sprawling grounds that help you feel like you're a little off the beaten path, even though you're just a quick 15-minute drive to historic Lahaina.
Best for: honeymooners who want a luxury resort and a full-size kitchen.
Fairmont Kea Lani
The Fairmont Kea Lani sits at the southern end of Wailea — slightly removed from the hustle and bustle that resorts in the center experience. It sits right on Polo Beach and has a number of oceanfront suites.
Like the Four Seasons Wailea, the pools are oceanfront and there's a separate adults-only pool. The adults-only pool is also where they offer their twilight dinner, popular with the honeymoon crowd.
What we love about the Fairmont is there are no regular rooms — the basic room is an 820-square-foot suite. A perfect amount of space to spread out and enjoy.
Best for: honeymooners who want to be close to the action of Wailea, with fewer crowds.
Paia Inn
Another off-the-beaten path hotel, the Paia Inn is a boutique hotel located on the north side of Maui, away from the tourist areas of Wailea and Ka'anapali. While this isn't a big five-star luxury resort, you're located right in the middle of the charming town of Paia where you can easily walk to the beach, walk to restaurants, and enjoy the laid back vibe.
The rooms and suites are wonderfully designed and cheaper than anything else on this list, meaning your honeymoon dollars will stretch even further without having to sacrifice style and comfort.
Best for: honeymooners who want to skip the big resort experience.
Ritz Carlton Kapalua
The last resort located on Maui's west side is the Ritz Carlton Kapalua. Located near two championship golf courses, this is an ideal location for honeymooners who want to enjoy all Maui has to offer and spend some time hitting the links.
The property is large and sprawling, with the service you'd expect from the Ritz. Lounge by the pool or read a book (or nap) in a hammock. Club level members can get breakfast, lunch, appetizers, and cocktails included with their stay. And when you want to leave the Ritz, it's a 25-minute drive down to Lahaina for activities or a meal out.
Best for: honeymooners who want to spend some time hitting the course.
Now, That You've Picked Your Maui Honeymoon Hotel
Ready to start planning the Maui honeymoon of your dreams? Check out our Maui itineraries. The Maui Adventure Itinerary is great for couples!
Get The Maui Itinerary
The step-by-step itinerary takes you to all the best beaches, snorkeling spots, restaurants, and sights. You'll get six carefully planned excursion days to help you see the can't miss stops no matter how limited your time is.
Get all the details on our itinerary and download it for a memorable and easily planned trip to Maui.