17 Outdoor Things to Do in Hawaii
Disclosure: This post may contain affiliate links, meaning if you decide to make a purchase through my links we may earn a commission at no additional cost to you. Read about our affiliate policies here.
The Aloha Spirit and one's thirst for adventure and/or relaxation, are best found in Hawaii. My wife Erica and I have always loved these outdoor Hawaiian activities.
Here are our favorite things to do in Hawaii while avoiding the crowds and adhering to social distancing. Have some fun with these activities in the great Hawaiian outdoors.
See my tips below on places to avoid also due to crowds. Here is your list of 17 outdoor, social distancing things to do in Hawaii.
1. Hawaii's Beaches
This is a no-brainer. You decided to escape your home to Hawaii for this one reason. The trick is to find a beach without the crowds. Check out the more quiet beaches in Hawaii below:
🍍 Electric Beach past Kapolei on Oahu
🍍 Launiupoko Beach in West Maui or Maluaka Beach in South Maui
🍍 Pu'uhonua O Honaunau Beach (aka, Two Steps) on the island of Hawai'i
🍍 Salt Pond Beach in south Kauai
During Hawaii's stay-at-home order in 2020, the ocean was the only legal place to hang out. Surfers could be found chilling in the water even if there weren't any waves. 
2. Surf Lessons
Find a local instructor that will meet you at the beach to do surf lessons. Many instructors offer one-on-one instruction or do it as a couple or family.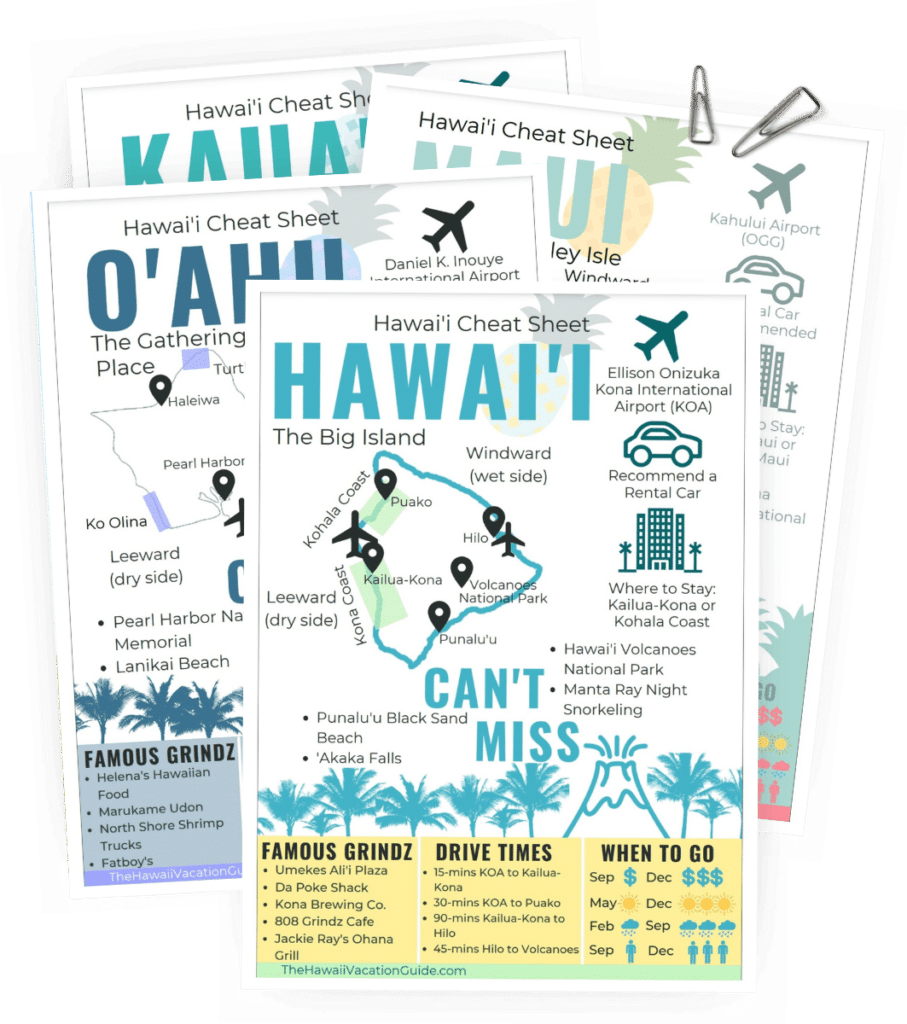 Free Download!
Hawaiian Island Cheat Sheets
Sign up & we'll send you our island cheat sheets so you can get to know the islands like the back of your hand!
We'll share 4 can't-miss activities on each island, a map with the main sights in town, & famous local grindz (eats)!
Our son Henry is a little too young for surfing at 2-years-old but our dog Hattie comes out on the SUP with us.
3. Standup Paddleboarding (SUP)
Rent a standup paddleboard (SUP) for a couple of hours to cruise around your resort or a local bay. Lessons are available but if you rent a board over 11.5' long then I bet you can figure out how to SUP.
This is a perfect activity for couples to adventure into the ocean. Bring your snorkel so you can take turns jumping into the turquoise Hawaiian waters.
Head out on calm days or stay within a small bay for maximum enjoyment. Choppy water can make balancing on a SUP all that more challenging.
4. Ocean Kayaking
If a SUP isn't to your liking, rent an ocean kayak. These are even better for snorkeling than a SUP. Rent some at your resort or local beach. Stay close to shore and explore the reefs. You may get lucky and find some turtles or during the winter in Maui, get a close encounter with a whale.
5. Kayak Snorkeling
Erica and I love to explore Hawaii's reefs from an ocean kayak. Even in a guided tour with 10 kayaks, this is a great outdoor thing to do in Hawaii. 
Our favorite on Maui is Olowalu Kayak. They take you out for a couple of hours for more snorkeling than kayaking along Maui's pristine Olowalu reef.
6. Hiking
Time to get out into the great Hawaiian outdoors. This is my favorite pandemic activity as hiking is a great way to avoid crowds in Hawaii while discovering Hawaii's amazing nature. Below are some of my favorite trails or locations that are never crowded in Hawaii.
🍍 Kauai Hike: Waimea Canyon State Park trails
🍍 Maui Hikes: West Maui Mountain trails like Lahaina Pali Trail and Waihee Ridge Trail
🍍 Oahu Hikes: Kaena Point Hike or Maunawili Trail (check out my favorite 11 hiking trails on Oahu)
🍍 Big Island Hike: Pololu Valley hike in Kohala
Popular trails that should be avoided are pillbox hikes, Diamond Head hike on Oahu, National Parks' popular trails, and waterfall hikes.
7. Resort Beach Boardwalks
Hawaii likes to cluster its resorts in the best weather locations. That means the resorts are in a line along the ocean, making for linked walking paths or beach boardwalks. Run or walk these boardwalk trails to get some fresh air.
🍍 Maui Boardwalks: Wailea and Ka'anapali Resort Areas
🍍 Oahu: Ko Olina Resort and Waikiki Beach Walk
🍍 Big Island: Kohala (Gold Coast) resort area
🍍 Kauai: Princeville
While the resort beach boardwalks can get crowded, one can still practice social distancing while cruising them. Go in the early morning or in the late afternoon to avoid the busy times.
8. Food Trucks
During the shelter-in-place, food trucks were the logical choice for take-out. We got sick of cooking every meal pretty fast so we would head to the food truck parks in Maui.
Food trucks offer the top of the line local and international cuisine in Hawaii. I'm biased toward the Maui food truck scene, but Oahu also has good trucks like their shrimp trucks.
🍍 Oahu: Haleiwa food truck park
🍍 Maui: Kihei Food Truck Park, Costco Food Truck Park, Ka'anapali Food Truck Park, and Lahaina Food Truck Park
🍍 Kauai: Kapa'a Beach Park, lining Kuhio Highway
Related article:
9. Snorkeling
Rent or bring your own snorkeling equipment as this is the best way to stay healthy during the pandemic. I would just stay in the water for the rest of 2020 if I had the choice.
You won't have a hard time finding excellent snorkeling in Hawaii. But if you need help on the best Hawaiian island for snorkeling (Maui) and the best snorkeling spots in Hawaii then head to these articles:
🍍 The Best Snorkeling in Hawaii by Month (plus locations)
🍍 The Best Hawaiian Island for Snorkeling
Snorkeling beaches to avoid in Hawaii are Hanauma Bay on Oahu, Shark's Cove on Oahu, and the beaches in front of the resort areas of Ka'anapali and Waimea on Maui. These snorkeling spots have historically been the most crowded.
10. Sea Turtle Beaches
Respectfully watching Hawaiian green sea turtles is a must thing to do when you are visiting Hawaii. 
🍍 Maui: Ho'okipa Beach Park on the north shore Maui
🍍 Kauai: Poipu Beach on the south shore and Turtle Cove (hike) on the north shore
🍍 Oahu: Laniakea Beach on the north shore Oahu
🍍 Big Island: Punalu'u Black Sand Beach on the southern tip and Kiholo Bay
The turtles' slumber on the Hawaiian beaches so be respectful and stay more than 30 feet away, do not feed them, and never harass them. These animals have federal protection under the Endangered Species Act as well as the state of Hawaii.
11. Historic Town Walks
These towns have beautiful architecture and history that can be viewed with a lovely stroll down the sidewalk. 
🍍 Maui: Lahaina, Paia, and Makawao
🍍 Oahu: Haleiwa
🍍 Kauai: Hanapepe, Eleele, Waimea, and Hanalei
🍍 Big Island: Hilo, Waimea, and Honokaa
Many of the shops and restaurants now offer take-out service for lunch or snacks. Shave ice is perfect on the go.
Related article:
12. Hawaiian Tropical Botanical Gardens
Another great activity in the Hawaiian outdoors. Visit a botanical garden to walk the grounds, and see Hawaii endemic birds, fish ponds, and other things you can't see in the other 49 states. 
🍍 Maui: Maui Nui Botanical Garden (Kahului) and Kula Botanical Garden (Kula)
🍍 Oahu: Foster Botanical Garden (Honolulu), Koko Crater Botanical Garden (Hawaii Kai), and Ho'omaluhia Botanical Garden (Kaneohe), and Waimea Valley
🍍 Kauai: Na 'Aina Kai Botanical Gardens (Princeville), Allerton Gardens (Koloa), and Princeville Botanical Gardens
🍍 Big Island: Hawaii Tropical Botanical Gardens (Hilo)
My favorite one is the Hawaii Tropical Botanical Garden in Hilo as it is a true jungle. Hilo is a rainforest town!
13. Windsurfing Lessons
This feels like the 80s. Go vintage on your trip to Hawaii with windsurfing lessons. Maui is the place to go for windsurfing in the world but the other islands offer good places to try it.
Everyone surfs, try windsurfing.
Erica got me windsurfing lessons for my birthday a few years ago. All I gotta say is I have tremendous respect for windsurfers. It isn't easy but it is worth the challenge.
Here are the popular Hawaiian beaches for windsurfing lessons.
🍍 Maui: Kahului Beach (north shore)
🍍 Oahu: Kailua Beach Park (northeast shore, windward side)
🍍 Kauai: Poipu Beach (south shore)
🍍 Big Island: Kailua Bay (Kailua-Kona Tow
14. Hawaii State Parks
Experience the rich history of ancient Hawaii. One of my favorite parts of living in Hawaii is learning and experiencing how the ancient Hawaiians lived. The Hawaii State Park system preserves this history and makes it readily accessible. Most state parks are beaches and recreational areas but my favorites are Hawaiian historical sites.
These parks are unfortunately not busy during normal times. Below are my favorite and not busy Hawaiian State Parks. Check the area you will be staying for more Hawaii State Parks.
🍍 Maui: 'Iao Valley, Haleki'i-Pihana Heiau, and Waiʻanapanapa State Park near Hana
🍍 Oahu: Pu'u O Mahuka Heiau on the north shore and Kea'iwa Heiau in central Oahu
🍍 Kauai: Russian Fort Elizabeth (yes, Russians had a Hawaiian fortress) on the way to Waimea Canyon and Wailua River State Park on the east shore
🍍 Big Island: Mauna Kea State Park (Halepohaku Area), Pu'u Wa'awa'a Cinder Cone, and Kalopa State Park near Hilo
15. Hawaii National Parks
The National Parks get busy in Hawaii but they are so large, one can always find a place of solitude. Either go on a hike down a less popular trail, get a permit for one of their remote campsites (Haleakala has stunning wilderness cabins), or just drive through them (Chain of Craters Road). That goes for the most popular parks but there are lesser-known parks also.
Hawaii is home to nine National Parks. Most visitors head to Haleakala on Maui or Volcanoes on the island of Hawaii or Pearl Harbor Memorial on Oahu. I don't blame them, those are amazing parks.
Here are the lesser-known Hawaii National Parks.
🍍 Big Island:
Ala Kahakai National Historic Trail is a 175-mile corridor and trail network of cultural and historical significance.
Kaloko-Honokohau National Historical Park is a harsh and arid lava field on Hawaii that was abundant in life, food, and resources for the ancient Hawaiians.
Pu'ukohola Heiau National Historic Site is where the Hawaiian Kingdom started and ancient temples lay in ruin. Walk in the steps of kings.
Pu'uhonua O Honaunau National Historic Park is a refuge for those who broke the sacred kapu, defeated warriors, or had pursuers could come and be safe. One just had to make it here.
🍍 Molokai: Kalaupapa National Historical Park is the leprosy colony where 8,000, mostly Hawaiians, were quarantined and spent their remaining lives.
16. Shoreline Whale Watching
Who doesn't like free whale watching? Maui offers many places to watch humpback whales from the shore.
🍍 Wailea Oceanside Path: Take a stroll on the Wailea Beach Resort Boardwalk from the Fairmount Kea Lani Hotel to Ulua Beach. Perfect for sunset viewing.
🍍 Visitor Center for the Hawaiian Islands Humpback Whale National Marine Sanctuary: Newly renovated, this is a great place to see whales breach while learning about the marine environment in their exhibits. 726 South Kihei Road, Kihei.
🍍 McGregor Point Lookout: On the Honoapiilani Highway between Ma'alea and Lahaina is a scenic outlook with plenty of parking. This is the top place for consistent whale viewing as it is high up on a cliff overlooking the ocean.
🍍 Lahaina Pali Trailhead. The trailhead is on the Honoapiilani Highway on the Lahaina side of the tunnel at 20 Honoapiilani Highway, between Coral Gardens and Papalua Beach Park.
See the article below for more places to whale watch from shore and the place with Marine Biologists stationed to answer your questions.
Related article:
17. Sunset Drinks on Your Lanai
Perhaps what your Hawaiian vacation will need is a relaxing drink on your lanai (porch). Get a vacation rental with a lanai or a room with a view. Pour yourself a homemade mai tai, skip the umbrella if you dare, and put your feet up.
Sometimes a little self-declared quarantine on your vacation is why you made the long flight. Relax, you made it to Hawaii.
Check out our Hawaii recommendations page for rental car deals and favorite places to stay during your Hawaii vacation.