The Best Hawaiian Island for Snorkeling (hands down the best)
Disclosure: This post may contain affiliate links, meaning if you decide to make a purchase through my links we may earn a commission at no additional cost to you. Read about our affiliate policies here.
The Hawaiian Islands have the best snorkeling in America. But out of the best, what Hawaiian Island has the best snorkeling? With zero bias and careful research, the jury has reached a decision.
Maui is the best Hawaiian Island for snorkeling. Maui offers the most protected bays, calm seas, translucent waters, year-round snorkeling, and vibrant sea life. Maui snorkeling allows one to snorkel a crater, travel to nearby islands, and the best opportunities to swim with sea turtles.
We've snorkeled in Oahu, Kauai, and Hawaii at all the best snorkeling beaches. They are amazing and all offer their unique advantages. But this was a foregone conclusion. Maui is the best for snorkeling, one of a few reasons why Erica and I chose Maui as our home.
Rub on that reef-safe sunscreen and come to Maui for the best snorkeling in the Hawaiian Islands.
If you are still on the fence, check out my reasons why and the list of beaches that prove my point. Depending on what you are looking for, like manta ray night snorkeling, I share the hidden gems the other islands offer for snorkeling too.
Maui is the Best Hawaiian Island for Snorkeling – 10 Reasons Why
"Perfect places for snorkeling are warm and temperate seas, with translucent water, almost no waves or currents, and with vibrant marine life," says the Snorkeling Report.
Lots of Maui beaches and coves check those boxes. But so do most of the Hawaiian Islands for snorkeling beaches. The competition is fierce out there for the best snorkeling.
Snorkeling on Maui is above and beyond what you will find on the other islands for the following 10 reasons.
1. Hawaiian Green Sea Turtles
Maui is lush with Hawaiian green sea turtles. Erica and I lived on Oahu for two years. In those two years, we had the opportunity to swim with turtles only a few times. Now that we are in Maui, we swim with turtles every time we go snorkeling. Not an exaggeration.
If you want to swim with sea turtles, hop over to Maui.
Hawaiian green sea turtles can be found along the reefs and the rocky outer walls of the bays and coves along the Maui shoreline. They will be swimming along, munching on algae, and enjoying the warm, tropical waters of Maui.
They blend in well with the rocks and reef so keep a watchful eye out. When you see one turtle, there are probably more.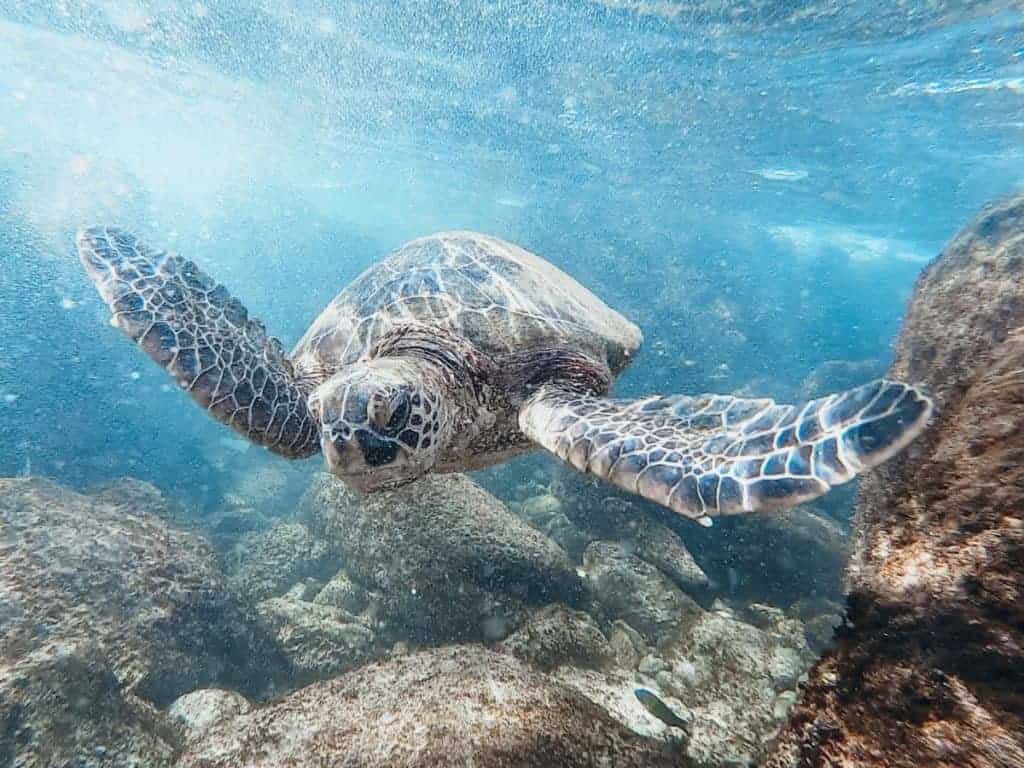 I'm so confident that you will snorkel with sea turtles in Maui, I better share the best practices for sustainable snorkeling with you so you are prepared to enjoy their presence.
🍍 Be quiet when swimming up to a turtle
🍍 Do not disrupt the turtle's natural behavior
🍍 Always approach turtles from the side
🍍 No chasing after the turtle
🍍 Avoid touching the turtle
🍍 Do not swim directly above turtles
🍍 Keep your distance
🍍 Do not feed the turtles
Image courtesy of PADI.
2.Maui Snorkeling Islands to Visit
Maui has 130 miles of coastline and 30 miles of beaches. Add on top of that are the three additional islands for snorkeling that are a quick boat ride away from Maui. All three are part of Maui County.
🍍 Molokini crater
🍍 Lanai
🍍 Molokai
Don't get me wrong, Maui has over 10+ epic snorkeling beaches that you can walk from your car into the crystal-clear water. For a once in a lifetime snorkeling experience, you may want to consider taking a boat ride to one of the other islands. This is why.
Molokini Crater
Pictures alone sell this place. Molokini is a partially submerged volcanic crater. One of the original seven volcanoes that formed the greater Maui county islands. The crescent-shaped islet protects scuba divers and snorkelers from waves and the channel's currents.
The calm waters and internal reef creates a welcoming haven for over 250 species in and around the crater. Most are endemic. You can see butterflyfish, parrotfish, damselfish, surgeonfish, tang, Moorish idol, wrasse, perch, squirrelfish, snapper, and jacks to name a few. There are also eels, crustaceans, invertebrates, and reef sharks.
The best time to visit is the early morning when the waters are calmer. Visibility can reach up to 150 feet deep. Snorkeling spots in the crater are 20 to 50 feet deep. You can also take a snorkeling tour on the back wall of the crater where many sea turtles frequent. Molokini's back wall drops to a staggering 300 feet into the ocean.
The word from our friends is Molokini isn't as jaw-dropping in marine life as it was a decade or so ago due to the large numbers of visitors. The hotspots to snorkel are now Lanai and Molokai. Molokini is still a great option for a boat led snorkel as departures are more frequent, lower cost than the other islands, and can include a trip to Turtle Town snorkeling spot off Maluaka Beach.
Lanai
Lanai has no traffic lights. It is the least populated Hawaiian Island with 3,102 residents (2010 census). The small population and lack of a large tourist industry have kept the reefs around Lanai pristine and no crowds to be found.
Hop on the Lanai Ferry from Lahaina or take a guided snorkeling tour to the island for amazing snorkeling.
Hulopoe Bay is the best place to get started. Located off from the ferry harbor and in front of the Four Seasons.
As a bonus, you can visit Hulopoe Beach at the bay. It was named the best beach in America by Dr. Beach himself, Dr. Stephen Leatherman, in 1997.
For more adventurous snorkeling, you can take a guided tour to Lanai from Lahaina on a power-raft or powerboat. These trips will take you to multiple snorkeling spots, grottos, and provide a chance to see the spinner dolphins that call Lanai their home all year.
Molokai
Molokai, known for its former leper colony has been gaining popularity as a snorkeling spot in Hawaii.
The longest continuous fringing reef in Hawaii is on the south Molokai shore. The reef is full of "finger" coral and stony coral. Marine life is abundant.
Kumimi Beach is the most popular snorkeling spot on Molokai and you don't need a tour guide to access it as the beach is off the road. You will find vibrantly colored reef fish, Hawaiian green sea turtles, and you might be so lucky to see manta rays that live in the area.
Explore our article 6 Maui Adventure Cruises That You Won't Want to Miss on the best ways to visit Molokini, Lanai, and Molokai.
3. No Crowds for Maui Snorkeling
Maui is not as crowded as Oahu and has more beaches and snorkeling spots than the Big Island and Kauai. You won't find a crowd when you snorkel in Maui.
Maui is known as being a laid back and less developed island, all the better for snorkeling.
Fewer people in the water means you will have a better chance of seeing marine life along the reef. Fish do get scared and hide in the coral when there are a lot of swimmers around.
Even during the busy summer and winter months, the bays and coves hardly have any snorkelers.
4. High Visibility
Maui waters have excellent visibility for snorkeling. Visibility averages good to great along the south and west shores of Maui, year long. High visibility is due to a few reasons.
The best and most plentiful snorkeling spots on Maui are on the south and west shores of Maui. These are on the leeward side of the island meaning they get less rain and storms. With little to no rain, especially during the summer, the water along the shore stays clear.
The channels around Maui have a good current that sweeps out the small debris and sand that reduces visibility.
Maui offers a host of bays and coves for snorkeling. These provide protected, calm waters for increased visibility.
Last, Maui waters are less polluted than Oahu due to the smaller population. All these reasons keep Maui water visibility high.
Snorkeling Tip: Avoid snorkeling after a rain or during high winds. Both these weather conditions reduce visibility for snorkeling.
5. Ease of Access for Snorkel Beaches
Maui has more miles of swimmable beach than any other Hawaiian island. This makes a snorkeling launch from the beach a do-it-yourself activity.
A guided snorkeling tour by boat isn't required to reach reefs. While it is a good way to see some amazing snorkeling spots, like around Lanai or Molokai, a boat isn't required.
Erica and I grab our snorkel gear and head into the water at our favorite beaches. There are ample white-sand beaches with excellent snorkeling 40 to 70 feet away from the shore break in Maui.
You don't have to climb over a rocky beach or buy water shoes to snorkel on Maui. Get out of the car, walk a hundred yards or less, and wade into the surf. You are off to seeing some amazing sea life.
See our list of favorite snorkeling beaches below. All offer snorkeling access from the beach.
6. Waves and Weather Are Ideal for Snorkeling
The ideal conditions for snorkeling require two criteria to be met.
🍍 Sunny weather
🍍 Small waves
Sounds obvious but here are some tips to make snorkeling more enjoyable.
No clouds in the sky mean more light shines on the reef. The sunlight improves visibility and makes the fish appear more vibrant. And Hawaii fish, like the parrotfish, are vibrant. The warm, sunny weather also makes snorkeling more comfortable.
Snorkeling Tip: For the best underwater photographs, take the picture with the sun to your back. The sun will shine down on your subject making for a brighter portrait.
If you see surfers in the water at a good snorkeling beach, that is a sign the snorkeling won't be good. High surf reduces visibility as the waves stir up sediment. The rough surf also makes fish hide in the crevasses of the coral. Last but not least, high waves are dangerous for snorkeling so it is best to stay out.
If you see standup paddleboarders in the water, that is a good sign the snorkeling will be good.
Maui, of course, meets both these snorkeling conditions. On the leeward side of the island, the average monthly rainfall is <3 inches. You and your holiday will be greeted with warm, sunny days to enjoy snorkeling on Maui.
7. Protected Bays
Don't underestimate the serenity of snorkeling in a bay. If you hear of a bay, chances are high that there will be good snorkeling. Maui has a few bays.
Maui County's Napili Bay, Kapalua Bay, Honolua Bay, Hulopoe Bay, and the list goes on are all world-famous snorkeling spots because of the bays.
Coves are also ideal for snorkeling. Luckily, Maui has a lot of those also. Look for small volcanic coves within a bay for the best of both worlds.
8. Maui Humpback Whale Songs
While you are snorkeling in Maui, you may be serenaded by whale songs. As a whale song can be heard 20-miles away, you can hear it when you are underwater. Enjoy the beautiful song of the male humpback whale as you snorkel during the winter on Maui. You won't get that on the other Hawaiian Islands.
From December to April, the largest migration of humpback whales visits Maui waters
Sorry, unless you are a long way from shore and in deep water, you won't be snorkeling with whales on Maui. But you can settle for a live performance.
9. Marine Preserve Locations
Maui is home to three Hawaii Marine Natural Area Reserves, i.e., conservation zones. All three are protected areas to keep the coral and marine life healthy so we can enjoy it for snorkeling.
🍍 Kahekili Marine Natural Area Reserve
🍍 Ahihi-Kinau Marine Natural Area Reserve
🍍 Honolua Bay Marine Natural Area Reserve
These three conservation zones are home to the best snorkeling on Maui. No surprise there. But, thanks to these State of Hawaii managed reserves, we expect the snorkeling to stay good for decades to come.
All three reserve areas are off-limits to the killing, injuring, or capturing of rudderfish, parrotfish (uhu), any of Hawaii's 24 species of surgeonfish, and sea urchins. Feeding fish is also banned. These rules are to protect and enhance the coral reef and native marine life in these areas.
Kahekili Marine Reserve is in West Maui, in front of the Ka'anapali beach resorts. The reserve stretches from Black Rock to the south end of Honokowai Beach Park. Airport (Kahekili) Beach is the best place to snorkel in this area.
Ahihi-Kinau Marine is the Ahihi Bay south of Makena Beach on the southside of Maui. The bay includes Kanahena Beach and Ahihi Cove.
Honolua Bay and Mokule'ia Bay are included in the marine reserve. Mokule'ia Bay is mostly a sand bottom so Honolua Bay offers the best snorkeling in northwest Maui. We recommend going during the summer as the waters are calmer. Honolua Bay is a popular surf spot during the winter, a sign snorkeling visibility will be poor.
10. Beginner to Advanced Snorkel Beaches
The final reason why Maui is the best Hawaiian Island for snorkeling is there is snorkeling for any skill level. From beginner to intermediate to advanced, there is a beach you can snorkel at.
Erica learned how to snorkel in Maui as she has been visiting the Valley Isle since she could walk (swim). She learned in Napili Bay, which is a great place for a beginner snorkel during the summer months.
Lifeguards are at some of the popular beaches. Look for the state parks to find lifeguards. For your well-being, read Swim Without Fear: The Safest Places to Snorkel in Maui for the safe places to snorkel. Even if you are an advanced swimmer, some beaches (like Makena or Big Beach) should be left alone.
Find the best beach for you in our 10 best snorkel beaches in Maui list below.
10 Snorkel Spots That Make Maui the Best Hawaiian Island for Snorkeling
Here is the refined list of the best snorkel beaches, coves, and bays found in Maui County by island. There are more excellent snorkel locations but I've widdled them down to these based on reliable weather, good surf conditions, and beginner to the intermediate skill level required.
These spots are all accessible by car. You can walk right out into the water with your equipment, a boat ride or hike isn't required. That is what makes Maui so ideal for snorkeling, it is easy to get in the water.
All beaches in Hawaii are public. Look for the required public access path to get to the beach in neighborhoods and between resorts or hotels.
Maui
The leeward side of Maui has the best snorkeling. We divide the island into three snorkel areas. Your resort will be at or near one of these locations.
South Shore
Kamaole Beach Park III (Kam III): Get here in the morning to beat the trade winds so the water is calm and clear for your snorkeling. This beach is great for the whole family and located in central Kihei, a popular place to stay. Go to the rocky outcrops at the ends of the beach for the best snorkeling.
Turtle Town (Maluaka Beach): Called Turtle Town for a good reason. Tour boats frequent this place but one can access it from shore. Mauluaka Beach is the best place to snorkel but Turtle Town refers to the area from Nahuna Point to Black Sand Beach. You can find Maluaka Beach south of Wailea, at the end of Makena Road. Look for the entrance off the main road, it is easy to miss.
To find the turtles, head south down the beach till you reach the rocks at the end of the sand. The reef is located here. The swimming depth is not deep so you will find snorkeling here comfortable.
West Shore
Black Rock: Famous as a rock jumping location located in front of the Ka'anapali Sheraton, the rock is also a great snorkeling spot. The ocean bottom is sandy with small rock outcroppings, separating South Ka'anapali Beach from North Ka'anapali Beach.
Airport Beach (Kahekili): Also in Ka'anapali, Airport Beach is in front of the Westin Ocean Resort Villas. There is a big parking lot with bathroom facilities. The beach is ideal for lounging all day and then jumping in for snorkeling in the reef, just a hundred feet from shore. It is called airport beach as the West Maui Airport was located here till the early 1970s.
Olowalu Beach Park: 10-miles south of Lahaina is tiny Olowalu Town. Pull-off the highway at mile marker 14. Arrive here in the morning as the trade winds pick up in the afternoon as the beach is on a point.
Olowalu reef is one of the biggest and most pristine in Hawaii. From Olowalu Beach, you can swim out a long way to explore the reef. Explore the rock formations and coral gardens. There are no bathroom facilities here so plan ahead.
North West
As you round West Maui to head toward Kahana, Napili, and Kapalua the weather may get more spotty. You are leaving the leeward side of the island. Keep a watch on weather conditions. Also, northwest Maui gets bigger waves during the winter so take a look at the surf advisory.
Napili Bay: Go the Gazebo for breakfast and stay for the snorkeling. Napili Bay is a picture-perfect place to snorkel. A small bay with a nice beach with facilities from the local resorts you can use. Head to the northside of the bay to find sea turtles along the rocks. The middle of the bay is mostly sand but you can still see fish.
The left side or south side of the bay has more rock outcroppings but heavier surf. Stick to the bay and the right side for easier snorkeling.
Kapalua Bay: A large, crescent-shaped bay located off the lower road in Kapalua. The best snorkeling is on the right side or north side of the bay where the water is calmer. Snorkel out toward the rock point to see the best fish as you head there. Don't go past the rock point as the strong current and tradewinds make it unsafe to swim. Turtles are rich in this area.
There is a small parking lot so come early or park on one of the side roads.
Honolua Bay: A protected marine preserve, fishing is banned so the marine life is active. The bay is surrounded by cliffs, sheltering it on both sides from the wind. With such a well-protected bay, the water is peaceful and calm. Follow the forest path from the main road to get to the shore.
The left side of the bay is sandy making it easier to enter for snorkeling. Start on the left side of the bay but also swim right as the whole area is covered in marine life.
Honolua Bay Beach is a rocky beach so it may not be best for kids.
Lanai
We recommend you take the Lanai Ferry to Lanai for a day-trip from Maui. You can do a beach day with snorkeling at Hulopoe Beach and then head to Lanai Town for a taste of old Hawaiian plantation life and local food.
Hulopoe Bay: Located in front of the Four Seasons and next to the Lanai Ferry drop-off, the bay provides protected, calm waters and is a marine preserve. One of the highlights of Hulopoe Bay is its large tide pools carved out of volcanic rock located at the eastern side of the bay. Head to the tide pools for snorkeling and sea turtle sightings.
Molokai
While not a popular place to stay the night, a day trip with a guided boat company may be the best way to visit the snorkeling at Kumimi Beach.
Kumimi Beach: The home of the fringing reef. Explore the finger coral, reef fish, Hawaiian green sea turtles, and maybe so lucky to see manta rays that live in the area.
If you are staying the night on Molokai, then rent a car or taxi to Kumimi Beach.
Arguments Against Maui as the Best Island for Snorkeling
Oahu or Kauai or Hawaii locals may argue with me about selecting Maui as the best Hawaiian Island for snorkeling. It is a hard decision as each island offers a unique snorkeling experience. To keep things fair, here are some reasons why Maui isn't always the best for snorkeling.
Snorkeling on Maui is only located on the south and west shores. This is similar for other islands as the north and east shores get the windward trade winds making for rougher seas. But Oahu has a well-protected north shore during the summer months making for some great snorkeling spots.
It is a game of chance and luck to sight a manta ray in Maui waters. While there is a manta ray population around the Maui islands, there are no guided tours or places to see manta rays with a high success rate.
Spinner dolphins don't hang out on Maui shores. You can spot them from time to time but they don't have a favorite bay or cove, as they do on the Big Island or Lanai.
Unique Snorkeling Experiences by Hawaiian Island
I'd be remiss to not point out the unique snorkeling experiences on the other Hawaiian Islands. For snorkeling that you can't find on Maui, check out these snorkeling places.
Oahu
🍍 Swim with Ocean Ramsey's research team for a deeper understanding of marine biology and sharks.
🍍 Shark Cage: visit Oahu's North Shore to snorkel in a shark tank. Erica and I did this and it was a memorable experience. It is amazing to see such majestic animals up close, in the water with them.
🍍 Hanauma Bay State Park: the crowded beach and water can be intense but marine life is also intense here. This place is a must for a visit to Oahu.
Kauai
🍍 Poipu Beach Park: The shallow lagoon is ideal for kids and the sea life seems to dig it also. This is the most popular snorkeling spot on Kauai. The shoreline is also frequented by monk seals sleeping on the beach.
🍍 Tunnels (Makua) Beach has oddly shaped volcanic rock croppings and large coral heads, two reasons to visit Makua Beach. The winter waves make this place a no-go during the winter.
Hawaii
🍍 Manta ray night snorkeling on the Kona Coast is thrilling. I did this in December and I can't wait to go back. See my full review and guide on manta ray night snorkeling and then book your flight.
🍍 Kealakekua Bay State Historical Park is the bay where Captain Cook first made contact with Hawaiians. The bay is also home to a spinner dolphin family and has amazing snorkeling on the north side of the bay. Book a boat tour for easier access to the good snorkel spots and to see the dolphins.
Where to Stay in Hawaii for the Best Snorkeling
Maui is the place to stay for the best snorkeling in Hawaii. But where to stay in Maui for the best access to snorkeling?
The best snorkel spots are on the leeward side of the island. The regions are south shore, west shore, and north-west shore Maui.
Well-suited for the Maui vacationer, the resorts are also in these areas. South Maui is home to Wailea and its luxury resorts. West Maui is home to Ka'anapali Beach and its line of fine resorts dotting the beach. North West Maui is a little quieter with vacation rentals and the Ritz in Kapalua.
West Shore snorkel spots are a 15-minute drive north to the northwest locations so staying on the westside of Maui gives you more options for snorkeling in the same neck of the woods as Ka'anapali.
Related articles:
Tips for Snorkeling in Hawaii
Book your trip to Maui for some world-class snorkeling. Before you get in the water, check out these fast tips for snorkeling in Hawaii.
🍍 Kids and beginner snorkelers should use a noodle to protect the reef. A flotation device like a noodle will prevent you from touching the reef.
🍍 Use reef-safe sunscreen to keep the reef healthy and vibrant for your next trip to Maui.
🍍 Check the weather conditions before you head out
🍍 Bathroom facilities: go to beach parks and resort beaches to access public restrooms
🍍 Parking: Arrive before 10:00 am to get a spot in beach access parking lots. If they are full, wait for a spot or park up the road.
🍍 Sunny days are the best days for snorkeling. No clouds and bright sun will improve visibility.
🍍 Avoid snorkeling after rains or high winds as both decrease visibility.
🍍 Look for surfers. If surfers are in the water at a snorkel beach, it means high waves and poor snorkeling conditions.
🍍 Standup paddleboarders are a good sign that you will have good snorkeling.
Planning a Trip to Hawaii?
Get the need-to-know information with our free Hawaiian Island Cheat Sheets.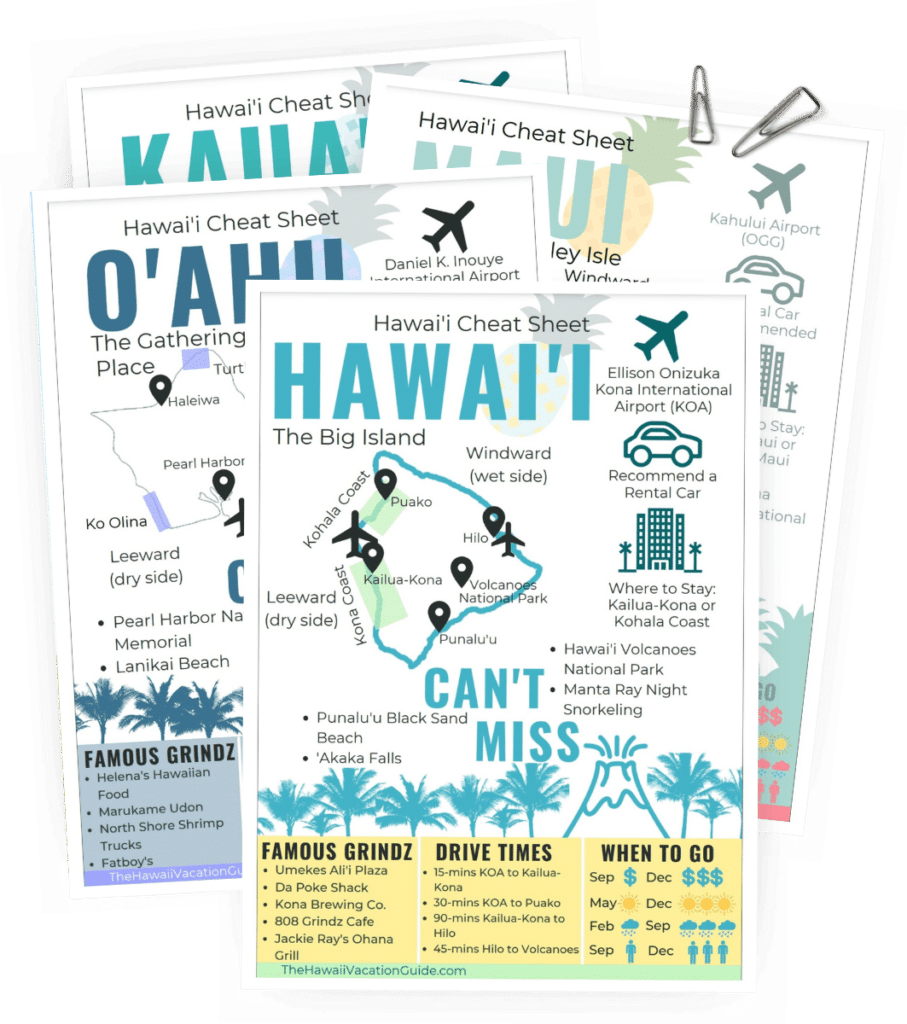 Free Download!
Hawaiian Island Cheat Sheets
Sign up & we'll send you our island cheat sheets so you can get to know the islands like the back of your hand!
We'll share 4 can't-miss activities on each island, a map with the main sights in town, & famous local grindz (eats)!