Hawaii Reef-Safe Sunscreens: How to UV-Protect Yourself
Disclosure: This post may contain affiliate links, meaning if you decide to make a purchase through my links we may earn a commission at no additional cost to you. Read about our affiliate policies here.
The sun and sea await you on your Hawaii vacation. Before you lather up on sunscreen, make sure you are wearing sunscreen that doesn't contribute to coral reef bleaching while protecting you from the tropical, harsh Hawaiian sun.
Hawaii reef-safe sunscreens do not contain chemicals oxybenzone and octinoxate, they both contribute to coral bleaching. Read the sunscreen's ingredients before buying. Look for sunscreens that contain natural minerals like zinc oxide or titanium dioxide and are labeled as non-nano and paraben-free.
On January 1st, 2021, sunscreens containing chemicals oxybenzone and octinoxate are no longer sold in Hawaii. These chemicals have been found to contribute to coral reef bleaching.
412 pounds of sunscreen is deposited daily on Hanauma Bay's reef, Oahu's most popular snorkeling spot (2,600 swimmers a day). That study by Haereticus Environmental Laboratory made me understand the impact these chemicals have on Hawaii's reefs.
You can still bring reef-unfriendly sunscreens to Hawaii without fearing a ticket at the beach but why be that person? There are other ways to keep yourself UV-protected while protecting Hawaii's reefs.
21 Hawaii Approved Reef-Safe Sunscreens
The more I research reef-safe sunscreens, the more complicated I find the problem. To make your search easier for Hawaii reef-safe sunscreens, here are 21 sunscreens that will protect you from the sun and are reef-safe (per current research).
The best thing you can do to protect Hawaii's reefs is to reduce the amount of sunscreen you apply. Wear sun-protection clothing and use rub-on sunscreens. I'll get off my soapbox now.
Hawaii Sunscreen Law
The Hawaii law banning most sunscreens is the following:
Beginning January 1, 2021, bans the sale, offer of sale, or distribution in the State of any sunscreen that contains oxybenzone or octinoxate, or both, without a prescription issued by a licensed healthcare provider to preserve marine ecosystems. Hawaii law: SB2571 SD2 HD2 CD1
My four main take-aways from this law are the following:
One can't buy sunscreens containing oxybenzone and/or octinoxate in Hawaii

One shouldn't bring sunscreens to Hawaii containing these two chemicals

Unless they have a prescription from their doctor

One won't get a ticket or fine on the beach if they are using sunscreen with one or both of those chemicals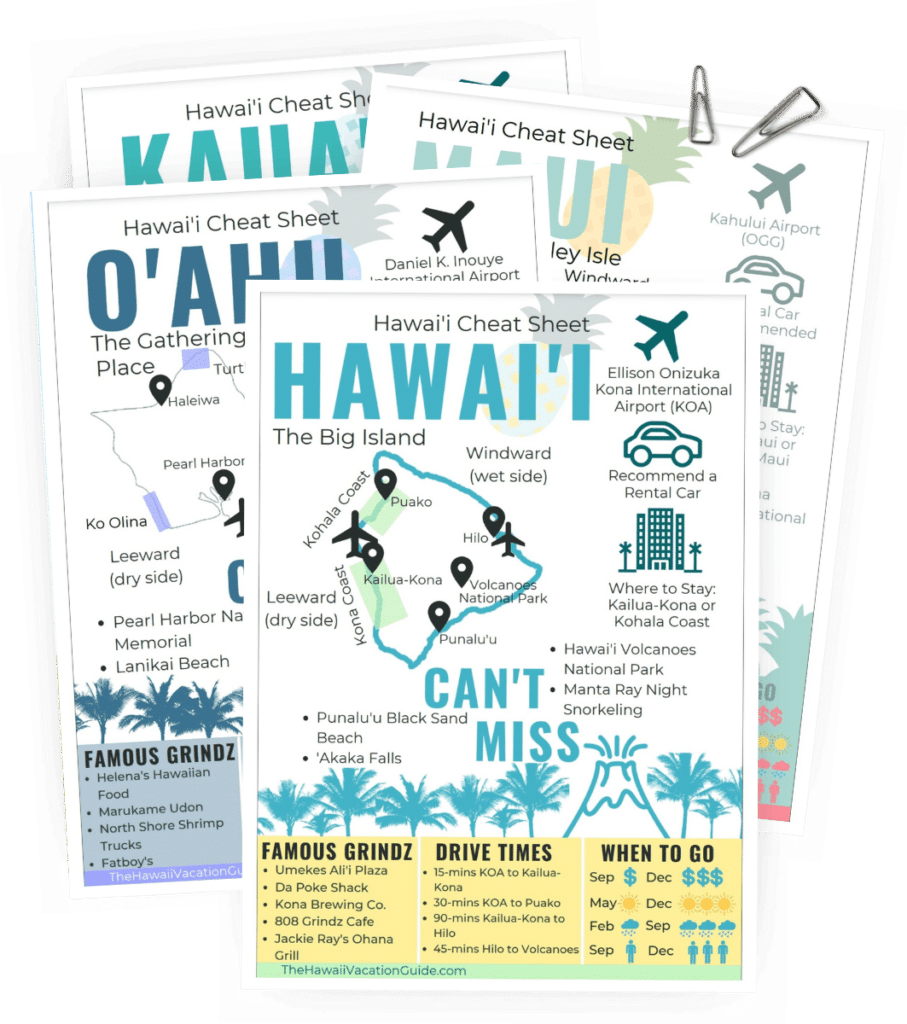 Free Download!
Hawaiian Island Cheat Sheets
Sign up & we'll send you our island cheat sheets so you can get to know the islands like the back of your hand!
We'll share 4 can't-miss activities on each island, a map with the main sights in town, & famous local grindz (eats)!
Best Reef-Safe Sunscreens to Buy (2021)
Here is a list of sunscreens that are considered reef-safe in Hawaii as they do not contain chemicals oxybenzone and octinoxate.
Prices per fluid ounce listed are from Amazon or the manufacturer if not sold on Amazon.
Many of the big sunscreen brands like Banana Boat and Hawaiian Tropic have already been re-formulated to be sold in Hawaii. I expect all brands to follow suit.
Mineral-Based Sunscreens (Hawaii Approved)
🍍 Raw Elements SPF 30 $6.54/oz
🍍 Reef Repair Suncream SPF 50+ $4.99/oz
🍍 Blue Lizard Sensitive Mineral Sunscreen $2.47/oz
🍍 Manda Organic SPF 50 Sun Paste $19.84/oz
🍍 Thinksport SPF 50 Sunscreen $3.33/oz
🍍 All Good SPF 30 Sport Sunscreen Lotion $5.00/oz
🍍 Suntegrity Natural Mineral Sunscreen $8.00/oz
🍍 Badger SPF 30 Unscented Sunscreen Cream $4.69/oz
🍍 Stream2Sea SPF 30 Mineral Sunblock $5.65/oz
🍍 Loving Naturals Clear Body SPF 30+ All-natural Sunscreen $4.64/oz
🍍 Olita Mineral Sunscreen Lotion SPF 30 $5.33/oz
No Oxybenzone or Octinoxate Sunscreens (Hawaii Approved)
🍍 Walgreens Hydrating Lotion SPF 50 sunscreen $1.66/oz. (highest Consumer Reports score)
🍍 Alba Botanica $1.58/oz
🍍 Banana Boat UltraSport $0.87/oz (new formula)
🍍 Hawaiian Tropic Sheer Touch Lotion, Sport, and Silk Hydration $0.95/oz
🍍 TropicSport $4.98/oz
🍍 Sun Bum Original SPF 30 Sunscreen Lotion $2.00/oz
🍍 Ocean Potion Sunscreen Lotion SPF 50 $1.32/oz
🍍 Banana Boat Simply Protect SPF 50+ Sunscreen (spray only) $1.05/oz
Best Hawaiian Made Reef-Safe Sunscreens (2021)
🍍 Kokua Sun Care Hawaiian SPF 50 Natural Zinc Sunscreen $10.00/oz
🍍 Mama Kuleana Waterproof SPF 30 Reef-safe Sunscreen $11.04/oz
🍍 Little Hands Hawaii SPF 35+ All-natural and Organic Sunscreen $5.88/oz
🍍 Raw Love SPF 35 All-natural Mineral Sunscreen $6.25/oz
Sunscreens Banned in Hawaii
The following sunscreen best-sellers are banned by Hawaii for sale or distribution as of January 1st, 2021. These are not classified as reef-safe sunscreens by the State of Hawaii or Key West Florida because they contain the two banned chemicals.
These brands do not provide reef-safe or reef-friendly sunscreens at this time but as 2021 moves forward they will have to reformulate to compete. So keep checking their labels.
🍍 Neutrogena Ultra-Sheer SPF 100+
🍍 Neutrogena Beach Defense
🍍 Coppertone (they are reformulating so check labels)
Related read: The Best Hawaiian Island for Snorkeling
Where to Buy Reef-Safe Sunscreen
As of January 1st, all sunscreens sold in Hawaii will be reef-safe. You can buy it once you land at all Hawaii grocery stores, Costco, department stores, convenience stores, and is often given out for free on tours, like whale watching in Maui.
With a 6-ounce bottle of sunscreen averaging $12.99 at a grocery store in Hawaii, you may want to bring your sunscreen from home. If you are already checking a bag, throw your reef-safe sunscreen in there too.
If your sunscreen contains chemicals oxybenzone and octinoxate on the listed ingredients, then head to the following stores to buy reef-safe sunscreen.
Walmart's Reef-Safe Sunscreen
Walmart carries all the big brands so look for Hawaiian Tropic and Banana Boat (new formula) for reef-safe sunscreens. They also stock natural brands like Blue Lizard.
CVS's Reef-Safe Sunscreen
CVS stocks Sun Bum as their big brand reef-safe sunscreen.
Their CVS labels are not reef-safe per Hawaii guidelines. Stay clear of their CVS Health Kids Sunscreen (contains oxybenzone) and their CVS Ultra Sheer Sunscreen (contains octinoxate).
Costco's Reef-Safe Sunscreen
Costco's reef-safe or reef-friendly sunscreen is Alba Botanica (spray). A 2 pack of reef-friendly Alba Botanica is $16.99, as of March-2020, at Costcos in Hawaii. Costco also sells a 3-pack of Coppertone Sport that is allowed in Hawaii as it is oxybenzone and octinoxate free.
If you are staying for more than a week or have a big family, Costco is your cheapest source of sunscreen in Hawaii.
At this time they also carry Neutrogena sunscreens but they are not reef-safe.
What is the Difference Between Reef-Safe and Reef-Friendly Sunscreen?
There is no agreed term for reef-safe or reef-friendly sunscreen products. The terms are not regulated and the FDA has not weighed in on the issue by setting a standard.
So if you are confused about what is safe for marine life, we are with you.
Reef-safe and reef-friendly are used interchangeably at this time.
Reef-safe or reef-friendly sunscreens are sunscreens that do not contain chemicals oxybenzone or octinoxate.
When Hawaii passed a law banning the sale of sunscreens containing chemicals oxybenzone and octinoxate, that became the de facto definition of reef-safe or reef-friendly. The city of Key West Florida passed a similar law shortly after Hawaii.
The truth is though, no sunscreen has been proven to be safe for marine life.
What Makes Sunscreen Reef-Safe?
Time to get nerdy. Let's talk about chemicals.
The active ingredient in sunscreen acts as a UV filter. The most popular sunscreens contain chemical filters. The active-ingredient chemicals you will find listed are the following:
🍍 oxybenzone
🍍 avobenzone
🍍 octisalate
🍍 octocrylene
🍍 homosalate
🍍 octinoxate
Sunscreen manufacturers will use a combination of two to six of these chemicals.
Mineral sunscreens use zinc oxide and/or titanium dioxide.
Some manufacturers use both chemicals and minerals. For example, the popular baby-safe sunscreen (in our drawer now) Coppertone Water Babies uses oxybenzone as the active ingredient and zinc oxide as the mineral base. It will be illegal to sell this sunscreen in Hawaii by January 1st, 2021.
The study by the non-profit Haereticus Environmental Laboratories in partnership with NOAA found oxybenzone and octinoxate to cause coral bleaching. The authors found that baby coral exposed to oxybenzone and octinoxate showed signs of distress, including coral bleaching.
Coral bleaching is a condition that doesn't kill coral but leaves it in severe stress, exposing it to infection and may lead to death. The chemicals also caused DNA damage and irregularities in their growth and skeleton.
Scientists are continuing to study other sunscreen ingredients to determine their impact on ocean life, like avobenzone, octisalate, octocrylene, and homosalate. The Journal of the American Academy of Dermatology stated that more research is required to comprehend the impact of sunscreens on coral.
The National Park Service estimates 6,000 tons of sunscreen enters reef areas every year, with the greatest damage found in popular reef areas in Hawaii and the Caribbean.
In 2015, the Haereticus Environmental Laboratory surveyed two locations to determine the amount of sunscreen deposited on reefs from swimmers, this is what they found.
🍍 6,000 pounds of sunscreen deposited annually in Trunk Bay beach, located on St. John, where visitors ranged from 2,000 to 5,000 swimmers daily
🍍 412 pounds per day of sunscreen in Hanauma Bay, located in Oahu, where visitors average 2,600 swimmers daily.
Sunscreen isn't the only foe of healthy reefs. Other polluters include ocean warming, agricultural runoff, and sewage dumping. But banning harmful chemicals is one variable swimmers and the State of Hawaii can control.
Related articles:
8 Tips on Hawaii Reef-Friendly Sunscreen
Erica and I did everything wrong when it came to sun protection. When we moved to Maui, we bought "baby-friendly" sunscreen with octinoxate, we used sprays at the beach and were reluctant to buy sun protection clothing. We didn't know any better.
And to be honest, scientists are still figuring out what chemicals in sunscreen harm the reefs, marine life, and us humans. Studies continue but for now, Erica and I implement these 8 sun UV-protection tips to stay safe and help the environment. All while enjoying Hawaii.
We want the snorkeling to be even better for Henry when he is older.
1. Wear Sun Protection Clothing
Avoiding sunscreen is the simplest solution. Cover yourself, not just your kids, in sun-protecting clothing – hats, shirts, shade, and 100% UV-protection sunglasses.
You can buy UPF-rated clothes (we have our favorites) or just wear a plain t-shirt.
Consumer Reports testing found white t-shirts provided as good, if not better, UV-protection than advertised UPF-rated clothing. Even when wet.
2. Choose Non-Nano Lotions
Look for products labeled as "non-nano." Studies have found particles less than 100 nanometers can be ingested by marine animals and coral reefs.
Manufacturers of mineral-based sunscreens have made the minerals, zinc oxide and titanium oxide, nanoparticles so it applies smoother and is transparent. No one wants a white nose anymore.
Buy "non-nano" advertised lotions and sunscreens to protect the reef and marine life.
3. Avoid Oxybenzone and Octinoxate
Buy sunscreen that doesn't have these chemicals listed on the label, that is the basic definition of reef-safe at this time.
Sunscreens containing oxybenzone and octinoxate are banned in Hawaii from being sold, as of January 1st, 2021. Check the label on your sunscreen as one of these chemicals may be listed as the active ingredient.
4. Use a Rub-On Sunscreen
Spray-on sunscreens are super convenient. One can even buy reef-friendly spray-on sunscreens. The problem with spray-on is the spray goes everywhere. It covers the sand which then washes into the ocean.
Use rub-on sunscreens when at the beach. We still use spray-on but we apply in the house.
Also, spray-on sunscreens are not recommended for children as the spray is more susceptible to getting in their eyes and mouth. The FDA recommends against using sprays on kids because of the likelihood of inhalation and respiratory problems like asthma. Also, sprays don't cover as well as rub-on lotions.
5. Buy "Paraben-Free"
Here is another chemical to avoid. Lotions, skin-care products, and sunscreens use parabens as a preservative. Butylparaben has been shown to cause coral reef bleaching. Plus, there are some health concerns surrounding parabens in general.
Manufacturers have heard of the concerns so they have removed parabens and market their products as "paraben-free." Look for a Paraben-Free label on sunscreen you purchase or make sure butylparaben is not in the list of ingredients.
6. Buy Good Water Resistance Sunscreen
"Water Resistant" sunscreens are formulated to stay on in the water or during a good sweat. Nothing is waterproof so buy water-resistant for 80-minutes. That is the max protection label per the FDA. The two ratings are the following:
🍍 Water-resistant for 40 minutes
🍍 Water-resistant for 80 minutes
No sunscreen can withstand a towel so remember to reapply after you towel off. Or put on your sun-protecting clothing.
7. Use Mineral-Based Sunscreens with Caution
Using mineral-based sounds like a slam dunk. Manufacturers market mineral-based sunscreens as organic, natural, or reef-safe. But, the jury is out on mineral-based sunscreens.
Common sun filtering minerals used in sunscreen are zinc oxide and titanium dioxide.
As mentioned in tip #2, manufacturers make the minerals nano size which can hurt the reefs.
Second, Consumer Reports has yet to find a mineral-based sunscreen that meets both UVA and UVB protection and the advertised SPF.
Buying mineral-based sunscreen is tricky. We recommend looking for a nano-free label and using sun protection clothing.
8. Best Practices for Applying Sunscreen
Here are some quick best practices for applying reef-safe sunscreen.
🍍 Apply 15-minutes before going out in the sun
🍍 Reapply every 2-hours, more if you towel dried
🍍 Cover every inch of exposed sunscreen
🍍 Pack enough for your trip out that day
🍍 Skin Cancer Foundation recommends SPF 30 or higher for extended outdoor activities.
That is a lot of chemicals to avoid when buying sunscreen so let me summarize. Avoid sunscreens with the following ingredients on the label:
🍍 Oxybenzone
🍍 Octinoxate
🍍 Parabens (butylparaben)
🍍 Nanoparticles (look for "nano-free" label)
Related read: Best Snorkeling in Hawaii by Month
Hawaii Reef-Safe Sunscreen Final Thoughts (Video)
As a professionally licensed Chemical Engineer who also likes to write about Hawaii, sunscreen chemicals are near and dear to my heart.
I am not a sunscreen expert. In no way do I know everything about sun protection but I do know I want to keep my baby boy Henry and Erica safe. Practicing chemical engineering made me respect chemicals, their power, and what we don't know about them.
Analytical chemistry is now measuring chemicals in the environment at the part per billion and lower level. We know the chemicals are in the environment now, we know they are from humans, and we don't know if they are safe or not.
We worry about what we can control. We can control how we protect ourselves from UVA and UVB radiation. For now, the best answer is to wear sun protection clothing with a mineral-only sunscreen.