The 21 Best Things to do in Kona (+ tips to know before you go)
Disclosure: This post may contain affiliate links, meaning if you decide to make a purchase through my links we may earn a commission at no additional cost to you. Read about our affiliate policies here.
With rugged volcanic landscapes, sandy beaches, and laid-back seaside villages, Kona is one of the most visited destinations in Hawaii. But considering it takes up nearly two-thirds of the entire west side of the Big Island, planning what to do on vacation here can be a challenge. There are simply too many sights and attractions worth seeing!
We've been lucky enough to spend quite a bit of time in the area, which is why we wanted to share a list of all the best things you can do during your visit. Whether you're interested in thrilling adventures or a lazy beach day, here are the 21 things you won't want to miss on your trip to Kona.
Planning a trip to the Big Island? We have you covered:
Find everything you need to know with our Ultimate Big Island Travel Guide
Pick the best time of year to visit the Big Island
Book a car with Discount Hawaii Car Rental to get around the island
Search through our Where to Stay database to find the best Big Island lodging
Kona FAQs:
Where is Kona?
Kona is a district that stretches along the western side of the Big Island. Because of its proximity to beautiful beaches and fascinating attractions, it's one of the most popular places to stay. The region is also warmer and sunnier compared to the eastern side (near Hilo), making it a great destination for a tropical vacation.
Within the Kona district is Kailua-Kona, the second-largest town on the island. In this article, we'll be sharing a few of our favorite places in Kailua-Kona as well as the greater Kona district.
How Many Days Do You Need in Kona?
As its name implies, the Big Island is big! There are so many things to do here, even if you stick to the Kona coast, which can make it difficult to plan how many days to stay. In our opinion, we recommend staying at least one full week, although you could easily spend several weeks or even months here without getting bored.
One week will give you time to tick off a few major sites while also having enough time to unwind and relax. However, it's possible to shorten your trip if you're just here for sightseeing. To make the most of your limited vacation time, make sure you have a step-by-step itinerary to help plan your route.
What is the Best Time to Visit Kona?
Kona has so much to offer that there's really no bad time to visit. And while the east coast gets its fair share of rain, the leeward side of the Big Island is relatively warm and sunny throughout the year.
But that doesn't mean that Kona is completely immune to rainfall. The rainy season runs from November until April, so it's possible that you'll see a shower or two if you visit during this time. If you're hoping to maximize the number of sunny days you'll have, then make sure to go during the summer, between the months of May to October.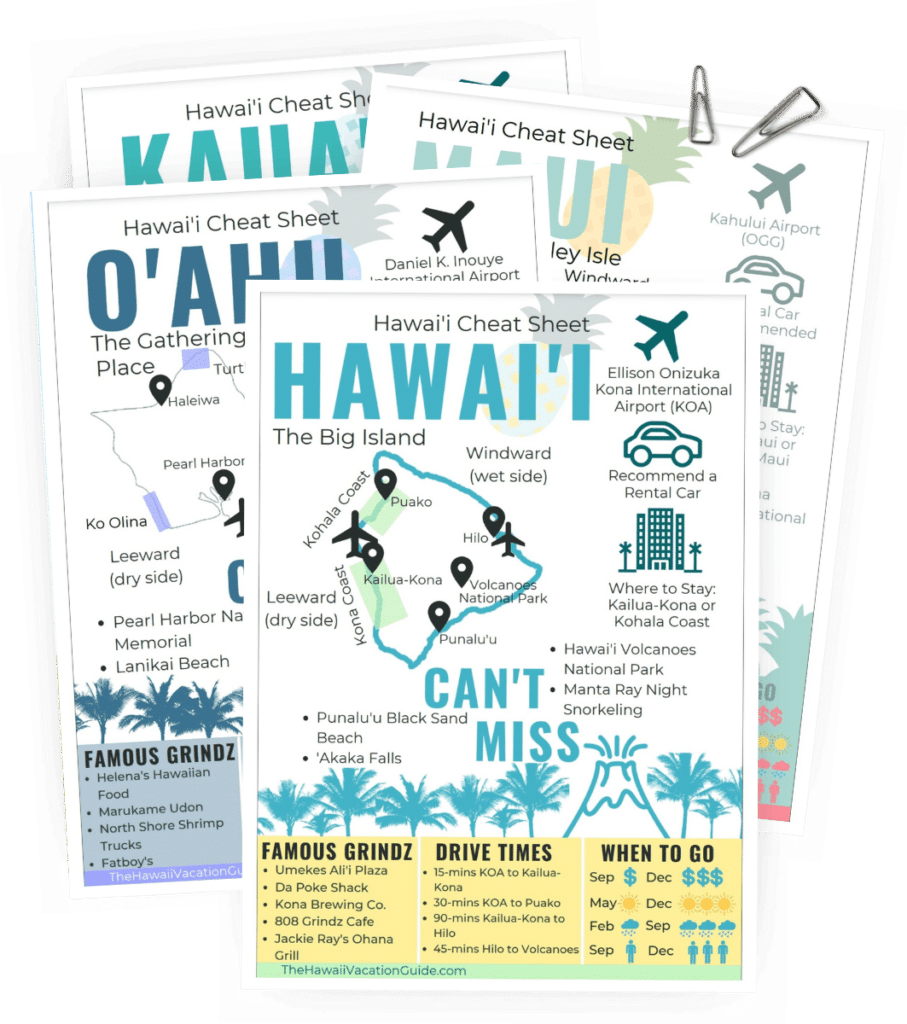 Free Download!
Hawaiian Island Cheat Sheets
Sign up & we'll send you our island cheat sheets so you can get to know the islands like the back of your hand!
We'll share 4 can't-miss activities on each island, a map with the main sights in town, & famous local grindz (eats)!
What is Kona Best Known For?
Like most places in Hawaii, Kona is known for its sun-soaked beaches and laid-back tropical atmosphere. However, there are a few specific things that Kona is especially famous for.
One of those things is Kona coffee, which can only be grown and cultivated in the Kona district (make sure you check out our favorite coffee farm tours). Kona is also known for amazing snorkeling and diving. One of our favorite places is Kealakekua Bay, although there are dozens of great sites scattered up and down the coast.
The Kailua-Kona downtown area is also a big draw for visitors. Not only does it have spectacular ocean views, but it's also a popular place for dining, shopping, and sightseeing.
How Do I Spend a Day in Kona?
Your perfect day in Kona will largely depend on your traveling style and preferences, but we found that a mix of beach time, good food, and some sort of activity was the best option for our family. Check out the video below for our experience!
For example, you can start with a hot cup of Kona coffee before hitting the water for some morning snorkeling. Then you can take a break and head into Kailua-Kona town or to the Ali'i Gardens Marketplace for some shopping before grabbing lunch. Afterward, stop by one of the many beaches on the coast (we like Manini'owali Beach) before heading back to your hotel for dinner.
However, this is just a sample itinerary. You can pick and choose your favorite things from the list below to craft your own perfect day in Kona!
21 of the Best Things to Do in Kona
1. Night Snorkel or Dive with Manta Rays
Snorkeling or diving with Manta Rays is a bucket list experience for anyone visiting the Big Island. These majestic creatures are the largest rays in the world, although they're extremely docile and friendly toward people.
The Kona coast is one of the only places in the world where you can see the rays up close. During your night dive or snorkel, you'll be swimming around a board that has a big spotlight. The light illuminates the plankton, which therefore attracts the hungry manta rays. It's an unforgettable sight to have these gentle giants swimming and barrel-rolling just inches away from your group.
If you'd rather view the mantas from dry land, then there is a viewing spot in front of the Sheraton Kona Resort & Spa (Manta Village) and the Mauna Kea Beach Hotel (Manta Point). These land viewing areas are technically open only to guests, so you'll want to book a room if seeing the Manta Rays is high on your list!
Related reads:
Manta Ray Snorkel and Dive in Hawaii: Read Before You Book
Manta Ray Night Snorkeling Guide: What to Expect (a thrill)
2. Sample Kona Coffee
You don't have to be a coffee aficionado to appreciate a good cup of joe! Kona coffee is one of the most expensive coffees in the world, as it can only be produced in a few select places on the island.
There are so many great coffee shops where you can sample the smooth and robust flavors of Kona coffee. But if you want to dive deeper, we recommend booking a coffee farm tour to learn more about how the beans are grown, harvested, and roasted (plus, they usually end with a coffee tasting!).
We did the farm walk and tasting at Hala Tree Coffee, although Mountain Thunder Coffee has a variety of unique tours like nature walks, 4×4 plantation tours, and roastery experiences in addition to their free farm tour. You can also visit the Kona Coffee Living History Farm to see how coffee was first produced here in the early 20th century.
3. Tour a Vanillerie
If you're interested in another farm tour, The Vanillerie near the Kona International Airport is an excellent option. All the vanilla orchids are hand-grown by a husband-and-wife duo, who use the beans to make vanilla extract, bath products, and seasonings. Even before you see the orchids, you'll be able to smell them from afar!
Although you're more than welcome just to come here to shop, it's well worth the time and money to book a tour of the grounds. You'll learn about the entire production of growing, harvesting, and taking care of vanilla. And to cap off your tour, you'll get to taste real vanilla ice cream made with their beans.
If you're looking for a cool souvenir, then check out their DIY vanilla extract kit. You'll be able to scoop out your own beans from the pod to soak in an alcohol of your choice to make your own flavoring. The Vanillerie is truly one of the more unique farm tours on the island, and a must-see for any foodie or sweet tooth!
4. See How Salt is Made
Salt is a staple seasoning essential in all our pantries, but have you ever stopped to consider how it's made? Hawaiian sea salt is unlike regular table salt, as it's rich in minerals and nutrients like magnesium, calcium and potassium that makes it 33% lower in sodium.
To learn more about Hawaiian salt production, visit the Kona Sea Salt farm. This is the only salt farm in Hawaii that you can tour, making it a great day activity for anyone staying in Kona.
During your tour, you'll learn about the history of salt making, its importance in Hawaiian culture, and how it's harvested from 2,200 feet below the surface of the ocean. Of course, no tour would be complete without a tasting (tickets include a complimentary salt tasting of pure, flavored, and smoked salts with fruits and vegetables).
5. Hold a Seahorse
Hawaii may be known for its turtles and manta rays, but did you also know that there are seahorses that live here too? Ocean Rider is a family-run farm that raises seahorses for commercial aquariums, which eliminates the need for businesses to take wild seahorses from the ocean.
They have over 20 different types of endangered seahorses, as well as other marine creatures like leafy sea dragons. The 90-minute farm tour is led by an ocean conservationist, who will tell you all about the environment and breeding lifecycle of these beautiful creatures.
Ticket prices are relatively high compared to other Kona activities (it's $74 per adult and $70 per child). However, the proceeds go to the farm in order to protect the lives of the threatened seahorses. And at the end of the tour, you'll get to hold a real live seahorse, which makes this experience worth every penny.
If you're not sure how to fit in everything you want to see on the Big Island, check out our itinerary! It takes you step by step on a planned out route so you can see, experience, and eat at the best places on the island. It makes your planning so much easier.
Hi, just want to say thank you for the great itinerary! We just got back from the Big Island and we used 3 different itinerary days from your guide. You helped us use our limited time well, and we're grateful! We hope we can visit Hawaii again sometime and explore a different island.

Thanks again!

Amber M.
Get The Big Island Itinerary
The step-by-step itinerary takes you to all the best beaches, snorkeling spots, restaurants, and sights. You'll get six carefully planned excursion days to help you see the can't miss stops no matter how limited your time is.
Get all the details on our itinerary and download it for a memorable and easily planned trip to Hawai'i (Big Island).
6. Find the Queen Bee at Big Island Bees
Big Island Bees is a charming family-run honey farm that's been on the island for 50 years. Their apiary of 2,500 hives and 125 million bees produce three different types of honey – Lehua Honey, Macadamia Nut Honey, and Wilekaiki Honey. 100% local, 100% organic, and 100% delicious!
They offer a fascinating beekeeping tour (advanced reservations are required) where you'll get to look at an actual hive to learn how the honey is harvested and produced. You might even get to see the queen bee! And while honey bees are docile, you'll be behind a screened area just in case.
After the tour, you'll get free samples of the three different kinds of honey they produce on the farm. You can also visit the on-site beekeeping museum (which has free admission) to learn more about the process in more detail.
7. Snorkel Kealakekua Bay
One of our favorite snorkeling spots on the Big Island is Kealakekua Bay, right near the Captain Cook Monument. Not only are the waters crystal clear and calm, but the abundance of marine life is just breathtaking! In fact, it's believed that the coral (which can be 100 feet in length) was used as inspiration for designing the reef in Disney's Finding Nemo.
We've seen moray eels, white-tipped sharks, and tons of colorful tropical fish. Because the area is a protected marine reserve, fishing is strictly prohibited, which has allowed marine life here to flourish.
However, Kealakekua Bay is located at the bottom of a rocky cliff, so getting there can be a bit of a challenge. It is possible to hike from the Captain Cook Monument, although it's a long and steep 4-mile trek that can be difficult in the heat. You'll be much better off taking a kayak or a boat tour to the snorkeling spot instead.
These are some of the Kealakekua Bay Tours that we love:
8. Learn About the History at Pu'uhonua O Hōnaunau National Historical Park
The Pu'uhonua O Hōnaunau National Historic Park is one of Kona's most sacred sites. Up until the 19th century, this area was once the only safe sanctuary for people who broke the law, otherwise known as kapu. They would flee here to evade legal punishment, which in almost all cases was death. 
Despite its ominous past, the area is now a lovely 180-acre park and archeological site for the pubic to enjoy. In addition to the palm-tree fringed beach, it also includes reconstructed thatched-roof temples, royal fishponds, and sledding tracks. The grounds are equally as stunning, boasting pristine ocean views over the nearby bay. You can also walk across the tide pools to see fish, crabs, and, if you're lucky, turtles.
9. Stroll Kailua-Kona town
Considered to be the heart of the Kona coast, Kailua-Kona town is the second-largest settlement on the island after Hilo. It is not actually very big, but there are tons of interesting sites and charming businesses set up along the 1-mile stretch of coastline.
Highlights include Kamakahonu Beach and the Kailua Pier (the Marriott hotel is a convenient place to stay nearby). You'll also find Hulihe'e Palace, a restored vacation home that was used for King Kalakaua and Queen Kapiolani. Of course, there are also plenty of shops, restaurants, and cafes where you can grab lunch or spend a few hours.
One of our favorite places in downtown Kailua-Kona is the farmer's market, which features more than 40 vendors. It's a great place to pick up handicraft souvenirs or to stock up on fresh fruit and produce. There are so many unique and tropical fruits that you can't find on the mainland, so make sure to come hungry if you want to sample the bounty!
10. Take an Outrigger Canoe Ride
If you want to explore the open waters like a local, then hop aboard an outrigger canoe. These boats have been used for thousands of years for fishing and transporting (the first one arrived in Hawaii in 200 AD), and is now the official state team sport. As such, it's a great activity to learn more about Hawaiian culture and to get a bit of exercise during your trip!
There are several tour operators and rental shops located in Kona. Anelakai Adventures and Kona Boys are two of the most popular shops. During your tour, keep an eye out for green sea turtles and spinner dolphins – they can often be spotted in the waves!
11. Head Out Whale Watching
Every year, thousands of humpback whales migrate to Hawaii from Alaska to bask and breed in the warm waters of the Pacific. So, if you happen to be visiting between December and April, you'll want to book a whale watching tour to see these magnificent mammals for yourself!
Kona (along with Kohala and Hilo) is one of the best places for whale watching. While it's possible to see them from shore, a boat tour can take you further into the ocean, therefore, increasing your chances of seeing the pods. In addition to the whales, you might also see dolphins, turtles, and even whale sharks on your trip too.
Check out these 16 passenger raft or 20 passenger power boat whale watching tours from Kona.
12. Tour Hulihe'e Palace
Located right in the heart of downtown Kaliua-Kona is Hulihe'e Palace. The current building was constructed in 1838 as a vacation home for the reigning Hawaiian monarchy. Unfortunately, it sat unused during the early 1900s until it was passed over to the Daughters of Hawaii organization to be resorted.
The palace is now a museum dedicated to King Kalakaua and Queen Kapiolani. It contains many artifacts and items from the 18th and 19th centuries, including Hawaiian quilts, feather work, and carved koa wood furniture.
For a more enriching experience, we recommend booking the guided tour (instead of just the self-guided ticket) to learn more about the history and significance of the palace.
13. Attend a Luau
Going to a Hawaiian Luau is a great experience for families, couples, or anyone visiting Hawaii. With mouthwatering food, live music, and traditional Polynesian dancing, it's easily one of the coolest things you can do to learn more about Hawaiian culture. And thankfully, some of the best luaus on the Big Island are right here on the Kona coast.
The Island Breeze Luau held at the Courtyard Marriott King Kamehameha's Kona Beach Hotel has been rated as the best of West Hawaii since 2000. The show is centered around the procession of King Kamehameha I and the Royal Court. We have a list of the best luaus on the Big Island to help you choose.
Luaus are not cheap, but they usually include an all-you-can-eat buffet as well as an open bar. It's a great opportunity to try traditional Hawaiian foods, like Kalua pork, lomi lomi salmon, and poi while watching an entertaining show.
14. Hike a Volcano
The Big Island is home to two of the world's most active volcanos. However, Kilauea and Mauna Loa are located in Hawaii's Volcanoes National Park, which is located on the other side of the island, roughly two hours from Kona. Fortunately, there's a volcano located not so far from town, which makes it an excellent day trip for those interested in a fun and scenic hike.
Kona's Hualalai volcano is the 3rd largest on the island and only accessible with a tour as it's located entirely on private land. We booked the Hidden Crater Hike with Hawaii Forest and Trail, which takes you beyond the private locked gates past craters, collapsed pits, and 200-year-old lava tubes.
Altogether, it's a four or five-mile hike and takes around five hours to make the full journey. It's a moderate hike but may not be suitable for young kids because of the length and steep off-trail incline.
15. Learn to Scuba Dive
There are so many wonderful spots to go scuba diving in the world, but Hawaii is arguably one of the best in the United States. It also happens to be a good place to learn how to scuba dive, as there are many schools and introduction lessons for first-timers – even if you don't have any prior diving experience!
If you want to try scuba diving, you can start with a pool dive, shore dive, or boat dive. Jack's Diving Locker in Kailua-Kona is a dive shop that offers all three types of intro dives for adults and kids (ages 10 and up for the pool and shore and 12 and up for the boat).
More experienced divers will love the diversity of dive sites located along the coast. Explore the colorful coral gardens of Honaunau Bay (Two Step), see the sunken Naked Lady sailboat, or swim with whale sharks and turtles at crescent beach. And don't forget the iconic manta ray dive at night! We have a list of our favorite Manta Ray night snorkel and dives.
16. Find the Secret Banana Bread Stand
If you're looking for a sweet treat to get you through the day, then make sure to stop over at the little banana bread stand on Painted Church Road by the Paleku Gardens Peace Sanctuary. It's just a small stand on the side of the road, so if you blink, you might miss it!
The entire operation is on a self-service honor system, as the owner bakes the loaves and then leaves them in a cooler outside her house. You can pay with cash or through Venmo. And while the loaves are very affordable (it's only $3 per loaf!), we suggest that you pick up a few extras because it's probably the best banana bread on the entire island.
17. Head to the Beach
You can't visit Hawaii without spending at least one day at the beach. Whether you're there to snorkel or to work on your tan, there are a few must-see beaches that we love on the Kona coast.
One of our favorites is Manini'owali Beach at Kua Bay. This pristine slice of white sand is a haven for wildlife like sea turtles and spinner dolphins. But we noticed that the waves can be a bit rough, so if you're traveling with kids, we suggest Kikaua Point Beach Park. The snorkeling here is outstanding, and the waters are protected and extremely calm.
Although it's not a fine sand beach (there are some rocks here as well), 'Alula is another decent option if you're looking for rich marine life and shallow waters. It's located within the Kaloko-Honokohau National Historical Park, which contains two ancient Hawaiian fishponds that date back more than 800 years.
Related read: 5 Best Big Island Beginner Snorkeling Spots You Shouldn't Miss and the 11 Best Big Island Beaches
18. Snorkel at Two Step
Honaunau Bay (also known as Two Step) is considered by many to have the best snorkeling and scuba diving on the Big Island. The waters are accessible by shore, and it's possible to see the coral reef just 10 or 15 feet from the beach.
Keep your eyes peeled for parrot fish, crabs, sea urchins, and yellow tang. If you're lucky, you might get to see spinner dolphins in deeper parts of the bay (around 100 feet in). They come here to rest in the shallow waters, and it's crucial that you do not touch, disturb, or swim after them. In fact, it's illegal to get within 50 yards of them, so give them distance if they're in the waters.
Two Step is a very popular spot, so you'll want to come early to snag parking in the main parking lot. Snorkeling in the morning is the best time to visit anyways, as the bay can become overcast later in the day, which may limit your visibility underwater. 
If you'd rather join a snorkeling tour, check out our favorite Big Island snorkeling tours.
19. Eat and drink at Ola Brew Co
If you're looking for a place to eat with delicious food and ice-cold beers, then look no further than Ola Brew Co. They're situated right in the middle of Kailua-Kona and are open for lunch and dinner. You can't go wrong with ordering anything off their menu. They have flatbreads, sandwiches, bao buns, salads, and a special keiki menu for the little ones.
To wash everything down, you'll want to try one of their locally made brews, like the Ma'a Lager or the Luhia Pale Ale (they also serve a Lilikoi Lime Milkshake IPA which is definitely something unique to try). They produce their own hard juice, hard ciders, hard seltzers, and even hard teas, so there's something for every tastebud.
20. Take a Surfing Lesson
Kona may not be able to compete with the wild swells of Oahu's North Shore, but it still has plenty of great spots where you can catch a few waves. And don't be afraid if you've never been on a board before – Kona is a good spot for beginners, with tons of friendly and gentle waves for you to learn on.
And if you're new to surfing, try your hand at surf lessons!
One of the best spots for first-time surfers is at Kahalu'u Bay. This is where you'll find the majority of surf schools on the island. There are also some surf shops and rental booths round Kahalu'u Beach Park, where you can book classes or lessons. This bay is also frequented by snorkelers, as the waters are teeming with fish, turtles, and vibrant corals.
Once you're a bit more comfortable on the board, you can hit up a few other intermediate surf sites like Kohanaiki Beach Park. Also known as the Pine Trees, this spot has consistent rolling waves where you can practice your technique. Other sites like Honl's, Lyman's, and Banyans are a bit more complicated and should be left to professionals or experienced surfers.
21. Kekaha Kai State Park
If you want to spend a nice relaxing day in nature, then head to Kekaha Kai State Park. When you first enter the park, you'll drive down a long road surrounded by pitch-black lava fields (as a side note- the drive can be bumpy, so make sure you have 4WD or an SUV). But this eventually opens up to a wide stretch of unspoiled golden sand beaches.
One of the things we love most about this park is that it's somewhat off the main touristy track, so it's a good place to hang out if you want to avoid the crowds. The water is translucently clear and ideal for swimming, snorkeling, and body boarding. There is no lifeguard on duty, so stay on high alert as the surf can get high during some parts of the day.
Besides the beach, there's also a 4.5-mile hiking trail that winds up the coast to Kua Bay. If you do embark on the hike, make sure to bring lots of water and sun protection, as it can get very hot in the lava fields. You can also stop halfway to climb to the 342-foot summit of Pu'u Ku'ili for dramatic ocean views.
Related reads:
The 59 Best Things to do in Hawaii: Your Ultimate Bucket List (2023)
9 Best Big Island Resorts for Families (your kids will love these hotels!)
11 Best Big Island Beaches You Need to Visit (+ map!)
Get the Best Big Island Itinerary
Planning a trip to Hawaii is a lot of work, especially if it's your first trip, but with so much to do and see, we can help make even your 21st trip a new and exciting experience with our Big Island Itinerary.
I just returned from my Hawaii vacation and I wanted to let you know that your Big Island wayfinder/ guide was amazing! My husband and I throughly enjoyed all of the excursions we did based on your guide. We plan on returning to visit Maui and Kauai and will purchase those as well.

Maria E.
Get The Big Island Itinerary
The step-by-step itinerary takes you to all the best beaches, snorkeling spots, restaurants, and sights. You'll get six carefully planned excursion days to help you see the can't miss stops no matter how limited your time is.
Get all the details on our itinerary and download it for a memorable and easily planned trip to Hawai'i (Big Island).