Don't Miss the 7 Best Coffee Tours on the Big Island
Disclosure: This post may contain affiliate links, meaning if you decide to make a purchase through my links we may earn a commission at no additional cost to you. Read about our affiliate policies here.
Looking for a more caffeinated taste of the Big Island? We waded through its more than 630 coffee farms to bring you the seven best tours the Big Island has to offer. This world-renowned coffee can be an elusive find outside of the island chain, so be sure to follow your coffee bean bliss to one (or more!) of the plantation destinations below.
Not a coffee connoisseur? These farm tours offer plenty of aloha for coffee aficionados, coffee-prohibited kiddos, and everyone in between!
Map of the Best Big Island Coffee Farm Tours
Hala Tree Coffee
This farm offers free one-hour tours of its coffee tree plantation (certified USDA organic!) and surrounding acreage on the sunny hills of Kona.
Hala Tree Coffee takes care to tailor its tours to the day's conditions, ensuring the most memorable, comfortable, and informational experience possible. Depending on the season you may see coffee blooms or coffee cherries (green, red, or both!). The sights only improve during the tour's conclusion: a tasting under a pergola with stunning ocean views. Be sure to take-in your scenic surroundings with Hala Tree Coffee's award-winning coffees and teas during this delightful stop in Kona Coffee Country.
Fast Facts:
Tour price: Free
Tour hours: Monday to Friday, 8am to 4pm (last tour starts at 3pm)
Reservation required? Yes
If you're heading to the Big Island, check out our full Big Island Guide. What to do, where to stay, where to eat…we have you covered.
Kona Joe
In addition to a punny name, Kona Joe's serves up one mean cup of coffee. This plantation's namesake is also a partial owner of a Californian winery, and it definitely shows!
Each of the plantation's coffee trees are trained to grow along the wires of an intricate trellis system, creating the rows and rows of this coffee bean "vineyard." But Joe's wine-making influence does not stop there. Rather than observation alone, he utilizes state-of-the-art technology to monitor the coffee cherries pH level, sugar concentration, and titratable acid content. By these metrics, the plantation's scientific team determines the optimal maturity for the bean and the perfect time for its harvest.
This plantation offers something for everyone with a large breadth of tour options from a free self-guided tour to the interactive "Ultimate Tour." Plan a visit to see if you can taste the difference in this cup of Joe!
Fast facts:
Self-guided Tour: Free, offered daily, on demand, between 8am to 3pm
Standard Guided Tour: $20, offered daily at 9am, 11am and 1pm
No reservation required
Sunshower Farms
A venture a little further off the beaten path (and a little farther up the mountain) will be well-rewarded with this Sunshower Farms spectacular views and intimate setting. The tour's length is a bit longer (1.5 to 2 hrs) and its content more technical, so the kids will most likely prefer to stay beachside for this excursion. However, if you are looking for an informational experience that leans far more towards the 'intimate' than the 'touristy', this family-owned farm is for you.
Each tour begins with a short walk through the orchard (and an introduction to its resident sheep), and concludes with a "coffee cupping experience," hosted by Kate, Sunshower Farms owner and coffee roaster. The strict brewing protocols required for a "cupping" to enhance the coffee's taste and aroma set it apart from a standard tasting, and will make you feel like a certified Q grader (professional coffee taster)!
Fast facts:
Tour price: $30
How to book: Book directly through their website.
Coffee tasting is kid-friendly, but if you're looking for more things to do with kids, check out 12 epic things to do in Kona with kids.
Monarch Coffee
When Monarch Coffee calls themselves an 'Ohana' (family) operation, they mean it. This multi-generational family of coffee growers began on a modest two-acre plot on Maui before growing into their Kona property, tucked into the hills above Holualoa.
Monarch imported the seeds of their "Gesha" (not "Geisha!") coffee trees themselves in 2010, and boy are we thankful they did. Though only on their fourth Gesha harvest, their coffee has already won Grand Champion First Place at the State of Hawaii Cupping Competition, among several other accolades.
If you and your keiki (kids) find yourselves at the farm on a Wednesday at 2pm, The Keiki Farm Walk is a must. During a short walk through the farm, your keiki can learn about a happy, healthy ecosystem and the important role of pollinators before tasting fresh fruit, and participating in a craft project. Whether it's an egg crate caterpillar or planted milkweed, each project certainly makes for a unique souvenir to take home!
Fast Facts:
Walking Estate Tour: $25; 10am to 3pm every hour, Tuesday-Thursday; 1 hour long; 17 and under are free
Estate Tasting Tour: $75; 10am and 12pm; 2 hours long (limit 4 guests, 18 years or older)
Keiki Farm Walk: $10; Weds at 2pm; 45 minutes
For reservations, book here
Coffee tasting is amazing, but don't miss our 21 best things to do and see on the Big Island.
Kona Coffee Living History Farm
The Kona Coffee Living History Farm certainly lives up to its name. On this family-friendly farm, early Kona coffee history springs to life with costumed interpreters, a preserved 1920's farmhouse, and demonstrations of traditional agricultural crafts, activities, and more!
The farm, homesteaded by the Uchida family in the early 20th century, recreates the daily domestic life of the Japanese-immigrant family. Upon entering the original farmhouse (and removing your shoes) you may find a homemaker starting a fire on a traditional open-hearth stove, or making musubi for the farmer's lunch. Outside, visitors can learn to farm coffee just as the Uchida family did. From picking the fruit, processing in the kuriba (mill), and drying on the hoshidana (drying platform), guests learn the techniques and stories of Kona's earliest coffee pioneers from the farm's living history interpreters.
Afterwards, you can explore the gardens, visit the chickens, and meet Shizu and Charlie Boy, the farm's resident donkeys and verified 'Kona Nightingales.' And if you find yourself missing Shizu and Charlie Boy after your visit, you can tune into the Kona Historical Society's "Story Time" here to see a member of the society's team read stories to the beloved Kona Nightingales!
Fast facts:
$20 per Adult, $15 if Hawaii Resident
$10 per Student (ages 7 to 17), $5 if Hawaii Resident
Entry is free for children under 7
Please note: the farm is closed in June for a local youth summer camp
All proceeds go directly to the Society's educational programs and preservation projects.
Mountain Thunder Coffee Plantation
If a standard tour and tasting is not your cup of Kona tea, a family trip up the (volcanic) mountainside to Mountain Thunder Coffee Plantation is in order.
Mountain Thunder stands apart from the standard plantation tour, and not just because of the elevation. Located in a Cloud Forest (the only one in the US!), with Lava Tubes to boot, it is easy to forget that they are also the closest coffee farm to the Waikoloa resort area. You can even make a day out of it by visiting the neighboring Kona Cloud Forest Sanctuary!
The standard walking tour is free, if only 20 minutes. However, they are offered every half hour from 9:30am until 3:30pm, everyday, and groups under 10 do not need a reservation. Additionally, the walking tours are wheelchair friendly and available rain or shine.
For an additional $10 per family, you can explore Mountain Thunder's Nature Trail with the Self-Guided Lava Tube & Nature Walk. The fee includes a guidebook that highlights points of interest along the trail along with stories of Hawaiian culture, history, and geology. The hike takes around 20 minutes, but you are welcome to stay as long as you like if you are hoping to catch a peek at some local wildlife indigenous to this unique ecosystem. Chameleons, butterflies, and cockatoos are the most likely sightings. However, the endangered Hawaiian Hawk is also about, so keep a sharp eye.
If you are looking for a lengthier tour with a bit more umph, a 1.5 hr ATV tour is available for up to five people at a rate of $125.
Remember to pack your lunch for this outing, there are no snacks or lunches for sale. Picnic space can be found in the gift shop area or down the Nature Trail at the observation deck, though it is limited.
Fast facts:
Pack a lunch! No food or snacks are available.
Walking Tour (20 min, free; no reservations required)
Self-Guided Lava Tube & Nature Walk (20 min, $10 per family; no reservations required)
ATV Tour (1.5 hrs, up to 5 people, $125; reservations recommended)
Roast Master Experience (2 hrs, up to 6 people, $325; reservations required)
Visit Mountain Thunder's website to learn more or book a reservation.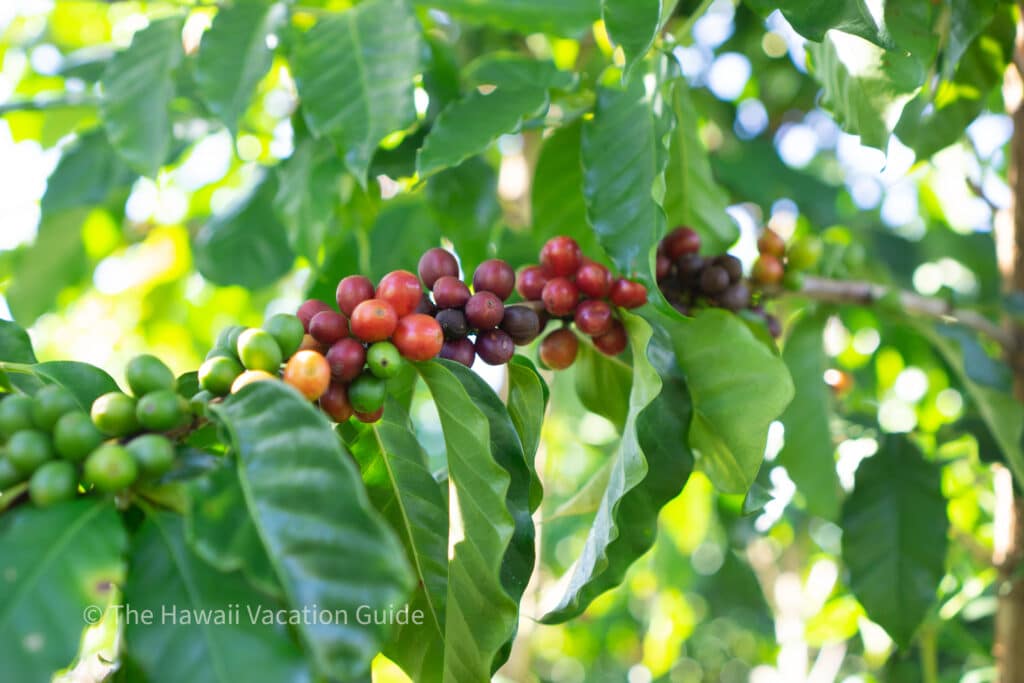 Heavenly Hawaiian Farms
Though Heavenly Hawaiian Farms coffee and snacks are delicious enough to border on the ethereal, the true standout is the exceptionally knowledgeable and welcoming tour guides who make every visitor feel like Ohana. And if you are also looking for a pool, tables with an incredible view, homemade honey, and a farm side coffee bar, they have that too…
The Konalani Coffee Bar offers pour overs, cold brew, Italian sodas(!), and of course, 100% Kona Coffee. Heavenly Hawaiian beans can lean to the more expensive side of Kona coffee, but the farm's flexible hours (the one-hour coffee tour is available Monday through Saturday from 9:15am to 4pm), incredible tour guides, and delicious offerings make it a fantastic stop on your trip through Kona country.
If you are looking to curate a milestone (eh hem… proposal) or don't mind breaking the bank on a memorable morning (pricing starts at $750), Heavenly Hawaii recently teamed up with Malama Luxury Picnics to create a 'Luxury Coffee Picnic.' Each customized picnic includes a luxury set up, charcuterie breakfast, Heavenly Hawaiian cold and fresh brewed coffee, take home gifts, and more.
Fast Facts
Paniolo Roasting (45 minutes, Ages 13+, $40)
Coffee Tour (1 hr, All ages, $12)
Paint & Sip (1.5 hr, Ages 10+, $70)
Brew Your Best Cup Workshop (1.5 hrs, Ages 13+, $55)
All available times and dates for your tour can be found on Heavenly Hawaiian's website under 'Farm Tours.'
Interested in other farm tours? We have you covered with the best Big Island Farm Tours you won't want to miss. The first one on the list was surprisingly my favorite.
Other Big Island coffee questions?
Why not just say Kona coffee?
Kona is just one of the Big Island's four coffee regions (Kona, Hamakua, Puna, Ka'u). Each boasts a unique microclimate with its own specific conditions for the cultivation of the Big Island's many distinct varieties of coffee bean.
What makes Hawaii coffee tastings so special?
Hawaii is one of two US states that grow coffee, and many other international growing locations only produce for export. This makes Hawaii one of the only places in the world where you can experience your coffee from cultivation to cup, all in one idyllic setting.
What is 'Kona Snow?'
As you may have guessed, it is not snow, snow. During the months of February and March, small white flowers bloom on the coffee trees, in preparation for the creation of their coffee cherries. These small blossoms blanket the Kona hillsides with a fragrant and beautiful "snow."
What is a 'Cloud Forest?'
A cloud forest is a rare ecosystem unique to montane (mountain) rainforests of high elevation. A cloud forest receives its water not only from rainfall, but from a heavy condensation, or "mist" that can be so thick you feel like you are in a cloud, literally. The tropical cloud forest in Kona Country is the only one located within the United States, so be sure to see it for yourself if you have the opportunity!
Why are there so many sheep?
Seeing more than your fair share of sheep on your coffee excursion? Sheep love to eat the weeds found on plantations, but not the coffee plant, making them a staple of Big Island Coffee farms.
Why do they call donkeys "Kona Nightingales?"
The Kona nightingale is a particularly vocal breed of donkey found in the Kailua-Kona region of the Big Island. Originally brought to the area to work the land, they quickly became beloved pets. However, families could often only afford one donkey. When the family would retire for the evening, the singular donkey would grow lonely and begin to bray (a distinctive loud cry). The sound would carry to other donkeys on neighboring farms, who would answer in turn. Through this night time "singing" the donkeys earned the nickname "Kona nightingale," after the nocturnal songbird.
When is the Kona coffee season?
The Kona coffee tours run year-round. Harvest generally takes place from August to December. This is when you can see the pulper (the machine that extracts the coffee bean from the pulp) in action. Kona snow is another memorable season, particularly visually, which takes place during the months of February and March.
Too excited (or caffeinated) to sleep? Make it a night to remember by snorkeling alongside Manta Rays. We have a full guide about snorkeling with Manta Rays that covers everything you need to know.
The Ideal Big Island Itinerary
If you're heading to the Big Island, let us help you plan your best vacation. Our done for you itineraries take you on the best excursions around the island on a planned our route, so you can make the most of your visit.
I wanted to let you know that we just returned from 17 days is Hawaii and your information was our go to. We read your newsletters, watched your videos and ordered itineraries for the two islands we spent the most time on. This helped us plan our days and ensured we saw great sights we otherwise would never have known to stop. We referred to the guides often so saving it in files on my phone was perfect. You saved us tons of time energy and money while ensuring we had an awesome trip. Worth every dime and minute we spent on your info.

Tracy B.
Get The Big Island Itinerary
The step-by-step itinerary takes you to all the best beaches, snorkeling spots, restaurants, and sights. You'll get six carefully planned excursion days to help you see the can't miss stops no matter how limited your time is.
Get all the details on our itinerary and download it for a memorable and easily planned trip to Hawai'i (Big Island).