The 8 Best Beaches for Kids on Maui (from a Maui family)
Disclosure: This post may contain affiliate links, meaning if you decide to make a purchase through my links we may earn a commission at no additional cost to you. Read about our affiliate policies here.
Now that we've lived on Maui for a few years with a toddler and baby, we've learned how important it is to find the right beach for our family beach days. We not only want to find a sandy spot (building castles is important after all), we also need to think about the waves, parking, bathrooms, and shade.
Being a parent on vacation is amazing…and also sometimes a little exhausting.
After trial and error around Maui, we have our favorites. While there are so many amazing family-friendly beaches here, these eight stand out to us as the best beaches for kids on Maui.
Planning a family vacation to Maui? We have your back
Here are 68 Things to Do on Maui with Kids (By Age)
Price out your trip costs with our help: Trip to Hawaii Cost for a Family of Four
Let's narrow down where to stay with the 10 Best Maui Resorts for happy kids
Baby Beach or Pu'unoa Beach (Lahaina)
For the smallest of swimmers, this is the best beach on Maui for kids. When we first moved here, our son was 18 months old and this beach has been our second home. It's shallow for a very, very long time. The sand is soft. The water is crystal clear, And, there are no waves thanks to a reef holding back the waves.
It's the only beach where my son will comfortably wade without fear.
The downsides of this beach are that it has limited parking and a small sandy beach area. But if you're looking for a place for toddlers to enjoy the water, this is the spot. Get all the details on Baby Beach in Lahaina.
Lifeguard: No
Restrooms: No
Parking lot: No
Baby Beach (Paia)
A second Baby Beach on Maui, this spot is one of the best places on the north shore for young kids to swim. The water isn't nearly as calm as it is at Baby Beach in Lahaina, but the beach is also protected from large waves thanks to a rock wall that stops the break. The sandy area is larger than Baby Beach in Lahaina, making it an easy place for the entire family to hang out for the day.
Note: Baby Beach is located in a residential area and parking can be a challenge, street parking only.
Lifeguard: No
Restrooms: No
Parking lot: No
Don't miss our awesome Maui Family Itinerary. 7 carefully planned excursion days even your pickiest traveler will love.
"Just want to say thank y'all for putting together the Oahu & Maui itineraries. Our family had a great trip to Hawaii due to having those itineraries handy anytime during the day and we all had an amazing time." Tony R.
Kapalua Bay (Kapalua)
Kapalua Bay is one of the most beautiful beaches on Maui and is great for young and older swimmers alike. While it's not as protected and wave-free as Baby Beach, it generally offers a calmer swimming environment.
This crescent-shaped beach is located on West Maui, approximately 25 minutes north of Lahaina. There is a parking lot but come before 10:30 am because it fills up early. There's plenty of room on the white sand beach for kids to spread out and play. And older kids and parents will appreciate that this is a fantastic snorkeling spot and you don't need to go far offshore to see great sea life.
Get all the details on Kapalua Bay Beach.
Lifeguard: No
Restrooms: Yes
Parking lot: Yes
Related articles:
Napili Bay (Napili)
Just south of Kapalua Bay you'll find another beautiful beach, Napili Bay. Napili has all of the same attributes as Kapalua: soft white sand, mostly calm water, and great snorkeling. Plus, if you get hungry the famous Gazebo restaurant is just a few steps away. It's one of our favorite spots for a beach day that the whole family can love.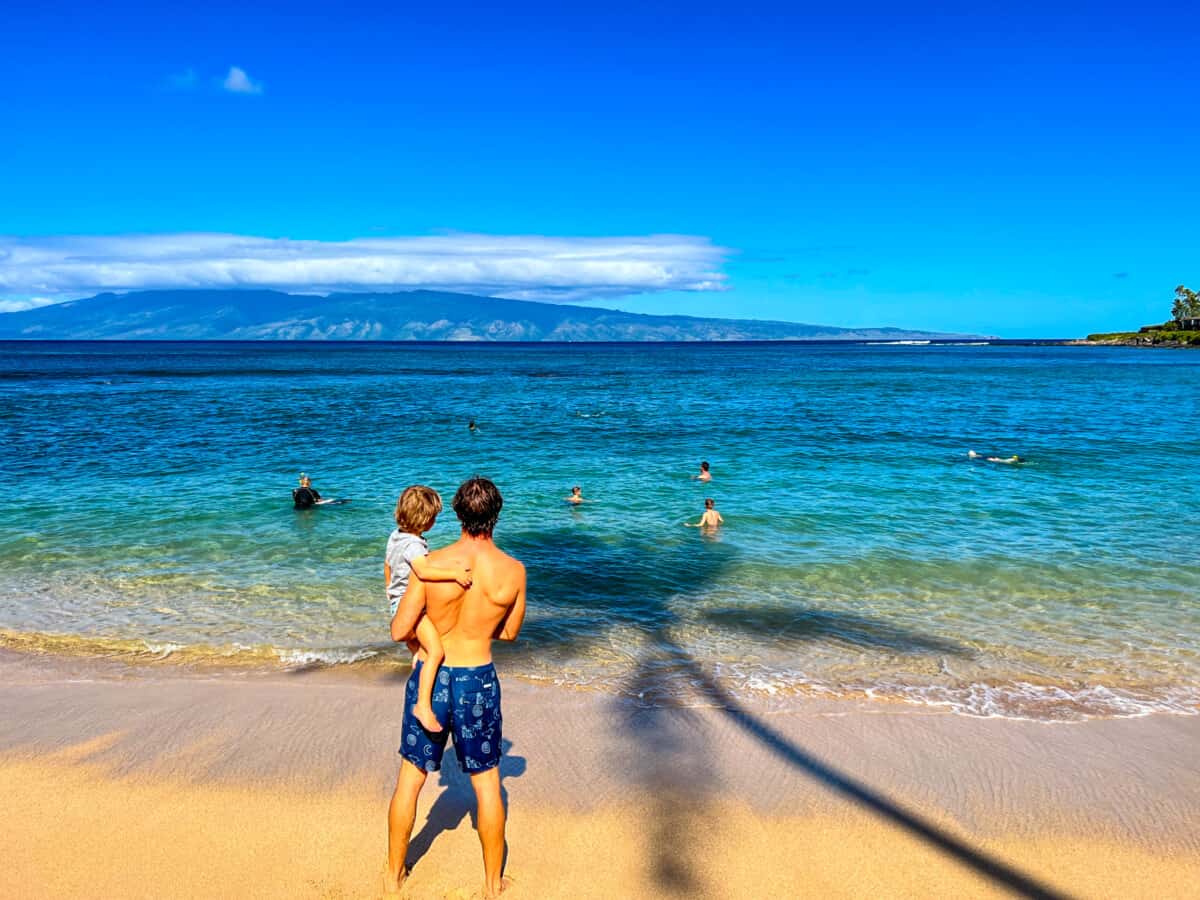 You can park down the road leading to the Napili Shores hotel, but it's limited. When that's full, you can usually find a parking spot along the road. (Heading to Napili? Check out our video for where to stay, beaches to visit, and more.)
Lifeguard: No
Restrooms: No
Parking lot: Yes
Kamaole Beach Park (Kihei)
There are three Kamaole beaches in Kihei, frequently referred to by their shortened nicknames, Kam I, Kam II, and Kam III. Though they are all beautiful and offer accessible swimming for families, our favorite is Kam III, the southernmost of the beaches.
Here you'll find soft white sand, an expansive beach, a shoreline with very few waves and rocks, easy and clear snorkeling, and a lifeguard station. But what makes this the best for us is the grassy area above the beach. There you'll find both shade and swings, so if your kids tire of the beach you can spend some time just above it. The parking lot is also well-sized and you can also usually find street parking if it's full.
Lifeguard: Yes
Bathroom: Yes
Parking: Yes
Ulua Beach (Wailea)
The beaches in Wailea are beautiful, and Ulua Beach is no exception. My favorite thing about this beach is how close Molikini looks — you can imagine kayaking out there on a calm day (don't try this though, the winds pick up quickly!).
Ulua is a crescent-shaped beach just south of the Andaz hotel. The waves are generally very calm with good snorkeling. Plus, if your kids like to explore rocks, tidepools, and sea life, you'll find plenty of that here.
Lifeguard: No
Restrooms: Yes
Parking lot: Yes
Sugar Beach (Kihei)
This lengthy stretch of beach in Kihei is popular with families. Here you'll find plenty of sandy space to run and roam as well as waves that don't get too big. It's an easy place for kids to roam and enjoy splashing in the water. It's also such a long beach that doesn't get too crowded, so it's great for family walks along the beach.
Lifeguard: No
Restrooms: No
Parking: Street parking only
Wailea Beach (Wailea)
There is a reason one of the nicest resorts on the island front this beach: it's spectacular. There's plenty of room, great sand, few rocks, and usually calm waters. It's one of our favorite places to take our kids (or to enjoy on a parent's day out). There is a public parking lot that is a short walk away from the beach, but it can fill up. Like we recommend with every beach on the island, get there early if you can!
Lifeguard: No
Restrooms: Yes
Parking: Yes
Beach Safety on Maui
Though many of the beaches listed have protected areas that are generally safe for little swimmers, don't forget the basics of beach safety:
Check conditions before entering the water
Never leave children unattended, even if a lifeguard is present
SPF and sun protection equipment is crucial
Bring plenty of water and for beaches with limited shade, consider bringing an umbrella or sun tent
The Perfect Itinerary for Maui with Kids
If you're heading to Maui with your kids, make your trip extra memorable (with less stress). Our Maui Family Itinerary helps you plan out the best days possible with perfect kid-friendly activities, beaches, restaurants, and more. Each of the 7 excursion days takes you on a pre-planned route that the whole family will love.
Aloha! Your itinerary really saved us time, money, stress, and we had lots and lots of fun. Me & my family are having the time of our lives on our vacay!!! – B Guevarra Family
Get The Maui Itinerary
The step-by-step itinerary takes you to all the best beaches, snorkeling spots, restaurants, and sights. You'll get six carefully planned excursion days to help you see the can't miss stops no matter how limited your time is.
Get all the details on our itinerary and download it for a memorable and easily planned trip to Maui.