The 9 Best Snorkeling Spots in Lahaina and West Maui
Disclosure: This post may contain affiliate links, meaning if you decide to make a purchase through my links we may earn a commission at no additional cost to you. Read about our affiliate policies here.
Snorkeling is one of the most popular activities on Maui and for good reason. This island offers excellent snorkeling and no shortage of great places to explore. Most of Maui's best snorkeling can be found on west and south Maui — either near Lahaina or near Wailea.
Here we cover the best snorkeling spots near Lahaina and along the west Maui coast, from Kapalua down to Olowalu. But if you're in search of the best possible snorkeling, be sure to spend some time choosing spots from our list of the 11 best snorkeling spots on Maui. Many of these gems are worth a drive.
Map of the Best Snorkeling Spots Near Lahaina
Read why Maui is the best Hawaiian island for snorkeling year round.
Top Picks for Snorkeling Near Lahaina
Best snorkeling spot for:
Looking for more beach time and less water time? We have the 9 best beaches in and near Lahaina for your perfect beach day.
Details for the 9 Best Snorkeling Spots near Lahaina
From north to south, these are the best snorkeling spots in and near Lahaina.
1. Honolua Bay
Distance from Lahaina: 12 miles
A marine life conservation district, this is a popular snorkeling spot in the summer months when the waves are generally calmer. This protected bay offers a spectacular reef and plenty of large fish and other sea life. You'll often find snorkeling boats moored here because the quality of snorkeling is just that good. It makes our list for one of the best snorkeling spots on Maui.
There is no parking lot or other amenities here, like restrooms or showers. Beachgoers likely want to avoid this spot because there is no sandy beach to relax on after snorkeling.
Read more about snorkeling at Honolua Bay.
2. Kapalua Bay
Distance from Lahaina: 10 miles
What's not to love about Kapalua Bay? It was rated the Best Beach of 2018 by Dr. Beach, it is a fairly protected bay so currents are often not as strong inside the bay, and it is stunning. Oh, and it has great snorkeling. Stick to the sides here and you're bound to find colorful fish and a turtle or two. And it's located near one of our favorite easy hikes on Maui, the Kapalua Coastal Trail.
It is our favorite snorkeling spot on all of Maui.
Read more about Kapalua Bay, where to park, what to do, and our favorite tips.
3. Napili Bay
Distance from Lahaina: 10 miles
Another beautiful bay just south of Kapalua, this spot feels like a throw back to decades past in Maui. Here you won't find any buildings taller than a palm tree and the bay is lined with quaint inns and boutique hotels, not mega resorts. This is a popular snorkeling spot for visitors and locals alike and is often full by mid-morning on the weekends. Plenty of turtles to spot here from land or underwater, you'll still find the best snorkeling by sticking to the rocky outcroppings on the side of the bay.
4. Honokeana Bay
Distance from Lahaina: 9 miles
You won't find a great beach but you will find more turtles than you can count here. A rocky bay makes a perfect spot to view turtles as they snack on the vegetation. Accessing the water isn't super easy here (there's no sandy beach to walk in from) and the beach access can be difficult to find, but it's worth the effort. You'll need to park on the street and then walk down the beach access path to the north of the bay (you'll see an ornamental turtle at the start of the path). The path will walk you down to the end of the bay and you can get in there and swim in closer to the condos to find turtles. And if you want to stay near this snorkeling spot, Honokeana Cove is one of our favorite places to stay near Lahaina.
If seeing turtles is high on your list, check out the other places to see turtles on Maui. Just a reminder that turtles are protected and you'll want to stay at least 10 feet away from them in the water to be sure you're not disturbing them.
Want to see even more of what it's like to snorkel at Honokeana Bay? We have a video of our Napili staycation with a snorkeling trip to Honokeana Bay:
5. Kahekili (Airport) Beach
Distance from Lahaina: 5 miles
Located on the north end of Ka'anapali is the less crowded Kahekili, or Airport Beach. This is a slightly under-the-radar place compared to the famous beach just south. Here you'll find easier parking, great amenities (bathrooms, showers, picnic tables), and a good reef for snorkeling.
This north side of Ka'anapali is a little more exposed to waves and currents than the other side of Ka'anapali (Black Rock) but on calm days the conditions are very comparable. The water here is very clear and you can often spot a lot of sea life just off the shore. You'll also find that this is a very popular scuba location.  See our Airport Beach Guide for details on swimming and snorkeling here!
6. Black Rock
Distance from Lahaina: 5 miles
This is an incredibly popular spot and for good reason. First, it's located in front of the resorts in Ka'anapali, so there's easy access for anyone staying in a Ka'anapali resort. Second, though it's not a protected bay, Black Rock is often more protected from waves and currents than some of the other areas you can snorkel. Third, it's popular with people for rock or cliff jumping. Fourth — and most importantly — it has incredible snorkeling. Often within seconds of sticking our head underwater, we're met with beautiful turtles swimming in the turquoise waters. There are plenty of fish and the water is generally very clear. While it can be a busy beach, it's really worth the stop to snorkel here.
7. Wahikuli Wayside Park
Distance from Lahaina: 2.5 miles
Just off the highway you'll find an underrated beach and snorkeling spot. When the water is calm, the snorkeling here is great. But unlike so many other spots on this list, the beach isn't protected so when the waves are big, snorkeling here is not a good idea. You'll find the best snorkeling to be on the north side of the beach and you'll be able to see plenty of sea life without venturing too far or into too deep of water. There is a nice beach path here that leads you along the coast all the way into Ka'anapali.
8. Mala Wharf
Distance from Lahaina: 0 miles
The only snorkeling spot on our list to actually be in Lahaina, this is one of the best snorkeling spots on the island, but it's difficult to access. You'll often find snorkeling boats making a stop here because the snorkeling is great, but it can be quite a swim out from shore. This is not a place for beginner snorkelers.
To enter the water you can head in on the south side of the wharf, but you'll need to contend with a lot of rocks and shallow water that can make walking out very tricky. Or you can enter the water just off the pier, but keep in mind that this is an active pier and boats will be coming in and out.
9. Olowalu
Distance from Lahaina: 6 miles
In Olowalu, just south of Lahaina, you'll find one of the oldest coral reefs on the Hawaiian islands. You'll find an abundance of marine life here and fewer crowds: it's not as popular as some of the spots north of Lahaina. Why? Because to get to the best snorkeling, you'll need to venture very far from shore. While the water might not be too deep (it stays shallow for a long time off shore) the distance you need to travel to access the reef can be exhausting. Most people choose to snorkel here with a snorkeling tour. We have had a great experience snorkeling here with Kayak Olowalu. Their knowledgeable guides took us to some great spots and we were able to kayak out to the reef, rather than swim the entire distance.
For any snorkeling that you do in Hawaii or elsewhere, it's important to practice snorkel safety. While snorkeling looks easy, it's the leading cause of visitor deaths.
The Best Snorkeling Tours from Lahaina
With Lahaina Harbor right in town, you have a number of truly excellent snorkeling trips right at your fingertips. Narrowing down which ones to pick can be an overwhelming task. Don't worry, we've gone on more snorkeling trips from Lahaina than I can count and we've reviewed each with a critical eye.
Here are a few of our favorite tours leaving from Lahaina Harbor that will take you to Lana'i, Molokini, or along the Maui coastline.
Not sure where to go on a snorkeling trip? We have you covered as we compare Lana'i to Molokini to decide what's the better spot for a snorkeling tour.
Lana'i snorkel with Ultimate Whale Watch & Snorkel:
Cruise to Lana'i for a day adventure with Ultimate Whale Watch & Snorkel. This high speed raft will take you to 2-3 locations between Maui and Lana'i and the crew will work hard to help you see amazing sea life. Check out our full review and a video experience of our trip, including speeding along with a pod of hundreds of spinner dolphins!
And don't forget to call and use our code 'HVG10' to save 10% on your trip. Read our review and book online!
Molokini snorkel trip with Sail Maui:
Sail Maui knows how to deliver a great experience for their customers, which is why it's one of the most highly rated sailing companies on the island. Hop aboard their luxury sailboat for a trip to Molokini. Enjoy breakfast, a fantastic and knowledgeable crew, and time snorkeling in the famous Molokini crater.
They also offer a great day snorkeling trip to Lanai and a snorkel cruise along the west Maui coastline.
You can use our code 'HVG 10' for 10% off your booking with Sail Maui. See our full review and book here.
Plus, check out all of our highly recommended snorkeling tours, videos of our experiences, and full reviews by visiting our Maui Tours & Activities page. We've done the hard work for you by vetting the best tour operators.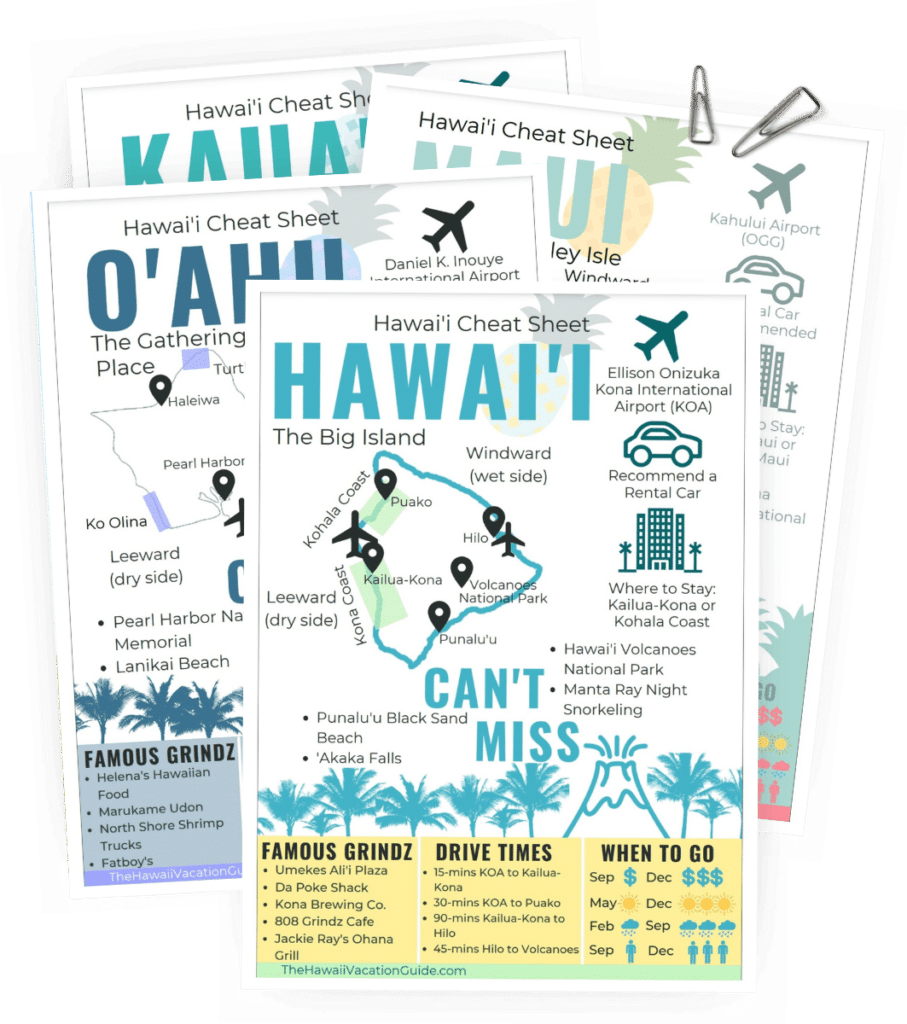 Free Download!
Hawaiian Island Cheat Sheets
Sign up & we'll send you our island cheat sheets so you can get to know the islands like the back of your hand!
We'll share 4 can't-miss activities on each island, a map with the main sights in town, & famous local grindz (eats)!