Is October a Good Time to Go to Maui? Everything You Need to Know
Disclosure: This post may contain affiliate links, meaning if you decide to make a purchase through my links we may earn a commission at no additional cost to you. Read about our affiliate policies here.
You may be considering a trip to Maui in October because it's one of the cheapest months to visit. But the price isn't the only reason October is a great time to go to Maui. You'll have fewer crowds but you'll still have summer weather.
Here we'll walk you through everything you need to know about visiting Maui in October: the weather, the crowds, the cost, and some of the best things you don't want to miss.
What's Maui Like: Maui Weather in October
First, the good news: Autumn is descending upon the rest of the country and you are getting to extend your summer by making a trip to Maui.
While Hawaii does have seasons, it's the only state located in the tropics so the swing between the four seasons isn't huge.
The average high in October is in the mid-80s and the average low is in the upper 60s to low-70s.
Looks like you've figured out how to have an endless summer.
Of all the islands, Maui is the island with the least rainfall. Yes, it does still rain here, but not as much as say, Kauai.
That said, there's definitely a warmer, drier, sunnier season (summer) and a wetter, cloudier, and colder season (winter).
What's Maui weather like in October? Here are all the stats you need to know
The average high temperature (degrees Fahrenheit) in Ka'anapali is 84oF, in Kihei (near Wailea), it's 87, and in Hana, it's 82. The average low temperature in Ka'anapali is 71, in Kihei, it's 68, and in Hana, it's 70.
You'll still be wearing a t-shirt and shorts during all times of the day and trips to the pool and beach will be a must.
Bottom line: When it comes to the average temperature in October: it's warm and lovely.
But just because it's warm doesn't mean it's always sunny.
You'll notice that a little rain starts to kick in slightly come October. For example, in Ka'anapali, September rainfall is 0.91 inches and it over doubles in October to 2.2 inches. That said, chances of rain during your October vacation are pretty low and if it does downpour, there are plenty of activities to keep you busy if you want to stay out of the rain.
If you're looking for rain-free weather, your best bet during any time of the year is to stick to the West and Southside of the island, specifically Ka'anapali and Wailea. This is the leeward side of the island, and it gets significantly less rain than anywhere else in Maui.
That's likely the reason most hotels and vacation rentals are concentrated in these two areas.
Need help choosing to stay between Ka'anapali and Wailea? Ka'anapali vs Wailea: Here's Here's How to Decide Where to Stay.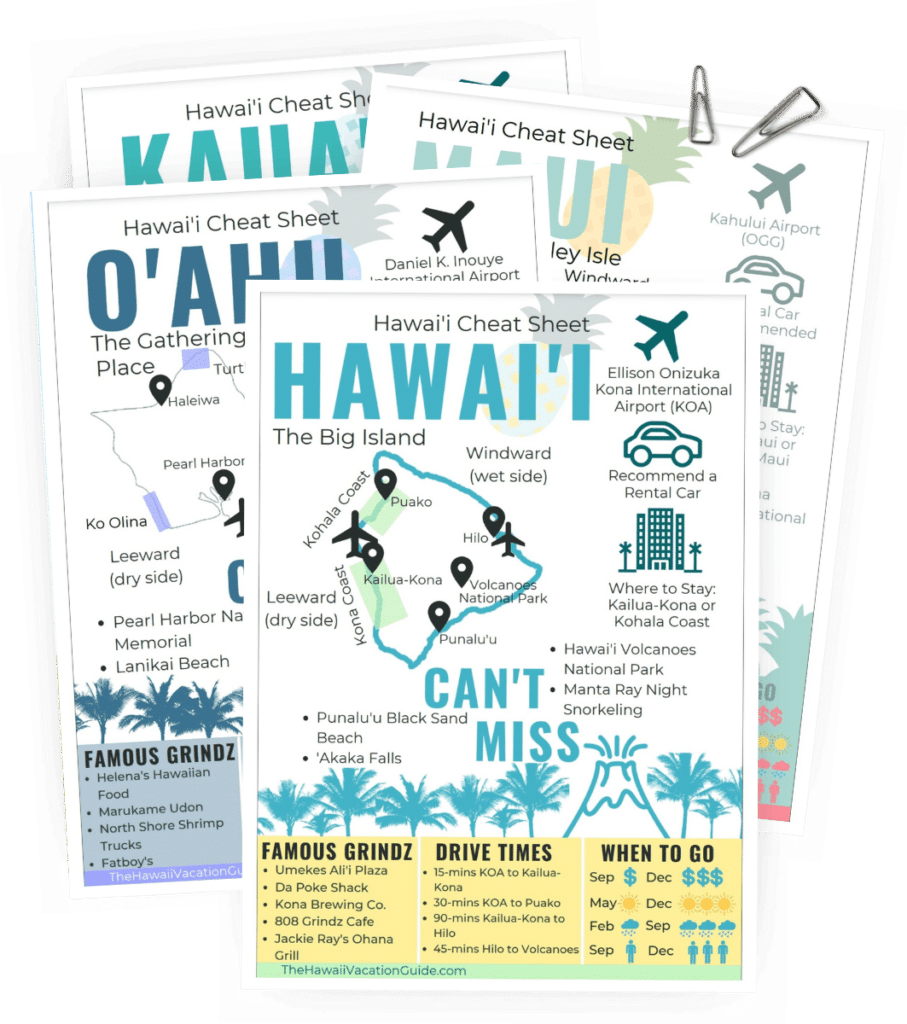 Free Download!
Hawaiian Island Cheat Sheets
Sign up & we'll send you our island cheat sheets so you can get to know the islands like the back of your hand!
We'll share 4 can't-miss activities on each island, a map with the main sights in town, & famous local grindz (eats)!
And for good measure, I wanted to include the ocean temperature stats. You can swim in the ocean without a wetsuit year-round. The ocean temperature in February is 80oF, the highest that it is all year, but still extremely comfortable for a swim.
October may still be hot, but between the beach, the pool, and the air conditioning, it should be very enjoyable.
Is Maui Crowded in October?
The peak of the summer is over and crowds are beginning to wane come October. It's not the quietest time on the island, but you definitely won't be dealing with the peak-season crowds. If you've ever tried to go somewhere during peak season, you know that this is a big deal. Why?
🍍 The two most popular luaus aren't booked up months in advance
🍍 You can actually find parking at most snorkel spots (still get there early, of course)
🍍 Activities will still be available for you to book last minute
🍍 You can get into restaurants and navigate around the grocery store without it being too crazy.
As you can see from the data below, October isn't the slowest month for visitors, but it's below average. And I would personally prefer not to visit an island when it's filled to the brim with people.
In October 2019, 240,000 people arrived to Maui by air. The average monthly visitors for the year was 256,000 and the peak month was July, clocking in at 309,000 visitors.
October won't give you an empty island, but it's going to be easier than during some of the peak months.
Is October Cheaper on Maui?
If you're looking for a hotel room, October is the second cheapest month to book a room. The average hotel room will run you $329 per night in October. That's over $200 cheaper than what the average hotel room in December will cost (December is the most expensive month to stay in a hotel on Maui).
Source: Hawaii Tourism Authority Infrastructure Report
When looking at vacation rentals, October was the cheapest month.
The average cost for a vacation rental in October 2019 was $224 per night. Compared with the most expensive month, February 2019, which had an average cost per night of $291. That's nearly a $70 per night difference between the two months.
Source: Hawaii Tourism Authority Infrastructure Report
While your accommodation isn't the only cost to consider, it is significant.
Read our The Cheapest Time to Fly to Maui article for details.
How to Fly to Maui in October for Less
October isn't necessarily the cheapest month to fly to Maui (that award goes to January and April, based on Skyscanner and Fare Detective data). But we have five steps that you can use any time of the year to get the cheapest flights to Maui. 
Get The Maui Itinerary
The step-by-step itinerary takes you to all the best beaches, snorkeling spots, restaurants, and sights. You'll get six carefully planned excursion days to help you see the can't miss stops no matter how limited your time is.
Get all the details on our itinerary and download it for a memorable and easily planned trip to Maui.
What to Do on Maui in October
You can do all of the most popular activities on Maui every month of the year. But there are some that are extra special in February:
🍍 Halloween on Maui: Halloween is a serious holiday on Maui. You can watch the keiki (kids) parade in Lahaina on Front Street or visit the pumpkin patch at Kula Farms. Or, adults may enjoy staying out late on Front Street and enjoying the street festival party.
🍍 Maui Marathon: Maybe you want to add a little extra activity to your vacation. The Maui marathon comes to the island in October. You can join in for a 5k, 10k, relay race, half marathon, or full marathon.
🍍 Maui county fair: Who doesn't love a county fair? Do something different during your days in paradise by attending the Maui county fair, a timeless tradition.
🍍 Food and wine festival: Love food and wine? Enjoy the Hawaii Food and Wine Festival, which runs nearly the entire month of October.
For a listing of more events in October, be sure to check the calendar of events on GoHawaii.com.
Is October a Good Time to Go to Maui?
Reasons Why You Should Go to Maui in October:
✅ You can get great deals on hotels and vacation rentals
✅ A less crowded island means you can see the sights with fewer people around
✅ It's still hot and the ocean is very warm, even though the summer rush is over
✅ Extend your summer with a trip to Maui in October
✅ Outside of the mid-month hotel cost peak, you can still find some reasonably priced accommodations
Reasons Why You Shouldn't Go to Maui in October:
❌ It's still hot. If you're bothered by the heat, save your visit for the winter months
Overall, yes, October is a great time to visit Maui. The weather is still hot, the crowds have thinned a bit, and you can find great deals on accommodations. What's not to love?
How to Find October Deals on Maui
You are saving on your hotel or vacation rental by coming in October. Kudos for that decision. Keep making good decisions to help your Maui vacation budget.
Read our Affordable Hawaii articles for activities, rental car, and hotel hacks to save you money.
If you want to get straight to the point on saving money in October, go to our Hawaii Recommendations to find our favorite deals on lodging and rental cars.
These are the deals we do ourselves when island hopping or having friends visit. Only our trusted vendors make it on this coveted list.
Going to Maui in October is a great idea. Have a wonderful time on the Valley Isle!