The Best 7 Day Oahu, Hawaii Itinerary Without a Rental Car
Disclosure: This post may contain affiliate links, meaning if you decide to make a purchase through my links we may earn a commission at no additional cost to you. Read about our affiliate policies here.
Explore the entire island of Oahu without the expense and hassle of a rental car. Here is your seven-day Oahu, Hawaii itinerary without a rental car. Plus, we share the costs of navigating Oahu without a rental car.
Oahu is the best Hawaiian Island to visit without a rental car. Traveling around the island is cost-effective with a mix of Ubers or taxis, guided tours, and staying in Waikiki. Avoid traffic, parking fees, and the hassle of a rental car to save about $300 over a seven-day trip compared to renting.
Here is the Oahu No Rental Car Challenge. In this seven-day Hawaii itinerary, I'll show you how to have your dream vacation to Hawaii without the burden of a rental car. Call this avoiding the traffic, having more money for fine dining, or reducing your stress. Let's see if you can do Oahu without a rental car.
Why You Don't Need a Rental Car on Oahu
Why vacationing on Oahu doesn't require a rental car comes down to geography, centrally located things to do, and an abundance of alternative modes of transport. Each of these helps shed the need for a rental car while still having a comfortable and fun trip.
Additional Oahu rental car resources:
Oahu's Geography Is Conducive to Not Having a Rental Car
Oahu is the third largest Hawaiian Island. Oahu is 44 miles long and 30 miles across, with 227 miles of shoreline. One can drive to any one point on the island in about 2 hours. Most of the popular locations worth visiting are an affordable Uber, Lyft, or taxi ride away.
For example, here are some travel times and distances from central Waikiki to popular towns and sights on Oahu.
Waikiki to Pearl Harbor is 25 minutes

Waikiki to Kailua Town is 30 minutes

Waikiki to Haleiwa Town, North Shore is 90 minutes

Waikiki to Ko Olina Resorts (Disney's Aulani) is 40 minutes
Waikiki itself is a small neighborhood in Honolulu. Measuring two and a half miles long and half a mile wide, Waikiki is walkable for most.
As Waikiki is just east of downtown Honolulu, a five to ten-minute taxi ride will take you to nightclubs, fine dining, theater, museums, and more. Waikiki is an ideal place to stay on Oahu if you choose to go without a rental car for your vacation.
Popular Oahu Sights are Centrally Located
While our Oahu, Hawaii itinerary below takes you to all corners of the island, the most popular sights worth visiting are located near Honolulu and Waikiki. Daniel K. Inouye International Airport (HNL) is the main commercial airport and is located a mere twenty minutes from central Waikiki.
One doesn't need a rental car to hike Diamond Head from Waikiki or hit up the local breweries in Honolulu. Pearl Harbor is a quick taxi or bus ride away from Waikiki.
We organized our 40 Things to Do Around Oahu list by area to help with your planning as it is all about geography.
Some of the island's best beaches are also along the southern shore around Honolulu or a shuttle ride to East Oahu.
Looking for some great snorkeling? I've taken the bus out of Waikiki to go snorkeling at the famous Hanauma Bay. Queen's Beach, part of Waikiki Beach, has good snorkeling also as we share in our Top 5 Oahu Snorkel Spots.
Oahu's Alternative Modes of Transport
Oahu has the best public transport system on any Hawaiian Island. With a population of over one million residents, the island is well connected for residents and tourists alike to travel with relative ease.
Oahu is notorious for bad traffic. Honolulu ranks as one of the worst cities for traffic. So not having a rental car will remove a lot of time stuck in gridlock from your beach time.
The train connecting southern Oahu will be operational someday. The train will connect Kapolei (near Ko Olina) to central Honolulu. No firm date has been provided on when the train lines will be fully open but when they do, Oahu will feel like a smaller island.
While staying in Waikiki, you will find the following modes of transport available to you.
The Bus – Honolulu's bus system, $2.75 for a one-way adult fare

The Waikiki Trolley – hop-on, hop-off trolley service with lines to popular sights

Taxis

Ubers and Lyfts

Shuttle Services – private or rideshare shuttles to/from the airport or other popular destinations

Biki Bikes – abundant bike rental kiosks, rent by the minute and hour

Drive Hui – similar to Flexcar, rent a car for the hour or day

Scooter rentals (apps available)

Guided Tours –

Hawaii Tours

is our go-to company for the best local tours
Don't feel like the default alternative to a rental car is riding the public bus. While Honolulu's bus system is well-priced and provides regular service, the alternative transport options may provide for a more relaxing and unique Hawaii experience.
For more information on Oahu's alternative transport, like links to The Bus and Waikiki Trolley, see this article: How to Get Around Oahu: Car, Bus, Bike, and More (a full guide)
Our Oahu, Hawaii itinerary below will take advantage of these alternative modes of transport and more to get you comfortably around the island.
Now that you are getting a better idea of how to get around Oahu, figure out what to pack for your Hawaii vacation.
When You Need a Rental Car on Oahu
A rental car is a must for some visitors. If you fall into one of the three categories below, then we recommend getting a rental car for all or some of your vacation.
If you're staying in Ko Olina or the North Shore. These are popular places to stay with the famous Ko Olina Resorts like Disney's Aulani and Ko Olina Four Seasons or Turtle Bay on the North Shore. But, these locations are far removed from popular sights and restaurants, making a rental car convenient and cost-effective.
You plan to do a lot of sightseeing. If every day is an excursion day away from Waikiki, a rental car will be convenient and cost-effective. My family always gets a rental car on Oahu because we rarely have a full day at Waikiki Beach. We are always out exploring the island.
Our favorite Oahu itinerary is designed with 7 excursion days that will take you to all the best parts of the island. We recommend you rent a car if you want to fully experience the best Oahu itinerary.
Or, rent a car when you need it for a specific day in the itinerary. Many visitors choose to rent at a Honolulu or Waikiki car rental office when they plan to do one excursion day that takes you to Waimanalo Beach on East Oahu or North Shore for hiking.
You just want the ease and accessibility of having a car. If you don't mind paying parking fees and just want to hop in your car and go, then a rental car provides a lot of freedom. For families, this may be the preferred reason for getting a rental car on Oahu.
If you are in any one of these three situations, then we recommend renting from a local company like Lucky Owl or getting a deal with Discount Hawaii Car Rental. With no prepayment and the best rates we can find with twenty cost hunting tabs open in our browser, we end up going with a nationally branded car rental company on Discount Hawaii Car Rental.
How To Vacation on Oahu Without a Rental Car
For punching the numbers on a cost comparison of renting a car for seven days versus not renting a car, we need some rules. These rules will work for most people considering going rental car-free on Oahu. You can modify my cost estimates if you have a larger party.
This is the best way to vacation on Oahu without a rental car:
Two-person vacation

Stay for seven days (one week)

Stay in Waikiki for the central location

The preferred mode of transport is Uber, instead of taxis or The Bus
We have a full article on How to Get Around Without a Rental Car on Oahu for further guidance.
As you can see, these Oahu No Rental Car Challenge rules are made to keep this challenge fair and realistic for the majority of Hawaii vacation goers.
Related article: How Many Days Do You Need on Oahu?
Oahu Rental Car Estimate
To estimate the cost of a rental car on Oahu, I looked at various weekly rentals during the busy winter season and the shoulder season of March to May. I also used Discount Hawaii Car Rental as they have the best deals.
A mid-size car averaged $685 a week, including taxes and fees.
Prices change a lot based on time of year, demand, and when one reserves but this is a fair estimate for normal times. Expect to pay more during the busy summer months and holidays but you could pay less during the shoulder season or if a company is running a promotion.
The rental car rate is but one part of renting a car in one of the states with the highest gasoline prices in the country (we are in the middle of the Pacific Ocean). Expect to pay $70 to fill up the tank after your week of cruising the shoreline.
Parking though is the second largest expense next to the rental car rate. Hotels and resorts in Waikiki and Ko Olina charge a parking fee. The parking fee averages $35 a night.
$245 in parking fees is expected for a one-week stay in Waikiki.
Free and cheaper parking is available but availability is scarce and you may spend a lot of time finding a spot.
The total estimate for a one-week stay on Oahu with a rental car comes to $1,000.
Let's see if we can beat $1,000 with this seven-day Oahu itinerary with no rental car.
7 Day Oahu Hawaii Itinerary With No Rental Car
Let's do a Hawaii vacation without a rental car and compare the cost of getting a rental car.
Note, some of the links below are affiliate links meaning we have partnered with these local vendors because we have used and loved their services. We appreciate your support for booking through these direct booking links. See how we make money here.
Transport from Honolulu Airport
Once you arrive, you can depart from the airport fast by taking a taxi or Uber to your hotel. Grab your bags and go.
Our recommended way to get to your hotel upon arrival in Hawaii is with Roberts Hawaii shuttle services. They are the go-to transport company on the island.
Roberts Hawaii is a shared passenger shuttle with pickup locations across the airport. They will pick you up and drop off passengers in the order of their hotels around Waikiki.
Tickets start at $50 a person, round trip.
Total for two people: $100 for roundtrip airport transfers
Day 1: Circle Island Tour
Start your Hawaii vacation off right with a tour of the island. We recommend doing this tour on the first day so you can get familiar with the layout of the island, learn the history, and perhaps find a favorite part that you want to visit again this week.
For the best local guides and nicest vehicles, book with Hawaii Tours. The Circle Island Tours will take you to Nu'uanu Pali lookout, a macadamia nut farm, the beaches of the North Shore, Waimea Valley to swim in a 40-foot waterfall (learn more here), and to see Mokoli'i island. Plus the guides know the best places to eat along the way.
Hawaii Tours offers two Circle Island Tours, ranging from $125 to $155 a person. The Grand Circle Island Tour offers more stops compared to The Majestic Circle Island Tour.
You can also hire a private tour of Oahu with a local guide to take you places on The Grand Circle Island Tour with just you and your partner, plus add in stops that are of interest to you. You can learn more about the private tour of Oahu here.
The Majestic Circle Island Tour: $125 per person x 2 = $250 total for a guided tour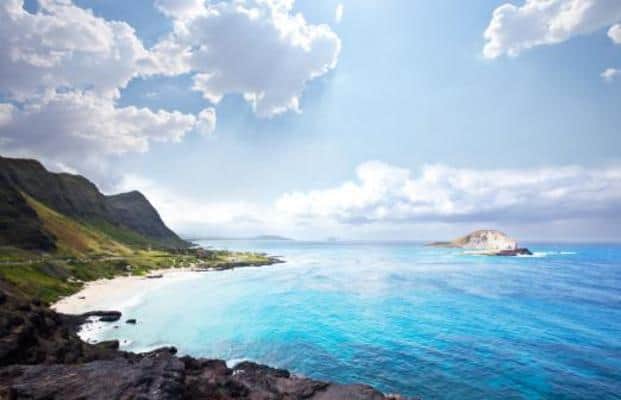 Day 2: Pearl Harbor National Memorial
A perfect day two on Oahu is to pay your respects at the USS Arizona Memorial and learn the history of the Pearl Harbor Air Raid.
We recommend making a day of Pearl Harbor as there is so much to see and do here. The Pearl Harbor National Memorial is free to enter and includes two museums, a visitor center, the USS Oklahoma Memorial, USS Utah Memorial, and the USS Arizona Memorial.
The non-profit historical museums around the National Memorial are worth visiting also. Start the day at the Pearl Harbor Aviation Museum. As the attack on Pearl Harbor was an air raid, you will gain a richer experience by starting here.
Then head to the USS Battleship Missouri to walk Surrender Deck, check out Mighty Mo's guns, and tour the battleship. You can purchase official tickets to the non-profit Pearl Harbor historical sites here.
Depending on the time of your reservation for the USS Arizona Memorial (our Oahu itinerary provides details on visiting Pearl Harbor and making reservations), you can visit the USS Bowfin Submarine or head to the Pearl Harbor Visitor Center.
As Pearl Harbor is 25 minutes from Waikiki, a roundtrip Uber ride is $64.
A Complete Pearl Harbor Historic Site Guided Tour by Hawaii Tours includes hotel pickup plus a tour of Honolulu after visiting Pearl Harbor for the day. We did this tour in August and had a blast, see our video below on our day at Pearl Harbor with Hawaii Tours.
Day 3: Tour Downtown Honolulu
From Waikiki, there are so many ways to get to Downtown Honolulu and the surrounding neighborhoods. You can hop on The Bus or hop in an Uber or taxi.
You can also explore the history of Honolulu on a bike with Bike Tour Hawaii. Starting in central Waikiki, Bike Tour Hawaii will take you on a historical tour of Honolulu for the morning. This is a fun and convenient way to see all the famous Honolulu sights with a local guide. The bike tour goes through all the best Honolulu neighborhoods. Learn more about Bike Tour Hawaii's Historical Honolulu tour. They also offer a Hawaiian foodies bike tour.
You can also easily explore Honolulu yourself. My favorite neighborhood is Chinatown and the Arts District. Spend the morning at the local farmer's markets and come back at night for the hip restaurants and jazz clubs in the area.
Don't miss the historical sights within walking distance from Chinatown. Spend a few hours touring the 'Iolani Palace, the home of Hawaiian Royalty, and check out Honolulu Hale and the first missionary church – Kawaiaha'o Church.
Watch our Honolulu Things to Do video for more ideas.
We recommend taking an Uber from Waikiki to Aloha Tower. You can walk from Aloha Tower to the main sights around Honolulu. Click here for directions to Aloha Tower.
Roundtrip fare to downtown Honolulu with Uber: $30
Day 4 and 5: Relaxing and Playing in Waikiki
After three days of adventure around the island, take some time to soak up Waikiki. It is no surprise that half of all Hawaii visitors come to Waikiki.
As Waikiki is only two and a half miles by half a mile wide, transport isn't an issue as you explore Waikiki. If walking isn't your jam, you can hop on a Biki Bike, a hop-on, hop-off Waikiki Trolley, or the many buses that go up and down the two main streets in Waikiki.
Don't think for a second that two days in Waikiki is too much. There is a lot to do, not including relaxing at your resort's pool.
You can surf the famous Waikiki break, soak up the sun on Waikiki Beach, board a sailboat from the beach for a daytime or sunset sail, and visit the Honolulu Zoo or Waikiki Aquarium. Waikiki is one of our Top 10 Beaches in Oahu.
There is also a lot of shopping, live music, hula performances, great food, and nightlife abounds. Check out our video on more things to do in Waikiki below.
We will assume you will have some fun by hopping on some Biki Bikes during your Waikiki days.
Cost: Biki Bikes $4.50 per ride x 4 rides = $18
Day 6: North Shore's Haleiwa Town
90-minutes north of Waikiki is the entrance to the famed North Shore. While most people think of big wave surfing, we like the North Shore for visiting Haleiwa Town and the surrounding beaches.
Related article: 10 Free Things to Do on Oahu's North Shore
Get dropped off in Haleiwa Town near Matsumoto's Shave Ice. Explore the town's art galleries, local stores, and coffee shops. Enjoy lunch at Kono's for their famous smoked pork or go to the even more famous shrimp trucks like Giovanni's or Jenny's.
Haleiwa is full of food trucks so have fun eating and enjoying the town.
To work off those food trucks, try your hand at surfing or stand-up paddleboarding at Surf N Sea. You can rent kayaks or paddleboards to go up the river with the chance to see Hawaiian Green Sea Turtles or just enjoy the leisurely pace on the river. If you are new to paddleboarding, learn more about SUP lessons with Surf N Sea.
As you are on the North Shore, try a surf lesson with North Shore Surf Girls.
For more things to do on the Oahu's North Shore check out the video below, plus tips on exploring Haleiwa town.
Cost: Roundtrip with Uber is estimated at $75
Note, this Uber estimate seems low for a 90-minute trip so be prepared to pay more or double-check with Uber's Fare Estimator tool.)
Day 7: Hiking and East Oahu
I hope you have plenty of energy left for another day of exploring Oahu without a rental car.
Exploring East Oahu is all about hopping on the Waikiki Trolley Blue Line.
The Blue Line is a hop-on, hop-off shuttle service taking you the following and recommended East Oahu locations:
Diamond Head State Monument for a hike

Halona blowhole and beach

Sandy Beach

Leonard's Bakery food truck for malasadas
The Waikiki Trolley is an inexpensive way to explore this part of the island. Hiking Diamond Head Crater early in the morning is a wonderful start to your day and a perfect end to your trip with the view of Waikiki.
Cost: $25 per person for a ticket on the Waikiki Trolley, $50 total
Total Costs from Oahu, Hawaii Itinerary With No Rental Car
Thanks for coming with me on this seven-day itinerary around Oahu. I hope you enjoyed the trip. After the dust has settled, what is the final cost for avoiding a rental car on Oahu?
Totaling up the estimates from the seven days, the total cost is $587.
Let's round up to $600 and add in $100 for tips and other expenses, like an Uber or taxi getting stuck in traffic.
Therefore, you can explore Oahu for seven days without a rental car for about $700 compared to $1,000 for getting a rental car.
For the cost, the winner goes to not getting a rental car while staying on Oahu. Thanks for playing my Oahu No Rental Car Challenge.
Getting a rental car or not getting a rental car, make sure you enjoy all that Oahu has to offer. Check out more of our favorite activities and guided tours on Oahu here.
While there is so much to do on Oahu for free or low cost, these excursions are what will make your trip memorable. Like snorkeling with sea turtles, surfing Waikiki, or kayak to the mokes!
If this rental car-free itinerary isn't for you, check out our favorite Oahu itinerary here. A rental car is recommended as we take you all over the island to our favorite spots, places to eat, and the best hikes on Oahu.
Get The Oahu Itinerary
The step-by-step itinerary takes you to all the best beaches, snorkeling spots, restaurants, and sights. You'll get six carefully planned excursion days to help you see the can't miss stops no matter how limited your time is.
Get all the details on our itinerary and download it for a memorable and easily planned trip to Oahu.