The 21 Best Things to Do in Waikiki
Disclosure: This post may contain affiliate links, meaning if you decide to make a purchase through my links we may earn a commission at no additional cost to you. Read about our affiliate policies here.
Waikiki has been a popular destination for travelers since the 1800s. And while a lot has changed since it was used as a retreat for Hawaiian royalty, it still continues to attract people from all around the world for its beautiful beaches, fun outdoor activities, and vibrant city-like culture.
As the most visited part of any island in Hawaii, Waikiki has no shortage of things to do and see. Whether you're here to sunbathe, shop, or surf, you're in for an unforgettable vacation when you stay in Waikiki.
But to help you narrow down your list of activities, we've put together a curated selection of tours, restaurants, and must-see sights. That way you can plan out your trip to make the most of your time in this tropical metropolitan paradise.
Looking to book a great Waikiki tour? Here are the quick links for the tours that made this list:
Head out on a relaxing and budget friendly sunset sail.
Pick a Turtle Canyon snorkel tour and check out this incredible turtle cleaning station.
Experience a real life submarine on the Atlantis XIV.
Take flight and see Waikiki from above on an incredible Honolulu Helicopter Tour.
Pick a Pearl Harbor tour that fits your groups needs, from full day, to private, to budget friendly.
For non Hawaii residence, make reservations to hike Diamond Head
Visiting Waikiki: the FAQs
Where is Waikiki?
Waikiki is located on the island of Oahu, which is the most populated island in the state of Hawaii. Sandwiched between the downtown city center of Honolulu and the legendary Diamond Head crater, Waikiki is nestled on the southeastern coast of the island.
It's about a 15 to 20-minute drive from the Daniel K. Inouye International Airport (Honolulu Airport), making it easy for incoming visitors to reach. From Waikiki, you can also reach the North Shore in 45 minutes, Pearl Harbor in 20 minutes, and Kailua in 25 minutes.
What is Waikiki best known for?
If you were to ask 100 people about what makes Waikiki so special, you'd likely receive 100 different answers.
For some, it's the sparkling Waikiki Beach, views of Diamond Head, and a pristine coastline that attracts snorkelers, swimmers, surfers, and boaters. But for others, it could be the glitzy resorts and shopping centers where you can purchase practically everything under the sun.
And let's not forget about the culture! As the epicenter of tourism in Hawaii, Waikiki is full of history and spirit. When you're here, you can watch traditional hula dancing, learn about Hawaiian royalty, or even indulge in the delicious flavors of Hawaiian cuisine.
So, there's not really a simple answer to what Waikiki is known for. You'll just have to go for yourself to find out!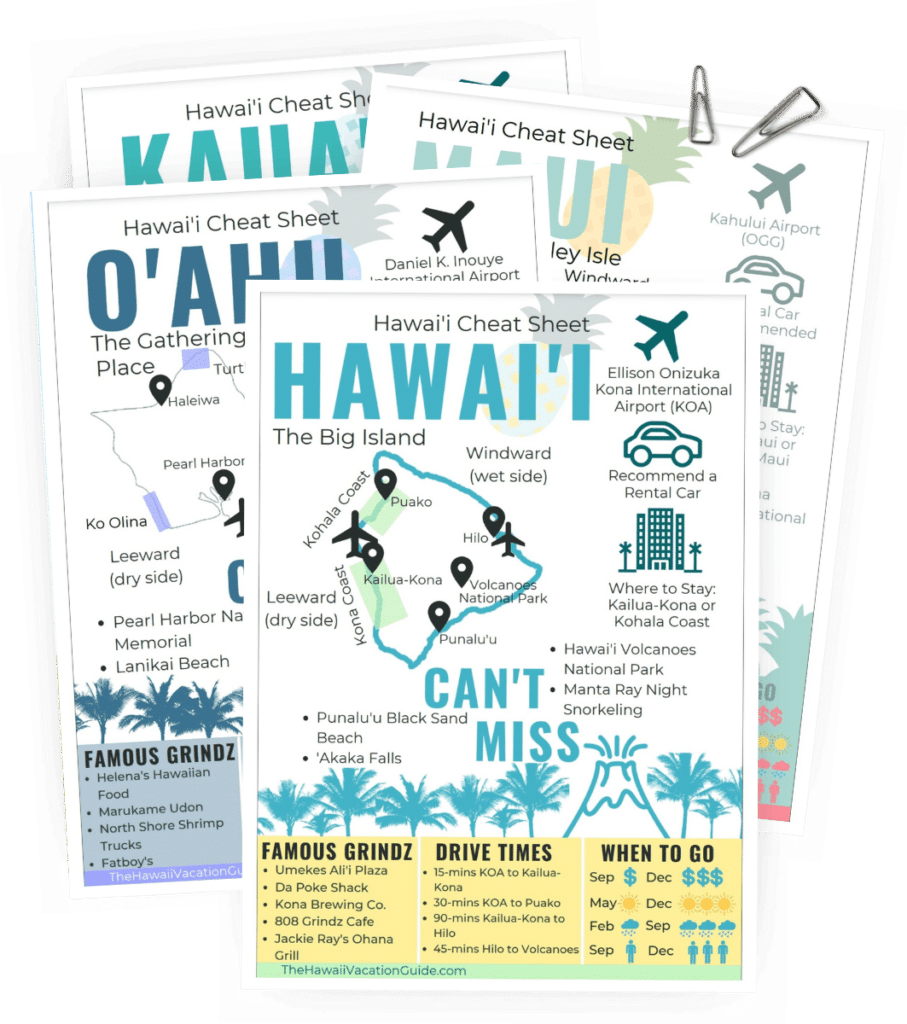 Free Download!
Hawaiian Island Cheat Sheets
Sign up & we'll send you our island cheat sheets so you can get to know the islands like the back of your hand!
We'll share 4 can't-miss activities on each island, a map with the main sights in town, & famous local grindz (eats)!
Is it worth it to go to Waikiki?
Waikiki is a special place unlike anywhere else in the Hawaiian islands. If you want a lively atmosphere with lots of dining, shopping, and activities, Waikiki can be an excellent spot for vacation. And although it's very developed and big-city-like, it also has beautiful beaches and fun outdoor activities where you can be out in nature.
However, we understand that Waikiki isn't for everyone. Those seeking a more peaceful or quiet vacation may find the hustle and bustle too much for their liking. Beaches, hotels, and sights can be very crowded, so it's not the best destination if you are hoping for a relaxing getaway.
But even if Waikiki isn't at the top of your vacation bucket list, we still believe that it's worth seeing. There's a fascinating history and culture that we think will pleasantly surprise you.
Is there a difference between Waikiki and Honolulu?
You might hear Waikiki and Honolulu being used interchangeably – but this is incorrect! Honolulu is a city and the county (it also happens to be the capital of Hawaii). Waikiki is a neighborhood in Honolulu and a famous tourist area.
Is it easy to get around Waikiki without a car?
Waikiki is very walkable, so it's definitely possible to get around without a car. It's only a few blocks deep and roughly 2 miles long, with many of the main attractions (including hotels and restaurants) being located near the water.
And generally speaking, you can easily get around all of Oahu without needing a car. With taxi, Uber, and public transportation, its possible to visit a lot of interesting sights and attractions. Many tours also include pickup and drop off in Waikiki, which can be helpful if you choose not to drive yourself.
The only exception is if you are staying in Ko Olina or the North Shore. Because these places are more secluded, it's much more cost-efficient if you have a car you can use during your visit.
Related reads:
The Ultimate Ko Olina Guide: What to Do, Where to Eat, Where to Stay
The Best North Shore Oahu Hotels and Vacation Rentals
21 Amazing Things to Do on Oahu's North Shore
Map of Things to Do in Waikiki
The Top 21 Things to Do in Waikiki
1. Escape the Crowds on Waikiki Beach
Nearly half of all visitors to Oahu stay in Waikiki, so you can imagine how crowded it can get on the beach. While Waikiki Beach may not be the most off-the-beaten-path destination, it's still possible to find some secluded spots (if you know where to look!).
You'll find that the busiest sections of the beach are right in the middle in front of the Royal Hawaiian and Moana Surfrider hotels. Crowds tend to dissipate the further away from the center you go, so check here first if you are seeking peace and quiet.
We also recommend Kahanamoku Beach near the Hilton Lagoon or Queen's Beach near Diamond Head. They are less crowded but still ideal for those wanting to be on this side of the coast.
Next to Queen's Beach is Kuhio Beach, another one of our favorite spots. The water is very calm and shallow since it's protected by the Waikiki Walkway, making it the perfect place for families and snorkelers.
2. Surf Waikiki Beach
As one of the top surfing destinations in the world, Waikiki is an awesome place to learn how to ride waves. But don't be discouraged if you've never been on a board before. There are surf schools all along the coast where you can try this legendary sport for yourself.
When it comes to surf lessons, we highly recommend the Ohana Surf Project. They offer group, private, and semi-private classes for all skill levels – even beginners! So, even if you're a first-timer, you can feel confident knowing you're learning everything there is to know from your professional coach.
This is also an excellent activity for families, as they're willing to teach kids as young as 2! However, kids under 12 will need to book a private lesson (or family lesson with one parent), and kids under 6 will likely need to share a board with the instructor.
3. Friday Fireworks
If you're in Waikiki on a Friday, then you won't want to miss the weekly fireworks show. While fireworks are lit by the Hilton Hawaiian Village Waikiki Beach Resort, anyone can come and enjoy the show for free.
Just grab a spot on the beach, and you'll have front-row seats to the amazing fireworks display. Things kick off at 7:45 PM sharp, so make sure you're there on time. This has been a tradition for almost 35 years, and it is one of the best free things to do in Waikiki!
4. Acai Bowls at Tropical Tribe
When you're craving a refreshing, sweet treat, stop by Tropical Tribe for a tasty (and healthy!) acai bowl. Tropical Tribe once started out as a lunch wagon, but due to overwhelming popularity, they finally opened a shop right in the heart of Waikiki. And now, they have three different locations in Hawaii!
Of course, the best thing to get here is an authentic Brazilian bowl, which is made with a blend of acai and guarana berries. You can then choose your favorite toppings like fruit, honey, and nuts, as well as any additional add-ons.
You can visit them in their Waikiki location or their Ala Moana location.
Waikiki: 2161 Kālia Rd Suite 110, Honolulu
Ala Moana: 1778 Ala Moana Blvd #101, Honolulu
5. Fresh Poke at Sato Seafood
Poke is one of those quintessential Hawaiian meals that you have to try at least once during your trip. You can find this mouthwatering raw fish dish everywhere – from fine dining restaurants to grocery store counters. However, we think the best poke on the island is right in Waikiki.
Sato Seafood is right behind the International Marketplace, so it's easy to reach no matter where your hotel is. They specialize in all types of poke, although we highly recommend the Hawaiian Munchies (crispy garlic with soy glaze) or the Spicy Maui Maui (spicy mayo with chili oil).
They also have different bowls, rolls, and snackable appetizers, so make sure you come with an appetite!
Sato Seafood: 2310 Kūhiō Ave. #215, Honolulu
6. Go to a Japanese Noodle House
Hawaiian cuisine is strongly influenced by Japanese culture, which means there are some great Japanese restaurants located on the islands. Muragame Udon is one of the best, especially if you're craving a big bowl of hot noodles.
All udon dishes are made to order, and you can even watch the chefs in action while you wait! You can't go wrong with anything on their menu, but the Nikutama (udon with umami sauce) or the Curry (udon with curry sauce) are fan favorites. They also have rice bowls, salad, and crispy tempura treats too.
Don't be surprised if there's a long line outside when you arrive. This place is very popular, but it's well worth the wait. And because things are served cafeteria style, the line tends to go pretty fast, so you won't have to wait too long to eat.
Marugame Udon: 2310 Kūhiō Ave., Honolulu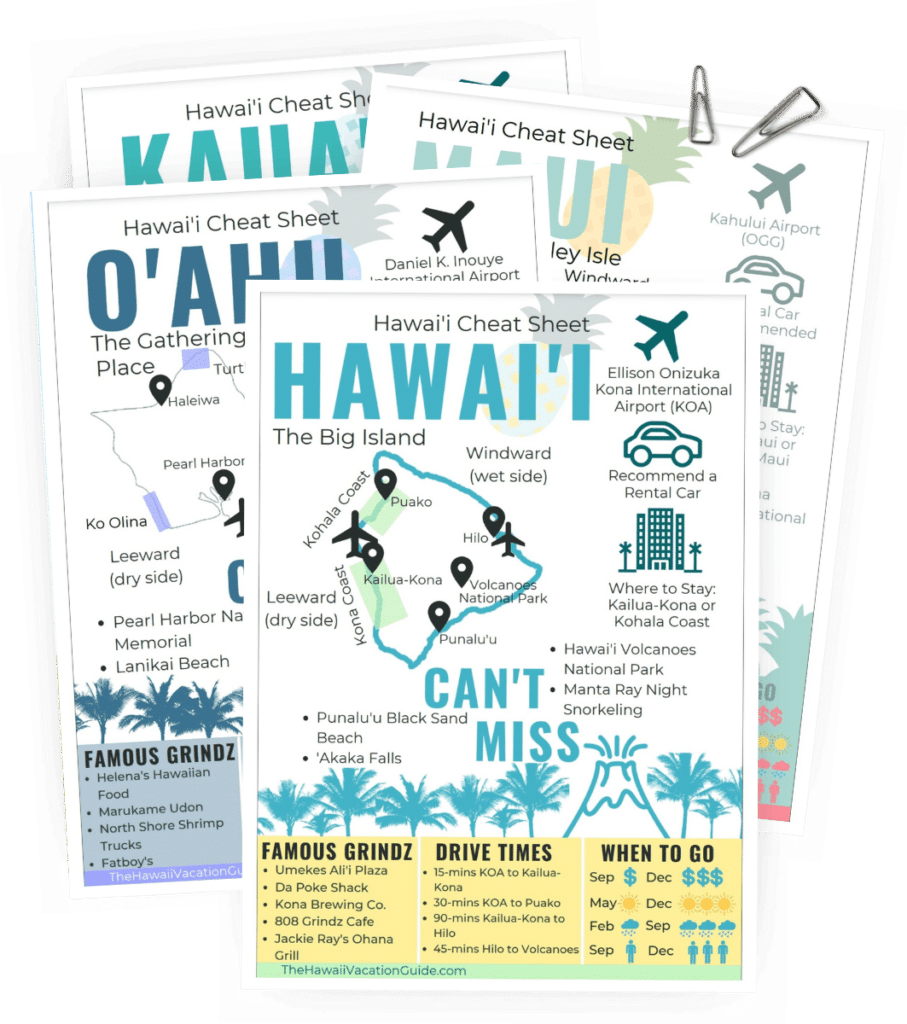 Free Download!
Hawaiian Island Cheat Sheets
Sign up & we'll send you our island cheat sheets so you can get to know the islands like the back of your hand!
We'll share 4 can't-miss activities on each island, a map with the main sights in town, & famous local grindz (eats)!
7. Enjoy a Free Hula Show
If you don't have the time or budget for a luau dinner, don't fret. You can still watch this traditional Hawaiian dance at the Royal Hawaiian Center in Waikiki. In the middle of all the shops and restaurants is the Royal Grove, an outdoor space that puts on free live entertainment throughout the week.
On Tuesday evenings, the Kawika Trask Trio performs live, often with traditional hula dancers. And on Wednesdays, you can also watch the Puʻuhonua Performance, another luau-type performance. If you're in town on the weekend, you can also watch the Hula Kahiko show on Saturday, which features dancers, music, and chanters.
In addition to the live performances, the Royal Hawaiian Center also has free hula dancing lessons (Tuesdays for adults and Thursdays for kids). Best of all, all these shows and classes are completely free.
8. Grab a Mai Tai
The Royal Hawaiian is arguably one of the most iconic hotels in Waikiki. With its pastel pink facade and nearly 100-year history, the hotel is a historic gem that is guaranteed to wow.
However, you don't have to be a guest to visit! Grab a seat at the Mai Tai Beach Bar and enjoy a refreshing tropical drink while you admire the crashing ocean waves of Waikiki Beach.
As you can probably guess, their signature drink is a Mai Tai, a cocktail made with two types of rum, orange curocao, and juice. The hotel claims that it was the first place to serve the drink after it was brought over to Hawaii, so sipping on a Mai Tai is like taking a sip of history!
For the best views, make sure to come during sunset. The bar also has live music every night from 6 PM until 10 PM.
9. Visit the Honolulu Zoo
A trip to the Honolulu Zoo is one of the best family activities for animal lovers. Located inside ​​Kapiʻolani Regional Park (on the far eastern side of Waikiki by the slopes of Diamond Head), this 42-acre zoo has over 1,200 animals to see!
From scaly reptiles and swinging primates to exotic birds and African savannah giants, a visit to the zoo is guaranteed to be an unforgettable excursion.
If you want to make your visit even more memorable, we recommend booking a Twilight Tour. This two-hour walking tour takes place after the zoo closes to the public. You'll get to see exhibits without the crowds, as well as a few nocturnal creatures that aren't active during the day.
If you're traveling with accessibility needs or mobility aids, Hawaii has your back and we've broken down what to expect and everything you need to know about accessibility in Hawaii.
10. Enjoy the Aquarium
A bit further down the coast from the Honolulu Zoo is the Waikiki Aquarium. Here, you can find all types of local and exotic marine life, like seahorses, parrotfish, and even green turtles!
While the aquarium is a bit on the small side (you should be able to go through the entire thing in under an hour), it's still worth a visit to support the work the employees do for marine conservation. And a fun fact – the aquarium has been around since 1904, making it the second oldest of its kind in the entire United States!
11. Outrigger Canoe Ride
Outrigger canoes have been used in Hawaii for centuries, which is why they play an important role in the state's history and culture. And while it may look complicated to paddle one across the rolling waves of Waikiki, it's actually pretty easy (and super fun) once you get the hang of it!
Canoe rides are very safe, too, and a great activity for families since kids are usually welcomed aboard. Once you learn the basics of paddling, you'll be taken out to the ocean, where you can put your knowledge to the test. You'll also be with a captain every step of the way in case you need some assistance!
During the tour (most trips last around 30 – 40 minutes), you'll be rewarded with stunning views of Diamond Head, Waikiki, and the beautiful Honolulu skyline.
12. Sunset Sail
Whether you're celebrating a special occasion or just looking for an excuse to get out on the water, a sunset sailing trip is guaranteed to be an exciting excursion. This 1-hour catamaran sail departs in front of the Moana Surfrider Hotel and lets you trade the bustle of Waikiki for the tranquility of the open ocean.
Besides the panoramic views of Waikiki and Diamond Head, you'll also get to see wildlife like sea turtles and dolphins. And if you happen to be in town from December to March, there's also an opportunity to see humpback whales!
On board, you can purchase drinks like Mai Tais, beer, and soda. You're allowed to bring your own food and drinks too, as long as they aren't in glass containers. Unlike other sunset cruises, which are more expensive due to the open bar, this one is more affordable and great for couples or families on a budget.
The sunset cruise leaves at 5:30pm, but if you prefer to go during the day, there are also several daytime sails available.
13. Snorkel Turtle Canyon
Right off the coast of Waikiki is Turtle Canyon, one of the island's most popular snorkeling destinations. It's here where dozens of Hawaii Green Sea Turtles come to have fish remove potentially harmful algae, parasites, and barnacles from their shells.
Watching the turtles at the turtle cleaning station is really a unique experience, although it can get quite busy with all the tour groups coming in and out. There are several different tours to choose from, although we recommend booking one that goes early in the morning when it's less crowded.
One thing to keep in mind is that most tours depart from Kewalo Basin Harbor, which is approximately 10 minutes away from downtown Waikiki by car.
14. Sunset Pupus at the House Without a Key
There are so many good restaurants in Waikiki, but we absolutely love the laid-back vibes at the House without a Key. This open-air lounge is located in the upscale Halekalani Hotel. Grab a seat and enjoy the picturesque ocean and sunset views while you snack on pupus (Hawaiian appetizers) and sip on delicious tropical cocktails.
If the views aren't enticing enough, maybe the live entertainment will be! Every night, there's live music and hula dancing to help create the perfect Hawaiian ambiance.
House Without a Key: 2199 Kālia Rd, Honolulu, HI 96815
15. Hike Diamond Head
As one of the most recognizable landmarks in Oahu, Diamond Head is a must-visit for any hiking enthusiasts. From the summit of this volcanic crater, you'll have unparalleled 360-degree views of the ocean, beaches, and city skyline.
Hiking the Diamond Head Summit Trail should only take you 2 hours (it's 1.6 miles roundtrip). It's of moderate difficulty considering the steep switchbacks and sets of stairs that wind up the slopes.
If you are a non-Hawaii resident, advanced reservations are required to visit Diamond Head and the hiking trail. There's also a small entrance fee as well as a charge for parking. However, you can walk from Waikiki (plan for at least an hour) if you're feeling up for it.
16. Shop on Kalakaua Avenue
Stretching all the way from Ala Moana to Kapiʻolani Regional Park is Kalakaua Avenue, Honolulu's premier shopping street. This lively thoroughfare is lined with shopping malls, luxury stores, and more restaurants and bars than you can count.
Every visitor to Waikiki walks along this street at least once during their visit, as it's the most lively part of the neighborhood. And while many of the shops are similar to what's on the mainland, there are some cute souvenir shops to take a piece of Hawaii back home with you.
17. Rent Aquatic Trikes at the Duke Kahanamoku Lagoon
Duke Kahanamoku Lagoon is a manmade body of water on the western point of Waikiki Beach near the Hilton Hawaii Village. With calm and shallow waters, it's a popular place for families or swimmers who aren't quite daring enough to tackle the larger waves of the Pacific Ocean.
It also happens to be one of the only places where you can rent an Aqua Cycle, which is a three-wheeled water tricycle! By peddling, you can cruise around the lagoon while enjoying the nice views and marine life (there are lots of little fish swimming in the water).
Check out some of our favorite Waikiki accommodations with reviews!
The Royal Hawaiian Hotel Review: stay at the pink palace (my absolute favorite Waikiki hotel)
Moana Surfrider: the First Lady of Waikiki
Beachcomber by Outrigger: our favorite value hotel in Waikiki
18. Ride in a Submarine
If you want to explore the ocean without getting wet, then book an underwater tour on the Atlantis XIV, a real life submarine! As you descend 100 feet below the ocean's surface, you'll come face-to-face with turtles, sharks, eels, and whatever else is lurking down there.
To get to the submarine, you'll take a small shuttle boat from the Hilton Hawaiian Village. This is an awesome excursion on its own, as you'll be able to see Diamond Head, the Honolulu skyline, and even whales (if visiting in winter).
From there, you'll transfer to the submarine for your 45 to 50-minute-long dive. Unfortunately, this may not be an option for those with young kids, as all passengers need to be at least 36 inches tall.
19. Enjoy a Luau
There's a reason why Hawaiian luaus are popular with visitors. Not only do you get to learn about Polynesian history and culture, but you'll also be treated to live entertainment and a delicious buffet feast.
If you want to see a luau without leaving Waikiki, Queens Luau is your best bet. It's not a luxury luau with ocean or sunset views (the show is inside the International Market Place Mall), but it's an affordable option with pretty decent entertainment and food.
Dinner starts at 6:00 PM, and the hula and fire knife dancing will follow at 6:45 PM. However, make sure to come early (doors open at 4:30 PM) so you can take part in the cultural activities beforehand.
If you're looking for even more options, pick from the best luaus on Oahu (in our honest opinion).
20. Get a View From Above
There are so many wonderful places to soak in those gorgeous Hawaiian landscapes, but there's no experience quite like seeing the island on a helicopter ride. With Honolulu Helicopter Tours, you can admire Oahu from high in the sky on one of the three different tour offerings.
The 18-minute and 30-minute tours are short jaunts over Waikiki, downtown Honolulu, Diamond Head, and the Diamond Head Lighthouse. However, you can also book the extended 60-minute flight, a circle island tour that also travels up the eastern coastline to the North Shore.
All tours are private and, therefore, a bit on the pricier side. However, it's really a once-in-a-lifetime opportunity to see Oahu from this perspective!
21. Head Out of Town on a Tour to Pearl Harbor
Although it's technically not in Waikiki, Pearl Harbor is one of those things that every person should see at least once during their visit to Oahu. This historic attraction has four different museums that are worth visiting – the USS Arizona Memorial, the USS Bowfin Submarine, the USS Battleship Missouri, and the Pearl Harbor Aviation Museum.
If you are interested in visiting all of them, plan on spending a full day (9 to 12 hours) at Pearl Harbor. Some tours will include entrance to all four, while others will only make stops at one or two places. For the most flexibility, you can book a private tour, although this will be more expensive than a group tour.
You can check out a list of the best Pearl Harbor Tours here.
We strongly suggest reading through the exact itinerary for any tour you're interested in. Not all companies include transportation to and from your hotel, so double-check the fine print if this is important to you. If you go with a larger group or bus tour, pickup will likely be at a set location in Waikiki.
Related reads:
21 Amazing Things to Do on Oahu's North Shore
7 Awesome Vacation Rentals in Waikiki: Pick The Right Place
Book One of The 7 Best Snorkeling Tours on Oahu
The Best Oahu Itinerary
There's a lot to consider when planning your trip to Oahu. Let's narrow down your decisions to only the best with the Oahu Wayfinder Itinerary. The best restaurants, hotels and vacation rentals, beaches, things to do, and tours. We get specific, all the way down to where to park so you feel like a seasoned Hawaii traveler even if it's your first time.
I am a "Rock Star" with my family because of your itinerary. Thank You! SO much!

Monika C.
Get The Oahu Itinerary
The step-by-step itinerary takes you to all the best beaches, snorkeling spots, restaurants, and sights. You'll get six carefully planned excursion days to help you see the can't miss stops no matter how limited your time is.
Get all the details on our itinerary and download it for a memorable and easily planned trip to Oahu.