Your Comprehensive Guide to Hawaii Handicap Accessible Trip Planning
Disclosure: This post may contain affiliate links, meaning if you decide to make a purchase through my links we may earn a commission at no additional cost to you. Read about our affiliate policies here.
Hawaii is known for its wild landscapes, undeveloped beaches, and slower pace of life. Do those characteristics make Hawaii handicap accessible?
Hawaii is handicap accessible with a well-planned trip. Hawaii has handicap-accessible beaches, ADA-compliant resorts, adapted vehicle rentals, and disability-friendly things to do. Oahu has the most services making it the most disability friendly Hawaiian island.
We share all of these Hawaii handicap-accessible things to do and services below. You can be the judge if Hawaii is the right place to visit for your vacation.
For full disclosure, our family does our best to keep an open eye for handicap-accessible options but due to our mobility, we can't get everything correct. Traveling with a stroller is not the same as one in a wheelchair. Feel free to email us if you have concerns or questions about visiting Hawaii with a disability that is not answered in this article. We will do our best to answer your traveling to Hawaii with a disability question!
Tips for Planning a Hawaii Handicap Accessible Vacation
Visiting Hawaii can be a trip of a lifetime for many. Planning can be overwhelming, let alone when one has a disability. We hope this guide to traveling to Hawaii with a disability helps you plan your vacation.
Here are some quick tips for making a more disability-friendly trip to Hawaii:
Consider visiting the island of Oahu (Oahu Travel Guide). Oahu is the most populated and most visited Hawaiian Island so you will find more services and infrastructure for wheelchairs to other needs.
Stay in Waikiki. Waikiki is a cosmopolitan neighborhood of Honolulu, Oahu. The small area is full of restaurants, wheelchair-accessible beaches, and resorts that are ADA-compliant. The flat area also has large sidewalks and curb cuts abound. See our 21 Things to Do in Waikiki to see what works for you!
Hawaii gets busy during the high seasons of Christmas and the summer. Book your adapted vehicle, a room with a roll-in shower and wheelchair-accessible lanai (balcony), and medical equipment early to ensure it is available.
Consider making a resort your inclusive home base. Hawaii resorts are not all-inclusive but you will find all you need in the resort with restaurants, entertainment, shopping, pools, and beach access.
Handicap-accessible beaches are maintained by the state or county. While most beaches in Hawaii are kept wild (lack infrastructure), some of the best beaches are handicap accessible and provide all-terrain wheelchairs. See our Hawaii handicap-accessible beaches list below.
Weather! Battling high winds or the rain doesn't need to be another hurdle for you. Check our Best Time to Visit Hawaii for data on when you should visit.
Try a tour! Circle Island tours to boat tours have wheelchair-accessible options (transfer may be required) or have comfortable seating and walking areas for those with other disabilities.
Consider sticking to one island during your visit as island-hopping is still a travel day. That didn't stop one newsletter member who visited all four Hawaiian islands with a broken ankle!
Don't be shy to ask a lot of questions before booking a Hawaii hotel or tour. Inquire about potential triggers such as the following:
Tour size
Pickup or drop-off requirements
Physical demands of an activity
High altitude
Emergency services
Temperature or weather excursions (tours in Hawaii can take you from sea level to 10,000 ft in a few hours)
By calling during the planning stages you can identify unqualified tour operators or hotels.
Explore the details below on visiting Hawaii with a disability. You know your needs the best so hopefully you can determine what type of trip is best for you with this information. Check out our First Timers Guide to Hawaii for more tips!
Experts to Help You Navigate Handicap Accessible Hawaii
We have been traveling to Hawaii for decades as we love to learn and explore all there is to know about the Hawaiian Islands. Traveling to Hawaii with a disability does present unique challenges that we may not be familiar with giving advice on visiting. Here are professional resources for traveling to Hawaii with a disability.
The Hawaii Department of Health: Disability and Communication Access Board works with each of the four major Hawaiian Islands to publish accessibility brochures: Kauai, Maui, Oahu, and the Island of Hawaii.
The Hawaii Tourism Authority's Accessible Hawaii shares a Directory of Services for Disabilities to help Hawaii travelers with disabilities locate special needs services like wheelchairs and adapted vehicle rentals
Tour operators are locally owned and operated. They are wonderful people and strive to be the best in service as competition is fierce in Hawaii. Give them a call to discuss your situation. They can provide advice on accessing their tour with a disability or recommend another tour company for your needs.
See our Tours and Activities for our favorite and vetted Hawaii tours. We share our experience via videos for many of the tours. You may be able to figure out if the boat or shuttle will work for your disability.
The same goes for Hawaii hotels. We have found their websites are lacking in disability information. Call their concierge desk with your questions about their Hawaii-accessible resort.
Handicap Accessible Beaches in Hawaii
Handicap-accessible beaches in Hawaii are a mixed bag. The good news is there are all-terrain wheelchairs at some county and State of Hawaii-maintained beaches. While we have not seen beach mats at any beaches in Hawaii, the all-terrain wheelchairs will help you enjoy the surf and sand on Hawaii beaches.
As these beaches are Beach Parks maintained by the counties, you will find handicap-accessible bathrooms and ramps to aid in getting to the beach.
We have found Hawaii State Park Beaches are well maintained as handicap-accessible beaches. You will find ADA beach access paths and restrooms.
Albeit, some Hawaii State Beaches like Waianapanapa Black Sand Beach on the Road to Hana do not have a ramp to the beach as it is a cove. If you plan to visit a State Park, check the specifics on handicap accessibility.
We take ocean safety seriously in Hawaii as the Pacific Ocean shall not be trusted. Check Hawaii beach ocean conditions before you head out to any beach.
Snorkeling in Hawaii is wonderful from the shore. Check the beach list below with our favorite snorkeling spots on each island.
Oahu Handicap Accessible Beaches
The following beaches on Oahu offer all-terrain wheelchairs for handicap-accessible beaches:
Ala Moana Beach Park (Honolulu)
Fort DeRussy Beach (Waikiki Beach)
Sans Souci Beach (Waikiki Beach)
Hanauma Bay Nature Preserve Nature Preserve (reservation required at Hanauma Bay)
Kailua Beach Park (Kailua – Windward Coat)
Kuaola Regional Park (Windward Coast)
Pōkaʻī Beach Park (West Oahu)
For information and to confirm details before visiting, contact the City and County of Honolulu, Department of Parks and Recreation at (808) 768-3027. Here is a full list of the 10 Best Oahu Beaches.
Maui Handicap Accessible Beaches
Here is a list of Maui's handicap-accessible beaches that are popular and worth visiting. To request an all-terrain wheelchair, you will need to call Maui Ocean Safety Office at 808-270-6136.
The following beaches on Maui have ADA access:
Charley Young Beach (South Maui)
Kalepolepo Park (South Maui)
Kamaole I (South Maui) – Beach Access Chair is available
Kamaole III (South Maui) – Beach Access Chair, ADA pathways, ADA parking, ADA restrooms
Polo Beach (South Maui) – ADA parking & ADA restrooms
D.T. Fleming Beach (West Maui) – Wheelchair ramp leading to beach; Restrooms are ADA accessible
Honokowai Beach Park (West Maui) – ADA accessible and ADA pathways
Launiupoko Beach Park (West Maui) – ADA accessible
Wahikuli Wayside Park (West Maui) – ADA accessible, ADA pathways, ADA parking
Hana Beach Park (East Maui) – ADA accessible
For more details on these handicap-accessible Maui Beach Parks, visit Maui Parks & Recreation. Explore our 17 Best Maui Beaches for more ideas.
Kauai Handicap Accessible Beaches
The following beaches on Kauai offer all-terrain wheelchairs from 9:30 AM to 4:30 PM. For more information, you may contact the Ocean Safety Bureau at 808-241-1921 or [email protected].
Lydgate Beach Park (East Kauai) – lifeguard on duty
Poipu Beach Park (South Shore Kauai) – lifeguard on duty
Salt Pond Beach Park (West Kauai)
Kauai has a lot of beaches but their handicap-accessible beach list is short. See our 7 Best Family-Friendly Beaches on Kauai for more ideas.
Big Island (Hawaii) Handicap Accessible Beaches
The County of Hawaii Parks and Recreation shares services and amenities for all their parks here: handicap accessibility.
The following beaches on the Big Island offer Hawaii handicap-accessible beaches:
Hapuna Beach State Park is handicap accessible with a large, paved ramp down to the beach but no beach mats.
Isaac Kepo'okalani Hale Beach Park (Puna) – lifeguard on duty
Keokea Beach Park (North Kohala)
Kahaluu Beach Park (North Kona)
Coconut Island (Moku Ola) in Hilo Town
Onekahakaha Beach Park (South Hilo)
Reeds Bay Beach Park (South Hilo)
Punaluu Black Sand Beach Park (Ka'u)
Spencer Beach Park (South Kohala) – lifeguard on duty on weekends and holidays
Kohanaika Beach Park (North Kona)
Hookena Beach Park (South Kona)
All-terrain wheelchairs are available for Surf Day events at designated beaches in Hilo and Kona on scheduled dates. For more information, contact the County of Hawaii, Department of Parks and Recreation at (808) 961-8311.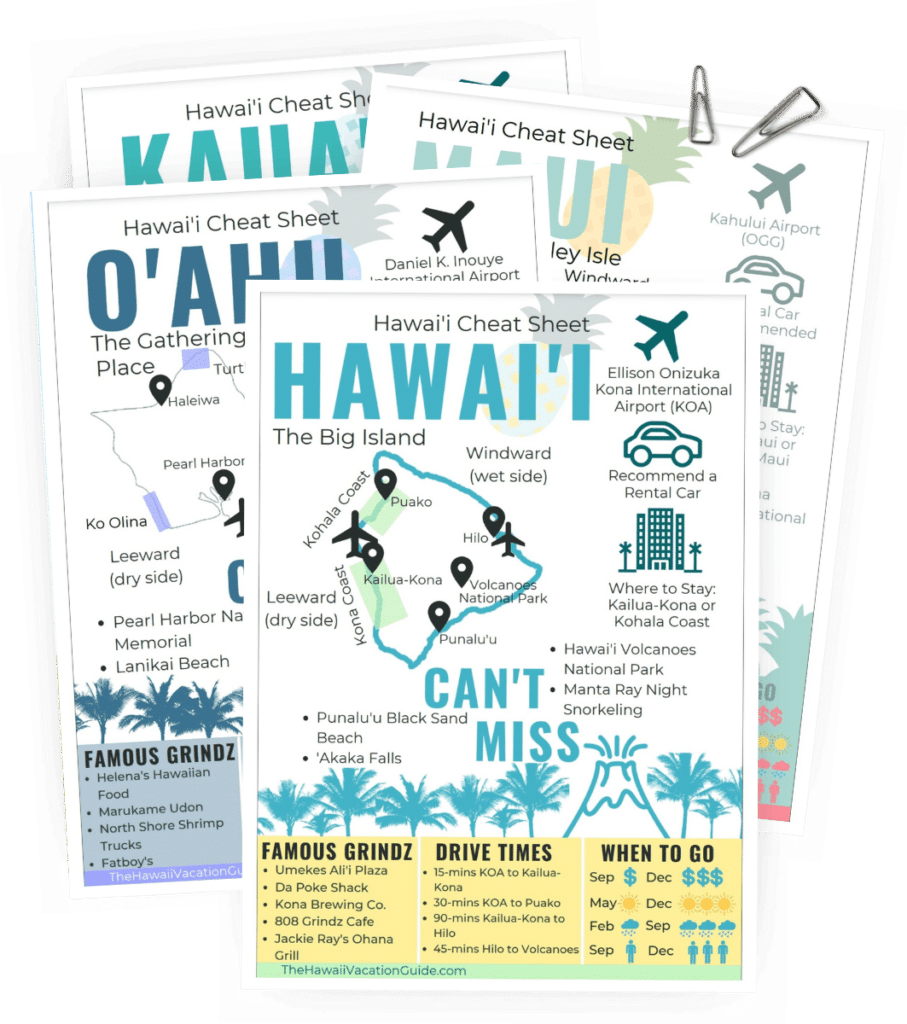 Free Download!
Hawaiian Island Cheat Sheets
Sign up & we'll send you our island cheat sheets so you can get to know the islands like the back of your hand!
We'll share 4 can't-miss activities on each island, a map with the main sights in town, & famous local grindz (eats)!
Hawaii Handicap Accessible Things to Do
Hawaii has a good selection of handicap-accessible things to do. The below activities have paved paths, ramps, and restrooms that make getting out and about in Hawaii easier for those with disabilities.
We have a full list of local, guided tours and other activities on the Hawaiian islands here: Hawaii Tours & Activities. Explore the list to learn more to see what tours would work for your needs.
Oahu Things to Do
Polynesian Cultural Center for the luau but also the island nation tours. This and Pearl Harbor are the two most popular things to do in Hawaii.
Pearl Harbor National Memorial is ADA-compliant. Do a self-guided tour or book a local guide to show you Pearl Harbor and Historical Sites.
Kualoa Ranch offers a host of tours and things to do. From a movie set tour to ATV Rides to Jeep Expeditions, find the right tour for you.
Luaus are known for their service. Call to confirm they can work with you on attending. Here are our favorite Oahu Luaus.
Friday fireworks are at the Hilton Hawaiian Village but you can see them from Waikiki Beach also.
Kaka'ako Street Murals are worth exploring. Take a self-guided walking tour of Kaka'ako neighborhood in Honolulu and then hit up one of the many breweries in the neighborhood.
Waioloa Shave Ice is just outside Waikiki and offers the best shave ice on the island.
Waimea Valley is a botanical garden and Hawaiian historical site on the North Shore. Stroll their paved path through the jungle that ends in a waterfall.
Makapu'u Lighthouse hike is on a paved trail at a decent incline up to the lighthouse
Kayak to the Mokes with a guided tour offshore Lanikai Beach.
Swim with Sea Turtles! Most tour boats provide comfortable seating and easy water entry. See what is right or comfortable for you while snorkeling just offshore Waikiki with the 5 Best Turtle Canyon Tours.
Explore our list of 40 Things to Do on Oahu to see if any of these sound feasible for you!
Maui Things to Do
Maui has a lot to offer but their infrastructure isn't always great. These handicap-accessible Maui things to do will get you started though on trip planning.
You don't have to do a luau on Maui but in case you want one, here are our favorite Maui Luaus.
Exploring historic Makawao town is one of our favorite things to do in upcountry Maui for shopping and local grindz (food)
South Maui Gardens in Kihei is a hidden oasis of food trucks, coffee shops, and live music.
Iao Valley State Monument has stairs and steep ramps but you can still view the famous Iao Needle and see waterfalls from handicap-accessible areas.
Haleakala National Park provides stunning views of the crater from the summit. Or, take a guided tour for sunrise on Haleakala with 10% off.
Road to Hana guided tours also offer a large selection of tour vehicles. Here are the 8 Best Road to Hana Tours (save 10%).
We love food trucks! Check out the best Maui food truck parks here.
Our 33 Things to Do on Maui (plus things to skip) can provide more ideas on things to do for you. Our 68 Things to Do on Maui with Kids is also famous for families looking for perfect activities!
Kauai Things to Do
Start with these Kauai handicap-accessible things to do when planning your Hawaii vacation.
Kauai has amazing botanical gardens. Take a walking path tour or go on a guided tour. Check out Allerton Botanical Gardens in South Shore Kauai
Do the Napali Coast! Our favorite snorkel, sail, and sunset cruise tour operator on the Napali Coast works with those in a wheelchair to get them on the boat and comfortable. See their Napali Coast tours here with them and give them a call to discuss your situation.
Kilauea Point Lighthouse is a lovely stroll on a paved, flat path inside a bird sanctuary with stunning coastal views.
Food trucks on Kauai provide the best place for local food. See our Ultimate Kauai Food Truck Guide!
Hanalei Lookout is our favorite scenic outlook on Kauai. Park and enjoy the view!
Wailua Falls is a no-hike scenic outlook over the top of a massive waterfall.
Opaeka'a Falls on Kauai's East Side provides ADA restrooms and parking. You can see the falls from the parking lot's observation platform.
Kauai Plantation Railway provides a railway tour of the old plantation plus stick around for their luau.
Waimea Canyon State Park has numerous overlooks that are ADA-compliant, including Kalalua Lookout at the top of the park.
Don't forget to explore our Things to Do on Kauai with Kids and our full list of 35 Things to Do on Kauai for more ideas!
Big Island Things to Do
We hope this list of handicap-accessible Big Island things to do will help you with your Hawaii trip planning. See our full things-to-do list below for more ideas that fit your needs.
Visit Hawaii's Volcanoes National Park (30 minutes south of Hilo) for paved walking trails and lookouts near the parking lots, making for many handicap-accessible things to do. Devastation Trail, Steam Vents, and Chain of Crater Road are all good options.
Kona Coffee Farm tours are my favorite! Enjoy a walking tour or a sampling, both are low-impact. You don't have to go far to learn and taste Kona coffee! Here are our 7 Best Coffee Farm Tours on the Big Island.
Farm Tours in general are usually handicap accessible. For example, a Bee Farm tour includes watching the beekeeper open a hive and explain the honey-making process. A Vanilla Farm tour is on packed soil as you walk through their greenhouses. See our full list of Big Island Farm Tours.
Rainbow Falls in Hilo (East Hawaii) is gorgeous and only a short, paved walk from the parking lot. Akaka Falls is the largest on the Big Island but stairs are on the short hike to the falls. See our 10 Best Big Island Waterfalls and the video to see what you want to do!
Kona Sea Salt Farm tour (the last farm tour, I promise) is a wonderful short tour around their salt farm with a tasting. There are about 5 stairs to climb and a walk out onto their beach.
Stargazing and Manta Ray Night Snorkeling are the two most popular things to do on the Big Island. Click the links to explore if these tours are feasible with your disability.
Our 21 Incredible Things to Do on the Big Island has more ideas to explore on handicap-accessible things to do on the Big Island.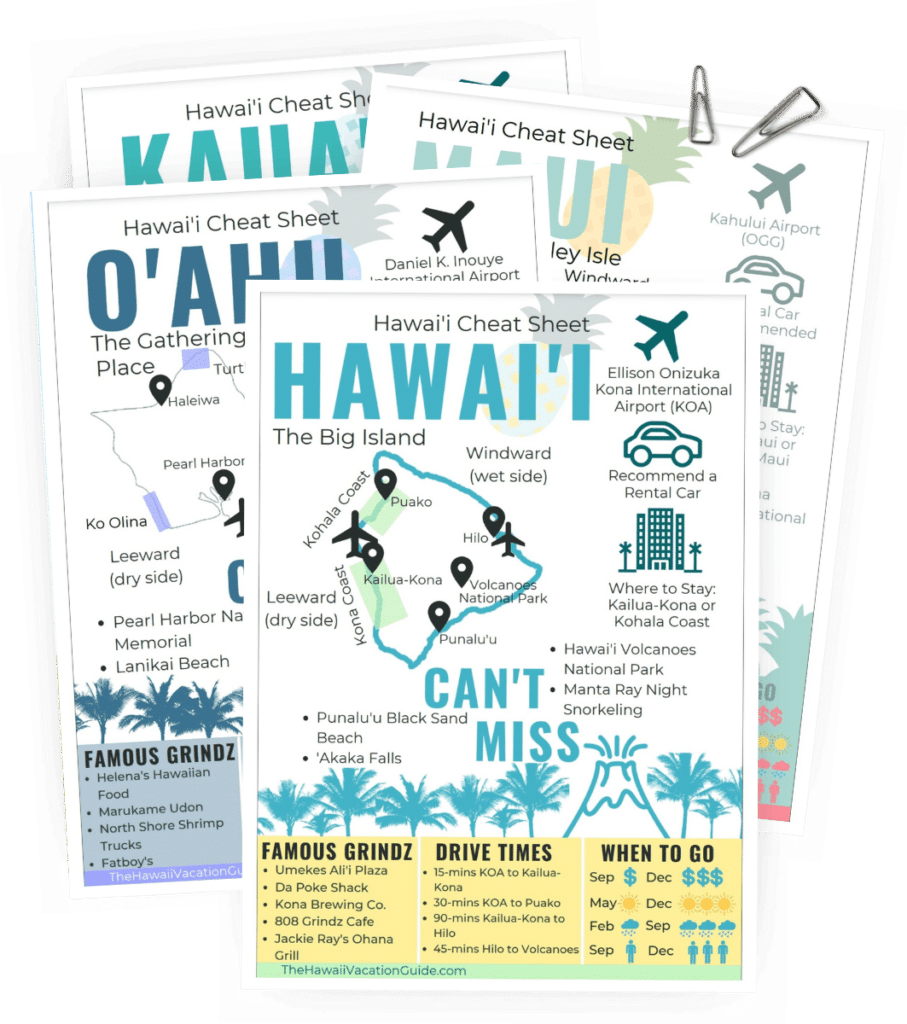 Free Download!
Hawaiian Island Cheat Sheets
Sign up & we'll send you our island cheat sheets so you can get to know the islands like the back of your hand!
We'll share 4 can't-miss activities on each island, a map with the main sights in town, & famous local grindz (eats)!
Hawaii Handicap Accessible Where to Stay Resorts
Hawaii has a large selection of places to stay, to say the least. Our Where-to-Stay directory has our reviews on vacation rentals to resorts. But, having an inclusive resort may make a trip to Hawaii more enjoyable.
Many vacation rental complexes in Hawaii are multi-story and do not have elevators. It is challenging to understand the layout and accessibility of Airbnb and Vrbo listings. Our recent vacation rental in Wailea on Maui was on the ground floor but had a sunken living room, unknown to us.
All resorts and hotels in Hawaii are Americans with Disabilities Act (ADA) compliant. They will list accessible rooms on their booking platform. However, some resorts will go above and beyond with beach wheelchairs or medical facilities (urgent cares) on-site.
Large resorts in Hawaii have shopping, entertainment, adult-only pools, easy beach access, and more services for those with disabilities. Here are some large resorts for you to consider on each island.
Oahu's Best Handicap Accessible Resorts
Oahu has the largest selection of handicap-accessible resorts for you to consider.
Ko Olina Resorts is a resort community on the leeward or west side of Oahu. The man-made lagoons make for current-free ocean swimming and the large grounds have paved walking paths with ramps. Luxury resorts like Disney's Aulani or Four Seasons provide on-site amenities for those with disabilities. See our Ultimate Ko Olina Guide for more details.
Turtle Bay Resort on Oahu's North Shore is a large resort with fine dining to customized adapted surf lessons. They offer a lot in a secluded location.
In Waikiki, the Hilton Hawaiian Village is a sprawling resort with shopping, dining, and fireworks on Friday nights. They are located on the man-made Duke Kahanamoku Lagoon, an ocean-fed lagoon for watersports like SUP and kayaking without the current.
See our Where to Stay on Oahu for details on these three locations or check out the Best Luxury Hotels on Oahu.
Maui's Handicap Accessible Resorts
Maui is the opposite of the cheapest Hawaiian island to visit thanks to Maui's luxury beach hotels. Luxury resorts in Wailea and three and four-star resorts in Kaanapali (Where to Stay: Wailea vs Kaanapali) do provide a lovely experience for ease of access and amenities.
Kaanapali hotels in West Maui are located in a flatter area so you won't find as many stairs, ramps, and elevators as you will in Wailea.
The Grand Wailea is a 5,000-room, sprawling resort with a large adult-only pool and a large selection of accessible rooms. Every room has an ocean lanai (balcony).
Westin Maui Resort and Spa in Kaanapali offers easy beach access and the Kaanapali paved boardwalk is out front to take you to restaurants and shopping in Whalers Village.
Big Island's Handicap Accessible Resorts
The Kohala Coast on the Island of Hawaii (Big Island) offers numerous resorts, hotels, and vacation rentals. Waikoloa Resorts in particular is full of vacation rentals and hotels that are nearby shopping centers and restaurants. Here are some handicap-accessible resorts that stand out to us for convenience.
Hilton Waikoloa Village is so large, that they have a train to take you around. You will find multiple pools, restaurants, and shopping all located on the beach.
Westin Hapuna Beach is located on the beach and they provide beach wheelchairs plus thought-out accessible guest rooms.
In the heart of Kailua-Kona, the Marriott Courtyard King Kanehameha's Kona Beach Hotel makes access to their pool and beach easy (same level) and you can walk into downtown Kailua-Kona.
Kauai's Handicap Accessible Resorts
As the least visited Hawaiian island, but still popular, you will find the smallest selection of resorts and hotels. We recommend staying on the South Shore for access to more restaurants, shopping, and better weather. See our Kauai Where to Stay Guide for details.
Koloa Landing Resort by Marriott is the most luxurious place to stay on Kauai's South Shore. We enjoyed their villas with private elevators for the spacious room sizes. There is no beach access but Poipu Beach is down the road.
The Grand Hyatt Kauai is the largest resort. Located on Shipwreck Beach, the property has handicap-accessible amenities that you should expect from a large resort.
Cruising Hawaii with a Disability
Consider taking a Hawaii Cruise in order to travel to the Hawaiian Islands with a disability. Norwegian Cruise Line's Pride of America departs weekly from Honolulu with stops on Maui, Big Island, Oahu, and Kauai.
The cruise line knows how to work with a diverse group of people and disabilities. With easy access on and off the boat, you can plan your island excursion days with pick-up from the dock tours or do your own self-guided day out. For some, a Hawaii cruise may be the best way to travel to Hawaii with a disability.
We provide everything you need to know about shore excursions when you cruise Hawaii with any cruise line. Know exactly what is the best tour or the best self-guided itinerary day for your group with our Cruising Hawaii Guide. Learn more below.
Get the Cruising Hawaii Guide
Booking a cruise to Hawaii is the easy part (in our opinion). The hard part is finding the best shore excursions, planning self-guided itinerary days, and how to get around the island.
You'll get our Oahu Wayfinder Itinerary + Cruising Hawaii Guide downloads, they include 90+ shore excursion tour options, over 16 self-guided itinerary days, our favorite restaurants, and the best beaches. We want your cruise to Hawaii to be unforgettable, and stress-free.

Check out our favorite Hawaii cruise shore excursions:
14 Incredible Honolulu Shore Excursions (cruise ship ready)
Can't Miss Big Island Shore Excursions for Your Hawaii Cruise
Transportation Around the Hawaiian Islands
Hawaii is a welcoming place. The state government, communities, and businesses try to be accommodating for all types of traveleres. Here are handicap accessible options and services for transport to and around Hawaii.
Hawaii Airline Transportation with Disabilities
Airlines with service to Hawaii and between islands must follow the Air Carrier Access Act. Therefore, airlines provide assistance to passengers with special needs through their skycap (porter) service. They are able to transport personal wheelchairs, including folding, collapsible or non-folding manual wheelchairs, battery-powered wheelchairs, and electric-powered carts. Advise your airline in advance to arrange for any special services.
For Hawaii inter-island flights, Hawaiian Airlines and Southwest Airlines are our recommended airlines. They provide the most flights and at the best price. See our Hawaii Island Hopping Guide for more details.
Adapted Vehicle Rental
All the major rental car companies operate in Hawaii. These car rental companies will install hand controls and provide accessible transportation from the airport or airport car rental facility to the vehicle pickup point. They can also deliver the vehicle to the airport terminal.
We have found the best rental car prices with these Hawaii car rental companies are available at Discount Hawaii Car Rental. Book online with no prepayment and then call with your reservation number directly to your car rental company.
Alamo Rent-A-Car (800) 651-1223
Avis Rent-A-Car (800) 962-1434
Budget Rent-A-Car (800) 314-3932
Dollar Rent-A-Car (800) 800-3665
Hertz Rent-A-Car (800) 654-313
National Rent-A-Car (888) 273-5262
Accessible Van Rentals in Hawaii
Accessible van rentals can be rented on each of the four major Hawaiian islands. Contact Wheelchair Gateways of Hawaii to reserve an accessible van. Call in advance to arrange for pickup of the van and have hand controls installed in the van if needed.
Handicap Accessible Parking in Hawaii
Bring your disability parking placards with you to Hawaii. The State of Hawaii recognizes placards from other states and countries for parking in designated accessible parking spaces.
Public Transport Services for Handicap Riders
Public bus services with fixed routes and paratransit services are available on Kaui, Maui, Oahu, and the Big Island. All buses are wheelchair accessible.
On Oahu, the County of Honolulu offers TheHandi-Van. TheHandi-Van uses wheelchair-accessible vehicles to provide curb-to-curb service to individuals with disabilities who are certified as ADA Paratransit Eligible. Visitors from other states who possess valid ADA paratransit eligibility may use TheHandi-Van.
SpeediShuttle is a private company but another option on all the Hawaiian islands for you to get around. No advanced reservation or notice is required. Call SpeediShuttle at 808-242-7777.
Medical Equipment Providers When Visiting Hawaii with a Disability
When visiting Hawaii with a disability, you may need medical supplies and equipment for a comfortable visit or an emergency. Here are medical supply and healthcare companies that sell and rent medical equipment and supportive aids. We do not endorse any particular company, business, or product.
Last Thoughts on Traveling to Hawaii with a Disability
We hope this guide on traveling to Hawaii with a disability has helped you plan your trip to Hawaii. At a minimum, you have a better idea of the services and infrastructure available for your trip.
I find video is a great way to learn about a place before traveling. Our YouTube channel, The Hawaii Vacation Guide, has hundreds of videos on visiting Hawaii. I hope these videos help you get a better understanding of the handicap-accessible infrastructure on the island.
For more things to do around the Hawaiian islands with planned-out itinerary days, check out our Wayfinder Itineraries.