The 10 Best Big Island Waterfalls (+ ones you can swim in!)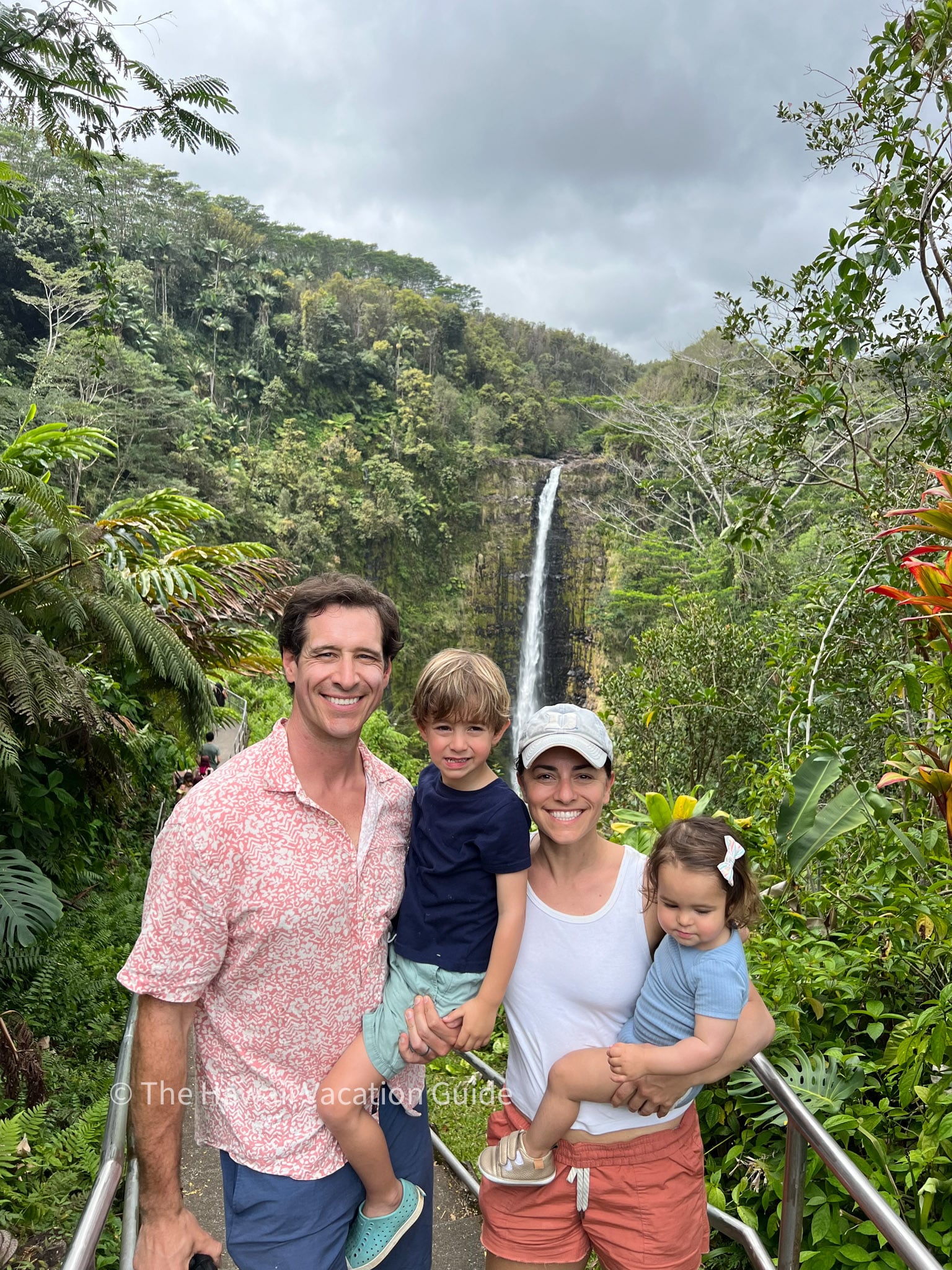 Disclosure: This post may contain affiliate links, meaning if you decide to make a purchase through my links we may earn a commission at no additional cost to you. Read about our affiliate policies here.
The scenery on the Big Island is incredibly diverse. In addition to the beaches, valleys, and volcanic mountains, there are also quite a few waterfalls, especially on the lush northeastern coast. And while this is the rainiest part of the island, it also happens to be one of the greenest! Being able to see waterfalls surrounded by lush vegetation truly gives you that tropical Hawaiian feel, which is why we recommend that everyone visits at least one waterfall during their visit.
If you're hoping to do some waterfall chasing while on the Big Island, then you're in the right place. Here are the 10 best waterfalls that all nature lovers should check off their list.
Planning a trip to the Big Island? We have the best resources to help you plan:
– Don't sweat the details, we have your back with The Ultimate Big Island Travel Guide
– Hilo or Kona? We'll help you pick.
– See more than waterfalls with 21 Incredible Things to Do on the Big Island (2023)
– Our Big Island Itinerary takes care of the planning for you and helps you have an incredible and memorable trip, without the trip planning stress
– Book one of the best Manta Ray night snorkel tours on the island!
Big Island Waterfalls FAQs:
What is the biggest waterfall on the Big Island?
With a drop of 1,450 feet, the Hi'ilawe Falls in Waipio Valley is the biggest waterfall on the Big Island and the entire state of Hawaii! However, the flow of water is rather minimal and falls in a trickling stream rather than a powerful cascade (especially during the wet season when the river is used for irrigation).
But don't let that discourage you – Hi'ilawa is absolutely stunning. To visit the valley, you'll need to book an excursion or shuttle bus tour.
What are the easy access waterfalls on the Big Island?
If you're short on time (or just not interested in a long hike), there are a few waterfalls that you can see without much effort. Rainbow Falls and Pe'epe'e Falls are both located just a few minutes drive from downtown Hilo. They're also located right next to the parking lot, so no long or strenuous hike is necessary.
If you don't mind a little bit of a walk, then you can also visit 'Akaka Falls and Kahuna Falls in the 'Akaka Falls State Park. Both of these waterfalls can be seen from the paved .4-mile looped trail. There are a few steps here and there (so it's not wheelchair accessible), but easy and fun to do for those traveling with little ones.
What Big Island waterfalls can you swim in?
Swimming in the pool of a waterfall is a once-in-a-lifetime experience. However, there are only a few Big Island waterfalls that are safe enough to swim in.
For example, Kulaniapia Falls and Umauma Falls are both swimmable. However, they can only be visited by purchasing a ticket to the gardens/private property they're on. You can also go swimming at two waterfalls on the North Kohala Waterfall Swim and Hike (a guided tour that takes you to a private reserve on the Kohala coast).
We want to stress that you should only go swimming in places where it's allowed. Waterfalls can be extremely powerful and dangerous, and many of them are subject to strong currents and flash flooding. So please – pay attention to the signage and stick to waterfalls you know are safe.
Big Island Waterfall Map
We provide pictures of all these waterfalls below but for a more immersive experience, watch our Best Big Island Waterfalls video!
10 Best Big Island Waterfalls
1. Kulaniapia Falls
Located just a short drive outside of Hilo, the breathtaking Kulaniapia Falls is one of our top picks for outdoor adventure. Not only is the waterfall itself beautiful (it's around 120 feet tall), but it's also located on private property and only accessible to a small number of people each day. Therefore, it's rarely crowded, which gives you the feeling of being somewhere exclusive!
To see Kulaniapia Falls, you'll need to purchase a day pass, which is $49 per adult and $29 per child. This gives you five hours on the 42-acre property, where you can go swimming, kayaking, and paddleboarding beneath the falls. You also have the option to purchase other activities, like waterfall rappelling, farm tours, and cooking classes. With so much to do here, you might also consider spending the night in one of the property's off-the-grid suites or guesthouses.
While the price of the day pass may seem high, it's, in our opinion, 100% worth it. Considering it's one of the few swimmable waterfalls, spending the day at Kulaniapia Falls is truly a unique experience.
2. Rainbow Falls
Although it's not particularly tall, Rainbow Falls is still one of the most jaw-dropping waterfalls on the Big Island. That's because it has one of the most picturesque settings we've seen. The water flows over a natural lava cave, which is believed to be the home of Hina, the Hawaiian goddess of the moon. And because it's surrounded by wild ginger and monstera plants, this waterfall is the definition of tropical paradise.
The best time to visit is first thing in the morning. As the sun rises, it reflects off the light in the water, which creates a shimmery rainbow in the mist of the pool. Hence how Rainbow Falls got its name!
Rainbow Falls is also one of the best attractions because it's just so easy to reach. It's a 5-minute drive from downtown Hilo and easily accessible from the main parking lot. Not to mention, it's free to park and free to visit! This is a great thing to do if you're exploring Hilo for one day.
While the view from the platform is impressive, many people like to take the walking path on the left-hand side to get closer to the falls. This trail leads you through a dense canopy of century-old banyan trees before taking you to an upper lookout that gazes over the top of the falls.
3. Boiling Pots (Pe'epe'e Falls)
A short drive up from Rainbow Falls sits another natural wonder – the Boiling Pots. These rocky pools sit at the base of Pe'epe'e Falls (which is also fed by the Wailuku River) and were carved out by lava from an eruption of Mauna Kea. The water rushes through them with such force that they look as if they're a bubbling pot of hot water.
Pe'epe'e Falls and the Boiling Pots are also just a short walk from the parking lot (it's free to park and to visit), so they're easy to reach if you're on a budget or short on time. Once you arrive, you'll find a small viewing platform that looks out over the river. The basalt pools can be seen clearly, although the waterfall is a bit further back. And although it may be tempting to get a closer look, doing so can be extremely dangerous!
Walking anywhere past the lookout deck is strictly prohibited, and those who proceed beyond the signage can be fined. Even when there aren't flash floods, the water flow is so strong that many people have drowned trying to cross the stream to get closer to the falls. So stay back – no matter how tempting it may seem!
4. Onomea Falls
Nestled between the exotic forest of coconut palms and ferns is Onomea Falls. This multi-tiered waterfall is part of the 17-acre Hawaii Tropical Bioreserve & Garden, a nature reserve with over 2,000 different types of flora. So, in addition to seeing the waterfall, you'll also be able to wander the grounds admiring orchids, heliconia, monkeypods, and fruit trees.
As soon as you enter the gardens, take a sharp left after the boardwalk to reach the waterfall. The water is supplied by Onomea Creek, which winds its way through the jungle before emptying out into the nearby Onomea Bay. When you add up the height of all three tiers, the waterfall is anywhere from 20 to 30 feet tall. Unfortunately, there is no swimming allowed, so stick to the main path.
While the high ticket cost may deter people from visiting, we think it's worth the cost, especially if you have a few hours to spend in the garden. It's a very peaceful experience. Plus, you'll also get to see another waterfall, which is our #5 on this list! We include this in an excursion day as part of our Big Island itinerary.
5. Boulder Creek Falls
Boulder Creek Falls is also located within the Hawaii Tropical Bioreserve & Garden. However, it's part of the Alakahi Stream, which is a set deeper inside the park. It's a pretty and scenic walk as you navigate the gardens, which are filled with orchids, vines, and chirping birds. Keep going until you reach the paved Boulder Creek Trail, which takes you directly to a bridge boasting scenic views over the falls.
The waterfall itself isn't very large, as it's only 10 feet in height. And instead of seeing a straight drop, Boulder Creek is more like a tricking cascade that snakes its way across a series of – you guessed it – boulders! Swimming is not allowed (although you probably couldn't anyways since it flows into a stream rather than a pool).
As it's part of the Hawaii Tropical Bioreserve & Garden, you will need to pay for entrance if you want to see Boulder Creek Falls. But again, it's well worth it, in our opinion!
6. 'Akaka Falls
As one of the biggest waterfalls on the eastern coast, 'Akaka Falls is not to be missed on your trip to the Big Island. It's located in the ultra-lush 'Akaka Falls State Park, which is a stunning 65-acre property just 23 minutes north of Hilo.
There is a .4-mile loop trail that winds through the park, taking you directly to 'Akaka Falls as well as Kahuna Falls. The trail is paved and relatively flat (except for a few stairs), so doable for families with little kids! And there are so many tropical plants to see along the way, like ferns, orchids, and bamboo groves.
Once you spot the falls in the distance, you'll be in awe of its beauty and size. This straight-plunging 442-foot waterfall dives right off a cliff into a bowl-shaped gorge. There are several viewpoints on the trail, so make sure to bring your camera to get all those good shots!
Keep in mind that there is a fee to enter the park ($5 for each car or $1 for pedestrians). And because it's one of the more popular attractions in the area, be prepared to share the walkway with other waterfall chasers.
If you want to see 'Akaka Falls, Rainbow Falls, and see sights all around the Big Island in one day, this Big Island Grand Circle Tour is a great way to do that.
7. Kahuna Falls
Before you reach the magnificent 'Akaka Falls, you'll likely pass by a little overlook while walking on the looped trail of 'Akaka Falls State Park. Make sure to stop here because this is where you can see the second waterfall in the park – Kahuna Falls!
As a side note, you can also walk the looped trail in reverse. From the entrance, you can head left to see the 'Akaka Falls first before continuing another 800 feet to reach the viewpoint of Kahuna Falls.
At first glance, Kahuna Falls may look much smaller than its more famous neighbor. But in reality, it's over 400 feet tall! However, the viewpoint is somewhat obstructed, as there is a large cliff that stands in between you and the falls. You'll also only be looking at the waterfall's profile instead of having a dramatic view straight on. For this reason, we recommend coming after heavy rainfall when the flow of the water is more substantial.
Because Kahuna Falls also lies within the 'Akaka Falls State Park, you'll need to buy an entrance ticket and pay for parking when you arrive.
8. Umauma Falls
With a drop that separates into three different tiers, Umauma Falls is one of the more unique waterfalls we've been to. Together, the waterfall is roughly 300 feet high and, like many other waterfalls in the area, is also surrounded by lush vegetation.
It's important to note that the falls are located in a private botanical garden owned by the Umauma Experience. To visit, you'll need to pay for the Umauma Falls & Garden tour ($12 per car), which allows you to drive right up to the viewpoint of the falls. This ticket also gives you time to enjoy the gardens and surrounding landscape.
However, the Umauma Experience also offers a few other fun adventures if you're interested in doing some heart-racing activities while you're here. You can go ziplining, ATV-ing, horseback riding, or river kayaking.
But by far the most incredible thing to do here is the Waterfall Rappel and River Tour. For this experience, you'll be outfitted with a wetsuit and safety gear as you descend 250 feet down into the Umauma Valley. You'll then rappel down two waterfalls and straight into the Umauma River, floating until you reach the final pool (which you can jump into!). The entire tour lasts around 3.5 hours, and rappelers must be at least eight years old to join. Younger kids or those who don't want to rappel can instead book the Umauma Falls & Garden tour.
We've also done the zipline course and can highly recommend that as well. You'll fly high above the canopies as you cross 14 different waterfalls at speeds of up to 65 miles an hour. And it's suitable for kids four and up!
9. Hi'ilawe Falls
Hawaii's largest waterfall may not be easy to reach, but it's an awe-inspiring natural wonder that will take your breath away! Located in the rugged Waipo Valley (on the northern coast, approximately one hour from Hilo), the 1,450-foot Hi'ilawe Waterfall is a cascading white ribbon of beauty.
The towering cliffs that cradle the water were formed by lava flow from Mauna Kea. Nowadays, they're covered in a thick brush of vines and ferns, blanketing the gorge in all shades of green.
If you're eager to tick Hi'ilawe off your bucket list, then be aware that visiting the falls is only accessible on a tour. While there is a public parking lot at the viewpoint atop the valley, ascending down to the valley floor to get closer to the falls is restricted unless you're with an approved guide. And please, don't think about driving down the road that leads to the valley! It's incredibly steep and should only be attempted for those with a 4×4. And even if you do have an SUV, it's likely that your rental company has written in your contract that doing so is prohibited!
10. North Kohala
Trekking the picturesque Kohala coast isn't just about waterfalls (although you do get to see lots of them on your journey). It's about immersing yourself in the pristine, untouched natural surroundings that the Big Island is so famously known for.
This Kohala Waterfall Swim and Hike tour starts off with an off-road drive to a private nature reserve that was once a sugar cane plantation. After getting your day packs, walking sticks, and towels, you'll embark on a leisurely 1.5-mile through the forest. There's so much to see along the way, like trickling streams, fruit trees, and, most importantly, waterfalls!
In total, there are seven waterfalls in the reserve. You'll be given lots of time to go swimming under two falls, so make sure to bring your swimsuit as well. The pools range anywhere from 60 to 70 degrees Fahrenheit, which is the perfect temperature for a refreshing mid-hike dip!
This is such a unique experience because the max group size is just 12 people, so you won't have to deal with crowds or other tourists. Being here really makes you feel like you've stumbled upon a slice of untouched paradise on the Big Island!
The trip ends with a picnic lunch, where you'll get to enjoy one of the most spectacular views on the island. The jaw-dropping views over cliffs and black beaches of Pololu Valley are the perfect backdrop to end a fantastic day exploring the waterfalls of Hawaii. We really enjoyed the entire tour! Learn more about our entire experience on the tour (including a video review).
Related Articles:
Don't Miss the 7 Best Coffee Tours on the Big Island
Can't Miss Big Island Shore Excursions for Your Hawaii Cruise
5 Best Big Island Snorkeling Spots (plus how to swim with manta rays)
11 Best Big Island Beaches You Need to Visit (+ map!)
The Best Big Island Itinerary
Now you know all the waterfalls you need to catch while you're staying on the Big Island, but there's even more we know you don't want to miss. Let us help you iron out the details of your trip with our Big Island Wayfinder Itinerary. You won't regret it, but don't take our word for it:
We are going to Oahu, Maui, and Big Island over the course of 21 days, so I have loved your itineraries–seriously they are a must-have lifeline for planning a trip to Hawaii! I'm thankful for the opportunity to give a little back to your family through the itineraries and tour suggestions.

Kim S.
Get The Big Island Itinerary
The step-by-step itinerary takes you to all the best beaches, snorkeling spots, restaurants, and sights. You'll get six carefully planned excursion days to help you see the can't miss stops no matter how limited your time is.
Get all the details on our itinerary and download it for a memorable and easily planned trip to Hawai'i (Big Island).