16 Things You Don't Want to Miss in Lahaina
Disclosure: This post may contain affiliate links, meaning if you decide to make a purchase through my links we may earn a commission at no additional cost to you. Read about our affiliate policies here.
Maui is an amazing place to hit the beaches and lounge at a resort. But the one thing you don't want to miss: downtown Lahaina. This historic whaling village and former capital of the Hawaiian Kingdom offers a blend of history and culture with present-day restaurants, shops, and more.
From bustling downtown Front Street to a local art fair, these are the things you can't miss when you visit Lahaina.
Want to know more about Lahaina, including where to stay, play, and eat? We have a full Lahaina guide to help you do just that.
1. Take a Farm Tour
You don't need to head upcountry to enjoy a farm tour. Lahaina offers three different farm tour options for you to explore. You can see how chocolate is farmed at Maui Ku'ia Chocolate Estate and then head to the chocolate factory for a farm tasting. You can learn about coconuts and palm trees at Punakea Palms and enjoy a sample of coconuts at every different stage of maturity. Or, you can head to the Dragonfruit farm.
We enjoyed a tour of Maui Ku'ia Chocolate Estates before it was open and you can watch a video of the experience below:
If you're looking for more farm tours, check out this list of our favorite farm tours on Maui.
And if you're looking for more adventures, read about our 15 favorite things to do in upcountry Maui.
2. Go Whale Watching
If you're visiting Maui between December and April, you're here for a spectacular event: whale season. Each year, thousands of humpback whales migrate from Alaska to Hawaii to breed, birth, and nurture their babies and the best place to see them is right off the coast of Lahaina. Hop onto any of the whale-watching tours leaving from the downtown Lahaina harbor for a memorable encounter with these beautiful creatures.
Before you book, be sure to check out our in-depth whale watching guide so you know what to expect before you go.
To help you find the best tour operators, we have a curated list of our favorite whale watching tours, which balance both the customer experience and protection of the whales and the environment.
3. Cannery Mall Art
If you're shopping for souvenirs to take back home, why not support a local artist? Head to the Lahaina Cannery Mall every weekend for an art fair put on by the Lahaina Art Society. Walk the stalls, meet the artists, and head home with some unique treasures to commemorate your vacation. The local artists here on Maui are incredibly talented and you'll find a huge selection of paintings, jewelry, carvings, tapestry, and more.
4. Attend a Luau
If attending a luau is high on your vacation list, downtown Lahaina is the spot. With two of the most popular luaus on the island, Feast at Lele and Old Lahaina Luau, you can't go wrong ending your day in downtown with one of these luaus. Grab a mai tai, enjoy the sunset, and watch talented performers tell you the story of Hawaii and Polynesia.
Don't know which Lahaina luau to pick? We compare Feast at Lele and Old Lahaina luau to help you make the best decision.
5. Explore Underwater
There is so much to enjoy underwater in Maui and you don't have to snorkel or scuba dive to have a wonderful experience. For those who prefer to stay dry while seeing beautiful reef, fish, and other sea life, the Atlantis submarine is a great choice. Head down 130 feet to the ocean floor for a view of a shipwreck that most people don't get to see. And these submarines are all battery powered so you can enjoy the ride knowing that the boat isn't emitting pollutants into the water.
Or, for a lighter underwater activity, take a ride on the Reefdancer, Maui's glass-bottom boat. Head out to the reef just off Lahaina and enjoy fish, octopus, and possibly reef shark sightings. The boat has divers underwater that show you the different creatures and this is a great way to see what's underwater from the comfort of a boat.
Can't decide what underwater adventure is right for your family? See our ReefDancer vs Atlantis Submarine Review.
6. Learn to Surf
Downtown Lahaina truly has it all, including an excellent spot for beginner and intermediate surfers. If you've always wanted to learn to surf, you can find plenty of surf lesson options right in town. They'll take you just past the harbor to the popular surf spot Breakwall, where you can learn to surf on some smaller waves or paddle out for the larger break to improve your skills.
There are plenty of surf lesson options to choose from, but we like Maui Wave Riders.
7. Visit the Banyan Tree
At the center of Lahaina's Courthouse Square is the Banyan Tree. Planted in 1873 when it was only eight feet tall, it has grown to over 60 feet high and shades over ⅔ of an acre in the square. It's an impressive sight and a great place to stop, grab an ice cream, and sit to enjoy the shade downtown. Visit on a weekend and you might just find an art fair taking place under the shade of the tree. And if you come at Christmas time, be sure to take a stroll under the tree at night and enjoy the Christmas lights.
8. Tour the Baldwin Home Museum
If you're really interested in the history of Lahaina, take a tour of the Baldwin Home. This home from the early 1800s is the oldest house still standing on Maui. It was once the home of medical missionary Reverend Dwight Baldwin and the tour gives you a glimpse into what missionary life was like in the 1800s.
Both self-guided and guided tours are available. On Friday evenings they offer candlelight tours, which we've done multiple times and have thoroughly enjoyed.
Learn more about the Baldwin Home Museum.
9. Stroll Front Street
Sometimes the simplest things can be the most enjoyable. Taking an afternoon or an evening to stroll Front Street in Lahaina is high on our list of things to do downtown. Start at one end and take a leisurely walk, jumping into any shops or art galleries that look interesting. Head to restaurants with live music or pop into a spot for a great happy hour. Grab an ice cream or shave ice and enjoy it while overlooking the ocean and Lana'i. Slow down your pace and enjoy your vacation on Maui.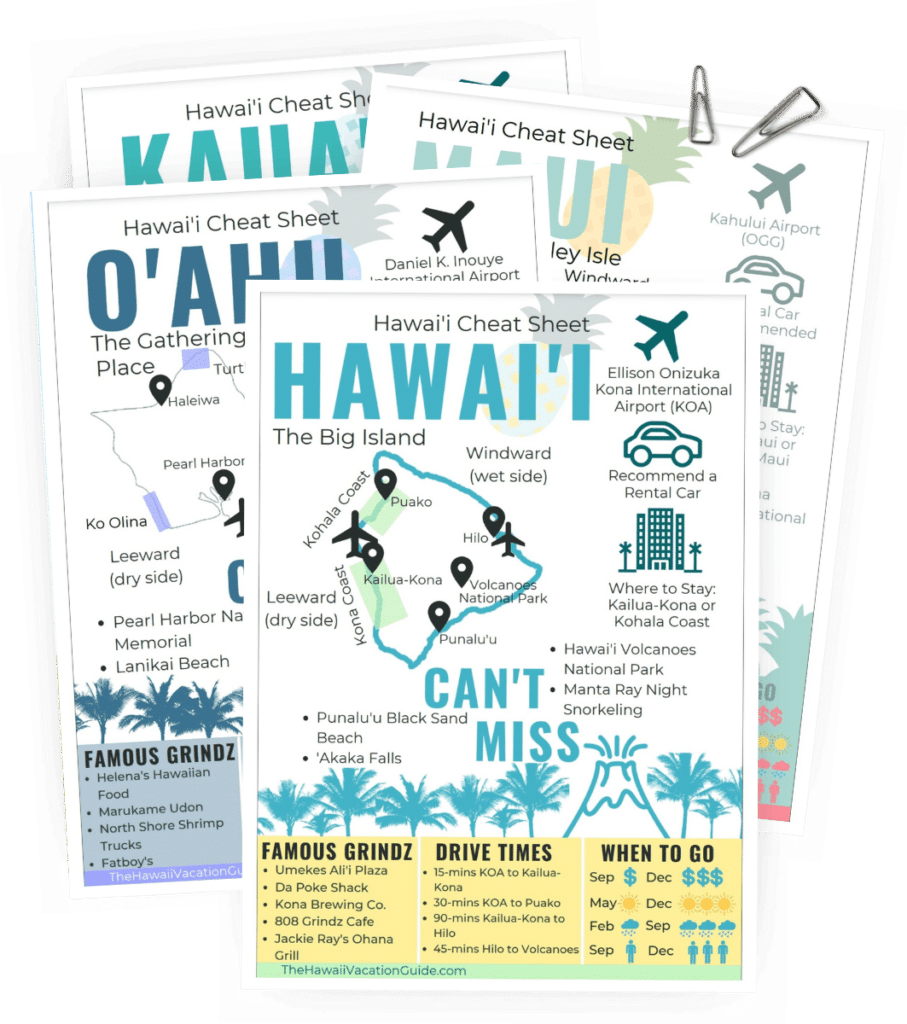 Free Download!
Hawaiian Island Cheat Sheets
Sign up & we'll send you our island cheat sheets so you can get to know the islands like the back of your hand!
We'll share 4 can't-miss activities on each island, a map with the main sights in town, & famous local grindz (eats)!
10. Jump on a Boat: Sunset Cruise, Lana'i or Molokini
Lahaina is a great launching pad for activities, including excellent boat trips. From downtown Lahaina, you can head on a snorkeling trip to the island of Lana'i or Molokini. Or just cruise the West Maui coast on a fun-filled sunset sail.
One of our favorite snorkeling experiences to date on Maui was with Ultimate Whale Watch and Snorkel, leaving from Lahaina Harbor and heading to Lana'i. We spent the day enjoying turtles, spinner dolphins, and beautiful fish before landing back in Lahaina.
You can check out our video of the Lana'i snorkeling trip below. And if you're heading out with them, you can use code 'HVG' to receive 10% off the total cost of your tour!
11. Take to the Skies
There are plenty of adventures you can go on from downtown Lahaina, including parasailing. West Maui Parasail offers parasail adventures leaving from their boat in the Lahaina harbor. You'll head out on their boat and then get views from above overlooking the west Maui mountains and Lahaina. If parasailing is high on your list, head out with West Maui Parasail.
12. Listen to Live Music
Nothing sets the mood for a Hawaii vacation like live music. Imagine sitting out, watching the sunset and the waves crashing on historic Front street while listening to a talented musician belt out the tunes. I am transported straight to vacation mode just thinking about it.
If you're on the search for the perfect live music, you'll find plenty of options in downtown Lahaina. Some great places include Kimo's, Down the Hatch, Fleetwood's on Front Street, and Cool Cat.
Read our full list of live music options on Maui.
13. Take a Historic Walking Tour
Lahaina has a rich history. It was originally chosen as the capital of the kingdom of Hawaii and served as an important whaling village. Now it's full of restaurants, art galleries, and stores, but you can catch glimpses of Lahaina's history on nearly every block.
For anyone interested in history, there is a self-guided tour of Lahaina's 62 historic sites that span 55 acres downtown. Use the app from the Lahaina Restoration Foundation to guide your tour. Head out on the tour in the late morning and then reward yourself with a fantastic lunch.
14. Enjoy the Best Food on the Island
If you're hungry, there's no better place to be than Lahaina. Here you'll find a high concentration of restaurants with something that will appeal to everyone. Whether you're in the mood for fine dining, a casual meal, or takeout from a food truck, you'll find it here.
Some of our top restaurant suggestions include Pacific'o, Fleetwood, Star Noodle, Baya Bowls, and Eating Local.
Make sure you check out our full list of the best Lahaina restaurants. You can't go wrong with these spots.
15. Hit Up Happy Hour
Nothing says vacation in paradise quite like enjoying a well-priced cocktail at happy hour. And if you're in Lahaina, you're in luck! Some of Maui's best happy hours happen right here. You can get our full list of the 10 best happy hours in Lahaina, but a few of our favorites include:
Best brewery happy hour: Kohala Brewery
Best cocktail happy hour: The Marlin Bar
Best sunset happy hour: Pacific'o
16. Bask on the Beach
While downtown Lahaina doesn't have a ton of amazing beaches (you'll find the best ones to be just outside of town), there are two that are worth visiting. Baby Beach and Kamehameha Iki Beach Park. These two beaches offer soft sand, shallow water that doesn't get too rough, and convenient access to all of the amenities downtown has to offer. Baby Beach is especially great for kids, though the entire family can enjoy the water on either beach when the waves and current aren't too rough.
Read more about our favorite beaches in Lahaina and West Maui.
Map of Lahaina Activities
Headed to Maui?
We are your ultimate resource, online and off. We have your trip planning covered with our itineraries. These done-for-you days will take you around to the best spots on excursion days, so you can make the most of your valuable vacation time. We include beaches, restaurants, hiking spots, and more to make sure you have wonderful days out.
"Just wanted to thank you for the awesome itinerary you have put together. We just got back from our 10 day Maui trip & it was such a great help to my family. We saw and experienced so much. Thank you for putting all of this fantastic travel information out there! For this travel research nerd, I sure do appreciate it!
Get The Maui Itinerary
The step-by-step itinerary takes you to all the best beaches, snorkeling spots, restaurants, and sights. You'll get six carefully planned excursion days to help you see the can't miss stops no matter how limited your time is.
Get all the details on our itinerary and download it for a memorable and easily planned trip to Maui.