Baby Beach Lahaina, Maui: the best beach for families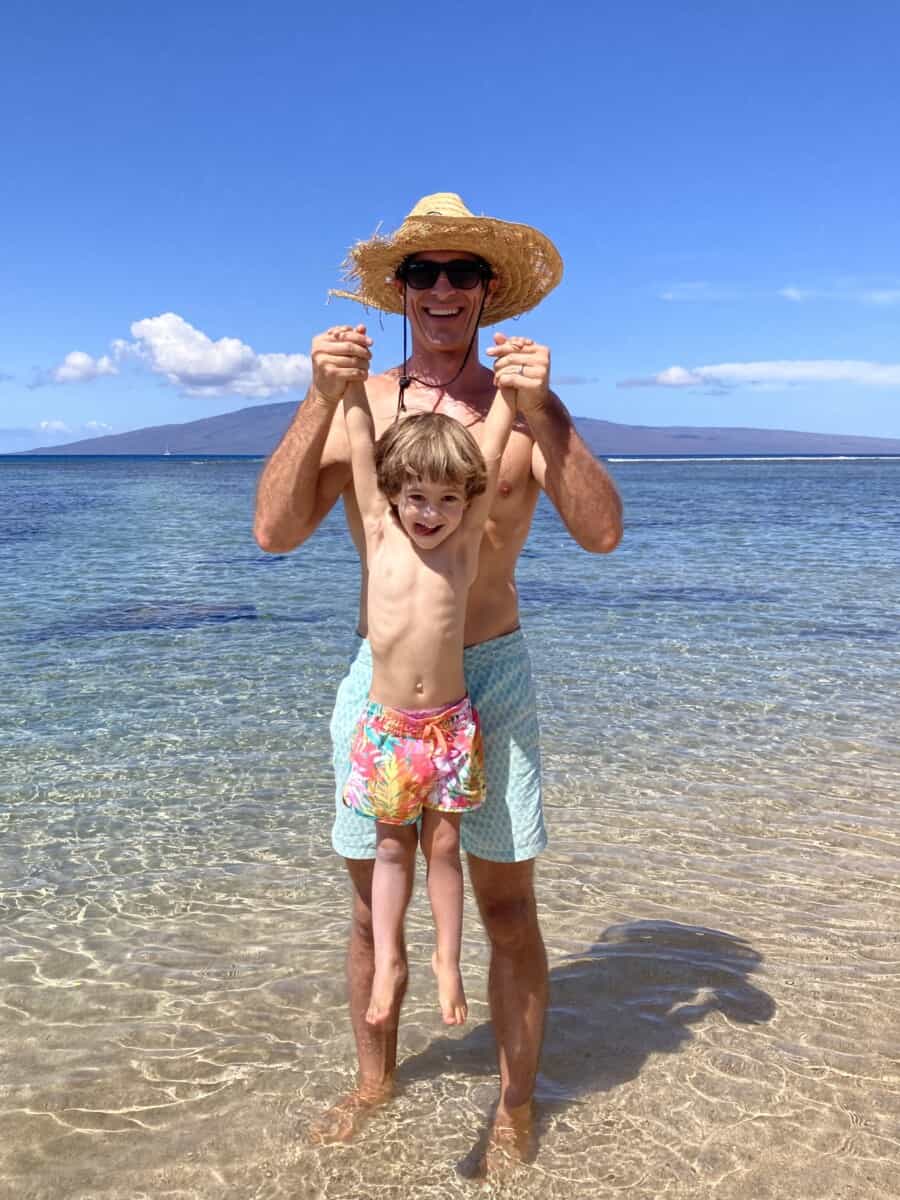 Located in the heart of Lahaina along Front Street, Pu'unoa Beach, or Baby Beach is a location frequented by families with young children or anyone else looking for an easy ocean experience. Protected by an off-shore reef break, Baby Beach offers a protected area for swimming without the threat of strong currents or big waves. 
Baby Beach consistently tops the lists as one of the best beaches on Maui with kids.
Baby Beach Lahaina Overview
Fast facts about Baby Beach:
Restrooms: No
Showers: No
Parking lot: No
Lifeguards: No

Getting to Baby Beach
There are two main entrances for Baby Beach. The entrance at the south end doesn't offer a parking lot — it's street parking only. The northern entrance has a small dirt parking lot steps away from the beach. 
The southernmost entrance is at the intersection of Front Street and Kai Pali Place. You can find parking along Front Street if you arrive early enough. If you're hoping to grab a spot in the parking lot, head to 99 Ala Moana Street and park in the dirt parking lot there. 
Things to do at Baby Beach
Baby Beach isn't the most exciting or most beautiful beach on the island. That's why you'll mainly find local families with young children frequenting this beach. 
But there are things to do here that even visitors would enjoy:
Wade out (far) from shore: The beach stays shallow for a long ways, so enjoy walking out far from shore and still being less than waist deep. 

Snorkel: While this certainly isn't a top spot for snorkeling, this is a great place for beginner snorkelers to practice putting their face in the water and breathing through the snorkel. As the water is shallow for quite a while and there are generally no waves, it can make it

an easy place to practice snorkeling

. And there are some fish and an occasional turtle that you can see. 

Enjoy the sand: We find this place to be so relaxing and an easy spot to enjoy family time. Some of our best days are spent just sitting on the beach, building sand castles, and watching the boats float by on the other side of the reef. 

Rent a Stand Up Paddle board: If you're looking for an easy place to try SUP (or take your kids out) this is the spot. 
Occasionally, you'll find a Monk Seal resting or swimming at the beach. This is rare (check out our video of it below!), but when you do be sure to give them their space. They're an endangered animal and should be respected. Admire them from afar!
Tips for Baby Beach
While this is a great beach for families, there are still some tips that can help you enjoy your time:
Don't step on the coral: Not only will you scrape your feet, but you'll be killing the coral that the fish and other sea life need to live. It's delicate, so do your best to stay away from it, which can be challenging during low tide. 

Bring food and drink: You can always leave the beach to get food and drink, but it's a walk or a short drive to get the necessities. Grab them before you hit the beach. 

Wear reef-safe sunscreen: Anytime you're hitting the beach in Hawaii, you'll want to make sure you have reef-safe sunscreen. Read more about

why reef-safe sunscreen is important and what to look for when shopping.

 
Baby Beach Safety
While Baby Beach is a very protected and calm beach, basic ocean safety still applies, especially when there are young kids around. A few things to note:
Be sure you always watch your children and don't let them go out too far by themselves. It's easy to get disoriented or to get hurt on the coral. 
During low tide, it can be difficult to wade around without running into the coral or rock, which can cause some painful cuts. 
Places to stay near Baby Beach
If you're looking to stay as close as possible to Baby Beach, you'll find a majority of your options are rental homes or condos that you can find on VRBO. 
Some vacation properties that are right near the beach entrance include:
Smaller condos and better priced units can be found further into town, at the Aina Nalu condo complex. 
Places to eat near Baby Beach
Because Baby Beach is in the heart of Lahaina, there is no shortage of great places to eat nearby. Some of our favorites are:
Star Noodle: excellent noodles and Asian shared plates served oceanfront. But this place books up well in advance so a reservation is recommended. Or, you can enjoy takeout and eat it back on the beach. 
Earth Aloha Eats: Great vegan food truck in the Cannery Mall parking lot. 
Waikiki Brewing Company: Comfort food and craft beer just a short walk from Baby Beach.
Planning a trip to Maui with kids? Baby Beach is just one of the excellent spots we cover in our Maui Family Itinerary. This done for you itinerary gives you the best family-friendly excursion days so you can experience the best of the island. Learn more about our best Hawaii itineraries. 
Erica Gellerman
I'm the co-founder, with my husband Jordan, of The Hawaii Vacation Guide. We live on Maui with our toddler Henry and our sweet but quirky dog Hattie. I am a planner! I love to plan island-hopping adventures, days out on Maui, and everything in-between. I spend a lot of my time on our SUP and my favorite time of year in Hawai'i is whale season!
Related Articles You Will Find Fascinating
Maui Gold Pineapple Farm & Factory Tour Tour one of the only two pineapple farms in America. Welcome to Maui's Pineapple Plantation, home to Maui Gold Pineapples. So much sweeter than Dole Pineapples! PINEAPPLE TOUR SUMMARY Pineapple Plantation Tour in...