11 Tips for Getting Around Maui Without a Car
Disclosure: This post may contain affiliate links, meaning if you decide to make a purchase through my links we may earn a commission at no additional cost to you. Read about our affiliate policies here.
Renting a car on Maui is generally a good idea. There is a lot to see and the public transportation system on the island isn't great.
But there are some times when renting a car is cost-prohibitive. Currently, Maui is seeing a surge in rental car demand that the rental car companies just can't meet. And that's making a lot of soon-to-be travelers feel anxious about their vacation. If you aren't able to get a rental car, here are some tips for getting around Maui and still having a fantastic vacation.
Here are 11 tips on how to get around Maui without a rental car:
Consider changing your location
Use tour companies to get around
Use the Lahaina shuttle
Use a grocery delivery service
Book a car for day excursions
Consider a moped or bike rental
Explore your area
Try Uber, Lyft, or taxis
Take an airport shuttle
Consider alternative rental car companies
Keep checking rental car rates
How to Get Around Maui Without a Car
Some of these may sound extreme, like changing your hotel or vacation rental, while others may help you realize the vacation you desire. Plan on not going to the rental car center when you land by following these 11 tips to get around Maui without a car. Happy travels.
1. Consider changing your location
Hear me out on this before you give a definitive no. You may have booked a hotel or Airbnb for a steal because it was "just a little further away from the action." But now that you're without a car, that slightly more removed spot has just become a huge inconvenience.
If your hotel or vacation rental allows you to cancel, consider changing your location to something more centrally located. If you want access to beaches and a ton of restaurants, book something in Ka'anapali, within walking distance of Whaler's Village, Lahaina, or right in Kihei. You can walk to beaches, snorkel spots, grocery stores, and restaurants without too much effort.
We had friends stay in Lahaina (right in town) at the Lahaina Shores. During a one-week trip, they used their rental car once. Could they have done more sightseeing? Of course. But within walking distance, they had more restaurants than they needed, two beaches, and the nightlife they were looking for. 
Get The Maui Itinerary
The step-by-step itinerary takes you to all the best beaches, snorkeling spots, restaurants, and sights. You'll get six carefully planned excursion days to help you see the can't miss stops no matter how limited your time is.
Get all the details on our itinerary and download it for a memorable and easily planned trip to Maui.
2. Use tour companies to get around
There is a lot to do and see on Maui and without a car, you might feel like you're missing out. No Road to Hana, no hiking, no Haleakala sunrise.
Only, without a car, you're now opening yourself up to some pretty amazing tour options. You can take a helicopter ride to Hana and a shuttle home. Have a tour guide show you the Road to Hana in A/C comfort like Hana and Beyond and Valley Isle Excursions. You can have a guide take you to hike around and swim in waterfalls. Or you can have a shuttle bus pick you up at 2:30 am (yes, really) and drive you up the mountain for a Haleakala sunrise. 
Save 10% on Haleakala Sunrise Tour and Road to Hana Tour with Valley Isle Excursions. Use promo code HVG10 at checkout at the links above.
Some sailing operators like Kai Kanani will offer pickup and drop-off for snorkeling trips from resorts in South Maui (Wailea and Kihei). 
It should be noted that like everything else on the island currently, you'll want to book in advance.
3. Use the Lahaina shuttle
If you're staying in Ka'anapali and you want to venture down to Lahaina, the walk can be a bit too far, especially in the hot sun. Luckily, you have a shuttle that takes you from Whaler's Village down to Lahaina. They have a few stops: hop off at the north end at the Lahaina Cannery Mall or the south end at The Wharf Cinema Center. So you can easily enjoy the beaches up in Ka'anapali (beautiful) and then hop down to Lahaina for sightseeing, meals, shopping, or any boat tours you have planned.
Unfortunately, Kihei and Wailea don't have the same shuttle service that Lahaina and Ka'anapali have. But check with your hotel to see if they offer any options to get around.
4. Use a grocery delivery service
Booked a vacation rental but don't have a car to grab your groceries? Not a problem. We do have Instacart and other grocery delivery services. Yes, you'll pay a fee, but that's cheaper than using an over-priced rental car.
5. Book a car for day excursions
I know, I know. You want to see more of the island. Because it is a darn pretty island and staying in your resort for the duration of your trip means your missing out on some of the most beautiful sights.
But a rental car for your entire trip isn't necessary. Book a car for just a day or two and plan out a couple of spectacular days of sightseeing.
Not sure how to make the most of your days out? Our itineraries have the perfect excursion days, taking you from breakfast to dinner to seeing the sights and enjoying different parts of the island. Check out our in-depth itineraries so you don't miss a moment of your limited time with a rental car. 
You can book rental cars away from the main airport location, in Ka'anapali and in Wailea/Kihei. We love using Discount Hawaii Car Rental. Local rental companies are also a great option.
6. Consider a moped or bike rental
While cars are a comfortable mode of transportation, a moped can be a blast. Consider renting a moped to cruise around to different beaches and restaurants. While you won't be able to take a moped everywhere, it can be really convenient for zipping around the part of the island you're staying on. Bikes can also be helpful to take you a few miles, from beach to beach, and out to dinner.
Check availability with Tiki Scooters in Lahaina.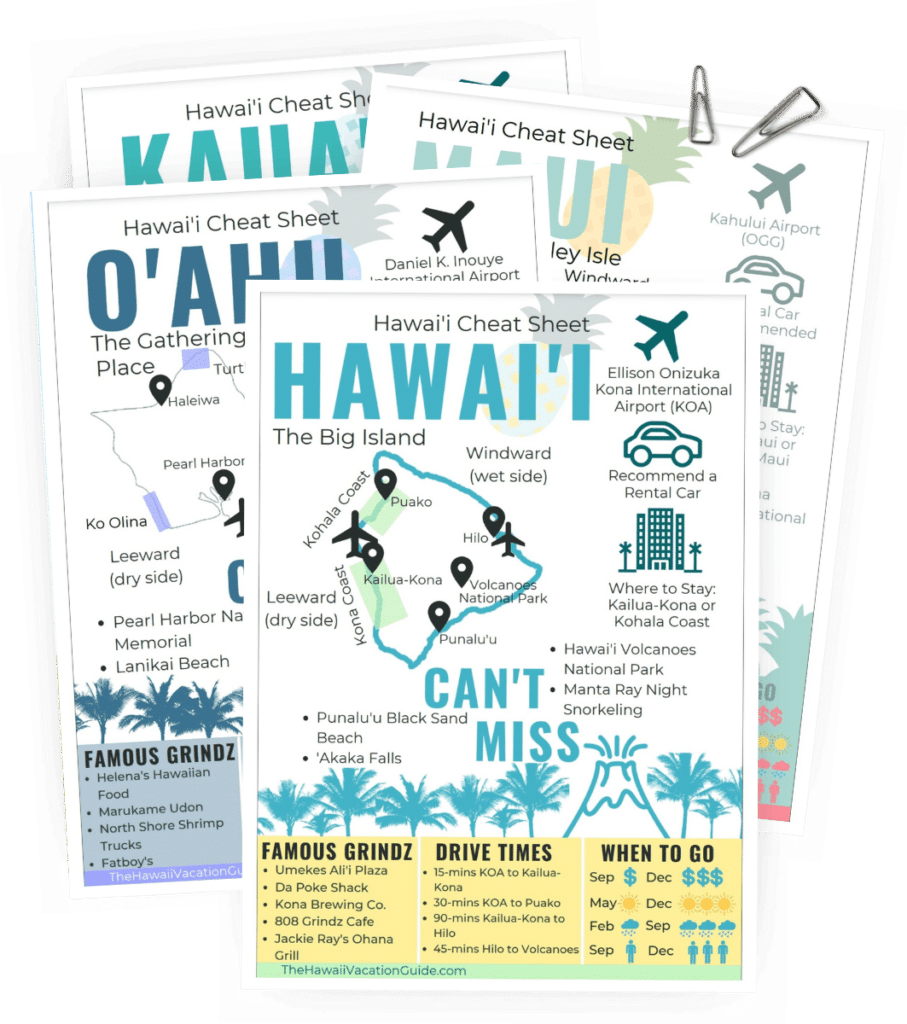 Free Download!
Hawaiian Island Cheat Sheets
Sign up & we'll send you our island cheat sheets so you can get to know the islands like the back of your hand!
We'll share 4 can't-miss activities on each island, a map with the main sights in town, & famous local grindz (eats)!
7. Explore your area
While there is a lot to do and see on Maui, there's likely a lot to do right where you're staying. Don't get discouraged with what you can't see — focus on what you can. For example, if you're staying in Napili, you can enjoy Napili Bay, Honokeana Cove, and Kapalua Bay. You have restaurant options like the Gazebo, the Seahouse, and Merriman's. You can walk the Kapalua coastal trail and take in the views.
When you start looking at what's available by foot (and you're able to make the journey), things start opening up more.
8. Try Uber, Lyft, and taxis
This shouldn't be something you anticipate to rely too heavily on when the island is having a car shortage because everyone is going to run to these services. But you can take shuttles, taxis, and car services all over the island if you want to get out for the day.
9. Take an airport shuttle
Getting from the airport to your accommodations on the west or south side of the island is a pain. Taxis can be expensive and it can be hard to book them when the island is experiencing a car shortage (like now). Instead, consider taking an airport shuttle. A shared shuttle starts at $19 per person with Roberts Hawaii.
10. Consider alternative rental companies
This is probably my most favorite recommendation. Why not book a camper van? We enjoyed a three-day trip with a VW Westfalia over to Hana, but these camper vans aren't only good for camping. Consider cruising around in one to see the sights on the island. We rented ours from Maui Westy Campers, but you can search for other camper van rental companies or look on Outdoorsy.
We also love using local rental car companies when we can. They're easy to call and talk to and can usually help you find a day or two of availability to do some fun days out. Some local rental companies include:
11. Keep checking rental car rates
We're heading to Oahu later this month, which is also having a rental car shortage (though possibly not as bad as Maui's). Yesterday I was looking for a rental car and the best price I could find was $300 per day. Today, I checked again and we found a car for under $100 per day.
Again, not a *steal* during normal times but checking again was a huge cost saving. I'll keep checking until we leave to see if I can find better prices.
Our favorite option for shopping around is Discount Hawaii Car Rental. They allow you to shop with all of the major car rental agencies and they somehow snag the lowest prices. Plus, there's no credit card required to make your reservation. Shop around and keep checking prices with Discount Hawaii Car Rental.
Final Thoughts on Getting Around Maui Without a Car
You can still have a wonderful vacation on Maui without a rental car. The main reason for most to visit Hawaii is the beach, sun, and relaxation. A rental car isn't required for those three activities. Find a good place to stay and soak up the sun without worrying about the resort parking fee.
If you are looking for more tips and best practices on vacationing on Maui without a car or renting a car for a day or two, then check out our video on car rentals on Maui.