The Ultimate Guide to Whale Watching on Maui: Best Tours and Tips
Disclosure: This post may contain affiliate links, meaning if you decide to make a purchase through my links we may earn a commission at no additional cost to you. Read about our affiliate policies here.
If you're heading out to Maui during the winter, consider yourself lucky. You are in for a whale-watching treat. While you can easily casually spot these beautiful creatures from shore, a little more information can help you get the most out of whale watching on Maui.
What is the best time of year to see whales on Maui?
Whale season officially runs from mid-December to April, though you can spot whales as early as October or November. Most whale tour companies offer guaranteed whale sightings from December through May because that's when you have your best chances of seeing whales.
Peak whale watching season is usually considered January through March, which is when you have the majority of whales here. Looking out at the water during those months, you're almost guaranteed to see whales from land. You can read more about whale counts, the peak month, and the best time to see whales in Hawaii.
Visiting during peak season? Learn more about visiting Maui in February.
Why do whales come to Maui?
Each year as many as 12,000 whales make the migration from Alaska to Hawaii to breed, give birth, and nurture their calves. The warm water here makes it a perfect place to enjoy the birth. Humpback whales have an 11-12 month gestation period, so they'll mate in Hawaii one year and return the next year to give birth.
What is the best Hawaiian island for whale watching?
You can technically see whales from any of the Hawaiian islands, but you'll have the best whale-watching experience on Maui. That's because a majority of whales make their way to the warm and shallow waters of the Auau channel — the channel between Maui, Molokai, and Lanai. It's one of the best whale-watching destinations in the world. That's why if you're staying on the leeward side (western side) of Maui, you'll see plenty of whales in the water just offshore.
What are the best places for whale watching on Maui?
There are a couple of options for whale watching on Maui: you can stick to dry land and watch them from the shore, or you can head out onto the water with a whale watching tour.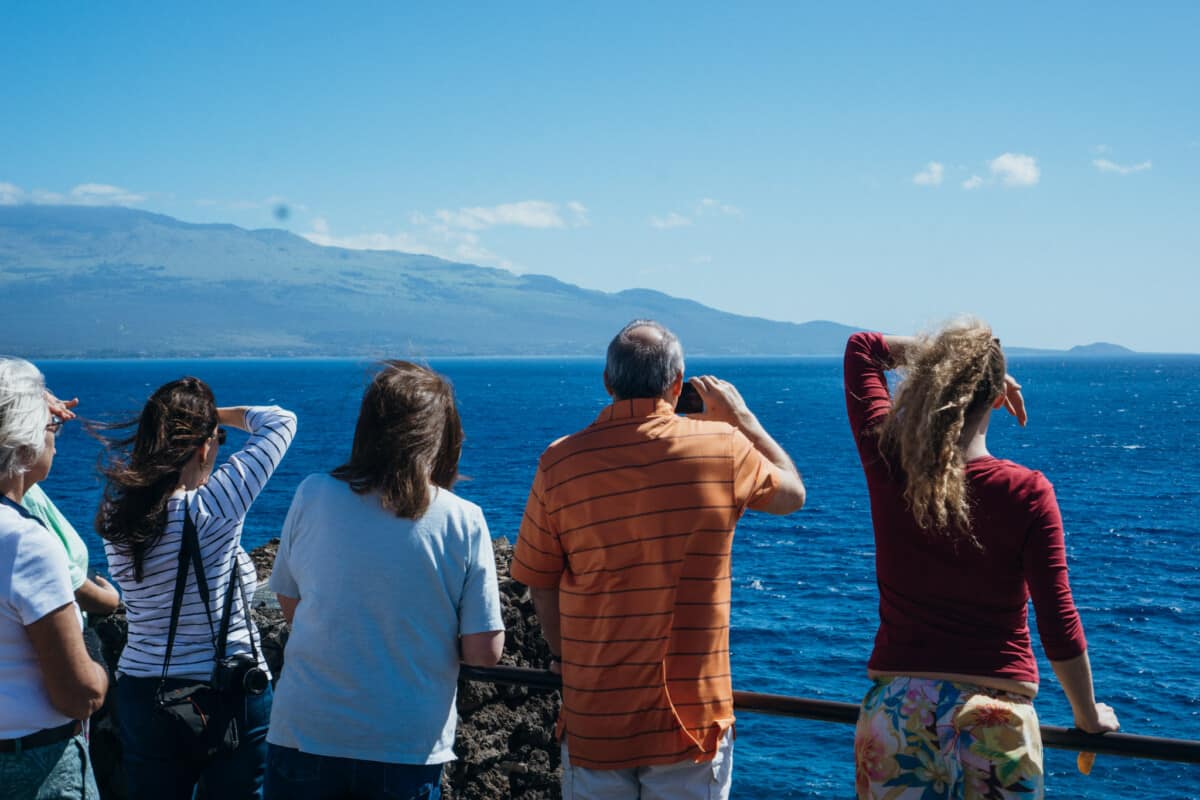 Watching whales from shore:
You don't have to head out onto a boat to see whales — you can actually see them from different places on the Maui shore. In order from South Maui to West Maui, here are the best Maui whale watching locations from the shore:
Pu'u Ola'i Beach:

located off Wailea Alanui Drive, near Makena Beach.

Wailea Oceanside Path:

Take a stroll on the Wailea Beach Resort Boardwalk from the Fairmont Kea Lani Hotel to Ulua Beach. Perfect for sunset viewing.

Visitor Center for the Hawaiian Islands Humpback Whale National Marine Sanctuary:

Newly renovated, this is a great place to see whales breach while learning about the marine environment in their exhibits. 726 South Kihei Road, Kihei.

McGregor Point Lookout:

On the Honoapiilani Highway between Ma'alea and Lahaina is a scenic outlook with plenty of parking. This is the top place for consistent whale viewing as it is high up on a cliff overlooking the ocean.

Lahaina Pali Trailhead:

The trailhead is on the Honoapiilani Highway on the Lahaina side of the tunnel at 20 Honoapiilani Highway, between Coral Gardens and Papalaua Wayside Park.

Olowalu:

Five miles south of Lahaina on the Honoapiilani Highway in the village of Olowaul is a viewing area up the hill. Turn into the Olowalu General Store and Leoda's Kitchen, then follow the dirt road behind the store up the hill for great vistas.

Ka'anapali Beach Walking Path:

Walk the beachside path from Black Rock to the Hyatt on the south side of Ka'anapali to see whales frolicking in the waters.
Want tips or answers to your questions about whales? The Pacific Whale Foundation has a marine naturalist manning a table at the McGregor Point Lookout on Route 30, Honoapi'ilani Highway. The station is manned from 8:00 am to 2:00 pm daily during the whale season.
You are also welcome to go to the Visitor Center of the Hawaiian Island Humpback Whale National Marine Sanctuary. Located on the beachfront in Kihei (South Maui), the Visitor Center is an ideal location to watch humpback whales breach and learn about the marine environment.
Related read: Our 17 favorite beaches on Maui, with directions and tips
Get The Maui Itinerary
The step-by-step itinerary takes you to all the best beaches, snorkeling spots, restaurants, and sights. You'll get six carefully planned excursion days to help you see the can't miss stops no matter how limited your time is.
Get all the details on our itinerary and download it for a memorable and easily planned trip to Maui.
Types of Whale Watching Tours on Maui:
If you'd like to head out onto the water to get a closer view of the whales in the water, there are a number of different tour options available to you. You can choose to head out on a:
Catamaran

Sailboat

Raft

Kayak

Outrigger Canoe
1. Catamaran whale watching
A number of the whale watching tour operators use catamarans to take large groups out whale watching. You'll generally find groups of over 100 people on the large catamarans. Though during peak whale season you generally don't have to worry about not being able to see through the crowd — they often do a good job of rotating the boat or spreading people out to make sure everyone gets to see something.
2. Sailboat
Heading out on a sailboat offers a smaller group experience than catamaran whale watching. You'll usually find that the sailboats will take out groups of 60 or less. They might also offer more upscale amenities, such as breakfast or mai tai drinks. Our favorite sailboat tour operator is Sail Maui. Receive 10% off with promo code HVG10.
3. Raft
Rafting is another popular tour type and you'll hit the water with an even smaller group. Rafts offer a faster ride so you can cover more ground than you would in a catamaran or sailboat. And you're closer to the water so if a whale does venture close, you get a great view. But these can be bumpier rides so it won't be a smooth, luxurious sailing experience. We love rafting for whale watching and from Lahaina, we go out on Ultimate Whale Watch, take 10% off your tickets with promo code "HVG" at checkout on their most popular tour. Save 10% on their 2-Hour Whale Watching Tour.
4. Kayaking
Get some exercise while looking for whales. Hop in a kayak and head out with a guide to paddle out to the whales. These small group tours can't cover as much ground as a regular boat tour, but it gives you a unique, adrenaline-filled experience.
5. Outrigger Canoe
Jump in an outrigger canoe — the form of transportation that Hawaiians have used for centuries. Powered by your arms, this is a unique way to get out on the water and see the whales. Just like a kayak, you won't cover as much ground. But your guides will know where to take you to have the best chance of seeing whales.
Related read: Our favorite snorkeling spots on Maui
How much does it cost to whale watch in Maui?
If you're going with a tour, rather than whale watching on your own from shore, prices will range. Some of the larger boats will offer deals and discounts, so you may be able to find a whale watching tour for less than $50 per person. Smaller boats and more intimate experiences can often run $100 or more per person.
What are the best whale-watching tours on Maui?
There are a number of different whale-watching tours you can take on Maui. When you come during whale season, you can hardly walk down the street without someone trying to get you to head out on their boat. We've done so many different tours and these are our favorites.
Make sure to check out the full listing of our favorite whale watching tours on Maui, plus the exclusive discounts we are able to share with you!
Whale watching options in Lahaina
Ultimate Whale Watching
We love a good whale-watching rafting trip. We've done this tour many, many times and we've never been disappointed. Close encounters, speeding around the channel, and knowledgeable guides are what you'll find on this tour. They have so many great tours to choose from:
Or, book their standard 2 hour (and most popular!) tour and get 10% off with the code HVG.
Sail Maui
Want to sail around on a catamaran while you look for whales? Sail Maui is our favorite Lahaina sailing experience. Everything is great from start to finish: from their friendly and knowledgeable crew to their comfortable boat. In this article, we give you the full rundown of our thoughts about whale watching with Sail Maui. Use our exclusive promo code "HVG10" at checkout to receive 10% off your booking. 
Maui Adventure Tours
Prefer to kayak out to the whales? Maui Adventure Tours leave from the shores of Olowalu Beach, just south of Lahaina. Kayak, snorkel, and have an amazing time out on the water. Whale sightings are guaranteed from January – April. Read more about the details with Maui Adventure Tours.
Whale watching options in Kihei and South Maui
Kai Kanani:
We are lucky enough to have been out with Kai Kanani several times and they're always our go-to sailing experience on South Maui. Not only do they provide best-in-class service, they also leave directly from Maluaka Beach, so there's no need to drive to Maalaea harbor. Read more about Kai Kanani whale watching.
Redline Rafting:
This south Maui rafting experience is a favorite for Molokini backside tours. But they also have amazing whale-watching tours.
For more tours and recommendations, check out our full listing of Maui Tours and Activities.
Get The Maui Itinerary
The step-by-step itinerary takes you to all the best beaches, snorkeling spots, restaurants, and sights. You'll get six carefully planned excursion days to help you see the can't miss stops no matter how limited your time is.
Get all the details on our itinerary and download it for a memorable and easily planned trip to Maui.
Tips for whale watching:
Want to be as prepared as possible for your whale-watching experience? Our video lays out seven tips to help you make the most of your experience:
Here are a few whale-watching tips that you definitely want to take note of:
The best time of the day to go whale watching?
There is no best time of the day to whale watch. Really. We've asked the naturalists. We've gone out at all different times of the day. Whales are not more active one time of day compared to the other.
That said, there are some reasons you may want to skip an afternoon tour. It can get hot out on the water, even in the middle of winter. We find the temperature a little more favorable during the earlier morning boat rides.
Go whale watching at the beginning of your trip
Most whale watching tour operators offer guaranteed sightings. But that doesn't mean you'll get your money back if your boat doesn't see a whale. What that means is that they'll offer you another trip free of charge. If you're whale watching on your final day in Maui, another free trip isn't going to do you much good. So though it's very rare to not see any whales, plan to go whale watching early on in your trip so you can take advantage of the sighting guarantee.
What you should bring whale watching
You won't need much for your whale watching trip, but there are a few items that will make your time on the boat more enjoyable:
Reef safe sunscreen. Learn why reef safe sunscreen is the only legal sunscreen in Hawaii.

Sunglasses and hat

A light jacket for the early morning tours

A towel. You might get wet if you sit up front on a sailboat or raft

Camera and or Go Pro for underwater shots

Binoculars can be helpful, especially if you're watching whales that aren't yet close to the boat.
And don't forget to take sea sickness medication before the trip if you need it!
Can children go whale watching?
Absolutely! Check with individual whale watching tours to learn about their minimum age requirements. For example, Ultimate Whale Watching states that the minimum age is 3 years old.
What can you see whale watching on Maui?
Humpback whales are incredible creatures and they often put on a show that whale watchers can enjoy. Here are a few things you can expect to see while out whale watching:
Mugging
Boats must stay 100 yards away from a humpback whale. Mugging occurs when a whale approaches a boat to take a closer look.
Spy Hopping
Vertically floating in the water, a whale will pop its eyes out of the water to see what is happening on the surface. The whale's rostrum or head is completely out of the water; this is called a spy hop.
Breaching
This is what you are waiting for, a breach. Humpback whales are famous for their playful, acrobatic feats. They gain speed quickly and launch their 35-ton+ selves out of the water and land with a terrific splash.
The peduncle muscle, located between the dorsal fin and the flukes, provides a strong force to push the whale upwards and onwards. Researchers believe the maneuver is to blast off parasites or announce their presence, but no one really knows.
​​A Blow
About every 15 to 20-minutes adult humpback whales swim to the surface to breathe. They can go 45-minutes on a deep dive. A blow results in a fine mist of hot, condensed water from their lungs that can go as high as 20-feet. This is the easiest way to spot whales.
Pec Slapping
A pectoral slap is when a female whale lifts one or both large fins out of the water and then slaps the water repeatedly. Scientists believe this is to attract males in the area. At up to 16-feet long, the pec makes quite a splash.
Tail Slapping
If the pec slap isn't enough for you, try a tail slap or tail throw. The fluke (tail) is raised out the water and thrashed down onto the surface. The slap can create a gunshot-like-sound that carries onto the shore. It is often done repeatedly either to show aggression or play. Juveniles like to practice this trick.
A Fluke Dive
The party is over. When the tail is evenly and fully out of the water, their bodies are in an upside-down upward arch under the water. This signals the whales are going on a deep dive.
Whale Song
If the whales are underwater and there's not much surface activity, your naturalist may decide to put a hydrophone underwater so you can hear the whale songs.
Heading to Maui for whale watching?
Don't miss the other good stuff the island has to offer. You can explore more by visiting our Maui Guide, which will share important information like where to stay and what to do while you're here.
And if you want an easy way to plan your vacation, we offer a done for you Maui itinerary with seven excursion days. These days are carefully planned out to take you to the best spots on the island on efficient routes, so you can make the most of your stay.
"Just wanted to thank you for the awesome itinerary you have put together. We just got back from our 10 day Maui trip & it was such a great help to my family. We saw and experienced so much. Thank you for putting all of this fantastic travel information out there! For this travel research nerd, I sure do appreciate it!"