Hawaii Whale Watching Guide: The Best Hawaiian Island For Whale Watching 
Disclosure: This post may contain affiliate links, meaning if you decide to make a purchase through my links we may earn a commission at no additional cost to you. Read about our affiliate policies here.
Hawaii is a whale lover's paradise. Thousands of humpback whales migrate to the Hawaiian Islands each year, seeking out their warm, protected waters for both breeding and raising their young. Getting the chance to see these beauties in person is absolutely mind-blowing and there's no better place to do it.
Over 12 different species of whale frequent the area including sperm whales, pilot whales, and false killer whales, but the humpbacks are the true stars of the show. Whether you're spotting them from the shoreline or on a whale watching tour, witnessing these serene creatures is truly a bucket list experience.
Here's everything you need to know about whale watching in Hawaii – and the best island for it!
Want a tour from the best island? (Spoiler alert) we have the quick links for you here:
In this article, we highlight Kai Kanani, Sail Maui, and you can even save 10% using code HVG with Ultimate Whale Watch
But we also cover the 7 best Maui whale watching tours if you want some more options.
For other islands, use our handy Table of Contents to jump to tours by island.
What is the Best Hawaiian Island For Whale Watching?
The best Hawaiian Island for whale watching is Maui. In fact, it's so good that we have an entire guide dedicated to whale watching on Maui.
The Great Whale Count, a volunteer effort to collect population data on whales, counted almost 600 whales off Maui's coast on February 27th, 2023. This is just one example of the density of the whales here come peak season.
So, why is Maui so great for whale watching? The Au'au Channel draws in humpback whales every winter due to its extra warm current. This narrow swathe of sea, winding its way between the shoreline of West Maui and Lanai's east coast, is also shallow which means that the whales are typically closer to the surface and easier to catch a glimpse of.
Don't fret if your travels aren't taking you to Maui. Oahu is also a great island for whale watching and there's a chance to see whales on any of the Hawaiian Islands in the winter months.
What is the Best Time of Year to Go Whale Watching?
The best time of year to go whale watching in Hawaii is from mid-December to April. It's even possible to spot whales from land during these months! You can technically start seeing whales in October or November, but sightings aren't guaranteed. Peak season is from January to March and many tour operators will even guarantee sightings, meaning you can jump on a tour on a later date if you don't see them on your original tour.
You may also be wondering if there's a specific time of day that is best for spotting whales. We've learned from several marine naturalists on past tours and personal experience that you can see them at any hour during the season. We prefer heading out early to avoid the midday heat and the trade winds, which kick up in the afternoon.
Prime whale watching season also happens to coincide with the high tourist season in Hawaii. Just something to keep in mind if you're planning to visit Hawaii in the winter.
Can You See Whales from the Shore or Do You Need to Take a Tour?
One of the most magical aspects of whale season in Hawaii is that they're easily spotted from the shore! While Maui is known as the best island to see whales, you can see them from shore on any of the Hawaiian Islands during peak season. Luckily, whales like relatively shallow water which makes it easy to see them surface, or even breach, from your spot on the beach!
With all this in mind, there are specific places on each island that are best for whale watching from the shoreline. On Maui, whale watchers will want to stick to the leeward side of the island, along the Au'au Channel, for the best chance of seeing breaching or spouts. Anywhere from Kapalua to Wailea is a prime destination for whale watching from shore.
You can read our Maui Whale Watching Guide for our map on where to stop and see whales from the beach. Plus take a look at our Maui Travel Guide to get a sense of the island.
As the second best place among the Hawaiian Islands to go whale watching, Oahu is a great place to see whales on dry land. Spots to seek out include Turtle Bay, Pyramid Rock Beach, Sharks Cove, Halona Blowhole, and Lanai Lookout. Locations on Oahu's North Shore are particularly great for catching a glimpse.
Some of the most notorious spots on Kauai for spotting whales are the Kilauea Lighthouse, Makahuena Point, and Kapa'a Lookout. These locations are spread out across the island which is ideal if you're fitting whale watching into a tight schedule.
Last but not least, Hawaii's Big Island is one of the more tricky places to see whales but it's still possible. Make a beeline for the Four Seasons Hualalai, Kapa'a Beach Park, or the Pu'ukohola Heiau National Historic Site for a chance to spot them from January to March.
Hawaii's smaller and less frequented islands, like Lanai, are also ideal areas for whale watching. Pu'upehe is a great vantage point to see whales from shore on the "Pineapple Isle".
How Much Does it Cost to Go Whale Watching?
Considering that you can see whales from the shore in Hawaii, whale watching can be completely free. Still, the best way to see these gentle giants is in their ocean habitat. Most tours are also led by a marine naturalist that gives visitors detailed information that you'll find both interesting and memorable.
Prices for a whale watching tour can vary greatly. Tours at the very start of the season can go for as little as $50 per person with some of the larger groups. This kind of excursion can easily climb to $100 per person.
We've always had the most enjoyable time on rafting tours, which typically range from $65 to $150. For tours with kiddos, catamarans are ideal. Prices don't include gratuity which is always appreciated and an added cost to keep in mind.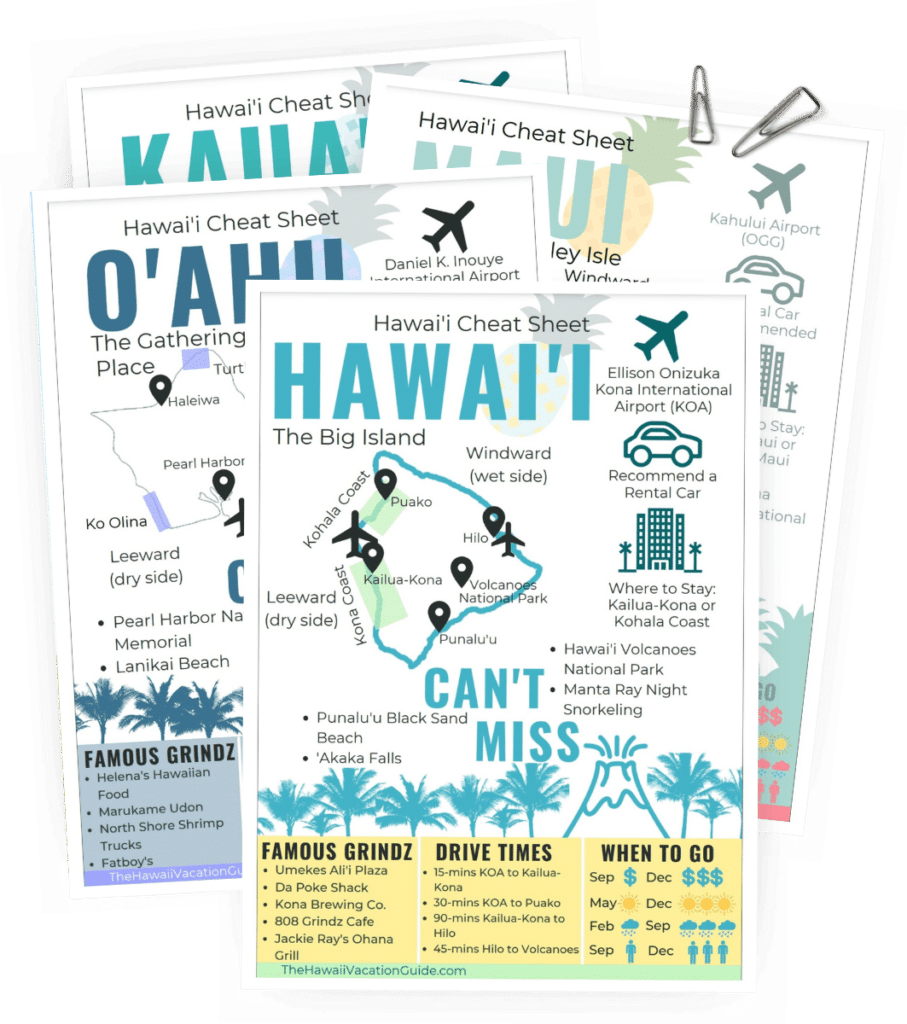 Free Download!
Hawaiian Island Cheat Sheets
Sign up & we'll send you our island cheat sheets so you can get to know the islands like the back of your hand!
We'll share 4 can't-miss activities on each island, a map with the main sights in town, & famous local grindz (eats)!
The Best Whale Watching Tours in Hawaii
Whale Watching excursions take off from all of the major Hawaiian Islands. If you're planning to visit during peak whale season, set sail on any of these tours to witness whales. These are the best whale watching tours in Hawaii, by island.
Maui
Due to the devastating fires in Lahaina many of these tours will be leaving from alternative locations on the island.
Ultimate Whale Watch
Ultimate Whale Watch leads rafting trips off the coast of Maui, one of our favorite ways to see the whales! This type of tour allows you to get up close and personal with these beautiful creatures, while still remaining a safe distance away from the whales. They originally operated out of Lahaina Harbor but are planning to leave from West Maui this year, starting in December.
Sail Maui
Set sail on a stunning catamaran as you search for whales in style. The vessel is extremely comfortable and provides a more relaxed atmosphere for whale watching hopefuls, free from the din of a motor. Lunch and drinks are included with your tour. Sail Maui previously left from Lahaina Harbor but is now operating out of Ma'alaea Harbor, just a 10 minute drive north of Kihei.
Adventure Whale Watching from Wailea
Another catamaran experience that includes beach loading, Kai Kanani sails with a marine naturalist who details interesting facts and information on these impressive mammals. Sightings are guaranteed with this tour meaning that you'll be rescheduled on another tour if you don't see whales! Snacks and drinks are included. This whale watching tour leaves from Wailea.
Check out even more amazing Maui whale watching tours.
Oahu
Whale Watching From West Oahu
Dolphin Excursions takes a small group of just 15 whale watchers on their Power Raft for up close views of whales breaching and tail slapping. Sightings are guaranteed and drinks and snacks are BYOB with coolers on board. This tour is unique in that you'll also have the chance to snorkel with sea turtles and tropical fish. Marine naturalists are on board to share educational tidbits about the whales and the crew brings along a hydrophone for whale songs.
Whale Watching Tour From Waikiki
And You Creations leads this whale watching excursion straight from the Kewalo Basin Harbor in pretty Waikiki. This boat has two floors and offers amazing views from both the bow of the main floor and the top deck. A hydrophone is brought along to hear the whales singing and a marine naturalist is on board for any questions and to enrich the experience with information and facts about the whales.
This boat is fast, covering more ground and thus giving visitors a better chance to see whales – and possibly dolphins. The tour also includes fun activities like a hula show and breakfast pastries with morning drinks like coffee and orange juice!
Plus get 15% off when you book early and use code EARLYBIRD
Both of these tours made our list of the 7 Best Oahu Whale Watching Tours.
Looking for Waikiki resources?
The 21 Best Things to Do in Waikiki
7 Awesome Vacation Rentals in Waikiki: Pick The Right Place
Why is Waikiki Beach Famous? Here are 10 Answers to Your Question
Kaui
Captain J's Super Raft Whale Watching Tour
Leaving from Port Allen on Kauai, this tour sets out by Super Raft. Although it sounds like a wild adventure, the Super Raft is surprisingly comfortable with bathrooms onboard and a cover to help protect from the sun.
Snacks and beverages are included and a hydrophone is used to catch the whales' beautiful underwater melodies. While sightings aren't guaranteed, the crew are experts at seeking out the whales. This tour typically goes to Poipu as whales tend to gather in the area's calm waters.
Kauai Zodiac Tourz
This whale and dolphin watching tour leaves the Kukui'Ula Small Boat Harbor in Poipu by 25 foot Zodiac. This option is for those who are looking for a more thrilling way to see the whales. Speed is the name of the game, allowing guests to feel at one with nature, close to the water's surface.
This is the only tour that leaves right from Poipu and can accommodate up to 14 guests. Keep in mind that there is no shade and this tour is not recommended for pregnant women or those with back or neck problems.
These tours made it on our list of the best whale watching tours on Kauai.
The Big Island
Keep in mind that whale watching season on the Big Island is typically shorter than on the other Hawaiian Islands and ranges from late December to late March.
Adventure X Ocean Tours
This whale watching tour heads out into Puako Bay, known as the nursing grounds for babies and their mothers, in search of humpback whales. You may see breaching and even competition pods – males vying for a mate – on this tour! This is a 30 ft. power raft tour with a small group of up to 20 people.
This tour has high chances of close encounters and an onboard naturalist provides interesting facts for the curious. Drinks and snacks are included. They even dip a hydrophone into the water so guests can hear the whale songs. Reservations begin the first week of January and end in March.
Captain Zodiac
Leaving from the Big Island's Kona Coast, this whale watching tour takes off in a 24-foot Zodiac (a type of power raft). This kind of tour is an exhilarating experience and allows visitors to get up close and personal with the whales.
The captain is a naturalist and adheres to Federal MMPA whale viewing regulations. Only 16 passengers means that this small tour is ideal for those wanting to avoid crowds and have a more intimate experience. Dolphins and sea turtles are also regularly sighted. This tour begins in January and ends in March.
Check out our list of The Best Big Island Whale Watching Tours.
Plan Your Trip with Confidence
Whether you make it to Hawaii for whale season or decide to go another time, cut your planning time down to a fraction with an itinerary. They're packed with excursion days, the best restaurants, what to pack, all the way down to where to find free parking. We have your whole trip covered.
I wanted to let you know that we just returned from 17 days is Hawaii and your information was our go to. We read your newsletters, watched your videos and ordered itineraries for the two islands we spent the most time on. This helped us plan our days and ensured we saw great sights we otherwise would never have known to stop. We referred to the guides often so saving it in files on my phone was perfect. You saved us tons of time energy and money while ensuring we had a awesome trip. Worth every dime and minute we spent on your info. Thanks!

Traci Bolander