Is Kauai or Maui Better for a Family Vacation?
Disclosure: This post may contain affiliate links, meaning if you decide to make a purchase through my links we may earn a commission at no additional cost to you. Read about our affiliate policies here.
Planning a family trip can be challenging. You have kids to think about, travel plans to make, and so many hotels to pick from. But before you do all of that, you have a decision to make: should you go to Kauai or Maui?
On both islands, you'll find everything your family needs. Great resorts, fantastic vacation rentals, beautiful beaches, and family-friendly dining. But they are different. Maui has better resorts, weather, and beach options. Kauai has better hiking, is less crowded, and requires less driving.
Your experience on each island will be different and one may be a better fit for your family than the other.
Why Maui is the Better Island for a Family Vacation
Maui, the Valley Isle, is the second most visited island in Hawaii, according to data from the Hawaii Tourism Authority. And it's easy to see why. These are some of the reasons why Maui is the right choice.
Better Weather Year-Round in Maui
While all of the Hawaiian islands have rainy and sunny sides, there is differences between them. Maui wins in the weather department if you're looking for a sunny vacation (and most people are).
Kauai is called the Garden Isle because it's lush and green. Want to know what makes it so lush and green? Rain.
This chart with rain data from weather.com shows exactly how much rain Kauai gets compared with Maui.
Can you still have sunny days in Kauai? Absolutely. Are you going to have fewer of them in Kauai? Absolutely.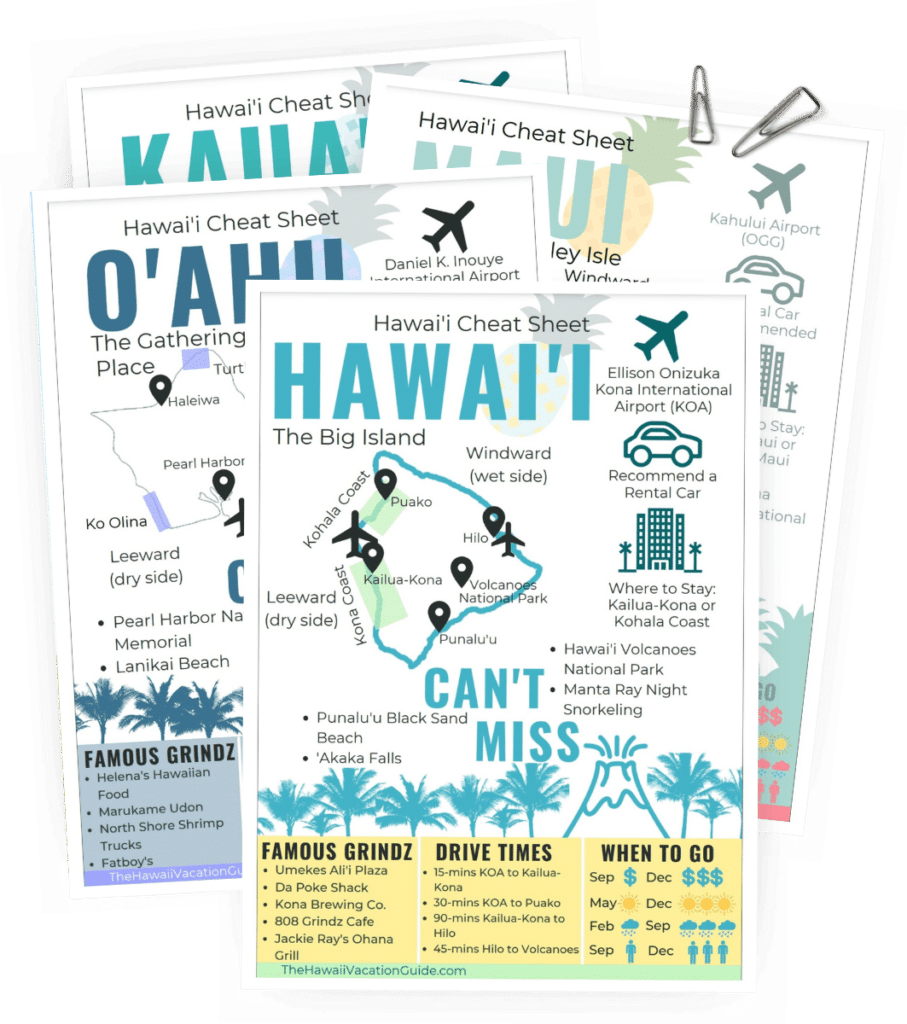 Free Download!
Hawaiian Island Cheat Sheets
Sign up & we'll send you our island cheat sheets so you can get to know the islands like the back of your hand!
We'll share 4 can't-miss activities on each island, a map with the main sights in town, & famous local grindz (eats)!
Maui vs Kauai: Resort Experience
Some families are in it for the resort experience (hey, I get it. I have a toddler and he loves a spectacular resort pool). If this is you, there are some fantastic resorts on Maui. We have an entire article covering the best family-friendly resorts on Maui, but some of our favorites are the Fairmont Kea Lani and the Grand Wailea.
Read: Where to Stay on Maui with Kids. 10 Beach Resorts and Vacation Rentals
More Beachfront Lodging Options (Maui wins again)
Whether you're looking for a beachfront resort or a vacation rental, you'll have more options on Maui. Yes, Kauai does have a number of beachfront lodging, but the beaches that are easy for kids to enjoy are fewer. If you're looking for a place where you can stroll from your room straight out to the beach and take your kids in the water, Maui offers more options, specifically in the Kaanapali and Wailea resort areas.
Related read: Kaanapali vs Wailea
Easier Ocean Swimming and Snorkeling
Both islands have beaches that are great for young swimmers and reefs that are beautiful and full of sea life. But Maui has more of them. No matter what side of the island you're staying on, you'll have easy access to calm water and on the west and south side of the island, there are so many beaches that kids will be happy to play on.
Swimming conditions in Kauai vary greatly with the season. For example, Hanalei Bay is a beautiful location for young swimmers in the summer. In the winter, it's best to stay out of the water.
Read: The Best Kid-Friendly Beaches on Kauai
Why Kauai is the Better Island for a Family Vacation
When you take your family to Kauai, you're embarking on an adventure that you'll remember forever.
More Outdoor Adventures on Kauai
With all islands, you'll embrace the outdoors. But on Kauai, there is something different. Yes, snorkeling and swimming in the ocean might be easier for young swimmers on Maui, but Kauai offers even more outdoor adventures than you'll find on Maui.
Kayak to a waterfall. Take to the skies on an epic helicopter ride. Tube through the mountains.
Kauai offers an incredible number of adventures for the family who loves to get outside and explore. 
Read about The 7 Best Kid-Friendly Beaches on Kauai.
Better Hiking on Kauai
A lot of the hiking near resort areas on Maui is dry and hot. Not exactly pleasurable for kids. But on Kauai, the hiking is spectacular. You can hike to waterfalls, down riverbeds, along ridges, and enjoy the lush jungle. Hiking on Kauai is an adventure our two-year-old loves, and on Maui, we can't get him to enjoy it.
If hiking is high on your Hawaii list, Kauai is the place for you (but bring your bug spray).
Less Crowded
If you're looking to get away from it all and explore with fewer people around, Kauai is your spot. While it still does get a lot of visitors each year, it's far less crowded than Maui. You can escape into the small towns or the jungle and really feel like you're getting away for a time.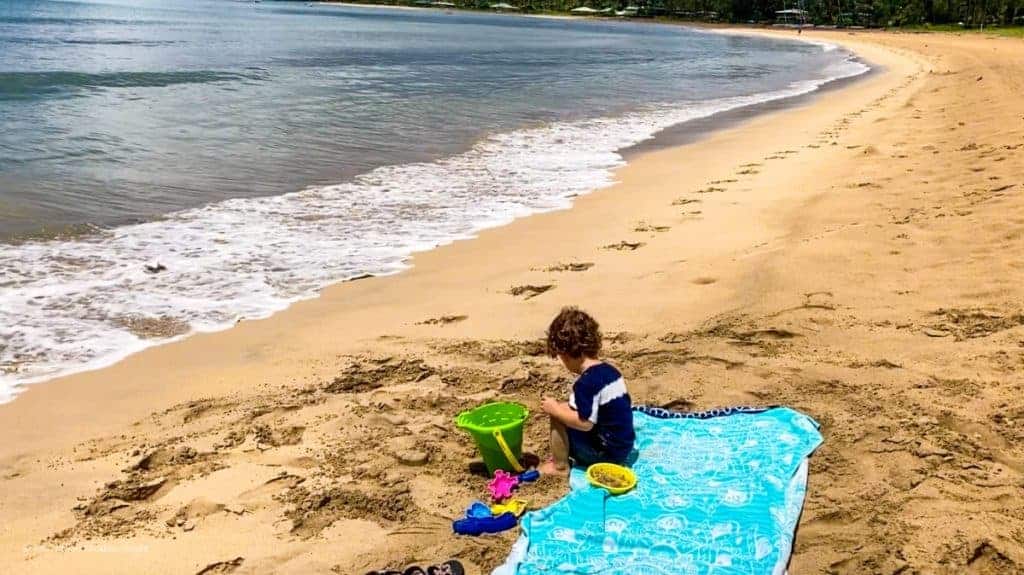 Less Driving for the Big Adventures
On Maui, there are some wonderful sites like the Road to Hana, Iao Valley, or Haleakala National Park. They are easy day trips for adults and well worth it. But taking kids for a full day in the car? That can be kind of tough.
Kauai is a much smaller island, which means you're driving less for the big adventures. If you're staying in Poipu on Kauai's South Shore, you're 30 minutes from Waimea Canyon, 20 minutes from the waterfalls on the east side, and an hour and a half from the north shore.
On Maui, you're likely going to be 2 hours away from Haleakala and the road to Hana is a full day (or two days) trip.
If you're looking to spend less time in your car while seeing the sights, Kauai offers the ability to see it all without spending your entire day in the car.
Kauai vs Maui for a Family Vacation: The Final Verdict
If you're choosing between these two islands for a family vacation, consider yourself lucky. They are both fantastic options for a trip the entire family will love. If you can't do a trip that includes both islands, think about what your family truly will enjoy doing.
Hiking and the outdoors? Head to Kauai.
Resorts and snorkeling? It's a win for Maui.
Whichever you choose, we have resources to help you plan the best trip.
Best One-Week Maui Itinerary with a Toddler in Tow