Costco Hawaii Vacation Review: 9 Things to Know Before You Buy
Disclosure: This post may contain affiliate links, meaning if you decide to make a purchase through my links we may earn a commission at no additional cost to you. Read about our affiliate policies here.
Sometimes it can feel like booking a vacation is a full-time job. You want to do the research, plan the best itinerary, and get a good deal. Especially if you're heading somewhere as expensive as Hawaii. With all that work you might wonder if going through a travel agency like Costco Travel is a better idea.
Booking a Costco Vacation to Hawaii is right for someone who wants to book flights, hotel, and car all in one place for a good price. A Costco vacation to Hawaii isn't cheap, but you can get some good deals. But there are also some reasons you may want to skip this and book your own trip.
We break down a review of Costo Hawaii Travel by covering nine things you need to know before you book.
Costco Hawaii Vacation Review: 9 Things to Know
Curious about a Costco Hawaii Vacation? We reviewed different options and found nine things you should know:
1. Vacation packages can save you money
A trip to Hawaii is expensive, so most people are looking for extra ways to save a few dollars on a trip. That's where Costco comes in: they offer Hawaii vacation packages that aren't cheap but offer a good value for the money.
To see just how much you can save, we priced out a one-week trip to Maui in October 2020, staying at the Westin Kaanapali. The total cost of the Costco vacation package is $3,877 for flights for four people, a hotel room and a rental car.
In addition to that rate, you also receive a $100 activity credit and a $199 Costco shop card.
Booking everything separately, the total cost is $4,222, and you won't receive an activity credit or a shop card. That's a $345 savings just for booking through Costco.
2. Booking less than a full package may not save you anything
What if you want to handle your own flight booking? That's a great way to save money if you're using miles with an airline.
But you may not want to use Costco to book the hotel and rental car — you may not actually save any money.
Using the example from above and staying at the Westin Kaanapali for a week, booking the hotel and rental car with Costco costs $2,602. Booking the hotel and rental car separately, the total cost is $2,496, which includes a $100 activity credit.
Yes, you read that right: using Costco to book the hotel and rental car results in you actually spending more.
We double-checked this with another hotel on the island, the Fairmont Kea Lani.
A package for six nights in October 2020 at the Fairmont Kea Lani costs $4,010 through Costco. This includes your rental car and a $100 activity credit.
Booking the hotel and rental car separately will cost $4,003. Yes, you're missing out on the $100 activity credit but you're saving $7.
Bottom line: the real savings come when you book full packages.
3. Additional rental car driver added at no fee
Coming with a friend? You can add an extra driver to your rental car reservation for free if you're booking with Alamo or Enterprise. Being that Alamo charges an extra $10 a day for an additional driver, this cost can add up.
If you don't book through Costco but you still want to add an extra driver at no additional charge, try out our favorite car rental booking tool, Discount Hawaii Car Rental.
4. Easy, one-stop booking
Price isn't always the biggest motivator. Sometimes you just really want a convenient Hawaiian vacation. Costco travel offers that.
Just enter your dates and your departure city into the booking portal and they take care of the rest. Your flights, hotel, and rental car will be booked with just a few clicks. Plus, everything is managed all in one place. No need to search through your email for different confirmations. Costco has you covered.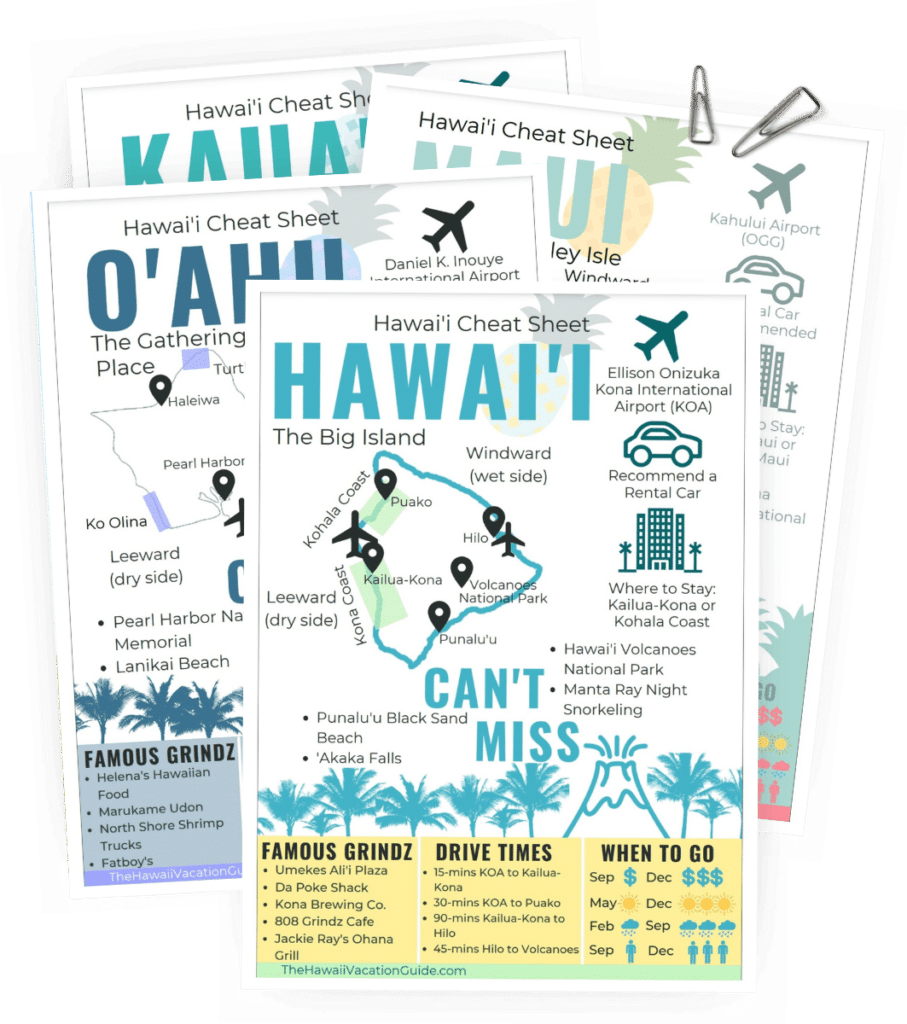 Free Download!
Hawaiian Island Cheat Sheets
Sign up & we'll send you our island cheat sheets so you can get to know the islands like the back of your hand!
We'll share 4 can't-miss activities on each island, a map with the main sights in town, & famous local grindz (eats)!
5. Additional cashback
Have an executive membership? You can get 2% back on your purchase. On a $5,000 vacation package, that's an additional $100 back in Costco rewards. While 2% might seem like a lot when compared to the total cost, you can just add that to the savings that you get from booking a trip with them.
If you have a Costco Anywhere Visa Card by Citi, you'll get 3% cashback. On a $5,000 vacation, you'll get $150 back.
6. Activities could be better
Hawaii truly has some of the best activities. Snorkeling, helicopter rides, hiking. The islands offer something for almost anyone.
And, the Costco travel package comes with a $100 activity credit. This activity credit is generally not enough to pay for one activity for one person. So if you want to use the credit, you will have to pay an additional cost in many situations.
Herein lies the problem: the activities you can use the credit towards are fine. But, they might not be the activities that you actually want to do.
For example, the Pride of Maui Sunset Dinner Cruise is a good option to get out on the water and use your credit. But if you had your heart set on a catamaran or a sailboat or a smaller group, this isn't the activity for you.
If you have your heart set on very specific activities, like a sunset sail or a luau, it's probably better to skip booking with the activity credit and pay for the activities that you actually want to do. You've likely saved a few hundred dollars on a vacation package
Related read: Should You Book the Feast at Lele or Old Lahaina Luau?
7. Hotels and vacation rentals available
We love a good hotel in Hawaii, but sometimes a vacation rental is a better fit (especially when you're traveling with kids). Costco offers the ability to book at both hotels and vacation rentals, giving you some great choices.
Costco hotel options in Hawaii include some top-notch places like:
Maui hotels:
Westin Kaanapali

Sheraton Kaanapali

Fairmont Kea Lani

Ritz Carlton Kapalua

Four Seasons

Grand Wailea
Oahu hotels:
Disney Aulani

Outrigger Waikiki Hotels

Waikiki Beach Marriott

Hilton Hawaiian Village

The Laylow

Moana Surfrider

Turtle Bay Hotel
Kauai hotels:
Sheraton Kauai Coconut Beach

Kauai Marriott

Grand Hyatt

Koloa Landing Resort
Big Island hotels:
Westin Hapuna Beach

Sheraton Kona Resort & Spa

Hilton Waikoloa Village

Fairmont Orchid

Maui Lani
The one thing that's missing: access to the boutique hotels on the islands. There are some wonderful, smaller, or independently run hotels on the island. If that type of accommodation is more your style, booking with Costco isn't the best choice for you.
8. The cancellation policy isn't great
If you're the type of person who doesn't do well with pre-booking commitment (like me), Costco isn't a good fit. After booking the trip, you're subject to a fairly rigid cancellation policy, with the highest refunded amount of 75%.
This isn't a problem for everyone. But if you think there's a chance your plans might change, booking with Costco isn't going to work out in your favor.
I also should note that Costco received terrible reviews during the initial wave of COVID vacation cancellations. People were left without refunds or waiting on hold for hours. I think most travel companies struggled to handle this situation well, but the negative reviews will give you pause. Sometimes in these situations, it's better to book directly with the hotel or airline.
9. It's pre-paid
This can be a good thing or a bad thing depending on who you are. If you love going on vacation knowing it's all paid for, Costco Hawaii Vacation packages are for you. Everything is pre-paid in advance and you take off knowing that you're not going to come home to massive credit card bills (well, aside from food and activities which can be very expensive).
But if you don't love paying for a vacation before you go, booking with Costco might hurt a little. You can pay on a schedule so you're not shelling out the entire amount at once, but you will have pre-paid the entire cost of the package you book before you leave for your trip.
Costco can be a great place to book your travel for Hawaii. You'll likely save a lot of money by purchasing a full package and you'll have all of the details taken care of with just a few clicks and decisions.
But there are some clear drawbacks to using them. Weigh your choices carefully and you'll book the trip you're dreaming of your way.
And if you're planning a trip to Hawaii booking with Costco or not, our free itineraries will be a big help. 
Related reads: