Hawaii Vacation Grocery List (with a printable list)
Disclosure: This post may contain affiliate links, meaning if you decide to make a purchase through my links we may earn a commission at no additional cost to you. Read about our affiliate policies here.
You are smart to plan ahead. Have your Hawaii vacation grocery list in your pocket when you land so you can spend less time in the grocery store and more time at the beach.
After living in Hawaii for years, the cost of groceries still shocks us. Food is expensive in Hawaii.
You can save considerable dollars by shopping at Costco upon your arrival in Hawaii. If you are not a Costco member, head to Target or Walmart for your grocery shopping. These will be the second cheapest groceries in Hawaii and every large Hawaiian city has one.
Erica and I are pros at stocking the condo for Hawaiian vacations. We do it when we island-hop from Maui or help our visitors who don't stay with us.
Here is our Hawaii vacation grocery list that we send to all of our friends. Take the stress out of what food and supplies to buy for your Hawaii vacation by printing off our grocery list below.
Grocery List for Your Hawaii Condo
Groceries are expensive in Hawaii. With the nearest mainland port being 2,400 miles away, it is no surprise a gallon of milk costs $6.50 and a loaf of bread is $7.99.
Hawaii boasts the highest cost of living in the 50 states, with groceries far outpacing the other states.
Local residents get savvy when it comes to grocery shopping. Costco is our food savior as their prices are similar to mainland Costco prices. A rotisserie chicken is still $4.99 and a foodcourt hot dog with soda is still $1.50.
We've found Costco offers similar prices for dry goods and processed non-refrigerated food compared to the mainland Costcos. The Hawaiian Costco prices increase for refrigerated, frozen, and fresh produce but they are still far cheaper than the local Hawaiian grocery stores.
This makes Costco (or Target or Walmart) your first stop when you land in Maui, Honolulu, Lihui, or Kailua-Kona.
A Costco is located within 15-minutes of every Hawaiian island major airport. You will most likely pass the Costco on the way to your condo or hotel.
Yes, even if you are staying in a hotel I recommend you do some grocery shopping as you will save a ton of money compared to the restaurants and grocery stores located near your resort.
Free Printable: Hawaii Vacation Grocery Lists
Our Hawaii vacation grocery lists are below. If you like what you see, you can print our free grocery lists. These lists have everything you may need for your Hawaii vacation, for any Hawaiian island.
Click here for our full Hawaii Grocery list (Costco and a supermarket): Hawaii Vacation Grocery List
Click here for our free printable for Hawaii Costco list only: Hawaii Costco Shopping List
Print, fly, shop, and have plenty of time to hit the beach on your first day in Hawaii.
How to Save on Your Hawaii Vacation Grocery Shopping
To save the most money with the least amount of stress/work, here is how you can buy the cheapest groceries to stock your Hawaii condo.
1. Pick up the rental car and make Costco your first stop. Our Costco grocery list is below. If you don't have a Costco membership then head to Walmart or Target.
We identify the bulk food items you should buy to save the most money during your 5 days+ vacation. You can't or shouldn't get everything at Costco though.
2. After you check-in to your condo, get organized and figure out what you are missing. Then head to your local Safeway. Safeway is the cheapest supermarket in Hawaii. Here you can pick up the smaller items to round out your condo. We provide our Hawaii supermarket grocery list below.
Related articles: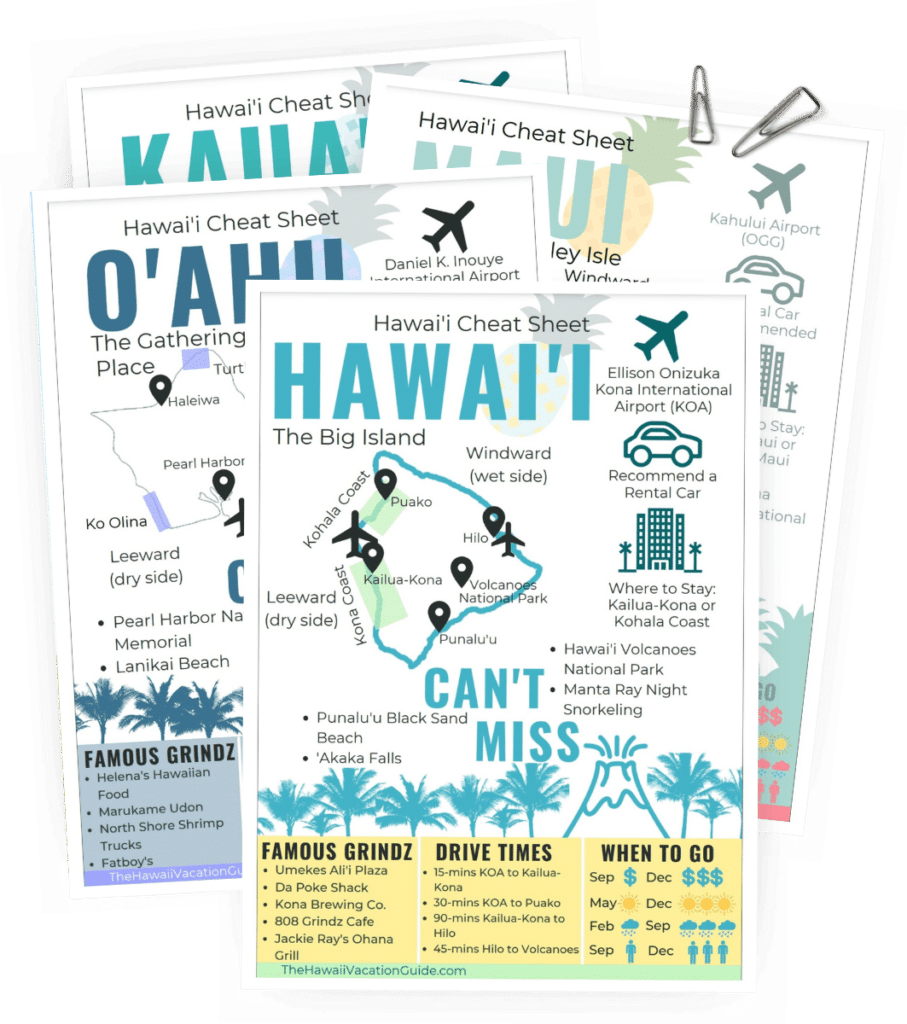 Free Download!
Hawaiian Island Cheat Sheets
Sign up & we'll send you our island cheat sheets so you can get to know the islands like the back of your hand!
We'll share 4 can't-miss activities on each island, a map with the main sights in town, & famous local grindz (eats)!
Hawaii Costco Shopping List
We have three Costco grocery lists to make your shopping fast and fit your needs.
🍍 Food List
🍍 Beach Gear List
🍍 Souvenir List
Costco Hack: You don't need a membership to shop at Costco. Before you leave on your Hawaiian vacation, have a friend who has a Costco membership buy you a gift card.
Hawaii Costco Locations
Click the city names for directions by Google to the Costco you need.
Oahu has three Costcos all along the south shore in Honolulu, Kapolei, Waipahu, and Hawaii Kai. The Honolulu Costco is 15-minutes (4.4 miles) from the Honolulu Airport, if you are staying in Waikiki or Honolulu, this is your best stop. If you are going to Ko Olina then go to the Kapolei Costco.
Maui has one Costco in Kahului. The Costco is a 4-minute (1.4-miles) drive from the Maui (Kahului) Airport. No matter what direction you are heading, going to Costco won't be a detour.
Kauai has one Costco in Lihue. Costco Lihue is 10-minutes (3.3-miles) from Lihue Airport.
The Island of Hawai'i has one Costco south of the airport in Kailua-Kona. Kailua-Kona Costco is 12-minutes (4.6-miles) south of the airport.
What do you buy at Costco in Hawaii once you land? Here are our three Hawaii Costco shopping lists.
Costco Food List for Your Hawaii Vacation
Per our research at the Maui Costco, this grocery list will cost $250 or less.
Note: Your trip may not warrant the sizes Costco provides, like salsa, but I put these items on the list as the bulk cost is the same or less than the local Hawaii supermarket.
🍍 2-loaf bag of bread ($8.99)
🍍 Pineapple ($2.99) – the cheapest on the island, about $4 less than supermarkets
🍍 Bananas ($2.49/3-lb bag)
🍍 Eggs ($2.69) (18-count is the smallest size available)
🍍 Milk ($5.49/gallon)
🍍 Coffee
🍍 Croissants, muffins, cinnamon rolls, or other breakfast pastries
🍍 2 pack of Hawaiian Sweet Rolls ($7.99)
🍍 Chips ($4.89)
🍍 Salsa ($5.39)
🍍 Cereal ($5.49)
🍍 Frozen/refrigerated pre-made meals
🍍 Salad bag mixes
🍍 Meat for BBQ
🍍 Poke – great for a happy hour appetizer
🍍 Rotisserie Chicken (still $4.99 in Hawaii!)
🍍 Appetizer platers – look for cheese and cracker platers near the meat counter
🍍 Beer ($25.49/24-pack) – a 24-pack is the same price of a 12-pack at a Hawaii grocery store and Costco sells Hawaiian craft beer
🍍 Wine
For your first night's meal at home in Hawaii, grab something that doesn't need cooking and is healthy. After airport and airplane food, your body will thank you.
Pick up a rotisserie chicken and a bag of salad, like the Asian Cashew or the Mediterranean Crunch chopped salad kits, for dinner the night you land. Throw in some Hawaiian Sweet Rolls with fresh pineapple for dessert and you have an ideal Hawaiian condo meal for the whole family.
Costco Beach Gear List for Your Hawaii Vacation
Costco has well-priced beach gear for your Hawaiian vacation. Consider picking up some of these items for you and/or your family to save some big bucks compared to the beachfront stores.
Local snorkel stores rent this equipment. Renting is usually the best option as it is cheaper and reduces waste in the landfill. Vacation rentals also stock these items, check with your property manager before you arrive.
Most of these may not relate to you but keep them in mind based on what your condo provides or doesn't provide.
🍍 Beach chairs by Tommy Bahama ($35)
🍍 Beach towels
🍍 Boogy boards
🍍 Folding wagon ($79)
🍍 Sun tent
🍍 Umbrella(s)
🍍 8ft surfboard ($114.99)
🍍 Standup paddleboard ($350)
🍍 Snorkel mask and fins
🍍 Suntan lotion!
Suntan lotion, buy it at Costco even if it is in bulk. A pack of 3 Coppertone Sport SPF 50 will be $16.99 compared to one for $12.99 at a supermarket. Costco has a reef-friendly biodegradable sunscreen by Alba Botanica, 2 pack for $16.99, as of March 2020. If you are staying for more than a week or have a big family, Costco is your cheapest source of sunscreen.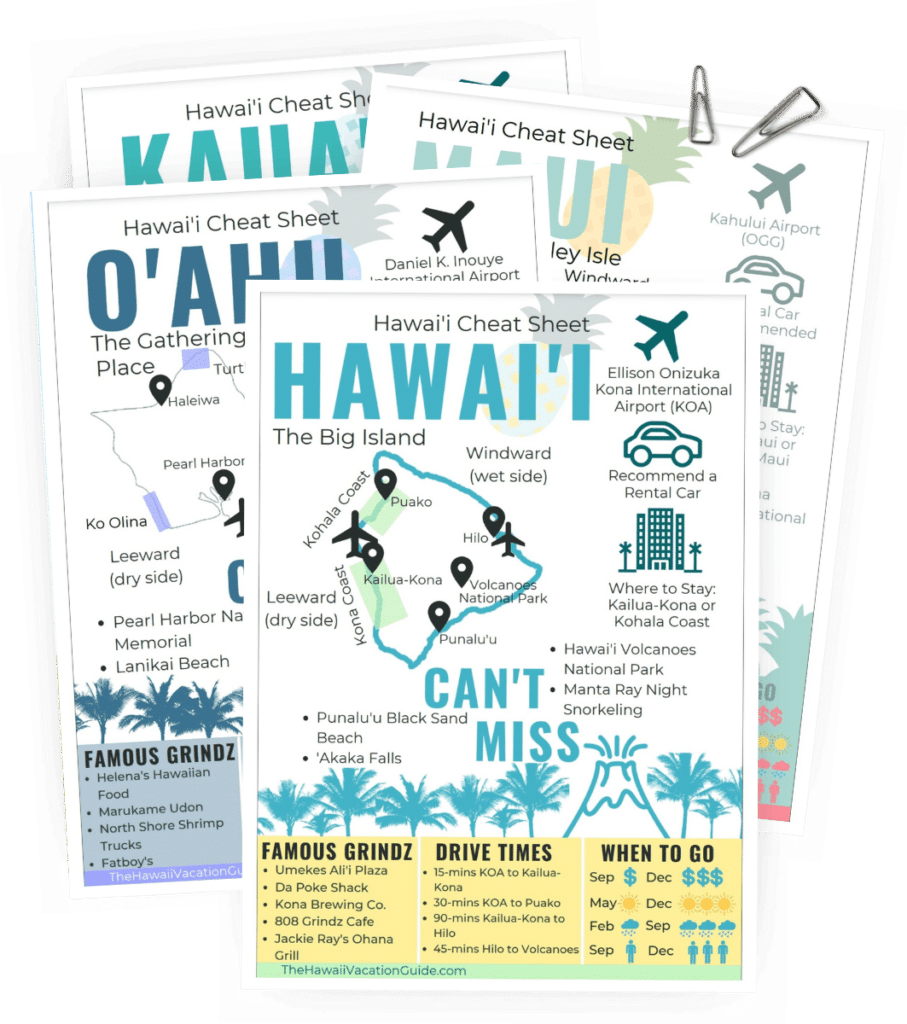 Free Download!
Hawaiian Island Cheat Sheets
Sign up & we'll send you our island cheat sheets so you can get to know the islands like the back of your hand!
We'll share 4 can't-miss activities on each island, a map with the main sights in town, & famous local grindz (eats)!
Costco Souvenir List for Your Hawaii Vacation
Erica and I find the best gifts to be consumables. To finish all your souvenir shopping when you land, head to Costco. You will find variety-packs for all the famous Hawaiian brands. The entire pack will be cheaper than a single bag at the local ABC Store or other resort convenience store.
The activity gift cards will save you $20 to $50 on the packages they offer per our research.
🍍 Moana Loa – nuts and chocolate covered nuts
🍍 Hawaiian Hostess – chocolates
🍍 Aloha Shirts
🍍 Flowered Leis ($13.99 for a 2-pack)
🍍 Activity Gift Cards – parasailing, snorkeling cruise, helicopter ride, Atlantis submarine, etc.
Hawaii Grocery Store Shopping List
Once you finished buying the big items at Costco or Walmart/Target, head to your local Safeway store. From our research, Safeway is the cheapest Hawaii supermarket and has the most stores.
You will have one within a few minutes from your Hawaii condo.
Your Hawaii vacation supermarket grocery list would look like the following:
🍍 Butter
🍍 Cheese, crackers, olives, and other appetizers
🍍 Deli meat
🍍 Condiments
🍍 Juice (Passion-Orange-Guava = POG)
🍍 Fruit
🍍 Vegetables
🍍 BBQ sauce
🍍 Snacks
🍍 Toilet paper (if not stocked in your condo)
🍍 Shampoo and soap (if not stocked in your condo)
🍍 Paper towel
Why You Shouldn't Bring Food to Hawaii
I don't recommend bringing food for your Hawaiian vacation for a couple of reasons.
First, some agricultural items from the mainland are banned or restricted by the State of Hawaii. Agricultural items include all plants, plant parts, animals, and related containers and packing materials. These items are not necessarily banned but they must be declared upon entry and inspected.
You don't want to deal with that headache when you land in Hawaii. Get that lei around your neck and get out of the airport.
Items that don't require inspection are cooked foods, canned, frozen, or commercially processed or packaged.
See the full guidance from the State of Hawaii Plant Industry Division here if you are keen to bring your own food to Hawaii.
Second, you will have limited space in your suitcase to bring food to Hawaii. With the cost of checked bags only going up and the weight restriction, it will probably be cheaper to buy local.
How to Save Money on Food in Hawaii
If you are a thrifty shopper or just want to maximize your spending on what brings you joy, check out our article on the Cheapest Groceries in Maui.
We share all the cheapest grocery stores on Maui and how to best shop at them to save money on food in Hawaii.
You don't have to be staying on Maui to take save money on food in Hawaii. After visiting the other islands numerous times, the strategies that work on Maui also work on Hawai'i, Kauai, and Oahu.
Grocery Shopping in Hawaii Video
To get a feel for grocery stores in Hawaii and to see the inside of a Hawaii Costco (with prices), take a look at this video. I tour my local Maui Costco and supermarkets giving tips on buying the cheapest groceries in Hawaii.
Have a wonderful trip to Hawaii and enjoy the food!