Best Hawaiian Island for Hiking (plus 11 trails that make it the best)
Disclosure: This post may contain affiliate links, meaning if you decide to make a purchase through my links we may earn a commission at no additional cost to you. Read about our affiliate policies here.
Hawaii's hiking is the best. You will find yourself standing on top of a volcano looking over the Pacific thinking how lucky you are. With six major islands and all offering unique hiking, what Hawaiian island has the best hiking trails?
The best Hawaiian island for hiking is Oahu. Oahu's hiking trails cover the two volcanic mountain ranges that flank the island. Oahu's abundant network of trails gives opportunities for beginner to advanced hikers. One can enjoy waterfall hikes, WWII pillbox hikes, or coastal ridges on Oahu.
During my two years of living on Oahu and our frequent trips back now that we are on Maui, I've hiked all the best trails on Oahu and then some. After hiking Kauai, Hawai'i, Maui, and Lanai I can say with confidence that Oahu offers the best hiking trails in Hawaii.
The other islands aren't bad so I give some tips and trails on them too.
The Best Hawaiian Island for Hiking is Oahu
Oahu is the most populated Hawaiian island. With a population of 953,207 residents, it dwarfs the next most populated island if the Big Island with 186,738 people.
But you would never know it on an Oahu trail. Hiking on Oahu gets you away from the traffic jams, crowded beaches, and Waikiki with its 72,000 visitors a day.
Oahu is the best island for hiking due to the sheer volume of trails available. Don't worry, Oahu also has quality over quantity. After hiking on all the islands, Oahu has provided the best jungle strolls, jaw-dropping views, and hair-raising ridge-line hikes compared to any other Hawaiian island.
The best hikes on Oahu tend to be 3 miles or less and 1 to 3 hours long. One can don a comfortable pair of walking shoes and a backpack with snacks and water to get some epic hiking done on their vacation.
Kauai is a close second to Oahu but that is mainly because of Kauai's Na Pali Coast trail. The trail is one of the best in the world but at 22-miles long, with cliff-edge shuffles, and elevation changes it is only for advanced hikers. The amount of rain on Kauai is another reason why it does not top the list.
The best Hawaiian island for hiking has to have a little bit for everyone.
Luckily for Oahu, making everyone happy doesn't dilute the awe factor of Oahu's hikes.
Get The Oahu Itinerary
The step-by-step itinerary takes you to all the best beaches, snorkeling spots, restaurants, and sights. You'll get six carefully planned excursion days to help you see the can't miss stops no matter how limited your time is.
Get all the details on our itinerary and download it for a memorable and easily planned trip to Oahu.
Oahu Stairway to Heaven Hike (Ha'iku Stairs)
I'd be remiss not to mention the most epic hike on Oahu. The Ha'iku Stairs or more popularly known as the Stairway to Heaven. This hike is very much illegal and the County of Honolulu is planning to demolish the stairs.
It has always been on private property (the government) and dangerous with its dilapidated stairs. But it used to have less security.
I hiked it in 2011 with friends. Even then it was illegal but the authorities would only give a slap on the wrist if that. We started hiking before day-break and before the security guard would come on shift. On the day we were hiking it the construction crew was building a bigger, more fortified fence around the start of the stairs.
The security guard just made friendly banter with us after we had come down the stairs. Now I've been told the security guards are mean and they will call the police. Being on the stairs is a $1000 fine and requires one to appear in court.
You can view the stairs briefly when driving down the H-3 after you come through the mountain tunnel. You can hike the stairs in a round-about way. Check-out the Moanalua Valley Trail to the Ha'iku Stairs for directions and tips.
Even without hiking the Stairway to Heaven, Oahu is still the best Hawaiian island for hiking.
10 Reasons Why the Best Hawaiian Island for Hiking is Oahu
Here are my 10 reasons why Oahu is the best Hawaiian Island for hiking. Hands down.
Then read on for my eleven favorite Oahu hikes, listed in order of easiest to hardest.
1. Quantity of Hikes
Oahu has over 50 popular trails and many more hard-to-find trails. This is more than any other Hawaiian island.
The island of Hawaii has 300-miles of hiking trails but not the number of unique trails that Oahu has.
Oahu was formed from two massive shield volcanoes. These two volcanoes have eroded over the millennia to be two mountain ranges going down either side of the mountain. From these mountains, hiking trails abound.
The craters, cinder cones, and other volcanic features of Oahu make for unique hiking trails.
2. Quality of Hikes
I never got bored hiking on Oahu. I had a well-worn Oahu hiking book when I lived on Oahu. I never found a trail that disappointed me.
I could start a hike on the leeward side of the island in desert conditions at sea level and then climb the mountain into a rainforest within an hour.
Oahu also has a lot of year-round waterfall hikes. Don't take waterfalls for granted in Hawaii, many dry-up during the summer months.
3. Island Views
The hiking trails on Oahu were built for the views they provide. With gradual, steep, or staired climbs, all skill levels can find a trail to get ocean views or look into a crater.
The viewing platform at the end of the Diamond Head Hike gives you a stunning view of Waikiki Beach and Honolulu.
Find a pillbox to hike to for sunrise or sunset views. Built during WWII to spot enemy combatants, these pillboxes now make a great spot to face the sunrise in warrior pose.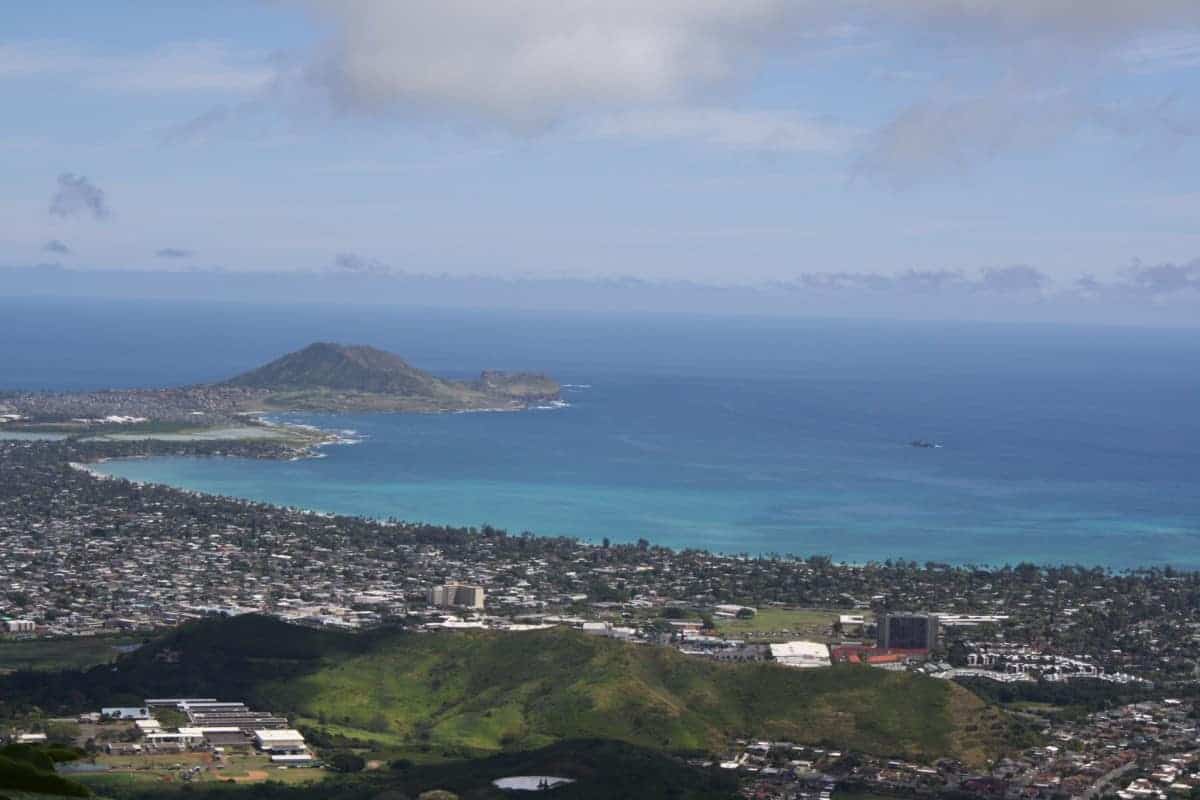 4. Waterfall Hikes
Hiking to a waterfall on Oahu is quick and easy. Oahu has family-friendly waterfall hikes near the major resort areas or more advanced hiking trails to secluded waterfalls and cliff jumping locations.
I was always on the hunt for Oahu waterfall hikes as swimming in a waterfall is my definition of a perfect day. Just beware, some waterfalls dry up during the dry summer months so look for updates on AllTrails.
See my favorite waterfall hikes below.
5. Beginner to Advanced Hiking
Our toddler Henry enjoys being outdoors more than Erica and me. Maui offers safe and easy trails for him but only a few. Oahu, on the other hand, has many trails that we can conquer with Henry either in his Ergo-carrier, a stroller, or walking with us.
Oahu's large quantity of trails means you can find a trail that is fun and safe for everyone in your party. Because believe me, some Oahu trails are nutty on the dangerous factor. Like Pali Notches near Honolulu that is rocky, slippery, and walks along a ridgeline that drops off in both directions. Oh, and strong gusts have been known to knock hikers off the cliff.
6. Short Hikes, Long Hikes, Loop Trails
Everything you need is on Oahu. If you can't find a trail you like on Oahu, then perhaps you should stay home. I kid, but really, you will find a trail you will love. Check out my favorite hikes and my favorite Oahu hiking websites in reason #8.
You will be able to find an Oahu hike that is 30-minutes for the whole family or 30-minutes for your super-fit young friend with good medical insurance.
7. Trails are Well Maintained
Local Oahu volunteers tend the trails. They haul shovels up the mountain to put the mud back on the trail.
My favorite is all the climbing ropes. Grab on to a nylon rope to hoist yourself up a boulder or a slippery section. Some trails have stairs and footbridges.
You will be miles away from the trailhead at the top of a peak and still find a small staircase. Oahu's trail communities are the best in Hawaii.
8. Trails on Oahu are Well Documented
Guidebooks, websites, and posted signs make Oahu hiking easy. Nothing is more frustrating than (a) finding the hike you want on your vacation and (b) not being able to find the trailhead.
Even Google Maps does a great job with hiking trails. The larger population on Oahu means there are more people to put trail data into Google.
On Oahu, that shouldn't happen to you. Trailheads are well marked and there are copious online sources with good directions.
My favorite Oahu hiking websites for trailhead directions and trail ideas:
9. Trails are Close to Resort Areas
The best hikes on Oahu are near Honolulu, Ko Olina, Kailua, and Haleiwa Town on the North Shore. You can make a day of hiking or tack it onto your north shore itinerary.
There are a ton of hikes off the Pali Highway, the road between Honolulu and Kailua and Kaneohe.
Going to the white-sand Lanikai beach in Kailua for the day? Then you can't miss the Lanikai Pillbox Hike (Kaiwa Ridge Trail). Get there early for sunrise and then go to Boots and Kimo's for breakfast in Kailua. You are welcome.
10. City to Solitude
Honolulu and Waikiki are fun but crowded. To get away from it all, you only need to drive 20-minutes. Oahu is the best for hiking because the trails are so close to the big city. Diamond Head, Moana Falls, Pali Highway, etc. are all within a short drive from Honolulu.
Enjoy the peace and quiet on an Oahu hike.
Related articles:
Best Hikes in Hawaii (Oahu)
Here are my favorite hikes on Oahu from beginner to advanced with a few waterfall hikes thrown in. Click the link to get the AllTrails or GoogleMaps information on finding the trails and details on the hike.
Oahu Hikes Listed from Easiest to Hardest
Waimea Valley Falls: A short ¾ of a mile walk on a paved path through a tropical garden ends at the stunning 45-foot drop Waimea Falls. Admission to the valley is $18 but for a guaranteed waterfall swim for the whole family, plus cultural activities, we found it worth the ticket price.
Directions to Waimea Valley Falls
Makapu'u Lighthouse (Kaiwi Scenic Shoreline): Walk a paved road with a 500-foot gradual climb to picture-perfect views from Makapu'u point. You will be able to see Koko Crater, Makapuu Beach, the windward coast, and on a clear day be able to see Lanai and Molokai islands. This is a great hike on the dry side of the island with kids. Takes 30-minutes to reach the point.
Directions to Makapu'u Lighthouse Trail
Diamond Head Crater: The most popular hike on Oahu and one of our favorites. If you are staying in Waikiki, Diamond Head is the perfect hike to shake off the jet-lag. For toddlers to seniors, the climb to the top is for everyone. Get there before 9:00 am to beat the crowds. The hike to the top and back down is about one hour.
Directions to Diamond Head Crater
Maunawili Falls Trail: An easy 1.5-mile hike to a 20-foot waterfall with a swimming hole. I enjoy jumping off the falls into the pool below (swim at your own risk). The trail gets muddy but it is an easy hike for a classic Hawaii waterfall.
Directions to Maunawili Falls Trail
Ehukai Pillbox Hike: Less crowded than the Pink Pillbox hike on the west side and the Lanikai Pillbox above Lanikai Beach, the Ehukai Pillbox hike or Sunset Pillbox Hike provides the same great views and a moderate climb. The steepness, in the beginning, is why it is moderate. The pillbox is behind Sunset Elementary School on the North Shore. Get there for sunset as the name suggests.
Directions to Ehukai Pillbox Hike
Manoa Falls Hike: A quick drive from Waikiki, up the Manao Valley is Manoa Falls. A 150-foot waterfall will greet you after an hour's hike through lush jungles. A snack shack at the trailhead is a welcome break after the hike. This is the best waterfall close to Waikiki.
Directions to Manoa Falls Trail
Kaena Point Hike: If you really want to escape from the bustle of life or Waikiki, head to the end of the island – Kaena Point. The remains of a railroad track and abandoned cars will be your only other hikers. This hike is on the dry-side of the island so bring water as it gets hot but you will see the natural beauty of Hawaii on this shoreline walk.
Directions to Kaena Point Hike
Koko Crater Trail: This is when my favorite hikes on Oahu start to get brutal. You can climb up an old railroad track, up 1,048 stairs, to amazing views of Hanauma Bay and the east coast of Oahu. Give yourself a physical challenge during your vacation! It will be worth the climb.
Directions to Koko Crater Trail
Ka'au Crater Hike: Climb to the top of a volcanic crater. Where few ever make it compared to Diamond Head. This jungle hike has stairs, waterfall swims, waterfall climbs, and you will be on the lookout for dinosaurs. Straight out of Jurrasic Park, this hike is a challenge at three to four hours but the view inside the crater is stunning.
Directions to Ka'au Crater Hike
Wiliwilinue Ridge Trail: Muddy, slippery, rope climbs, stairs cut into the mud is what you will find as you follow a ridge to the top of the mountain. Behind you is Waikiki and the other side is the Pacific Ocean. While hardly any tourist knows of this hike, come early to get a gate pass from the security guard as the trailhead is in a private estate. 4.5-miles out and back distance. This hike will make you never forget Oahu.
Directions to Wiliwilinue Ridge Trail
Olomana Trail: My favorite hike on Oahu but also one of the most dangerous. Keep your eyes on the trail as there are sudden drops off the ridges. Hike on a day without rain. This hike is not for the faint of heart, be safe on the trail. Hike three peaks following their spine. The first peak gives amazing views. Don't feel obligated to go on.
Get The Oahu Itinerary
The step-by-step itinerary takes you to all the best beaches, snorkeling spots, restaurants, and sights. You'll get six carefully planned excursion days to help you see the can't miss stops no matter how limited your time is.
Get all the details on our itinerary and download it for a memorable and easily planned trip to Oahu.
Other Hawaiian Islands with Good Hiking
The competition is fierce when it comes to which is the best Hawaiian island for hiking. To me, Oahu is the best for hiking after I reviewed all the reasons why. But here are the other three contenders for the best hiking in Hawaii.
Hiking on Kauai
The second best Hawaiian island for hiking is Kauai, per my rigorous review process and personal experience.
Kauai doesn't have the number of hiking trails as Oahu but the trails are quality. Kauai has the Grand Canyon of the Pacific – Waimea Canyon – with lots of trails through its state park.
The most popular and rigorous hiking trail on Kauai is the Na Pali Coast Trail. The steep ocean cliffs make hiking or a zodiac boat the only way to reach the lush Kalalau Valley, the remotest valley in Hawaii. My two friends and I did the 22-mile roundtrip hike in 36-hours. Once we reached the valley, we hiked up its stream for a swim, then swam to the hidden beach cove, showered in a waterfall on the beach, slept on the beach, and hiked back just in time for our flight. Nowadays a permit is required but worth the paperwork.
Check out Kauai.com for more hikes on Kauai.
Hiking on the Island of Hawai'i
Hawai'i (Big Island) has over 300-miles of hiking trails. With the smallest population density, the longest coastline, five volcanoes, and eight out of 13 climate zones represented on the island, the Big Island is an outdoorsman's dream.
Check out the following websites for the best hikes on the Big Island.
🍍 State of Hawai'i Trail and Access Program
Get The Big Island Itinerary
The step-by-step itinerary takes you to all the best beaches, snorkeling spots, restaurants, and sights. You'll get six carefully planned excursion days to help you see the can't miss stops no matter how limited your time is.
Get all the details on our itinerary and download it for a memorable and easily planned trip to Hawai'i (Big Island).
Hiking on Maui
Home sweet home, Maui. Erica and I love Maui but the hiking here isn't worth a flight across the Pacific. There are jungle mountain trails, extensive trails through Haleakala National Park, and coastline trails that are amazing but there isn't the abundance, views, and waterfalls compared to Oahu hiking trails.
If you are visiting Maui, don't be discouraged as you will still find great hikes compared to the mainland. You are still in Hawaii, the standards are higher for hikes.
Our favorite trails are the following on Maui.
🍍 Waihee Ridge Trail
🍍 Twin Falls Hike
🍍 Waihou Spring Trail
🍍 Haleakala National Park – Pipiwai Trail and Waimoku Falls
🍍 Haleakala National Park – Sliding Sands Trail
Closing Thoughts on the Best Hiking in Hawaii
You will have a great trip with amazing hiking to any of the Hawaiian islands. Oahu will just make for the best hiking of your life.
Remember to be safe, read up on the trail information before you go, wear the proper shoes, and bring food, water, and your phone or GPS.
Even though Hawaii doesn't have any dangerous animals or poisonous insects, the weather conditions and trail conditions can change fast. Be prepared
Have a great hiking trip to Hawaii! Preferably Oahu for the best Hawaiian hiking!