Your First-Time in Hawaii Itinerary (10-Days)
Disclosure: This post may contain affiliate links, meaning if you decide to make a purchase through my links we may earn a commission at no additional cost to you. Read about our affiliate policies here.
I fell in love with Hawaii during my first visit when I was 24. I was invited out to free-load off my then-girlfriend, now wife, Erica who was working on Oahu. During that first trip to Hawaii, I knew I would live in Hawaii someday.
3-years later my company posted a job on Oahu, and I jumped at the opportunity. I never regretted the move.
Your first time in Hawaii may not be so serendipitous. You want to plan the right Hawaii vacation for you, your partner, or your family. Hawaii is an expensive place to visit and a long way to travel, you want to do the trip right. This first-time Hawaii itinerary is how you do your trip right.
Don't miss our best itineraries designed to give you the best vacation. With one download you'll get the best sights, restaurants, beaches, and more carefully mapped out for the optimal experience. They're really that good.
Here is your first-time Hawaii itinerary (10-days), Maui and Kauai:
Day 1: Welcome to Maui
Day 2: Historic Lahaina Town and North Shore
Day 3: Whale Watching, Snorkeling, and a Luau
Day 4: Road to Hana
Day 5: Day Trip to Lanai
Day 6: Haleakala and Upcountry
Day 7: Hiking and Beach Day
Day 8: Fly to Kauai, Hanalei Bay, & Waterfall Hike
Day 9: Poipu Beach, Waimea Canyon, and Na Pali Sunset Cruise
Day 10: Tube Down a Mountain and Fly Home
The best Hawaiian island for your first-time trip to Hawaii is Maui. Maui has the best weather, things to do, resorts, restaurants, food trucks, and still has that laid-back, surfer island-style one expects in Hawaii. The second best island to visit is Kauai or Oahu, depending on what kind of vacation you want.
We provide itineraries for all the options plus the mistakes to avoid for your first time to Hawaii.
Before you get too far into trip planning, be sure to read our complete guide to planning your first trip to Hawaii. That'll give you all the need to know information so you can decide exactly where to go, what to do, how to island hop easily and more. It's a short cut to your best trip planning.
What You Need to Know for Your First Time Visit to Hawaii
First-time visitors fall in love with Hawaii and come back for more. That isn't tourism marketing, I got the data to prove it.
32% of visitors to Hawaii were first-time visitors in 2019. That means 68% of visitors decided to return to Hawaii after their first trip. The average number of trips was 5.2.
The first thing to know for your Hawaii itinerary is Hawaii is a safe place to visit. The locals, like Erica and me, are friendly and hospitable. The aloha spirit is strong in Hawaii and you will feel it.
This is your place to start planning your first trip to Hawaii. Here is where I cover the foundation for your trip. After this, your mind and soul will be ready for creative, freestyle vacation planning or just get on the plane. Planning is half the fun.
🍍 What Hawaiian island is best for first-timers?
🍍 What is a good first-time Hawaii itinerary?
🍍 What are the mistakes of first-time visitors to Hawaii make?
🍍 Tips for first-timers: What to book before you leave and do you need a rental car?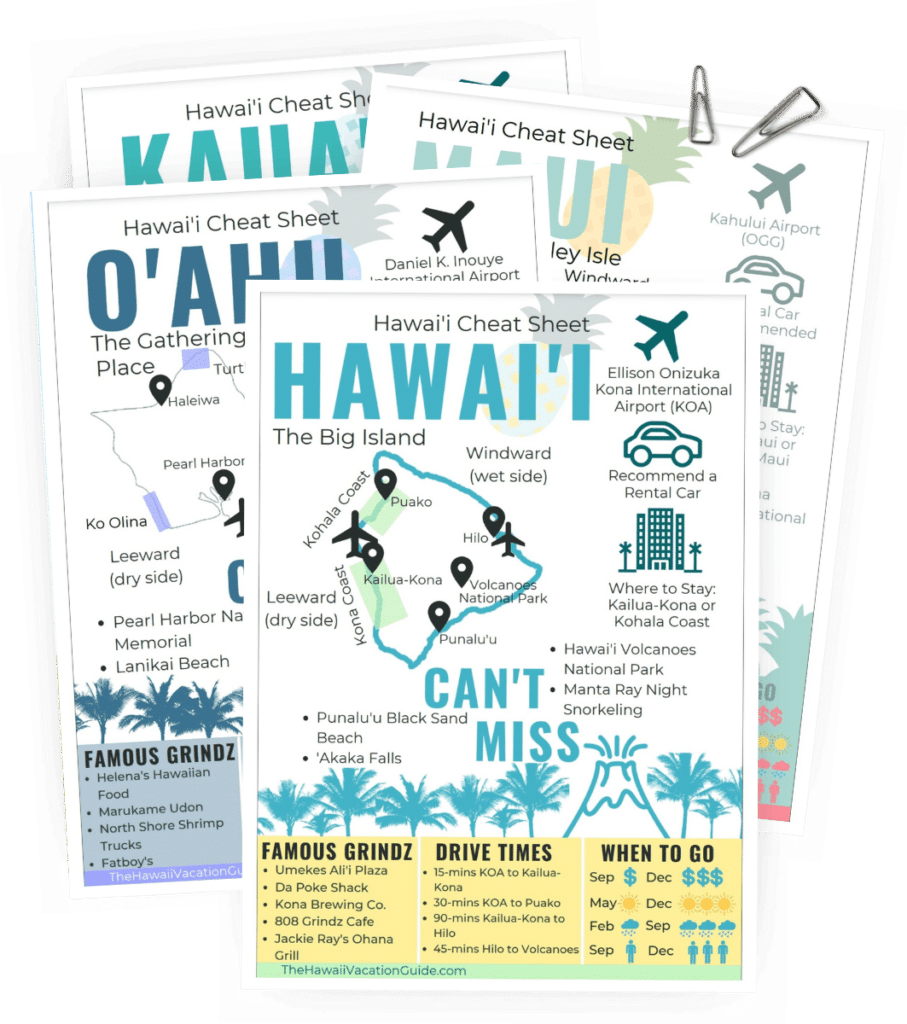 Free Download!
Hawaiian Island Cheat Sheets
Sign up & we'll send you our island cheat sheets so you can get to know the islands like the back of your hand!
We'll share 4 can't-miss activities on each island, a map with the main sights in town, & famous local grindz (eats)!
What is the Best Hawaiian Island for First-Time Visitors
Maui. Maui is the best Hawaiian island for first-time visitors. When you decided it was time to visit the 50th state in the union, Maui was the image that popped in your head. You just didn't know it.
I've been to all six major Hawaiian islands and some of the small islands. There are 8 large islands and a total of 137 islands in the Hawaiian chain. Maui is our favorite but for all the reasons that make it the best Hawaiian island for first-timers.
Some things are true for any Hawaiian island. They all have the following Hawaiian charms and specialties: luaus, Hawaiian history, beaches, the weather is amazing, the ocean is 75 to 80 degrees year-round, surfing, outrigger canoeing, and other ocean sports.
Let me break down the pros and cons of visiting Maui as your first island.
Maui is the best Hawaiian island for first-time visitors for the following reasons:
✅ Resort areas of Ka'anapali and Wailea
✅ Best snorkeling of any Hawaiian island
✅ Road to Hana's waterfalls, food stalls, black sand beaches, red sand beach, etc.
✅ Best island for singles who want a beach vacation and activities
✅ Haleakala National Park – hiking, Pools of 'Ohe'o, sunrise or sunset experience
✅ Whale watching is the best on Maui from mid-December to mid-April
✅ Family-friendly resorts and beaches
✅ Island of Lanai is a ferry ride away
✅ 65 activities for kids to do on Maui
✅ Sea turtles abound for snorkeling and on the beach (Ho'okipa Beach Park)
✅ Glamping, camping, and car park sleeping options (Camp Olowalu)
✅ Cheap flights on Southwest, Alaskan, and Hawaiian to Kahului Airport
✅ Adults-only resort – Hotel Wailea, Relais & Châteaux
✅ Snorkeling Molokini crater
✅ The Lahaina Banyan Tree – 16 trunks and covers 2-acres
Reasons why Maui may not be the best first Hawaiian island for you:
❌ Maui is the most expensive island to visit (Oahu is the cheapest)
❌ Not a tropical jungle island like The Garden Isle of Kauai
❌ Not volcanically active like the Big Island (note: Kilauea volcano on Hawai'i is not currently erupting but always check if it is)
❌ Lack of nightlife, entertainment, or a club scene like Oahu
❌ No Disney Aulani Resort or other Disney property
❌ No night snorkeling with manta rays
❌ Oahu has the best surfing and places to learn how to surf
❌ Hiking is better on Oahu, Kauai, and Big Island
First-Time Visit to Hawaii: 10-Day Itinerary
Here is your first time in Hawaii itinerary. This itinerary will leave you relaxed and confident you saw and experienced the best things to do on Maui and one other island.
From two locals, this is our ideal Hawaii itinerary for first-time visitors.
We live in Maui and never get island-fever. There is so much to do but don't worry, I'm not prescribing an action-packed vacation. This is the cream of the crop to get your feet wet in the sand and to realize why all the celebrities vacation in Maui.
A 10-day Hawaii itinerary is a perfect length of time. As a first-time visitor, we recommend you check out two Hawaiian islands. The first being Maui and then we give you two options – Kauai or Oahu.
Kauai is for those looking for the outdoors, jungle hikes, and solitude (no crowds).
Oahu is for those who want a few days of a Hawaiian social scene. Honolulu is the Manhattan of the Pacific. The place doesn't shut down at 9:00 am like the other islands. But Oahu also has more family resorts, beaches, and the best hiking of any other island.
Use your civil liberties to play around with the itineraries to make them fit your Hawaii vacation.
If you are looking for more details on a trip to Maui, or another island, then learn more about our Hawaiian Island Wayfinder Itineraries.
Hawaii 10-Day Itinerary: Maui and Kauai
Explore the Valley Isle and then hop on a 35-minute flight to the Garden Isle.
Where to Stay on Maui
The two resort areas on Maui are Ka'anapali and Wailea. Ka'anapali is on the west side of Maui and Wailea is in the south.
Picking one over the other is no easy task. Opinions abound on where to stay and for good reason, the weather and beaches are perfect in both locations. The main differences are the type of hotels and experience.
Wailea offers four-star resorts. Ka'anapali is for those who seek a more walkable area, proximity to the historical town of Lahaina, a more lively experience, and more vacation rental options.
There is so much more to these two resort areas so I recommend you read the full breakdown in the article below. The second thing is to check out the other article to decide if a vacation rental is a better option for your Hawaii vacation.
Related articles:
Glamping and Camping on Maui: Camp Olowalu in West Maui offers glamping, tent camping, and car camping in their newly renovated, beach-side campgrounds. This is an affordable and safe way to stay in Maui.
Erica, Henry, Hattie, and I had a wonderful time staying in their glamping tentalows in December. Check out our video below on glamping and camping in Maui.
Day 1 (Maui): Welcome to Maui
You'll land at Kahului Airport (OGG) in the central valley of Maui. It is an open-air airport with two Starbucks and all the major car rental companies. The car rental desks are a short 10-minute walk or a quick electric tram ride away from the baggage claim.
Maui is the second-largest Hawaiian island but still only takes about 45-minutes to get where you want to go. Grab your rental car or an Uber or Lyft or taxi to your hotel.
Local Tip: If you booked a vacation rental, head to Costco first to stock the kitchen. Groceries are twice as much or more than groceries on the mainland. You can save some serious money by shopping at Costco. Plus, Costco has beach supplies like beach chairs, reef-safe sunscreen, snorkel equipment, umbrellas, boards, etc.
Local Tip: Consider renting snorkel equipment for the week on Day 1. For the best-priced snorkel equipment, don't rent at the resorts but go to Boss Frog's, The Snorkel Shop, or Snorkel Bob's. They have shops all over the island.
Today is a day to get a lay of the land. Check in to your resort or condo to relax. It was a long flight across the Pacific.
Pool and Sunset: Soak up the sun at the pool, walk the beach, or walk the shops around your resort. The restaurants and bars in Wailea and Ka'anapali have great happy hour deals. Get your first mai tai and smell the Hawaii air. It smells like flowers.
Both resort areas face the sunset so sit back and enjoy.
Day 2 (Maui): Historic Lahaina Town and North Shore
Jet lag will have you out of bed early. Embrace the opportunity with a run or walk along the beach paths in Ka'anapali or Wailea. Then get some Hawaiian breakfast.
You're heading to West Maui today for sightseeing and snorkeling. Maui has the best snorkeling in Hawaii.
Breakfast: Hit up Leoda's Kitchen and Pie Shop in Olowalu if coming from South Maui. It is never too early for a chocolate mac nut pie. They also have a phenomenal lunch menu but you can beat the crowds by going for breakfast. Staying in Ka'anapali means you can visit CJ's Deli and Diner for breakfast or drive into Lahaina for a lot of breakfast spots on the ocean.
Snorkeling in North West Maui: Continue to drive up the Honoapiilani Highway past Lahaina and Ka'anapali. The road gets windy but it is paved. Go snorkeling in the Honolua Bay, a marine preserve at the end of a 5-minute jungle walk. If the waves are big or snorkeling visibility is poor, go to Nakalele Blowhole that is a few minutes past Honolua Bay.
If you have kids or don't enjoy the rocky beach at Honolua Bay, head to Napili Bay or Kapalua Bay for a sandy beach with facilities and showers. There are public parking lots but arrive by 10:00 am for a spot or park along the road.
These three bays are well-protected and rich in Hawaii-only-fish and sea turtles. Snorkel on the sides of the bay to find the sea turtles.
Historic Lahaina Town: Head to Lahaina for lunch, sightseeing, and shopping. Lahaina was once the capital of the Kingdom of Hawaii. The whaling town has kept most of its charm but does come off as touristy and kitschy to many. Personally, I like this place.
🍍 Visit Banyan Court to walk amongst the 16-trunk, 1.8-acre sprawling banyan tree.
🍍 Visit the historical courthouse with its free museum and art gallery at the banyan tree.
🍍 Walk the harbor and the historical trail.
🍍 Shop along Front Street
🍍 Grab a shave ice or gelato to escape the heat. Lahaina is Hawaiian for "cruel sun."
Lunch at Cheeseburger in Paradise, Lahaina Coolers, Cool Cat Cafe, Kimo's, Lahaina Fish Co., Down the Hatch, or Aloha Mixed Plate to name a few of our favorite places.
My favorite is Aloha Mixed Plate for Asian-Hawaiian fusion. It is located on Front St. but 1-mile north of the main downtown area, behind the Cannery Mall. They have free parking.
After lunch and checking out Lahaina, you can go back to your resort for some pool time and relaxation. Whalers Village in Ka'anapali or The Shops at Wailea have good happy hours and dining if you seek an escape from your resort for dinner.
I also love the Maui food truck scene. There are food truck parks around the resort areas and towns. Check out the articles below for food truck information and happy hour guides.
Related articles:
Day 3 (Maui): Whale Watching, Snorkeling, and a Luau
Day 3 of our Hawaii Itinerary is my favorite day. Erica and I love whale watching. Maui is home to the largest humpback whale migration in the world. You will see calves playfully breaching, groups of males pursuing females in courtship, and whales singing their hearts out. Check out our video for what to expect when whale watching in Maui.
Whale watching is a 2-hour tour so if you go in the morning, you will have a lot of the day left for snorkeling and beach-bumming.
Don't feel like you are missing out if you're in Maui during the whale off-season. This leaves more time for snorkeling or going on a snorkeling cruise.
Snorkeling Day: Maui is the best Hawaiian island for snorkeling because you can find great snorkeling from the shore. Our favorite shoreline snorkeling spots are the following.
Shoreline Snorkeling
🍍 Kamaole Beach Park III (South Maui): Get here in the morning to beat the trade winds so the water is calm and clear for your snorkeling. This beach is great for the whole family and is located in central Kihei, a popular place to stay.
🍍Turtle Town at Maluaka Beach (South Maui): Called Turtle Town for a good reason. Maluaka Beach is the best place to snorkel but Turtle Town refers to the area from Nahuna Point to Black Sand Beach. To find the turtles, head south down the beach till you reach the rocks at the end of the sand.
🍍 Black Rock (West Maui): A famous rock jumping location located in front of the Ka'anapali Sheraton, the rock is also a good snorkeling spot.
🍍 Airport Beach (West Maui): Airport Beach is in front of the Westin Ocean Resort Villas. There is a big parking lot with bathroom facilities. The beach is ideal for lounging all day and then jumping in for snorkeling in the reef located less than a hundred feet from shore.
🍍 Napili Bay (North West Maui): Crescent-shaped bay with the delicious Gazebo breakfast and lunch restaurant overlooking the bay. Excellent snorkeling and calm waters.
🍍 Kapalua Bay (North West Maui): Another crescent-shaped bay with a large beach next to Napili Bay.
Snorkeling Cruises
A snorkeling cruise may be more of an adventure for you. Plus, a boat or sailboat can take you to pristine reefs and Maui landmarks that are more jaw-dropping than the snorkeling, like the Molokini crater.
Our favorite snorkeling cruises are Molokini crater, Lanai snorkeling and dolphin watch, and Olowalu Kayak Snorkeling.
Luau: Finally, the time has come for a Hawaiian feast. The luaus feature Hawaiian and Polynesian dancing while you dine on Kalua pig, poi (taro plant), and haupia (coconut milk-based dessert).
Feel free to get dressed up with your best Aloha Shirt or tropical attire. Dressing up isn't required but it is a fun way to get involved.
Luaus include interactive events before the festivities like coconut husking, spear throwing, hula lessons, and basket weaving.
Luaus can be found in the resorts or standalone locations. The best luaus on Maui are below.
🍍 Old Lahaina Luau
🍍 Feast of Lele
🍍 The Grand Luau at Honua'ula
🍍 Drums of the Pacific
🍍 Royal Lahaina Luau
🍍 Te Au Moana
Get The Maui Itinerary
The step-by-step itinerary takes you to all the best beaches, snorkeling spots, restaurants, and sights. You'll get six carefully planned excursion days to help you see the can't miss stops no matter how limited your time is.
Get all the details on our itinerary and download it for a memorable and easily planned trip to Maui.
Day 4 (Maui): Road to Hana
This drive is worth the hype. It isn't about the road (which is very safe now), it is about the stops. Swim in waterfalls, eat fresh banana bread, drink from coconuts, walk black sand beaches and through bamboo forests, and so much more.
Head out at 7:30 am or earlier. If you are coming from Wailea or Ka'anapali, it will take you 30-minutes and 45-minutes, respectively, to get to the start of the drive-in Paia.
The drive is only 45-miles but plan to be on the road for 8 to 12-hours to do the stops you want to do.
Tips:
🍍 Gas up at Costco or Safeway Express (click for directions) for the cheapest gas on the island
🍍 If you stop at Kipahulu, Pools of O'heo then you can reuse your Haleakala National Park for your Day 5 visit to the summit. NPS passes are good for 3-days.
🍍 Pack lunch and refreshments.
🍍 Let locals pass. They are trying to get home, let them pass you.
🍍 You can return via the backside for fresh scenery and adventure. The road is remote and unpaved in spots so do this at your own risk. Many car companies won't send emergency services per their contract if you have problems. Cell coverage is spotty too.
Day 5 (Maui): Day Trip to Lanai
The best part of visiting Maui is you have the islands of Lanai and Molokai a few miles away. We recommend taking a day trip to Lanai, the Pineapple Isle.
The island of Lanai was once home to the largest pineapple plantation in the world, by Dole. Today, it is home to 3,102 permanent residents and two five-star Four Seasons Hotels. There isn't even a traffic light on the island.
Departing five times a day, take the Maui-Lanai Ferry from Lahaina Harbor across the Au'au Channel. Spend the day on one of the best beaches in the world, Hulopoe Beach, with snorkeling and soaking up the sun. Hulopoe Beach is located where the ferry drops you off.
Take a taxi or bus to Lanai City from the beach. Grab a coffee at Coffee Works and walk the small town.
For some local flavor, head for lunch at Cafe 565, Blue Ginger Market, or Richard's Market. All three restaurants are around the city's central park – Dole Park.
Day 6 (Maui): Haleakala and Upcountry
This is another big day on the road in Maui but worth the driving. If you reserved a Haleakala sunrise permit, plan on staying in Haleakala for the morning going on hikes and checking out the silversword plants and Nene birds.
If you don't have a Healakala sunrise permit, that is totally cool. Go to Haleakala National Park in the morning and then check out Upcountry Maui. The other option is to tour Upcountry Maui in the morning and then go to Haleakala in the afternoon and to watch the sunset from the summit.
Local Tip: Remember to bring your National Park Service pass from the Road to Hana. If you visited the Pools of O'heo then you already have your vehicle entrance pass for Haleakala.
Upcountry Maui: Escape the heat of the Maui coastline. Head up the volcano for the Swiss Alps-like area of Upcountry. Where the cowboys roam and the coffee grows.
You can do the Upcountry activities in the order below as you cruise through Upcountry on route 37. Pick your favorites, you don't have to do them all. They are quick stops so you can do 3 or 4 plus lunch.
Makawao Town: Walk the historic small town of Makawao. Grab a donut-on-a-stick from

Komoda Store and Bakery

, coffees from

Sip Me

, and then walk the art galleries, Makawao History Museum, and shops along Baldwin Avenue.

Ziplining at NorthShore Zipline Company or Piiholo Ranch Zipline – play in the tree canopy at one of these two zipline companies.

Surfing Goat Dairy

– tour a goat farm, milk some goats, taste goat cheese, and have fun for the whole family.

Kula Country Farm

– pick strawberries and enjoy their farmer's market. If you are visiting in October, you must check out their pumpkin patch and corn maze.

Ali'i Kula Lavender

– sweeping views of Maui set amongst fields of lavender and a botanical garden. Their coffee and bakery is worth a stop alone.

Note: O'o Farm lunch location is next to the lavender farm. O'o Farm is a lunch and agro-tour.
Kula Botanical Gardens – a family's lovingly cared for garden with a covered bridge, 8-acre garden, koi pond, and waterfalls.

Mr. Shim's Coffee Plantation Tour

– tour a working coffee plantation by Mr. Shim himself.

MauiWine

– take a free wine tour and try their tasting room with $12 to $16 tastings. They specialize in pineapple wine but offer mainstream varietal wines. Across the street is Ulupalakua Ranch Store for lunch or a snack.
Where to Eat in Upcountry Maui
Our favorite lunch places in the Upcountry can't be missed. Pick your favorite based on when you get hungry during your activities.
🍍 Kama Hele Cafe – a food truck near Makawao featuring homemade and local dishes. A good breakfast stop.
🍍 La Provence Restaurant (before Kula Country Farms) – a French bistro and bakery that is too cute to miss.
🍍 O'o Farms – a farm tour ending with a farm-to-table gourmet lunch
🍍 Ulupalakua Ranch Store – farm to table food from the local cattle company.
Day 7 (Maui): Hiking and Beach Day
Erica and I love exploring Hawaii by trail. One can hike in a jungle or a desert. We prefer the jungle as there aren't very many bugs in Hawaii.
Start the morning with refreshing hikes after driving through Upcountry the day before.
'Iao Valley State Park: The first stop is 'Iao Valley State Park. This is more of a scenic outlook than a hike. Drive through Maui's capital of Wailuku into one of the wettest places on Earth. The 'Iao Valley gets over an inch of rain a day on its peaks. This place is rich in Hawaiian history and home to the 'Iao Needle. Pay $5 for parking and walk the 0.4-mile paved path to the observation deck.
Waihe'e Ridge Trail: This is a real hiking trail for those outdoor enthusiasts. Exit Wailuku and drive to the northwest shore for Waihe'e Ridge Trail. The 3.9-mile there-and-back trail features waterfall views and hikes along a ridgeline in the West Maui Mountains. This is a fun hike to take in Maui.
Beach Day: After a morning of hiking, time to head to the beach. Relax at one of the local beaches in your area. Check out our shoreline snorkeling spots above for the best beaches.
Wailea and Ka'anapali have excellent beaches in front of the resorts. You don't have to go far to find a good beach in Maui.
Day 8 (Kauai): Fly to Kauai, Hanalei Bay, & Waterfall Hike
Time to pack your bags and head to another island. You can find great island-hopping flight deals from Hawaiian Airlines and Southwest Airlines. We recommend you depart Maui's Kahului Airport for Kuaui before 9:00 am for Lihue, Kauai. Flights are frequent.
Where to Stay in Kauai: Our favorite place to stay is in Princeville on the North Shore of Kauai. Princeville is home to the nicest resorts, the beaches have stunning mountain backdrops, and you are close to the cutest town on the island – Hanalei. The cons of staying in Princeville is it is wetter during the winter and the winter surf makes the beaches not safe for swimming.
The next option to stay in the South Shore. Perhaps a better option during the winter months as the south shore of Kauai is dryer and doesn't get the big waves during the winter. South shore also has nice beaches like Poipu Beach.
The most affordable area to stay is the populated east shore of Kauai. More budget accommodations are available and it is a convenient location between north and south shore activities.
The itinerary is structured for someone staying in Princeville but it will work regardless of where you stay as Kauai is small. One can almost circumnavigate the island in an hour and 30 minutes. The impassable Na Pali Coast stops a full circumnavigation of Kauai.
Grab your rental car on Kauai. Remember to check out Discount Hawaii Car Rentals for the best deals on the big car rental companies.
Drop-off your bags at your resort and then head to Hanalei Bay for lunch. Hanalei is a charming town on the idyllic Hanalei Bay with waterfalls dotting the 4,000-foot cliffs towering over the bay.
For lunch in Hanalei check-out The Hanalei Gourmet, Hideaway's Pizza Pub, or Cafe Turmeric. Those are our three favorites in Hanalei.
After lunch, you have two options to fill your afternoon.
Get The Kauai Itinerary
The step-by-step itinerary takes you to all the best beaches, snorkeling spots, restaurants, and sights. You'll get six carefully planned excursion days to help you see the can't miss stops no matter how limited your time is.
Get all the details on our itinerary and download it for a memorable and easily planned trip to Kauai.
Option 1. Go for a swim in Hanalei Bay.
Option 2. Hike a 2-mile section of the famous Kalalau Trail. No permit is required to hike from the trailhead to Hanakapiai Beach. The beach is beautiful but dangerous during the winter with big waves and strong riptide. From the beach, you can take another 2-mile trail to Hanakapiai Falls. Both hikes have steep inclines and are unpaved.
After the swim or the hike, soak up the resort or hotel you picked.
Day 9 (Kauai): Poipu Beach, Waimea Canyon, and Na Pali Sunset Cruise
Today you explore the Garden Isle. Hop in your car for a road trip through paradise.
Poipu Beach: On the southern tip of Kauai is Poipu Beach. This beach has amazing snorkeling, swimming, bodyboarding, and home to many resting monk seals. The beach has been voted the best beach in America a few times.
Enjoy the golden-sand beach and soak up the late morning sun.
Hanapepe Town: As you drive east around the island, stop in Hanapepe. Pick up some taro chips from Taro Ko Farm. The rustic shack is open, just knock for fresh-made chips. Park the car and walk around the historic town. Check out the Swinging Bridge, art galleries, and shops.
If you need another beach stop, drive over to the Salt Pond Beach Park. It is a family-friendly and not crowded beach.
Lunch: Head to Chicken in a Barrel BBQ at Waimea Plantation Cottages. The BBQ is outstanding and the location is ideal. Have lunch and walk the beautiful grounds of Waimea Plantation Cottages.
From here, it is a quick drive up to Waimea Canyon.
Waimea Canyon: Nicknamed the Grand Canyon of the Pacific, Waimea Canyon is a 10-mile long, 3,600-feet deep canyon. The red-dirt walls are breathtaking. Choose to enjoy the canyon from two lookouts or hike the many trails around the state park.
Leave time to get to the boat launch.
Na Pali Coast Sunset Dinner Cruise: No trip to Kauai is complete without seeing the Na Pali Coast. Since hiking it is off the table for most people, hop on a sailboat for a luxury experience at a decent price ($185 per person).
Leaving from Hanapepe/Eleele, dinner cruises will take you on a scenic 4-hour tour of the Na Pali Coast. You can have a dinner cruise or drinks only, depending on your operator. Check out Captain Andy's and Blue Dolphin Charters, our recommended tour operators.
Day 10 (Kauai): Tube Down a Mountain and Fly Home
In the mountains above Lihui is an adventure like no other. Don a headlamp, sit in a tube, and flow gently down an engineering marvel. Dug by hand in 1870, you can tube down flumes, canals, and through tunnels of the former Lihue Sugar Cane Plantation.
The 3-hour tour comes with lunch. Check out Mountain Tubing Adventure for tickets. Age 5 and up are $126 per person.
Grab your bags from your hotel, it is time to head home.
Hawaii 10-Day Itinerary: Maui and Oahu
For those desiring more nightlife, entertainment, and a vast selection of Pacific and Hawaiian regional cuisine then head to Oahu over Kauai for your final 3-days.
Erica and I lived on Oahu for two years. We love Oahu and so do most as it is the most visited Hawaiian island. But one should consider that Oahu is the most populated island, has nasty traffic, and the beaches get crowded.
But one can still find quiet places, sea turtles, great snorkeling and surfing, and far more entertainment and cuisine compared to the other Hawaiian islands. Oahu is the Gathering Place for good reason.
Another good reason to end your trip to Hawaii in Honolulu is the airport. Flying home from Oahu may be easier and cheaper compared to going from Kauai back to Maui.
Oahu 3-Day Itinerary After Maui
For our Oahu itinerary, check out our Best 5-Day Oahu Itinerary.
For your last 3-days in Hawaii, I recommend you do the following days of our 5-day Oahu itinerary:
🍍 Day 8 (Oahu): Welcome to Waikiki
🍍 Day 9 (Oahu): Exploring North Shore
🍍 Day 10 (Oahu): Windward Side and Fly Home
See Best 5-Day Oahu Itinerary or our Oahu Wayfinder Itinerary below for more details.
Get The Oahu Itinerary
The step-by-step itinerary takes you to all the best beaches, snorkeling spots, restaurants, and sights. You'll get six carefully planned excursion days to help you see the can't miss stops no matter how limited your time is.
Get all the details on our itinerary and download it for a memorable and easily planned trip to Oahu.
Hawaii Itinerary for 10 Days: Don't Make These Mistakes
Hawaii is a safe place. Don't take this list as a do or die list. These are friendly recommendations to help you get a flavor of the culture and be a curious visitor. I wish I had this list for my first few visits to Hawaii.
We always say to travel with Aloha at the Hawaii Vacation Guide, this list will help you make the most of your Hawaii itinerary.
🍍 Buy your pineapples at Costco. Costco has the cheapest pineapples in the islands at $3.
🍍 Food in Hawaii is expensive. Buy your groceries at Costco if you have a condo. The second cheapest is Target and Walmart. Safeway is the cheapest local grocery store. Read our guide to cheap groceries.
🍍 Never turn your back on the ocean. The ocean is dangerous, don't let your guard down
🍍 Please don't touch the sea turtles, sleeping monk seals, coral, and other wildlife in Hawaii. Hawaii's creatures are endangered or at risk, watch but don't harass.
🍍 Wear reef-safe sunscreen. It will be the law in January 2021. Read Hawaii Reef-Safe Sunscreen for details on what and where to buy reef-safe sunscreen on the mainland and Hawaii.
🍍 They are called Aloha Shirts, not Hawaiian shirts
🍍 Leave lava rocks and sand in Hawaii or you will fall victim to Pele's Curse.
🍍 Don't honk your horn. People drive slow on the islands, so prepare yourself mentally to drive with aloha.
🍍 Don't leave valuables in your car or unattended on the beach
🍍 Leave your shoes at the door. You will see the pile of slippers (aka, sandals). Leave yours on the pile.
🍍 Try the local food. Eat poke, musubi (rice and spam wrapped in seaweed), malasadas, dine at a food truck with local grindz, sip a peaberry Kona coffee, and go to McDonald's to see their Hawaii menu.
🍍 Don't walk on the coral reefs. Use a noodle to stay buoyant
🍍 Restaurants, bars, and shops close early, especially local shops. Check closing hours and plan on shopping in the afternoon and having early dinners.
🍍 Locals are residents, Hawaiians are indigenous people of Hawaii.
🍍 Leave yourself downtime on your itinerary. There is so much to do that some visitors get burnt out. Leave yourself time to relax at the beach, a coffee shop, or sit on your board in the ocean.
Tips for Your First Time to Hawaii Itinerary
How Many Days Do People Spend in Hawaii?
9.3 days in Hawaii was the average number of days people visited in 2019. 1.2 was the average number of islands visited.
We aren't ones to follow the flock, but the average is close to our recommendation of 10-days in Hawaii. You don't have to be average, set your own itinerary for Hawaii. Add extra days to this itinerary or an extra island or remove the extra island. Have some fun with this itinerary as you do more Hawaii vacation planning.
The average length of stay of visitors to each Hawaiian island was the following in 2019:
🍍 Maui: 7.9 days
🍍 Kauai: 7.4 days
🍍 Hawai'i: 7.3 days
🍍 Oahu: 6.8 days
🍍 Lanai: 3.2 days
🍍 Molokai: 4.5 days
(source: Hawaii Tourism Authority)
People spend the most time on Maui and for good reason.
Hawaii Activities to Book in Advance
Consider booking a luau, whale watching, Haleakala sunrise, and a snorkel or boat trip before you leave for your Hawaii vacation. These activities fill up during the peak seasons of the winter and summer months. Plus, by booking early you can get the best price and pick of a tour operator.
Luau: You have to go to a traditional Hawaiian party with dancing and music for your first time to Hawaii. We recommend going on Day 3 of our 10-day Hawaii Itinerary.
The most popular Luaus in Hawaii fill up fast. If you are visiting during the winter or summer peak seasons, we recommend you book one or two months in advance to play it safe. Early booking also gets you a good seat for seated luaus.
Maui luaus are the best in Hawaii. The town of Lahaina has the two most popular luaus – The Feast of Lele and Old Lahaina Luau. Decide what one to choose here: Feast of Lele vs Old Lahaina Luau.
Check out Day 3 of our itinerary below for more of our favorite luaus on Maui.
You can always find tickets for luaus at the last minute but luck plays a factor.
Book Whale Watching: If you are visiting between 15-December and late March, sign up for a whale-watching cruise. Sign up to get the boat you want at the right price. You can book online so you can do this before you arrive.
By whale watching early in your vacation (Day 3 of our 10-Day Hawaii Itinerary), you can rebook for free if you don't see whales on your cruise. Book the sunrise tour or the 7:30 am tour for they will be less crowded and a lower price.
We recommend the Pacific Whale Foundation, Hawaii Ocean Project, and for a little more adventure on a raft, Ultimate Whale Watching. Check out our Maui Whale Watching Guide for tips to save money when booking.
Snorkel and Adventure Cruises: Maui offers amazing shoreline snorkeling but for more of an outing, you can go on a snorkeling cruise. These cruises are a way to make a day out of snorkeling by being on the water, being pampered with a meal and snacks, and going to pristine snorkel spots.
Our favorite snorkeling destinations by guided tour are the following. You can find discount tickets on our recommendations page. 
🍍 Molokini Crater and Turtle Town
🍍 Lanai Snorkel and Dolphin Cruises
🍍 Olowalu Kayak Snorkeling
🍍 Hawaiian Paddle Sports – Outrigger Canoe, Stand Up Paddle Boarding, and Kayak
The popular cruises are catamaran boat cruises and luxury-ish sailboat cruises. Boat trips are around $65 per person and sailboat excursions are around $160 per person. They are 5-hours in duration.
Related articles:
Haleakala National Park Sunrise Permit: One of the most memorable things you can do on Maui is to see the sunrise or sunset from 10,023 feet above sea-level. Haleakala means 'house of the sun' in Hawaiian because it is from the summit that the demigod Maui lassoed the sun to slow it down.
A reservation is required with the National Park Service for a sunrise viewing from the summit. Reservations can be made 2-months in advance. So set your alarm to book your tickets. Another batch of tickets becomes available 2-days before arrival but they are more competitive.
Book your Haleakala sunrise tickets here with the National Park Service.
You can also book with tour companies that will pick you up at your hotel, provide breakfast, and your permit.
The sunset is also outstanding at Haleakala and the sunset does not require a permit.
Do You Need a Rental Car in Hawaii?
We get asked this a lot, "do you need a rental car when you visit Hawaii?"
We recommend you get a rental car for any Hawaiian island, not just Maui. From our analysis, a rental car will pay for itself if you do three or more activities during your stay in Hawaii.
But getting a rental car is expensive in Hawaii. Rental cars cost more than the national average.
We break out the decision to rent a car or not in this article: Should You Rent a Car on Maui?. We also give alternatives to renting a car that applies to all the islands.
If you choose to rent a car, we always rent through Discount Hawaii Car Rental. They are a booking comparison website that uses all the national car carriers but with discounts, you can't get directly with them. We saved $300 during our trip to the Big Island in January.
Related articles:
Have a wonderful first visit to Hawaii.