14 Amazing Things to Do in Kihei: your South Maui bucket list
Disclosure: This post may contain affiliate links, meaning if you decide to make a purchase through my links we may earn a commission at no additional cost to you. Read about our affiliate policies here.
There's a reason why Kihei is one of the best places to visit on Maui. This laid-back town is on the sunniest and driest part of the island, so it's no surprise that people come here for the sun-soaked coastline.
You can spend your days chilling on the beach, swimming in the waters, or snorkeling with abundant marine life. And while many people come here for the beaches, Kihei also has tons of fun things to do on land (just attend their monthly Fourth Friday Celebration to see what we're talking about).
If you're planning a trip to this part of Maui, then you'll want to make sure to tick these awesome things off your Kihei bucket list!
Get everything you need to plan your Maui vacation here:
1. Check out our Maui Travel Guide for everything you need to know about the island.
2. You'll want a rental car, so be sure to get your rental car here — we've saved thousands booking with them.
3. These are the best vacation rentals in Kihei
4. Molokini snorkeling is one of the most popular things to do from Kihei and it's so beautiful! These are the best Molokini snorkeling tours.
Kihei FAQs:
Where is Kihei?
Kihei is a small beach town located on the southwestern coast of Maui, approximately 30 minutes from Kahului Airport – the main airport on the island.
Its central location makes it easy to reach from other parts of Maui. It's just 17 miles (25 minutes) from Paia, 23 miles (35 minutes) from Lahaina, and 21 miles (30 minutes) from Makawao and the rest of upcountry Maui.
Is Kihei Worth Going To?
Definitely! It has so much to offer if you love beautiful beaches, good restaurants, and a laid-back atmosphere. It also has a local "town" feel to it, which is nice if you don't necessarily want to stay in a big resort area.
However, one of the main reasons to stay in Kihei is cost. There are so many affordable hotels and budget-friendly vacation rentals in this area, especially along Kihei's beach road. For this reason, it's a decent option if you're hoping to save money on accommodation while still being close to the beach and numerous shops and restaurants.
Even if you don't stay in Kihei for your Maui vacation, it's still a great place to visit. This part of the island is one of the most lively, and there are so many fun things to do if you're planning a day trip.
Can You Walk Around Kihei, or Do You Need a Car?
Generally speaking, Kihei is quite walkable. However, the town is relatively big – around 10 miles in length from one side to the other. Therefore, this answer really depends on where you plan to base yourself for your trip.
North Kihei tends to be a little more isolated, so you might need a car if you want to head into the main part of town where the Azeka Shopping Center is. However, you can easily walk to shops, restaurants, and different beaches up there without needing a car.
Central and South Kihei are closer to the beaches in Kamaole Beach Park and Wailea, so this is a better option if you don't rent a car. There are also plenty of cafes, shops, and restaurants that you can walk to.
14 Things to Do in Kihei
1. Learn About Humpback Whales at the Humpback Whale Sanctuary
Hawaii is one of the most important breeding grounds for humpback whales. From November to April, thousands of these creatures migrate down to the warm waters of the islands to mate and give birth. And while we love booking a whale watching tour, we highly recommend stopping by the Humpback Whale Sanctuary as well.
This organization works with the local community to research the whales and to reduce threats that may endanger them or their habitat. You can learn more about their initiatives at the visitor center, which features exhibits and interactive displays. And plan your trip around a Monday, Wednesday, or Friday as they host a 40-minute humpback whale talk.
Afterward, head to the small beach in front of the visitor center. If you're here during whale season, it's possible to see them swimming right from the shore. This is also a good spot to see green sea turtles swimming or resting on the rocks during low tide.
2. Grab a Bite to Eat and Listen to Live Music at the South Maui Gardens
South Maui Gardens isn't your average restaurant. As its name implies, it's actually a nursery that is home to over 500 species of tropical plants! But they also have a beautiful food truck park located within the gardens with 13 different delectable food options.
When we were here, we ate at Kitoko, a gourmet food truck with one of the most creative menus we've ever seen! But they also have sourdough pizza (Blue Door Pizza), Indian food (Satrong), Argentian sandwiches (El Carrito), and amazing coffee (Da Green Coffee Bar). You really can't go wrong with any of the food trucks here.
The setting is gorgeous (you're dining outdoors amongst all the plants), and they even have live music on the second Saturday of the month. With good food and a relaxing atmosphere, it's really an unforgettable experience and one of our favorite places to eat in Kihei! Check out the video below to watch our experience!
3. Get some Cheap(er) Eats at the Food Truck Park
The food at South Maui Gardens can be a bit pricy, so if you're trying to save a few bucks, we recommend heading up the road to the Kihei Food Truck Park. It may not have the same lush vibe (it's in a parking lot behind the Azeka Shopping Center), but there are plenty of picnic tables and some great dining options if you're hungry.
The selection of food trucks here is quite diverse. You'll find mouthwatering BBQ (Sol Brothers BBQ), delicious poke bowls (Oao Sushi Go), and Asian fusion bao buns (Sun's Out Buns Out).
Related read: The Ultimate Maui Food Truck Guide 2023 (find the best cheap eats)
4. Sample Maui's Brews at Maui Brewing Co.
For a taste of the islands, there's no better place to have a cold one than at Maui Brewing Co. Hawaii's largest craft brewery has multiple restaurants on Oahu and Maui, but their main brewery is located right here in Kihei.
If you're in the area on a Saturday or Sunday, you can book their VIP Brewery Tour, which includes a behind-the-scenes walkthrough of their brewhouse, cellar, and packaging facility. It also ends with a tasting, so you can sample the goods for yourself! It's good to note that the tour is suitable for families (kids must be age 10 and up), although little ones won't get to partake in the tasting.
Maui Brewing Co. also offers a guided tasting flight of their four flagship beers. This is a great way to sample what they have available without taking the facility tour. And don't forget to grab a bite to eat in the restaurant or tasting room. They have great burgers, pizzas, and shareable apps like boneless chicken wings and nachos.
5. Try Your Hand at Surf Lessons
Hawaii is arguably one of the best places in the world for surfing. And while Maui doesn't have the massive 30-foot waves like what you'd find on the North Shore of Oahu, it's still an excellent destination for beginners and first-timers.
Along with the south coast, the west coast of Maui near Kihei is the best to learn how to surf. The waves here are gentle and consistent, and there are many surf schools and shops lining the coast near the beach. Most schools will take you out into the waters at Cove Park, which is one of the premier surfing spots in Kihei for beginners.
If you're interested in taking lessons while you're here, book a lesson with Maui Wave Riders. They offer group, private, and semi-private lessons for kids and adults of all skill levels (kids under 10 must choose private or semi-private). While group lessons are good for meeting new friends, private lessons are ideal for those who are hesitant and need more 1:1 coaching to get out into the water.
6. Head Out to Molokini on a Power Raft
The uninhabited island of Molokini is a paradise for outdoor enthusiasts. Because the island is crescent shaped (it's actually a partially submerged volcanic crater), it's the perfect place for snorkeling and diving, as there is very little wind. And it's only a 15-minute boat ride away from Kihei, so you can easily visit on a day trip!
There are many different tours and boat trips to choose one, but we did a 2-hour snorkeling tour with Redline Rafting. The boat was fast and comfortable (only 14 passengers max), and all snorkeling equipment was included with our booking. It's definitely an adventure in itself getting to the island, as the boats are high-speed and can splash you from time to time.
The 2-hour tour gives you roughly 1.5 hours of snorkeling time in the inner reef. If you want to spend more time in the water, you can also book the 5-hour tour. With this trip, you'll be taken to the back wall of the island and to a protected area to swim with Hawaiian green sea turtles!
7. Have a Beach Day
No trip to Hawaii would be complete without spending a day at the beach. Maui's tropical landscape and golden white shores are world-famous and the perfect setting for a beach day. The only hard part is deciding where to go as there are too many good beaches to count!
Some of Maui's best beaches are located near Kihei, especially around Kamaole Beach Park. There are three beaches here, named Kamaole (or Kam) Beach I, II, and III. All three are very popular with locals and tourists alike and are only separated by jagged rock formations.
Kam I and II are the largest and most suitable for swimming and snorkeling. The waters are calm, and there is lots of room to lay out your towel. Kam III is a tad smaller, but it's the best beach for bodyboarding as the shore breaks are more frequent. There's also a small grassy lawn as well as a playground and restroom facilities.
Keawakapu Beach is another one of our favorite spots. It's not as popular as the Kamaole Beaches, so it's great for escaping the crowds or for watching the sunset (which we'll talk about a bit more later!).
8. Eat Shave Ice From Ululani's
There's nothing quite like shave ice on a warm Hawaiian day. And while there are tons shave ice shacks on the island, none of them can compete with Ululani's.
The flavors of the syrups are so unique (pickled mango, wedding cake, tamarind, green tea), but they also have all the traditional fruit flavors you know and love. Best of all, most of them are made using premium puree and fruit juices. You can really taste the difference compared to other shave ice stands, which use more artificial ingredients.
It's one of the highest-rated and most popular places on Maui! As such, the line can be long, but it's well worth the wait. They also have a few locations around Maui, as well as on the Oahu and the Big Island. However, their Kihei location is just steps away from the beach, so it's easy to get a sweet treat to cool off after an afternoon of swimming or snorkeling.
9. Get a Great brunch at Nalu's
Nalu's is the single best place to go if you're craving comfort Hawaiian foods. They're open for breakfast, lunch, and dinner, and trust us – once you have one thing on their menu, you'll want to be back to savor all their other items throughout the day!
For breaky, order one of their acai bowls, breakfast benedicts (the Black & Blue Ahi is a fan favorite), or their classic Loco Moco with Black Angus beef. The lunch and dinner menu consists of salads, burgers, and freshly caught seafood like deep fried snapper and chips.
The whole restaurant is open-air, but on a nice day, grab one of the seats on the patio so you can sit in the sun while enjoying your food. They also have live music every night of the week, so it's a great place to go for drinks after dinner.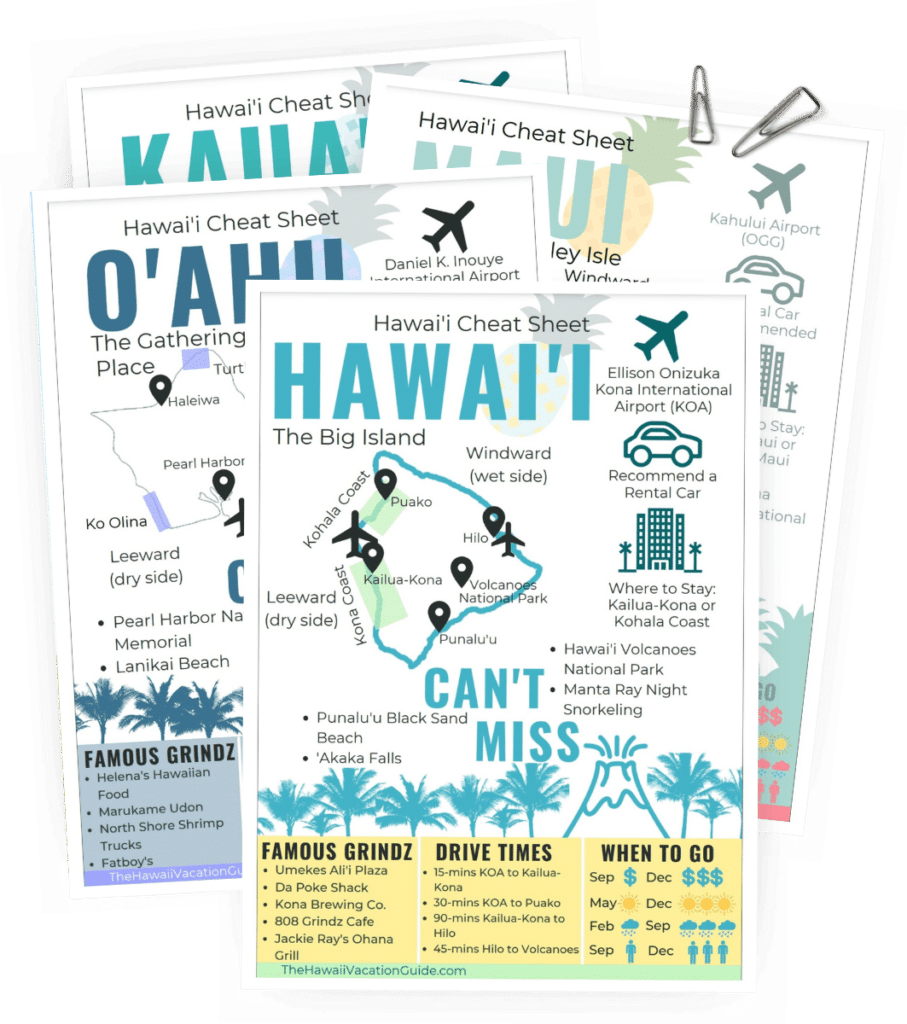 Free Download!
Hawaiian Island Cheat Sheets
Sign up & we'll send you our island cheat sheets so you can get to know the islands like the back of your hand!
We'll share 4 can't-miss activities on each island, a map with the main sights in town, & famous local grindz (eats)!
10. Get Creative at the Island Art Party
If you're looking for something fun and unique to do during your visit to Kihei, then stop by Island Art Party for one of their painting classes. During this 2 to 3-hour class, you'll get to express your creativity by painting canvas prints while also meeting new friends.
No experience is needed, and Island Art Party provides all the art materials you'll need for the class. They even have a fully stocked bar (with alcoholic and non-alcoholic drinks) to help you stay hydrated!
They have regular classes for people aged 16 and up on Wednesday and Saturday (2 pm and 7 pm class times). If you're interested in painting with younger ones, there is a family class for parents and kids aged 8 and up at 2 pm on Sundays. You can also check out their calendar for a list of special painting events, like painting on wine glasses or wooden surfboards. But no matter what you paint, coming here is a fun activity for a rainy day, a day with friends, or a family outing!
11. Watch the sunset at Keawakapu Beach
At the end of South Kihei Road sits the pristine golden sands of Keawakapu Beach. Compared to other beaches in Kihei, Keawakapu Beach is kind of a hidden gem. It's never overcrowded, so there is room for the whole family to lay out. Keep in mind there aren't any bathrooms here, although there is a shower for rinsing off.
Besides hanging out and sunbathing, Keawakapu Beach is great for snorkeling. The water is shallow, close to shore, and relatively gentle, although you'll see so much more if you're comfortable swimming past the break. Sea turtles are very common here, so keep your eye out for them if you're floating around.
However, sunset is the best time to come because the views off the coast are simply breathtaking! And because there aren't as many people on the shores, you can enjoy the colorful sunset without the crowd.
12. Snorkel at Charley Young Beach
If you're looking for a quiet snorkeling spot close to downtown Kihei, Charley Young Beach is it. Despite being just a short walk north of the high-trafficked Kamaole I, this stretch of sand is never crowded. And the lapping waves are gentle and safe enough for young swimmers and water enthusiasts.
For this reason, it's one of our top places to go snorkeling. And you don't have to go far to see all the vibrant marine life! It's possible to see sea turtles swimming just several yards from shore (remember to give them space and not swim after them).
In addition, Charley Young Beach is also a beautiful spot to watch the sunset! Lots of parking, stunning views, swaying palms – what more can you ask for?
Related read: The 11 Best Snorkel Spots on Maui (+7 crucial tips)
13. Pick up Fresh Produce at Kihei Farmer's Market
The Kihei Farmer's Market is a family-run business that has been in operation in Kihei for almost 20 years. Not only do they sell fresh local fruit and veggies, but they also have hot sauces, jams, dips, salsas, canned goods, as well as some pretty amazing baked treats (the apple banana bread is a must).
And if you're hungry for more than a papaya or coconut, you can order something heartier from the counter. You can get fresh fruit smoothies and acai bowls, as well as homemade guacamole. In fact, the founder of the farmer's market (Grandpa Wayne Nishiki) became famous for his delicious guacamole, so make sure to pick up a container before you leave.
14. Attend a Fourth Friday Celebration
The monthly Fourth Friday Celebration is one of the biggest and most highly anticipated events in Kihei. This is where the entire community comes together to throw an amazing town party full of live entertainment, art vendors, games, and tons of great food.
The Fourth Friday Celebration takes place from 6 pm to 9 pm every fourth Friday of the month at the Azeka Mauka Shopping Center. While vendors and performers change, you can still expect to have a fun night mingling with locals and visitors while you stroll through the two blocks of open-air events.
And don't forget to bring the kids! The Keiki Zone has face painting, hula hooping, arts and crafts, and more fun.
Related reads:
7 Best Maui Sunset Cruises For a Great Night Out
The Ultimate Guide to Whale Watching on Maui: Best Tours and Tips
Is the Road to Hana Worth It? (2023) Here's How to Decide
Get the Best Maui Itinerary
Ready to plan the rest of your vacation? We have you covered with our Maui itinerary. This download and go itinerary takes you on a planned out route around the island seeing the best sights and eating at the best restaurants.
Planning Maui was OVERWHELMING so I stumbled onto the Hawaii Vacation Guide Youtube page and ordered the Wayfinder itinerary. It was not expensive at all! I thought ok well I hope this helps. WOW!

It planned out every day perfect down to finding free parking with what to pack and what to expect. We got to see almost all of the island and hit spots we would have never known about despite buying two books on Maui.

The food recommendations alone were well worth it! Everyday we got up and I read hey this what we pack today and we got in the car and I pulled up the interactive itinerary and would click the google map link and head to that first stop.
Get The Maui Itinerary
The step-by-step itinerary takes you to all the best beaches, snorkeling spots, restaurants, and sights. You'll get six carefully planned excursion days to help you see the can't miss stops no matter how limited your time is.
Get all the details on our itinerary and download it for a memorable and easily planned trip to Maui.