Is the Road to Hana Worth It? (2023) Here's How to Decide
Disclosure: This post may contain affiliate links, meaning if you decide to make a purchase through my links we may earn a commission at no additional cost to you. Read about our affiliate policies here.
The most popular highway in Hawaii will take you to waterfalls and clifftop views but is driving the Road to Hana worth it for your Maui vacation?
The Road to Hana is a top three can't-miss Maui thing to do. There's no place else in the country where you will see diverse rainforests, swim under waterfalls, walk on black sand beaches, experience history, and drive the windy roads with one-lane bridges. The Road to Hana is an all-day adventure full of unique stops that lead you to Hana Town and even past the town.
The only times we don't recommend driving the Road to Hana is when visitors aren't staying for long and/or they have other priorities on their bucket list (e.g., whale watching, Haleakala, snorkeling at the best beaches).
But here are things to consider to decide if the Road to Hana is worth it for you.
Is the Road to Hana Worth It? Pros and Cons
To decide if driving the Road to Hana is worth it, let's discuss the pros and cons of going on the 100+ mile drive either driving yourself or doing the guided tour.
Advantages of Driving the Road to Hana:
Memorable Experience
Save Money
Make Your Own Schedule
Pick the Stops You Want to Do
Adventure
Shared Experience
Disadvantages of Driving the Road to Hana:
Not an Easy Drive
Challenging to Find Stops
Reservations Required
A Long Day of Driving
Divorce Highway
Driving in a Rental Car Has Limitations
Time Management
Bad Weather
Let's break down the advantages and disadvantages to decide if the Road to Hana is worth it and then discuss alternative things to do on Maui.
Advantages of Driving the Road to Hana
We are here to help with your Maui trip planning!
To decide if driving the Road to Hana is worth it, let's jump into the 6 advantages. Here are the things you can look forward to when driving the Road to Hana.
A Memorable Experience
We have a hard time telling visitors that the Road to Hana isn't worth it. I'm hard-pressed to find a comparable drive in Hawaii or anywhere in the world (we love to travel!).
Kauai's End of the Road drive (Kuhio Highway) on the North Shore is gorgeous but doesn't have as many stops or amazing sights. Driving up to Haleakala has great views and upcountry things to do but doesn't have a lush rainforest or waterfalls.
As everyone will tell you, the Road to Hana is all about the journey, not the destination. While I am tired of the cliche, they are correct.
Hana is a lovely small town but the attraction is the drive with the many stops. It is a choose-your-own-adventure of what you will see and experience.
The real debate is to decide if you'd rather do other Maui activities, drive yourself, or do a guided tour.
Save Money Verse a Guided Tour
Guided tours for the Road to Hana start at $210 for an adult with Hana and Beyond. That is the lowest price with good service and a comfortable shuttle van that we have seen.
For a family of four, that is $860 for a guided tour The total includes children's tickets at $180, and then taxes and fees. The price includes lunch, bottled water, resort pickup and dropoff, and entrance fees to the black sand beach. Our two favorite tour companies are below.
Driving yourself may save you about $500 to $550 for a day trip to Hana for a family of four compared to doing a guided tour.
To drive yourself on the Road to Hana you will have the cost of the rental car for the day(s), gasoline, and lunch. Most of the stops on the Road to Hana are free (e.g., hikes and views) or low-cost (e.g., banana bread stops and black sand beach reservations).
Overall, the Road to Hana is a good value for all you get to see and do in one day compared to loading a day of things to do on Maui with kids.
Note: Prices may change after writing this article so click the link above to learn more and confirm the price. But, prices will most likely go up than down for a Road to Hana tour.
Make Your Own Schedule
The Road to Hana follows the Hana Highway from Kahului to Hana, about 52 miles. If you drive the road without making stops, it takes about 2 to 2.5 hours.
With stops, you can expect a 10 to 12-hour day to drive the Road to Hana.
You are in charge of your own schedule for the day when you drive yourself compared to a guided tour. Decide how long you want to stay at each location based on how much you like it. Some stops, like the Rainbow Eucalyptus, take 10 minutes while Maui's Garden of Eden may take 1.5 hours.
We share tips on how to do the Road to Hana in one day. As it is a long and full day, learn how to prepare and execute a perfect itinerary.
Pick the Road to Hana Stops You Want to Do
This is perhaps the biggest advantage of going on the Road to Hana and driving yourself. Make the Road to Hana worth it by finding and visiting the stops that interest you and the family the most.
There are two roads to Hana. Some visitors prefer to brave the rough, partially paved reverse way to Hana. See the 5 Routes for the Road to Hana to choose your route and the stops along the route (example itineraries included). Our Maui itinerary also includes a Road to Hana day with a list of stops plus alternatives.
Do the stops that a guided tour may not have on their agenda. For example, guided tours rarely, if ever, include hiking as hikes are time-consuming and not best for everyone. You can opt for a private Road to Hana tour, but a hike may still be hard to fit in.
We share 11 stops in one of our Road to Hana video below (we share 8 stops in this Road to Hana video) as we did a two-day road trip.
Sense of Adventure
Heading out on the Hana Highway is an adventure. The road won't kill you, hopefully, but it is a thrilling drive and so are some of the hikes and other things to do along the road.
I'm not saying you should go to secret spots, illegal bamboo forest hikes, or roam on private property. But, the all-day trip is a break from the Maui beaches and tourist towns (but we do love Lahaina!)
Shared Experience with Your Travel Partners
This may be the main reason why the Road to Hana is worth it. Or, perhaps the worst (see below).
Nothing like a family road trip on Maui to create wonderful memories and family pictures. Or a honeymoon or anniversary trip in a convertible driving the Road to Hana to bring people together. The drive to Hana is one you will never forget with your family or partner.
Related article: Do You Need a Jeep for the Road to Hana?
Disadvantages: Is the Road to Hana Worth It?
The advantages paint a rosy picture of driving the Road to Hana. Perhaps I should have put the disadvantages at the top to help decide if driving the Road to Hana is worth it!
Road to Hana Is Not an Easy Drive
The biggest reason the Road to Hana is not worth driving is that it is one of the most dangerous roads in the country. While the road is better paved and well marked compared to the road fifty years ago, the 46 one-lane bridges, cliff-edges, lack of a shoulder, and 620 curves make the road a tough drive.
As my last Hana tour guide would say, let the professionals drive the road and save yourself the white-knuckled drive!
Stay safe and know how to drive with aloha on the Road to Hana. Know your stops in advance, have a navigator, and drive cautiously. See our Road to Hana Etiquette to help you stay safe and also keep the other drivers on the road safe!
All those curves make it hard for those travelers who get motion sickness.
If a member of your family suffers from motion sickness, then the Road to Hana may not be worth it for them.
Ginger chews are handed out by tour guides and sold at most food stands along the drive. We recommend taking Dramamine the night before the trip.
Challenging to Find Stops
Driving yourself means you have to find places to stop. Your navigational beacons for popular Road to Hana stops are highway mile markers in tour books and itineraries. Therefore, one has to pay close attention to the mile marker signs along the road.
Some tour guides will even say mile marker 33.4 to indicate the actual stop is half a mile past the sign.
Road to Hana apps like GyPSy app and Shaka Guides use GPS to alert you when you're getting close to a stop. That is a huge help when driving the road yourself. Plus they provide history and other bits of interesting facts along the drive.
We recommend using a Shaka Guide app to complement your DIY Road to Hana journey.
For more strategies on driving the Road to Hana, see our 5 Routes for the Road to Hana.
Reservations are Required for the Black Sand Beach
The famous black sand beach on the Road to Hana is at Wai'anapanapa State Park. The beach is located near the end of the road, close to the entrance of Hana Town.
The state park now requires parking and entrance reservations. You can make the reservations here for the black sand beach. Reservations can be hard to get for the date and the time you want to enter the park, especially during the busy Christmas season and summer season.
Another reason to do a Road to Hana guided tour is the tour company will get the reservation for you.
There is another black sand beach along the Road to Hana but a Jeep or 4WD vehicle is recommended to drive down to it.
A Long Day of Driving
Most visitors experience the Road to Hana in one, long day. Hence, we give tips on how to drive in one day. But, many families and drivers don't like being in the car for 10 to 12 hours.
You can stay the night in Hana but lodging options are limited and expensive. The Hana-Maui Resort is the most luxurious place to stay or you can opt to camp at Wai'anapanapa State Park.
See our Where to Stay in Hana for 1 Night: 4 Great Options.
Divorce Road
The Road to Hana is nicknamed the Divorce Road. While heading out with a loved one on the drive will create a lot of memories, the stress of the drive may be your undoing.
Locals love to joke that while two people will survive the drive to Hana, their marriage may not.
Perhaps it is best to drive to Hana and stay at the romantic Hana-Maui Resort for one night to regroup before heading back!l
Driving in a Rental Car Has Limitations
Driving the Road to Hana is a tough drive and accidents along the road are common. People stop abruptly for construction, traffic, or rubber-neck drivers looking at views resulting in fender benders. Also, the lack of a shoulder makes scratching the side of your car more likely.
Some visitors may not like the idea of taking a rental car out on the Road to Hana. But also, rental car companies don't like you taking their cars on certain parts of the road.
The reverse road to Hana (as the Shaka tour is called) is to drive from Upcountry Maui, behind Haleakala, and into Hana. This road is unpaved or poorly paved for most of the drive. There is also about two miles of one-lane road along a cliff that will make your heart race.
Car rental companies have in their contract that they will not send emergency services if you get stuck on the backside of Haleakala.
See our Road to Hana Backside Adventure to understand the road conditions.
Car break-ins are not common along the Road to Hana but they can happen. Parking along the road for hiking trails (usually not legal due to private property) makes your rental car an easy target for break-ins.
Time Management
The last consideration for deciding if the Road to Hana is worth it is you have to manage your time when driving. We do not recommend driving the Road to Hana at night. If you're not staying in Hana, then you will need to get back before sunset.
Be aware of how long the stops are taking and what may need to get cut from your agenda.
Bad Weather
The Road to Hana is in East Maui, the windward side of the island. The windward side receives rain and adverse weather due to the trade winds. Hence, the Road to Hana is in a rainforest.
You should expect rain on your drive to Hana. The wet season on Maui is October through April but even during the summer, rain is normal. During the winter, big storms can cause flash floods and landslides along the road.
Check weather conditions and the forecast before you set off. Also, be prepared for driving in the rain. See the Best Time to Visit Hawaii for rainfall data by month on Maui.
Alternatives for Driving the Road to Hana
Instead of driving yourself on the Road to Hana, a guided tour is a great option.
We recommend doing a tour with an experienced local guide, large viewing windows, comfortable seats, and only going to safe, legal, epic spots! In order to truly experience Hana, it helps to know more about the history, fauna, and legends of the area.
If you don't want to drive the Road to Hana yourself (I don't blame you), watch our experience going on a Road to Hana guided tour. Save 10% when you book directly with them here using code HVG10.
Thinking of alternatives for the Road to Hana is challenging as there is no one day itinerary that will get you close to the lush jungle drive and coastal views as the Road to Hana. But, here are some ideas.
Twin Falls – while usually the first stop on the Road to Hana, it can be done while you explore Maui's North Shore.
Waihe'e Ridge Trail – while not an easy Maui hike, the ridge is one of Maui's most popular hikes in a jungle landscape.
Nakalele Blowhole – drive up West Maui to visit the blowhole. We don't recommend driving past the blowhole as the road isn't well-maintained. The drive there is similar to the Road to Hana and you can stop at beaches along the way – Best Lahaina & West Maui Beaches
Explore 33 Things to Do on Maui: Leave the Crowds Behind for more ideas!
Is Driving the Road to Hana Worth It for You?
First, decide if you and your group want to drive the Road to Hana. Is an all-day drive along a curvy road the type of thing that excites your group?
If driving the Road to Hana is worth it, then consider driving it yourself or letting a local give you a tour.
After driving the Road to Hana many times over the years and living on Maui, we have seen the impact of traffic and crowds on the environment and those that call Hana their home. That is why we now recommend a Road to Hana guided tour. We aren't trying to sell you a Road to Hana guided tour, but we are being honest based on our experience.
But since you are considering driving the Road to Hana, here are our favorite local tour companies.
For more Maui tours and activities, check out our tried and tested tours – Maui's Best Tours.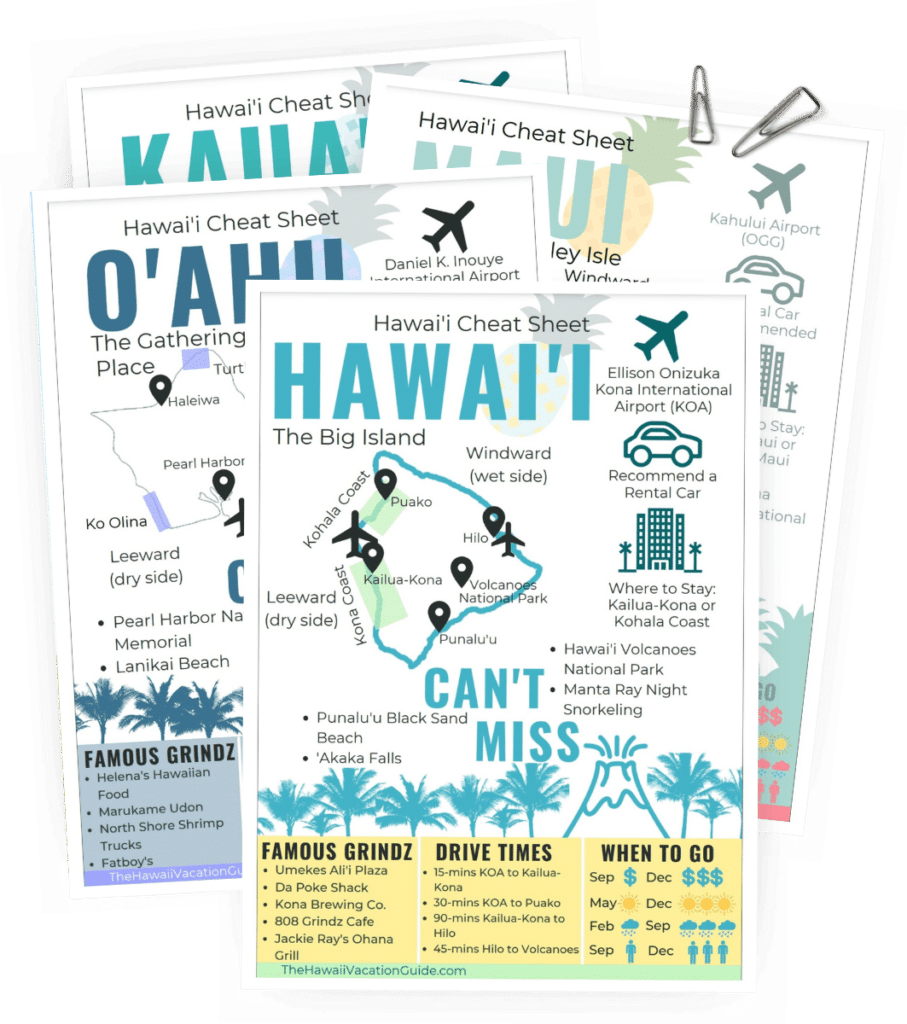 Free Download!
Hawaiian Island Cheat Sheets
Sign up & we'll send you our island cheat sheets so you can get to know the islands like the back of your hand!
We'll share 4 can't-miss activities on each island, a map with the main sights in town, & famous local grindz (eats)!