How Dangerous is Driving on Maui? 13 Tips to Drive with Aloha
Disclosure: This post may contain affiliate links, meaning if you decide to make a purchase through my links we may earn a commission at no additional cost to you. Read about our affiliate policies here.
Getting a rental car is a must to fully experience the grandeur of Maui. Before you hop in with your partner or your family, get some Maui driving tips.
Driving in Maui is not dangerous. Maui is safe to drive as the roads are well maintained, road rules are the same as the mainland, local drivers are considerate, and the roads are well marked. Drive defensively and abide by the law to have a safe Maui driving experience.
The biggest difference is locals drive slower in Maui and all Hawaiian islands for that matter. Island time applies when behind the wheel too. Slow down and follow our tips to learn how to drive with aloha. Your vacation will thank you.
Maui Driving Tips
Driving in Maui is easy. It isn't dangerous or difficult or challenging compared to the mainland. Driving in Maui is like driving on the mainland. I get it though. I get nervous every time I rent a car. My anxiety exponentially increases when I'm in a new land. And Hawaii can feel like another country when coming for the first time or your 32nd time. That is what makes the islands so amazing to visit.
Hawaii is different in so many ways from the other 49 states with 10 out of 14 of the world's climate zones (deserts exist in Maui), only royal palace on American soil, and no snakes on the islands. But Hawaii doesn't have different driving laws. Nothing in Maui is going to surprise you when it comes to driving. Except they drive slower. Which shouldn't surprise you because should anyone be in a hurry when in paradise? Driving in Maui is easy because of the following:
the roads are paved and well maintained
Roads are well marked for directions and attractions
Roads are well lighted
There are few roads around the island so it is difficult to get lost
Parking is manageable
Fellow drivers are considerate
Maui may get a bad rap or create uncertainty because of the stigma around the Road to Hana and the nickname of the Kahekili Highway is "death highway of Maui." Perhaps these were challenging to drive in the 70s but they have been updated since.
You will be driving on two-lane roads with adequate shoulders and not a pot-hole to be found. To make you feel comfortable with your decision to rent a car on Maui, here are some tips to make your driving experience more enjoyable.
Roads and Highways of Maui Photo Credit: Hawaii Department of Transportation
Before we get into the tips, want to know where to drive on Maui? Our itinerary will take you on excursion days all around the island so you can see the best sights and make the most of your vacation days.
Get The Maui Itinerary
The step-by-step itinerary takes you to all the best beaches, snorkeling spots, restaurants, and sights. You'll get six carefully planned excursion days to help you see the can't miss stops no matter how limited your time is.
Get all the details on our itinerary and download it for a memorable and easily planned trip to Maui.
1. Rush Hour
Rush hour on Maui starts at 4 pm. Most roads are two-lane on Maui so it doesn't take much for traffic to slow to a crawl during rush hour. Add on top of that bottlenecks, stop lights on the highways, busy towns, construction, and more visitors every year leading to congestion on the roads.
Check the traffic on Google Maps or Wave before you leave the beach. If it is red all the way then stay for dinner. The traffic is worst driving toward the central valley from west Maui. Workers and beachgoers are leaving west Maui in droves. You will notice an uptick in traffic starting at 3 pm. Towns like Kihei and Paia also get busy at around 4 pm. The Hana Highway going into Paia gets backed up like the Honoapi'ilani Highway on the west side. You can check out the Maui Road Closure schedule if you need more information on construction activities before you set off on your vacation.
2. Cheap Gasoline on Maui
You will be driving on the most isolated archipelago in the world. Gasoline is not cheap. In all fairness, it is similar to California prices so it isn't crazy expensive. The cheapest gas on Maui is Costco. Costco average 50 to 60 cents less than anyone else. They sell at a loss to get memberships. Unfortunately, Costco is in Central Maui in Kahului so it is not close to your hotel. The good news is you won't go through a full tank during your stay and Costco is on the front door of the rental car return area. Fill up at Costco before you return your car. Not a Costco member? No problem. The second-cheapest gas station is Safeway. Safeway is also near the airport. Gas stations can be hard to come by on the Road to Hana, in Hana (1 station) and leaving Hana. Fill up before you leave for Hana at Costco or Safeway. There are also few gas stations in upcountry so fill up while you are in the Central Valley. Check out GasBuddy for the lowest gas prices in Maui, by the town.
3. Leave Early for the Airport
Traffic can get bad during rush hour but it can also turn ugly anytime. My parents left Lahaina 4 hours before their early afternoon flight and missed the plane. Leaving West Maui is probably the worst traffic you will get. The two-lane road is notorious for delays ranging from construction to car accidents to wildfires. Check the news and traffic on the day of your flight and leave early. If you get to the airport crazy early then grab Hawaiian shrimp plates at Geste Shrimp Truck and eat them at Kahului Beach. There are worst places to be waiting for your plane.
4. Rental Car Deals
If you are reading this article you are probably deciding to rent a car or not on Maui. Since I'm assuring you that Maui is a safe place to drive, you now feel comfortable renting a car. All the big car brands are near the airport and they also have satellite offices at the major resorts. They are not cheap. If you come during the holidays, then your wallet will be hurting even more. I highly recommend you check out the places away from the airport. We had wonderful luck with them before we decided to move to Maui. Places like Kihei Rent a Car and Rent Maui will pick you up from the airport and they provide reliable cars.  Shop around but give a local rental car place a try and save some money. Related article:
5. Speed Limits
The maximum speed on Maui highways is 55 MPH. Beware, you won't see this speed limit sign very often. Speed limits drop to 35 MPH through villages and are usually around 45 MPH due to the winding roads. Cruising down the central valley is when you will get to go top speeds. Once you are driving around the volcanoes, you won't be going too fast. The speed limit drops but also people drive slower on Maui. The speed limit signs also have posted minimums for locals and for tourists who slow down for the ocean views. In towns like Lahaina, Kihei, Makawao, etc. the speed limit will be 20 MPH.
6. Giving Driving Directions on the Islands
Directions are usually given by locals with the custom left, right, north, south, east, and west vocabulary. All official street signs use the compass points. On Maui, you may hear nautical terms thrown in with your directions like windward and leeward. Windward means east and leeward means west. Based on Hawaii's latitude, the tradewinds blow in from the east. The rain gets blown in from the east and dumps on the east side of Maui which leaves the west side dry. Most resorts and condos are on the west side or leeward side of Maui as it is the dry side. My favorite is mauka and makai. Mauka means toward the mountains and makai means toward the sea. These are common terms but they don't help as much on Maui compared to Oahu and the Big Island since the Valley Isle has a central area, the valley, with mountains on both sides. But when getting around Lahaina or Paia or another city near a mountain, locals will tell you the shave ice stand is on the mauka side of the road. Locals don't use the highway numbers. They use the names of the highways and the roads. You will get a blank stare if you refer to the Honoapi'ilani Highway as Hawaii 30.
7. Hawaiian Words You Will See on Road Signs
As you drive around the island, you will encounter Hawaiian words on street signs. Feel like a local with a quick review of these. At a minimum, you will know what toilet to use.
Keiki = Children, as in Keiki Crossing or Keiki at Play
Aloha = Welcome and Farewell
E Komo Mai = Welcome and Come In
Mahalo = Thank You
Auwe! = How Awful, as in you will get this shouted at you if you are a bad driver
Kapu = Keep Out
Malihini = Tourist
Kane = Men
Wahine = Women
Lua = Restroom
Kokua = Help or Care
Kama'aina = Local Resident, as in Kama'aina get discounts that malihini don't
Pau Hana = Afternoon Rush and After Work
8. Hotel Parking
Check your hotel if they provide free parking before you book your stay. Many charge a daily parking fee. You don't need this bill on top of an expensive rental car. Find a hotel that provides free parking or ask for it when booking. It doesn't hurt to ask.
9. Parking for Shopping
Parking when you are out and about in Maui can be challenging. Towns like Lahaina and Paia do their best with providing public lots but they fill up by 11 am. Come early to get a spot in a free public lot. If you can't get there early than many shopping centers offer complimentary parking with purchase. In Lahaina, the Outlets of Maui gives 2-hours complimentary parking with purchase. Go the ABC Store to buy an ice cream or gum to get the validated parking.
10. Don't Honk
Honking isn't cool in Hawaii. Don't honk out of anger or protest. Just relax, chill-out, and remember you are on Maui.
11. Slow Down
Maui bumper stickers will remind you to "Slow Down, This Ain't the Mainland." At first, driving on Maui felt painfully slow for me. When you leave the airport you will be cruising down Central Maui with no traffic and on a big, new road. I felt the normal speed should be 65 MPH. It is 45 MPH most of the way. It was hard to not speed. Now going over 45 MPH feels like a rush. I acclimated quickly to Maui's slow driving. It makes the island feel bigger and I'm in no rush. Enjoy the pace of island living when behind the wheel. Get ready for cruising with ocean and tropical mountain views. The slower roads will be relaxing for you.
12. Wild Pigs, Cattle, and Other Animals
There isn't much large animal wildlife on Maui. Wild chickens are in all the parking lots but pose no threat to you or your vehicle. Wild pigs are large and do cross the roads. Beware of wild pigs when driving. I haven't seen any while driving but I have seen them as roadkill. Even in Central Maui farmland. I can't imagine what the car looked like after that collision. Cattle is another thing to look out for when driving in Maui. Cattle can be found roaming in upcountry. You will notice the cattle grids when driving to MauiWines, driving the backside of the Road to Hana, and if you try to go around West Maui. The remote parts of the island have cattle and they can loiter in the roads so be watchful. With no snakes on the island, invasive frogs have the run of the island. You will find them at night and flattened on the roads in the morning. Like the chicken, they pose no threat but are a sight to see.
13. Drive with Aloha
Drivers in Maui are super conscientious. I'm always being waved in or people stop to let me out of a busy parking lot. People drive with Aloha on Maui. Slow down, don't honk, and leave the road rage on the mainland. You will love driving on Maui. Even when you are stuck in traffic for no apparent reason, at least you will have an amazing view. We once washed humpback whales jumping out of the water while on the cliffs of the Honoapi'ilani Highway while stuck in traffic.
Road Conditions on Maui
Maui road conditions are excellent. The major thoroughfares and highways are well maintained. Many look new or they last the test of time as the temperature hardly fluctuates. There are no deep freezes to make potholes in Maui. The only roads with small shoulders and single-lane bridges are when you get into rural Maui. Rural Maui is the south side of Haleakala (upcountry) and the northeast side of West Maui. Both of these locations are far from where tourists go. They are scenic drives but if you don't want rough roads or to drive on a cliff edge, then don't go there. There are no tourist sites, restaurants, or hotels that will get you on these rougher roads.
Where to Drive on Maui
The Road to Hana gets a lot of attention and for good reason. It is a beautiful drive with a lot of waterfalls, quick hikes, and towns along the cliffs. But Maui is full of scenic roads and they are not hard to find. Maui doesn't have a lot of roads. Once you get out of the hotel to check out the major sites, you will be driving some of the most beautiful roads in the world.
Road to Hana
I will say that the Road to Hana was not a scary drive for me. Maybe 30 years ago it was dangerous but the road is well maintained and safe now. The road is winding so slow down around turns. See our Road to Hana Etiquette for tips on driving the Road to Hana.
Haleakala Highway
21 switchbacks on Crater Road will get you to the summit of Haleakala, the dormant shield volcano on Maui. The drive starts at sea level and takes you up 10,023 feet to the summit. Take Haleakala Highway through upcountry which feels like driving through Switzerland but with ocean views. Then take the two-lane, well-maintained Crater Road to the entrance of Haleakala National Park. From there you can park and do a quick walk to the summit. From the resorts on the west side and south side of Maui, you can get to the summit in a little over an hour. It is a drive that will take you over the clouds.
Upcountry Maui
Take a day to drive Upcountry Maui. The roads cross Haleakala from north to south providing endless views of the valley and ocean below. The lush hillside and mountainous terrain feel like driving through the Alps. My favorite part of Maui is upcountry as the weather is cooler and the grass is greener. Start in Paia for breakfast and coffee. Take Baldwin Avenue up the mountain into the cowboy town of Makawao. From there drive Kula Highway or Haleakala Highway to pick strawberries at Kula Country Farms, walk the lavender fields at Ali'i Kula Lavender, and end the trip with pineapple wine tasting at MauiWine.
When Driving in Maui is Dangerous
Driving on Maui gets dangerous as it does in the mainland, at night and when it rains. The majority of the roads are well maintained and lighted at night. When driving gets dangerous is on rural roads that are not well lighted and have small or no shoulders. Most of these rural roads are in the wet areas of the island. Heavy rains occur on the windward side of the island and that is when driving can get a little hair raising. You can easily avoid these rural roads as there is no need to drive them unless you are seeking adventure. Also, stay safe by looking at the weather report before you go and drive during daylight.
Kahekili Highway Dangers
Driving around the west side of Maui will take you on the Kahekili Highway. Death Highway of Maui is the nickname but I feel that is overrated. I've been on worst roads but it should be respected. First off, there isn't a need to travel around the west side of Maui. Locals who live on that side of the island prefer their privacy.
There are local food stalls on the drive serving good banana bread so judge how bad you want banana bread. The road to Kapalua and Nakalele Blowhole is a quality two-lane road with proper shoulders. 4 miles after the blowhole the road gets narrower and there are fallen rocks on the road. By Kahakuloa the road is a single lane at times, the cliff edge is the shoulder, there are one-lane bridges, and there is limited cell service. Driving at 25 MPH becomes your top speed. It takes a while to get to Wailuku.
Pi'ilani Highway Dangers
So you made it to Hana and you want to get home. Why double back when you can take the Pi'ilani Highway along the backside of Haleakala? That is what we did. We didn't regret it. The road is winding and takes the same amount of time to get to Hana. But it was nice to see another part of the island. There are times when you will be driving on the edge of a cliff. Cows may be on the road. Drive slowly and be cautious. Rental car companies won't void your contract for driving this road. Voiding your contract is a myth but they don't provide roadside assistance. If you get in trouble on Pi'ilani Highway, they will not come to save you. The drive has a lot of open-vista views and passes through a few climate zones. The remoteness makes for a fun adventure to end your Road to Hana day.
When 4WD is Needed in Maui
Nowhere. Regular cars can safely travel both of the dangerous roads in Maui listed above. You won't need a 4 wheel drive vehicle while in Maui.
Drive with Aloha, You're on Vacation
As I mentioned earlier, driving in Maui is not difficult. In fact, it is a pleasant experience. Enjoy the slow pace by planning ahead. Check the traffic on Google Maps before you head out to avoid delays. Drive with Aloha and you will be driving safely on Maui.
Get our Free Maui Cheat Sheet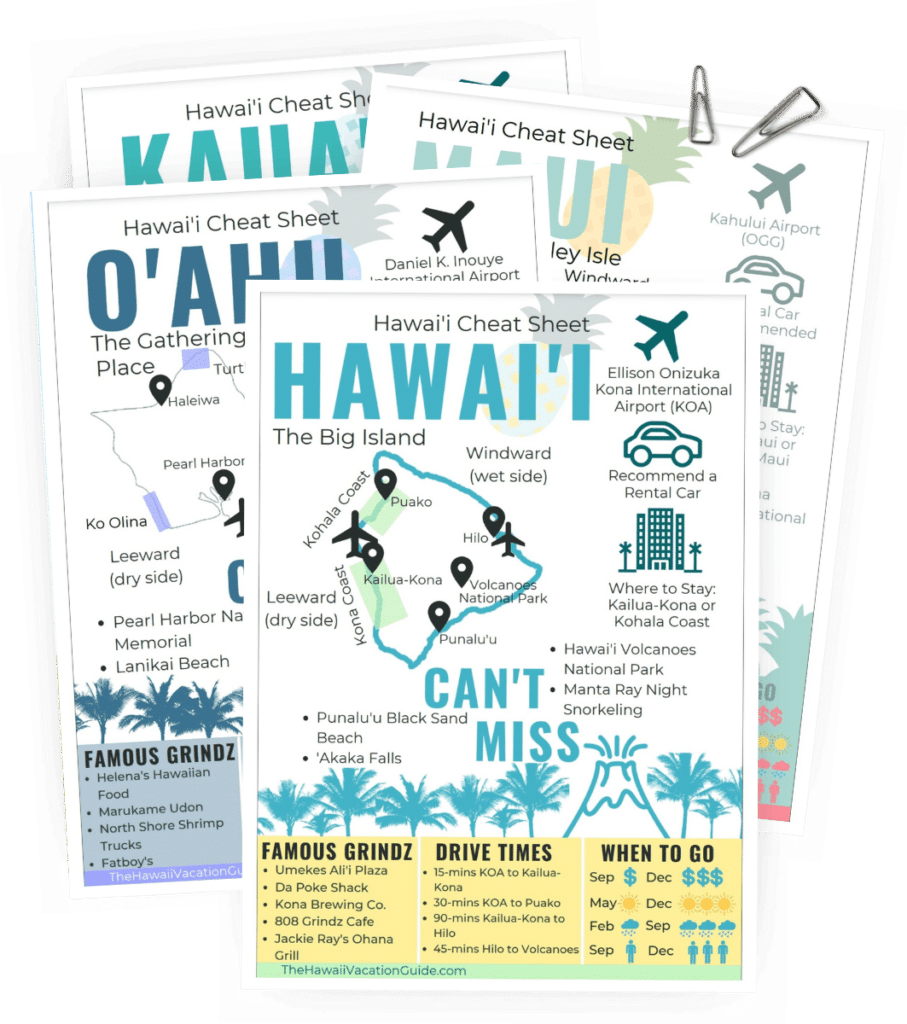 Free Download!
Hawaiian Island Cheat Sheets
Sign up & we'll send you our island cheat sheets so you can get to know the islands like the back of your hand!
We'll share 4 can't-miss activities on each island, a map with the main sights in town, & famous local grindz (eats)!