Road to Hana Etiquette: 7 Tips for First-Time Visitors
Disclosure: This post may contain affiliate links, meaning if you decide to make a purchase through my links we may earn a commission at no additional cost to you. Read about our affiliate policies here.
The Road to Hana is Hawaii's most famous road and also one of the most dangerous. From a local resident, here is Road to Hana etiquette tips to help you have a safe and courteous drive.
Let local residents pass
Park legally
Care for the land (malama i ka 'aina)
Respect property rights
Drive first, stop to take pictures
Avoid honking your horn
Follow road and safety signs
Be it your first time or your twelfth time driving the Road to Hana, here are our Road to Hana etiquette tips. Have a safe drive!
Road to Hana Etiquette Tips
The Road to Hana is along the Hana Highway, a 52-mile drive from Kahului to Hana. The drive takes approximately 2.5 hours non-stop as the road is winding and narrow. There are about 59 bridges to cross, 46 of which are one-lane.
I have been fortunate to drive the Road to Hana or the Hana Highway about a dozen times. While we didn't live in Hana, we enjoyed taking visiting friends and family on tours of all the best stops. East Maui is a gorgeous part of Maui to visit. But the rainforest climate, narrow and winding road, and traffic make the road unforgiving. To the point where many people ask, is the Road to Hana worth it?
The Road to Hana is all about the stops. Stop for a waterfall swim, visit Wai'anapanapa black sand beach, eat at a fruit stand, have coconut ice cream, or walk into a lava tube. The stops and the picture taking is what the Road to Hana is all about.
But, those stops and those views can get you into trouble with other drivers. By following the Road to Hana etiquette, you can drive more confidently and avoid high blood pressure.
If you don't want to drive the Road to Hana yourself (I don't blame you), watch our experience going on a Road to Hana guided tour. Save 10% when you book directly with them here using code HVG10.
1. Let Locals Pass
Pull over in a safe place to let locals pass. Many local residents drive the Road to Hana daily for their commute. They understand visitors are enjoying the drive and the views so they appreciate it when you pull over to let them pass.
Wave a shaka out the window as they go by. They will return the wave.
Speaking of patience, take your time crossing the one-lane bridges. Slow down on approach and let the first car to the bridge cross. Drivers are good about taking turns on the flow of traffic across the many one-lane bridges.
Take turns with three cars crossing in one direction.
2. Park Legally
This may be the hardest Road to Hana etiquette to follow. In the past couple of years (2021 to be exact), the County of Maui installed seventy no parking signs along some of the most popular but also illegal or restricted Road to Hana stops.
The signs warn of a $35 no parking citation and a $200 parking violation surcharge. You will find the signs at Waikamoi Stream Bridge, Twin Falls, Bamboo Forest, Ching's Pond, Waikani Bridge, Pua'a Ka'a Park, and Hanawi Bridge.
We have seen police officers handing out tickets as people frequently park in front of the no parking signs.
Here is how to park safely and legally on the Road to Hana:
Do not block roads or driveways
Park in designated parking stalls. Vehicles protruding onto the highway are subject to being ticketed and towed.
Do not stop, stand, or park where it is dangerous to those using the highway, such as within a travel lane
Park in the direction of traffic.
Look for posted signs in both directions within 100 feet of where you're trying to park
The most common illegal and cited parking area is in front of the bamboo forest trail about 20 miles past Haiku, Mile Marker 7. This stop is not recommended as it is on private property, visitors get lost and hurt on the trail frequently, and there is no parking to access the trail.
For the best bamboo forest hike on the Road to Hana, hike the Pipiwai Trail in the Kipahulu District of Haleakala National Park. Watch our video below to see how gorgeous and legal this hike is!
You can find more parking by choosing a route to Hana that avoids crowds. See our 5 Routes for the Road to Hana to choose the path less taken.
3. Care for the Land
Malama i ka 'Aina is to care for the land in Hawaiian. At the core of Hawaiian values is the notion of taking care of the land, so the land takes care of you.
When out on the Road to Hana, pick up your trash, pick up others' trash, respect the wildlife and plants, stay on the trails, and do not extract resources from East Maui.
Another big Road to Hana etiquette is to never take rocks or stack rocks.
Some locals perceive stone stacking as a desecration of the natural beauty of the island and a sacrilege to Pele. They believe that displacing stones disrupts Pele's natural spiritual energy by moving the stones from their natural state.
There is the fabled story of the Pele Curse which is the Goddess Pele will curse those who take lava rocks or sand from Hawaii. We believe this was invented so visitors wouldn't take rocks but Haleakala National Park receives hundreds of pounds of rocks each year from people who believe they are cursed.
The Island of Hawai'i has the Pono Pledge. The pledge is an easy way to remember what it means to care for the land, wherever you find yourself visiting.
More Road to Hana information:
4. Respect Property Rights
This can be tricky as many guidebooks and even some Road to Hana navigation apps recommend stopping at popular sights that are on private property.
We have even fallen for this misguided advice when swimming at Hanawi Falls (located on East Maui Irrigation property).
Visit State parks and County parks for access to restroom facilities, do not use roadsides.
As I mentioned with the illegal bamboo forest hike, you don't want to get injured or lost on private property as the rescue costs are high. You also don't want to stumble across the property owner.
We recommend going on a tour with a local tour company, like Valley Isle Excursions (save 10% when you book on our website). You can also find the best stops in our Maui Itineraries.
When planning to make a stop, look for Do Not Enter and Private Property Signs. If there is a gate, don't go over or around the gate.
The Road to Hana is full of public wayside parks and commercial stops like Twin Falls (a non-profit farm) and Maui's Garden of Eden.
5. Drive First, Stop to Take Pictures
Surprisingly, we see this one a lot. A driver stops in the middle of the road to take a picture of a waterfall or the view. Or, they're taking pictures as they are driving.
We recommend you pull over in a safe spot (there are strategic turnouts) to take pictures. Also, please don't stop on the road or slow down for a picture per a passenger's request. With so many curves, it is easy for another driver to not see you stop or slow down.
Bonus Road to Hana etiquette, be cautious when crossing the road for a picture. Drivers are cut-off often by pedestrians dashing across the road for a quick picture. It is best to not walk on the Hana Highway.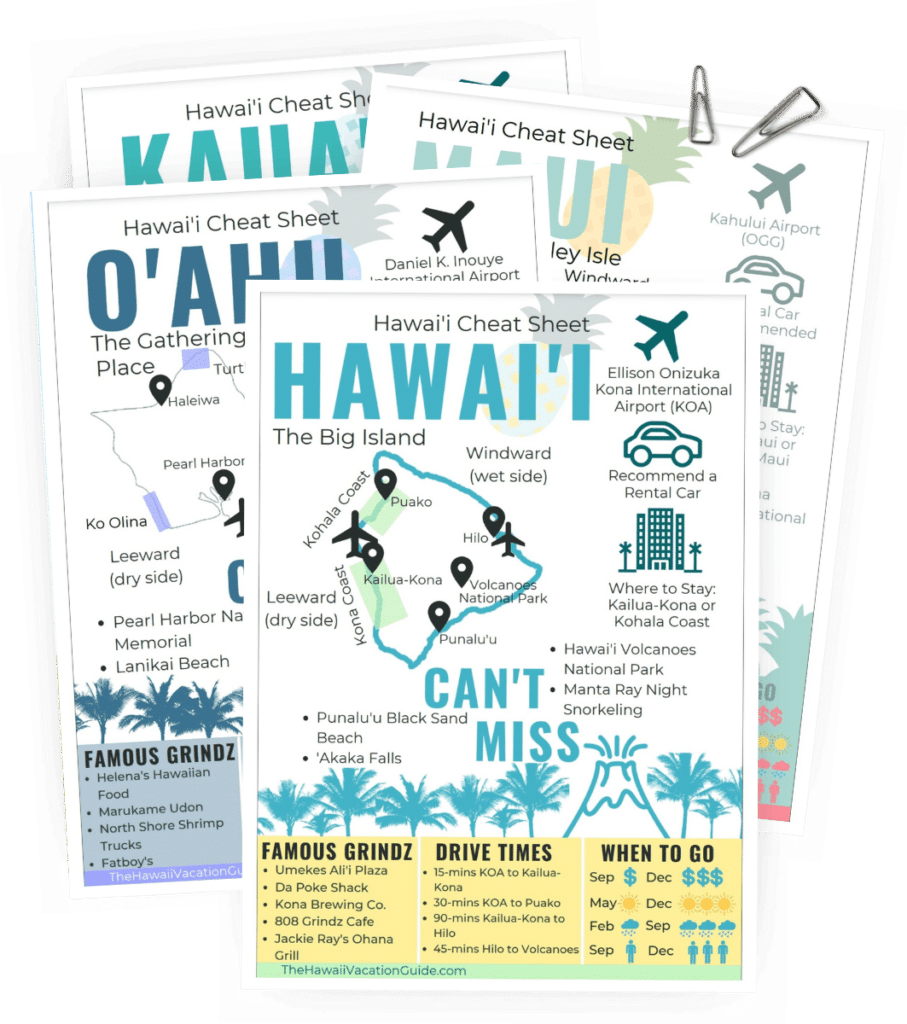 Free Download!
Hawaiian Island Cheat Sheets
Sign up & we'll send you our island cheat sheets so you can get to know the islands like the back of your hand!
We'll share 4 can't-miss activities on each island, a map with the main sights in town, & famous local grindz (eats)!
6. Avoid Honking Your Horn
Honking your horn is considered poor Road to Hana etiquette. That goes for all of Maui and Hawaii.
Take that hand off the horn if you feel slighted on the road. Give a friendly shaka and move on to the next stop.
Honking your horn is acceptable when driving around some of the blind curves on the Road to Hana. Honk to alert cars of your presence as you enter the blind curves.
Here are 13 tips to drive with Aloha in Hawaii.
7. Follow Road and Safety Signs
Of course, Road to Hana drivers follow the speed limit, slow down before sharp curves, and follow other basic driving requirements. The main Road to Hana etiquette with this final tip is more around water safety.
The Road to Hana has signs unique to the area. Look for and read signs about flash floods, dangerous waterfalls, and strong currents. The beautiful streams and waterfalls on the Hana Highway can also change suddenly from storms on Haleakala or the irrigation company opening up canals.
Drone flying is popular along the road. We recommend only those who have passed the FAA Part 107 test fly on Maui as then you will know the legal places to fly. Also, abide by no drone flying signs in the area. Drone flying is not allowed at Wai'anapanapa State Park, as many signs point out.
More tips to plan your Maui vacation:
Road to Hana Tips and Stops
See the Hana Highway Regulation for more information on Road to Hana etiquette, like the Road to Hana Code of Conduct.
These Road to Hana etiquette tips covered mainly driving the Hana Highway. For more information on traveling the Road to Hana, check out our Maui Itineraries.
Our itineraries take you to the best stops all within a day. Our Maui Wayfinder Itinerary will get you safely and courteously enjoying all that Maui has to offer.
Get The Maui Itinerary
The step-by-step itinerary takes you to all the best beaches, snorkeling spots, restaurants, and sights. You'll get six carefully planned excursion days to help you see the can't miss stops no matter how limited your time is.
Get all the details on our itinerary and download it for a memorable and easily planned trip to Maui.
Check out this video for more Road to Hana etiquette and tips (like bringing cash!).