Hawaii in January: Is it a Good Time to Visit?
Disclosure: This post may contain affiliate links, meaning if you decide to make a purchase through my links we may earn a commission at no additional cost to you. Read about our affiliate policies here.
When planning a trip to Hawaii, one of the most important decisions you'll need to make is when to go. Is it a good idea to visit Hawaii in January?
You're not alone if you're considering visiting here in the new year. January is always popular for tourists, especially those trying to escape the ice and snow back home.
When visiting Hawaii in January, you'll find the crowds have departed after New Year's celebrations, and the tropical weather keeps temperatures balmy, with the average high temperature in the mid-70s to low 80s.
To help you decide if January is the right time for your trip, we have weather data, rainfall estimates, and typical crowds to expect. And we'll get your Hawaii bucket list started with some of best things to do in Hawaii in January.
If you plan to visit Hawaii in January or anytime, let us help you make your planning easier!
Decide which Hawaiian island is best for you and your group
Make sure you don't miss these 15 Essential Details in your planning process
Check out our travel tips that save us a ton of time and money
Of course, you could shortcut your planning altogether by grabbing a done-for-you itinerary and leave all the work to us
Is Hawaii in January a Good Time to Visit?
In general, yes January is a great time to visit Hawaii. The holiday season crowds have gone home in January, and the temperatures are relatively mild. You can experience stunning beaches, lush tropical forests, and vibrant Hawaiian culture without worrying about over-tourism or extreme weather.
But your accommodations will cost a bit more compared to many other months. And there's a higher chance of rain since it's in the middle of winter.
In the end, the answer to "Is January a good time to go to Hawaii?" is up to you. Consider where you want to visit, what activities interest you most, and how much you're willing to spend. With all of these factors in mind, you can make an informed decision that ensures your trip will be everything you want it to be!
Reasons to go to Hawaii in January
Temperatures in the 70s
Ocean is warm enough for swimming
Fewer people visiting compared to December
Humpback whale watching season
Reasons to not go to Hawaii in January
Soggy weather is possible, especially on the windward side of the islands
Large waves and harsh ocean conditions in some areas due to winter storms
Accommodations cost more compared to fall or spring
Related reads:
The 59 Best Things to do in Hawaii: Your Ultimate Bucket List
35 Best Things to Do on Kauai (we will surprise you!)
33 Things to Do on Maui (+Things to Skip)
40 Things to Do on Oahu, Hawaii
21 Incredible Things to Do on the Big Island (2023)
Is Hawaii Nice in January: Weather Data
Before you pack your bags, you need to know what the weather is like in January. Hawaii has two seasons, winter and summer. Winter is from October to April, and summer is from May until October.
That means January is smack dab in the middle of the winter season. So you'll find temperatures relatively cooler than in the summer months. However, according to the National Weather Service, January is not traditionally one of Hawaii's coldest months. That distinction belongs to February and March due to the lag in the ocean temperatures.
Let's dive into the rainfall and temperature data to give you a better idea of what you can expect weather-wise.
Is Hawaii Rainy in January?
Winter is the wet season in Hawaii, meaning the islands tend to get more rain during this time of year. The amount of rainfall varies from island to island. The topographical differences of each island and the trade winds will determine how much rain you could witness during your stay. No umbrellas are necessary but you might get some warm downpours during your stay.
It also depends on which part of the islands you're visiting. Each one has a leeward side and a windward side. Year-round, the leeward side receives less rain and is sunnier, while the windward side is more prone to rainfall.
The data below is for places on the leeward side of each island, so if you're headed to Hilo, Hana, or another destination on the windward side, more rain is possible. .
But don't worry. Even though January is part of the wet season, you're not likely to experience heavy downpours. The average across four tourist destinations is 1.375 inches for the entire month.
Here's a breakdown of the numbers:
| | |
| --- | --- |
| Location | Average January Rainfall in Inches |
| Kailua-Kona, Hawaii | 2.4 |
| Kihei, Maui | 0.55 |
| Poipu. Kauai | 1.57 |
| Honolulu, Oahu | 0.98 |
And here's a graph showing how January compares to other months of the year.
How Warm Is It in Hawaii in January?
Outside of southern Florida, Hawaii is the only state in the country that has a tropical climate. So chances are pretty good that no matter where you're coming from, the weather will be better than what you're leaving behind.
The average high in January is around 77 degrees Fahrenheit (25 Celsius). The average low is about 70 degrees Fahrenheit (21 Celsius). These temperatures are slightly cooler than the summer months but still mild enough to enjoy outdoor activities like hiking or swimming.
If you are in search of the warmest weather in Hawaii in January, head to Kailua-Kona on the Big Island, where you'll see an average high of 82 degrees — perfect beachgoing weather.
While you won't need to pack a jacket when you visit Hawaii in the winter, you might want to throw a light sweater in your suitcase for any chilly evenings spent sitting on your lanai.
Here's a closer look at the average high and low temperatures in January in different locations:
| | | |
| --- | --- | --- |
| Location | Average High Temperature in January | Average Low Temperature in January |
| Kailua-Kona, Hawaii | 82 | 68 |
| Kihei, Maui | 75 | 72 |
| Poipu. Kauai | 75 | 70 |
| Honolulu, Oahu | 76 | 70 |
And here's a chart to see what the temperatures are like at other times of the year.
Can You Swim in Hawaii in January?
Yes! In fact, swimming in Hawaii is a year-round activity.
Even though the air temperatures are cooler in the winter, the ocean remains pretty consistent throughout the year.
According to the National Oceanic and Atmospheric Administration (NOAA), the average ocean temperature in January is about 76 degrees Fahrenheit (25 Celsius). That's still plenty warm for swimming, snorkeling, and surfing.
What Are the Ocean Conditions Like in January?
Hawaii is blessed with some of the best waves in the world, and many surfers flock to the islands year-round. However, the ocean conditions can vary greatly depending on the season and location. It's important to always check the lifeguard flags and any surf forecasts before going in the water.
In January, expect to see swells coming in from the north due to winter storms in the Pacific Northwest. The waves are usually bigger on the northern shores of each island, which is great if you're an experienced surfer hoping to catch some big waves.
But if you're looking for calmer waters, head toward the south shore. The smaller waves in these areas make these beaches more suitable for swimming, snorkeling, and other non-surfing activities.
Check out our list of the best beaches in Hawaii to help you plan your beach days!
When is Hawaii hurricane season?
Hawaii doesn't usually get slammed with hurricanes like other parts of the country, but they can still happen. The hurricane season in Hawaii runs from June 1 to November 30 each year.
So if you're planning a January visit to the state, you don't have to worry about a hurricane throwing your trip into a tailspin.
Related read:
What to do in Hawaii when it rains
How Busy is Hawaii in January?
Historically, January was considered one of the slowest months in terms of tourism to Hawaii. And as new visitor numbers roll in after the pandemic, the month continues to be slow. In 2022, only 567,179 people visited the Aloha State, and the average daily statewide census was 201,109 people.
Compared to the peak travel month of July when 919,154 people visited the state in 2022, things definitely feel a little quieter.
Which Hawaiian Islands Are the Busiest in January?
Of course, the number of people you'll encounter depends on where you go. For example, the 2022 data tells us that Molokai was the least-visited island, with only 2,886 visitors throughout January. And the popular Oahu was the most visited, with 277,228 people arriving.
To help you decide if the beaches will be too crowded for your tastes, here's a look at the monthly visitors for four different islands:
We have free island guides to help plan your trip. No matter when you decide to go, these guides will help you figure out where to stay, what to do, and what you definitely can't miss:
Oahu Guide
Maui Guide
Big Island Guide
Kauai Guide
Is Hawaii Cheaper in January?
Because of its historically lower levels of tourism this time of year, and since it's following the holiday rush, you may find great bargains when visiting Hawaii in January.
However, as far as accommodations go, it's not the cheapest month of the year to stay in a hotel, especially if you're planning a trip to Maui.
Here's a peek at the average daily hotel rate for four different islands in January:
| | |
| --- | --- |
| Location | 2022 Average Daily Hotel Price in USD |
| Maui | $619.39 |
| Oahu | $241.64 |
| Kauai | $368.16 |
| Big Island (Island of Hawaii) | $394.15 |
And here's a chart showing what you can expect to pay each night throughout the year:
According to the data, the cheapest time to visit Maui is in October. You'll get the best rates on Oahu hotels in February. And September is when you'll find the least expensive hotel rooms on Kauai and the Island of Hawaii. 
December is the most expensive month for almost every island except for Kauai. Here, hotels cost the most in March.
If you're searching for accommodations for your trip, be sure to check out our where to stay directory. You can filter by island, by price, and by accommodation type (hotel or vacation rental) to find the ideal place to stay for your vacation.
Things to do in Hawaii in January
Though your hotels may cost a bit more compared to other times of the year, January is still a great time to visit Hawaii. The weather is usually mild, and you'll find plenty of activities to enjoy.
From beach days to hiking trails, here are some popular things to do in Hawaii this winter:
Visit the north shore of any island and watch the big surf
Go on a humpback whale-watching tour
Take in the opening of the PGA tour at Kapalua, Maui
Run a marathon along the Pacific Ocean with the Maui Oceanfront Marathon
Celebrate Chinese New Year in Chinatown on Oahu
Explore the Island of Hawaii by helicopter
Head to the Polynesian Cultural Center
Spend a day snorkeling at Hanauma Bay
If you're heading to Hawaii in January or any month, be sure to download our free Hawaii cheat sheets. On each island cheat sheet we share can't miss activities, a map to help you orient yourself, the need-to-know details for booking a vacation, and a few of our favorite grindz (eats!) on each island.
Plus, you'll get our bi-weekly newsletter that goes out to 40,000+ Hawai'i visitors. It's full of real-time updates, tips, and fun facts to get you ready for your trip. We also share occasional discount codes with some of our favorite tour operators out there. You don't want to miss out.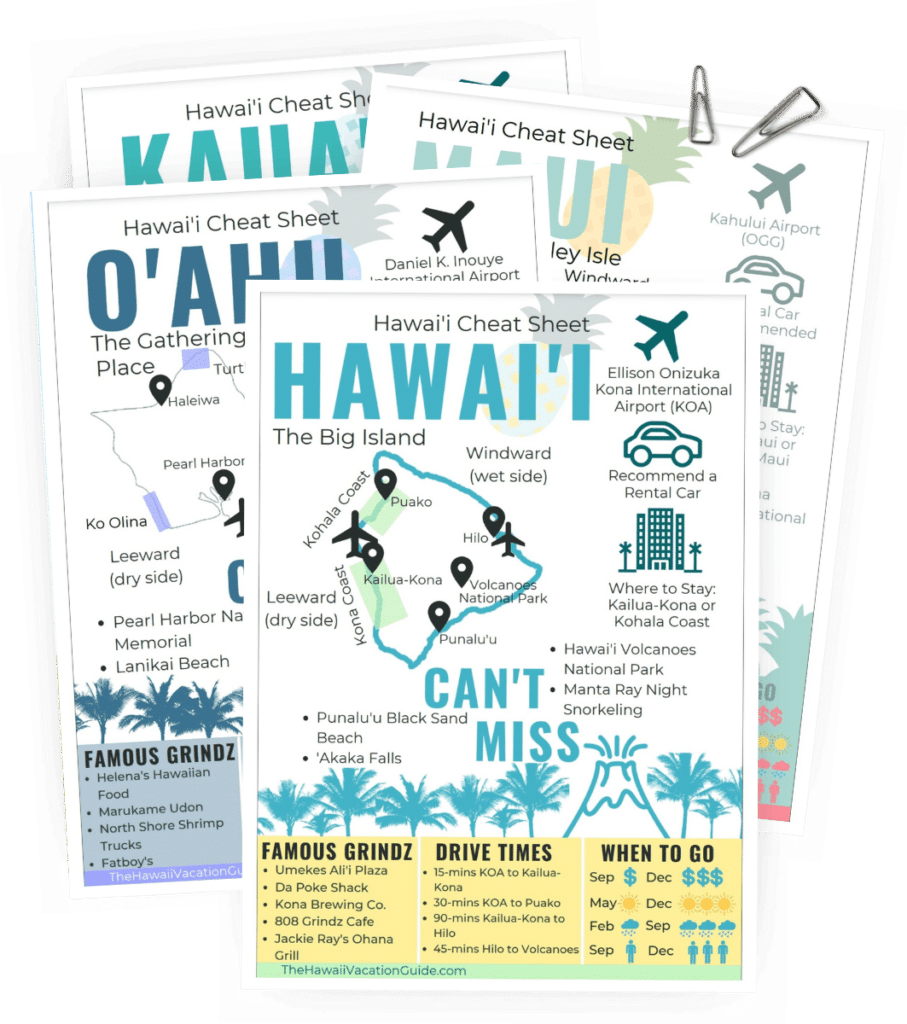 Free Download!
Hawaiian Island Cheat Sheets
Sign up & we'll send you our island cheat sheets so you can get to know the islands like the back of your hand!
We'll share 4 can't-miss activities on each island, a map with the main sights in town, & famous local grindz (eats)!