7 Awesome Vacation Rentals in Waikiki: Pick The Right Place
Disclosure: This post may contain affiliate links, meaning if you decide to make a purchase through my links we may earn a commission at no additional cost to you. Read about our affiliate policies here.
While there are so many beautiful hotels in Waikiki, staying at a vacation rental also has its perks. Rooms are generally larger (great for groups or families) and come with home-like amenities such as kitchens, laundry units, and living rooms.
However, choosing from the hundreds of vacation rentals in Waikiki can be difficult, as they drastically vary in price, consistency, and size. If you're looking for a place to call home on Oahu, then consider staying at one of these outstanding vacation rentals.
Shortcut your vacation planning with these great resources:
1. Decide if you need a rental car on Oahu, or book a rental car with Discount Hawaii Car Rental – they've saved us thousands!
2. Check out our Oahu Travel Guide for everything you need to know about the island.
3. We have 15 Essential Planning Details you won't want to forget for the best Hawaii vacation possible
4. If you'd prefer to stay in one of Waikiki's great resorts *for almost free* we show you exactly how we've done that.
Waikiki Vacation Rental Map
Want to visualize where these are? Here is a map of some of the best vacation rentals in Waikiki. Remember that these vacation rentals are individually owned, so check the details and reviews on a unit before booking to make sure it has everything you're looking for.
7 Great Vacation Rentals in Waikiki
1. Aston Waikiki Beach Tower
With modern, ocean-front views in every room, the Aston Waikiki Beach Tower is a 4-diamond AAA-rated condo building one block from the beach. This is one of our top vacation rentals in Waikiki because it feels more like a resort, with top-notch customer service, world-class amenities, and beautifully decorated rooms.
The suites can be rented through Aston or directly with the individual owners on certain vacation rental sites like VRBO. One-bedroom suites average about 880-square feet, while their two-bedrooms boast around 1,200-square feet of space. Each room has a full kitchen, washer and dryer units, and floor-to-ceiling windows that open up to the private lanai.
Like many resorts in the area, the Waikiki Beach Tower has some pretty great amenities, like daily housekeeping, a fitness center, a yoga room, and weekly cultural classes. It's quite rare for a vacation rental to have lei making and ukulele lessons, so we consider this a great perk!
There's also a children's pool in addition to the main pool on the 4th floor, which is great if you're traveling with kids. There aren't any restaurants on-site, but there's a nice BBQ area next to the pool, not to mention dozens of restaurants within walking distance (you're in the heart of Waikiki, after all!).
2. Aston Waikiki Banyan
The family-friendly Waikiki Banyan is one of our top vacation rentals in Waikiki for those traveling with kids. While the rooms are a tad on the small side (the condo only has 535-square-foot 1-bedroom suites), there are plenty of great amenities to keep your little ones entertained. The outdoor sundeck on the rooftop is the largest of its kind in Waikiki, and features BBQ stations, and outdoor pool, and a children's play area.
Location-wise, the Waikiki Banyan is in a quieter area of the city closer towards the Honolulu Zoo. However, you're still only a 5-minute walk to the beach or a 10-minute walk to the International Marketplace. If you need to grab a quick bite or a morning coffee, there's the Banyan Breeze Coffee Shop located in the lobby.
As with other Aston properties, rooms can be book directly through their website or with individual owners. Not all the suites have great views, so we recommend booking an ocean-facing room or something on a higher floor if that's important to your group.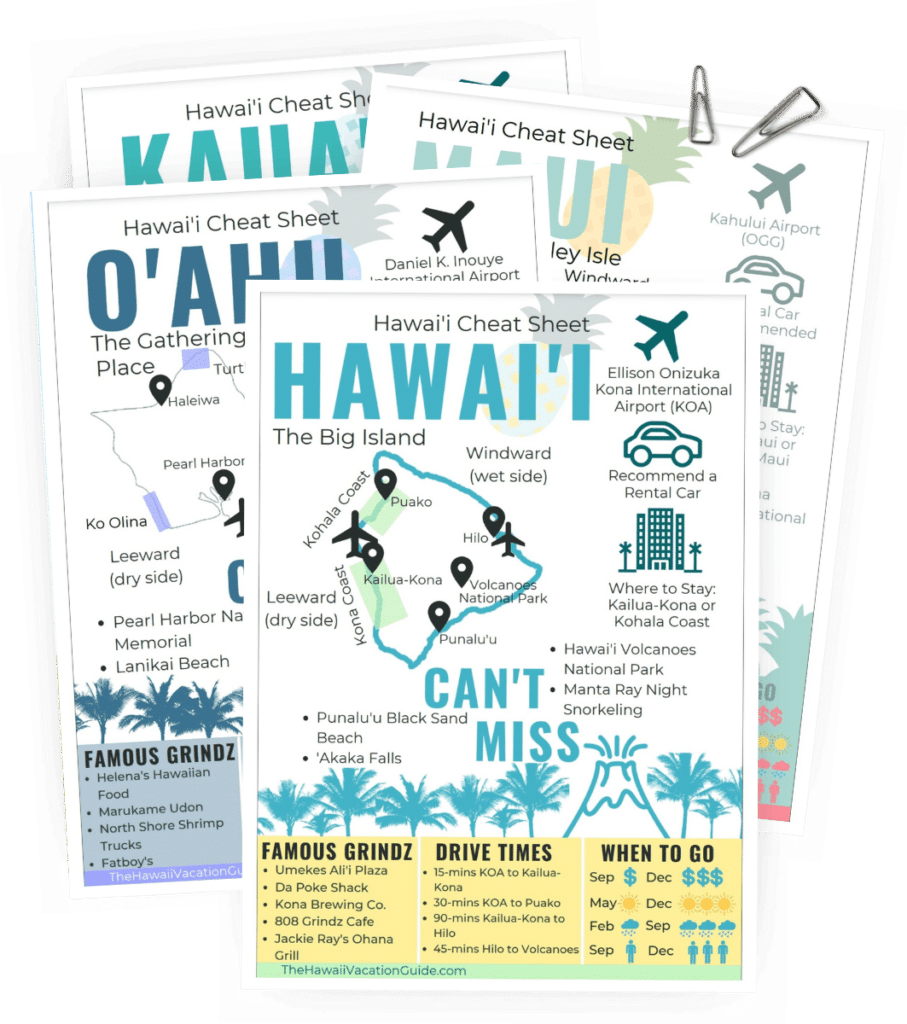 Free Download!
Hawaiian Island Cheat Sheets
Sign up & we'll send you our island cheat sheets so you can get to know the islands like the back of your hand!
We'll share 4 can't-miss activities on each island, a map with the main sights in town, & famous local grindz (eats)!

Find some amazing things to do while you're staying in Waikiki:
The 5 Best Turtle Canyon Snorkeling Tours from Waikiki
40 Things to Do on Oahu, Hawaii (we will surprise you!)
23 Best Things to Do on Oahu With Kids (from The Hawaii Vacation Guide mom and dad)
Plus explore our Activities Database for even more!
3. Waikiki Shore
As the only vacation rental building located directly on the beach, the Waikiki Shore is one of our top picks for visitors. You can just pop outside your front door and be on the golden shores in just seconds! And if you're in an ocean view room, you can enjoy unobstructed views of the water all the way up to Diamond Head right from your outdoor lanai.
The Waikiki Shore offers studio, 1-, and 2-bedroom suites, which means they can accommodate groups of all sizes. As they are individually owned, they can be booked through the Outrigger site or through VRBO. But make sure to read up on the exact unit you're booking – some rooms can be quite dated.
The building itself lacks a few key amenities, like a pool or gym (although you are able to use the pool at the hotel next door). This can be a dealbreaker for some. But when you have the beach and Fort DeRussy Beach Park close by, you'll likely be spending all your time outdoors anyway!
4. Ilikai Hotel & Luxury Suites
If you want the comforts of home but the amenities of staying in a hotel, then the Ilikai is your best bet. The suites are located on the 2nd floor and the 22nd to 25th floors of the famed Ilikai Hotel, which sits right between the Duke Kahanamoku Lagoon and Beach and the Ala Wai Boat Harbor on the western side of Waikiki.
Rooms are recently remodeled (think super sleek furnishing and decor) and can be booked as a studio, 1-, or 2-bedroom. They all come with full kitchens, designer bathrooms, and outdoor lanais. As all the units are individually owned, there can be some inconsistency between rooms, so make sure you double check the listing when you book on the Ilikai site or with your vacation rental site.
One of the best parts about staying here is that you're free to use all the facilities offered at the hotel. That includes the two outdoor pools, the sundeck, the fitness room, and the salon and spa. There are also quite a few delicious restaurants on-site as well if you're not up for cooking in your room. You'll find Pesca Waikiki Beach on the top floor of the hotel, as well as a coffee shop, poke shop, ice cream parlor, and a grocery market.
The Ilikai also has some great Hawaiian experiences you can participate in. There's a torch lighting ceremony every evening and live music and hula dancing on Fridays and Sundays.
5. Waikiki Sunset
Although it's a bit further back from the beach compared to other condo buildings, the Waikiki Sunset is an affordable option for short- and long-term stays. It's also ideal for families or small groups, as the 1-bedroom suites can accommodate four people while the 2-bedroom suites can sleep up to six.
If you book a room on one of the higher floors, you'll likely have an outstanding view outside your lanai. Some people may prefer ocean-facing rooms, although we love that you can also book a direct Diamond Head view, which is also something amazing to wake up to every morning!
The Waikiki Sunset has a private sundeck, which features a heated outdoor pool and a huge BBQ station. The pool is rather small, although it's nice to have lots of sun loungers and space for hanging out. And if you need more swimming space, the beach is just a 6-minute walk away! There's also a fitness studio, hospitality lounge, and convenience store located in the building.
6. Wyndham at Waikiki Beach Walk
The Wyndham at Waikiki Beach Walk is smack-dab in the middle of all the action. Not only are you located right next to the Royal Hawaiian Shopping Center, but you're also just one block from the beach and 5 minutes from Fort Derussy Beach Park.
This is one of the best vacation rentals in Waikiki for large groups, as the Wyndham has 1-, 2-, 3-, and 4-bedroom suites available. With over 2,400-square feet of space, their largest rooms can easily accommodate up to ten guests! However, even their smallest rooms are equipped with all the necessities like a full kitchen, dining area, and separate living room. Not all the rooms have views or even balconies, so make sure to book something on a high floor if this is important to you.
For a condo building, there are a surprising number of on-site amenities that rival those of many of the hotels in the area. For instance, the Wyndham organizes cultural classes like lei making, hula dancing, and ukulele playing. They also have a game room with a billiards table and ping pong table, which is a huge bonus if you're traveling with kids.
The pool is located outside, but it's a bit small and quite deep (between 5ft and 7ft). This can be a problem if your kids aren't experienced swimmers. But on the plus side, it's rarely crowded and has lots of sun loungers. And remember – the beach is just a short distance away!
7. The Pacific Monarch
Sitting just two blocks away from Waikiki Beach is the 137-room Pacific Monarch. While it's not the most modern of buildings, the rooms are neat and clean, and the staff is extremely friendly. Its central location next to Waikiki's best shops, restaurants, and attractions makes it a popular pick for travelers!
The biggest selling point of the condo is the rooftop swimming pool, which is the highest pool in all of Waikiki. From here, you'll be treated to 360-degree views of the ocean, Diamond Head, and Honolulu skyline. There are also several BBQ grills up here as well, which is great if you want to enjoy sunset views while you cook.
In terms of square footage, the studios and 1-bedrooms are relatively small, even for Waikiki. Studios are 360-square-feet while 1-bedrooms are 443-square-feet. However, they all have a kitchen or kitchenette, dining tables, working desks, private lanais, and pull-out sofas in the living room.
Waikiki Vacation Rental FAQs
Are vacation rentals legal in Waikiki?
While there are many regulations when it comes to renting out your condo, vacation rentals are indeed legal in Waikiki and on certain areas of Oahu. Short-term rentals (stays less than 30 consecutive days) are allowed in resort-zoned areas and in some residential apartment areas. Outside of these areas, finding a short-term rental can be difficult, as homeowners are required to rent their space for a minimum of 30 days.
When looking for a condo, you may find some people trying to rent their apartment in restricted areas for less than 30 days. This is strictly prohibited, so be careful when looking in areas outside the resort zones.
Is it cheaper to stay in a hotel or condo?
When it comes to the nightly price, hotels in Waikiki are generally more expensive. That's because they usually have a better location and more amenities. You'll also need to factor in the resort fee, which is an extra cost on top of what you'll pay each night.
Vacation rentals in Waikiki tend to be cheaper, although some of them may also have a daily fee in addition to the nightly fee. Staying in a place with a kitchen can also help you save on food costs, as its far cheaper to cook your own meals than to eat out at a restaurant.
If we're trying to save money on our trip, we will either choose one of these vacation rentals in Waikiki or we'll book with points. You can save thousands booking luxury hotels stays in Hawaii with points and we show you exactly how to do it. We even break down how to stay in this Waikiki hotel for 5-10 nights for almost free.
Check out how we book our Hawaii travel for even more tips.
Is Waikiki a good place to stay?
Waikiki is one of the best places to stay on Oahu, especially for first time visitors. Not only will you be next to one of the most famous beaches in Hawaii (Waikiki Beach), but you can also walk to numerous restaurants, shops, bars, and local sights.
Keep in mind that Waikiki does have a bustling city vibe and can be packed with tourists during the high season. If you prefer something more laid back or quiet, then we recommend staying somewhere on the North Shore or Ko Olina.
If you're still not sure, we break down where to stay on Oahu: Waikiki, Ko Olina, or the North Shore in even more detail. Plus we have a complete guide to Ko Olina, this is where the Disney's Aulani Resort and Spa is located for all the Disney lovers and parents.
Check out our related reads:
Where to Stay in Waikiki: The 12 Best Hotels and Vacation Rentals
The 7 Best Luxury Hotels on Oahu (2023)
Where to Stay on Oahu with Kids: The 7 Best Family Hotels
The Best North Shore Oahu Hotels and Vacation Rentals
The Best Oahu Itinerary
By now you've probably realized Hawaii vacation planning could be a full time job, so we already did the work for you. With our Oahu Itinerary, get insider tips, the best places to eat, sleep, and play and so much more!
My husband and I purchased your itineraries for our recent trip to Kauai and Oahu. We found them super helpful, and your recommendations were spot-on. We had a wonderful time, and we didn't regret a minute of how we spent our time there thanks to your guidance. I really appreciate the effort you put into these and if we ever manage to get back to Hawaii (we loved eating/drinking our way through Honolulu and I hear Maui is absolutely beautiful….), I wouldn't hesitate to purchase additional itineraries.

Claudine
Get The Oahu Itinerary
The step-by-step itinerary takes you to all the best beaches, snorkeling spots, restaurants, and sights. You'll get six carefully planned excursion days to help you see the can't miss stops no matter how limited your time is.
Get all the details on our itinerary and download it for a memorable and easily planned trip to Oahu.