12 Things You Can Only Do in Hawaii
Disclosure: This post may contain affiliate links, meaning if you decide to make a purchase through my links we may earn a commission at no additional cost to you. Read about our affiliate policies here.
Hawaii is a unique destination. You can snorkel with manta rays at night, watch a volcanic eruption, and learn the history and practice of hula. Here are 12 things you can only do in Hawaii. Make your trip authentic and unique with these experiences!
I know what you're thinking, and it's true, this list is not 100% only in Hawaii. For example, you can snorkel with manta rays in the Maldives, off a remote island in Mexico, and Raja Ampat and Nusa Penida islands in Indonesia as I share in our manta ray snorkeling guide.
So, this list is 83.3% only in Hawaii and 100% you only want to do in Hawaii.
I'm glad we are on the same page now. For more things to do in Hawaii, we have you covered of course!
Shortcut your trip planning with some of our best resources:
Plan like a pro with these 15 Essential Details for Hawaii trip planning.
To get a rental car, or to not get a rental car? Let us help you answer that question.
Choose from the best hotels and vacation rentals with our Where to Stay directory.
Don't forget to grab an Itinerary to truly make the most of your vacation.
What You Can Only Do in Hawaii
1. Manta Ray Night Snorkeling
This activity leaves me breathless. We have gone three times in the past three years and I can't wait till my son can come with us.
You can only do manta ray night snorkeling on the Big Island and you can do it all year long. We beat the Maldives and Mexico with their seasonality constraint.
The graceful, 8-foot wingspan giants will come within inches of your nose. See our manta ray tours review to pick the tour closest to your lodging and choose between snorkeling and scuba.
So we humans can continue to snorkel with manta rays, see our 5 Mistakes When Snorkeling with Manta Rays video. The video also has tips on picking a tour.
Our favorite manta ray night snorkeling tour is 15 minutes south of Kailua-Kona and the catamaran only has to go 5 minutes to the snorkel spot.
2. Safely View an Erupting Volcano
Kīlauea is a bulge on the southeastern flank of Mauna Loa (the volcano that erupted after a 38-year break in late 2022). Unlike Mauna Loa, Kīlauea is dependable. Kīlauea is a word we frequently mispronounce. The correct pronunciation is KEEL-ah-WAY-ah. We wrongly say KILL instead of KEEL.
Kilauea has been slowly erupting out of Halema'uma'u (six syllables: HAH-lay-MAH-oo-MAH-oo) Crater. The crater is home to Pele, the Hawaiian goddess of volcano and fire.
Since 1952, Kilauea has erupted dozens of times. From 1983 to 2018 eruptive activity was nearly continuous. I was fortunate to see the lava spewing into the ocean years ago but that stopped over a decade ago (unfortunately).
Per the USGS, "Kīlauea ranks among the world's most active volcanoes and may even top the list."
In the past few years, it has started and stopped. Check the USGS website for an updated status on the eruption.
3. Snorkel Inside a Crater
Molokini Crater on Maui is a crescent-shaped, partially submerged volcanic crater 2.5 miles offshore Maui. The volcano last erupted 230,000 years ago.
Molokini is a destination for scuba diving and snorkeling. Its crescent shape protects divers inside it from waves and the channel's powerful currents. The crater houses a reef with visibility as deep as 40–160 feet and is home to about 251 species of fish, many endemic.
Tips for snorkeling at Molokini:
Interesting fact, the crater was used as target practice during WWII by the US Navy as Maui was a training ground for pilots and the crater is of similar size to a Japanese aircraft carrier. Thankfully, now the crater is a Marine Life Conservation District. The only thing you can remove from the marine area is spent shells, as we show in this video (13:34 minutes).
4. 'Ukulele Music
While brought over by Portuguese sailors, Hawaii made it their own and made the small instrument an icon.
Hit up a restaurant, happy hour (pau hana), sunset cruise on Maui, or find a concert to enjoy live music. This is a must in Hawaii.
Where did the name 'ukulele come from? The most common assumption is that "uku" and "lele" means "jumping flea" because when the Portuguese sailors arrived in Hawaii, the Hawaiians saw the players' fingers jumping over the fretboard so quickly.
'Ukulele stores can be found all over the islands and they make a perfect souvenir.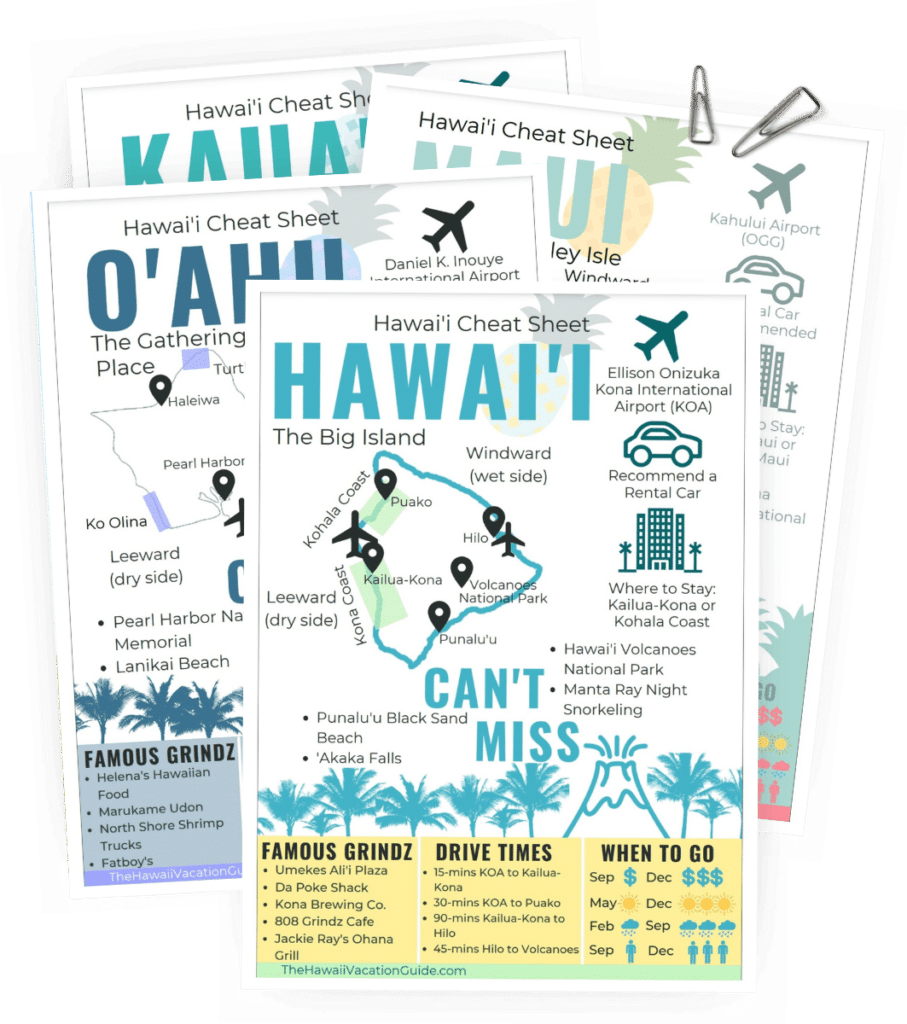 Free Download!
Hawaiian Island Cheat Sheets
Sign up & we'll send you our island cheat sheets so you can get to know the islands like the back of your hand!
We'll share 4 can't-miss activities on each island, a map with the main sights in town, & famous local grindz (eats)!
5. Walk on the Surface of Mars
Welcome to Haleakala! Visit the summit for sunrise, a day trip, or sunset. The goal is to get up to the summit at 10,023 feet with some warm clothes during your trip to Maui.
The top of Haleakala looks like Mars with red, barren soil. For the best view of the crater, we like to do the 16-minute hike to the top of White Hill (Pa Ka'oao Trail). The trailhead starts at the summit visitor center. You can also get great views on Red Hill which is the official summit.
Read these for more details on visiting Haleakala!
I love facts and Haleakala has some of my favorites. I list them at 3:20 minutes in our sunrise Haleakala tour review video. My teeth were chattering during my monologue.
6. Hula
Hula is a Hawaiian dance form accompanied by chant (oli) or song (mele). The hula dramatizes or portrays the words of the oli or mele in a visual dance form.
I have great respect for Hula dancers as it is a complex art form. You can take a lesson at your resort, learn on a tour such as this authentic Hawaiian catamaran sail, or some luaus give lessons as part of their activities program (like our favorite Hawaii luaus).
For free hula shows, visit local shopping centers or botanical gardens. Waikiki has nightly, free hula performances at the mall in central Waikiki – Royal Hawaiian Center.
Watching hula is more than a cultural experience, it is part of having an authentic trip to Hawaii. Here are more ways you can have an authentic Hawaiian experience.
7. Eat Shave Ice
Yes, this made our list because we love to eat shave ice. The fluffy, snow-like texture is covered in unique flavors. You gotta try it. A shave is the farthest thing from the crusty snow cones I grew up with in Michigan.
It is hard to not find shave ice on the islands. Dole Whip (pineapple soft serve) is also popular but we prefer shave ice. Here are places to eat shave ice on the Hawaiian islands.
Hawaii is home to many unique foods due to the fusion of Hawaiian cuisine with the many people who made Hawaii their home from across the world. Watch our video for foods you have to try when you visit Hawaii.
8. Swim with Hawaiian Green Sea Turtles
Let me start by saying that Hawaiian Green Sea Turtles are endangered and federally protected so you can't touch them or swim over them, and you must stay 10 ft away in the water.
If you're lucky to encounter one when snorkeling, you will be awed by these graceful creatures. Finding them is not challenging, explore our favorite snorkel spots below.
In our experience and doing a lot of snorkeling, Maui is the best place to swim with turtles. Kauai is second best.
On Maui, Napali Bay, Kapalua Bay, and Olowalu Beach on a kayak tour are good places. We recommend going out on a snorkel tour as the tours know where to go, provide guidance for encountering sea turtles, and help to keep everyone safe. See our snorkeling tours here.
Favorite snorkeling spots by island: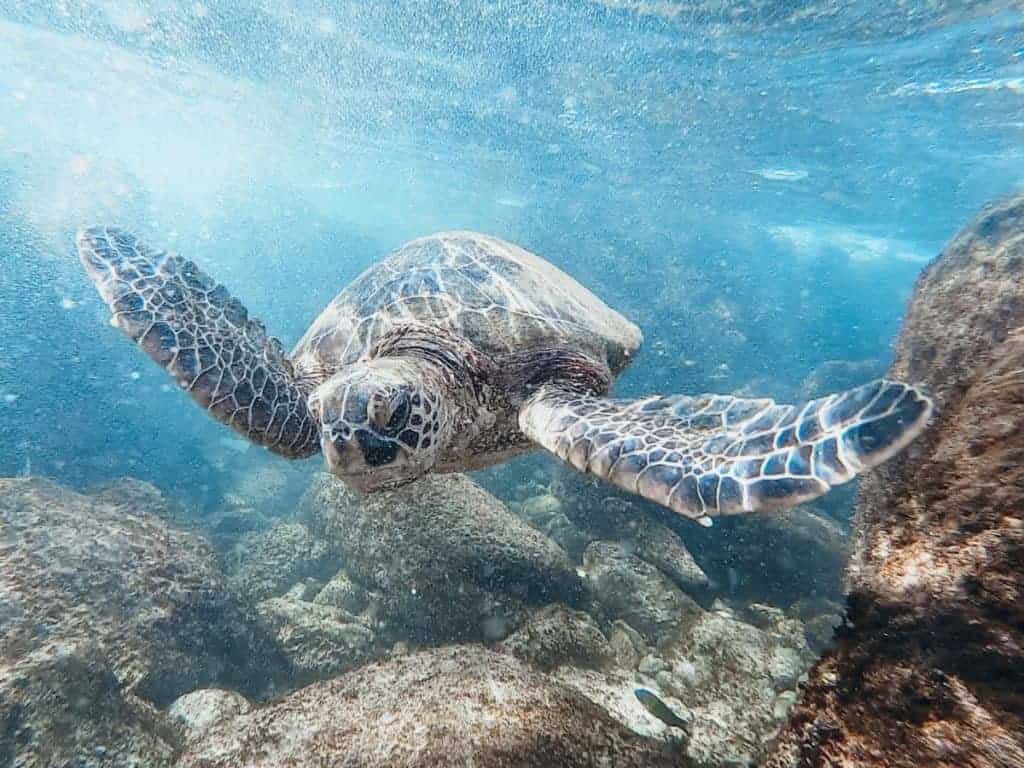 9. Stay on a Private Island
Welcome to Lanai, a privately owned island by Oracle Corporation founder and billionaire Larry Ellison. After purchasing Lanai in 2012 for $300 million, he took ownership of 98% of the apostrophe-shaped island.
The purchase included the Four Seasons Resort Lanai and Sensei Lanai, A Four Seasons Resort. The Four Seasons Resort at Lanai is on Hulopoe Beach, one of our favorites for snorkeling and spending the day.
You can also stay at the Hotel Lanai (also owned by Elison) and a handful of vacation rentals owned by local residents.
Our preferred method of visiting Lanai is to spend the day there by taking the ferry from Lahaina, Maui. Read our article Is Lanai Worth a Day Trip? for details and see our 21 Things to Do on Lanai which also covers traveling around the island.
10. Talk Story
There is nothing more uniquely Hawaii than hearing the local dialect and the stories from a local. You can stop local residents on the street but we recommend going out on a guided tour.
We make it a point to go on a locally guided tour on every trip to Hawaii. Be it mountain tubing through irrigation canals on Kauai to the Road to Hana on Maui, the local guides make the experience unforgettable. Their local knowledge of the island, the stories, and their connection to the land from living there makes the tour more than quick stops and banana bread.
We enjoy smaller tours that are typically eight to twelve visitors on a mini-shuttle. Most tour companies are local so it isn't hard to support a local business with local drivers.
11. Experience the Different Microclimates
Start in a rainforest, visit a desert, and maybe even make a snowball all on the same day. Hawaii has 10 of the world's 14 microclimates.
The Hawaiian Islands really do possess at least 10 zones of the Koppen Climate Classification System, the most widely used method adopted by climatologists for identifying and defining worldwide climate zones.
The only one of our Islands where you'll find all 10 zones, however, is Hawai'i Island.
An excursion day around Hawaii will feel like traveling around the world with not just temperature, but differences in flora and the resulting landscape. The Island of Hawaii is our favorite for a circle island tour for this reason. Plus, it is a long drive!
These microclimates also bring on bad weather fast. Therefore make sure you book a Hawaii helicopter tour company with the best record.
12. Visit the Only Royal Palace in the US
A big theme of this list is learning about the culture and history of the islands. That is what makes Hawaii unique in America and probably a big reason why you love to travel.
The 'Iolani Palace in historic downtown Honolulu was the royal residence for Hawaiian royalty from Kamehameha III to the last Queen Liliʻuokalani (1893) who became a prisoner in her palace when Hawaii was unlawfully overthrown.
You can tour 'Iolani Palace to learn about the monarchy, the palace, and history of Hawaii. Audio and docent-led tours are available, book 'Iolani Palace tickets here.
Bonus! You can visit Hulihe'e Palace in downtown Kailua-Kona, Hawaii Island. The palace was used as a vacation home for Hawaiian Royalty and is now maintained as a museum by Daughters of Hawaii. It is open Wednesday through Saturday. Self-guided and docent-led tours are available, see here to book.
We hope you enjoyed this list of things you can only do in Hawaii. We have a lot more to recommend in our Hawaiian island itineraries. Check them out below!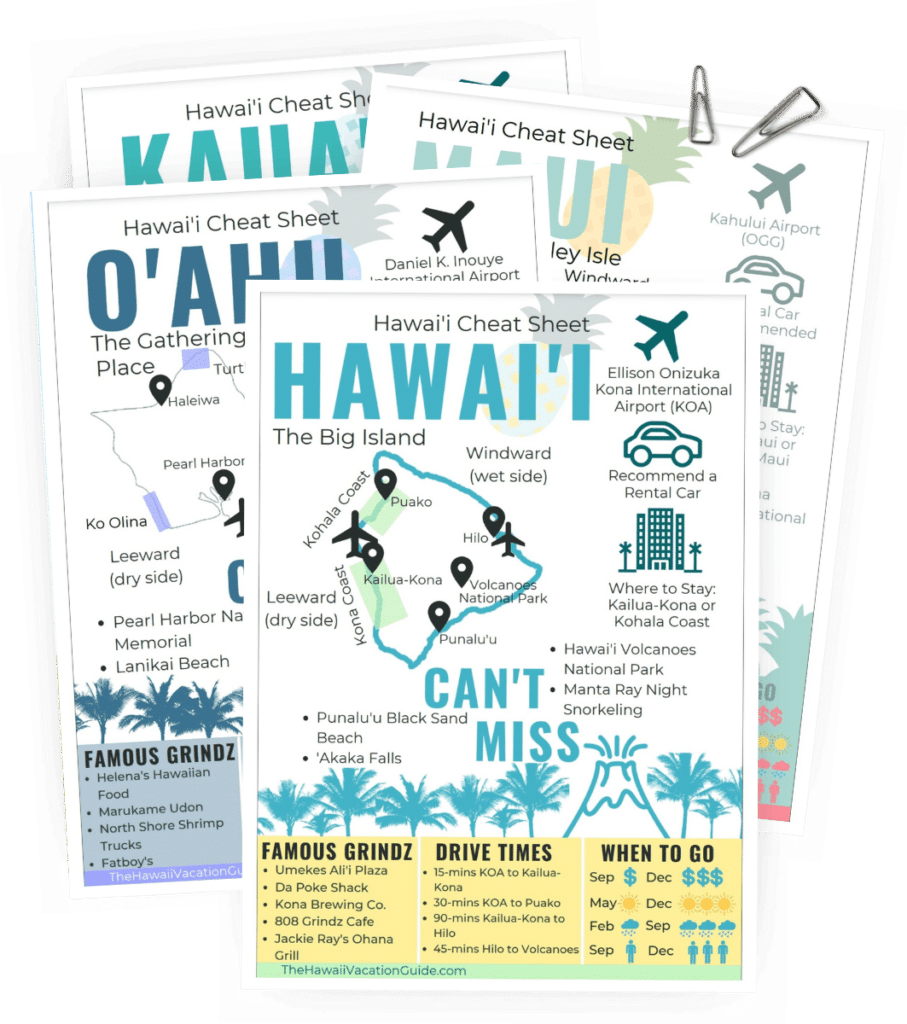 Free Download!
Hawaiian Island Cheat Sheets
Sign up & we'll send you our island cheat sheets so you can get to know the islands like the back of your hand!
We'll share 4 can't-miss activities on each island, a map with the main sights in town, & famous local grindz (eats)!