Hawaii in the Winter: What to Know BEFORE Booking Your Trip
Disclosure: This post may contain affiliate links, meaning if you decide to make a purchase through my links we may earn a commission at no additional cost to you. Read about our affiliate policies here.
Winter in Hawaii is a magical time of migrating whales, misty mountains, and abundant rainbows. But if you've never visited Hawaii in the winter you might be wondering what it's really like. From rainy days to the cost of your trip, this is your ultimate guide to Hawaii in the winter and everything you need to know about traveling to the Aloha State from December to March.
If you're set on a winter Hawaii vacation, here are some great resources to help you plan!
Pick the best island for your winter trip.
Don't miss whale watching in Hawaii! Check out our Ultimate Guide to Whale Watching on Maui plus the Best Time for Whale Watching in Hawaii (+ key tips)
A trip to Hawaii in the winter can be extra expensive (December) or quite affordable (January/February) either way get the most bang for your buck by booking your trip with points!
FAQs About Visiting Hawaii in the Winter
What's Hawaii Like in the Winter?
So, what can you expect in Hawaii during the winter? The Hawaiian Islands tend to be similar in both climate and weather throughout the year, but winter brings subtle differences that could make or break your trip. Its tropical climate, unique microclimates, and wind systems bring weather that's quite different than you might find on other warm-weather islands.
Hawaii has only two seasons, summer and winter. Technically winter is October through April but the most notable changes are generally mid-December through mid-March. You'll find sunny weather and a lesser chance of rain on the leeward side of the islands, the south and west portions. The windward side of the island, as the name suggests, is affected by trade winds and sees a lot of wet weather and rough seas come winter.
Keep in mind that Hawaii can get large north swells from October through March. This means the north shores of the Hawaiian Islands are generally off-limits to swimming during this time period. They are however great for extremely experienced surfers! Watching the pros enjoy some big wave surfing is a treat!
Weather and swells vary island by island and while it's not a drastic difference, the slight variance is definitely something to keep in mind.
Hawaii's Big Island is the warmest of them all and sees the highest temperatures in winter but also gets the most rain. Kauai can be tricky in winter as the Garden Isle sees a lot of rain, cool temps (high 60s), and strong swells that plague the north shore beaches. Luckily, Poipu on Kauai's south shore sees less rain and calmer waves if you're really pining to visit this island in winter.
Like Kauai, Oahu also sees its fair share of rain and large swells in the winter months as a result of powerful storms in the Pacific. Maui is the most even-keeled of them all and sees both the least amount of rain and some of the warmest temperatures. While the ocean on Maui does get some winter swells, there should be days when the water is calm and perfect for swimming. This is one of the best islands to visit in winter!
Is it a Good Idea to Visit Hawaii in the Winter?
Winter is a great time to visit Hawaii! Come prepared to face some spurts of clouds or rain and gnarly north shore swells and you'll have a fantastic time.
One of the biggest no-nos of visiting Hawaii in the winter (in our humble opinion) is coming in the second half of December. While the Christmas season is magical, it sees prices skyrocket for everything from hotels to car rentals and the islands fill to the brim with holiday visitors. You'll also need to book activities like luaus and whale watching tours well in advance.
All that being said, winter can also be an inexpensive time to visit Hawaii, especially in January and February. Crowds start to fizzle after the week of New Year's and don't return until Spring Break season begins in March. This is the ideal time to snag less expensive hotel and resort rates, cheaper car rentals, and maybe even a tour that's easier on the budget.
Your best option for sunny, warm weather in winter is Maui. With little rain, calmer oceans, and excellent whale-watching conditions, Maui is our favorite choice for a winter trip to Hawaii.
Can You Swim in Hawaii in the Winter?
The ocean surrounding the Hawaiian islands stays warm year-round but does dip slightly in the winter months. Your biggest contender for winter swimming in Hawaii is swells. Ocean conditions change drastically between seasons. Swimmers will most likely want to avoid the north shore of the Hawaiian Islands altogether in the winter months as swells are dangerous for swimming at best.
Hawaii's changing ocean conditions are a result of powerful Alaskan storms whose waves travel across the Pacific and affect its northern shores. Southern shores are largely protected from swells in the winter as they're blocked by other islands to the south.
A good bet is to choose beaches that are on the leeward side of Hawaii's islands. While it's certainly not a guarantee, you'll find more beaches that don't see the large waves or dangerous currents that are common on the northern shores. Always check lifeguard flags, ocean conditions, and the Hawaii Beach Safety website before heading out.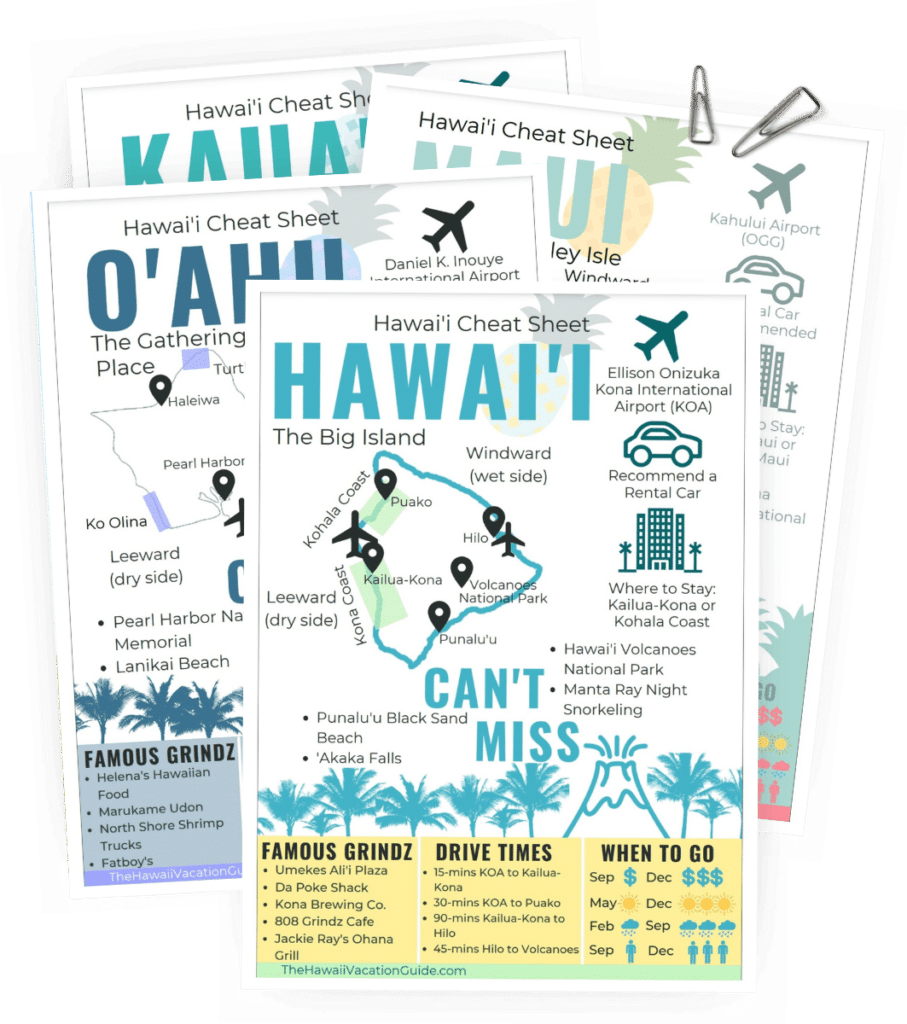 Free Download!
Hawaiian Island Cheat Sheets
Sign up & we'll send you our island cheat sheets so you can get to know the islands like the back of your hand!
We'll share 4 can't-miss activities on each island, a map with the main sights in town, & famous local grindz (eats)!
Is it cheaper in Hawaii in the winter?
Winter in Hawaii sees both some of the highest prices and lowest prices of the year. January and February are both good bets for price cuts and deals on hotels and rental cars. The second half of December, near Christmas and New Year's, sees some of the highest prices of the year. The cost of accommodations and rental cars can double (or more) during this time. We say that Christmas is the worst time to visit Hawaii, but it's simultaneously one of our favorite seasons.
February is generally the coldest month of the year in Hawaii across the board and sees the least amount of visitors. This is a great time to find discount hotel rates although vacation rentals (like condos) can be pricier than usual as snowbirds escape the mainland cold.
You should also be wary in March as prices hike due to spring break. Still, this is also a good time to go as summer is just on the horizon and those rough waters start to mellow. The first half of the month is typically better in terms of finding budget accommodations.
How Cold Does it Get in Hawaii in the Winter?
Compared to mainland U.S. winters, Hawaii is still a tropical oasis. You won't find short days or freezing temperatures here (at least not near the coast). Still, temperatures do dip from December to March and you'll see locals donning their sweaters on the chillier days.
The coldest temperatures in Hawaii are typically between January and March and range from lows in the high 60s to low 70s and highs up above 80 at times. February is the coldest month of the year for Hawaii for all of the islands, while December is generally the warmest of the winter months.
Of all the islands, Maui stays the warmest in winter with temperatures never really dipping below 70° in resort areas. Higher elevations can be a different story altogether and some of the tallest mountains and volcanoes on both Maui and the Big Island do see flurries of snow. Overall, the Big Island sees the coolest temperatures, mainly in January and February. This island also sees the most rain during this time.
Does it rain in Hawaii in the winter?
Like many destinations around the world, winter means a bit more precipitation than in summer. Hawaii is no exception to this rule! Hawaii gets the most rain from November to March but rainfall varies depending on where you're located on the islands. Luckily, Hawaiian rains are warm and short-lived. Even better, these more frequent rains mean you'll have a greater chance to see Hawaii's beautiful rainbows.
Those who adamantly want to avoid the rain should stay on the leeward side of the island. These areas are generally the most popular place to stay and you're guaranteed more sunny days than destinations on the windward side. If the forecast does look rainy on your trip, don't fret too much. Most of these showers pass quickly and there's still a high chance that things will clear up for a perfect beach day. All-day rains are rare in Hawaii!
Overall, Kauai and the Big Island get the most rain while Oahu stays a little more dry in comparison and Maui sees the least precipitation of the four major islands.
While rainfall varies from island to island depending on the month, you can bet that you'll see the most rain in December and March across the board. The Big Island varies a bit and sees more rain in December and January, while Kauai gets the heaviest rainfall in December and March.
Oahu also gets the most rain in December and March. Maui receives the least amount of rain throughout the year when compared to the other Hawaiian Islands but gets the most precipitation in December and March.
Here's our list of the best things to do in Hawaii when it rains!
Things to Do in Hawaii in the Winter
You might be wondering what there is to do in Hawaii in winter and the answer is, pretty much everything you can do in summer! There's really no bad time to visit Hawaii. While you might have to tweak your trip itinerary and allow for some wiggle room due to inclement weather, there's a good chance that you'll still be able to snorkel, swim in the ocean, and of course, go surfing.
A few activities that might be off-limits in winter include certain hiking trails, helicopter rides, and swimming in streams or near the base of some waterfalls. Pay close attention to the weather both during and before you arrive for a more accurate picture of current conditions.
Whale Watching
Winter is also whale-watching season in Hawaii, one of our favorite times of the year! The annual humpback migration starts as early as October and reaches its peak from December to early March. 12,000 humpback whales make their way from Alaska to Hawaii to mate, give birth, and nurture their calves in the warm waters off Hawaii's coast.
Whale watching is one of the best reasons to visit Hawaii in winter! You can set off on a whale-watching excursion from any of the islands, but Maui is renowned for whale-watching and even seeing whales from the shore. We've compiled a Hawaii whale-watching guide with our best tips and tricks so you can plan the perfect trip during migration season.
Get the full list of our favorite tours across all the islands.
Snorkeling
Once again, Maui comes out on top for the best snorkeling in winter. The Valley Isle is ideal because of its many lagoons and coves that are protected from big winter swells. It also has the most snorkeling beaches that are on the leeward side of the island.
There are snorkeling spots on all of the islands, even in winter. February, for example, is great for snorkeling on the Big Island as the Kona Coast is shielded from winter swells. As a rule of thumb, if you see surfers, that beach generally won't be great for snorkeling. You can check out the best snorkeling locations by month in Hawaii.
Swimming
Swimming is one of the trickier activities in winter. Stick to leeward beaches for your best bet at safe and calmer ocean conditions but always double-check flags and the surf report to be sure. Poipu is a good area for swimming on Kauai, while Maui's plentiful bays and lagoons are ideal for swimming in the winter. The Big Island's Kona Coast is a great option for swimming (especially in February), while Oahu's Kawela Bay is a great protected swimming area in winter – and you're almost guaranteed to see sea turtles!
Rainy Days
A few of the rainy day activities that we suggest are things like swimming in the hotel pool, seeking out a good meal or happy hour, or attending a luau. Aquariums and indoor historic sites are also a good safety net if the rain sets in. You can get the full scoop, including suggestions by island, in our guide on the best things to do in Hawaii when it rains.
Month Specific Activities
After living on two of the Hawaiian Islands and making frequent trips to the Aloha State year-round, we've compiled a list of some of the best things to do in Hawaii come winter. Here are some of our favorite month-specific activities to help you plan your winter vacation to Hawaii.
December:
Attending a Holiday Luau at Paradise Cove
Enjoying the sights and sounds of the Chinatown Winter Walk on Oahu
Visiting the Honolulu City Lights displays
Participating in a Pearl Harbor memorial event
Running in the Honolulu Marathon
Going on a whale-watching tour
Seeing decorated palm trees
Taking in the Lahaina Christmas parade
January:
Visit the north shore of any island and watch the big surf
Take in the opening of the PGA tour at Kapalua, Maui
Run a marathon along the Pacific Ocean with the Maui Oceanfront Marathon
Celebrate Chinese New Year in Chinatown on Oahu
Head to the Polynesian Cultural Center
February:
Maui Whale Festival: Celebrate the return of migrating humpback whales with this month-long festival. It's also a great time for a whale-watching tour!
Waimea Cherry Blossom Heritage Festival: Watch free, multicultural performing arts and participate in hands-on demonstrations. The Hawai'i Island chefs cooking demonstration always has delicious samples!
Watch professional surfers catch waves: Winter brings large swells to the north shore, so you'll find different competitions, including the Billabong Pro Pipeline, the first event of the 2023 WSL Championship Tour.
Check out the Waimea Town Celebration: This weeklong event commemorates the unique cultural heritage of the town. There's a rodeo, canoe races, foot races, ice-cream eating contests, and many other fun activities.
March:
Kualoa Hakipu'u Canoe Fest
Waikiki Island Spring Fest
As winter comes to a close towards the end of March and summer is on the horizon, the huge north shore swells start to die down. Those beaches that have been off-limits for most of winter can start to see ideal swimming days and even good snorkeling conditions. Always be sure to check ocean conditions before going out in the water and remember, if in doubt, don't go out!
See the plumeria start to bloom.
The Best Hawaii Itineraries
Don't forget to grab an itinerary to make the rest of your planning process a breeze. With full excursion days, the best restaurants and beaches, all the way down to where to park. We've made navigating the islands simple so the only thing you have to worry about is having a great time.