Hawaii in August: Everything to Know For Your Trip
Disclosure: This post may contain affiliate links, meaning if you decide to make a purchase through my links we may earn a commission at no additional cost to you. Read about our affiliate policies here.
Get ready to experience the beauty of summer in Hawaii! If you're planning a getaway for August, it's an ideal time to bask in all that this tropical paradise offers.
Hawaii in August is a magical time of year – the weather is breathtaking, and the skies are crystal clear. It doesn't get as much rain as in winter, so you shouldn't have to worry about packing around an umbrella. And tourist activity during this month tends to be slightly lower than in July or December, so you'll find fewer people at all the best beaches. 
No matter when you decide to come to Hawaii, we have the rest of your trip planning covered!
Check out our where to stay database for the best accommodations on the islands.
Don't forget a thing with our Hawaii vacation packing list.
Book a rental car with Discount Hawaii Car Rental – they've saved us thousands.
Plus check out how we book travel for more insider tips and learn more about booking your Hawaii travel using points.
Is August a Good Time to go to Hawaii?
August is an ideal month to plan a Hawaiian getaway – you can expect pleasant temperatures, reasonable crowds, and moderate accommodation rates.
Reasons to Go to Hawaii in August
Here are a few of our top reasons why August is a great month to visit Hawaii:
Beautiful weather: It's the 2nd hottest month of the year.
Great ocean conditions: The water is warm and relatively calm.
Plenty of activities: You definitely won't be bored while you're here.
Decent hotel prices: You can save some money on your accommodations by traveling in August instead of in July or December.
Moderate crowds: August is the fourth most visited month, so you won't have as many people to deal with.
Reasons Not to Go to Hawaii in August
Of course, Hawaii in August isn't for everyone. Here are a few reasons to plan your trip a different month:
Hurricane season: Though rare, it is possible that you'd experience some wild weather during your stay.
Not the cheapest: If you have a tight budget, September has the lowest hotel costs, and several other months are cheaper.
Hot: For some people, this is a good thing. For others, not as much. If you can't stand the heat, don't come to Hawaii in August!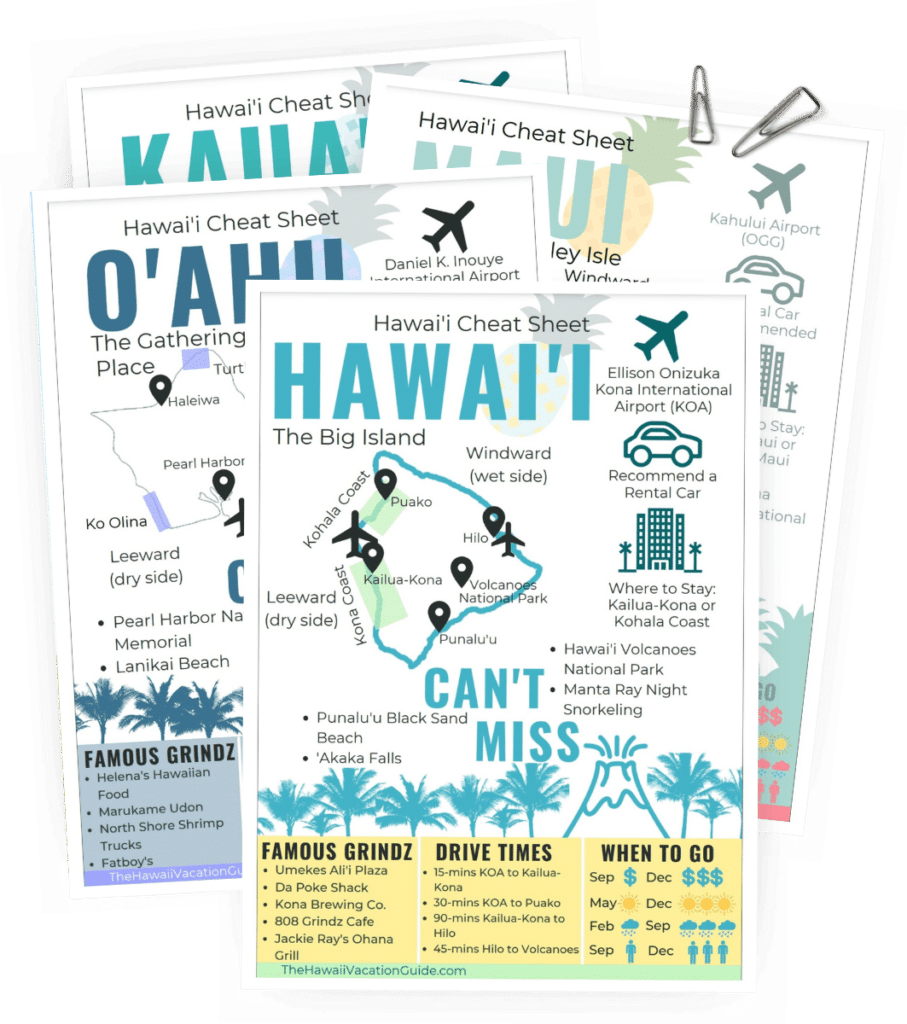 Free Download!
Hawaiian Island Cheat Sheets
Sign up & we'll send you our island cheat sheets so you can get to know the islands like the back of your hand!
We'll share 4 can't-miss activities on each island, a map with the main sights in town, & famous local grindz (eats)!
Is Hawaii Nice in August: Weather Data
Let's dig into the data on rainfall, temperature, and ocean conditions to help you make an informed decision about your trip. By examining the weather this month, you'll better understand what to expect while visiting this tropical paradise!
Is Hawaii Rainy in August?
Hawaii's tropical climate is split into two distinct seasons: a wetter winter and drier summer. So if you're looking for clear skies during your visit, August is an ideal time. You'll get much less rain than you would in March or December.
However, some islands receive more rain than others. So there are no guarantees that you won't have a few showers on your trip. This is especially true if you venture to the windward side of each island. Because of the rain shadow effect, the north and east sides of the islands get more rain.
But that's not a bad thing. Because of the rainfall differences, you'll find lush, jungle-like foliage on the windward side. And this is where most of the waterfalls are as well. (We highly recommend the Kohala Waterfall Adventure Tour on the Big Isalnd!)
This map shows the breakdown between the windward and leeward sides to help you plan. If avoiding the rain is your top priority, you'll definitely want to stay on the south and west sides of the islands.
Now, let's dive into some climatic information for four popular destinations. These are all located on the leeward side, but it can give you a better glimpse into how much rainfall Hawaii receives in August.
| | |
| --- | --- |
| Location | Average Rainfall in August (in Inches) |
| Poipu, Kauai | 1.89 |
| Kailua-Kona, Hawaii | 1.4 |
| Honolulu, Oahu | 1.295 |
| Kihei, Maui | 0.43 |
The average amount of rainfall for these four locations is 1.175 inches. Poipu, Kauai, gets the most rain of the cities listed, and Kihei, Maui, receives the least.
So if you want to improve your chances of not encountering rain, plan a trip to Maui! In August, it gets less than half an inch of rain. And when it does rain, it tends to be short-lived. Then, the sunny skies return.
This chart shows the average rainfall across the four cities above throughout the year.
| | |
| --- | --- |
| Month | Average Rainfall (in Inches) |
| July | 0.8825 |
| June | 0.975 |
| September | 0.9875 |
| April | 1.0875 |
| August | 1.175 |
| November | 1.22 |
| May | 1.295 |
| February | 1.37 |
| January | 1.375 |
| October | 1.4275 |
| March | 1.75 |
| December | 1.8525 |
If you really don't want to deal with showers, July, June, and September are the best months to visit.
This graph better depicts the rainfall throughout the year:
How Warm Is It in Hawaii in August?
August is the second warmest month, falling just a quarter of a degree cooler than September. The average high temperature is 82 degrees, and the low temperature is 75.75. You won't have to worry about getting cold while enjoying the great outdoors.
The weather is lovely in Kailua-Kona, Hawaii. Here, the average is 87 degrees. While this might be too warm for some people, it is ideal for swimming and other water activities.
The chart below shows the average high and low temperatures across four tourist destinations. You can use this data to see where you'd most like to visit based on temperature.
| | | |
| --- | --- | --- |
| Location | Average High Temperature (°F) | Average Low Temperature (°F) |
| Kailua-Kona, Hawaii | 87 | 75 |
| Kihei, Maui | 80 | 76 |
| Poipu, Kauai | 80 | 76 |
| Honolulu, Oahu | 81 | 76 |
As you can see, the low temperatures are pretty consistent. They're all over 75 degrees, so cool nights aren't a problem in August.
But a summer visit might not be for you if you prefer slightly cooler temperatures. The temperature drops a bit over the winter and is the coldest in February and March. However, cold is relative. Hawaii does have a tropical climate, after all. So the coldest it gets is about 69 degrees.
These next two graphs show the average high and low temperatures in Hawaii throughout the year. There's never a terrible month to visit when it comes to the temperature.
Can You Swim in Hawaii in August?
Yes, you can swim in Hawaii in August. The ocean's temperature around Hawaii doesn't fluctuate much throughout the year. So no matter when you travel here, you'll be able to enjoy swimming, paddle boarding, and other water activities. Just remember to pack plenty of sunscreen, as the sun is intense and can quickly cause sunburns if you don't take precautions. (We have you covered for everything else you need to pack, too!)
Here's a look at the average ocean temperatures throughout the year.
As you can see, it never drops below 76 degrees. And since safety experts declare anything under 70 degrees to be cold water, you don't have to take extra precautions due to water temperature in Hawaii.
August Ocean Conditions in Hawaii
Of course, the temperature isn't the only thing you need to worry about when it comes to swimming in the ocean. You'll also need to check the conditions. The ocean tend to be calm and clear in August, making it ideal for swimming.
However, the conditions can change quickly. So it's always wise to keep your eyes on the lifeguard's flag system. This way, you'll know when it's safe to go into the water and when to stay out.
The visibility underwater is also superb during August, so you'll get to view all of the beautiful coral reefs and sea life that Hawaii offers. Keep an eye out for dolphins, turtles, and other marine creatures. And consider going on the Oahu Dolphin Encounter and Snorkel. It's an excellent way to see dolphins in their natural environment.
When is Hawaii's Hurricane Season?
Before you book your plane tickets for an August vacation, you need to understand that it is in the middle of the Hawaiian hurricane season, which runs from June through November each year.
Although destructive hurricanes are rare in the state, it is important to be prepared for any emergency. Talk to your hotel staff about their specific procedures, and always let someone back home know where you plan on staying while you're in Hawaii.
In addition, you should fill out an American Red Cross emergency card. This way, everyone you're traveling with has the contact information they need if anything goes wrong.
How Busy is Hawaii in August?
The first two weeks of August are still fairly busy in Hawaii. But towards the end of the month, many kids head back to school, and the islands become less crowded.
In August 2022, 829,669 people visited the Aloha State. This is still down from 2019, when 928,178 tourists arrived. So travel hasn't quite recovered from the pandemic shut-downs.
This chart can help you see how crowded the state is from month to month. We included both 2022 and 2019 data, as the numbers will likely continue to pick up until they return to their pre-pandemic levels. So by looking at the 2019 data, you might get a better sense of how crowded August might be in the future.
| | | |
| --- | --- | --- |
| Month | Number of Total Visitors in 2022 | Number of Total Visitors in 2019 |
| January | 567,179 | 809,098 |
| February | 623,691 | 487,940 |
| March | 785,715 | 927,246 |
| April | 809,612 | 831,445 |
| May | 774,144 | 830,038 |
| June | 841,809 | 950,931 |
| July | 919,154 | 997,872 |
| August | 829,669 | 928,178 |
| September | 691,794 | 723,341 |
| October | 726,059 | 779,909 |
| November | 725,469 | 794,841 |
| December | 871,870 | 942,969 |
The above table shows the total number of visitors the islands received each month of the year. But total visitors isn't the only metric to use. The average daily census is also important, as it can tell you how many people were in Hawaii on any given day. In August 2022, that number was 253,855.
This graph shows both the average daily census and the total number of visitors to Hawaii in 2022.
Which Hawaiian Islands Are the Busiest in August?
Molokai and Lanai are the quietest of Hawaii's islands, no matter when you decide to visit. Out of the four main islands—Kauai, Hawaii, Maui, and Oahu—the former two receive less traffic than the latter ones.
Here's a chart with the monthly visitor numbers:
| | |
| --- | --- |
| Island | Number of Visitors in August 2022 |
| Molokai | 4,565 |
| Lanai | 5,607 |
| Kauai | 120,651 |
| The Big Island | 147,290 |
| Maui | 265,410 |
| Oahu | 457,495 |
If you're hoping for a quiet Hawaiian vacation, Kauai is a great choice. Of the four main islands, it's the least visited throughout the year. Our Ultimate Kauai Travel Guide can help you plan an unforgettable Kauai vacation!
Here's a graph with crowd sizes throughout the year. This data can help you pick the best island to visit and your preferred time of year if the crowds in Hawaii are one of your biggest concerns.
Is Hawaii Cheaper in August?
If saving money is your goal, you should hold off on an August trip and come in September instead. That's the cheapest month for accommodations in Hawaii. However, you'll pay less in August than in December or July. So it's not the most expensive month either.
In August, the average cost of a hotel room statewide is $433. Of course, your rate will depend on what type of hotel you pick and which island you're staying on. You'll pay more for a luxury hotel than a midscale one. And you'll pay more on Maui than on any of the other main islands.
This chart has the average daily hotel rates on Maui, Oahu, Kauai, and the Big Island. You can use this information to help you pick an island that matches your budget.
| | |
| --- | --- |
| Island | August Average Daily Hotel Rate (in USD) |
| Maui | $621.02 |
| Kauai | $415.33 |
| The Big Island | $408.65 |
| Oahu | $286.48 |
If you're dreaming of a Maui vacation, you can cut your costs a bit by staying in Maui County in an Upper Upscale hotel. The going rate here is $567.21 a night. That's less than half of the $1,277.70 you'd pay for a night in a luxury resort. Or, you can come in September instead, when you'll save even more.
If you decide that the prices in August are just too high, this graph shows the average prices throughout the year. There are plenty of other great times to visit if cost is your main concern.
Things to Do in Hawaii in August
Now that you know why August is a good time to visit Hawaii, let's chat about what you can do while you're here.
You can take advantage of Hawaii's beautiful beaches and enjoy swimming, surfing, paddle boarding, and snorkeling. There are also plenty of guided tours that you can join to explore the islands and learn about their culture. But those are things you can do any time of year.
So now let's look at some August-specific suggestions:
In August, you can:
Watch Waikiki's premier ocean sports festival, Duke's OceanFest
Learn more about Korean culture at the annual Korean Festival
Listen to some great music at the Hawaiian Slack Key Festival at the Waikiki Aquarium
Shop locally crafted goods at the Made in Hawaii Festival
See the amazing dancers at the Na Hula Festival
Check out the Polynesian Show at The Shops at Wailea (and then get some shaved ice at Ululani)
Take a free Saturday tour at the Boo Boo Zoo (also known as the East Maui Animal Refuge)
Run in the Kauai 50 or the Maunawili Out and Back races
Related reads:
The 59 Best Things to Do in Hawaii: Your Ultimate Bucket List
22 Best Family Resorts in Hawaii the Whole Family Will Love
Which Hawaiian Island Should I Visit?
How to Visit Multiple Hawaiian Islands in 2 Weeks (itinerary included)
There's plenty to do to keep you busy in August! But no matter which month you're coming in, download our complimentary Hawaii cheat sheets before you arrive. These cheat sheets include a detailed map, the can't-miss activities and attractions you should experience during your stay, useful tips for planning an unforgettable trip, and some of our favorite eateries! Get yours today and start preparing for what is sure to be an amazing vacation.
Don't miss out on this opportunity to join the 30,000+ Hawaiian vacationers who have already subscribed – and get our valuable cheat sheet as a bonus! We deliver expertly crafted bi-weekly updates loaded with insider information and tips that will make your trip to Hawaii extraordinary. Plus, you'll receive exclusive discounts exclusively for subscribers – so sign up today!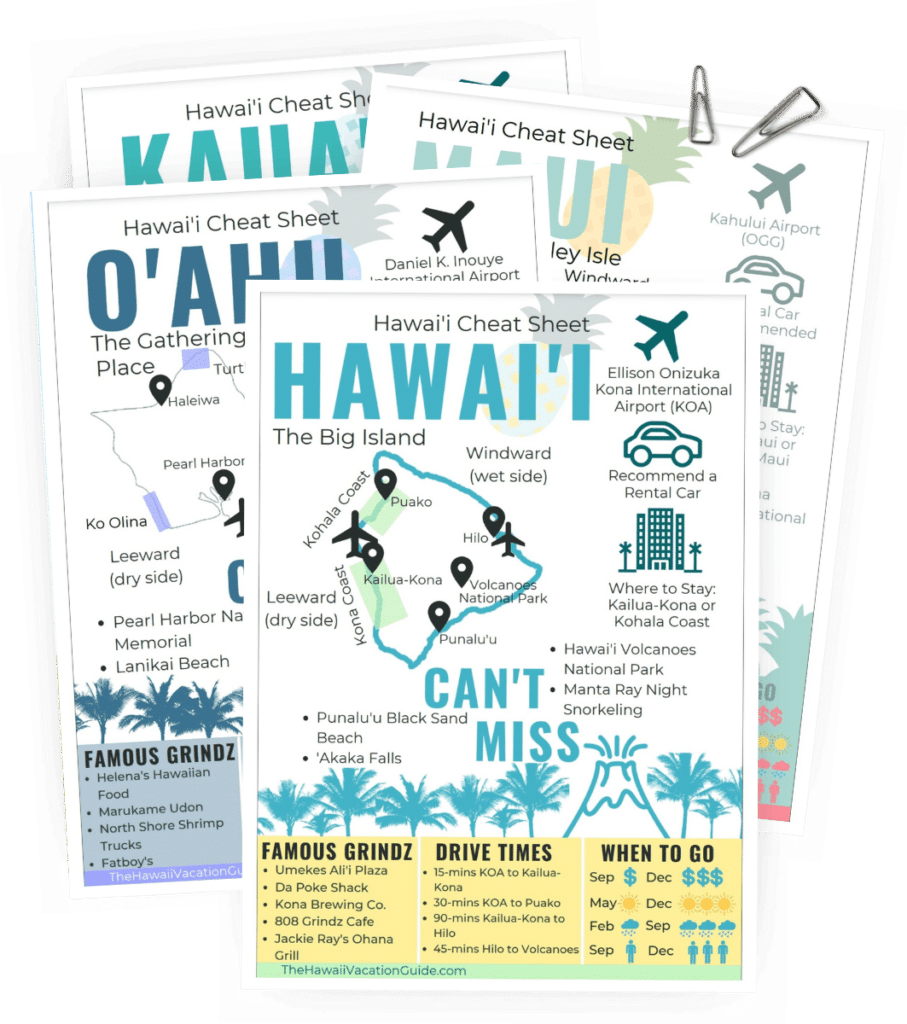 Free Download!
Hawaiian Island Cheat Sheets
Sign up & we'll send you our island cheat sheets so you can get to know the islands like the back of your hand!
We'll share 4 can't-miss activities on each island, a map with the main sights in town, & famous local grindz (eats)!