22 Best Family Resorts in Hawaii the Whole Family Will Love
Disclosure: This post may contain affiliate links, meaning if you decide to make a purchase through my links we may earn a commission at no additional cost to you. Read about our affiliate policies here.
With warm weather, tropical surroundings, and some of the best beaches in the country, it's easy to see why Hawaii is a bucket-list destination for travelers. And while it's a popular place for nature lovers and honeymooners, Hawaii is also an excellent option for families with kids. After all, there are so many fun activities and entertaining attractions that are key to having a memorable vacation.
If you're planning a trip to Hawaii, then one of your first major decisions will be choosing where to stay. Between the different islands and the plethora of accommodation options, how do you know which hotel is best for your family?
While it can be a tough decision, we're here to help! We've created the ultimate list of the 22 best family resorts in Hawaii for kids and families across the Hawaiian islands.We have some quick links to help make your trip planning easier:
1. Save big with this rental car booking site that we use on nearly every trip
We have some quick links to help make your trip planning easier:
1. Save big with this rental car booking site that we use on nearly every trip
2. Our FREE Cheat Sheets give you the need to know information on each island: bucket list to do items, where to eat, and the best time to visit
3. Check out the best tours and activities on all of the islands to get you out of your resort
4. We've gone to the luaus and have put together the best on Oahu, Maui, the Big Island, and Kauai
Is Hawaii a Good Place to Take Kids on Vacation?
Absolutely! Between the beautiful landscapes and abundance of outdoor activities, Hawaii is one of the most amazing destinations for families. Take them snorkeling, take a family surf lesson, hike around a volcano, or take them out night snorkeling with Manta Rays. There is truly so much to do (check out our Hawaii bucket list for 59 ideas of things to do).
We have also found that most resorts cater to kids and teens, offering plenty of fun activities and amenities for them to enjoy. And if you're planning to explore the islands a bit, then you'll have so many exciting kid-friendly things to see on Kauai, Maui, Oahu, and the Big Island.
How Much is the Average Family Vacation to Hawaii?
The cost of your trip to Hawaii will depend on numerous factors, including where you go, when you go, and the type of accommodations you choose. However, the average cost of a 10-day trip during peak time (June) clocks in at around $13,000 for a family of four. That price includes airfare, hotel, rental car, food, and activities.
Of course, this is just a cost estimate. If that price seems a little steep, there are many ways that you can save on costs. For example, you might choose to stay in a hotel further away from the ocean or at a vacation rental with a kitchen, so you won't have to eat out for every meal.
What is the Best Hawaii Island for Kids?
Each island has something to offer, so it's important to consider the type of vacation you want when choosing where to base yourself.
For example, Oahu is a great option if you're trying to watch your vacation budget, as there are more options for affordable resorts around the island. Maui is ideal for beachgoers and water sports enthusiasts, while Kauai is better suited for those who want to be immersed in nature. And if you want to visit volcanoes and beautiful national parks, then the Big Island is definitely the way to go!
If you're still undecided, check out this article for a full comparison.
Is Maui or Oahu Better for Kids?
While we love all the islands for a family vacation – many people usually end up choosing either Maui or Oahu. Both islands have their own unique characteristics and vibes, but at the end of the day, we generally opt for Maui when it comes to a family vacation. Not only will you have nice beaches and national parks, but there's also a varied mix of fun activities that kids of all ages will enjoy.
But don't get us wrong – we love Oahu too! And while it has a distinct city vibe (it's home to the bustling city of Honolulu, after all), there are still quiet and laid-back places where you can enjoy your relaxing vacation. And one of our absolute favorite family friendly resorts is on the island.
For more Maui vs Oahu comparisons, check out this article.
22 Best Family Resorts in Hawaii
As we mentioned, finding a hotel in Hawaii that accommodates families is not hard. However, there are clearly some hotels that are better than others. For this reason, we put together an exhaustive list of all our favorite family-friendly hotels (in no particular order) based on location, room quality, dining options, and kid-friendly activities and amenities.
Turtle Bay Resort – Oahu
Situated on the North Shore of Oahu, Turtle Bay Resort is the perfect family retreat for those looking for an island getaway. As it is far from the hustle and bustle of Honolulu and Waikiki, Turtle Bay Resort has a laid-back atmosphere – albeit with a few luxury touches. And you can choose from different sized rooms, from basic guest studios to 4-bedroom ocean villas.
To start, you'll have 1,300 acres of beachfront to explore, including the shallow kid-friendly beaches of Keiki Cove and Stables Beach. There are also four different pools on the property if you prefer something less sandy. Little ones will love the water slides at the Keiki Pool, while adults can enjoy some me-time at the adult-only infinity pool.
Turtle Bay Resort also has a seemingly never-ending list of activities you can participate in. You can take a ukulele or hula lesson, play a game of pickleball at the on-site courts, or get up close with the resort's ponies. The Brave Mermaid Show is another huge hit, plus aspiring mermaids can also join her academy to splash around in the pool with their own set of fins.
And the best luau on Oahu is located just a short drive away from Turtle Bay. See a full list of our favorite luaus on Oahu.
Turtle Bay Resort Features
Activities: Cultural classes, pony meet-and-greet, mermaid show and academy, pickle ball court rental
Kid's Club: No
Restaurants: 7 on-site restaurants and 1 luau show
Pools: Three pools for all guests and one reserved for bungalow rooms
Nearby: Keiki Beach, Kawela Bay Beach Park, Kuilima Cove
The Kahala Hotel & Resort – Oahu
This is the only beachfront resort in the exclusive area of Kahala (on the other side of Diamond Head, just 15 minutes from downtown Waikiki). And despite being one of the most luxurious resorts on the island, the Kahala Hotel manages to retain a fun, family-friendly atmosphere.
Besides the beach, the hotel also has an outdoor swimming pool with food and drink service. But the real highlight of the Kahala is the natural ocean lagoon, which is home to a pod of bottlenose dolphins where guests can book different dolphin encounters and experiences.
In terms of free activities, families can choose from a variety of cultural classes. Other activities, like fitness classes, standup paddle boarding, and kayaking will cost extra. The on-site kids club is also an extra fee, although a worthwhile option if you want to have a child-free day or afternoon to spend at the spa or pool.
The Kahala Hotel & Resort Features
Activities: Cultural classes, fitness classes, bike rentals, dolphin encounter, touch tank, and coral talks
Kid's Club: Yes (paid)
Restaurants: 6 restaurants
Pools: 1 pool (pay attention to adult-only swim times in the morning)
Nearby: Kahala Beach, Waiʻalae Beach Park
Marriott's Ko Olina Beach Club – Oahu
Marriott's Ko Olina Beach Club is an excellent option for small families as well as large groups. Choose from 1-, 2-, or 3-bedroom villas and enjoy the comforts of home (fully equipped kitchens, separate living areas, dining table) while also having the benefits of a beautiful waterfront resort.
There are three pools on the property, as well as 7 outdoor whirlpools, a spa, and a fitness studio. It's important to note that there aren't many organized activities like what you would find at some of the bigger name resorts, although they do host a few cultural classes, like lei making, throughout the week.
While some people might love the secluded location on the west side of the island, others may find it too far from other attractions. However, you will be the only hotel on Lagoon 3, which is a tranquil and protected area where your kids can snorkel or swim.
Marriott's Ko Olina Beach Club Features
Activities: Some cultural classes
Kid's Club: No
Restaurants: 3 restaurants, an on-site marketplace, and an on-site once-a-week luau show
Pools: 3 pools – the Lagoon/Family Pool, the Nai'a Pool, and the Quiet Reflection Pool
Nearby: Ko Olina Lagoons, Ko Olina Golf Course, Kapolei Commons Shopping Mall
Aulani, A Disney Resort & Spa – Oahu
If you want to make magical lifelong memories on your vacation, then book a stay at Disney's Aulani Resort & Spa. Disney has excelled at creating imaginative and immersive experiences around the world – and this resort is no exception.
And even if you're not a die-hard Disney fan, you can still enjoy the beauty of the grounds and the bountiful activities they have to offer. Think Disney character meet-and-greets, Hawaiian cultural classes, star gazing, fire pit storytelling, live music, and more. If you want more traditional vacation activities, you can also rent boogie boards, snorkeling equipment, or paddleboards to explore the nearby Ko Olina Lagoons.
The pool area is also nothing short of outstanding. There's an interactive kid's splash zone, a rapid river for tubing, and a pool with play structures and water slides (adults also have a few adult-only pools to choose from too). Or you can snorkel with marine life in the hotel's private and protected saltwater lagoon. But keep in mind that just like Disneyland, this hotel is crowded.
When booking your room, keep in mind that a family of four can sleep comfortably in the standard rooms at the resort. If you'd like more space or the option to cook, you can book one of their suites or villas.
Aulani, A Disney Resort & Spa Features
Activities: Hawaiian cultural classes, character meet-and-greets, live entertainment, stargazing
Kid's Club: Yes – Aunty's Beach House (free)
Restaurants: 9 restaurants and lounges, 1 on-site luau
Pools: Pools, play areas, water slides, lazy river – you name it, Aulani has it
Nearby: Ko Olina Lagoons, Ko Olina Golf Course, Kapolei Commons Shopping Mall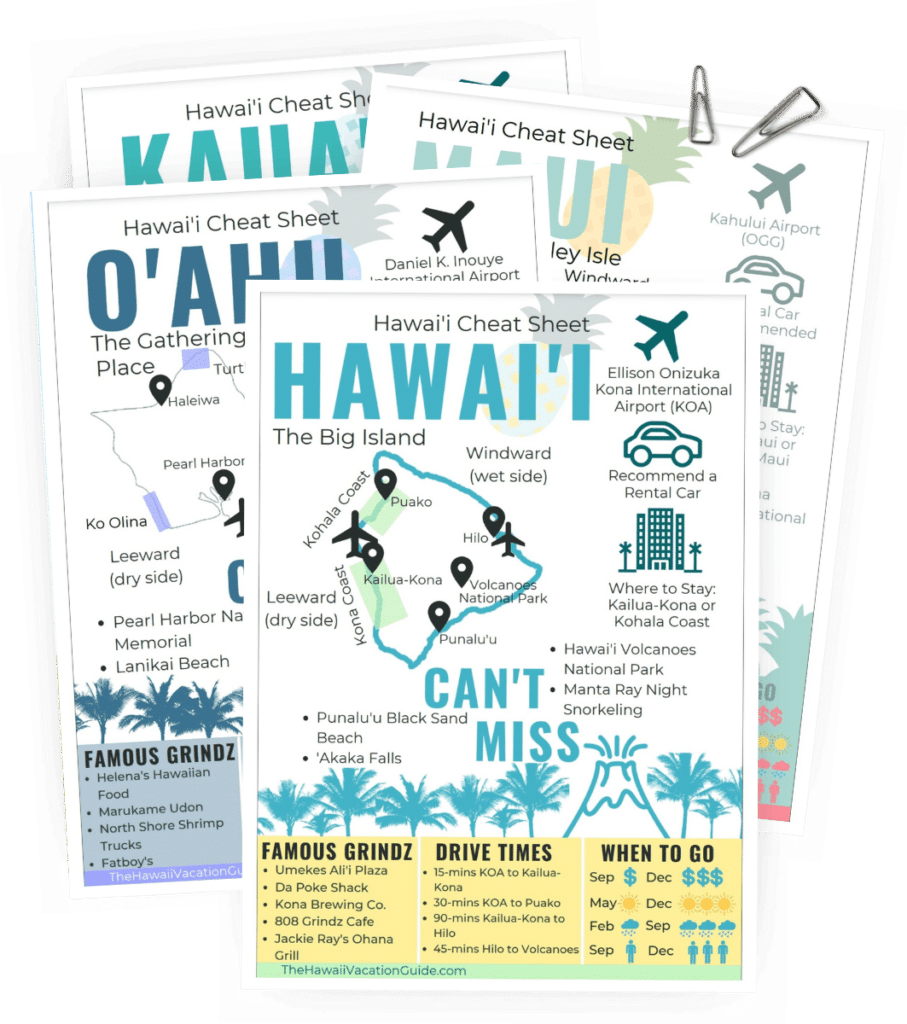 Free Download!
Hawaiian Island Cheat Sheets
Sign up & we'll send you our island cheat sheets so you can get to know the islands like the back of your hand!
We'll share 4 can't-miss activities on each island, a map with the main sights in town, & famous local grindz (eats)!
Four Seasons Resort Oahu at Ko Olina – Oahu
The luxurious Four Seasons Resort Oahu at Ko Olina is guaranteed to be the backdrop to your amazing vacation. With so much to keep both kids and adults occupied, it's arguably one of the best resorts in Ko Olina.
For activities, guests can unwind by the pool (there are four, including a Keiki Pool designed just for kids), snorkel in the blue Ko Olina Lagoons, or play a round of tennis on their ocean-view courts. They also have an extensive program of activities which includes the Stars Above Hawaii stargazing program and the Four Seasons Wayfinders cultural classes, both of which we know kids will love.
Most importantly, the Four Seasons offers a complimentary kid's club for guests between the ages of 5 and 12, where they can participate in arts and crafts, sports, and nature walks. They also have seasonal kid's activities like skateboard camps, summer glamping, and artistic workshops.
Four Seasons Resort Oahu at Ko Olina Features
Activities: Cultural classes, golf, tennis, stargazing, water sport rental
Kid's Club: Yes – free for kids 5 to 12 and paid babysitting services are avaialbe. Various kid's camps are available throughout the year as well
Restaurants: 7 restaurants
Pools: 4 pools – Keiki Pool, Adult Infinity Pool, Ohana Pool, and Spa & Wellness Pool
Nearby: Ko Olina Lagoons, Ko Olina Golf Course, Kapolei Commons Shopping Mall
Royal Hawaiian – Oahu
If you're walking along Waikiki Beach, you can't miss this iconic pastel-pink hotel. The historic Royal Hawaiian is a great option if you want to be close to all the action, as it's located in the heart of Waikiki next to tons of restaurants, bars, and retail shops.
There's only one pool on the property – the Malulani Pool – although guests are more than welcome to use the Helumoa Playground located next door at the Sheraton Waikiki. This is a huge benefit for families, as it features two pools, a 70-foot-long water slide, interactive kid's fountains, and water toy rentals.
Throughout the week, you can participate in various cultural activities like lei making, lauhala weaving, and ukulele lessons. The resort also offers morning yoga, an intro to stand up paddle board class, and Go Pro Hero 8 rentals (all for free). Little ones can also participate in programs at the Poppins Keiki Center, the on-site children's day club at the Royal Hawaiian.
Royal Hawaiian Features
Activities: Cultural classes, morning yoga, stand up paddle board demonstration, Go Pro rental
Kid's Club: Yes – the Poppins Keiki Center (paid)
Restaurants: 4 restaurants and a twice weekly luau
Pools: The Malulani Pool on-site and the shared kid-friendly Helumoa Playground with the nearby Sheraton Waikiki
Nearby: Waikiki Beach, Royal Hawaiian Center
Fairmont Kea Lani – Maui
If you're looking for a luxury hotel with some of the most spacious rooms in Maui, then the Fairmont Kea Lani is for you. This resort offers spacious 1-bedroom suites (860 – 1100 sq ft) and 2- or 3-bedroom villas (1800 – 2200 sq ft). Having a separate sleeping area (and a full kitchen and private pool if you're in the villa) really makes a huge difference when traveling with kids.
Parents and kids will equally love the Fairmont's outdoor pool. Well, it's actually a multi-level pool connected by an exhilarating 140-foot water slide. And for more inexperienced swimmers, there's a Keiki pool where they can play in the shallow waters with toys. They also host different kid-friendly events throughout the week, like intro to scuba for kids class, ninja obstacle courses, and even henna tattooing. And don't worry – there's an adult-only pool for those who need some relaxation too!
However, one of the best parts about staying here is the Keiki Dining Program, which allows kids under the age of 5 get to eat free! Older kids between 6 and 12 will also receive 50% off full-prized entrees from the adult menu.
Fairmont Kea Lani Features
Activities: Cultural classes, canoe experience, scavenger hunt, koi fish feeding
Kid's Club: Yes – Keiki Lani Kid's Club
Restaurants: 5 restaurants (3 of which offer the Keiki Dining Plan)
Pools: 3 pools – two kid-friendly pools with water slides and one adult-only pool
Nearby: Polo Beach, Shops at Wailea
Ka'anapali Beach Hotel – Maui
The recently renovated Ka'anapli Beach Hotel is an affordable alternative to the many high-end resorts along the golden shores of Ka'anapali Beach. And it's right next to Black Rock, one of the best places on the island for snorkeling and cliff diving.
The rooms aren't super large (the average size is just 425 sq ft), however, they do have a private lanai which is not always common for other budget hotels. If you need more space, we recommend booking the Ocean Front Suite, which has a separate bedroom and living area to accommodate 5 people.
Their pool is also on the small side, but with the beautiful shores of the pacific ocean just steps away, you can easily spend all your days at the beach instead. Snorkel gear, stand up paddle boards, and body boards can all be rented at the Ocean Activities booth at the hotel.
Other family-friendly activities include hula dancing, kukui lei making, bark cloth dying, and instrument making. However, the highlight is the nightly hula show on the outdoor terrace of Huihui restaurant. It's a great way to keep the kids entertained while you enjoy the sunset with a tropical cocktail in hand.
Ka'anapali Beach Hotel Features
Activities: Cultural classes, nightly hula dancing, live music
Kid's Club: No
Restaurants: 2 restaurants and a lobby coffee shop
Pools: One whale-shaped pool (a bit small)
Nearby: Black Rock Beach, Whalers Village
The Westin Maui Resort and Spa at Ka'anapali
The Westin is paradise on earth, with lush tropical grounds, a fantastic pool area, and a prime location in the heart of Ka'anapali Beach. There are six pools on the property, giving you an astounding 87,000 sq ft of space to hang out. Kids can play in the fountains of the Keiki Splash Zone or shoot down the 270-foot water slide, while parents can enjoy the picturesque ocean views from the adult-only infinity pool.
The Westin has a fun and interactive kids club for your little ones (aged 5 to 12). Activities change each day but may include arts and crafts, animal expeditions, Hawaiian culture classes, and nature adventures.
The Westin Maui
Activities: Cultural classes, live music, evening sunset ritual, wildlife and tropical plant tour, koi fish feeding, fitness classes
Kid's Club: Yes – Westin Family Kids Club for kids aged 5 to 12
Restaurants: 3 restaurants and 2 grocery markets
Pools: 6 pools with a special kid's splash zone and waterslide
Nearby: Whaler's Village, Black Rock Beach
Grand Wailea – Maui
If your dream vacation is having access to an amazing pool, then you will absolutely love your time at the Grand Wailea. You won't just have one pool to hang out in – you'll have nine! The Grand Wailea pool area is one of the most elaborate outdoor spaces in all of Maui, with four water slides, a lazy river, waterfalls, a rope swing, and a cave grotto (with a bar!).
And while the resort is famous for its pools, there are so many other things that you'll love about your stay. Beach yoga, outrigger tours, cultural classes, art galleries, boutique shops – these are just a few activities that you can do on-site. Kids will also get their very own Grand Passport on check-in, with kid-friendly maps and activities to keep them engaged on vacation.
More adventurous guests may also try the scuba program. The Grand Wailea is home to the only resort-designated scuba training pool in Hawaii, so make sure to take advantage of their free first-time diver lessons (available to adults and kids over 12).
Grand Wailea Features
Activities: Scuba training program, cultural classes, outrigger tours, garden tours, sunset torch lighting, sunrise chant
Kid's Club: Yes – Camp Grande
Restaurants: 7 restaurants and bars and 1 on-site luau
Pools: 9 amazing pools with waterslides, a kid's splash area, a lazy river, and more
Nearby: Wailea Beach, the Shops at Wailea, Wailea Blue Golf Course
Wailea Beach Resort – Maui
If you want to stay in the heart of Wailea with plenty of activities to keep you busy, then the Wailea Beach Resort might be the best option for your family. It's not directly on the beach (which can be a dealbreaker for some), although you can reach Wailea Beach or Ulua Beach in 10 minutes by taking the scenic Wailea Beach Path.
And you might not miss the beach considering that Wailea Beach Resort has three awesome pools – one of which is home to Hawaii's longest water slide. Nearby, you'll also find the family-friendly Ohi Pools and the adult-only Maluhia Pool (which features their signature floating overwater cabanas).
The Wailea Beach Resort has some really great amenities that you won't find at other resorts. In addition to their sleek and modern kids club, they also have an in-house movie theater (3x daily showings), gaming area (foosball, arcade games, board games), and nightly s'more roasting. In addition, you can also sign up for one of their complimentary cultural activities or fitness classes.
Wailea Beach Resort Features
Activities: Cultural classes, movie theater, gaming area, s'more roasting, fitness classes
Kid's Club: Yes – the Kolohe Keiki Club for kids aged 5 to 12
Restaurants: 8 restaurants and bars (1 food truck and 1 on-site luau)
Pools: 3 pools – Nala Adventure Pools (waterslides, splash zone), Ohi Pools, Maluhia Pool
Nearby: Wailea Beach, Ulua Beach, the Shops at Wailea
Montage Kapalua Bay – Maui
On the rugged northwestern coast of Maui sits the 5-star Montage Kapalua Bay. The hotel is an idylic tropical oasis, with luxury facilities and an abundance of activities for kids as well as their parents.
The Montage has three on-site pools, although you won't find any kid-focused playthings like water slides or splash zones. For that reason, we're glad the hotel offers the Paintbox day camp, where kids can play games, make crafts, or take adventures down to the beach or tide pools. Three times a week, they also have a "Children's Night Out" Program, so parents can have a relaxing dinner out while the little ones can do fun evening activities.
The residential-style rooms are ultra-spacious, with their most basic 1-bedroom suite clocking in at a whopping 1,250 sq ft. It (along with all their rooms) comes with full gourmet kitchens, washers and dryers, and separate living and dining areas, so you can really feel like you are right at home on vacation.
Montage Kapalua Bay Features
Activities: Cultural classes, guided hikes, mermaid academy, whale talks, live music
Kid's Club: Yes – the Paintbox
Restaurants: 3 restaurants and bars
Pools: 3 pools – Sunset Pool, Beach Club Infinity Pool, Spa Pool (16+)
Nearby: Kapalua Cliffhouse, Kapalua Bay Beach
Honu Kai Resort & Spa- Maui
Can't decide between a resort and a vacation rental? The Honu Kai Resort & Spa is the perfect blend of both. Not only will you have the full amenities of a condo (kitchen, washer and dryer, etc.), but you will also enjoy having a pool and gourmet restaurants right outside your door.
They offer everything from luxury studios all the way up to 2,000 sq ft 3-bedroom villas. However, each unit is individually owned, so it's important that you read reviews and check out photos for your specific rental, as quality and condition can vary.
Unlike other vacation rentals in the area, the Honu Kai pool area is equal to (if not better) than many of the other resorts in North Ka'anapali. It has three swimming areas, five hot tubs, a waterslide, and even a cascading waterfall.
The biggest downside of staying here is the lack of organized activities. If you're planning to spend most of your time at the pool or exploring Maui, this shouldn't be a big deal. But others wanting more on-site options in terms of classes or kids programs may want to stick to one of our other recommendations.
Honu Kai Resort & Spa Features
Activities: None
Kid's Club: None
Restaurants: Dukes Beach House and an on-site market and general store
Pools: 3 swimming pools with a waterslide
Nearby: Ka'anapali Beach
Waikoloa Beach Marriott Resort & Spa – the Big Island
With a picture-perfect location right on the Kohala Coast, the Waikoloa Beach Marriott Resort & Spa has direct access to the sparkling 'Anaeho'omalu Bay. The hotel grounds are impeccably beautiful as well, with swaying palm trees, tropical gardens, and some of the best views for watching the sunset.
Plus the pool area is massive! There's a large infinity pool, a separate pool with a water slide, and even a shallow pool made just for kids. Even if you prefer to spend your time soaking up the sun on a lounger, you'll still enjoy the pool area thanks to the little frozen "pool pleaser" treats that get passed around during the day.
Hotel activities include beach yoga, pool fitness classes, or cultural activities, however, you're more than welcome to rent beach gear or book an excursion with the A'Bay Beach Hut down by the water (although you will need to pay for the rentals). Save by booking activities ahead of time and check out the best activities and tours on the Big Island.
To enhance your experience, we recommend booking a room in the brand new Na Hale Wing. These 1- and 2-bedroom suites have much more space and beautiful ocean-facing views. For something unique, book one of the shower suits, which has an outdoor garden rain shower!
Waikoloa Beach Marriott Resort & Spa Features
Activities: cultural classes, beach yoga, pool fitness classes, guided tours, petroglyph field excursion
Kid's Club: No
Restaurants: 1 restaurant, 1 coffee shop, 1 on-site luau
Pools: 3 pools, including one with a waterslide and one just for children
Nearby: ʻAnaehoʻomalu Beach, Queen's Marketplace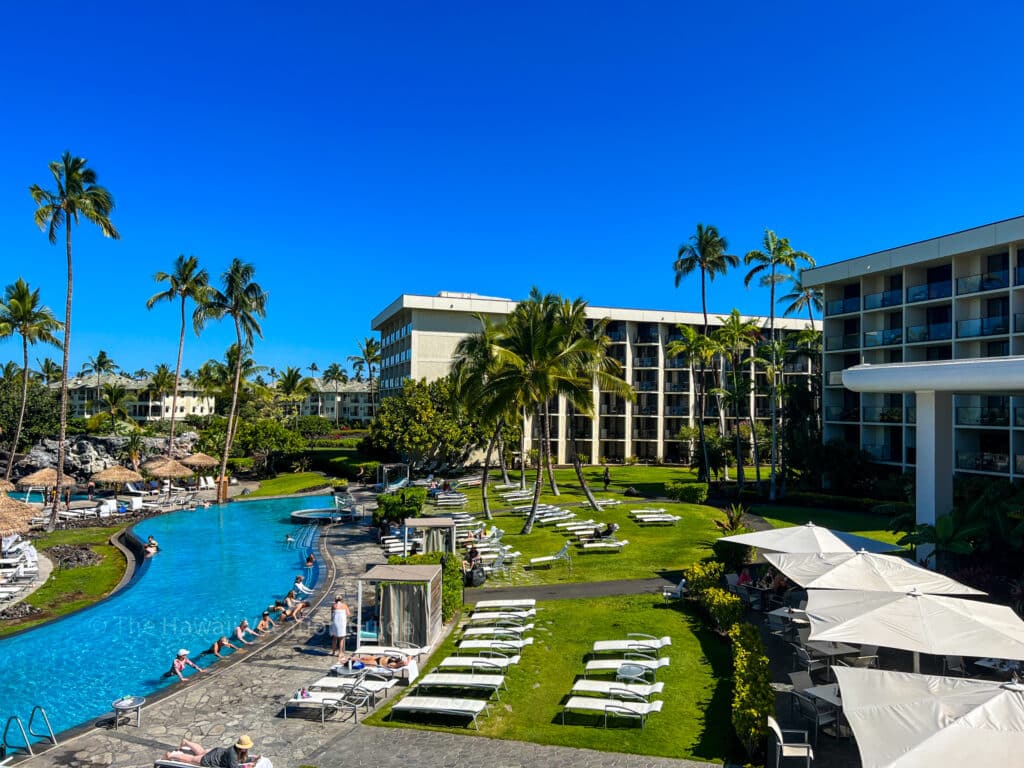 Outrigger Kona Resort & Spa – the Big Island
In our opinion, the Outrigger Konda Resort & Spa is one of the best family-friendly hotels on the Kona side of the island. And whilst the resort isn't on the beach (Keauhou Bay Beach Park is an 8-minute walk from the resort), it does have a great pool that the kids will love. There's a thrilling 200-foot waterslide as well as a shallow area with a sandy bottom for the less adventurous ones.
Guests can take advantage of the various organized activities, which include lei making, ukulele playing, and fitness classes. However, the coolest activity offered at the Outrigger is manta ray viewing. This is one of the best spots on the island where you can see giant manta rays right in front of the hotel. For a more immersive experience, book a night snorkeling tour to see these majestic creatures up close.
The rooms are somewhat small (430 sq ft) and a little outdated, but suitable for small families. If you want more room for the kids to play, we recommend booking one of their oceanfront suites instead. Not only are they twice as large, but they also feature a separate bedroom, a pull-out sofa bed, and access to the Voyager 47 club lounge.
Outrigger Kona Resort & Spa Features
Activities: Cultural activities, Manta Ray talk, outdoor games (tennis, basketball, bocce ball), yoga and fitness classes, paddleboard rental
Kid's Club: No
Restaurants: The Holua Poolside Bar & Lounge and the Wailele Café
Pools: Yes, with a waterslide and a shallow sand area for kids
Nearby: Kona Point, Keauhou Bay Beach Park
Mauna Lani – the Big Island
This award-winning resort is subtle luxury at its finest. Adults will love the sleek decor and upscale vibe while kids can enjoy the unique amenities and treats created especially for them. But despite what you may think, the Mauna Lani is anything but stuffy and uptight, so it's great for those who want to enjoy a bit of rest and relaxation on their trip.
It all starts with the complimentary keiki club, where they'll spend the day taking cooking classes, doing cultural activities, or playing in the pool or ocean. The resort also has a kiddie pool and a kid beach (a protected cove where they can swim and snorkel). And you can't forget the Great Lawn, one of the coolest hang-out areas with lawn games and a food truck.
Almost 90% of rooms on the property are ocean-view, so you can wake up to the sunrise and crashing ocean waves outside your window. Depending on your party, you'll have lots of options for rooms. Larger families can stay in one of the suites or private residences, which range in size from 1,040 to 4,000 sq ft. Or you can book a 2-bedroom suite or connecting room, as there's always to option to add a rollaway bed or crib.
Mauna Lani Features
Activities: Lawn games, cultural experiences, culinary classes
Kid's Club: Yes, for ages 5 to 12 (free)
Restaurants: 4 restaurants (with inclusive kids menu) and a market
Pools: 3 pools – the 3,900 sq ft Resort Pool, the adult only pool, and the Keiki Pool
Nearby: Kalahuipua'a Historic Park, 49 Black Sand Beach
Four Seasons Hualalai – the Big Island
When you stay at the Four Seasons Hualalai, you won't have to sacrifice luxury for a family-friendly atmosphere. This resort seamlessly does both, making it a great option for guests of any age.
The family amenities are really something special, with child welcome gifts, kid-sized robes, and free access to the Children's video library (which is a lifesaver during naptime or bedtime!). They also have a complimentary kid's program for younger guests (5 to 12) and a seasonal camp experience for those aged 9 to 17.
But even without all the cool kid amenities, the resort is still one of our top choices thanks to the beautiful property, which has eight outdoor pools. A family-friendly infinity pool, an ambient cocktail pool, a lap pool, shallow keiki pool – the Four Seasons has it all! But most of all, we love the King's Pond and Marine Center, which contains over 1,000 different kinds of tropical fish. It's ideal for snorkeling, especially if your kids are too intimidated by going in the ocean!
Four Seasons Hualalai Features
Activities: Cultural activities, marine life experiences, water sports
Kid's Club: Yes, complimentary Keiki club for 5 to 12 and paid seasonal summer camp
Restaurants: 6 restaurants (kids under 4 eat for free!)
Pools: 8 pools, including a kid's pool and a tropical lagoon for snorkeling or fish feeding
Nearby: Turtle's Cove, Kikaua Point Park
Mauna Kea Beach Hotel – the Big Island
With a picture-postcard location on the sparkling shores of the famous Kauna'oa Beach, the Mauna Kea Beach Hotel is a top pick if you're craving outdoor adventure. Snorkeling, swimming, canoeing, boogie boarding, even manta ray watching! This is a huge plus, considering that the hotel pool is quite small.
However, easy access to the beach is only of the main selling points of the Mauna Kea. Kids will be spoiled for choice by the sheer number of activities offered at the hotel. Their daily activity calendar includes an array of cultural classes, fitness classes, and live music and entertainment. They can also join the Keiki Club for a day of games, arts, and nature exploration with their fellow travelers.
Families can book their stay in the main building (Tower Rooms) or in the brand new Beachfront Wing. Rooms in either area start at 590 sq ft, which is quite generous compared to other resorts in this price range. Those needing more space can upgrade to one of the suites, which have separate living areas and start at 1,268 sq ft in size.
Mauna Kea Beach Hotel Features
Activities: Cultural activities, intro to sports classes, golf, tennis
Kid's Club: Yes, for a fee
Restaurants: Manta Restaurant, Hau Tree, and Number 3 Restaurant (on the golf course). On-site luau dinner is also available
Pools: One pool (no slides or activities for kids)
Nearby: Kauna'oa Beach, Hapuna Beach State Recreation Area
Hilton Waikoloa Village – the Big Island
When it comes to big family resorts, the Hilton Waikoloa Village is arguably one of the most impressive. Covering over 62 acres of land on the Kohala Coast, this resort is a world in its own, with 1,000 rooms, three pools, 9 restaurants and bars, and even its very own saltwater lagoon. It's so big that there's even a resort tram to help you travel from one place to another!
As you can imagine, the Hilton also has a massive list of fun activities for the whole family. However, we find that your little ones will probably want to spend most of the time snorkeling, kayaking, or even aqua-biking in the lagoon. There are tons of tropical fish and even turtles that you can see swimming here. And there's also the neighboring Dolphin Quest Lagoon, which offers the only hands-on dolphin experience on the Big Island.
When they're not in the lagoon, your kids can also play in the pools, walk across the rope bridge, slide down the 175-foot water side, or float down the river canal.
Hilton Waikoloa Village Features
Activities: Daily cultural classes, daily fitness classes, kayaking, paddleboarding, aquabiking, dolphin interaction experience
Kid's Club: Yes – ages 5 and up
Restaurants: 9 different restaurants and bars and an on-site luau (3x a week)
Pools: 3 pools – Kona Pool, Kohala Pool, Ocean Tower Adults Only Pool
Nearby: Queen's Marketplace, Waikoloa Beach
Koloa Landing Resort at Poipu – Kauai
As the winner of the Best Pool in America award by USA Today for the third year in a row, the Koloa Landing Resort at Poipu is the perfect setting for an action-packed trip to Kauai. With a lush garden setting, waterfalls, waterslides, and a rocky grotto, you won't even care that this resort is located away from the beach.
While the pool is the main reason to stay here, we also can't help but mention the on-site activities. There's a putting green, volleyball court, fitness classes, lei making, ukulele lessons, art courses, and even s'mores nights!
Check out a video of our stay at the resort:
And as parents, you'll love the spacious family-sized rooms, which are nearly twice as large as the standard hotel room on Kauai. The basic rooms come with Queen sleeper sofas, kitchenettes, and a washer and dryer unit, so you can enjoy the amenities of being at home without staying in a rented condo building. To accommodate more people, you can also book one of their 1-, 2-, or 3-bedroom villas that come with full gourmet kitchens and private en-suite bathrooms.
Koloa Landing Resort at Poipu Features
Activities: Putting green, volleyball court, fitness classes, lei making, cultural classes, s'mores nights
Kid's Club: No
Restaurants: Holoholo Grill (poolside grill with kid's menu for 12 and under) and Gourmet Marketplace (shop selling snacks and groceries)
Pools: Three pools – the award-winning main Lagoon Pool, the Family Lagoon Pool, and the adult-only Tranquility Pool.
Nearby: The Shops at Kukui'ula (great restaurants and retail stores), Poipu Beach
Grand Hyatt Kauai Resort & Spa – Kauai
The 5-star Grand Hyatt Kauai Resort & Spa really has something for every guest. It's one of the largest resorts on the whole island, with sprawling gardens, a massive multi-level pool complex, and 5 on-site restaurants (plus a twice-weekly traditional luau).
Let's start by talking about the pool, which is actually 3 distinct swimming areas and a separate saltwater lagoon. You can be as active or as inactive as you want (adults will love the private cabanas while kids can play on the waterslide or float in the lazy river). This is a key feature of the Grand Hyatt, as the beach next to the resort is very rocky with large swells that are better suited for surfing than swimming.
The resort has a packed itinerary of different daily activities, most of which are Hawaiian cultural classes like lei making or ukulele playing. For more adventure, kids between the ages of 3 and 12 can spend the day at Camp Hyatt, where they'll play games, go to the park, or do arts and crafts.
Depending on how many people you're traveling with, you can book a guestroom, connecting room, or one of the expansive suites (which range from 866 sq ft all the way up to 2,480 sq ft). Some even have walk-in closets, reading nooks, or wet bars.
Grand Hyatt Kauai Resort & Spa Features
Activities: Hawaiian cultural activities, hydroponic garden tours, spa, fitness center
Kid's Club: Yes, Camp Hyatt (for a fee)
Restaurants: Tidepools (Hawaiian with kid's menu), Stevenson's Library (no kids menu), Ilima Terrace (casual eatery with kid's menu), Seaview Terrace (coffee shop), Hale Nalu (poolside grill).
Pools: Multi-level pool complex with waterslide and lazy river
Nearby: Shipwreck Beach, Poipu Bay Golf Course
Waipouli Beach Resort – Kauai
The Waipouli Beach Resort is part resort and part vacation rental with a pristine location on the golden shores of Waipouli Beach. And while this beach is great for watching the sunset or spotting turtles, it's not the best option for swimming. But thankfully, the amazing pool more than makes up for that.The pool complex rivals that of most major hotel chains, with bubbling hot tubs, fun waterslides, and even cascading waterfalls.
As with most vacation rental properties, you'll be booking a unit (1 or 2 bedrooms are available) that is privately owned. That means there may be some variance in consistency between the different apartments. Therefore, it's important that you read reviews and look at the photos of the specific unit you want to rent. You may also choose to book directly with Marriott Homes & Villas, which also have rooms for rent on their site.
The benefit of staying at the Waipouli Beach Resort is that they come with equipped kitchenettes. Meaning you can cook meals (and save money) instead of eating out at restaurants every day. But if you need a break, there is a poolside bar that serves drinks and food throughout the day.
Finally, the resort has a fitness center and spa, but it doesn't organize any on-site activities that you'd find at a more traditional resort. This can be a deal breaker for those with active kids, especially since the beach isn't suitable for young swimmers.
Waipouli Beach Resort Features
Activities: Fitness studio, spa
Kid's Club: No
Restaurants: Oasis Bar and Restaurant (poolside grill)
Pools: 2-acre Fantasy Pool
Nearby: Waipouli Beach, Waipouli Town Center
Get the best itinerary to finish your vacation planning
Now that you're narrowing down where to stay, let us help you finish the planning process with less hassle. Don't scour the internet for recommendations that won't be a waste of your money, get our itineraries – we've already done the work for you! But don't take it from us,
Buy the guides!! I read and reread the guides Oahu & Maui! It made our first trip so much better! We knew where to stay, eat and the tours we wanted to do even gave us ideas where to park! It was the perfect vacation! We went the road to Hana using the guide you suggested and it was perfect! Everyone got to see and experience The Road to Hana without driving! Thank you for making our first trip a blast!! We will be back!

Annette