24 Things To Do on Kauai with Kids: from toddlers to teenagers
Disclosure: This post may contain affiliate links, meaning if you decide to make a purchase through my links we may earn a commission at no additional cost to you. Read about our affiliate policies here.
Kauai is a magical place to visit: from jagged mountains, beautiful waterfalls, and blue waters, the landscape is sure to amaze you. And not just the adults in the crew — kids love the adventure and excitement a trip to Kauai brings.
We've lived on Maui and Oahu and have appreciated our frequent trips to the Garden Isle. But when we had kids, the itinerary of our trip changed. We now had young people who had opinions on what we did and we needed to find activities the whole family would love. Here's our list of the best things to do on Kauai with kids and we've included something for everyone: from toddlers to teens.
We've organized our list by location, so you can easily find activities based on where you're staying.
Map of the Best Things to do on Kauai with Kids
Best Things to do with Kids on East Kauai (Kapa'a, Lihue, Coconut Coast)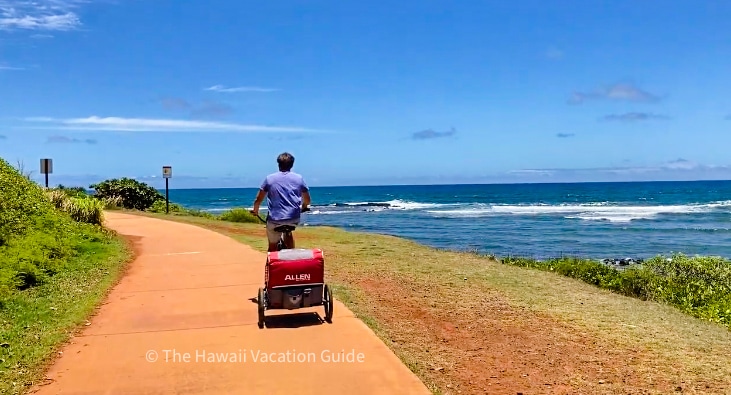 Bike the Ke Ala Hele Makalae
Hop on two wheels for a family bike ride along the coast. The east side of Kauai has a bike path that stretches from Ahihi Point in the north to Lydgate Park in the south. We generally start the bike path in the center, in Kapa'a. Pick up bikes from Hele on Kauai and head out on the path. You can bike for miles in each direction and while the path is well paved and mostly flat, there are some small hills that young bikers might need help getting up.
If you're traveling with very young children, rent a bike trailer for your kids. Our son Henry loved taking in the view for a while and then fell asleep in the back and took a great nap while we cruised along.
If you're heading to Kauai, you won't want to miss our Kauai Guide. It's full of nearly everything you need to know for a great Kauai vacation: when to go, where to stay, and what to do.
Visit a kid-friendly beach
Kauai has beautiful beaches but not all of them are kid-friendly. Rough currents and big waves can turn a beach day into a stressful time out for parents trying to watch their kids. And while no beach is every safe (ever), there are some beaches that are easier to enjoy with your kids than others.
Pack up the bags and head to kid friendly beaches like:
Anini Beach: in the summer the waves on the north shore have subsided making Anini beach an excellent place to enjoy with your kids. Unfortunately, there are no lifeguards on duty here.
Poipu Beach: the semi-protected swimming area on Poipu Beach is great for the family. And there is a lifeguard on duty to help warn you of any adverse conditions to know about.
Lydgate Beach Park: we love the pond area at this beach! Such a great spot for young kids as they pond is protected by a rock wall so there are few, if any waves here. Plus for your very young children, there is an excellent playground here as well, if they need a break from the beach.
Get the full list of our favorite kid-friendly beaches on Kauai.
Take a Ride on the Fern Grotto
Enjoy a short cruise up the Wailua River with Smith's Family Fern Grotto. This family owned and operated company takes visitors two miles up the Wailua River while entertaining them with songs and stories about ancient Hawaii. Once you arrive at the fern grotto, you're able to get off of the boat and explore this tropical and picturesque setting. One the way back, you have the chance to get up and try hula for yourself!
Kayak the Wailua River
Get your adventurous kids into a kayak and head to a secret, yes, secret, waterfall. It's not exactly a secret falls. It's nicknamed secret falls and it's a beautiful place to take in the splendor of the Wailua River.
Kids age five and up can put their energy to use kayaking up the class 0 river, 2 miles each way. The destination is Uluwehi Falls (aka, Secret Falls) where you will enjoy a 1.5 mile round trip hike to view the 120 foot waterfall. While there are a few tour companies available, we love this tour.
You can check out all of our favorite Kauai Tours & Activities for our complete list of awesome, vetted, tours that we love.
Lydgate Farms Chocolate Tour
If your kids enjoy chocolate, the Lydgate Farms chocolate tour might peak their interest in the food. The tour runs you through the entire process of chocolate making, including growing, harvesting, and processing the plant into what you eventually eat. And yes, eating chocolate is included! You get to enjoy chocolate tasting at the end of the tour and explore different chocolate flavors.
Even very young kids can find something to enjoy on the tour. Our son went on his first chocolate tour at age 3 and while he obviously didn't listen to everything, seeing the cocoa beans growing has stuck with him.
Snorkel Lydgate Beach Pond
Snorkeling is not as easy as donning a mask and putting your face in the water. So before you take your kids snorkeling, make sure they are strong swimmers and you've read up on snorkel and beach safety.
Then, it's time to find a place to snorkel! We love the pond at Lydgate Beach Park for little kids because there is a rock wall protecting it from the waves and currents. Will they see an abundance of fish there? No. But will they see some and will you feel great about letting them splash around in the water? Absolutely. We saw some large fish inside the pond and our son had a great time getting used to snorkeling here.
Plus, there is a lifeguard on duty here so you can follow their instructions as to the water conditions for the day. And if you're bringing young kids here, there is a great playground just across the street.
ʻŌpaekaʻa Falls
Waterfalls are captivating, for kids and adults alike. This one is beautiful and can be seen right from the road. At ʻŌpaekaʻa Falls there is plenty of parking and a restroom so you can pull over, and take in the view of this 151 foot waterfall. This isn't a long stop but it is special.
If you're looking for an easy way to plan your best Kauai vacation, check out our Kauai Itinerary. Our five excursion days sent you out on adventures around the island to the must see spots, all on a planned route. It's a download and go guide!
I bought your Maui Guide and that was the best investment I've made for a vacation. I just bought tickets for Kauai for February and I will be buying your guide again. Thank you so much for your comprehensive guide and for thinking of families with small children. I appreciate you!

Gabby B (Youtube comment)
Get The Kauai Itinerary
The step-by-step itinerary takes you to all the best beaches, snorkeling spots, restaurants, and sights. You'll get six carefully planned excursion days to help you see the can't miss stops no matter how limited your time is.
Get all the details on our itinerary and download it for a memorable and easily planned trip to Kauai.
Tube down an irrigation canal
Enjoy one of the most popular activities on Kauai and float on an innertube down a 100 year old irrigation canal. Head through the waterway down five darkened tunnels (headlamps provided!) and enjoy the beautiful scenery as your tour guides educate you on the local history.
Children five and up (and over 43 lbs) are welcome to join the adventure! Learn more about the mountain tubing activity and book.
The Best Things to do with Kids on South Kauai (Poipu, Koloa)
Treat yourself to shave ice
Getting shave ice (not shaved ice) is a must while in Kauai. The deliciously fluffy shaved ice is flavored with syrup and sometimes served with ice cream. Spice things up by getting some very creative flavor combinations at The Fresh Shave. Located in Koloa Town, they have a short, cheeky menu and they also have a secret menu that you can find on their Instagram.
This is honestly our favorite shave ice spot on Kauai. But if you can't make it south, be sure to check out our other favorite shave ice spots.
Kilohana Plantation Train Ride
If you have a train enthusiast toddler or young child, this is a hit. Our son Henry absolutely loves trains and loved every minute of this train tour. Take a trip on the 2.5 mile rail line while learning about the crops and hearing stories about the history of the island. This is a working farm so there is plenty to see.
Mid-way on the train ride you'll make a stop to meet and feed some of the farm animals like horses and pigs. They offer their standard train ride and a lunch train ride with a stop to meet their alpacas.
Adults not wanting to join the train ride can head over to the Koloa Rum tasting while they wait.
Enjoy a Luau
Rum and train rides aren't all that you can enjoy at the Kilohana Plantation. Make reservations for Luau Kalamaku. The luau centers on a theatrical show of a family voyaging across the Pacific from Tahiti to Hawaii. Located in a large outdoor pavilion, the theater show with Tahitian drumming, Samoan fire dancing, and Hawaiian hula make for an immersive experience.
Enjoy a buffet dinner, an open bar, and your kids will be wowed by fire dancers.
Get more information on this luau and all of our favorite Kauai luaus.
Feast at the Food Trucks
When dining with kids, food trucks are ideal options. There's often great variety so everyone gets to choose what they want. While there are plenty of food truck parks around the island, we love the food trucks in Koloa as there is space for little ones to roam around.
In the heart of Koloa Town you'll find the Old Sugar Mill Food Truck Park. There's plenty of parking and you'll usually find four or five trucks there, so everyone can have their choice of what to eat.
Get more details on this food truck park and check out our list of all of the best food trucks on Kauai.
Hike the Maha'ulepu Heritage Trail
Walk along the 2 mile coastal trail with some of the coastal views on all of Kauai. The Maha'ulepu Heritage Trailhead starts at Shipwreck Beach. The easy to moderate hiking trail follows the coast along dunes, under kiawe trees (wear closed toed shoes), and cliffs. Keep a close eye on your children, especially the younger ones to ensure you keep them back and away from the edge of the cliffs.
The trail is significant for being one of the last undeveloped spots along the South Shore. This is a sacred place so leave only footprints behind.
Witness a powerful blowhole
Spouting Horn Park is home to a 50 foot blowhole. Powerful waves along the coast push up through a small hole in the lava rock, making for large geysers and a big roar.
The blowhole is a fun place to stop to watch the blowhole. Allerton Botanical Gardens is across the street if you're looking for more things to do on Kauai's South Shore.
Saddle Up at CJM Country Stables
Advanced equestrians and beginners will enjoy riding horses on this scenic part of the island. Ride along pristine beaches and secluded trails while learning a bit about the history of the island. Choose between the Maha'ulepu Beach Ride or the Secret Beach Picnic Ride, or tailor your own ride with a private tour.
Riders need to be eight years and older, so this isn't an activity for everyone. Visit CJM Country Stables to book.
Koloa Zipline
Enjoy some family bonding time while soaring through the air. Koloa Zipline's eight lines sends you flying over Hawaii's oldest sugar plantation. You'll also get the chance to zip on one of Kauai's longest zip lines (½ mile!).
Kids must be at least seven years old to participate, and any kids ages 7-17 must be accompanied by an adult.
Get more details and book your zipline.
The Best Things to do with Kids on the North Shore (Hanalei, Princeville
Explore the Maniniholo Dry Cave
Pull off the side of this road to this easy to visit dry cave. Per the legend, the cave was formed when Polynesian settlers were chasing the Menehune from Waimea Canyon. The Menehune escaped into a tunnel that connected to the North Shore. Upon making their escape through the tunnel, they collapsed the ceiling making the dry cave.
The cave is across the street from Ha'ena Beach (not to be confused with Ha'ena State Park), so you can combine a visit to the beautiful beach with a walk through the dry cave.
Get directions to Maniniholo Dry Cave.
Visit Ha'ena State Park
Head to the end of the road and visit Ha'ena State Park. This beautiful state park is home to our favorite beach on Kauai, Ke'e Beach, a small beach that has a dramatic mountain backdrop that is almost too beautiful to be real.
Hiking is also available here, with a 2 mile trail that takes you from Ke'e Beach to Hanakapi'ai Beach, though this isn't a good beach for swimming, thanks to the strong currents.
On your way into the state park, be sure to stop and take note of the working taro patches — kids love to see how this plant is grown.
This is a popular spot so a reservation is required to enter the park. Book a reservation online.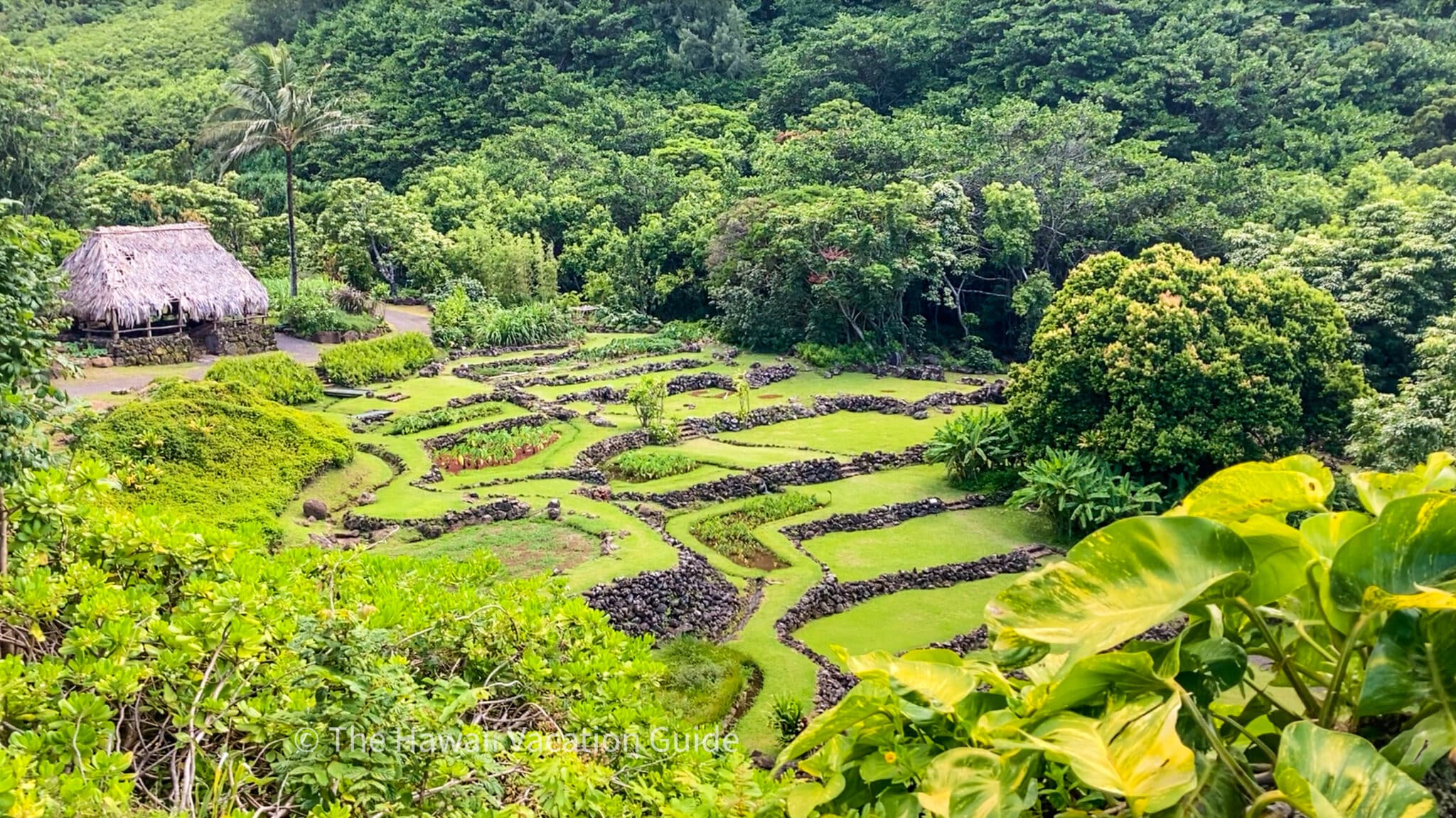 Visit Limahuli Botanic Garden
Limahuli Garden & Preserve is an ecological preserve built to protect the diverse plant and animal life in the valley. Settled for the last 1,500 centuries, the valley is home to native forests, endangered animals, and archaeological complexes.
We love this place for the tranquility and seeing the workings of the ancient lo'i kalo (taro patches). Our son loved walking around the grounds and exploring all of the different plants along with a small stream running through the gardens.
Take a self-guided tour of the grounds (about 1.5 hours), appreciate the history, and enjoy a day in this jungle paradise. Learn more about Limahuli Gardens here.
Take a Napali Coast Rafting Tour
During the summer months you can get to the Napali Coast by raft from Hanalei. Holo Holo Charters is the only licensed boat tour operator that runs this tour seasonally, from April to October. Explore sea caves and lava tunnels, view waterfalls and hidden beaches, and stop for a short snorkel to explore the dramatic beauty underwater as well. Catamarans are great, but a ride on a power raft is a whole new experience. Children 5 and up are welcome to join the tour.
Take in the view at Hanalei Bay
During the summer, Hanalei Bay is magical. At the largest bay on the north shore, you'll find two miles of beach flanked by dramatic mountains. During the summer months, the ocean is usually calm and it's the perfect place to spend a relaxed beach day. Head into Hanalei town for food, pick up a paddle board or kayak, or just take a stroll (or a run like our son) on the Hanalei pier.
Get directions to Black Pot Beach.
Things to do with Kids on West Kauai (Waimea, Hanapepe)
Indulge in malasadas
If your kids love donuts, pastries, and all things sweet, they'll love a malasada. Fried dough covered in sugar and often filled with a sweet treat, these Portuguese confections can be found all over the islands. But if you find yourself on the west side, head to Aloha Sweet Delights. As you select your flavors, you can find them rolling out the door and cooking up more right in front of you.
Explore underwater on a Napali Coast Snorkel
The Napali Coast is stunning — jagged cliffs giving way to secluded beaches and impossibly blue water. But the only way to access this site is by boat, by hiking, or by helicopter/plane. While Jordan has hiked the Kalalau Trail along the Napali Coast, now that we have kids, we love enjoying the view of the Napali Coast from a boat. Depending on your kids interests, there are two boat trips we recommend.
First, is a snorkeling tour on a sailboat (with a waterslide!) that kids love. On the 5 hour trip you get time sailing, breakfast, lunch, 50 minutes of snorkeling, and breathtaking views. Or for kids who aren't so interested in getting into the water but just want to cruise around, a sunset dinner trip might be a better option.
Unfortunately, kids under 5 are not allowed on these adventures.
Gaze into Waimea Canyon
If your kids are like ours, they don't love a long car ride. But if said car ride takes them to a huge canyon full of waterfalls and crazy views, they might just be up for it. Waimea Canyon, nicknamed the Grand Canyon of the Pacific, is a large, picturesque canyon that is 10 miles long and up to 3,000 feet deep. The views here can be dramatic and there are a number of scenic overlooks and short hikes to enjoy with kids.
Two trails that you might try with kids are 0.3 mile iliau nature loop (easy), or the 2.5 mile kukui trail (challenging and best for teenagers and up).
Is Kauai a good place for families?
All of the Hawaiian islands are very kid friendly and Kauai is no exception. From beautiful beaches to amazing vistas, Kauai is a great place for your family vacation. There's plenty of adventures that kids can enjoy, room for them to run, and so much for them to learn (because as parents we like to sneak in a little bit of education, right?). Nothing is stuffy and shoes are optional pretty much everywhere.
Is Hanalei Bay good for kids?
During the summer, Hanalei Bay is a great beach for kids. The water is generally calm and the beach never feels too crowded as it's so large. Plus, there are three different areas for parking and entering the beach, so parking isn't usually an issue. Lifeguards are stationed at Black Pot Beach Park at the south end of the bay.
In the winter, the conditions at Hanalei Bay are very different. High surf and powerful shorebreaks make this a dangerous place to enjoy the water. No matter what time of year you're planning to visit, make sure to check ocean conditions and adhere to any lifeguard warnings in the area.
If you're visiting in the winter, be sure to check out our article on the 7 best beaches on Kauai in the winter.
The Best Kauai Vacation with Kids
We know you want to have a memorable vacation with your kids. We also know how difficult it can be to find the time to plan that perfect vacation. That's where our itinerary comes in. We've done the hard work for you of finding the best spot in each area and have put together different routes (or excursion days) that send you out on adventures, no research needed.
We returned home from our family vacation to Kauai on Monday, and wanted you to know how helpful your Wayfinder Itinerary was. We used it throughout the trip and it never failed us – thank you for providing such a thorough and thoughtful guide. We are certain to return – hopefully to other islands – and will once again rely upon your insights and advice.

Mary B.
Get The Kauai Itinerary
The step-by-step itinerary takes you to all the best beaches, snorkeling spots, restaurants, and sights. You'll get six carefully planned excursion days to help you see the can't miss stops no matter how limited your time is.
Get all the details on our itinerary and download it for a memorable and easily planned trip to Kauai.