35 Best Things to Do on Kauai (we will surprise you!)
Disclosure: This post may contain affiliate links, meaning if you decide to make a purchase through my links we may earn a commission at no additional cost to you. Read about our affiliate policies here.
The island of Kauai in Hawaii is best known for the Napali Coast, movies like Jurassic Park, and tropical landscapes. But, jungles need rain so let us show you the best things to do on Kauai with advice on the best time to visit.
Kauai is so much more than beaches. Let two people who lived on Maui and Oahu, and travel to Kauai yearly, show you the best things to do on Kauai, The Garden Isle.
Most things to do on Kauai lists take you randomly around the island. Here, I'll show you the best things to do starting in the north and then taking you around the island. With maps, directions, and why we love the activity, you can start planning your trip to Kauai easily.
Our Kauai Travel Guide has more to help you plan your trip to Kauai.
Where to Find the Things to Do on Kauai
In my opinion, Kauai is the easiest island to navigate among the eight main Hawaiian Islands for two reasons.
First, the island closely resembles a circle. Areas of the island are referred to by the compass points. See the map of Things to Do on Kauai below.
Second, Kauai has a mountainous interior so the roads follow the coast. Kuhio Highway (Route 56) starts on the North Shore and ends in Lihue. Then, Kaumuali'i Highway (Route 50) will take you south and to the furthest western point. There are no roads along the Napali Coast, hence the coast is famous for sunset and dinner cruises and snorkel trips.
This list of things to do on Kauai is organized by area of the island to help you with your planning. In our Kauai Wayfinder Itinerary, we structure our excursion days around the popular areas of the island as that is the best way to organize your Kauai vacation days.
Video: 21 Things on Kauai
One of our most popular videos is 21 Things to Do Around Kauai. This article contains even more things to do but we've found this video can say so much more.
Get a feel of what to expect for your Kauai vacation and a sampling of the best things to do on Kauai.
After all these amazing things to do on Kauai, you may be asking yourself, how many days do you need on Kauai?
If you are visiting more islands than Kauai, make sure you check out our full list of the best things to do in Hawaii. Your Hawaii Bucket List has been created for you!
Things to Do on Kauai: North Shore
Kauai is nicknamed The Garden Isle and the North Shore is a big reason why. With lush jungles, stunning cliffs (pali in Hawaiian), and beautiful beaches this is a popular place to stay and for activities. But the weather can get dicey.
The North Shore of Kauai is on the windward side of the island, meaning it receives more rain and higher surf during the winter months. You can still do many of the activities below from October to March, but plan to experience rain and check ocean conditions before you head out.
Per our research, the best time to visit Kauai is May, August, September, and October. See Erica's article on The Best Time to Visit Kauai for details. Our Kauai Packing List will have you prepared for any weather!
Explore the Google Map below for all our favorite things to do on Kauai's North Shore.
1. Napali Coast Wilderness Area
When you see pictures of Hawaii, they're usually showing the Napali Coast. Napali Coast State Wilderness Park covers the northwest coast of Kauai. The cathedral cliffs along the ocean are remote, rugged, and romantic for honeymooners to hikers.
The coast is full of sea caves, waterfalls, and ancient Hawaiian villages. While most people explore this area via boat (see our favorite tours here), you can hike into the wilderness area with a permit.
Directions: Napali Coast State Wilderness Park
I was fortunate to hike the Kalalau Trail (11 miles), swim to the Honopu Arch, and sleep on Kalalau Beach with friends years ago. It was one of my most memorable Kauai vacations. But exhausting.
You can also choose to visit Ha'ena State Park to walk part of the Kalalau Trail, see our next thing to do on Kauai for details.
2. The Best Beach on Kauai
Ke'e Beach is our favorite beach on Kauai. Located at the end of the Kuhio Highway, Ha'ena State Park is home to working lo'i kalo (taro patches), heiau (temple), trailheads for the Kalalau Trail and Hanakapi'ai Beach and waterfall, and the popular Ke'e Beach.
Ke'e Beach is a small bay tucked under towering cliffs. With a lifeguard on duty, showers, and restrooms, the beach is great for kids. The reef makes for a natural lagoon for snorkeling and swimming. But, during the winter the high surf makes this beach a no-go.
Due to the popularity of Ke'e Beach, entry and parking reservations are required for access to the state park. Shuttle reservations are available.
You can hike a portion of the Kalalau Trail with your Ha'ena State Park entry fee. Hiking from Ke'e Beach to Hanakapi'ai Beach is 2-miles. You will be rewarded with amazing views of the coast and a sandy beach during the summer (not a good swimming beach due to strong currents). The waterfall hike is 8-miles roundtrip.
Directions: Ha'ena State Park 6CC9+8R Wainiha, Hawaii, Kapaʻa, HI 96746
3. Kauai's Best Botanical Garden
Limahuli Garden & Preserve is an ecological preserve built to protect the diverse plant and animal life in the valley. Settled for the last 1,500 centuries, the valley is home to native forests, endangered animals, and archaeological complexes.
We love this place for its tranquility and for seeing the workings of the ancient lo'i kalo (taro patches). Take a self-guided tour of the grounds (about 1.5 hours), appreciate the history, and enjoy a day in this jungle paradise. Learn more about Limahuli Gardens here.
Directions: Limahuli Garden & Preserve 5-8291 Kuhio Hwy, Hanalei, HI 96714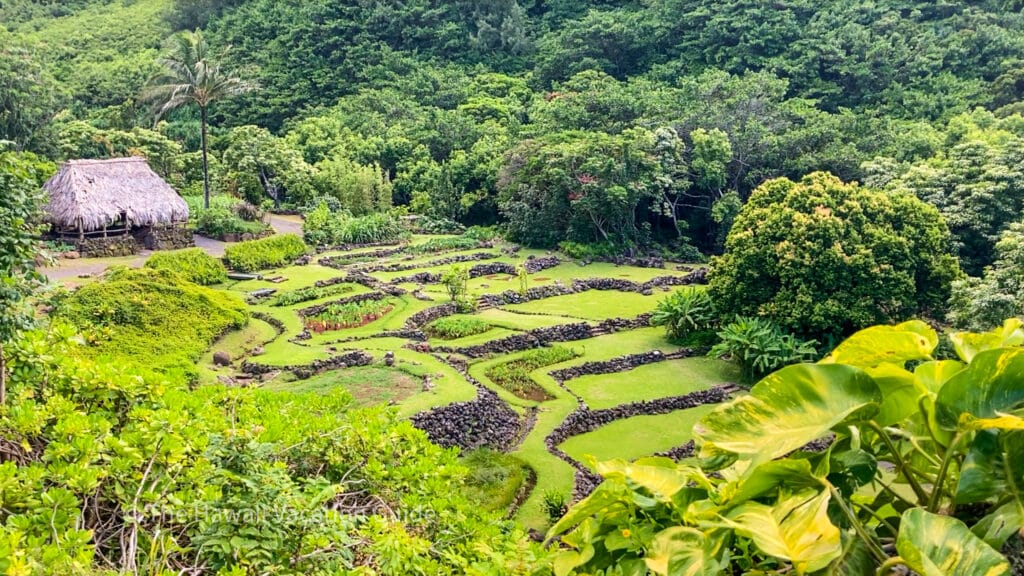 4. Ha'ena Beach
Ha'ena Beach, despite the name, is not part of Ha'ena State Park so no reservation is required. The beach park is located immediately off the Kuhio Highway. The long sandy beach is known for swimming (during calm conditions) and beach walks under the pali (cliffs).
There is a lifeguard on duty, showers, a snack shack (trailer) with fresh fruit, and restrooms.
Directions: Haena Beach Park HI-560, Kapaʻa, HI 96746
As this is a popular North Shore beach, the small parking lot fills up fast and spills over onto the road. Come early for parking. Many people park here to walk down the beach to the popular snorkel spot of Tunnels (Makua Beach).
See our 5 Best Snorkel Spots on Kauai for information on snorkeling Tunnels.
5. Maniniholo Dry Cave
Across the street from Ha'ena Beach, come explore the Maniniholo Dry Cave. The low-ceiling cave is an expansive room with a sand floor.
Directions: 5-7878 Kuhio Hwy, Kilauea, HI 96754
The cave was formed, per the legend, that Polynesian settlers were chasing the Menehune from Waimea Canyon. The Menehune escaped into a tunnel that connected to the North Shore. Upon making their escape through the tunnel, they collapsed the ceiling making the dry cave.
If you're heading to Kauai, be sure to check out our ultimate Kauai Travel Guide. From where to stay to what to do, this guide will help you plan your perfect Kauai vacation.
6. Hanalei Bay
Hanalei Bay has nearly two miles of beach and in the summer the water is as calm as can be.
To swim at Hanalei Beach, we prefer to park on the east side of Hanalei Bay, near the Hanalei Pier and Black Pot Beach. From here you can get a great view of the bay and play on the pier. Directions below are to the public parking lot.
Directions: Hanalei Bay near Black Pot Beach
Beware in the winter, waves here get rough. There may be some days that the beach is closed and swimming here (especially with kids) is really only ideal in the summer.
Hanalei Bay made our 7 Best Kid-Friendly Beaches on Kauai and 9 Best Beaches on Kauai for Swimming.
Headed to Kauai with kids? Check out our 24 things to do with kids on Kauai.
7. Hanalei Town
The town of Hanalei is built along Hanalei Bay, so you'll have all the amenities you need at your fingertips: food, shave ice, and SUP rentals.
Hanalei Town is a great place to shop, have breakfast or lunch, and explore the town. Some of our favorite places are the following:
8. Hanalei Bridge
Originally built in 1912, the through-truss bridge is a replica of the original but still has all the charm. Spanning 113 feet across the Hanalei River, you will cross the one-lane bridge when entering and leaving Hanalei Town.
Due to the popularity of Hanalei Town, delays on the one-lane bridge are becoming more common. We will see if they install a traffic light (it would be the first in Hanalei) to help ease the congestion.
9. Hanalei Lookout
A quick stop when passing through Princeville on the way to Hanalei is Hanalei Valley Lookout. Pullover across the street from the Foodland grocery store to take in the grandeur of Kauai.
The lookout is a panoramic view of the Hanalei National Wildlife Refuge and Kawaikini mountain range. The taro field patchwork with the mountains in the background is my favorite view on Kauai.
Directions: Hanalei Valley Lookout Kuhio Hwy, Princeville, HI 96722
10. Anini Beach
Another North Shore Beach that made our 7 Best Kid-Friendly Kauai Beaches is Anini Beach.
When you first drive to Anini beach in Kilauea, you might not be sure you're heading to the correct spot. But when you finally arrive, you realize that this beach is beautiful.
White sand beach with calm, shallow water, this beach is great for kids in the summer. There's even a big grassy beach park area, so if your little one gets tired of the sand, they can head to the grass to play.
Directions: Anini Beach Kalihiwai, HI 96754
One note: bring your own food and beverages. Unlike some of the other beaches that have food trucks or restaurants nearby, Anini beach is a bit secluded. See our video below for more details on Anini Beach.
11. Kilauea Point Lighthouse
Located past the village of Kilauea is the Kilauea Point National Wildlife Refuge. Many come for the short walk to the historic Kilauea Point Lighthouse built in 1913. As you are perched on 180-foot high cliffs, the views of the coast are wonderful but this place is really about the wildlife.
Watch blue-footed boobies. The birds soar along the cliffs for a stunning experience. Hopefully get to see Hawaii's state bird, the nene. Reservations are required to enter the refuge.
Directions: 3580 Kilauea Rd, Kilauea, HI 96754
Things to Do on Kauai: East Side
Nicknamed the Royal Coconut Coast, from Wailua to Kealia, for the large stands of coconut trees and because this area was the playground for Hawaiian royalty.
Now, you can explore local towns, go inland for waterfalls accessible by car, and explore the beaches. This is also a popular area to stay in due to the central location on Kauai.
See our Where to Stay on Kauai for hotels and for choosing the best place to stay for your Kauai vacation. You'd hate to be far from the best things to do on Kauai, like on the map below.
12. Kapa'a Town
Don't make the mistake of driving through Kapa'a on the way to North Shore without stopping.
Kapa'a is full of coffee shops, like Small Town Coffee and Java Kai, restaurants, and shopping. The cute town located along the ocean is worth checking out. You'd never guess it is the most populous town on the island.
At least grab a plate lunch from Pono Market.
Directions: Kapa'a Town Central
13. Kapa'a Food Truck Parks
Kapaa has the most food trucks per capita on Kauai. Is that an official stat? Absolutely not but there are a lot of food trucks littered around the town.
The two main food truck parks are located near Kapa'a Beach Park and All Saint's Church. But, don't miss the standalone trucks mentioned in our Ultimate Kauai Food Truck Guide.
14. Kapa'a Beach Bike Trail
Don't miss the multi-use path that follows the coast along Kapa'a Town. Explore the beaches, enjoy views of the coast, and just take in the sun. You can rent beach cruisers and e-bikes in Kapa'a for a few hours to enjoy a relaxing ride.
We rented our bikes from Hele on Kauai in central Kapa'a. They are located 30-seconds off the beach path.
Directions to Bike Rental: 4-1302 Kuhio Hwy, Kapaʻa, HI 96746
15. Kayak and Hike to Secret Falls
Perhaps no longer a secret waterfall, Uluwehi Falls (Secret Falls) is only accessible via a kayak tour down the Wailua River. Land the kayaks to go on a 1.5-mile roundtrip hike to the large waterfall.
Learn more about the Wailua kayak and waterfall hike tour.
This easy kayak and hike tour is a great way to explore the Wailua River. Perhaps stay the evening to see the Fern Grotto and one of the best luaus on Kauai – Smith's Family Luau.
Click for directions to Wailua River.
If you're on Kauai now or planning your vacation from home, let us take the stress out of figuring out the things to do on Kauai and rolling them into a game plan. Our Kauai Wayfinder Itinerary is everything you need.
Get The Kauai Itinerary
The step-by-step itinerary takes you to all the best beaches, snorkeling spots, restaurants, and sights. You'll get six carefully planned excursion days to help you see the can't miss stops no matter how limited your time is.
Get all the details on our itinerary and download it for a memorable and easily planned trip to Kauai.
16. ʻŌpaekaʻa Falls
One of Kauai's largest waterfalls is easily accessible by car. Make the short drive from Kapa'a Town to ʻŌpaekaʻa Falls, a roadside lookout. The falls are 151 feet tall and 40 feet wide.
Directions: ʻŌpaekaʻa Falls
Across the street from the falls is a lookout of the Wailua River and valley. Watch kayakers journey up the class 0 river.
17. Kid-Friendly Beach: Lydgate Beach Park
This is one of our favorite beaches on Kauai for swimming. Lydgate Beach Park is a long beach that can have rough surf for swimming, especially during the winter, but there are the Lydgate Park Pools.
The pools on the north end of the beach are protected from the waves by a large stone wall. The water is calm, there are large fish inside the pools for easy snorkeling, and the beach is sandy. There are lifeguards on duty, picnic tables, and lots of parking.
There is also a large, community playground called Kamalani Playground across from the pools.
Directions: Lydgate Beach Leho Dr, Lihue, HI 96766
18. Wailua Falls
Another Kauai waterfall that is easily accessible by car, Wailua Falls is located off the road on the south end of the Wailua River. The falls cascade into two streams that drop over 80 feet into a pool.
The best viewing is along the road, just before the parking lot for the falls. The size of the stream is dictated by the rainfall uphill. During our last visit, Kauai was hit by a tropical storm so the waterfall was roaring.
Wailua Falls is known in pop culture as the opening scene in the television show Fantasy Island. Kauai is famous for most of the filming of Jurassic Park and other movies. You can go on a guided tour of Kauai's famous movie and TV scenes, pickup is available at your hotel.
Directions: Wailua Falls Hawaii 96746
19. Mountain Tubing Adventure
After a 4WD ride through a jungle, hop on a tube to float down a 100-year-old, hand-dug plantation canal system that will take you through caves and small waterfalls. Get wet and have a blast!
This tour is Kauai's only tubing adventure through irrigation canals. Read more about the Mountain Tubing Adventure here.
Directions: Mountain Tubing 3-4131 Kuhio Hwy, Lihue, HI 96766
Things to Do on Kauai: South Shore
South Shore Kauai is the most popular place to stay on Kauai. With many things to do on Kauai out your backdoor and the best weather on the island, it is no surprise visitors park themselves near Poipu.
South Shore gets the best weather due to being on the leeward side of Kauai, or the dry side. You can expect less rain and slightly warmer temperatures than Princeville and Hanalei (find Kauai weather data here). Also, waves are smaller during the winter on the South Shore compared to North Shore.
See our Princeville vs Poipu Where to Stay article if you're on the fence about where to stay on Kauai. South Shore Kauai is also home to many of our 7 Best Kauai Honeymoon Resorts.
Below are all the best things to do on Kauai's South Shore. See the Google Maps for directions.
20. Kauai Plantation Railway
Located just outside Lihue is the Kilohana Plantation, a 105-acre historic plantation. If you're looking for something for the whole family, take a ride on the Kauai Plantation Train.
The 2.5-mile track (40-minute long tour) is a conductor-narrated journey through the history of the plantation. See plantation crops like sugar cane and taro plus tropical plants like mango, banana, pineapple, and others. Then, stop to get out to feed pigs, goats, sheep, and a donkey. Trains depart five to seven times per day.
For the parents, Koloa Rum is on the site for tastings and dining at Plantation House and Mahiko Lounge. But, the luau is perhaps the main attraction.
Directions: Kilohana Plantation Depot, 3-2087 Kaumualii Hwy, Lihue, HI 96766
21. Luau Kalamaku
​Located next to Kauai Plantation Train in Kilohana Plantation is Luau Kalamaku. The luau centers on a theatrical show of a family voyaging across the Pacific from Tahiti to Hawaii. Located in a large outdoor pavilion, the theater show with Tahitian drumming, Samoan fire dancing, and Hawaiian hula make for an immersive experience.
See if a luau is right for you in our Hawaii luau review discussion.
Highlights include:
Open bar and full buffet
Theatrical luau
Explore 60-acre plantation
Fire dancers and poi ball twirlers
Why we love it: The plantation grounds where the luau is located are beautiful and Henry loved going on the plantation train ride.
Location: Lihue, Kauai
Length: approximately 3 hours
Learn more and book Luau Kalamaku here.
22. Historic Koloa Town
Established in 1835, the old plantation town is a walk down memory lane. Visit the Old Koloa Town Shops in plantation-era style, see the Old Sugar Mill Memorial, and have a local plate lunch.
We visit Koloa Town to grab food before hitting Poipu Beach to the south. Grab a plate lunch at Koloa Fish Market or one of the many food trucks. There are two food truck parks with award-winning food trucks in Koloa, see our Kauai Food Truck Guide for details.
Shave ice! South Shore Kauai is full of the best shave ice on Kauai. Visit The Fresh Shave or explore our other favorite shave ice on Kauai.
Directions: Old Koloa Town ​​Koloa Rd, Koloa, HI 96756
23. Shipwreck Beach
Poipu Beach is the most popular beach on Kauai, but Shipwreck Beach is worth a visit.
Located in front of the Grand Hyatt Resort and Spa, Shipwreck Beach is one of the best beaches for sunsets and beachcombing. Locals come here for surfing and bodyboarding. While a south swell can make for excellent surfing, it can also make for dangerous swimming so check ocean conditions before you enter the water. Shipwreck Beach did not make our list of the best beaches on Kauai for swimming.
There is no lifeguard on duty so only experienced swimmers for this beach. There are restrooms, showers, picnic tables, and a large public parking lot.
Directions: Shipwreck Beach
24. Maha'ulepu Heritage Trail
The Maha'ulepu Heritage Trailhead starts at Shipwreck Beach. The easy-to-moderate hiking trail follows the coast along dunes, under kiawe trees (wear closed-toed shoes), and cliffs.
The trail is significant for being one of the last undeveloped spots along the South Shore. Also, this is a sacred place so leave only footprints behind.
Directions: Maha'ulepu Heritage Trail, Koloa, HI 96756
25. Most Popular Beach: Poipu Beach
If you're looking for a thing to do on Kauai, this is more than a beach.
Not only does the beach have calm waters (heavier surf during the summer) and is beautiful with two crescent-shaped bays, it has a playground that kept our son entertained when he was done playing in the sand.
There are lifeguards on duty, picnic tables, limited shade, showers, and restrooms at the beach.
Plus, there's a deli right across the street so whatever food or drink you need is easily accessible.
Poipu Beach does get busy so don't expect a secluded beach day. Walk over to Brenneck's Beach as that is less busy and known for bodyboarding.
Quick Tip: Never turn your back on the Pacific. While the waters may look calm, don't let your guard down. Keep your body facing the waves so one doesn't sneak up on you.
Directions: Poipu Beach Koloa, HI 96756
26. Kauai's Best Blowhole
Spouting Horn Park is home to a 50-foot blowhole. Powerful waves along the coast push up through a small hole in the lava rock, making for large geysers and a big roar.
The blowhole is a fun place to stop to watch the blowhole. Allerton Botanical Gardens is across the street if you're looking for more things to do on Kauai's South Shore.
Directions: Spouting Horn Park Lawai Rd, Koloa, HI 96756
Things to Do on Kauai: West Side
Welcome to the West Side. Home to Waimea Town, Hanapepe Town, and so many things to do on Kauai.
We like to stay in the Poipu area and make day trips to this side of the island as there are few places to stay over here. Located firmly on the leeward side of the island, the Waimea area is dry and hot making for nice hiking and exploring the popular Waimea Canyon.
Here are the things to do on Kauai's West Side in the map below.
27. Napali Coast Tour
Finally, let's talk about Napali Coast tours. The most popular thing to do on Kauai and for good reason. We included this in our 3-can't-miss Kauai activities video.
Best viewed from a boat, the Napali Coast is a stretch of sea cliffs full of waterfalls, ancient Hawaiian fishing villages, sea arches, sea caves, and stories told by captains and crews.
Go on a snorkel tour, power raft and snorkel tour, helicopter tour, or a sunset dinner cruise. Just make sure you get out there to see the coast.
Most tours leave from Port Allen in Eleele on the West Side. Only a select few, like this power raft and snorkel tour, leave from Hanalei Bay during the summer (less surf).
You will find many of the popular boat tour companies here for the start of tours.
Directions: Port Allen in Eleele, Kauai
28. Forbidden Island of Ni'ihau
As the name implies, visitors are forbidden from visiting the Hawaiian Island of Ni'ihau. Owned by the Robinson Family since 1864, the island is home to the Robinson family and native Hawaiians who live a traditional way of life. Hawaiian is the primary language spoken on the island, with a population of about 80 people.
The closest way to get to the island is on a snorkeling tour to the Napali Coast and Lehua.
Lehua is a seabird sanctuary and crescent-shaped volcanic crater with crystal clear snorkeling. See monk seals, seabirds, and turtles along the coast.
The snorkel tour is a lot of fun and it is interesting to get close, but respectfully away from Ni'ihau. Watch my experience below to see if the tour is right for your Kauai vacation.
29. Hanapepe Town & Swinging Bridge
Hanapepe is a small town along the Hanapepe River. The town is built in plantation-style architecture but is one of the few towns on Kauai not built by a plantation.
The entrepreneurial attitude of the town is present to this day with small coffee shops, art galleries, the westernmost bookstore in America, and restaurants. It is also home to an art market on Friday nights. Stop for morning coffee or for lunch as you explore the west side of Kauai.
Hanapepe was also the inspiration for the town in Disney's Lilo and Stitch.
30. Hanapepe Swinging Bridge
Crossing the Hanapepe River near the center of town is the Hanapepe Swinging Bridge. The old wood bridge definitely swings when you walk across it. When you're in downtown Hanapepe, look for the opening between the buildings to get to the bridge.
Directions: Swinging Bridge 3857 Iona Rd, Hanapepe, HI 96716
31. Taro Ko Chip Company
In an old green with white trim house are the best taro chips in Hawaii. Boiled in a kettle, Taro Ko Chip Company has been operating quietly for years in Hanapepe Town. Not pretentious with fancy packaging, check to see if they are open when you visit Hanapepe.
Directions: 3940 Iona Rd, Hanapepe, HI 96716
32. Waimea Town
Waimea Town is deep in Hawaiian history. Thought to be one of the first settlements for early Polynesian explorers and the first landing spot of Captain Cook in 1778, the town has had a large-sized role in maritime trading for Hawaii.
Today, the town is popular for visitors to explore before or after a trip to Waimea Canyon. We like to stop here for lunch and shopping as there are a lot of great, small restaurants in town.
Directions: Waimea Town
33. Waimea Canyon
Another popular thing to do on Kauai is Waimea Canyon State Park. Nicknamed the Grand Canyon of the Pacific, incorrectly attributed to Mark Twain, the stunning canyon is full of waterfalls, lookouts, hiking trails, views of Ni'ihau island, a scenic drive.
Parking and entrance fees are now required, and paid on site. Enjoy half a day to a full day here to explore the area.
We like to drive up the canyon to stop at Red Dirt Waterfall, lookouts, and finally to the top which turns into Koke'e State Park with Kalalau Valley Lookout.
34. Kalalau Lookout
If you can't hike the Kalalau Trail, head to Kalalau Lookout for stunning views of this hard-to-reach valley. The cathedral cliffs give way to a lush, tropical valley that leads down to Kalalau Beach. From high above, you will watch helicopter tours and boat tours explore the coast.
The drive up is long and windy but the views are worth it. We have had bad luck in the past of being socked in with fog and clouds.
35. Longest Beach in Hawaii
At the end of the road in West Kauai, is the longest beach in Hawaii. At over 17 miles long, the white sand beach has 100-foot sand dunes, desert cactus, and little relief from the sun.
Polihale Beach and State Park has restrooms, picnic tables, and showers. Camping is available by permit only.
Caution when visiting this beach for multiple reasons. First, access to the beach is by an unimproved dirt road that has deep sand. During rains, floods and mud make the road impassable. Four-wheel drive vehicles are recommended and rental car companies may prohibit driving on the road.
The beach has little shade, high winds at times, and no food available making for a long day out. I'm not trying to scare you away but helping to make sure you have a good trip to Kauai, and not be stuck on the beach.
Directions: Polihale Beach Access Point – Lower Saki Mana Rd, Waimea, HI 96796
More Things to Do on Kauai
Researching a trip to Hawaii can be stressful. You may have an Excel file open, feel overwhelmed about what to do, and have no idea where to stay. Vacationing in Hawaii is our job, let us help you out.
Our Hawaiian Island Itineraries are the easy way to plan your Hawaii dream vacation.
The Hawaii Vacation Guide, thanks so much! I purchased the Kauai itinerary and it is awesome! I had no idea how much work and information you guys really put into it and I am so excited for our trip now!!

Kayla R.