Hawaii in December: The Best and Cheapest Hawaiian Island for Christmas
Disclosure: This post may contain affiliate links, meaning if you decide to make a purchase through my links we may earn a commission at no additional cost to you. Read about our affiliate policies here.
Sleigh bells aren't jingling but swaying palms and ocean waves will be music to your ears during your Hawaii Christmas vacation.
The best Hawaiian island to visit for Christmas is Oahu. Oahu is the cheapest Hawaiian destination in December, the least busy, and has the most Christmas events. Prepare to pay $7,200 to $10,000 for a family of four for a Hawaii Christmas vacation. But the ocean will be warm and the sun will be shining for Christmas.
After being on Oahu, Maui, and the Island of Hawai'i for numerous Christmas and NYEs as a resident and a tourist, let me help you plan your perfect Hawaii Christmas vacation.
From what a Christmas vacation to Hawaii costs (including ways to save) to Christmas events across the Hawaiian islands, this is your place to plan your Hawaii Christmas vacation.
Planning Your Hawaii Christmas Vacation
Mele Kalikimaka to you and your family. I swear it isn't cheesy when you hear Mele Kalikimaka and other Christmas songs in Hawaii. A palm tree with Christmas lights in Hawaii is just as good as the famous Corona Christmas ad makes you feel.
You are already convinced a Hawaii Christmas vacation is what you, your partner, and your kids need right now.
Hawaii is a popular destination for the Christmas holidays. It is one of the busiest times on the islands and hotel rates skyrocket. There are ways to save money on accommodations and the island you visit so let me give you some insights. Insights supported with data as I do get biased at times to my home island of Maui.
Related articles:
Is Hawaii Expensive at Christmas?
Hawaii is expensive at Christmas. Hotels, vacation rentals, rental car companies, and flights are at a premium during this busy time of year in Hawaii. For example, hotel average daily rates were 24% or $69 higher than the yearly average during Christmas (source: Hawaii Tourism Authority.) in 2020.
Rental car and hotel rates spike around the holiday as occupancy rates near 85%. That doesn't mean you have to panic.
To save money on your Hawaii Christmas vacation, I recommend the following ways to save. I'll provide more details below on these methods.
🍍 Stay in a vacation rental like Airbnb or Vrbo
🍍 Book airline tickets as early as possible. Southwest opens up tickets 6-months in advance, reserve then.
🍍 Rent your car through Discount Hawaii Car Rental
🍍 Visit Oahu as the cheapest Hawaiian island during Christmas
🍍 See free Christmas pageants, parades, and hula performances during your Hawaii Christmas vacation
Hawaii is expensive at Christmas but it doesn't have to be a killer on your wallet.
Cost of a Hawaii Christmas Vacation
We are getting good at researching the cost of a Hawaii vacation as we look at each island and time of year with our articles. To determine which island is the cheapest during the Christmas period we looked at three different costs: airfare, lodging (hotels and vacation rentals), and rental car.
Using these averages, we calculated the cost for a family of four to each island from December 23rd to January 2nd, a 10-day Hawaii Christmas itinerary.
I'd expect the novel coronavirus will continue to impact the Hawaii tourism industry. Hotel and vacation rental occupancy rates will be down compared to 2019 and rates will be lower than in 2019.
We use 2019 accommodations price data for our cost estimate. Prices have increased about 20 to 30 percent.
The green boxes in the tables highlight the cheapest option.
Here is what we found about how expensive Hawaii is at Christmas.
Airfare to Hawaii at Christmas
We already spilled the beans that Oahu is the cheapest island to visit during Christmas. But, Oahu has the 3rd most expensive flight to Hawaii.
Using Skyscanner, we found the average, low-cost round-trip fare from LAX to each island. We could not check Southwest as Southwest only allows reservations six months in advance.
We found the cheapest island to fly to is Kauai for Christmas. Maui is a very close second-cheapest. But let's face it, it is a push as they are all close.
Ticket price for one adult, roundtrip over Christmas and New Year's.
Kauai (LIH): $900

Maui (OGG): $909

Oahu (HNL): $918

Big Island (KOA): $930
Note, these Hawaii Christmas tickets are more than double the average roundtrip ticket cost during the year to Hawaii.
Airlines have slashed prices and routes to Hawaii due to the virus but flights for Christmas are near the averages from 2019 still. So check ticket prices with the changing tourist industry due to the virus as December approaches.
Related article: How to Get a Cheap Ticket to Hawaii: 5 Insider's Tips
Christmas Accommodations in Hawaii
Your accommodations during your Hawaii Christmas vacation will be your biggest expense.
Luckily, there are plenty of options – hotels, vacation rentals, and timeshares – but budget accommodations are few and far between.
To get the average rate, we used data from the Hawaii Tourism Authority, which tracks average daily rates for hotels, vacation rentals, and timeshares.
Fun (expensive) fact on Hawaii: Hawaii hotels are the most expensive in America. The average hotel daily rate was $283 in Hawaii followed by New York at $255 and San Francisco at $251 in 2019. In the world, the Hawaiian islands are five out of the eight most expensive sun and sea destinations.
That is why we recommend you stay in a Hawaii vacation rental during your Christmas vacation. As the data from 2019 below shows, you can save a considerable amount on your Christmas holiday.
Source: The Hawaii Tourism Authority Hotel Cost and The Hawaii Tourism Authority Vacation Rental Cost
Basically, when it comes to accommodations at Christmas, the Big Island and Oahu are very close. Vacation rentals are slightly less expensive on the Big Island and hotels are slightly less expensive on Oahu.
Maui and Kauai proudly put themselves in the most expensive category.
To get real thrifty, consider camping or glamping. Maui has the best and safest camping option on the Hawaiian islands at Camp Olowalu. Check out the article (with a video) below for details.
Related articles:
Christmas Rental Car in Hawaii
Our final input is the rental car. Rental car rates skyrocket at Christmas. Book early to ensure you get a car and call them to confirm your reservation before you depart.
For this cost, I looked at three major car rental comparison websites. We always use Discount Hawaii Car Rental because we save so much every time. We used them during our Christmas trip to the Big Island last year and the savings were similar to what the table shows below.
Costs are for a midsize car with a major national brand, like Budget, Avis, or National.
This is where the big island makes a bit of a leap in cost, ahead of Oahu.
Check out our video below for more information on a Hawaii Christmas vacation.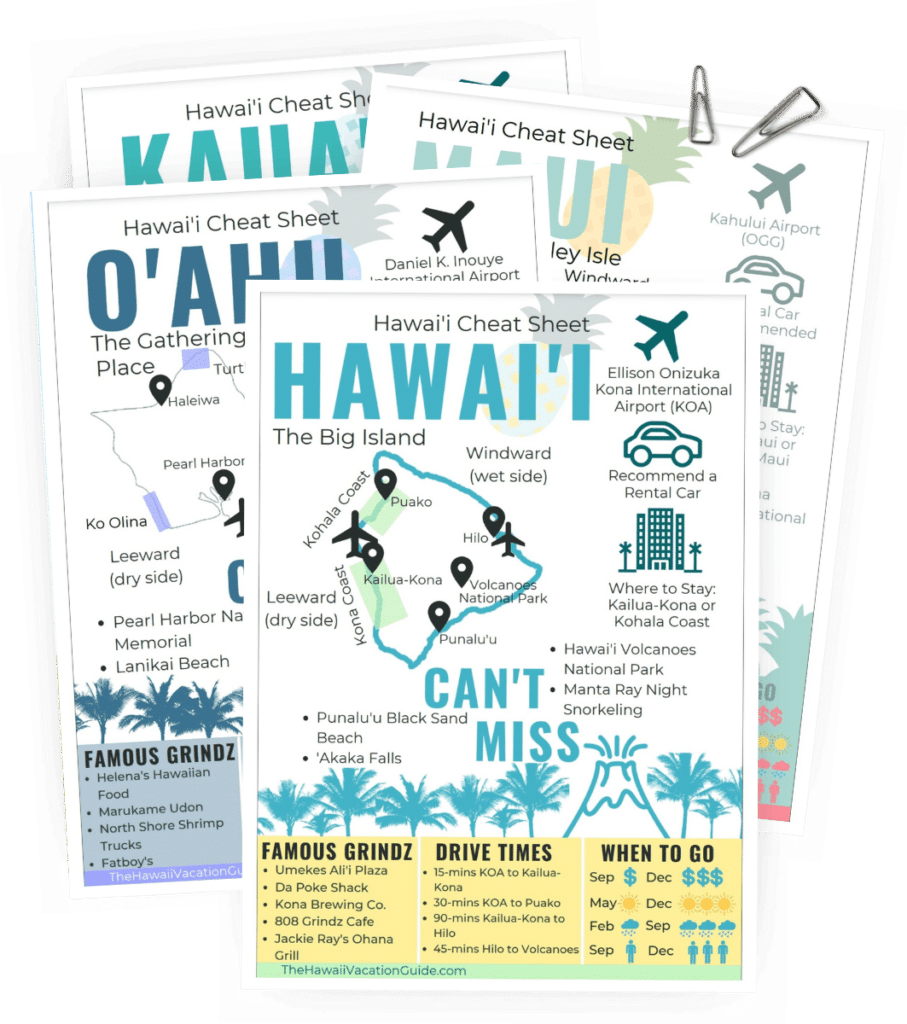 Free Download!
Hawaiian Island Cheat Sheets
Sign up & we'll send you our island cheat sheets so you can get to know the islands like the back of your hand!
We'll share 4 can't-miss activities on each island, a map with the main sights in town, & famous local grindz (eats)!
Christmas Things to Do in Hawaii
This is fuzzier than the hard-cost data above. It is hard to put a price tag on Christmas dinner, shopping, Christmas activities, and other things to do during your Hawaii Christmas vacation. And not because of the sentimental reasons but there is just a big range in cost per preference.
When it comes to Christmas activities, some islands are better than others for providing free activities. While resorts will keep you entertained with special Christmas dinners, luaus, and activities, I look at the cities and towns in Hawaii for that local, folk-some Christmas cheer.
Hawaii dials up the aloha at Christmas. You will find Christmas hula performances, Hawaiian Christmas carollers, tree lightings, Christmas parades, ornament making, and a host of other free Christmas activities around the islands. Similar to the mainland but with a Hawaiian slant that makes them so much more memorable.
The islands with the most activities for free at Christmas are:
Oahu

Maui

Big Island

Kauai
We keep an updated Things to Do in Hawaii During Christmas schedule to help you find the best Christmas hula shows and photos with Santa on each of the Hawaiian Islands.
Cheapest Hawaiian Island for Christmas
All these numbers add up to Oahu being the cheapest Hawaiian island for Christmas.
Oahu is the cheapest Hawaii island for Christmas because of the lowest hotel rates and rental car rates.
As you may be traveling with your family for Christmas and/or want to make your Hawaii Christmas vacation more affordable, then stay at a vacation rental.
If you stay at a vacation rental, the cheapest Hawaiian island for Christmas will be the Big Island (Island of Hawai'i), in the Kona District.
A friendly reminder, this Christmas Hawaii vacation cost estimate is based on a family of four traveling from LAX to one Hawaiian island in economy class. As this is a Hawaii Christmas vacation, the dates are December 23rd to January 2nd.
Best Hawaiian Island for Christmas
Picking the best Hawaiian island for Christmas is a bit like splitting hairs but here are the facts.
Oahu is the best Hawaiian island for Christmas. Oahu is the least busy, the cheapest Hawaiian island to visit, and offers the most Christmas activities. The island of Hawai'i is a close second best as the days are warmer and there are fewer rainy days in December. Hawai'i would be the cheapest island if one stayed in a vacation rental instead of a hotel.
The table below summarizes all our major factors for determining the best Hawaiian island for Christmas vacation.
Perhaps you care more about rainy days than crowds. Pick the right island for your Christmas vacation by looking at the data below.
Warmest Hawaiian Island in December
The climate in Hawaii is amazing in December compared to the mainland. Hawaii sits in the Tropic of Cancer making for a delightful Christmas with your shorts and sunscreen on.
December weather does get spotty though. December is wetter, windier, and is at the end of hurricane season compared to the summer months.
Let's look at the climate data on each island to make a call on the best Hawaiian island for Christmas per the weather.
Source: Weather Atlas and NOAA
They are all close on air temperature. As you will be staying near the water, the air temperature stays tropical and balmy. The big difference is the number of rainy days and cloudy days. The Big Island is the big winner in that category. Stay dry by going to the Big Island for Christmas.
If you crave some sun and snow for Christmas, visit the Big Island and Maui. With their towering volcanoes, you can don your winter jackets and have hot chocolate on a volcano for Christmas. Maui's Haleakala and the Big Island's Mauna Kea and Mauna Loa got snow in 2020. You may get lucky during your Christmas vacation.
Swimming in Hawaii in December
You can swim in December in Hawaii. The average ocean temperature in Hawaii is 77 degrees Fahrenheit. You can swim without a wet suit for Christmas.
You can swim in the nude at that temperature.
All the islands have relatively the same ocean temperature in December. NOAA historical data shows Kauai with the warmest ocean temperature in December.
Source: NOAA Water Temperature Coastal Regions
Least Busy Hawaiian Island for Christmas
Hawaii gets busy during Christmas. But some Hawaiian islands are less busy than others.
The least busy Hawaiian islands for Christmas are Oahu and Maui. They have the smallest increase in visitors compared to their yearly averages and December is their fourth busiest month. This all means their beaches, roads, restaurants, and hotels don't bat an eye during the holidays.
The busiest Hawaiian island at Christmas is the island of Hawai'i, the Big Island. The Big Island sees a surge in visitors over the Christmas period. December is the busiest month all year and sees 21% more visitors than their yearly average.
Related articles:
How to Spend Christmas in Hawaii
Christmas in Hawaii for my family is a time to relax. Without a lot of family around, we have time to enjoy the holidays with our close friends and our family. There is no pressure for Christmas parties or big fancy dinners. Make your Hawaii Christmas vacation one for relaxing in the sun.
We prefer to eat in and do the free activities mentioned above. The towns are decorated, there are always carollers to be found in the shopping centers, and the surf is up.
There is no better place to spend Christmas than Hawaii. Have a very Merry Christmas.