How Much Does a Trip to Hawaii Cost for Two People? (2023 prices)
Disclosure: This post may contain affiliate links, meaning if you decide to make a purchase through my links we may earn a commission at no additional cost to you. Read about our affiliate policies here.
Hawaii has always been a popular vacation destination with the price tags to match. With stunning landscapes, excellent snorkeling, and a general paradisiacal vibe, you'd probably expect costs to be high.
Prices have only increased in recent years with factors like a post-COVID travel boom and inflation fueling hikes in prices. There's also the simple fact that Hawaii is an isolated chain of islands, making everything naturally more expensive.
2024 is on track to be a record year for tourism in Hawaii, with millions of visitors expected, despite recent setbacks with the devastating fires on Maui. With prices only expected to climb, now is a great time to visit the "Aloha State".
Here's what a trip to Hawaii costs for two people in 2024.
We have a bunch of great budget resources for your Hawaii vacation:
We have a full list of coupon codes to help you save on tours, our itineraries, and more!
Learn about booking your vacation using points to save hundreds, even thousands on your trip!
We almost always use Discount Hawaii Car Rental to book rental cars – they have the best rates, no prepayment, and free cancellation!
Plus check out how we book our travel, and tips on getting a cheap flight to Hawaii!
How Much Does a Trip to Hawaii Cost for Two People?
It's no secret that a trip to Hawaii can be expensive. A little bit of research and choosing where to go wisely can make a difference of thousands of dollars for your trip. After doing our own research and a recent getaway to the islands, we have the first hand knowledge to give you an estimate of how much you can expect to spend on a Hawaiian vacation for two.
On average, a 10-day trip for two people to Hawaii will cost around $8,000.
Ultimately, this number depends on how many activities you want to do, where you're flying from, and what city or island you'll be based on for your trip to Hawaii. We factored in variables like flying from the East Coast to help give a better perspective on what your trip might cost, while also using the least expensive Hawaiian island of Oahu for most expenses.
Cost of Airfare
Flights to Hawaii might not be as expensive as you think, especially if you're flying from large cities on the West Coast.
After doing some research and averaging the price of flights, we estimate that the typical cost of airfare for two people flying to Hawaii is around $1,600.
Roundtrip flights from Los Angeles to Honolulu (HNL) for mid-January (as of October 2023) per person are…
Alaska Airlines $783
Hawaiian Airlines $612
Southwest (reservations open 6 months prior to departure)
United Airlines $828
Delta Airlines $1,120
Factors like where you're traveling from in the United States (or if you're coming from even further afield) and what Hawaiian island you're traveling to can affect pricing. As a rule, Oahu is the least expensive hub to fly into.
Low-cost carriers to Hawaii include Southwest Airlines, Alaska Airlines, and Hawaiian Airlines. United and Delta, while they do have non-stop flight options, are typically much more expensive. Of all the options, Hawaiian Airlines is our favorite because it feels like you're on a Hawaiian vacation as soon as you step aboard. They really go above and beyond to make passengers feel special and get them excited for their Hawaii travels.
Check out our guide for more information on how to snag the cheapest airfare to Hawaii.
Cost of a Hotel Stay
Lodging is going to be your biggest cost on a trip to Hawaii which makes finding inexpensive hotels or resorts ideal. Considering that most visitors to Hawaii choose to stay in a hotel, we've based our estimates off of some of the more popular hotel options on Oahu. Oahu is the least expensive place to visit in Hawaii and your best option for a budget-friendly trip.
Here are some nightly prices for Oahu hotels in January…
Resort fees ranged from $30-$55 a night, depending on which hotel or resort you choose. It's almost impossible to escape these sneaky fees which makes it important to factor them into your budget.
Cost of a Rental Car
When renting a car in Hawaii, the best way to go is through locally owned, discount rental companies. One of our favorites is Discount Hawaii Car Rental.
We have typically saved around $60-$75 per week on car rentals when we book through Discount Hawaii Car Rental. During the busiest time of year, between Christmas and New Year's Eve, you can easily save hundreds of dollars!
The estimated price for a 10-day, standard-size car rental through Discount Hawaii Car Rental on Oahu in mid-January was $411. This includes 2 drivers, an automatic car, and unlimited miles. You can also cancel for free at any time.
Estimating that gas will cost around $100, give or take a bit, and including parking fees at hotels in Waikiki, which are around $35 a night, you can guess that both fuel and parking will cost around $450.
Gas prices vary depending on which island you're visiting, with Oahu being the least expensive and Kauai being the most expensive.
Cost of Food
Eating out in Hawaii can get really pricey, really quick!
For two adults on a trip to Hawaii, you'll most likely spend around $150 a day on food with a comfortable budget.
We estimated that the average adult will spend about $75 a day on food. Visitors should expect the typical dinner to cost somewhere between $50-$100 per person. This number will fluctuate depending on what kind of restaurant you'll be dining at and how many beverages you order.
This is where staying in a vacation rental and cooking can really lower your overall food costs. Seeking out grocery stores can also be a great way to save money by grabbing a picnic lunch or even to try out an inexpensive poke bowl to go.
Seeking out hotels with an included breakfast option is another hack that will save you money in the long run. The convenience is an added bonus! Some resorts and hotels even offer special deals on happy hour drinks that can really help keep costs down if you know you'll want to indulge in a few cocktails.
Cost of Activities
Many of Hawaii's best activities are completely free! Snorkeling along the abundant reefs, swimming in lagoons, hiking along cliff faces, and evening stopping by sights like the Pearl Harbor Memorial are all examples of free – and exciting – experiences.
Depending on what you're looking to get out of your Hawaii vacation you can spend next to nothing on tours and activities, go wild and break the bank, or find a happy medium somewhere in between.
Here are a few examples of some of Oahu's best tours and what they cost for two to give you an idea of what you might spend…
The total cost for these three activities for two people comes out to $1,062 (gratuity not included). You'll want to factor in a tip of $10 to $20 per person for any guided tour.
Be sure to book your tours and activities for your Hawaiian vacation in advance, especially in the busy season. Popular tours, like the UTV Jurassic Valley Tour, can sell out quickly.
Check out more of our favorite, can't miss activities and tours:
Our Favorite Molokini Crater Snorkel Tour from Wailea (sunrise and mid-morning tours)
The Best Whale Watching Tour from Waikiki
Mountain Tubing Adventure
How to Cut Costs on Your Trip Without Sacrificing the Fun
With a bit of preparation and know-how it's easy to cut costs for your trip to Hawaii. Here are a few hints on how to save money on your vacation to the "Aloha State".
Stay in a Vacation Rental
Choosing to stay in a vacation rental over a resort or fancy hotel is one of the best ways to save money on your trip to Hawaii. Accommodations will most likely be the biggest cost of your trip, as it is with any holiday. Finding less expensive vacation rentals can save you hundreds of dollars and can be a great option if you like a more laid back experience, without sacrificing amenities like pools and beach access.
Staying in a vacation rental can also help you penny pinch because it allows you to cook at home and often park for free. These are both big money saving considerations as eating out can get really expensive in Hawaii and parking costs add up quickly. Finding a vacation rental with free parking can easily save you over $300 in fees.
We have narrowed down some of the best vacation rentals across the islands
The Best North Shore Oahu Hotels and Vacation Rentals
Where to Stay on Maui: Hotels and Vacation Rentals for a Range of Budgets
Where to Stay on the Big Island: best areas, hotels, and vacation rentals
Travel Hack Your Accommodations
Ever heard of travel hacking? This is a travel term used to describe using credit card miles and points to book accommodations and flights for free. Depending on what credit card you use, you can also get free nights or stays at hotels that you're loyal to, for instance, Hilton or Marriott. Sounds pretty incredible, right?
Using points to book your Hawaii vacation can save you hundreds, if not thousands of dollars, and get you access to luxury resorts or even business class flights at a fraction of their normal cost – or better yet, for free! We use travel hacking on a regular basis to lower the cost of our frequent trips to Hawaii. Check out our guide on booking travel to Hawaii for more tips on travel hacking.
Visit During the Shoulder Season
The best time to visit Hawaii is during one of the shoulder seasons, from Labor Day to Thanksgiving (September to November) and April to May. Not only are costs for everything, from accommodations to tours down, but crowds are at an all time low. These months typically have good weather too, although Oahu sees the most rain in November and January. A cheaper vacation and getting the beaches all to ourselves? Count us in!
Enjoy Food Trucks
Not every meal has to be at the resort or a fancy restaurant. In fact, Hawaii's food trucks offer up local fare and are legendarily delicious! Mixing in meals from food trucks while also sneaking in a few special meals at nice restaurants will go a long way towards your budget without sacrificing any opportunities to try local grindz.
Some of the best food trucks to check out on Oahu are Giovanni's Shrimp Truck, Haleiwa Bowls, and Leonard's Bakery Malasada Truck. Another great option for an inexpensive meal on Oahu is the Maui Brewing Co. in downtown Waikiki. If you're planning a trip to one of the other islands, check out our food truck guides for Maui and Kauai.
Choose Your Tours Wisely
Try not to fill up your already busy trip with too many tours. Choosing one or two will help balance not only your schedule but also your pocketbook – and leave you with lasting memories. Most visitors will want to book classic experiences like a luau or snorkeling excursion, which both make for great options if you're only choosing a few tours.
Check out our favorite snorkeling tours on Oahu and Maui.
Go to Oahu
If we haven't already made it obvious, Oahu is the cheapest to visit of the Hawaiian Islands. Your vacation budget will stretch much further than other areas of this tropical archipelago. Save the more expensive islands, like Maui, for a second trip if you're wanting to visit Hawaii on a budget this time around. Oahu has all the charms of a picture-perfect Hawaiian vacation, like luaus, stunning scenery, and snorkeling, without the huge price tag that other islands can incur.
Our Oahu guide will help you get your trip planning started right.
Cheat Sheets and Even More Insider Tips
Get fast facts and the best beaches, local grindz (eats), and must do activities for each island with our free Hawaiian island cheat sheets.
By grabbing our cheat sheets, you'll join our growing community of Hawaii travel enthusiasts. We make most of our recommendations from personal experience traveling to Hawaii countess times and living on Oahu and Maui. We also love hearing from our newsletter readers about what made their Hawaii vacation unforgettable.
Our newsletter goes out twice a month and is packed with current need-to-know info, insider tips and tricks, travel hacks, personal stories, and more!
Love your newsletters Jordan!! Been going to Maui for 25 years and you always have something new I didn't know about in it!!

Holly F.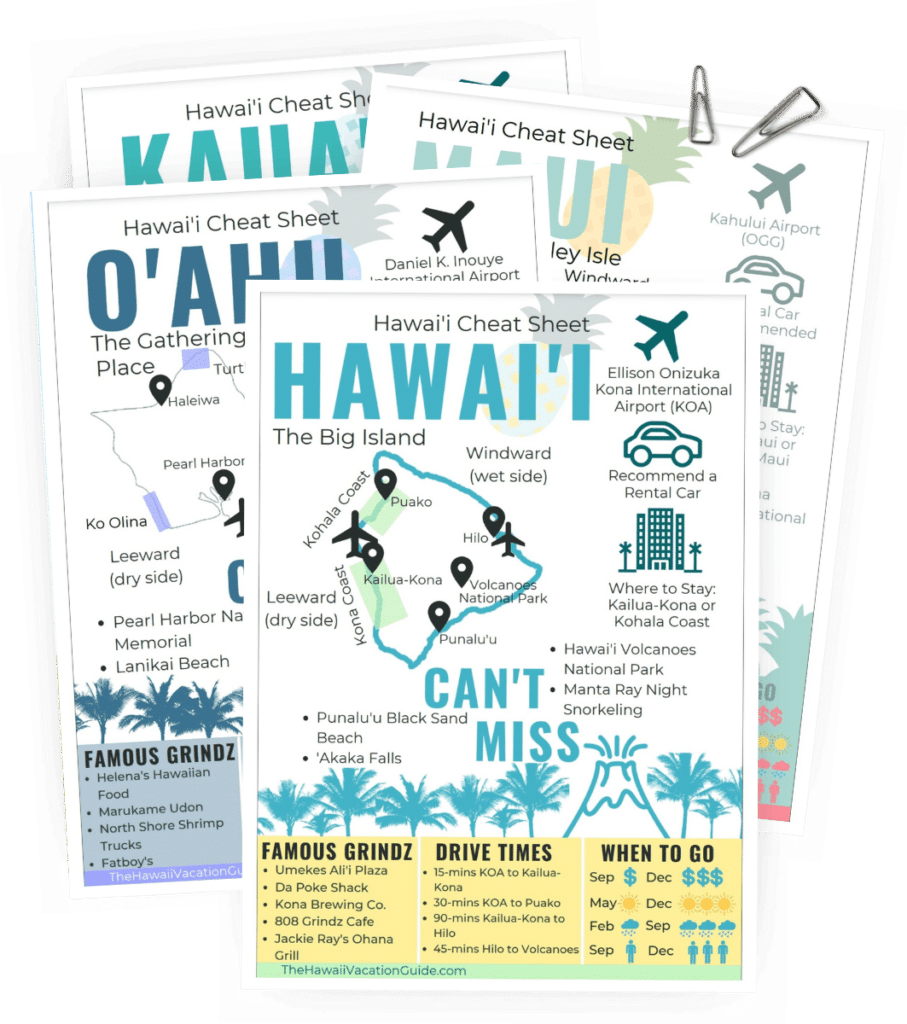 Free Download!
Hawaiian Island Cheat Sheets
Sign up & we'll send you our island cheat sheets so you can get to know the islands like the back of your hand!
We'll share 4 can't-miss activities on each island, a map with the main sights in town, & famous local grindz (eats)!